The Best of the Mile End: Our suggestions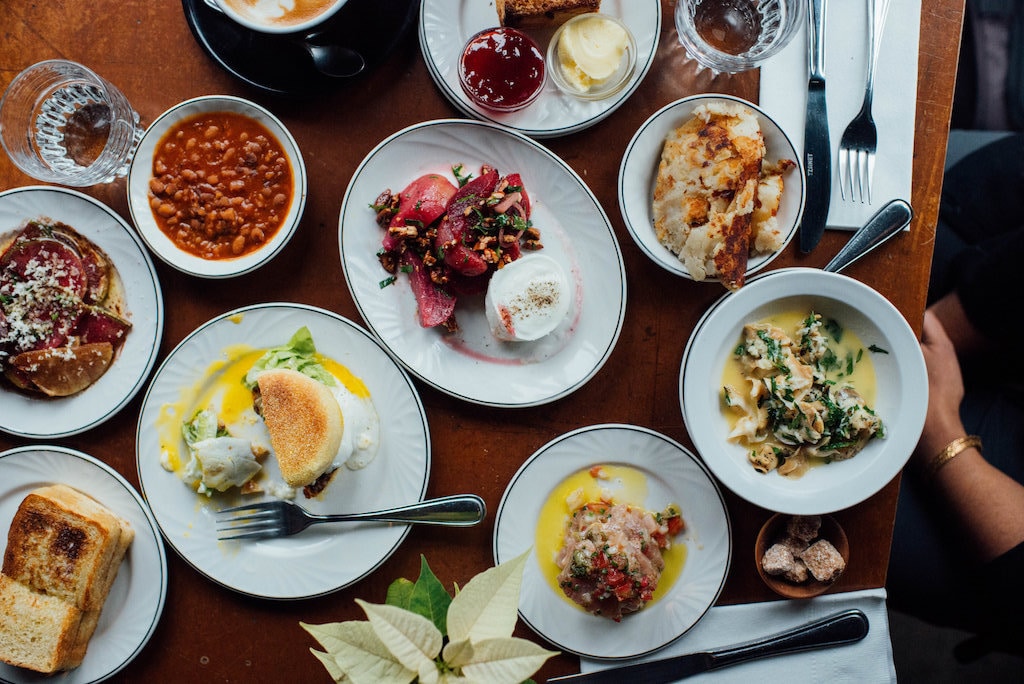 Known as the artistic and cultural hub of Montreal, brimming with creative energy, art galleries, vintage stores and clubs, the Mile End is a pretty funky neighbourhood.
The neighbourhood's unique style really began to take shape in the early 90s, when a former Anglican church was converted into a library, opening up a public space for the local arts community to flourish. As the neighbourhood became more and more gentrified, more stores, restaurants, cafés and bars opened.
Today, Mile End is one of the most vibrant neighbourhoods for good food and drink. Many of our favourite restaurants can be found in this part of town, some we love for their elegance and culinary excellence, others for their unique atmosphere and comforting offerings.
Whether it's browsing the art galleries, perusing the vintage shops, or checking out new local bands, there's something to inspire everyone. To help you in your discovery of the neighbourhood, we've put together a list of our favourite cafés, restaurants, and bars in the Mile End!
Looking for more restaurant recommendations in other Montreal neighbourhoods? Check out our list of the best places to eat in Old Montreal or the Plateau.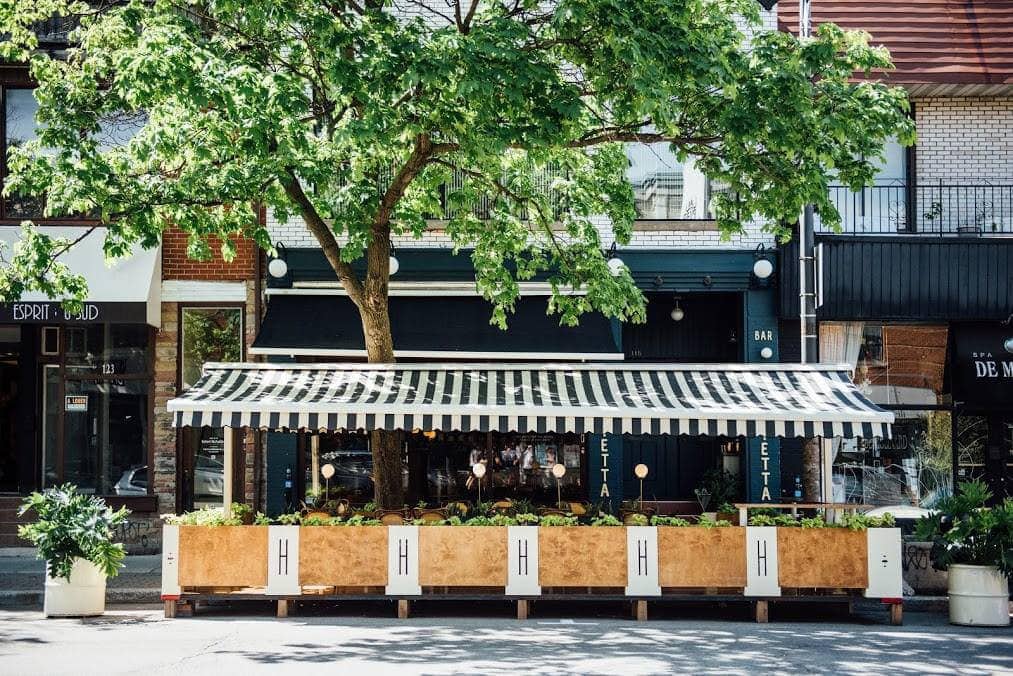 Bar Henrietta is one of our favourite bars in town! This place is on our lists of the best bars where you can eat well, the best cocktails in Montreal, and the most beautiful bars in the city! We come here for a casual evening of sipping good wine and nibbling on delicious food. Henrietta's impressive wine list includes mostly private imports. We love this place for its retro decor, attentive staff and lively atmosphere! Note: In all honesty, this article is slightly (!) biased since the writer is madly in love with one of the owners. Note from the proofreader who is not "madly in love" with one of the owners: This bar is really excellent and, on nice days, offers one of the most beautiful and elegant terraces in town. Photos Alison Slattery
115 Avenue Laurier Ouest
Montréal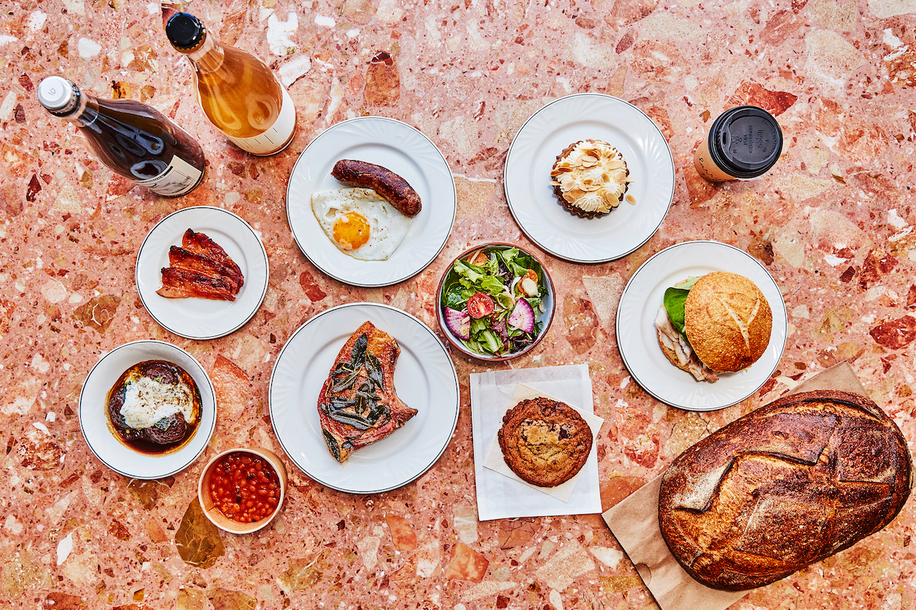 Larrys is one of our favourite places to visit at any time of day, and its brunch is among the best in Montreal. This tiny restaurant (that seats about 30) offers a perfectly balanced short menu. Beyond its quality brunch, Larrys is also on our list of the best tartares in Montreal. This place is truly one of the most versatile places in town – it's open from 8am to 1am, every day of the week! You can also check out Larrys' neighbour and big brother, Lawrence, which is another wonderful establishment owned by the same team. Alison Slattery
5201 Boulevard Saint-Laurent
Montréal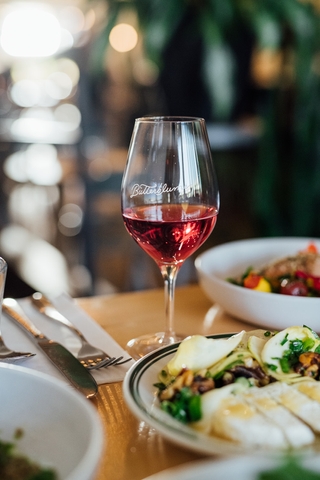 Butterblume is another one of the best places to go for brunch in town. With a small cafe on one side and a larger dining room on the other, this place has something for everyone. The food is characterized by its freshness and the menu offers small meal items like soups and salads or tartines. The brunch menu is only available from Friday to Sunday, but the breakfast and lunch menus are perfect for a mid-week treat. Butterblume also offers a short but sweet wine list. We love this place!
5836 Boulevard Saint-Laurent
Montréal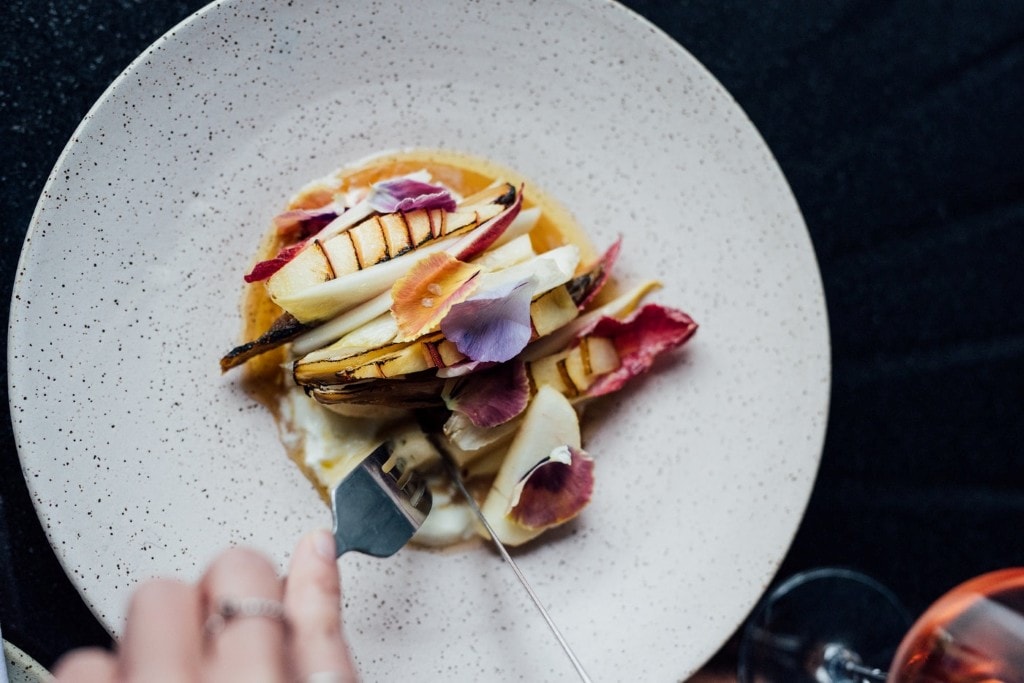 Restaurant Île flottante
This address offers an exquisite contemporary tasting menu in the heart of Mile End. Named after the owner's favourite dessert and in reference to the island of Montreal, Île Flottante is a popular restaurant with locals. With great service, ambiance and food, your meal at this little place will always be excellent! There are three different tasting menus to choose from (three, five or seven courses), all of which feature a strong emphasis on vegetables. With a wine list that focuses on small producers, a dinner at Île Flottante is hard to beat! photos Aleks Bjelica
Rue Saint- Viateur Ouest
Montreal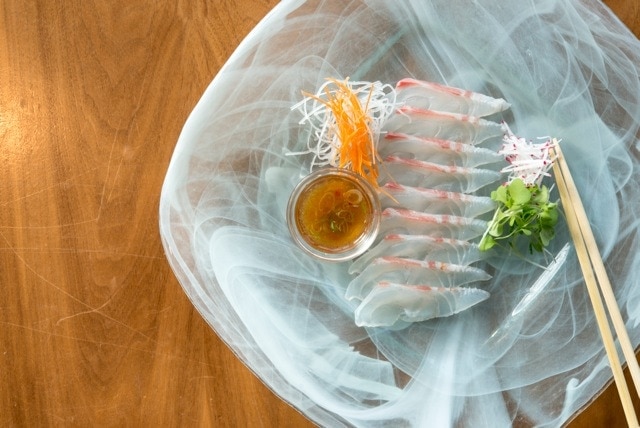 Jun I
Jun I is one of the best sushi restaurants in the city. One comes here to enjoy top quality sushi creations in a beautiful and comfortable space. On the menu are some delicious and refined appetizers, a superb sushi and maki bar, as well as some house specialties prepared with seasonal products arriving from Japan. Jun I is truly exceptional and exception always has a price. If you have a special occasion to celebrate and are looking for great sushi, Jun I is the place to go. We highly recommend it.
156 Avenue Laurier Ouest
Montréal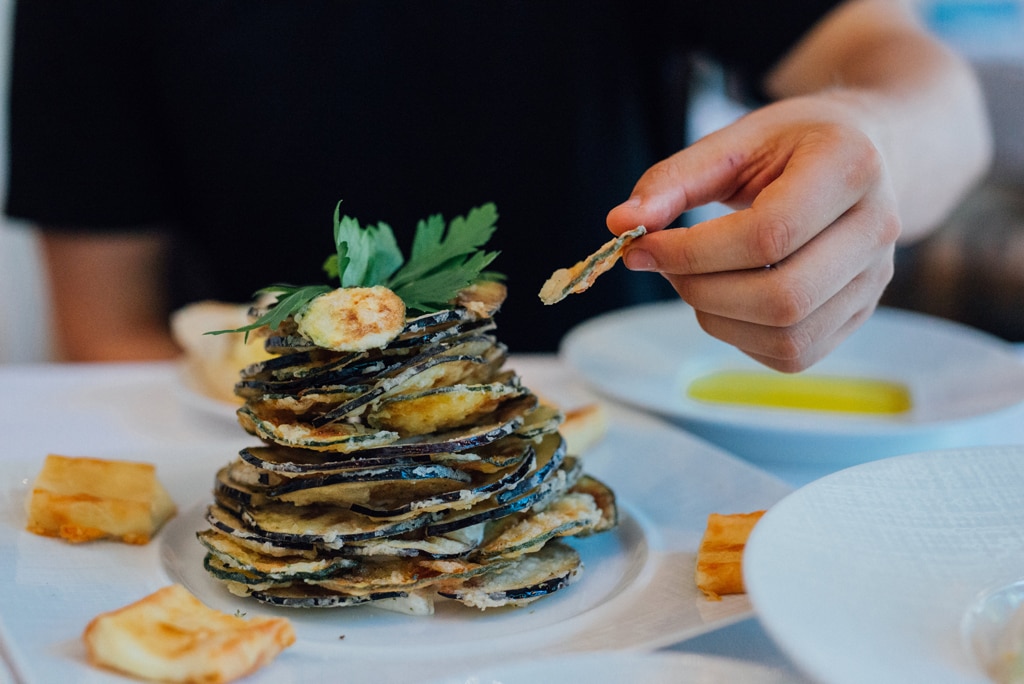 Not only is Milos one of the best Greek restaurants in Montreal, if not the best, it is also one of our favourite chic restaurants in town! Since the very first Milos opened in Montreal in 1979, the restaurant has gained quite a reputation with locations all over the world. Fortunately for us, despite the significant changes over the decades, Milos has retained its charm. One comes here to savour extremely fresh and impeccably prepared Greek cuisine in a beautiful space. This is definitely a place to indulge (with a bill to match), but the experience is well worth it. A a true institution and a staple in Montreal! Photo Alison Slattery
5357 Avenue du Parc
Montréal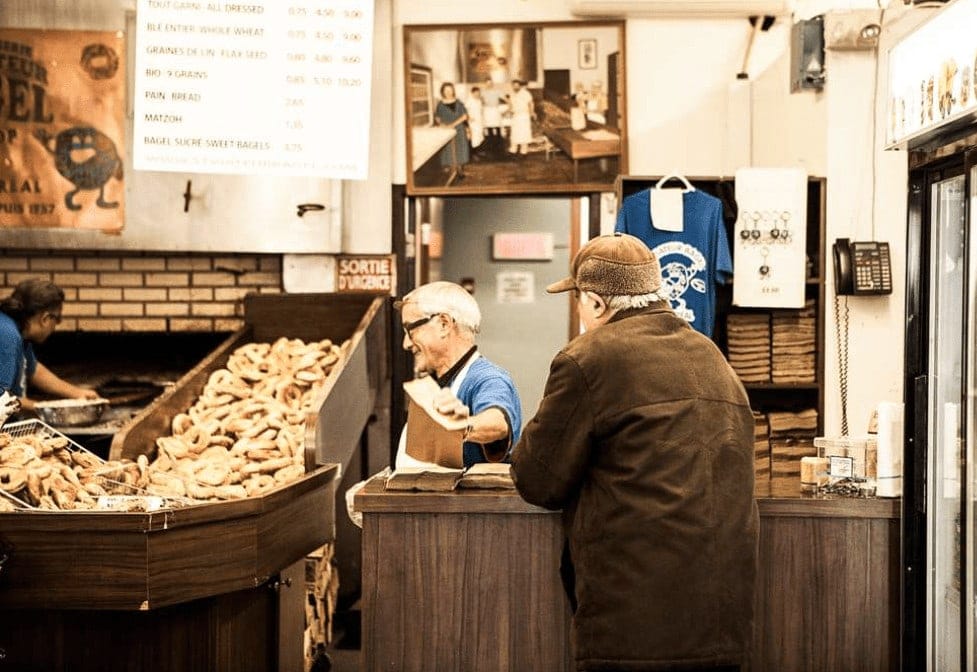 Let's be honest, Montreal is also known for its bagels, and Saint-Viateur Bagel has played a big part in that reputation. This place is a cornerstone in the lives of many Montrealers and this little place certainly has a notable presence in Mile End. Whether you're a tourist or a neighbourhood resident, Saint-Viateur's bagels are a staple. Nothing beats a sesame or poppy seed bagel (super fresh, soft, and often still warm from the wood oven) on a Sunday morning. A must to be experienced if you haven't already (and many, many times)! PS: Hélène-Lise wrote to us: "St-Viateur Bagels does not have the best bagels, FAIRMOUNT does. Why not face the facts?" That being said, you need something for all tastes and it's true that Fairmount bagels are also irresistible :). Bagel St-Viateur
263 Rue Saint- Viateur Ouest
Montréal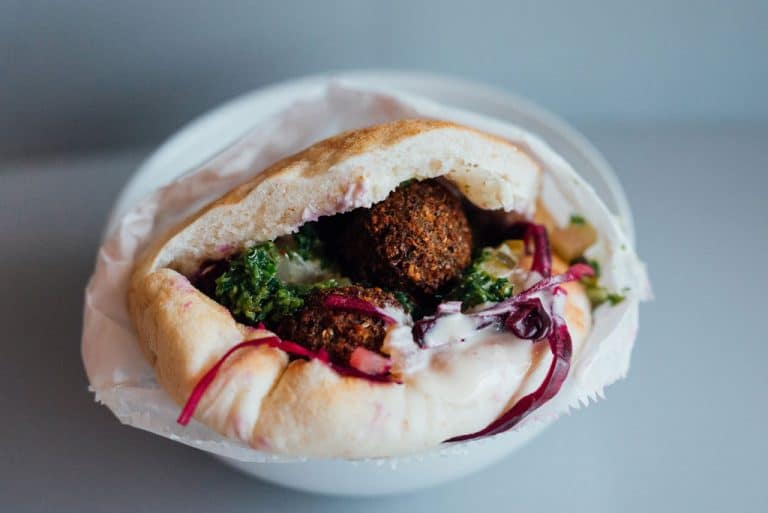 Falafel Yoni is a great falafel counter in Mile End, and the perfect stop for a quick and delicious breakfast or lunch. Here, falafels take the center stage in almost every dish (and we're here for it!). Yoni also offers one of the best Sabich sandwiches in town, as well as a great hummus dish that is sure to satisfy. The space is modern, relaxed and comfortable… it's a great place to keep in mind for the next time you find yourself strolling through Mile End! Photos by Alison Slattery
54 Rue Saint- Viateur Ouest
Montréal
See on map
115 Avenue Laurier Ouest Montréal H2T 2N6
5201 Boulevard Saint-Laurent Montréal H2T 1S4
5836 Boulevard Saint-Laurent Montréal H2T 1T3
Rue Saint- Viateur Ouest Montreal H2T 2L3
156 Avenue Laurier Ouest Montréal H2T 2N7
5357 Avenue du Parc Montréal H2V 4G9
263 Rue Saint- Viateur Ouest Montréal H2V 1Y1
54 Rue Saint- Viateur Ouest Montréal H2T 2K8