The Best Brunches in Montreal: Where to go?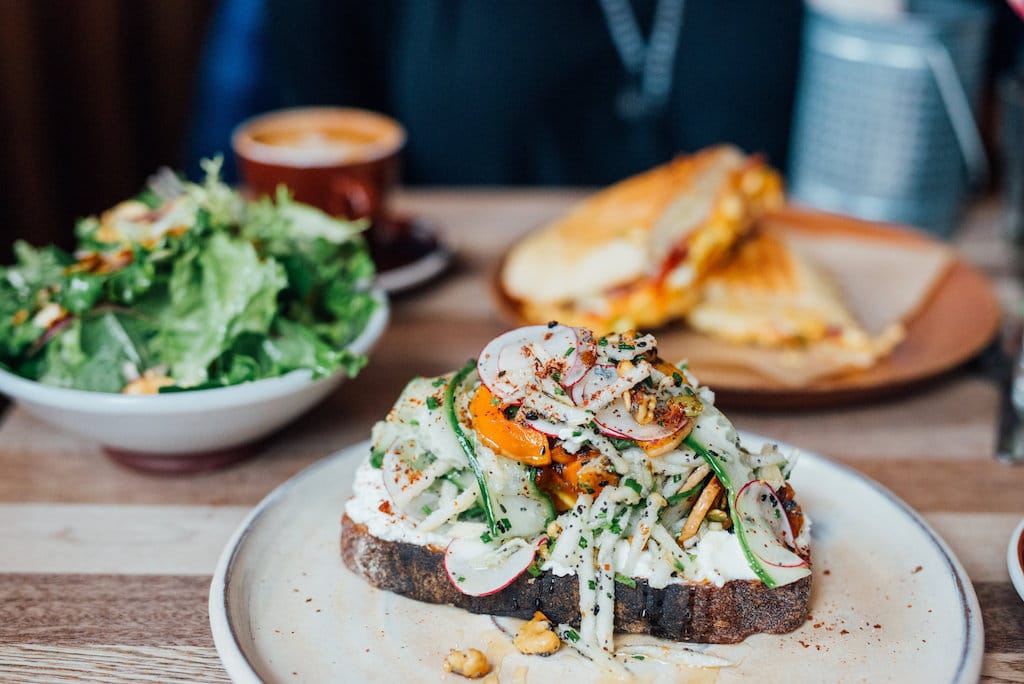 Creative, lively and unique, Montreal is full of gourmet addresses! Among them, there are some that represent the city particularly well because of their warmth, originality and casualness.
Montreal is known for its gastronomic diversity, which can be found in the restaurants scattered throughout the city.
Taste and colour, no argument there! This is perfect since the metropolis suggests a very impressive variety of restaurants. There is something for every palate and that is why our city is so loved by tourists from all over the world.
Whether you're staying in the Plateau, Old Port, Mile End or Saint-Henri, you don't have to look far to find a restaurant that offers a delicious brunch.
However, there is one common denominator for this category of brunch: the warmth of the restaurants where we love to go on weekends as well as during the week when we feel like it.
In this selection, you'll find 15 restaurants that offer brunches that stand out as much for their excellent menu as for their warm decor and expert and passionate staff. Some restaurants in Montreal have established themselves as must-try's in the city, and they make us proud. That's why the delicious brunches suggested in this list will certainly make tourists want to return to our beloved metropolis!
Here are our suggestions for the best brunch places to invite someone to come and enjoy a brunch that reflects the city!
To be on the safe side, check out our list of classic Montreal brunches, original downtown brunches, classic downtown brunches and our list of favorite brunches in the city so you have the full picture of all that's to offer!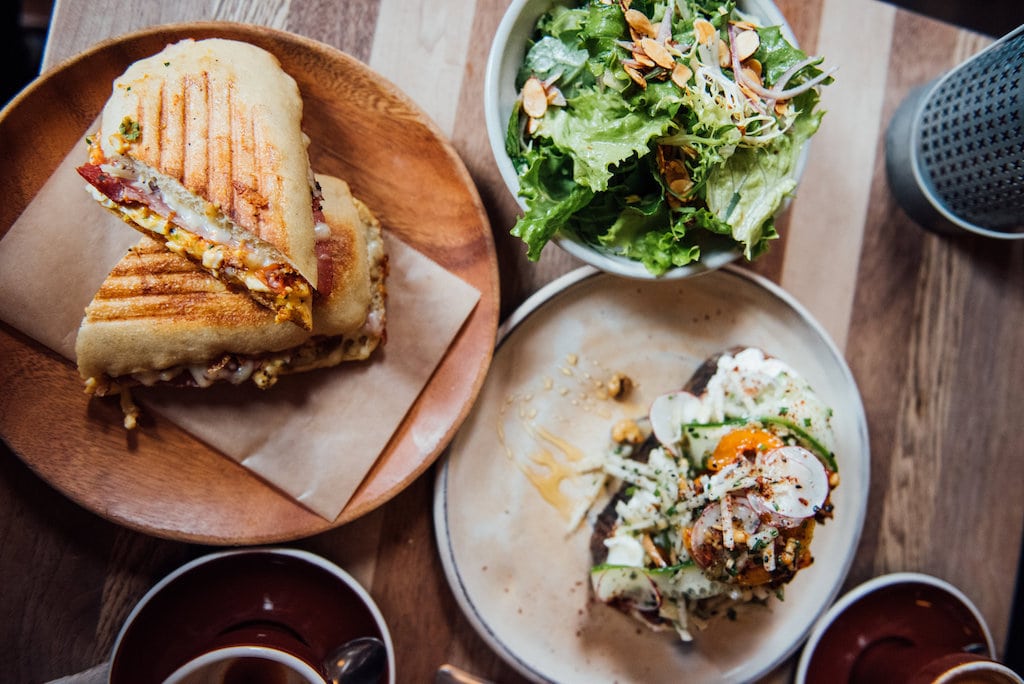 Since its opening in 1997, Olive et Gourmando has been an institution in Old Montreal, as popular with Montrealers as it is with tourists. In a very friendly, rustic and boho-chic decor, we are served delicious Montreal brunches like French toast and much more. The establishment also serves delicious coffees, very good pastries, as well as excellent lunches. The bill can be a bit steep, but everything is very good. Photo Alison Slattery
351 Rue Saint-Paul Ouest
Montréal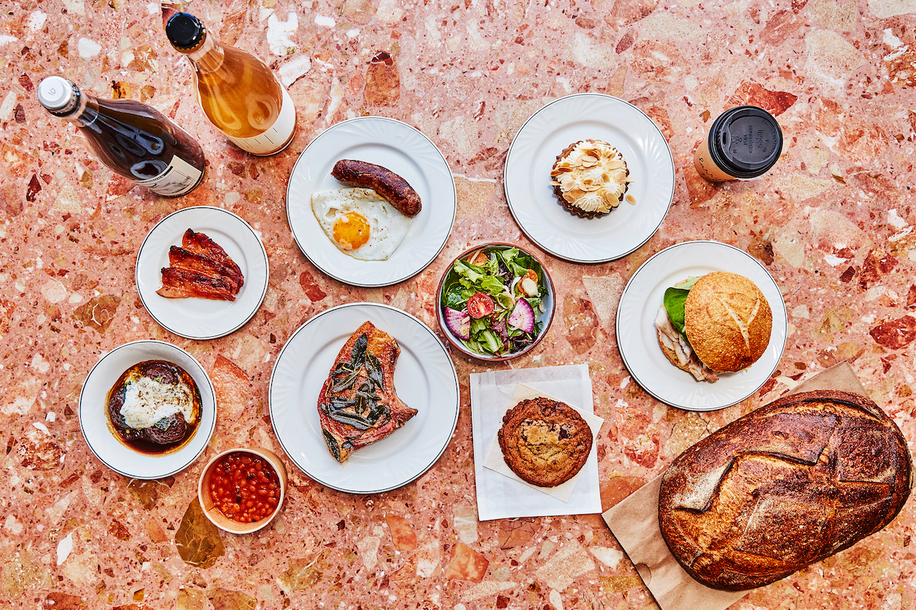 Larry's is a cozy and unique little address in Montreal. Located in the Mile End, it's a great place to go for breakfast at any time of the day – any day of the week. It's one of our favourite places to savour Montreal brunch: we're served simple and delicious dishes, such as homemade smoked salmon, beans and mushrooms or the best breakfast sandwich in Montreal in our opinion. We love the friendly and relaxed atmosphere of the place, perfect for brunch with friends. The restaurant always surprises tourists with the quality of its dishes and for its originality that is very Montreal. Photo Alison Slattery
5201 Boulevard Saint-Laurent
Montréal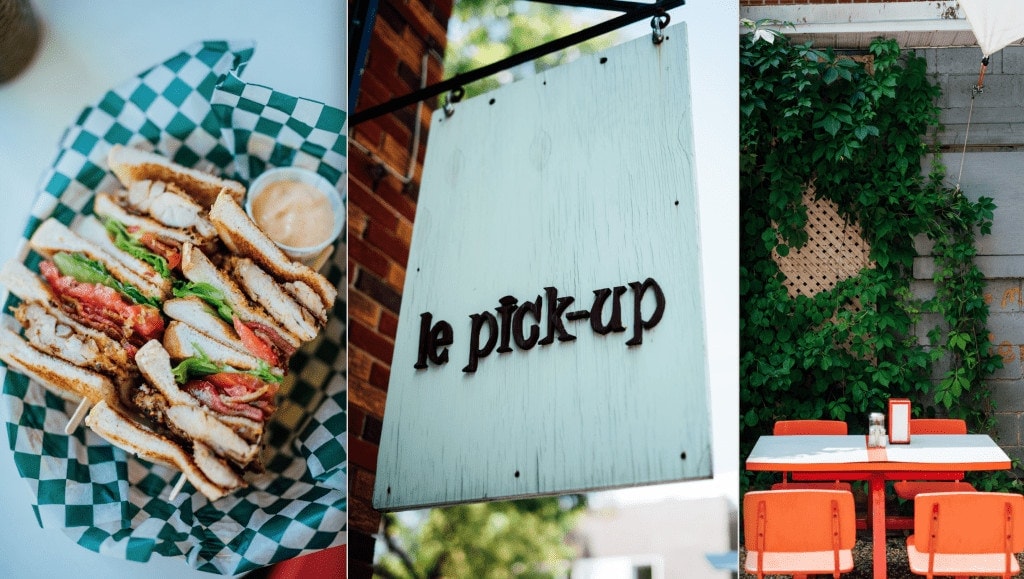 This is one of the establishments that we think represents Montreal very well! Charming, creative and super bohemian, the Dépanneur le Pick-up welcomes us to discover the local products on its shelves, but also to taste its superb classic dishes revisited. For brunch, we are served simple and delicious dishes to enjoy in a unique atmosphere: either inside or on the terrace in summer. We particularly like their breakfast sandwich, their breakfast tacos and their delicious potatoes! For us, the Pick-Up is a must in Montreal for tourists. photo Alison Slattery
7032 Rue Waverly
Montréal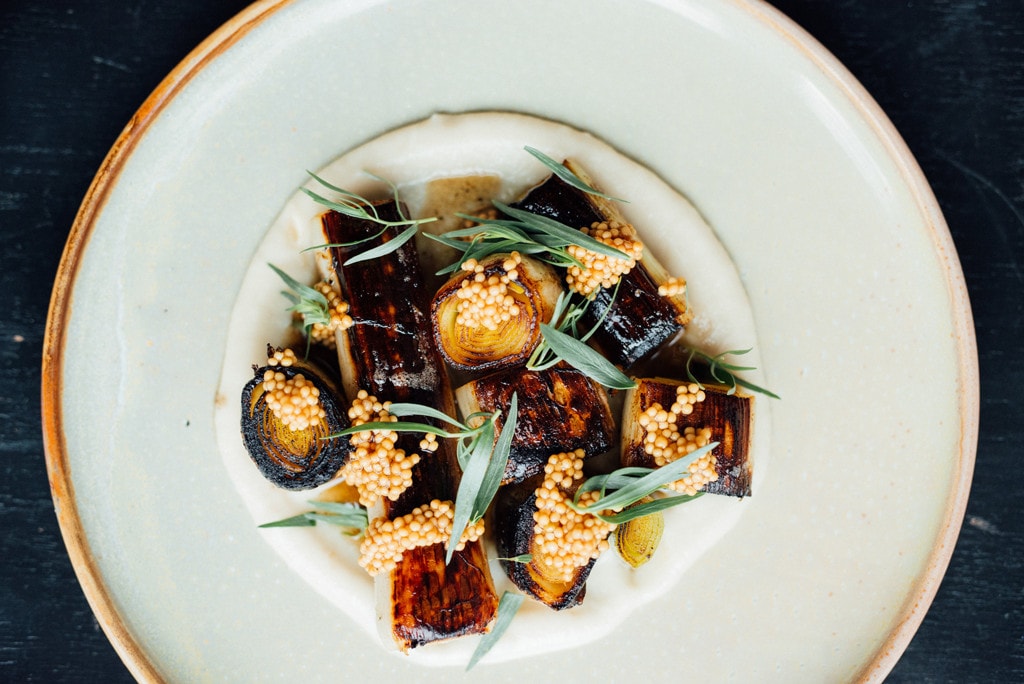 Brasserie Le Réservoir
Le Réservoir is a brasserie and pub, located in the Plateau Mont-Royal, where you can eat small, delicate and delicious bites from opening to closing. On weekends, the restaurant also offers delicious brunches. In a refined and modern decor, you will be served revisited classics. We particularly recommend the breakfast sandwich, which is on our list of the best breakfast sandwiches in Montreal and which changes every week while keeping its staple ingredients: egg, bacon and tomato, served in a bun with sour cream and mustard, then garnished with eggplant, kale or the vegetable of the moment. A must-try! Alison Slattery
9 Avenue Duluth Est
Montréal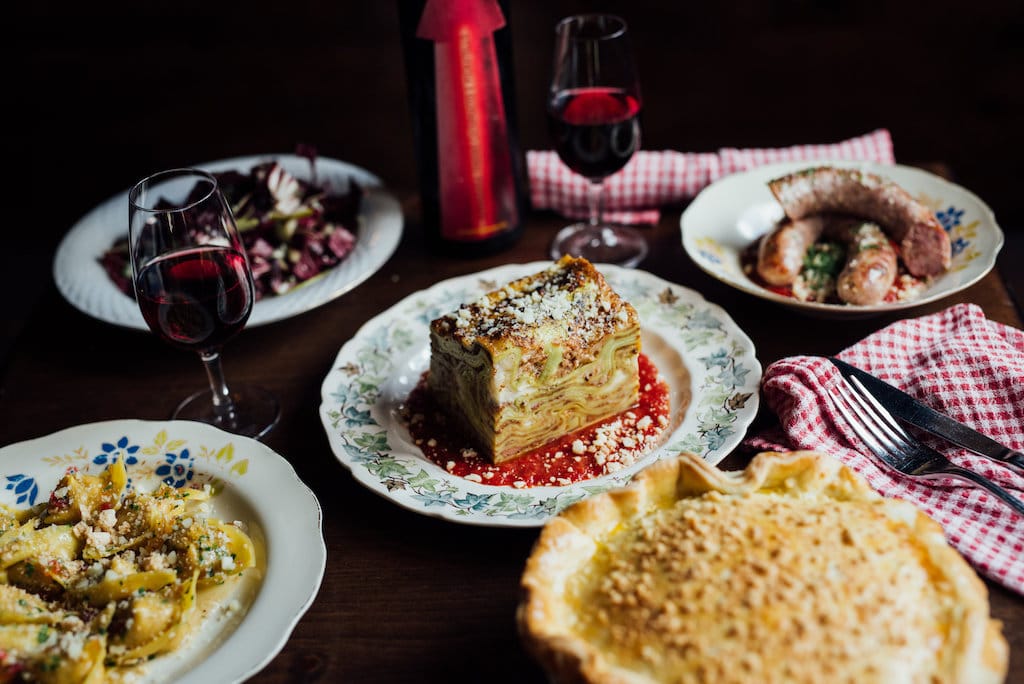 Maison Publique is a successful establishment serving delicious Montreal brunches with an English accent. Located in the heart of the Plateau Mont-Royal, the restaurant welcomes customers on weekends to enjoy fabulous dishes such as eggs Benedict, bacon pancakes and a sausage sandwich. The English-style restaurant is run by one of our favourite chefs (Dereck Dammann) and was opened by Jamie Oliver, among others – it's a story that visitors always enjoy. The atmosphere is fun and warm, their offerings are of a high quality and the staff in the morning always make for a good time. Alison Slattery
4720 Rue Marquette
Montréal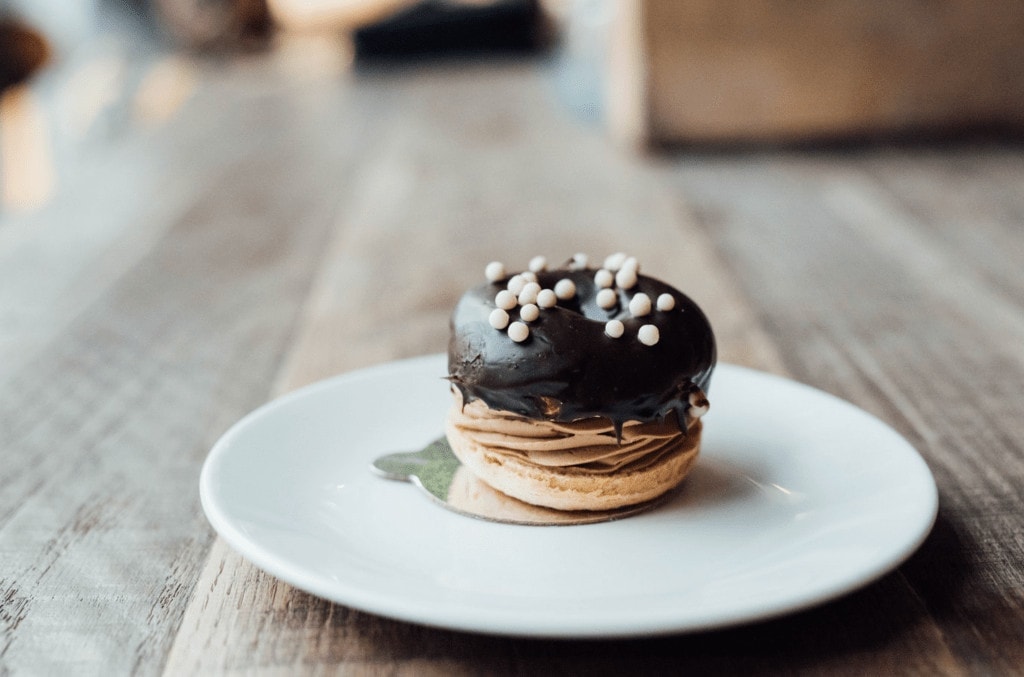 For early risers, this bakery offers great brunches available until noon on weekends! Opened a little over a year ago, La Bête à Pain Griffintown is one of our favourite places to eat breakfast. Beyond its fabulous breads and pastries, we're served excellent dishes such as avocado toast, smoked salmon croissant, French toast, Nutella toast, and more; everything is delicious! We also like the decor of the place, which is bright and elegantly industrial. A must try! Photo Alison Slattery
195 Rue Young
Montréal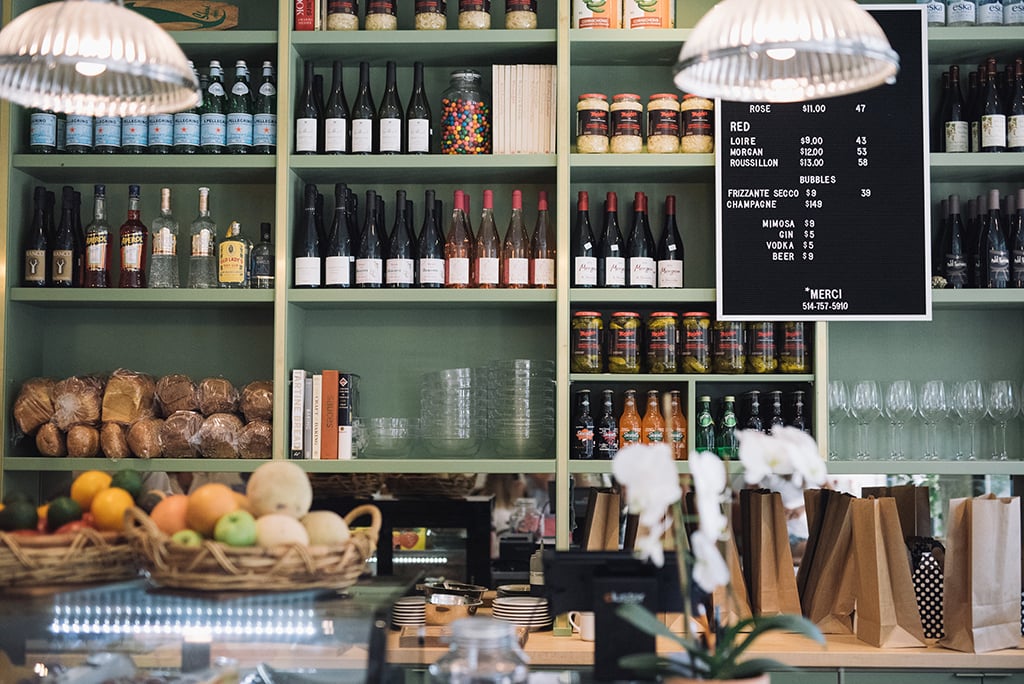 Located on Notre-Dame Street West in the neighbourhood of St. Henri, Arthurs Nosh Bar offers delicious brunches every day of the week! The restaurant offers a menu that pays homage to Jewish traditions with a creative twist that changes seasonally. We also find some of the house's classic dishes that we never get tired of. The gravlax sandwich, the fried chicken sandwich and the delicious schnitzel are among the favourites. The restaurant is always bustling at brunch time and we know why! photo Alison Slattery
4621 Rue Notre-Dame Ouest
Montréal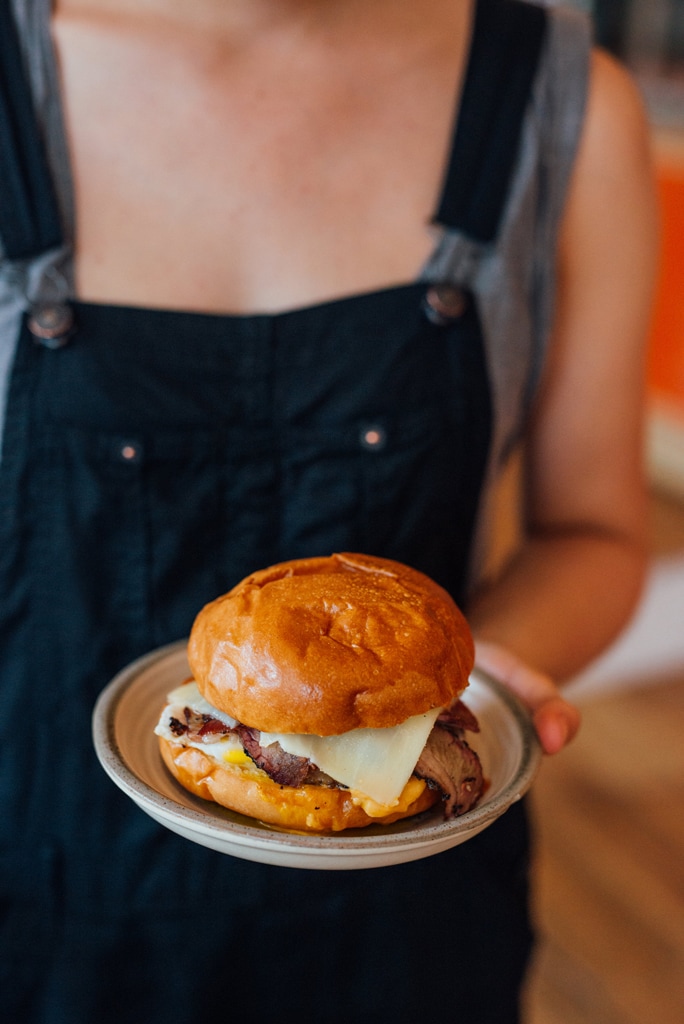 Helico is a charming little cafe that is absolutely worth a visit to savour all sorts of delicious treats! One comes here to have a good coffee, but especially to savour excellent homemade pastries. Helico offers small artisanal delights: excellent croissants, chocolate chip cookies, one of the best brownies in Montreal, kouign-amann, brioches, and much more. Everything is handmade fresh each morning. The cafe also offers a small menu of simple, fresh, and delicious dishes for lunch and brunch! The result is decadent: everything, absolutely everything in this place tastes like happiness. Alison Slattery
2009 Avenue de la Salle
Montréal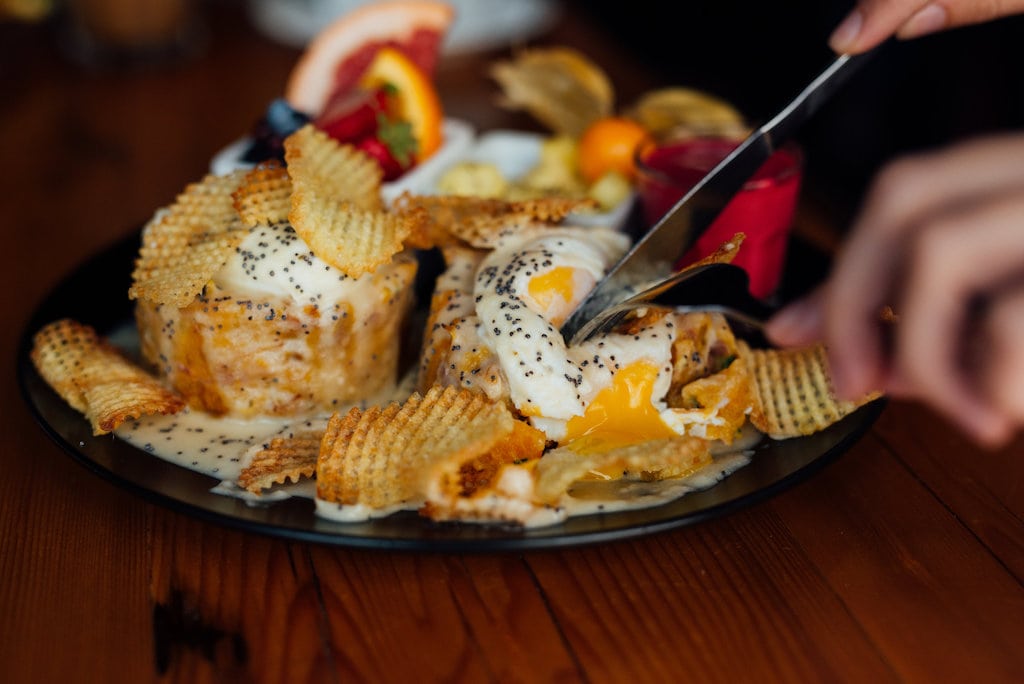 The concept of the house is to capture the classics, the brunch essentials, and to bring them up to date. Chef Arnaud Glay offers delicious, generous and slightly decadent dishes. The menu changes regularly, but you shouldn't miss the dishes that make the place a success: the panko French toast and the eggs Benedict in all their delicious variations. We suggest going earlier rather than later to avoid the line, but even if there is one, its well worth the wait. Alison Slattery
1310 Boulevard de Maisonneuve Est
Montréal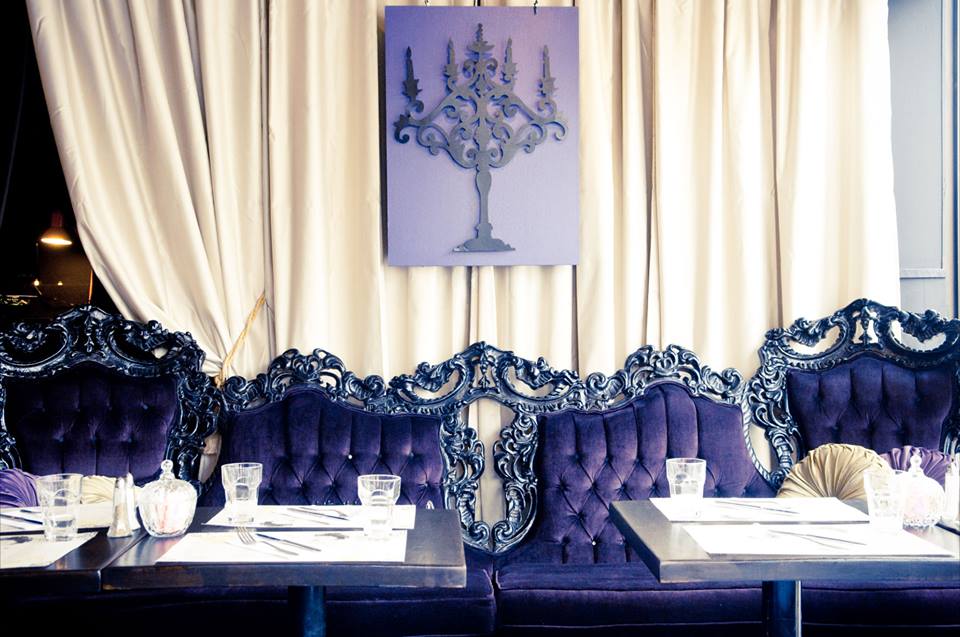 Régine Café is the queen of brunches! In a bright and cozy space, we come here to be pampered and savour delicious breakfasts. We enjoy the Gauffré, the Gros Jambon, the Doré, and many others. The place is very popular since you can enjoy their brunch menu 7 days a week! Photos Gabrielle Desmarchais, Julien Guinguette and Régine Café
1840 Rue Beaubien Est
Montréal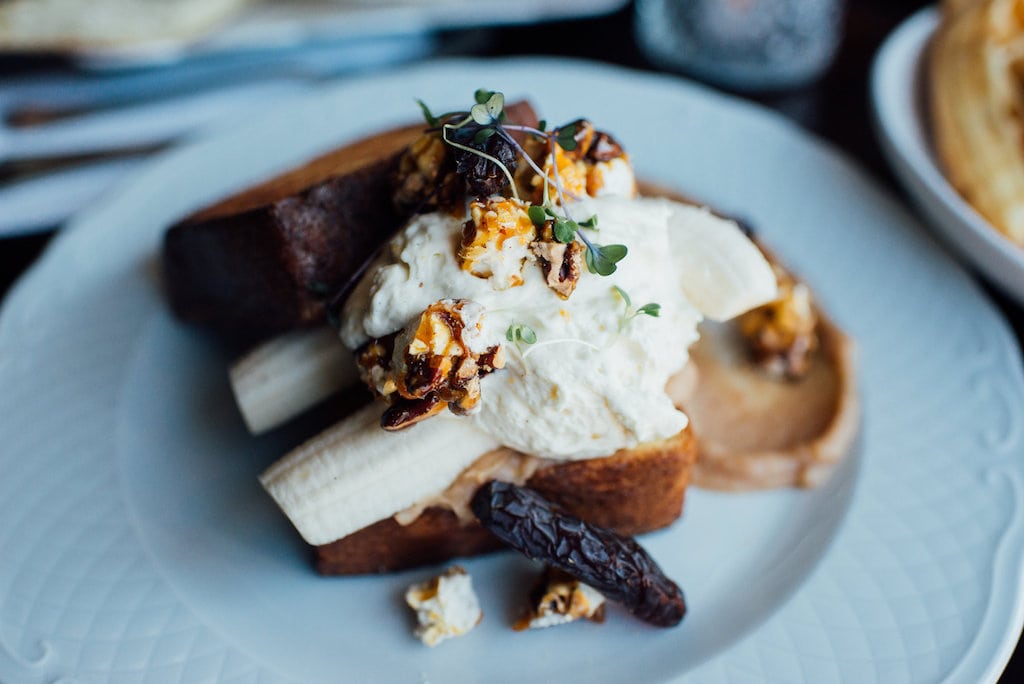 Janine Café is the sister restaurant of the famous Régine Café. Open since November 2018 in Verdun, the address offers a delectable and gourmet brunch menu to savour in a highly welcoming atmosphere. We love the charming and rococo decor of the place, as well as the attentive service. A new address to discover in Verdun to start the day (very) well! Photo Alison Slattery
3900 Rue Wellington
Montréal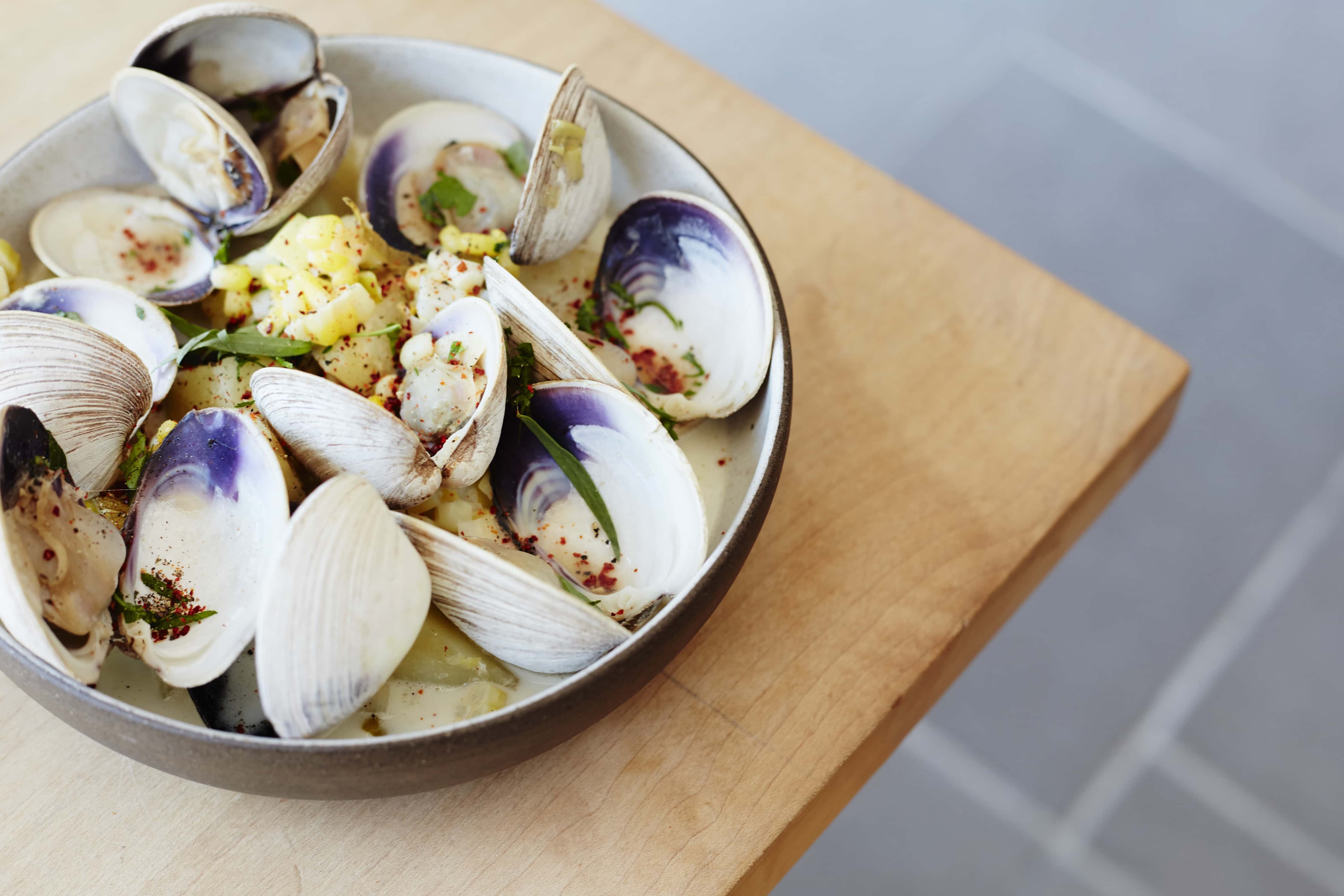 Le Bloomfield opened on Van Horne Street in Outremont a few years ago and Caroline Dumas' (the beloved founder of SoupeSoup restaurants) address offers a friendly and affordable brunch experience. On weekends, the house offers a healthy brunch that focuses on Middle Eastern flavours. French toast, avocado toast and a platter of spreads to share: everyone will be happy! photo Dominique Lafond
1199 Avenue Van Horne
Montréal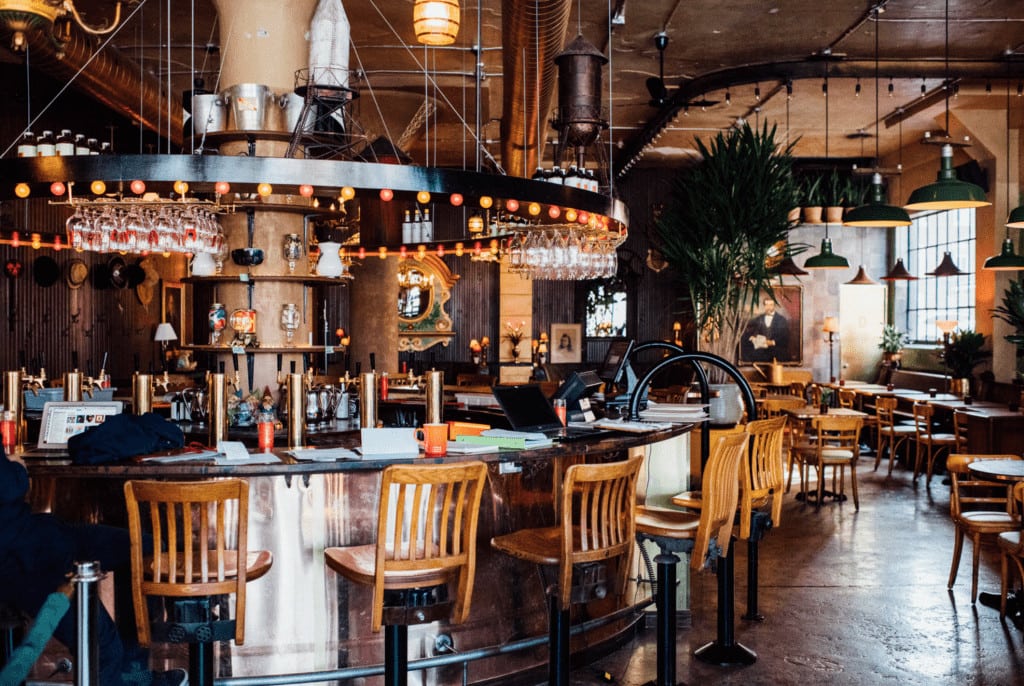 Behind the stove is Chef Alejandro Vega (Jun I, Bouillon Bilk, Cadet) who prepares delicious plates to share. The address also offers excellent brunches (appearing in our Montreal best brunches list) on Saturdays and Sundays! It is now high on our list of best bars and cafés to eat. With a food menu available until midnight or 2am depending on the day, it is also one of the best late night eats in town and a great place to go for a Sunday date!
4328 Boulevard Saint-Laurent
Montréal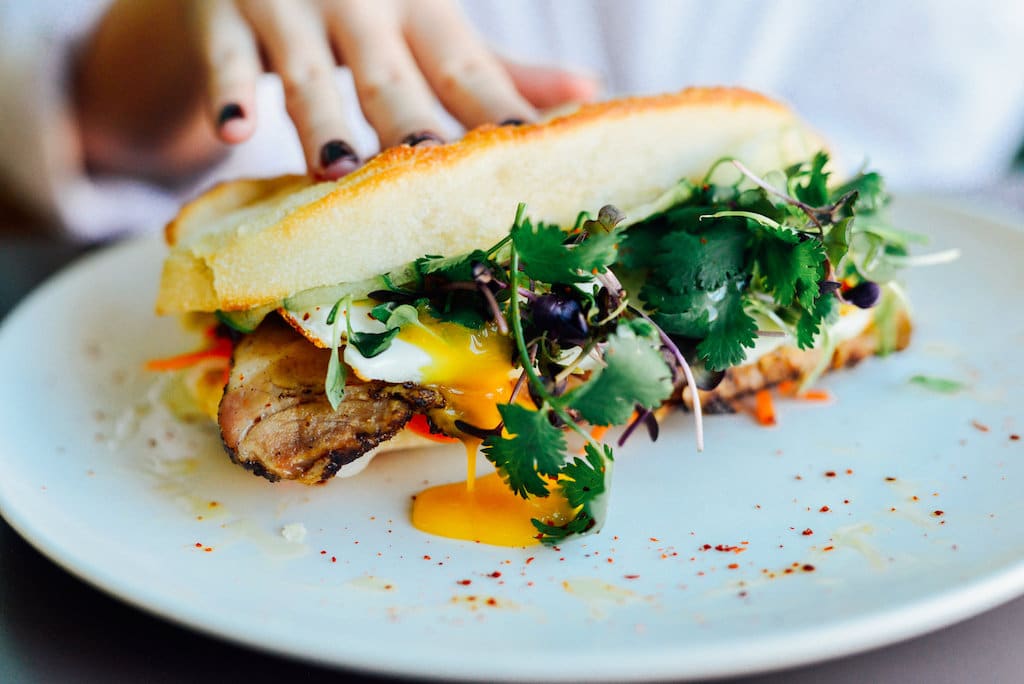 Santa Barbara is one of our favourite vegetarian restaurants. In a charming setting, the restaurant offers an original menu with tasty plates, morning and evening. On weekends, the place offers delicious, mostly vegan brunch dishes that change with the seasons. Alison Slattery
6696 Rue de Saint-Vallier
Montréal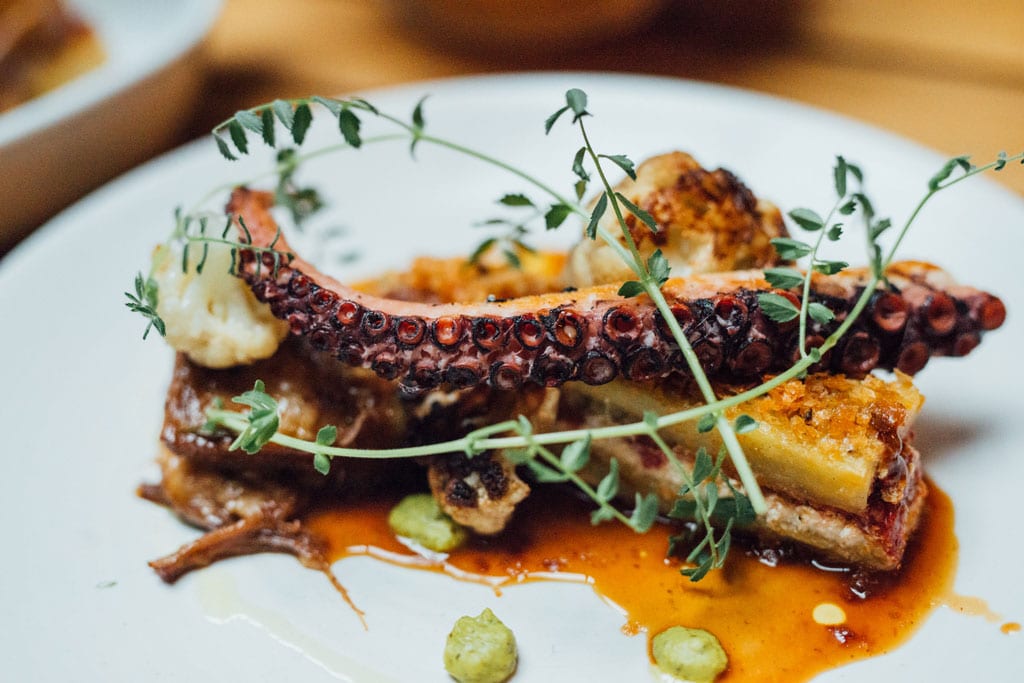 La Fabrique welcomes us in a vast and comfortable space. The decor of the space, created by Stéphanie with the help of her friend Pascal Pilon and Optimal Design, is elegant and stylish; you can feel the warmth of the place. On the menu, starred chef Jean-Baptiste is behind the creation of the dishes. The menu includes Quebec, French and Chinese influences, as the chef was born in France and has lived in China. The menu changes about every 2 to 3 months, and the tasting menu is renewed every two weeks. The establishment also offers a superb brunch menu from Thursday to Sunday!
3619 Rue Saint-Denis
Montréal
351 Rue Saint-Paul Ouest Montréal H2Y 2A7
5201 Boulevard Saint-Laurent Montréal H2T 1S4
7032 Rue Waverly Montréal H2S 3J2
9 Avenue Duluth Est Montréal H2W 1G7
4720 Rue Marquette Montréal H2J 3Y6
195 Rue Young Montréal H3C 2E9
4621 Rue Notre-Dame Ouest Montréal H4C 1S5
2009 Avenue de la Salle Montréal H1V 2K6
1310 Boulevard de Maisonneuve Est Montréal H2L 2A5
1840 Rue Beaubien Est Montréal H2G 1L6
3900 Rue Wellington Montréal H4G 1V3
1199 Avenue Van Horne Montréal H2V 1K1
4328 Boulevard Saint-Laurent Montréal H2W 1Z3
6696 Rue de Saint-Vallier Montréal H2S 2P7
3619 Rue Saint-Denis Montréal H2X 3L6