The Best Middle Eastern Restaurants in Montreal: Our suggestions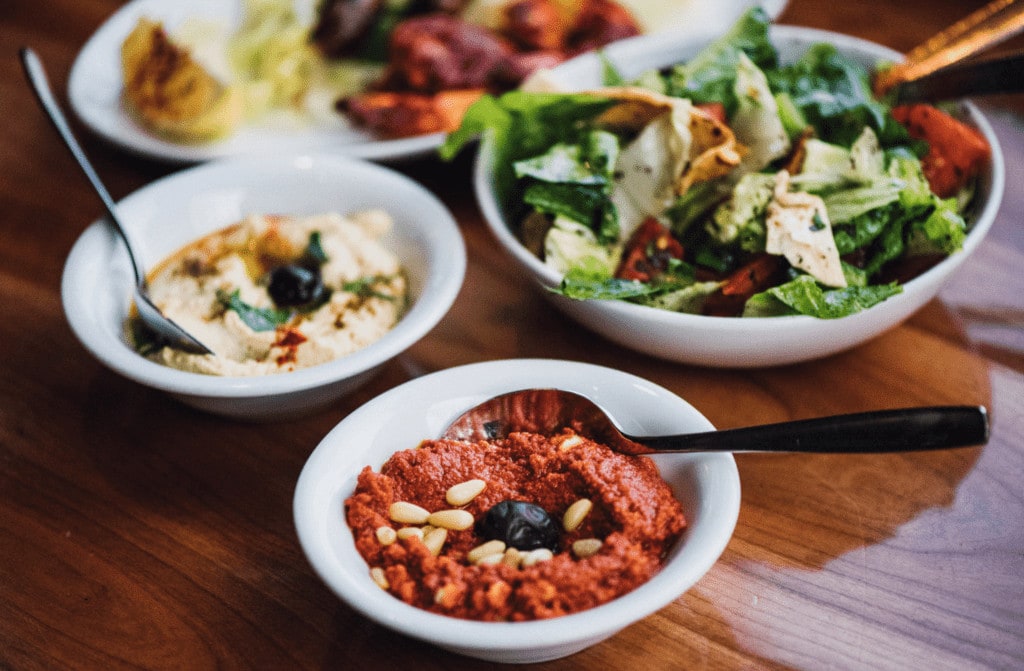 The term Middle East has its origins after World War II and today refers to a group of countries that varies according to the approaches used by historians and geographers. In its broadest sense, the Middle East encompasses countries grouped near the Asian, European and African borders. Despite the plurality of definitions given to the Middle East, one thing is certain: this region of the world is culturally one of the richest and offers one of the most delicious and original cuisines! Israeli falafels, Turkish keftas, Syrian lahmacuns, Armenian lahmadjoune; one can find in Middle Eastern cuisine a great variety of dishes and recipes that vary from country to country.
Throughout the vastness of the region and with all the particularities of each country, one discovers a cuisine rich in aromas, textures and spices. The dishes found in the cuisine of Middle Eastern countries are full of freshness, flavour and colour! The seasoning of the ingredients is also characteristic of this type of cuisine; there are many spices, vegetables, fine herbs, nuts and dried fruits.
Thanks to all the cultural diversity found in Montreal, the city offers a culinary scene of choice for tasting the many unique flavours of this region of the world. Given the broad term and all that the Middle East includes, we have chosen a specific type of cuisine for our list of the best Middle Eastern restaurants – we know that the term is complex and encompasses other types of restaurants.
Here are our suggestions for the best Middle Eastern restaurants to visit in Montreal.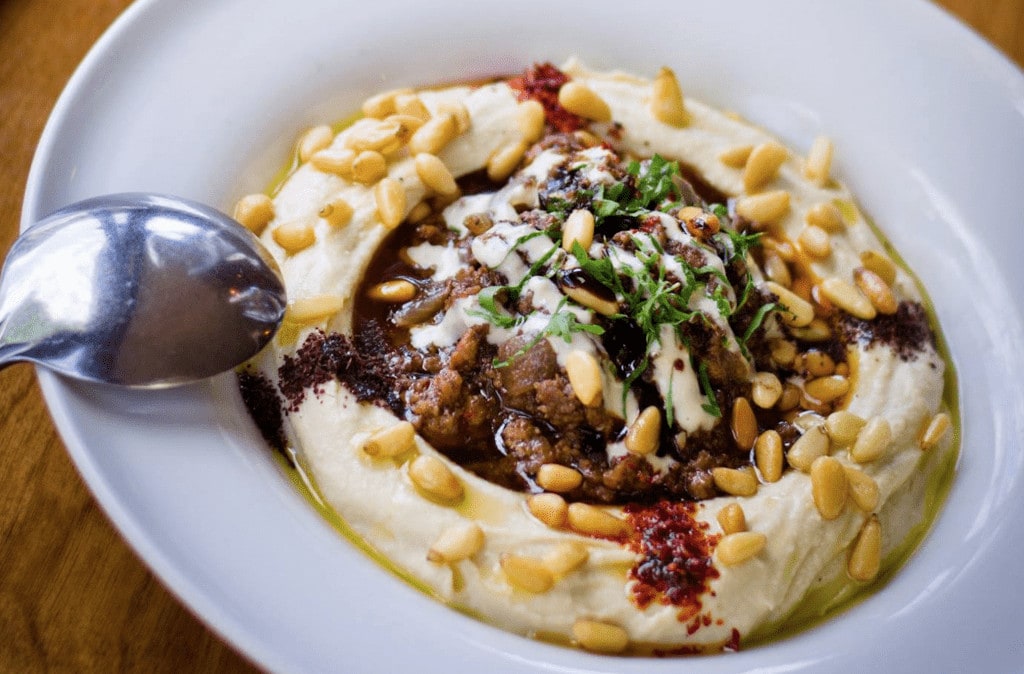 Damas opened its doors in 2010 and is one of the most exceptional Syrian restaurants in the city. The space of Damas is sublime and very warm; one feels welcomed, transported and charmed as soon as one enters the restaurant. On the menu, you will find exquisite specialties with exceptional flavours and spices, such as fish, charcoal grilled delicacies or Fattouch salad. Damas will transport you to Syria with its music, its dishes, its delicious aromas wafting from the kitchen, and the welcome of its friendly owners Ivan Abbas and Fuad Alneirabeie. Photos : Vesia Photography
1201 Avenue Van Horne
Montréal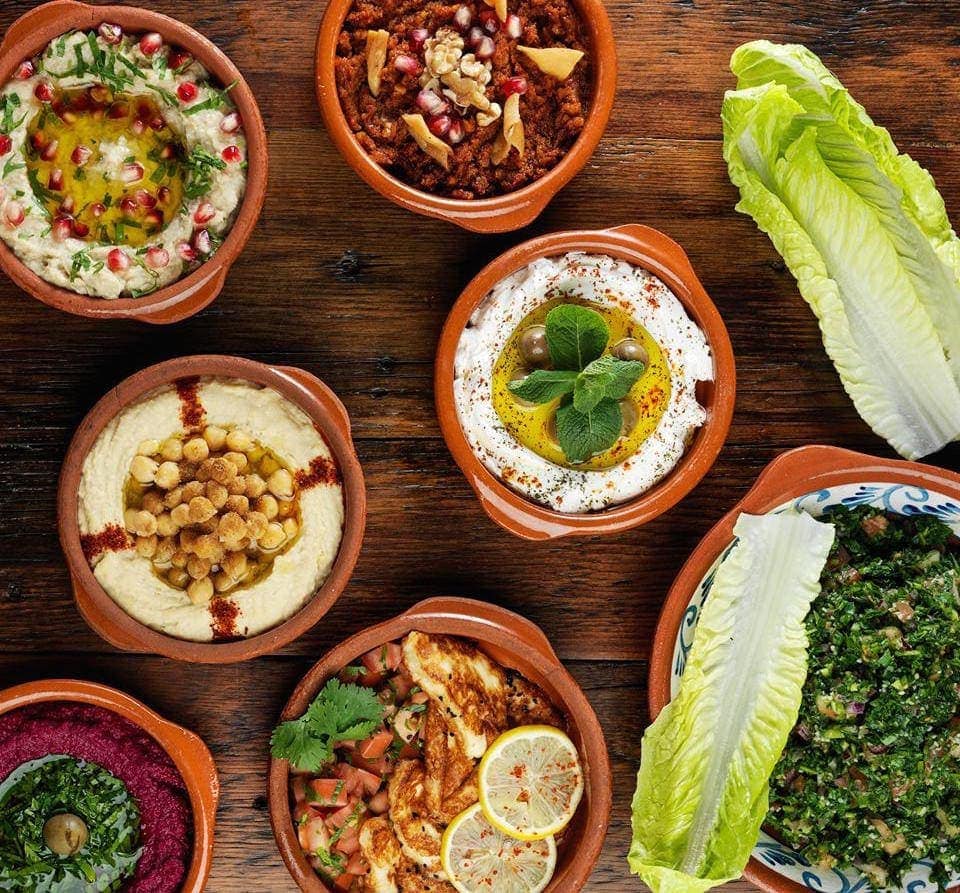 KazaMaza translates more or less as "jumble", "here and there", and "mixture", and it is indeed a mixture of very good things that we enjoy here. This friendly address offers delicious Middle Eastern dishes perfect for sharing. Kazamaza's chef prepares with precision dishes with exotic flavours and tastes; tender shanks, amazing hummus, crispy kebabs, sumptuous fattucca salads, and much more. Photos KazaMaza
4629 Avenue du Parc
Montréal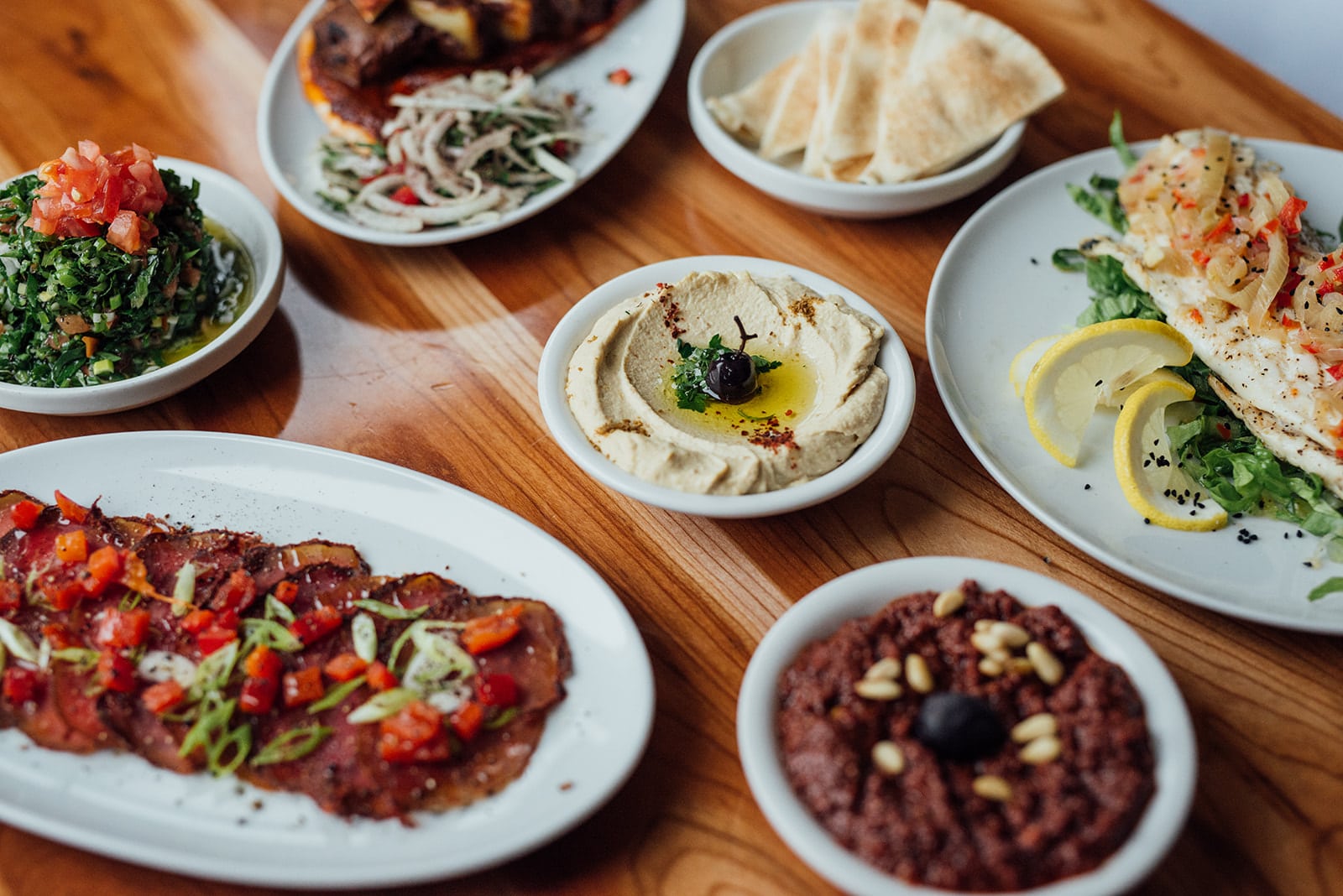 Open for several decades, the restaurant Alep is located on Jean-Talon Street. Now a Montreal institution, it offers a traditional menu with authentic flavours from Syria and Armenia. The specialties of the house have changed very little over the years; their dishes constantly find their originality in their textures, flavours and aromas. Note also that Alep offers an excellent wine list!
199 Rue Jean-Talon Est
Montréal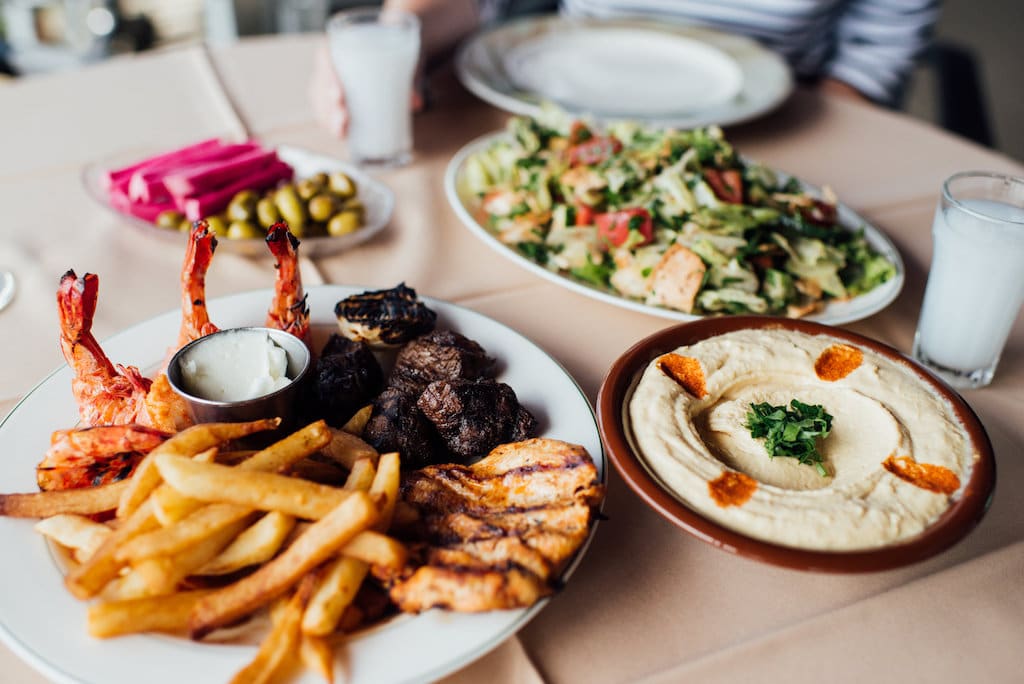 Daou is a renowned restaurant in Montreal that serves excellent Lebanese specialties. The menu features simple and authentic Middle Eastern flavours in their dishes that are perfect for sharing. There is a wide selection of hot and cold appetizers, seafood and grilled meats. Everything here is fresh and delicious. The atmosphere is simple, unpretentious and very family oriented. Note that Daou also offers an excellent catering service.
519 Rue Faillon Est
Montréal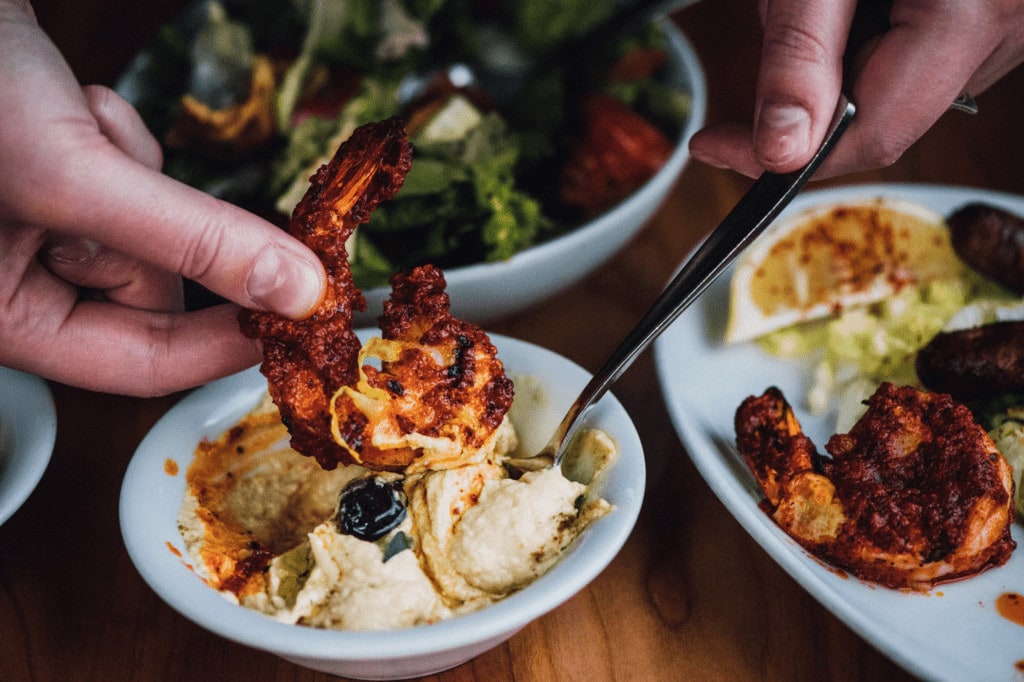 Neighbouring its big brother, the delicious Alep restaurant, Le Petit Alep is much less expensive, but just as delicious and generous with its Armenian and Syrian fare. Soups and salads with Middle Eastern flavours, hearty and delicious mezzes, pitas, chicken or lamb kebabs, falafel and other gourmet delights are on the menu. You are sure to be satisfied during your tasting and guaranteed to be full at the end of your meal. Be sure to pair your meal with some amazing wine – they have a very nice wine list. Note that the service can sometimes be a little slow, but it is compensated by the warm and friendly atmosphere of the place. Photos Alison Slattery
191 Rue Jean-Talon Est
Montréal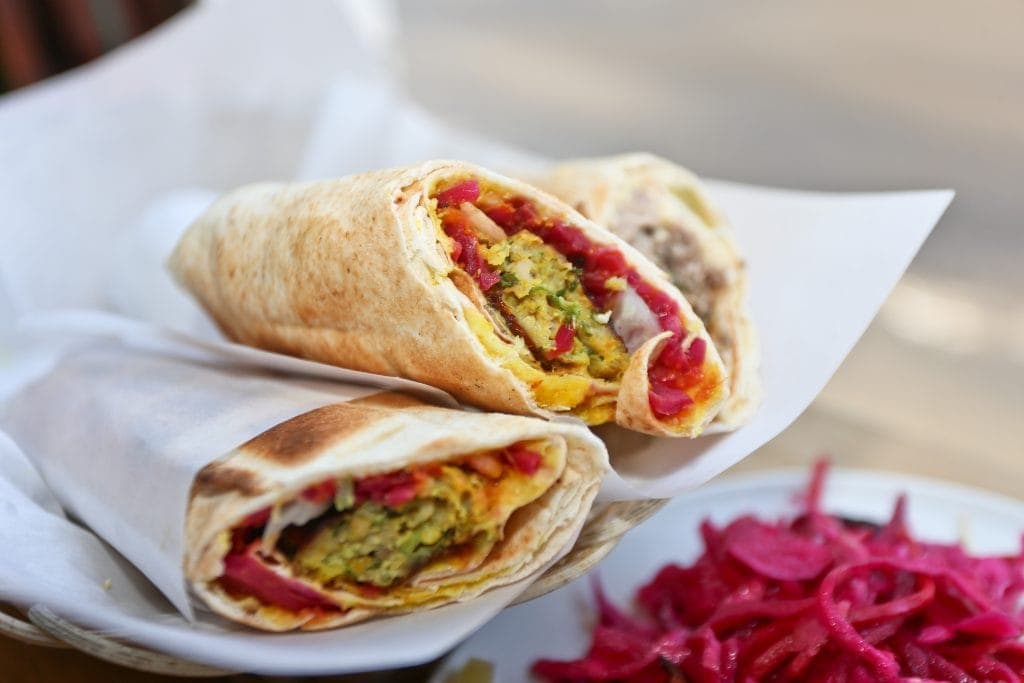 Located on St-Laurent Boulevard, Omnivore offers a delicious Lebanese-Montrealese menu for vegetarians AND carnivores. With a counter to order your meal and a few tables, the small establishment invites you to taste dishes with good ingredients and the most delicious spices, sauces and textures. The address is warm and unpretentious, and the quality-price ratio of its products is unbeatable. Omnivore offers a catering and grocery service, located a little further on Marie-Anne Street, and is part of our list of the best healthy vegetarian addresses in Montreal.
4306 Boulevard Saint-Laurent
Montréal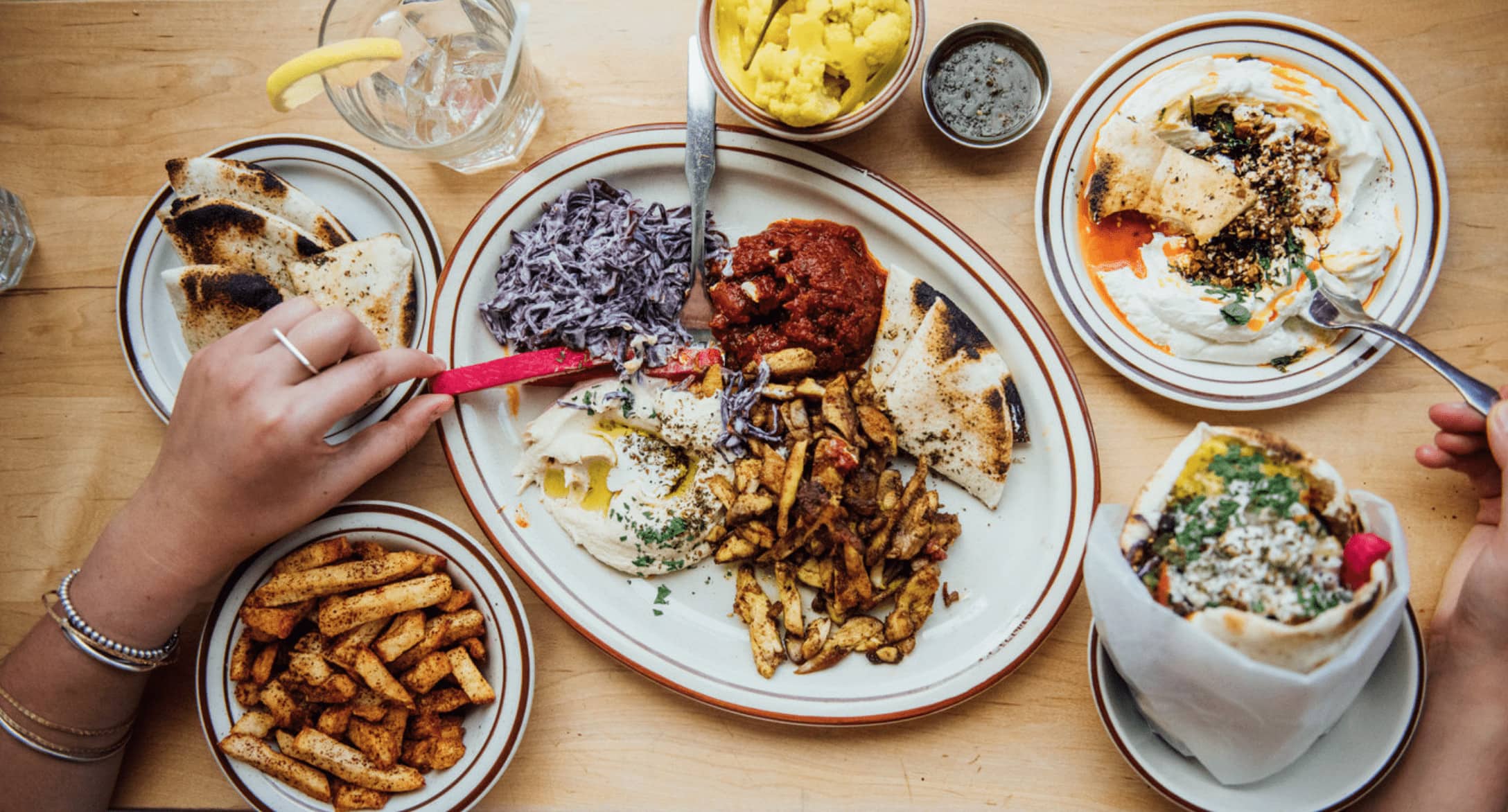 Sumac is a small, unpretentious restaurant on Notre-Dame Street West that offers delectable Mediterranean cuisine at very affordable prices. The establishment was named in honour of the spice that is widely used in Middle Eastern cooking, often to flavour dishes without altering the taste of the food. With their counter style concept, Sumac offers Lebanese, Israeli, Egyptian and Syrian specialties that are well made and of high quality, all served in very generous portions. The place is one of our favourite places to eat "beautiful, well and cheap", as well as those that offer an excellent catering service. The decor is clean and elegant; we love the little delicacies of this St-Henri address. Photo Alison Slattery
3618 Rue Notre-Dame Ouest
Montréal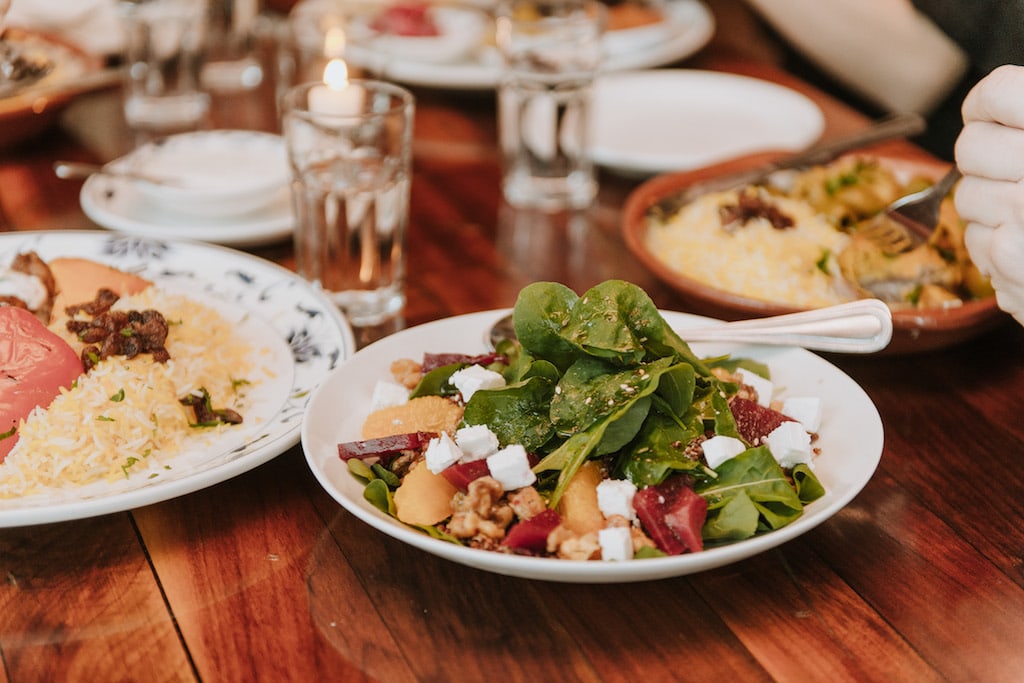 Rumi is a restaurant located in Outremont that offers some of the most delicious Middle Eastern cuisine in the city. The space is very colourful and warm and welcomes a varied clientele. The restaurant offers a traditional menu that leaves room for discovery and travel, savouring delicious simmered dishes, grilled meats, good salads and hot and cold mezes. The cuisine is comforting and features delicious flavours The establishment also offers very good brunches on weekends. Photo Rumi
5198 Rue Hutchison
Montreal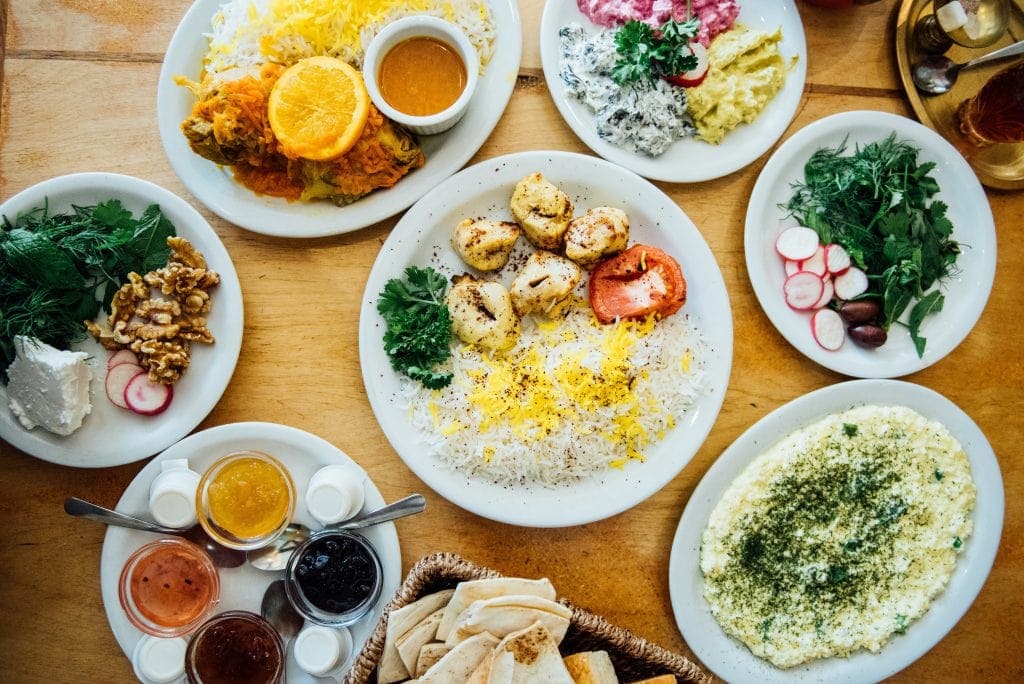 Byblos le petit café transports you to Tehran. Byblos is like a family, a place that warms your heart and treats your belly; the founder Hemela welcomes you with a lot of love, along with her daughter Nina and her grandson Reza Laurent. The latter have now taken over the family business, a place where you can enjoy the best fine herb feta that exists. This is one of the best "beautiful, good, and cheap" restaurants in Montreal. Whether you order small comfort food stews, try the unforgettable weekend brunches or the traditional Sunday night only dish, you won't be disappointed. (Be patient, service can sometimes be slow). Photos by Alison Slattery
1499 Avenue Laurier Est
Montréal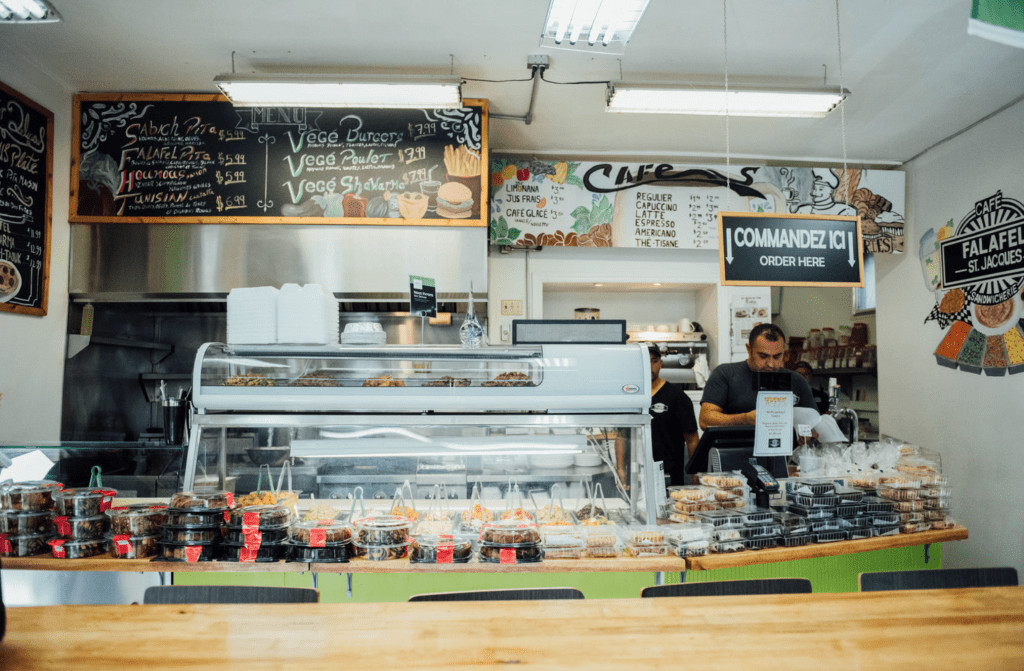 Opened in 2015, Falafel Saint-Jacques is a little gem of a hidden restaurant-counter that offers delicious, original and affordable vegetarian Middle Eastern cuisine to its customers! This establishment is part of our list of the best healthy and vegetarian addresses in Montreal! The specialty here is the excellent falafels they serve; they are moist, fresh and tasty – among the best falafels in the city! Everything here is fresh, generous and delicious. A must try! Photos Alison Slattery
345 Rue Saint-Jacques
Montréal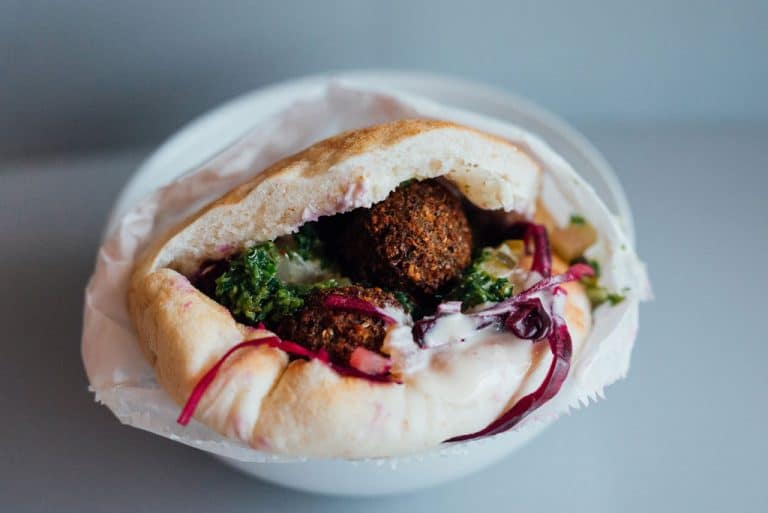 Falafel Yoni is a beautiful falafel counter that opened in Mile End in April 2018. Yoni Amir and Daniel Maislin offer a simple and unique offering; the best Israeli falafel in town in our opinion! Our favourites include the falafel pita, the Sabich sandwich and their refreshing mint lemonade. We like this place for its beautiful decor, its very friendly staff and especially for its inexpensive delicacies. This establishment is a great address to discover and is part of our list of Mile-End addresses where to eat lunch for less than $10. Photo Alison Slattery
54 Rue Saint-Viateur Ouest
Montréal
Garage Beirut
Opened in 2011, Garage Beirut restaurant offers authentic Lebanese cuisine in downtown Montreal. Located in a small space on Mackay Street, the establishment welcomes you in a simple and unpretentious decor. We come to Garage Beirut to taste typical Lebanese dishes, all fresh and colorful. An address to discover!
1238 Rue Mackay
Montréal
See on map
1201 Avenue Van Horne Montréal H2V 1K4
4629 Avenue du Parc Montréal H2V 4E4
199 Rue Jean-Talon Est Montréal H2R 1S8
519 Rue Faillon Est Montréal H2R 1L6
191 Rue Jean-Talon Est Montréal H2R 1S8
4306 Boulevard Saint-Laurent Montréal H2W 1Z3
3618 Rue Notre-Dame Ouest Montréal H4C 1P5
5198 Rue Hutchison Montreal H2V 4A9
1499 Avenue Laurier Est Montréal H2J 1H8
345 Rue Saint-Jacques Montréal H8R 1E6
54 Rue Saint-Viateur Ouest Montréal H2T 2K8
1238 Rue Mackay Montréal H3G 2H4