Pasta Pooks: The stars of fresh pasta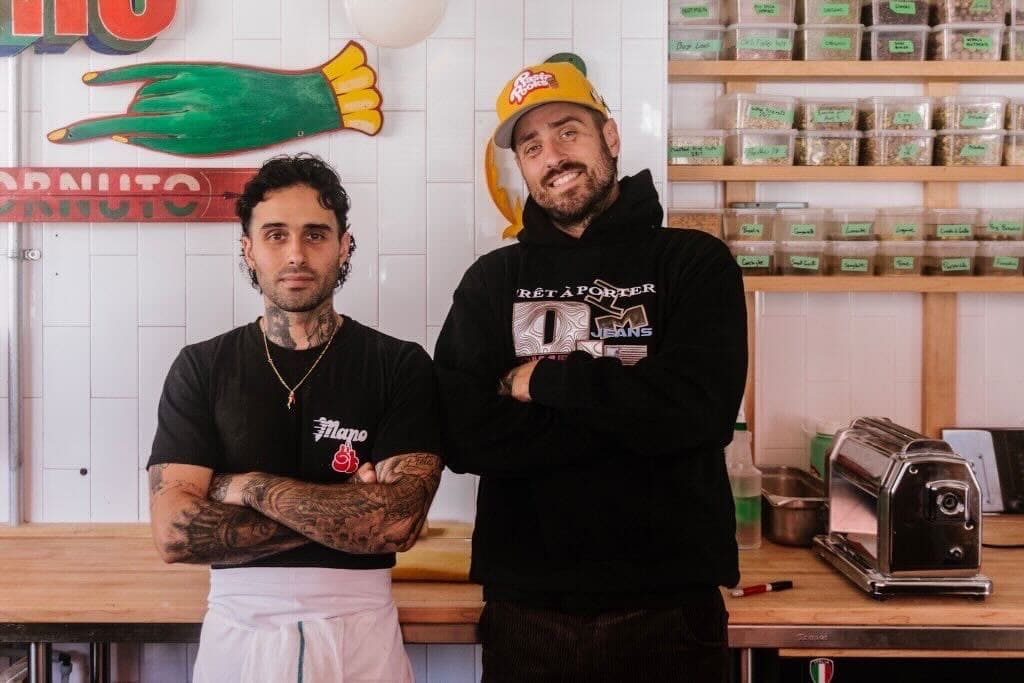 It was at Mano Cornuto, at his workstation, his hands blackened by squid ink, that Luca Vinci was waiting for me the day of our interview. Steady and focused, he was skillfully preparing the pasta for the evening service at the popular Griffintown address.
A few minutes later, his energetic business partner and best friend Victor Petrenko, better known as Coach Vic, walked through the door.
The first question that crosses one's mind when looking at these two characters is to understand how such different personalities can come together and understand one another. The second question is how these two black sheep managed to become rock stars of the Montreal culinary scene in such a short time.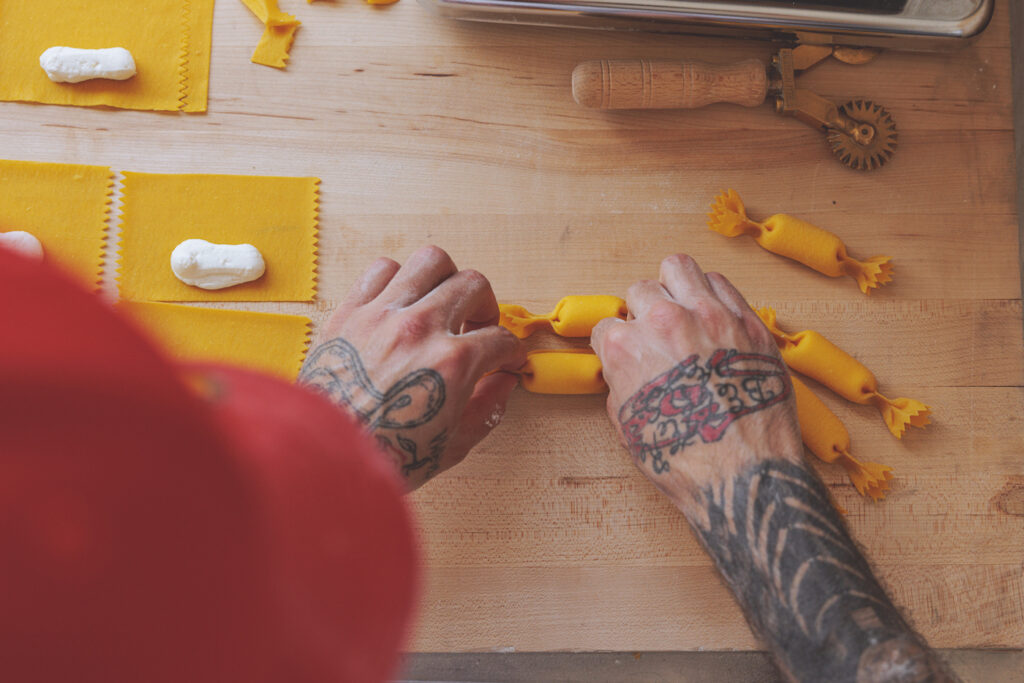 Long-time friends
Ironically, it's a passion for video games that is at the root of their friendship. "We know a lot of people who play the same games as us and everyone knows that Pooks and I are a great team. We communicate like nobody else in the world. We have a connection that transcends understanding and reason," says Coach Vic.
Luca Vinci openly calls himself a mama's boy. Raised by his mother's clan, he learned the art of pasta making by watching his aunts and mother. Introverted and reserved, he quickly found an escape and a meditative aspect to it. "When I work with dough, I forget everything. I don't need to talk to anyone, I'm fine, I smile, I live. I have always been a perfectionist and I think that is one of the keys to our success. There have been many times when I've had insomnia after serving pasta that didn't seem to be executed the way I imagined it," he says.
Victor says he perfected his art while working at Impasto with Stefano Faita and Michele Forgione.
Victor is the opposite of Luca. Outgoing, loud-mouthed and always looking for attention, he dabbled in many fields before committing his heart and soul to Pasta Pooks. "I've worked in clubs, bars, restaurants, music, you name it! I need the energy of the crowds, the action and pushing people to have a good time," he says.
Driven by a strong passion for cooking and gastronomy, the duo decided, in the midst of a pandemic, to join forces and launch Pasta Pooks.
"It's more than pasta, it's a show"
Luca and Coach Vic quickly gained notoriety with the help of Instagram. "Luca is from Quebec City. The girls in Montreal had never really seen his good looks until we started working together. When I started posting videos of him making pasta on Instagram, I got several messages from young women who suddenly wanted to buy our products. So being good-looking has its advantages," Coach Vic jokes.
Instantly, the demand for Pasta Pooks products exploded. In addition to having outstanding marketing, the products offered by the duo are delicious and of high quality. "What has made us successful is that we have stayed in our niche. We are not chefs. We are artisans who work with fresh pasta. There is a great respect for tradition and craftsmanship in the restaurant industry," continues Luca.
As a result, Pasta Pooks attracted the attention of many Montreal restaurateurs. This was followed by a series of collaborations with some of the city's top restaurants—Salle Climatisée, Mano Cornuto, Adamo, Île Flottante and Boxermans, to name a few.
The Pasta Pooks pop-ups become celebrations where pasta is king. "We have a solid process. We always start by creating a close relationship with the chef of the establishment. It is fundamental for us to know their stories, influences and backgrounds. Based on this information, we create a menu in collaboration with them. This is where Ana Maria Vinci comes into play."
Luca's aunt Ana Maria plays a significant role in Pasta Pooks. A fine cook, she assists in the creation of all the dishes. "Without her, nothing would be possible," the duo explains.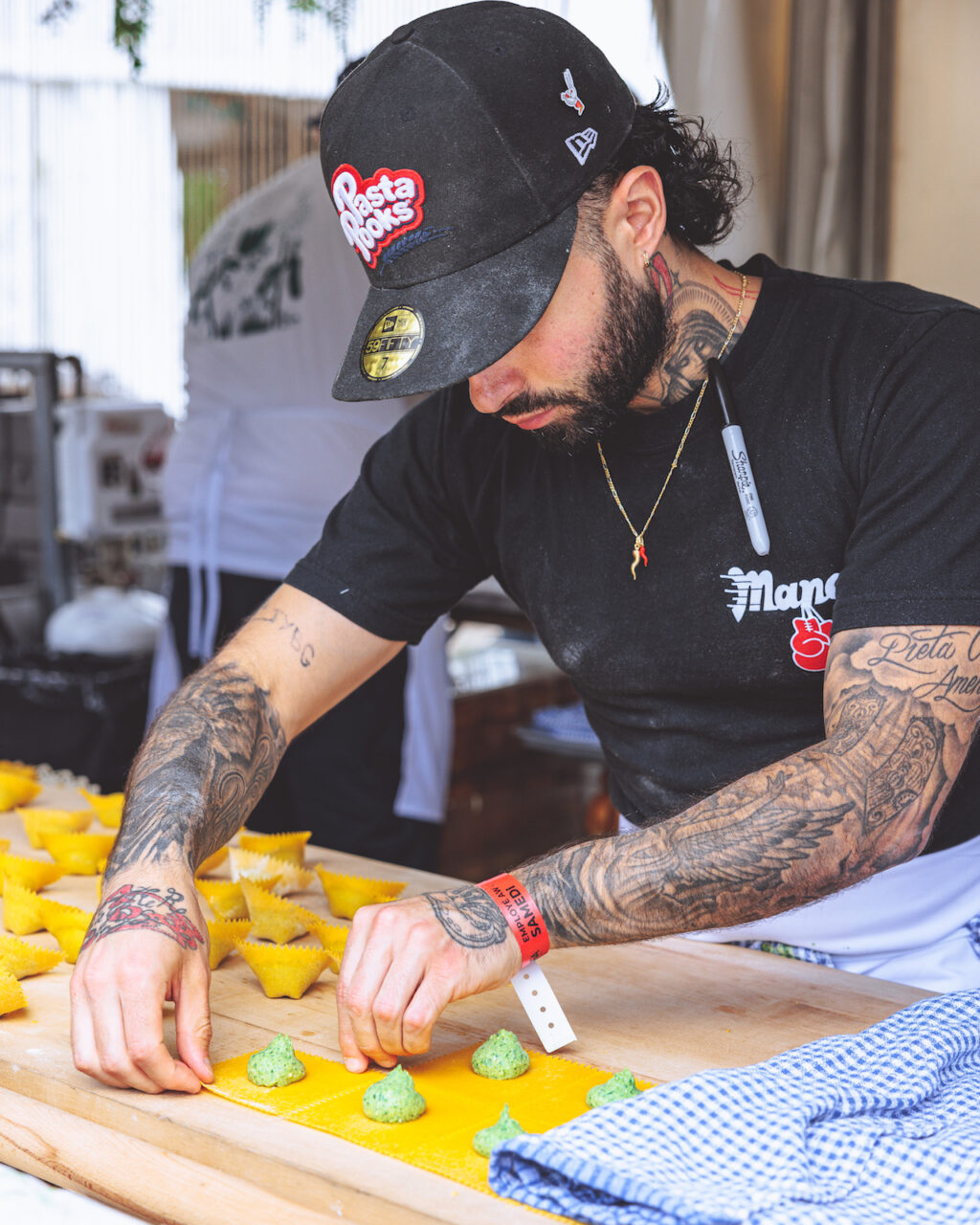 Pasta Pooks at Osheaga
"When Danny Smiles approached us to ask if we wanted to cook for the artists at the 2022 edition of Osheaga, we couldn't believe it. Finally, we were being given the chance to show the city and the world that Pasta Pooks is an entity in its own right," recalls Coach Vic.
For the occasion, they surrounded themselves with an all-star team. Coach Vic, Luca Vinci, Dan Falconi, Marco Tafuri, Dan Lomanto, Janice Tienfenbach and Kai Fox are coming to the festival under the Pasta Pooks banner.
From the very first days of the festival, everyone was talking about them. They stole the show from the big names of Artist World. "It was always a big party in front of our booth, everyone was wondering what was going on there. It's true that it's rare to see a guy making fresh pasta in the middle of a festival. Some of Montreal's top chefs even left their jobs to come and 'play' with us and get their hands dirty. It was hysterical," says Coach Vic proudly.
Pasta Pooks won its bet at Osheaga. The team proved to the industry and to the whole city that their project is serious, mature and assertive.
But they won't stop there!
"The ultimate goal is to open a café restaurant, tour Italy or cook for Louis Vuitton! Who knows? We don't impose any limits on ourselves. As long as we're having fun and enjoying what we're doing, I guess it will work out. Right now, we're having more fun than ever, so hold on tight, Pasta Pooks is coming in strong!"
-Coach Vic
Written by Gabriel Belzile
Photography by Mikael Lebleu et Pasta Pooks