Shanghai: Our favourite addresses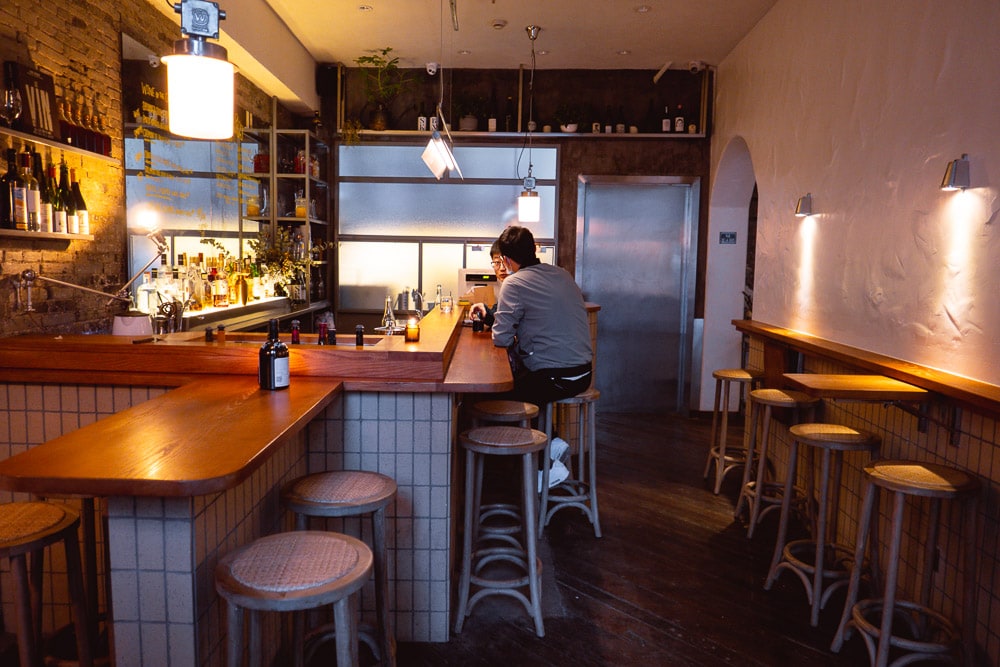 Planning a trip to Shanghai? If so, you might be feeling a bit overwhelmed with the wealth of restaurants to try. Don't worry, we've got you. Whether you're on a business trip or on holiday, whether you're looking for traditional or Michelin-starred restaurants, you're sure to find what you're looking for in this list.
Gwenaël Bégasse is a good friend of the founder of Tastet, has worked for many years in the restaurant industry in Montreal (notably at Nora Gray) and is undoubtedly a trusted source when it comes to Shanghai's culinary scene. Having lived there for years with her boyfriend, François Séguin (co-owner of SOiF in Shanghai and formerly at Majestique), she knows all about the city's hidden gourmet treasures.
That being said, we trust her blindly. Here are her favourite addresses in Shanghai:
SOiF – 550 Wuding Road
A natural wine bar offering also excellent small plates to share. Their plates feature delicious classic recipes enhanced with local ingredients. The warm design immediately reflects the festive atmosphere, no matter what day of the week it is. There is no written wine list, but the knowledgeable staff will guide you according to your taste and mood. You can also buy the bottle of your choice directly from the glassed-in wine cellar in the main dining room.
The DAILY – 550 Wuding Road
A charming sandwich shop with a nostalgic touch of old-fashioned diners. You can enjoy delicious biscuits, coffees, but above all very generous sandwiches, which revisit the classics with local flavours. A particular favourite is the Reuben, with Hong Xiao Rou (braised pork belly). Don't miss their industry nights, when this friendly café transforms into a cocktail bar.
Yaya's – 329 Tongren Road
This charming address has made a name for itself through various pop-ups around the city. A victim of its own success, Yaya's has been packed ever since it opened. Head there for the perfect combination of fresh noodles and Chinese noodles (e.g. Mapo Tofu Lasagne or Carbonara with Szechuan Pepper) and stay for the electric atmosphere and the playful décor (neon lights and open kitchen).
Feng Noodle – South Shaanxi road and Jinxian Road
In this small restaurant of fifteen seats, you will find the best "Shanghai Scallion Noodle" to order—in soup or dry. It is also possible to add extras like pork chop or shrimp. This Shanghai favourite is packed all day long and once you've tried it, you'll understand why.
Juke – 11, Dongping Road
At the helm of the restaurant is Polish chef Michael J who, with experience in several Michelin starred restaurants in Hong Kong, has created a menu that is original and exciting, yet accessible. Juke is a small, tastefully decorated bistro with seating for around 25. Each dish offers a mastery of techniques and a perfect combination of ingredients. The wine list only features products from estates of 25 hectares or less, which guarantees exclusivity and bottles produced with great care.
UltraViolet – Address unknown, location shared after booking
This three Michelin starred restaurant is worth trying for both its dining and theatrical experience. We're talking 10 seats, a destination where you're taken blindfolded, a decor and soundtrack that changes with each service and a menu that is as surprising on the palate as it is visually. We strongly advise you to reserve several weeks or even months in advance.
Qimin Organic Hotpot – Reel Mall, Zone B, 4/F, 1601 Nanjing West Road
This is the place to (re)discover the classic Chinese fondue. We particularly like this restaurant for its accessibility and its simple menu with many delicious broths (Tom Yom, classic, vegan, mushroom, etc.) as well as an offer of organic and high-quality vegetables and meats. Ignore the fact that the restaurant is located in a shopping mall, which is quite typical of restaurants in China; they have put the necessary effort into the decor.
Niang Mian – 36 Sinan Road, near Nanchang Road
This small canteen from another era is busy from opening to closing. Here you can enjoy delicious noodles at shared tables with friendly locals. Their classic dish: sesame noodles coated in chilli sauce, with a splash of vinegar.
Hu XIao Pang – 438 Huaihai Zhong Lu
A classic if you are in Shanghai during the crawfish season! The house serves beautiful shuck-it-yourself crawfish accompanied by several sauces and the essential elements: a bib and plastic gloves. A lot of work for a lot of fun! The best time to visit is in April-May and for some unknown reason this restaurant is always open late. The beer flows freely and it is customary to end up in a nearby KTV (karaoke) for the full experience.
Lotus Eatery – 1112 Dingxi Lu, near Wuyi Lu
A must for tourists and locals alike! This restaurant offers Yunnanese cuisine and is always packed; it's a great place to go for an evening out. We strongly recommend that you go with several people for the full experience—so you can discover the entire menu and enjoy it at a round table. To drink, they offer local beers or plum wine. Don't forget to visit the rabbits on their terrace!
Special Mentions:
Din Tai Fung:
Well-established Taiwanese chain; it's hard to miss their Xiao Long Bao, which borders on perfection according to the Shanghai Soup Dumpling Index, a register that rates the best dumpling soups in Shanghai according to a very scientific formula: [(weight of broth + weight of filling)/thickness of batter * 100].
Written by Inès Duguen
Photography by Rachel Gouk