Great address recommendations in Copenhagen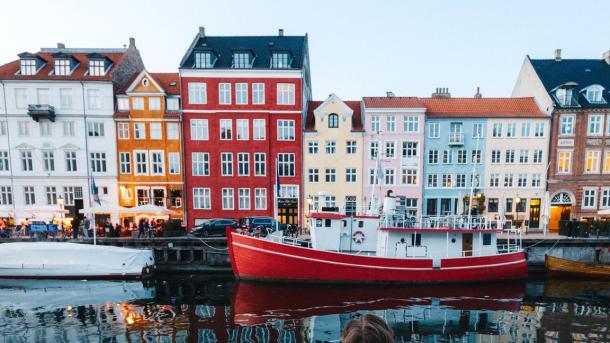 Copenhagen is a mecca for the world's foodies and offers all sorts of great places to eat! Tastet has of course tried many restaurants during our travels in the Kingdom of Her Most Gracious Majesty Margrethe II, but we thought it would be much more interesting to ask the opinion of a young, talented and dynamic chef based in this Scandinavian capital. Camille Bletton has cooked at La Cabane d'à Côté and Darling, where he was in charge of the kitchen and where we enjoyed his marvellous dishes.
Camille ended up in the Danish capital thanks to his partner, Laura Brødsgård. Laura is a talented Danish chef who sculpts delectable dishes at the chic restaurant of the Dansk Arkitektur Center.
Together with his friend David Squire—also an accomplished chef—Camille has opened Venner. A small bar-restaurant which, as the local media say in elegant Danish, has been "a big hit" since it opened.
Here are his recommendations—approved by David and Laura—for great places to eat in Copenhagen for your next getaway. The addresses are very good, and most—with one or two exceptions—are within reach of our Canadian wallets with poor currency.
Camille's recommendations for great addresses in Copenhagen:
Barabba
A visit to Copenhagen often includes a trip on a Danish version of a bateau-mouche; a canal boat that zig-zags through the city's canals. Near the harbour, in the touristy and architecturally folkloric part of the city you will find Barabba, an excellent wine bar, a bit like what you find in Montreal. Cavatelli, rabbit ravioli, terrine and homemade charcuterie. Stop in for a snack or just a drink.
Store Kongensgade 34, 1264 København – +45 33 10 10 40 – [email protected]
Brace
Excellent food and very reasonable prices, all from chef Nicola Fanetti. The cuisine is a perfect example of the harmony achieved by combining Italian traditions with Scandinavian zest. Elderberry risotto, carbonara tartlet, fresh pasta, and fine wines; everything at Brace guarantees a great time at the table.
Teglgårdstræde 8A, 1452 København – +45 28 88 20 01 – [email protected]
Fiskebarren
The people behind Fiskebarren have a very Danish sense of humour; they have opened a seafood restaurant in the heart of Copenhagen's Meatpacking District. Fiskebarren has the reputation of being one of the busiest restaurants in Denmark. The address boasts a large central bar and a glassed-in kitchen where you can watch the constant bustle of the cooks. Oysters, fish n' chips with local ingredients, and little Scandinavian twists, like the gooseberries that accompany the latter dish.
Flæsketorvet 100, 1711 København – +45 32 15 56 56 – [email protected]
H15
I met Magnus Brandt, the chef at H15, in Revelstoke where I was learning the ropes in the kitchen. With his long hair blowing in the wind, he devoured kilometres of powder snow with a smile. A born skier. Today, he treats his clientele in his restaurant, which is, as he says, a cafeteria, a bar and a stage. The very high ceilings, the large tables, the pizza and bread oven and the long bar have always made H15 a success. Magnus says that he will soon set up a rooftop farm on the building to grow food for the kitchen.
Halmtorvet 15 1700 København V – +45 82 10 54 15 – [email protected]
Kadeau
When we worked in the kitchen at Kadeau with David, we learned—along with a thousand other things—about attention to detail and precision. Guests sit here and are taken on a truly high-flying gastronomic experience. The two Michelin stars are, in my opinion, the equivalent of three stars, as everything is so carefully thought out, creative and delicious. Kadeau is definitely one of the four or five best restaurants in Scandinavia and definitely one of the best places to eat in Copenhagen.
Wildersgade 10B, 1408 København – +45 33 25 22 23 – https://kadeau.dk/copenhagen/
Kong Hans Kælder
Another restaurant with 2 Michelin stars that also deserves three with its technical and classic French cuisine with Nordic accents. In its beautiful vaulted cellar-shaped room (kaelder in Danish), the dishes served here are worthy of an excellent French table, with cheeses and desserts presented on trolleys as in the past. The wine list is also very good.
Vingårdstræde 6, 1070 København – +45 33 11 68 68 – [email protected]
Marvogben
Marvogben serves very good Italian cuisine with Nordic accents. un by chef Martin Olsen, who we saw here in 2020 as part of Montréal en Lumière. Open 6 days a week, this place happily satisfies about sixty customers, at lunch and dinner.
Snaregade 4 (1205) København K – +45 23 81 02 91 – [email protected]
Selma
After stopping by the Torvehallerne farmers' market—a must when visiting Copenhagen—you will want to sit down at Selma, which is just a stone's throw away. Here, Swedish chef Magnus Pettersson prepares the best smørrebrøds in town and a variety of Nordic delicacies, all of which are prepared to the highest standard. After you've eaten more than you should, a glass of aquavit will help you digest and get you on your way.
Rømersgade 20, 1362 København – +45 40277203 – [email protected]
• • •
And lastly, our last two recommendations are from Jean-Philippe Tastet:
Mielcke & Hurtigkarl
Perhaps the best meal I've ever had in a restaurant in my life. Everything was perfect. The location, idyllic; the beautiful building directly overlooks Frederiksberg Park, the garden of the Royal Danish Horticultural Society. The service was efficient and movingly elegant. The space featured quirky artwork from some of Denmark's most original artists. The food was extremely tidy, succulent, original, and simply out of the ordinary. If you like good wine, the exceptional sommelier José Marques Dos Santos will be one of the reasons to come back to Copenhagen.
Frederiksberg Runddel 1, 2000 Frederiksberg, København – +45 3834 8436 – [email protected]
Venner
Out of modesty, Camille has left me the opportunity to share (or not) about Venner. Venner is a very welcoming bar-restaurant where you can savour succulent and convivial dishes prepared by two excellent chefs. Whether for brunch or dinner, everything is delicate, original, and delicious, with beautiful drinks in accompaniment. Lastly, in this city where the bill can be exorbitant, you'll leave Venner's smiling, and perhaps even whistling—a detail which is not insignificant.
Teglgårdstræde 13, 1452 København – +45 29 13 63 56 – [email protected]
Written by Jean-Philippe Tastet
Photography by Visiter le Danemark