Lunching with kids: Our favourite addresses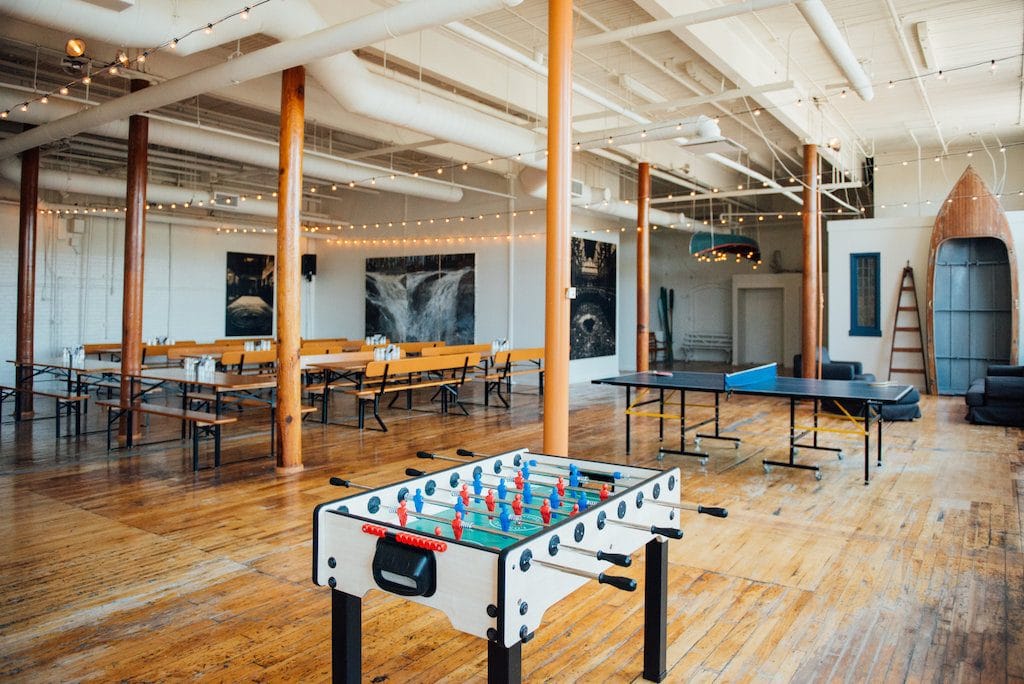 Montreal is full of good and beautiful restaurants. But for a thousand and one reasons (lack of space, open kitchen, too much of a party atmosphere, etc.), it is difficult to go out with your little ones. In fact, not all establishments are kid-friendly and some are technically classified as bars and therefore not allowed to serve people under 18.
Going out to a restaurant with toddlers can either be a "great" experience or a real hassle! We all agree, it depends on their age, their hunger (!) and the place they choose. But after a grueling week at work and at home, we all dream of a nice outing (with our families!), a place to sip good wine and enjoy good food. And, it's sometimes difficult to satisfy all the members of the family.
So we've put together some favourite addresses, perfect for families. Whether you want to get together for a good brunch or a lunch that is a change from the usual routine at home. For a pleasant and gourmet moment on Saturday or for a quick dinner on Sunday. The list below shows our favourite places for lunch.
Note that this list is not exhaustive. It simply highlights a few good addresses if you are looking for a place to go out and grab a bite to eat with your kids.
Looking for more gourmet recommendations in a specific neighbourhood in Montreal? Or for a special craving? Check out our list of favourite addresses to go brunching with your kids. Or our list of places to go to dinner with your kids.
Special mention: Le Central: Some 600 seats in a common area, 275 actors and 20 gastronomic names represented. It is the first foodcourt in the city. Located in the heart of the city, at the intersection of Sainte-Catherine Street and Saint-Laurent Boulevard, Le Central revives the image of the Main. You can enjoy Portuguese chicken, Neapolitan and Roman pizzas, full burgers, healthy bowls, tacos, vegetarian and vegan dishes, fried chicken, comfort ramen, ice cream and more. Each kiosk has a story to tell (and to taste). Good discoveries! Note, two other foodcourts have also opened, we recommend them for your family outing: Time Out Market & Cathcart.
Bon appétit!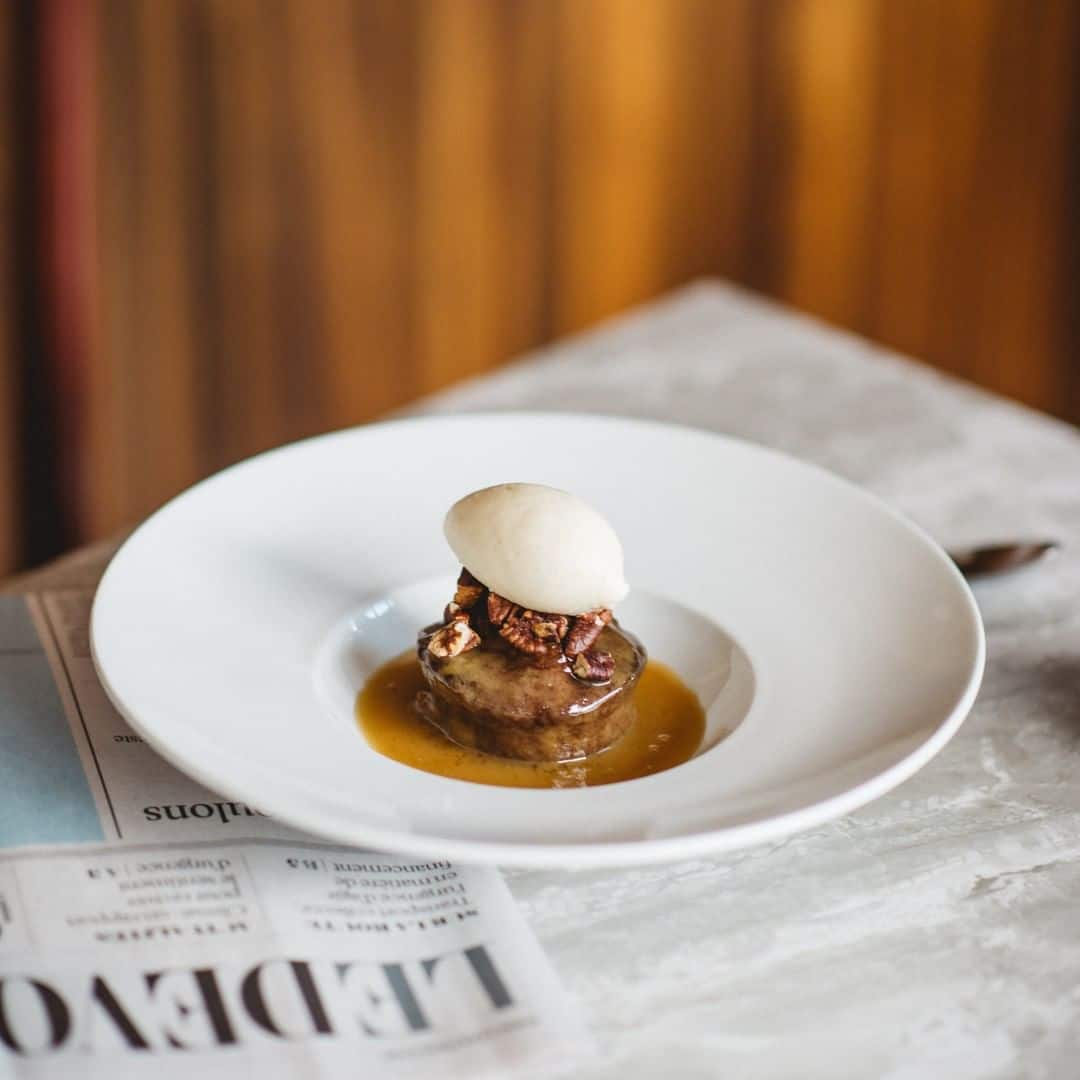 The Leméac is a chic French brasserie – one of the best in Montreal – and a true institution in the city. The restaurant seats a hundred, which is practical for large tables! The kitchen offers a large menu, improved over the years, that is sure to have something for everyone. The dishes are superbly executed French brasserie style: steak frites (among the best), sweetbreads, mussels, tartare, snails and more. The squash mac'n'cheese is particularly popular with children. Leméac is also open for brunch. photo Jimmy Hamelin
1045 Avenue Laurier Ouest
Montréal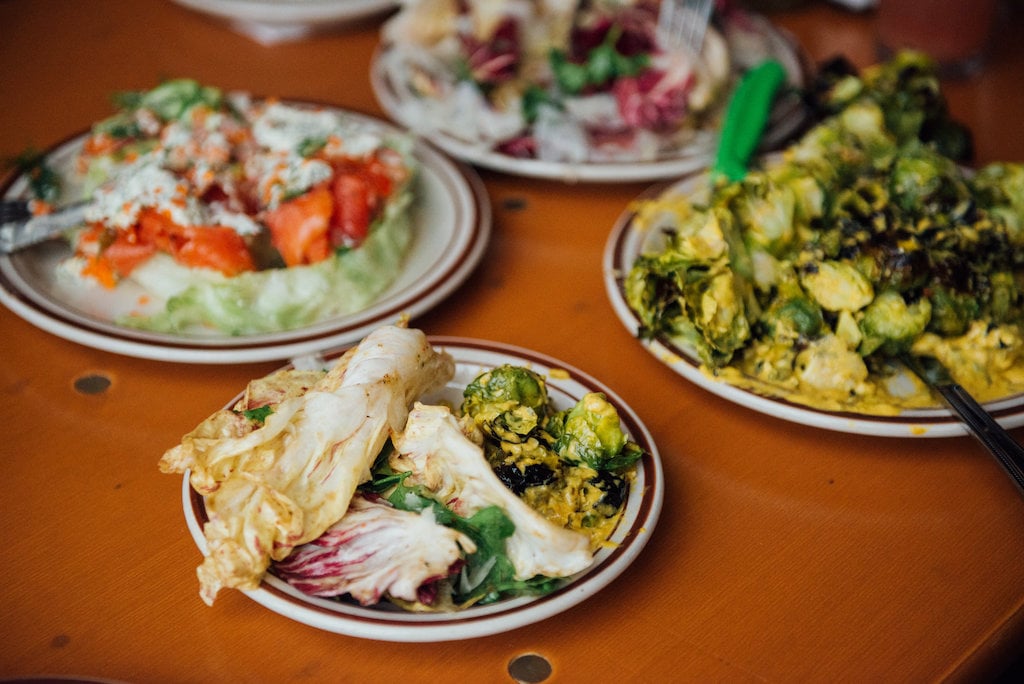 McKiernan Luncheonette is the latest project from the folks at Liverpool House, Joe Beef and Maison Publique. Located on St. Patrick Street near Monk Boulevard, the new 7,000 square foot (!) address offers amazing comfort food. In the morning, you'll find bites from their bakery (decadent donuts and more), and for lunch, salad, soup, ham and butter sandwiches, vegetable tarts, pasta, roast chicken and more. For the adults in the group, the restaurant offers a nice list of natural wines, local beers and some cocktails. McKiernan Luncheonette is truly a great Montreal establishment! Photo Alison Slattery
5524 Rue Saint-Patrick
Montréal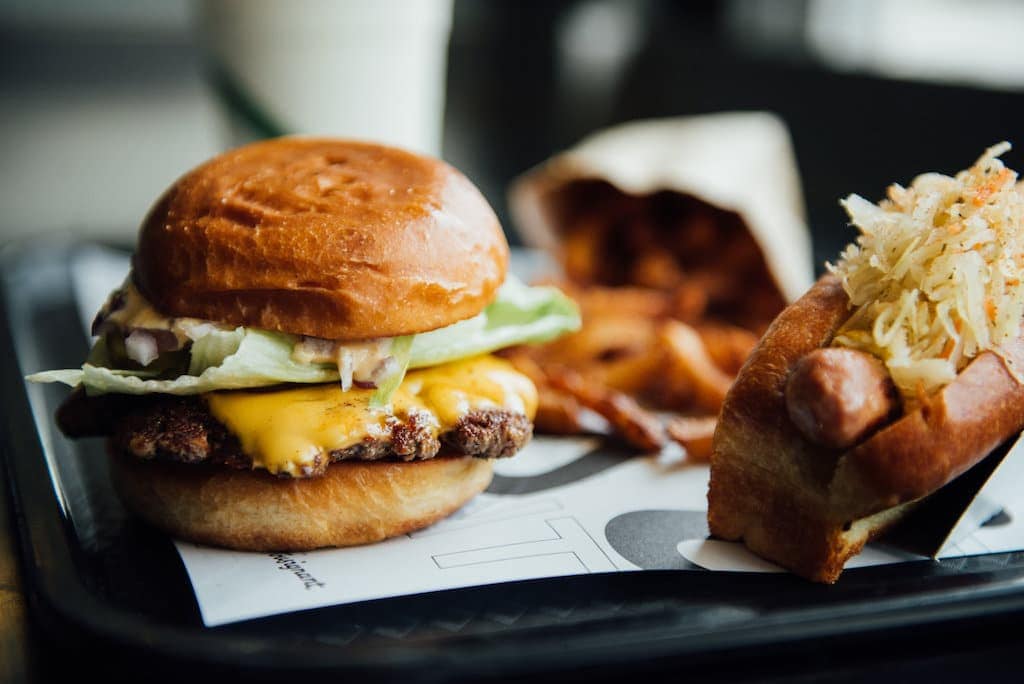 The "casse-croûte" Chez Tousignant on Drolet Street offers an impeccable Quebecois diner menu! The decor is inspired by the diners of the 50's and 60's and takes you back in time. Chez Tousignant's menu is our favourite and everything is homemade: burgers, poutines, roast chicken, hotdogs, fries, soft serve ice cream, milkshakes, and more. The place is open for lunch on Saturdays and Sundays, and we love coming to eat there, as often as possible! Photos Julie Perreault
6956 Rue Drolet
Montréal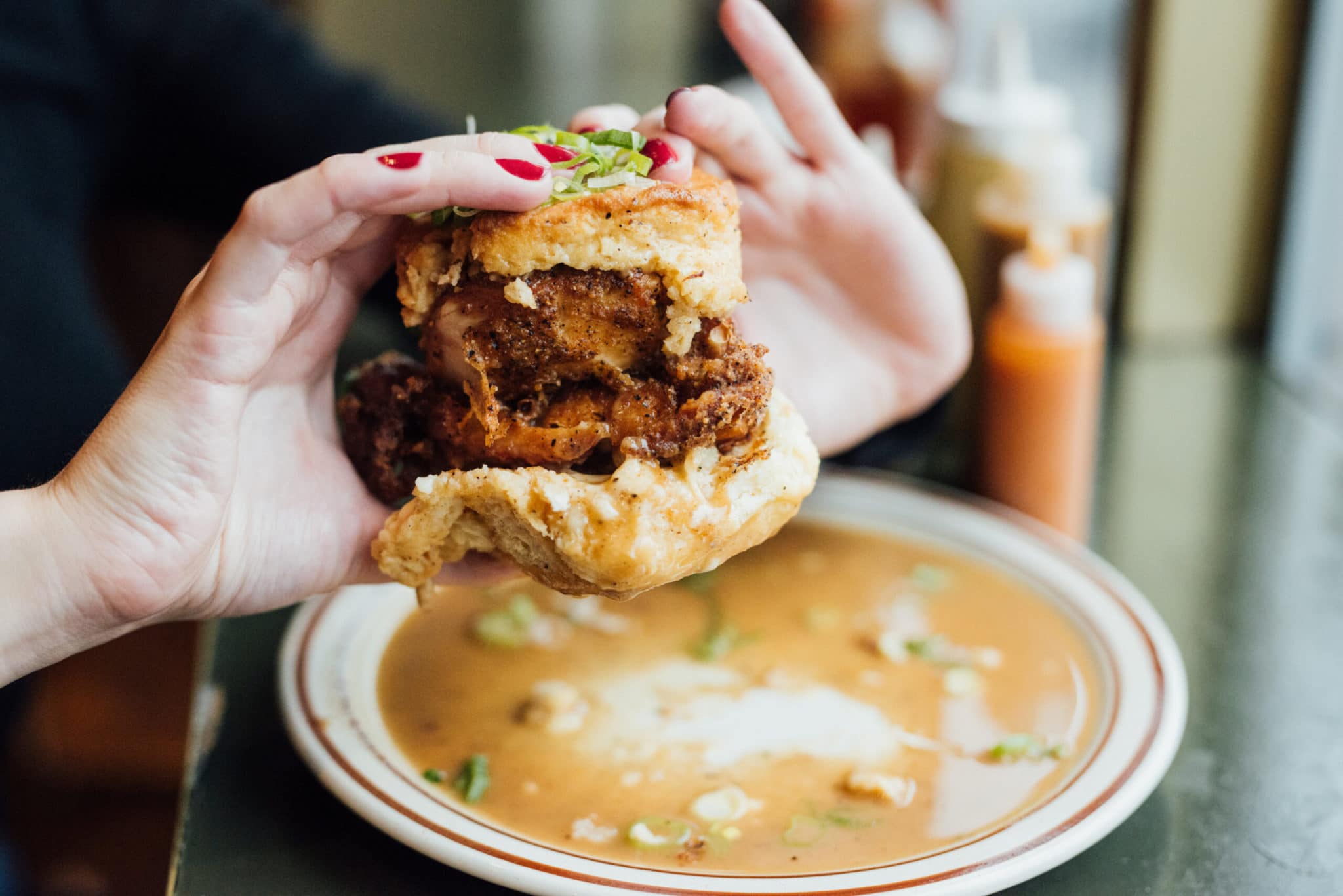 Dinette Triple Crown features cuisine from the southern U.S. and is one of our favourite addresses in town. Here you can enjoy your meal at the counter (what we love best) or in the dining room at one of the large tables – which allows for easy sharing with various tasting menu options. Even better, on nice days (which will come again) you can order your menu and take it out for a picnic! On the menu are several thoughtful offerings: fried chicken, pulled pork, smoked brisket, hash browns, macaroni and cheese, and more. The house has also put together a nice wine list (organic and natural), as well as some classic cocktails (bourbon sour, anyone?) and beers. Photos Alison Slattery
6704 Rue Clark
Montréal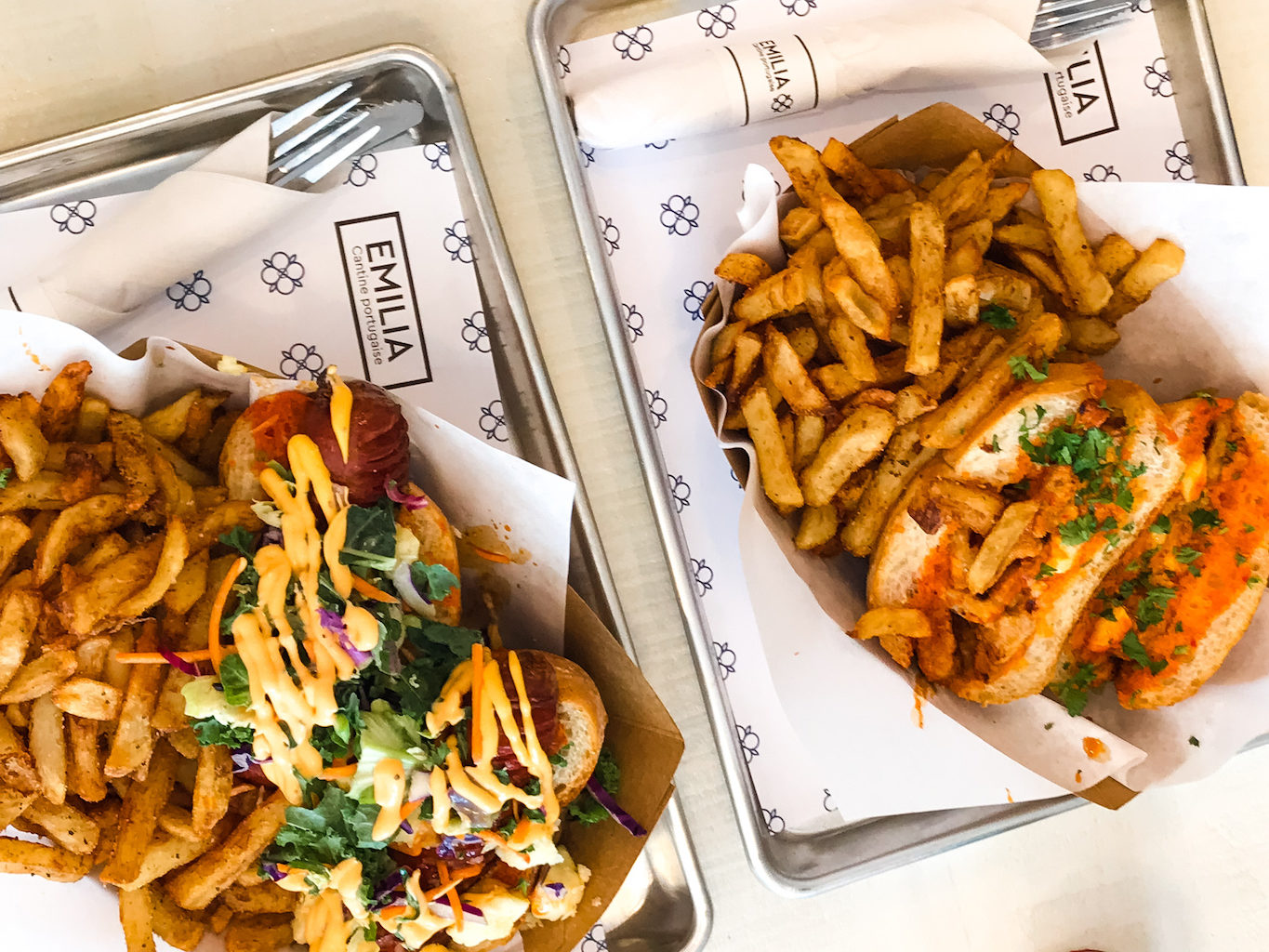 Cantine Emilia is a small gourmet address nestled in Villeray that serves delicious Portuguese specialties.  It's a cozy, warm and family-friendly space. On the menu, the restaurant definitely does not skip the famous Portuguese chicken. This one is offered with nods to Quebecois specialties. For dessert, sweet tooth will be satisfied with their natas. For refreshments, the restaurant offers a wide range of Portuguese juices and sodas. Photos Catine Emilia
7901 Rue Saint-Dominique
Montréal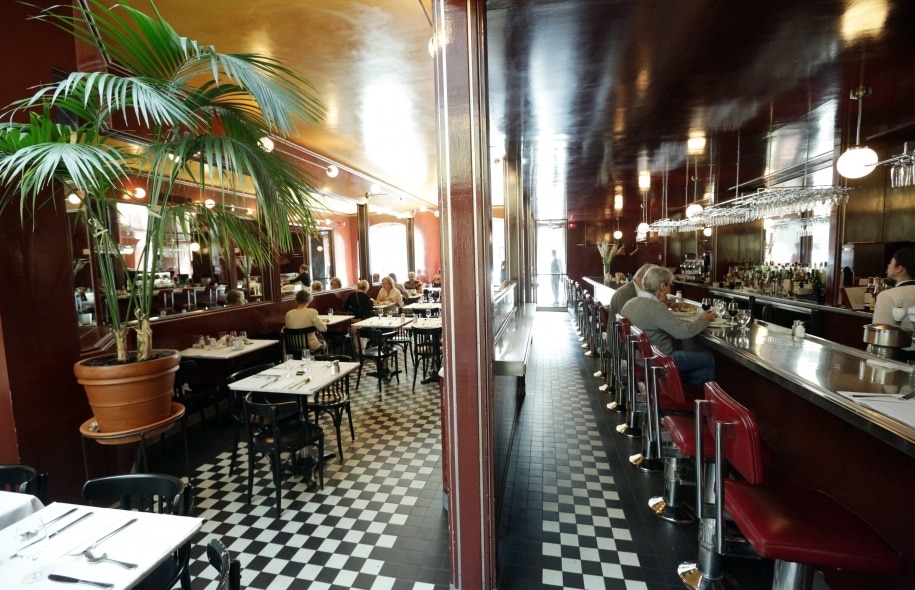 L'Express
L'Express is a Montreal institution, a staple and one of the best French restaurants in town! The restaurant is a classic with an impressive consistency of cuisine, and a menu that rarely changes. The decor at L'Express has also contributed to the success of the establishment. The completely open room offers a unique atmosphere: 15 seats at the bar and 60 seats with white tablecloths (still to this day). This is a classic, untouchable, and timeless address! Photos Alison Slattery
3927 Rue Saint-Denis
Montréal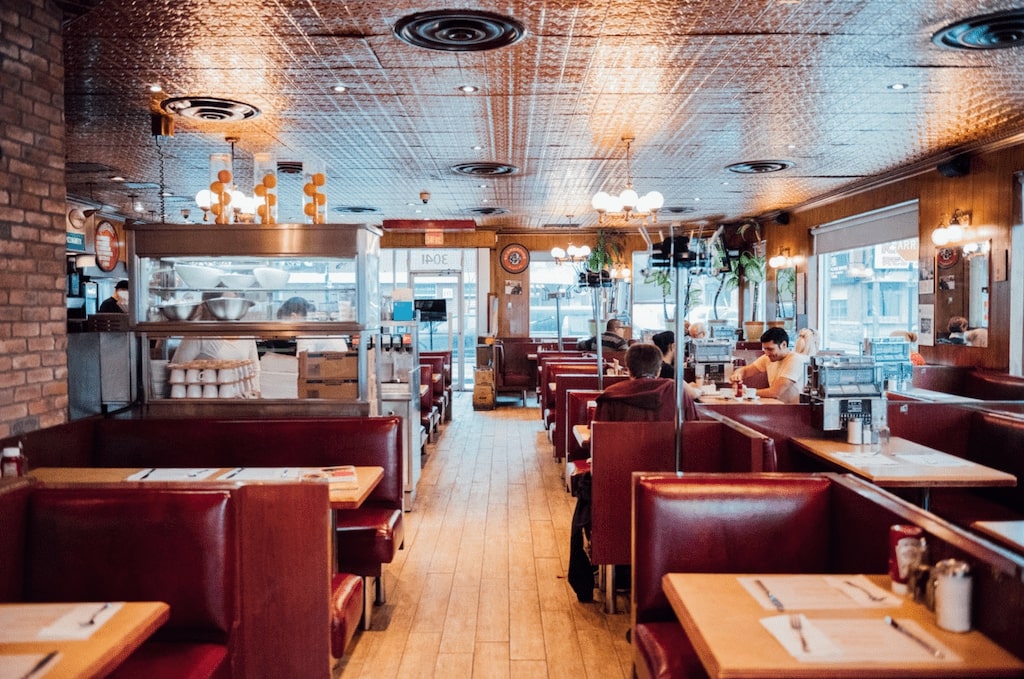 Open from early morning to 11pm at night, Greenspot is the place to eat some of the best poutines, burgers and hot dogs in the city… at any time of the day. The address also makes very good milkshakes that will surely please the kids! This retro deli in Saint-Henri welcomes you in a very family atmosphere for the small and the big hungers.
3041 Rue Notre-Dame Ouest
Montréal
1045 Avenue Laurier Ouest Montréal H2V 2L1
5524 Rue Saint-Patrick Montréal H4E 1A8
6956 Rue Drolet Montréal H2S 2T3
6704 Rue Clark Montréal H2S 3E9
7901 Rue Saint-Dominique Montréal H2R 1X8
3927 Rue Saint-Denis Montréal H2W 2M4
3041 Rue Notre-Dame Ouest Montréal H4C 1N9