Café Myriade Dominion: The hidden café on St. Catherine Street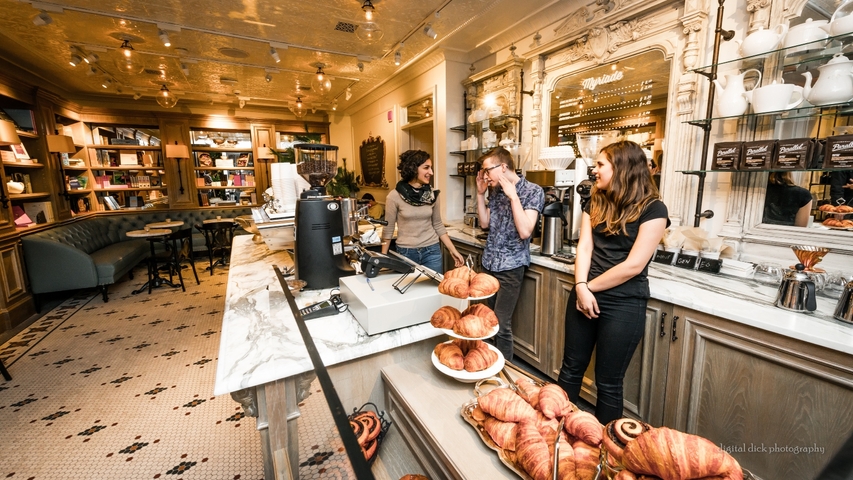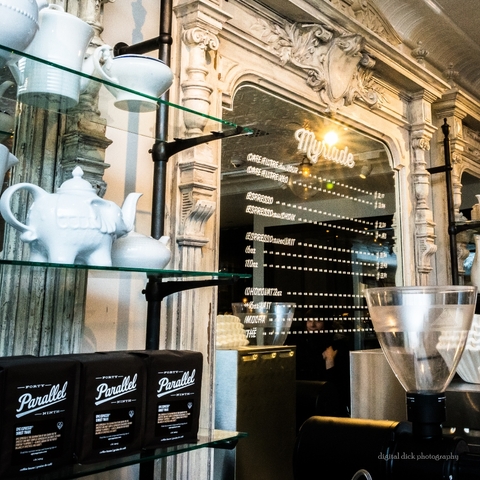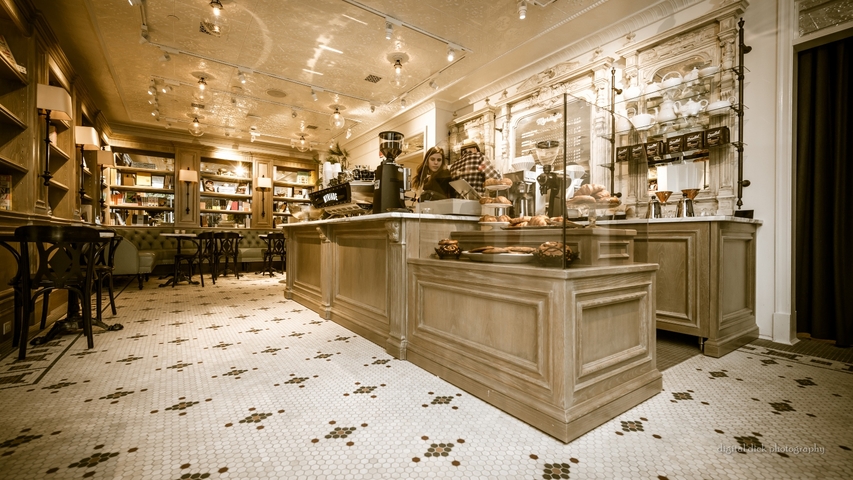 Café Myriade

Monday: 10:00 AM – 5:00 PM
Tuesday: 10:00 AM – 5:00 PM
Wednesday: 10:00 AM – 5:00 PM
Thursday: 10:00 AM – 5:00 PM
Friday: 10:00 AM – 5:00 PM
Saturday: 10:00 AM – 5:00 PM
Sunday: 11:00 AM – 5:00 PM


Owner(s) Richard Baghdadlian
Opened 2018-01-01

Accepts mastercard, visa, amex, cash, debit
8 Seats
Straight out of another era
There is a special feeling when you enter Café Myriade in Dominion Square through Club Monaco's elegant staircase. Hidden in the basement of Sainte-Catherine Street West, the little café is magnificent. The third Café Myriade address has a majestic feel to it; it's like being in a library from another era or in the living room of a sumptuous European residence. Perhaps it is because of the carefully tiled floor, the marble tables, the woodwork of the counter, or the upholstered banquette… but most likely because of how, altogether, it creates something special.
However, it's not just the location that's impressive at Dominion Square's Café Myriade. The coffee is also exceptional. Even if its owner told us he hates being associated with the term "third wave", the fact remains that Café Myriade was instrumental in introducing responsible coffee to Montreal.
High-quality, responsible coffee
What does this mean, exactly? It means learning about the bean, the country of origin, the processing methods, and how it was roasted. We owe this phenomenon to independent roasters and baristas, such as Café Myriade. The coffee "menu" is based on the seasonality of the producing countries, offering a selection of origins that change regularly. In addition to serving the high-quality beans produced and roasted by 49th Parallel Roasters in Vancouver, Myriade also uses high-quality milk in its coffees. Whether it's Henrietta Barista Milk from cows in the Saguenay-Lac-Saint-Jean region, or high-end alternative milks, delicious taste and perfect microfoam is guaranteed!
And what do we eat there? Freshly baked croissants and pastries from Hof Kelsten bakery. Simple and delicious!
We visit Café Myriade in Dominion Square for its excellent coffee, its fresh pastries, and its charming decor; which has earned its place on our list of the most beautiful cafés in Montreal. We also like the fast, courteous and expert service of the baristas.
Written by Sophie Monkman
Photography by Café Myriade