Coffee shops on Rue Saint-Denis where you can work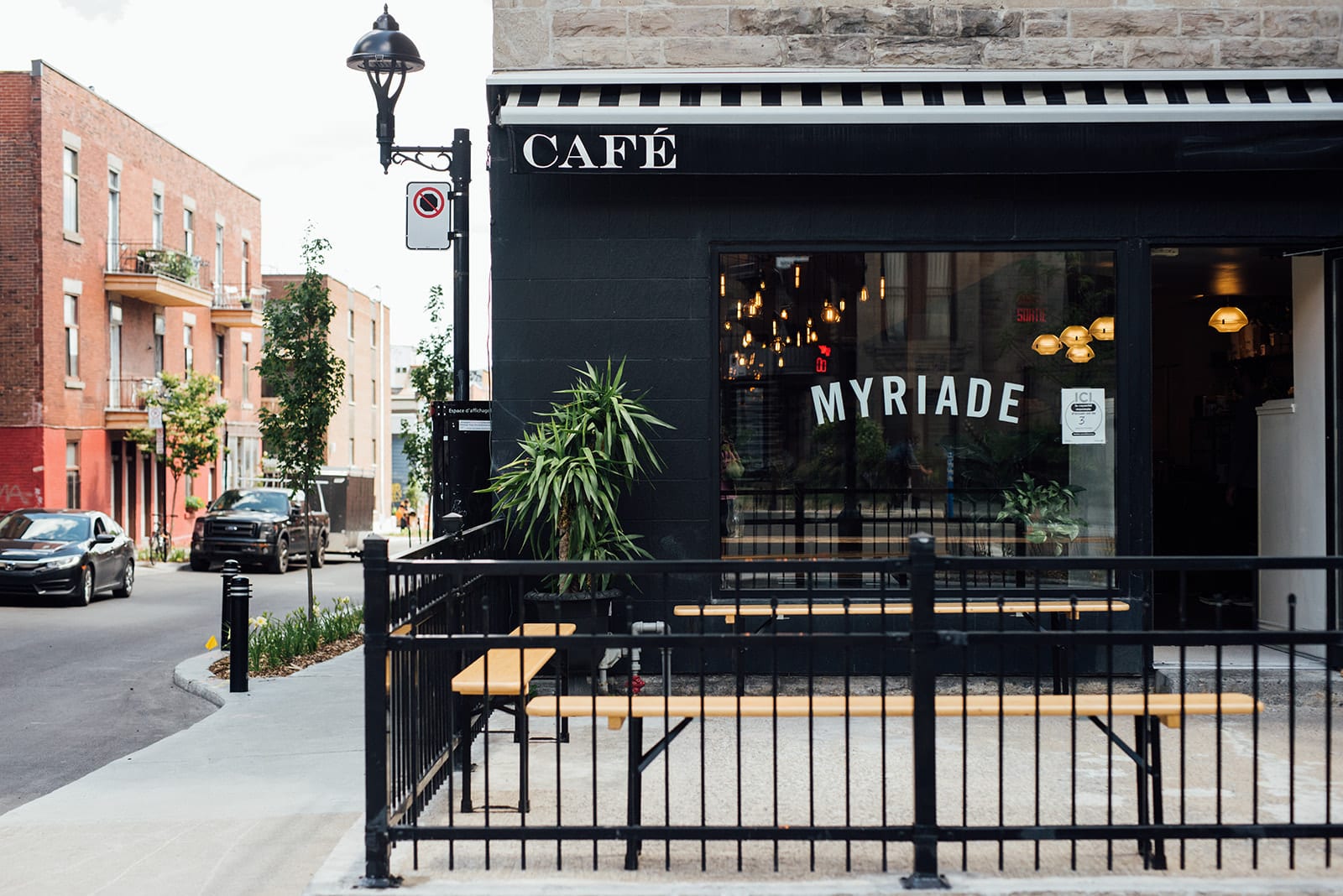 Coffee shops on Rue Saint-Denis on the Plateau Mont-Royal where you can work
The pandemic has a lot of us working from our kitchens, living rooms and bedrooms right now. While it's great to be in the comfort of our own homes, the coffee shops on Rue Saint-Denis may be just what you're looking for to break your homey routine. With the fall season quietly creeping up on us, what could be better than sitting in a café and working on your laptop with a warm cup of tea or coffee? We have a few suggestions with their very own je ne sais quoi that makes them unique, so hop on public transit, try the Express Bike Network or walk over, turn on your laptop and get productive!
Myriade Café
Opened in 2008, Myriade Café has several locations across Montréal. Since last winter, most of the baked delights in the shop on Rue Saint-Denis are made in-house. The modern and uncluttered decor, fun and relaxed atmosphere and friendly staff will charm you. With the intoxicating scent of pastries and freshly ground coffee wafting through the air, Myriade is the perfect workspace!
Code & café
Located on Saint-Denis in the heart of the Plateau Mont-Royal, lively and animated Code & Café and its original décor reminiscent of the circuits in the computers and robots that welcome customers is sure to keep you focused. For an atmosphere more conducive to conversation, head to the front terrasse. Code & Café is open to everyone, from the young to the young at heart, thanks to its robotics and programming courses and workshops. It's a great spot for young people to hang out with their friends or their parents. This independent, family-owned business is a breath of fresh air on Saint-Denis—an address to discover today!
Café La Dépendance
One stop at Café La Dépendance will convince you to settle in and enjoy some quiet time. The calmness and atmosphere inspired by Danish hygge create a peaceful space that's perfect to immerse yourself in work. And don't forget to pop into the retail space! You may even walk out with something Scandinavian to keep the cozy feeling with you a little longer. The menu is also Scandinavian-inspired with typical Nordic treats. You can even get a small group together and reserve the Alcôve space.
What makes this cycling café so unique? In addition to being a coffee house, Le Club Espresso Bar is also a bike accessories and repair shop—a three-for-one deal! This charming business on Rue Saint-Denis, corner Roy, is very popular with local cyclists, of course, and happens to be a great place to log some hours at work. In summer, the terrasse is often crowded with people having a healthy bite to eat. It's a fantastic example of a business that created a community around one of Montrealers' favourite sports: cycling.
Written by Inès Duguen
Photography by Alison Slattery