A Trip To London: The best addresses in Britain's great capital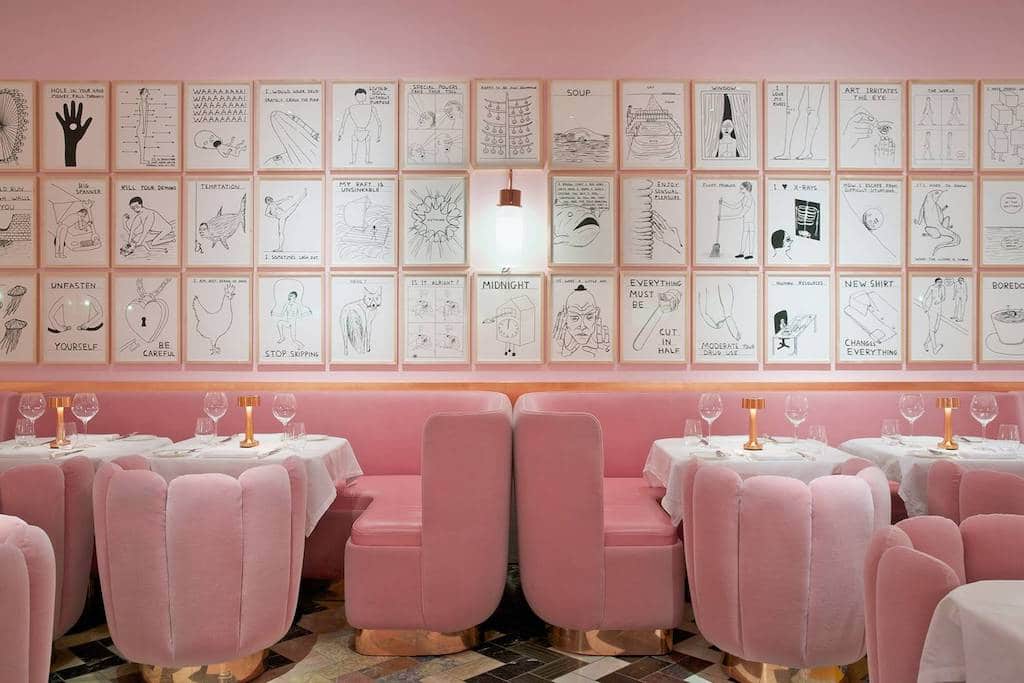 London – one of the world's most vibrant gastronomic epicentres.
A longstanding perception of London is that it falls short of its fellow European capital's when it comes to their restaurant scene. This, of course, is far from the truth.
Especially in the past ten years, London's gastronomic landscape has blossomed into one of the continent's richest and most diverse gourmet hubs. Some may attribute this development to the growing reputations of mediatized chefs like Gordon Ramsay and Jamie Oliver, however we are here to give credit where credit is due, and turn the spotlight onto some of the city's best gourmet addresses.
Because London is a melting pot of diverse cultures and traditions, the culinary scene is expansive, exciting and incredibly diverse. We are not here to talk about the best fish'n' chips hotspots, or where to eat a good Yorkshire Pudding. To accurately capture the London restaurant scene, the twenty-something addresses featured in this list range from all price-points, atmospheres, and ethnic cuisines. With everything from hole-in-the-wall bakeries to uber-chic restaurants, we hope that this list can help guide you through the many nooks and cranny's of London's complex culinary landscape.
This city has a never ending inventory of exciting activities to make your travels memorable. On the agenda: picture-perfect historical monuments, red double decker bus tours, culturally rich museums and galleries, and enough street markets and people-watching to fill up any of your remaining free-time. Most importantly, no trip to London is complete without trying out some of the city's delicious restaurants, cafés, bars, and bakeries.
40 Maltby Street
Oenophile Paradise in Borough Nestled in the Gergovie Wine Cellar, 40 Maltby Street is a superb wine bar that serves delicious wines from small-scale producers. Here, you can drink your bottle on cite or take it to go. If you stay, we suggest you enjoy their tapas-style menu which functions in accordance with the wine list. The combination is a real celebration of the seasonal products of both the country, and the rest of the European continent. The atmosphere is relaxed and ideal for having a drink with a loved one. There is no better place to discover your new favourite wine label and enjoy some gourmet snacks.
The Breakfast Club Soho
"Taking care of breakfast since 2005" If you are looking for somewhere to brunch in London, The Breakfast Club is the place to be. The menu combines British cuisine with North American cuisine, so the dishes are generous, fun, and comforting. We strongly recommend the pancakes, which have been the focal point of the company's reputation since 2005. The Breakfast Club also offers lunch and dinner with burgers, sandwiches, salads and more.
Sketch
The Tea House straight out of a Wes Anderson movie Sketch, which looks as if it has come straight out of a Wes Anderson movie set, is a beautiful tea room that doubles as a cocktail lounge in the evening. A versatile space, Sketch brings together artists, gourmet foodies, and those who enjoy discovering new things. The space is divided into five distinct rooms, each one offering an entirely different atmosphere: "The East Bar and Pods", "The Parlour", "The Glade", "The Gallery" and "The Lecture Room & Gallery". We come here to drink "a cup of tea" along with some sweet treats, or to sip on a cocktail in a truly enchanting space.
Granger & Co
The Australian-inspired restaurant in Notting Hill Granger & Co is an Australian-inspired restaurant that welcomes you at any time of the day, whether it is for a gourmet breakfast, a delicious fresh lunch, a cocktail with friends or a delicious dinner. Granger & Co is the kind of chic and friendly restaurant where you just feel happy and carefree.
London Grind
The authentic Londoner's coffee break Grind is a coffee house we come to when we need a pick-me-up during the day. They have multiple locations throughout London, so you will be able to conveniently grab a coffee wherever you are in the city. The elegant and modern interior is decorated with amazing neon lights, giving off a festive vibe. They serve a very good coffee to take away, a great lunch to eat on-cite, and an espresso martini at the end of the day.
Brawn
The carnivorous wine bar in East London Brawn is a great wine bar where good wine flows freely, and delicious sharing dishes are abundant. Carnivores will be feeling blessed on a night out at Brawn, because the meat-heavy menu is sourced entirely from high-quality local producers. The only downfall to its success, the house strongly advises to book early enough if you want to experience the address fully.
Honey & Co.
North of Fitzrovia, the coffee/restaurant with Israeli flavours Honey & Co is a café/restaurant that stays open from morning until evening, and serves delicious and inventive Middle Eastern cuisine, all of which is orchestrated by a couple of Israeli origin. This address promises you delicious, tasty and very colourful dishes, ready to be enjoyed in their warm and welcoming atmosphere. Honey & Co has this little "je ne sais quoi" that makes you feel like you are right at home… only with better food. We strongly advise stopping by in the morning, and you will be starting your day off on the right foot!
Padella
Fresh pasta bar in the Borough Market While in London, the likelihood is that you will be making a visit to at least a couple of the city's amazing street markets. If you end up in the Borough Market, try to resist the "tourist-trap" stalls that serve mediocre food and save yourself for the amazing fresh pasta bar at the very end of the market. The food is so good, it is worth the patience. This little hidden gem serves delicious pasta dishes at low prices, all in a charming setting. This is a must whenever you are looking for a bite to eat while exploring the Borough market!
St John Bread and Wine
The relaxed canteen near Spitalfields Market Following the resounding success of the St John Smithfield Institution, the team has opened a casual canteen with a very fresh "English-tapas" style menu, which changes on a daily basis. The house also offers a beautiful selection of breads and baked goods, as well as an impressive variety of wines from small producers.
Clipstone
Delicious intimate neighbourhood restaurant in Fitzrovia This is a discreet address that is easily missable, but the dishes they serve will certainly demand your attention. The little sister to the chic restaurant Portland, Clipstone is the perfect place to spend quality time around simple but beautifully crafted dishes. The house perfectly masters the art of simplicity!
Kiln
Thai cuisine reimagined in Soho As a cosmopolitan city, London serves as a stage for chefs from all over the world to showcase their culinary talents. Kiln offers us a delicious Thai-inspired cuisine, but not in the traditional ways that you may expect. Kiln introduces us to new flavours in a trendy setting. We especially love the open kitchen, where we can admire the hardworking cook team as we feast on the products of efforts.
Pidgin
Creativity and weekly menu in the eastern part of the capital Master of creativity, Pidgin is a tiny little address that makes big and bold dishes. They offer an original concept with a four-course fixed menu that changes every week. There is only one restriction: no dish is ever repeated. Pidgin offers their diners a unique experience full of culinary creativity and innovation. A beautiful gastronomic discovery!
BRAT wood grill & wine bar
Shoreditch's trendy wine and fish bar The menu here is inspired by the flavours of northern Spain, and offers a wood-fired cuisine and beautifully presented dishes. We love the simple toast with anchovies, and the roasted oysters with seaweed. You come here to enjoy simple dishes that are extremely well-prepared.
The Laughing Heart
Excellent wine bar where to eat late in East London The Laughing Heart is a great place in East London to go out and enjoy delicious bottles of carefully selected natural wines. We also love their homemade cocktails that pair perfectly with the eccentric and whimsical menu. The subdued atmosphere is ideal for losing track of time and spending an entire evening at the bar without even noticing it.
Trullo
Tuscan Trattoria on St Paul's Road Trullo is a superb neighbourhood address that highlights the freshness of Italian cuisine. Every day, the house offers a new menu that celebrates one single food item. For almost 10 years, the address has been offering traditional Italian cuisine with tasty flavour combinations and generous portion sizes, all in a simple setting of a classic trattoria.
The Dusty Knuckle Bakery
Much more than just a bakery in Dalston Originally a bakery, The Dusty Knuckle is now a beautiful café where you can discover delicious pastries, sandwiches, pizzas, sandwiches and other delicacies in the Dalston area. A choice option to consider for a quick lunch or a coffee break in the neighbourhood.
P. Franco
A place for wine lovers in Clapton A small wine cellar that doesn't look like much, this room hides some very good bottles that will undoubtedly please wine lovers. The bottles are available for consumption on site or to take away. P. Franco doubles as a tapas bar ; an address conducive to conviviality and the discovery of natural products.
Beigel Bake
Iconic "Beigels" at Spitafields The English capital is famous for its bagels. If you have a craving for a fresh bagel, straight out of the oven, we suggest stopping by this address. Founded in 1974, Beigel Bake is a 24-hour bakery/shop that serves all kinds of bagels, and at very reasonable prices to boot! Speciality of the house: the Beigel Rainbow, as beautiful as it is good!
Nutshell
Delicious Iranian cuisine at Covent Garden At this address, we expand our vision of Iranian cuisine beyond the classic kabab, and rather enjoy creative dishes that combine tradition and modernity! On the agenda: bold flavours, lots of herbs, bright colours and lots of refreshing tastes to discover!
Duck and Waffle
British cuisine and panoramic view of the city Open 24 hours a day, 7 days a week, Duck and Waffle welcomes you any time, whether it is for brunch, lunch, a drink, dinner or a bite to eat late at night. Located on the 39th floor of the Heron Tower, Duck and Waffle allows you to enjoy your meal alongside with a breathtaking view of London. As for the menu, we taste simple but gourmet dishes inspired by British/European cuisine. When visiting at brunch time, it is highly recommended to order the "Duck & Waffle", which (surprisingly) is the signature dish.
Levan
A favourite address in Peckham LEVAN is a bar and dining room in Peckham that is focused around natural wines. In the kitchen, the chef serves innovative contemporary European dishes based on seasonal products. The house is inspired by the "bistronomy" movement (inventive cuisine that has its roots in classic bistro cuisine) as well as the chef's favourite restaurants in Paris, Copenhagen, Barcelona, Stockholm and Berlin. The setting is very pretty, and the open kitchen allows diners to have a peak at the action going on in the kitchen. Furthermore, you can either enjoy a drink at the bar, or sit in the dining room for a full meal.
Bancone
Delicious fresh pasta at Covent Gardens The name Bancone comes from the words "bar" or "counter", which does a good job of capturing the focal point of this address. Located on William IV Street in Covent Garden, Bancone has three different bars where you can sit comfortably, enjoy delicious food, and watch the excitement that goes down in the open kitchen right in front of you. The menu is inspired by the 21 regions of Italy and highlights freshness through their in house pasta prepared daily. The finished result is a combination of traditional dishes and innovative flavours… we highly recommend.
Pophams Bakery
Exceptional artisanal bakery in Islington Pophams is a very traditional bakery the uses traditional techniques to produce their products, only with a slight flare of modernity to set it all apart from the rest. The pastries and baked they sell will surely make your mouth water! And as if that wasn't enough, the lunch menu underscores how special this address is with their delicious sandwiches and toast combinations.
Blanchette
French cuisine revisited in Soho Orchestrated by a pair of French brothers, Blanchette is a charming address that a has an impressive decor, amazing selection of cheeses, and a superb wine list. The star of the show is the menu of delicious French classics designed to share. Our favourite is the charcuterie platter, which of course, has to be paired with a good bottle of wine. This restaurant is a very nice tribute to England's French neighbours!
Salon
Market cuisine at Brixton Market This restaurant, located in the heart of Brixton's market, sources their ingredients from the market itself. We come here to eat an inventive and seasonal cuisine in a relaxed setting. The space is divided into two parts; the bar on the ground floor, which offers a menu of snacks and small plates to share, and the dining room on the second floor, which offers a seasonal menu of four to seven dishes that change daily. The best way to describe Salon is "elegance and attention to detail".
The Clove Club
One of the 50 best restaurants in the world If you are looking for an address where you can enjoy yourself despite the possible impact it may have on your bank account, The Clove Club is a restaurant to consider. The interior of the restaurant perfectly blends into the surroundings of Shoreditch, with a relaxed setting and an open kitchen. From the kitchen (which was ranked 26th in the world), Scottish chef Isaac McHale offers two tasting menus. The first has five courses, and the second has seven courses. The chef's cuisine shows off influences from the traditions of Scottish cuisine, as well as an impressive amount of creativity.
Marksman Public House
Remarkable public house in East London This list has been missing one thing : a classic old pub… we are speaking about London after all. The Marksman Public House is exactly the place to be if you want the full blown traditional English experience. It was the first public house in London to receive the Michelin Pub of the Year award! This address serves large local beers, ales, lagers and ciders as well as a selection of quality wines and spirits. The house also has a delicious menu of small dishes, which are all very "British" and comforting.
Bao Soho
Taiwanese cuisine modernized in Soho Bao is a contemporary Taiwanese bar that serves a short but delicious menu, and the recent expansion to 5 locations throughout the city is an attestment to their quality. As you may have guessed, their specialty is bao, but more specifically Taiwanese gua bao (a white brioche made using wheat flour and cooked using steam). We strongly recommend the classic bao with marinated pork or fried chicken; they are both so delicious! To complete your feast, they serve small starters to share, such as spicy eggplant compote, daikon beef broth, sweet potato chips and zig-zag pink mayo. The icing on the cake; the house offers an ice cream bao for dessert!
—
If you are looking to enjoy some classic English cuisine, but cannot make it all the way out to the British capital itself, check out our lists of the best English restaurants in Montreal, or the best Fish'n' Chips. If you are in need of more gourmet recommendations throughout the European continent, you can consult our lists of the best gastronomic addresses in Barcelona, Lisbon and Paris.
Please note that this list is by no means exhaustive; it contains only some suggestions for great places to try during your stay in London.
Bon voyage and bon appetite!
Written by Sydney Carter
Photography by Vogue