20+ activity recommendations to celebrate Montréal en lumière's 20th anniversary!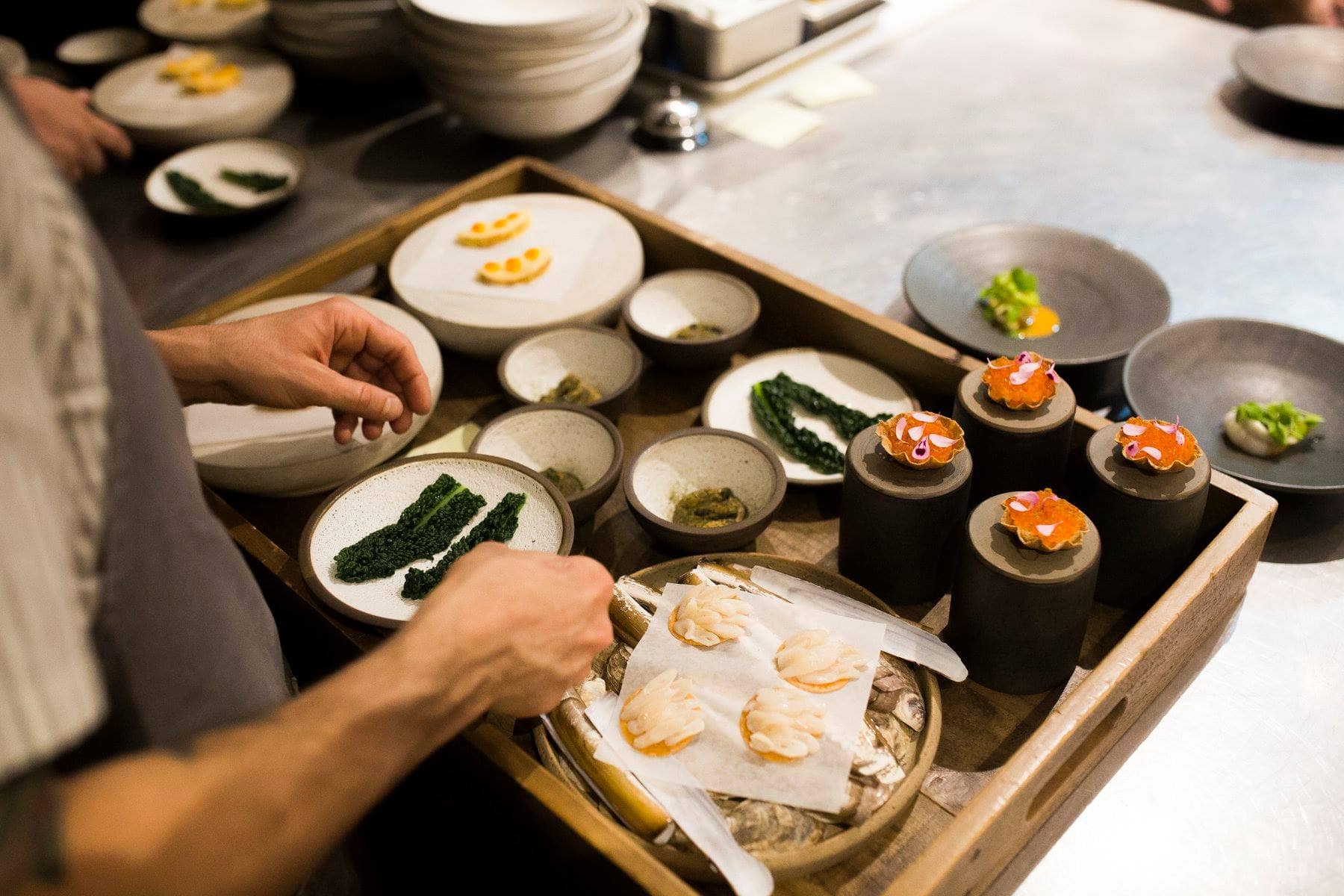 MONTRÉAL EN LUMIÈRE is celebrating its 20th anniversary in style! To commemorate its 20th run, MONTRÉAL EN LUMIÈRE is stepping into the world of gastronomy, and we love it! From February 21 to March 3, the festival will be offering the opportunity to discover, taste and celebrate everything that Montreal has to offer. This year, our partnership with MONTRÉAL EN LUMIÈRE is taking on new and exciting dimensions, as we will be sitting in on the gourmet committee. Just like the festival, we believe that the best way to warm up on cold winter days is to gather around a great meal.
1.  Among the many new activities of MONTRÉAL EN LUMIÈRE, the festival is offering the special Nuit Gourmande and Quartier Gourmand! 
In tandem with the beloved Nuit Blanche on March 3, MONTRÉAL EN LUMIÈRE is introducing their brand new concept: Nuit Gourmande. On February 23, the festival will be offering a delicious overview of the Montreal culinary landscape, with many of the city's finest restaurants staying open until late at night. As for the Quartier Gourmand, culinary inspired activities will be taking place from 21 to 24 February and from 28 February to 3 March! Participation fees for the activities will ranging from free charge to low prices!
2. Gourmet conferences
As part of its new gastronomic enthusiasm, the festival is taking a look into the tumultuous world behind the scenes of the restaurant industry. MONTRÉAL EN LUMIÈRE, in collaboration with Tastet.ca, is organizing a series of conferences on various topics. Team Tastet will host Toronto's top culinary talent, Matty Matheson, as well as culinary entertainer Josée di Stasio.
Social Gastronomy in Québec, from heart to table – February 20, 21 | L'Astral ($24, taxes included) Social gastronomy focuses on raising awareness of the wasteful practices of the modern food production system. To better understand the subject, Jean-François Archambault of La Tablée des Chefs, and Montreal's restaurant Candide chef John Winter Russell, will participate in a discussion on social and ecological commitment in the field of Quebec gastronomy.
Interview with Josée di Stasio – February 23, from 2:30 p.m. to 4 p.m. | The Gallery (free of charge | limited spaces) At the beginning of the fall of 2018, Josée di Stasio published À la Soupe- an impressive cookbook, which she will be introducing to you! If we're lucky, we may even end up tasting one of her soups… fingers crossed.
Instagram – For better or for worse – February 25, from 2 p.m. to 4 p.m. | Le Blumenthal ($45, taxes included) Instagram has become an essential platform for sharing consumers' interests and taste, and of course, its influence cannot be ignored by any modern restaurant owner. Our editor-in-chief, Élise Tastet, will be joined by chef du Mousso Antonin Mousseau-Rivard, and international chef Camille Becerra, to discuss the importance of this platform.
Matty Matheson at MONTRÉAL EN LUMIÈRE – February 26, 7 p.m. – 8:30 p.m. | L'Astral ($20) Matty himself said it on his Instagram account- you won't want to miss it! Élise Tastet, founder of Tastet.ca, will lead a discussion alongside the charismatic Toronto chef. This event promises to be as colourful as it is interesting!
Le Critique cuisiné – February 28, 7:30 p.m. | L'Astral ($20, taxes included) The days when chefs lived hidden in the back of their kitchen and avoided (often feared) public outings are over. The days of omnipotent culinary critics are over as well. Food critic Jean-Philippe Tastet will sit down with chef Marie-Fleur Saint-Pierre to discuss the role of food critics in a contemporary context.
3. Bonnes Tables Air France: A whole host of unique evenings hosted inside local restaurants will be unfolding over the course of MONTRÉAL EN LUMIÈRE. This year, you will be able to interact with some of the best winegrowers, artisans, farmers, artists and great chefs at these various events. These industry professionals will be spending their evenings at the various participating Montreal restaurants, and here is our list of recommendations!
Agrikol is organizing a Caribbean brunch and dinner, where Chief Paul Harry Toussaint will be accompanied by his friend Chief Jouvens Jean.
Bar George is hosting Chef Viktor Örn Andrésson for a four-course meal with a special Icelandic flare.
At the Brasserie T!, Normand Laprise is serving a brunch and a three-course meal, all based around the theme of fresh truffles from Drôme.
In his restaurant Candide, John Winter Russel welcomes the Cadet Roussel farm-a pioneer in biodynamics in Quebec.
Chez Victoire is handing out two invitations this year! One is to discover some biodynamic wines, and the other is for a boreal themed dinner in collaboration with chef Arnaud Marchand.
Ferreira Café welcomes the great Portuguese chef Justa Nobre.
H4C Chef Dany Bolduc will lend his kitchen and brigade to rising French chef Amélie Darvas.
Henri Brasserie Francaise is preparing a dinner to showcase local products.
Restaurant Hoogan et Beaufort is offering a tasty and immersive evening into the world of its chef Marc-André Jetté's modern cuisine.
Restaurant Kitchen Galerie will become a gourmet stopover during the Nuit Gourmande.
The Chronique is welcoming the Brussels elite, Alexandre Dioniso!Alexandre Dioniso is head of La Villa in the Sky, a two Michelin star restaurant.
Le Mousso and Le Petit Mousso welcome diners hungry for bright and dynamic cuisine, accompanied by extraordinary American chefs!
Leméac has invited winegrowers and artisans for "A grand evening in perspective!".
Panama is collaborating with Maison Boulud to create a memorable evening.
This evening will be highlighted by a trip through the heart of Quebec's terroir at restaurant Le Radicelle.
An artist's meal inspired by the French Basque region will be held at Le Renoir.
Restaurant ITHQ will be presenting a starry, Swiss inspired evening.
Restaurant Manitoba is hosting an evening from the past, where you will be able to experience a lot of Quebec's gastronomic history.
Pastel will host a unique evening with Paul Liebrandt.
In partnership with Côte Nord, Portus 360 chef Helena Loureiro will take your palate on a journey through the islands of Quebec.
4. A platter of gastronomic events!
MONTRÉAL EN LUMIÈRE also presents a whole host of conferences and activities that are truly out of the ordinary. Among the many other festival events, you will be able to attend a conference on latte art hosted by the experts and curators of Café Touché, and the Barista du Café Pista, Maxime Richard. They will be presenting an impressive and instructive demonstration. At the Galerie de l'Astral, A3 Québec and Alambika are organizing an exotic Tikivernale cocktail party.
In addition, we launched our very first set of gourmet tours! These have all sold out, but we promise you that there will be more very soon.
All other information here.  It's going to be TOP! We look forward to seeing you there!
Written by Sydney Carter
Photography by Frédérique Ménard-Aubin, Photographer, MONTRÉAL EN LUMIÈRE Festival