Maison Boulud : Essential dining at The Ritz in Montreal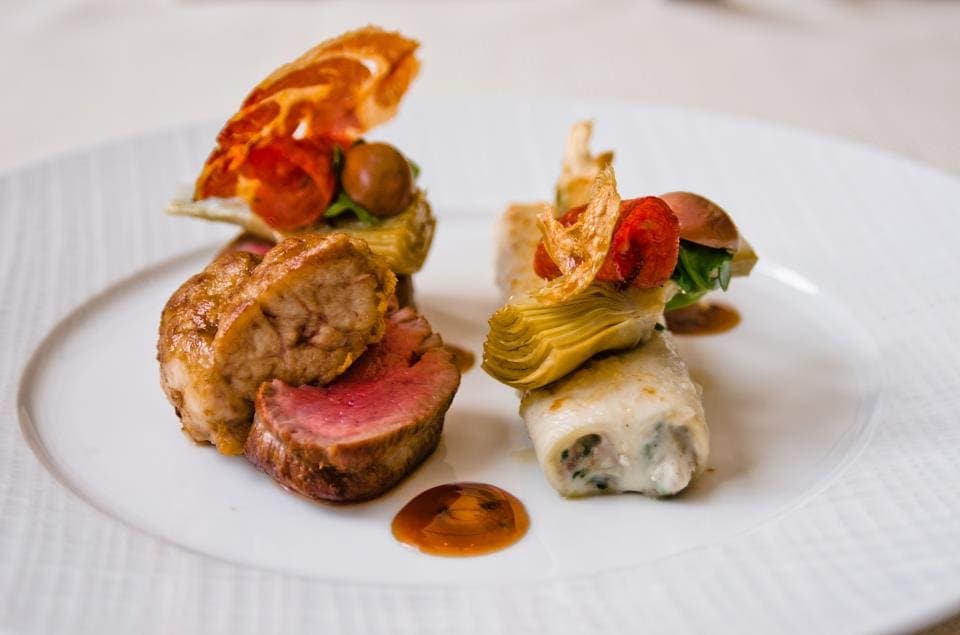 Maison Boulud
Schedule Sunday - Thursday: 7h - 10h30, 12h - 22h00
Friday and Saturday: 7h - 10h30, 12h - 22h30
Mood Chic
Price Range $$$, $$$$
_
The Ritz Carlton is one of Montreal's finest hotels. In 2012, the hotel finally opened a restaurant which lives up to the standard of the Ritz Carlton, after calling in renown Chef Daniel Boulud. He has created something exceptional – Maison Boulud – an haute-cuisine restaurant, and a Montreal 'must'.
Maison Boulud is not a restaurant to be ignored, a result of the exceptional quality of the team. Daniel Boulud is the head of operations, followed by Italian chef Riccardo Bertolino who is in charge of the kitchen. Riccardo is from Bologna; he is charming, hardworking and passionate about his job. He attended cooking school in Italy before working at some of the biggest restaurants in London, Paris and New York. He finally moved to Montreal, and we are eternally grateful.
As for wines and other refreshments, David Goirand is in charge of the sommelier's office. At Maison Boulud, he manages a list of more than 600 selected references in the vineyards of France and various other major wine regions of the world!
Another fabulous aspect of Maison Boulud is the environment in which you enjoy your meal. The 100-seat restaurant is set in a setting designed by the Japanese firm "Super Potato". They are also the ones responsible for several other hospitality establishments around the world. The firm is known for its use of wood, bronze and glass; everything here is luxurious, rich and comfortable. We particularly like the fireplace in the centre of the restaurant and the elegance of the space. During the summer season, the veranda adjacent to the dining room creates a truly a magical atmosphere. Indeed, the restaurant has a lounge which is in fact a private room that can accommodate up to 24 people and be booked for private events. It is also possible to book a semi-private lounge that can accommodate six people.
Maison Boulud has, indisputably, one of the most beautiful terraces in Montreal.
Finally, Maison Boulud has earned this reputation primarily through its exceptional cuisine. The restaurant offers a menu inspired by the French tradition, but which also reflects the chef's years of cooking in Italy, England and New York. Maison Boulud's menu changes with the seasons, trying to promote Quebec products as much as possible. Of course, we are talking about fine cuisine and this menu is really memorable. Whether it's classic breakfasts served every day, exceptional lunches ($38 and $45 lunch-specials available), weekend brunch, evening menu or tasting menu: the final product is incomparable. Refined and contemporary cuisine, original and tasty. In desserts, Claude Guérin prepares numerous delicious sweet options to end your meal.
On the beverage side, Maison Boulud offers a wide range of private imports and single glass options – note that bottle prices start at $48. The bar is ideal, offering a surprising choice of cocktails for an original 5 to 7. After 9 p.m., the restaurant announces a three-course late night menu at $55.
At Maison Boulud, we feel the work of each individual, and it is obvious that the management scrupulously ensures that everything offered to customers is impeccable. The product offered is of superior quality, and the customer is treated as an exceptional guest each visit. "We called the restaurant 'Maison' Boulud, because we wanted to offer a house-like atmosphere. A warm environment where everything would be homemade, the product would be of quality, and there would be something for everyone."
© photos Maison Boulud
Next post
Nora Gray is one of the best Italian restaurants in Montreal – it is an absolute must-try! Since opening in September 2011, the small restaurant on Saint Jacques Street has […]
Read the post
Complementary or close by: