New Year's Eve is one of the most festive evenings of the year, and we all know how important it is to find the perfect place to celebrate. We have curated the perfect guide to all of Montreal's best restaurants and bars that are open this December 31st.
Fun and casual restaurants open on the 31st:
Burgundy Lion – 2496 Notre-Dame St W, (514) 934-0888 – A fan of great drinks, a warm and cozy atmosphere and awesome food? Head over to Pub Burgundy Lion for New Year's Eve, where they will be serving a special festive menu!
Lawrence – 5201 St Laurent Blvd, (514) 503-1070 – Experience the New Year with Lawrence, one of Montreal's favourite restaurants! Here, you'll indulge in a wonderful brunch menu, impressively executed dishes and good drinks.
Larry's –  9 Fairmount Ave E – A Montreal brunch scene cornerstone- Larry's is a fan favourite that will be serving up their breakfast classics throughout New Year's Eve and Day, from 8:00am to 1:00pm
Soy – 5258 St Laurent Blvd, (514) 499-9399 – Pan-Asian cuisine served in a comfortable and inviting atmosphere- the perfect way to spend New Years Eve.
Ferreira Café -1446 Peel St, (514) 848-0988 – Party for New Year's Eve with Ferreira Cafe's special a la carte menu of spectacular Portuguese cuisine!
Radicelle – 4902 St Laurent Blvd, (514) 564- 7477 – Fresh food, pleasant surroundings and a special festive menu for New Year's Eve makes Radicelle a top pick to add to your December 31st schedule!
Tacos Victor – 4376 Notre-Dame St W, (514)932-6837 – A great address to spend your Holidays, so don't hesitate to celebrate New Year's Eve Mexican style with this amazing taco menu!
Monsieur B – 371 Rue Villeneuve E, (514)845-6066 – With a casual ambiance, classic French cuisine and emphasis on seasonal produce, and a passionate and devoted team, you'll sure have a New Year's Eve to remember if you come celebrate with Monsieur B!
Miel – 2194 Centre St, (438) 381-3838 – Your New Year's Eve will be as sweet as honey if you choose to come celebrate at Miel- expect fabulous food, wines and an overall charming experience.
Hà Vieux Port – 600 William St, (514) 379-4111 – Come feast in the Old Port, where restaurant Hà will be serving a special holiday menu in a relaxed and chic atmosphere.
Stella Pizzeria – 1327 Laurier Ave E, (514) 903-9448 – Who needs champagne when you can have a pizza party at Stella Pizzeria? Come see for yourself this New Year's Eve!
Fiorellino – 470 Rue de la Gauchetière W, (514) 878-3666 – This snack bar turns restaurant will be cooking up their delicious classics on New Years Eve, so come celebrate in the beautiful space.
Bistrot La Fabrique – 3619 St Denis St, (514) 544-5038 – Serving tantalizing brunches and a seasonal dinner menu, La Fabrique should certainly be added to your December 31st checklist.
Maison Publique – 4720 Rue Marquette, 514-507-0555 – The establishment is one of the top 100 best restaurants in Canada (!) and the restaurant is one you will surely wish to return to, as the food, drinks and service are so consistently high quality.
Chez Lévêque – 1030 Laurier Avenue West, (514) 279-7355 – A classic French-inspired restaurant, Chez Lévêque offers excellent cuisine. The restaurant's menu consists of well executed classics, which will certainly warm your heart on a cold night. Chez Lévêque will be open on December 24, 25 and 31, in addition to January 1.
Chic and gastronomic style restaurants open on the 31st:
La Chronique – 104 Avenue Laurier W,  (514) 271-3095 – If you're looking for somewhere to dine before the ball drops, La Chronique will be serving an amazing 7 course tasting menu for 195$- a perfect place to drink, feast and celebrate in a fashionable and exquisite setting.
Ikanos – 112 McGill St #1, (514) 842-0867 – Ikanos is a great space to celebrate with loved ones over delicious Greek and Mediterranean cuisine, served in a spacious and calming environment.
Jatoba – 1184 Place Phillips, (514) 871-1184 – If you have a soft spot for Asian fusion, spending the night of the 31st at Jatoba is a must. The team has created a superb special menu for the Holidays to be enjoyed in their lovely and organic setting.
Tavern On The Square – 1 Westmount Sq, (514) 989-9779 – Served in a wonderfully classic and refined setting, come eat delicious, fresh and perfectly executed food with Tavern On The Square for New Year's Eve!
Pineau – 5064 Avenue Papineau, (514) 543-5363 – What better way to cheers New Year's Eve with delicious wine and cocktails, and Pineau specially crafted Holiday Tasting menu!
Bistro Barcola – 5607 Park Ave, (438) 384-1112 – "From the Adriatic Coast to your plate"- can you think of a more special way to spend this special evening? Enjoy amazing dishes in a charming setting with good company.
Atelier Joël Robuchon – 1 avenue du Casino Casino de Montréal, (514) 392-2781 – Nothing says New Year's Eve party like a fine dining evening experience at the wonderful Atelier Joël Robuchon, located in the Montreal Casino.
Le Serpent – 257 Rue Prince,  (514) 316-4666 – Le Serpent is unique in many ways, making it the perfect destination for your big New Year's Eve celebrations! The beautiful decor is modern, industrial and chic, and the food is just as impressive.
Chasse-Galerie – 4110 St Denis St, (514) 419-4609 – Warm and cozy, chic and fashionable, and impressively delicious- come celebrate with Chasse-Galerie for New Years Eve!
Maison Boulud – 1228 Sherbrooke St W, (514) 842-8442 – Maison Boulud is a cornerstone French restaurant in Montreal, and there is no better place to spend the 31st if you're a fan of fine French cuisine and a distinctly tasteful and refined environment.
Moishes Steakhouse – 3961 St-Laurent Blvd, 514-845-3509 – Moishes Steakhouse is a true Montreal institution. A great address to satisfy your steak craving, in a chic and artistic atmosphere this December 31st!
H4C Saint-Henri – 538, Place Saint-Henri, (514) 316-7234 –  H4C tries and succeeds to make people feel like they are travelling, as each dish is inspired by the adventures of the restaurant's chef.  H4C prioritizes the use of local products to prepare delicious gourmet market cuisine. On the evening of December 31st, the restaurant will prepare a special holiday menu.  H4C is also open on January 1st.
Jellyfish –  626 Rue Marguerite d'Youville, (514) 303-0908 – This New Year's Eve, Jellyfish will be serving up a special festive menu, so come dine in style in the impressively decorated, spectacular dining room!
Auberge St.Gabriel – 426 St Gabriel St, (514) 878-3561 – Come spend New Years Eve in the beautiful, rustic and charming space of Auberge St.Gabriel! The team will be serving a special party menu for the big night, so you'll be sure to feel festive if you come visit.  
Henri Brasserie Française – 1240 Phillips Square, (514) 544-3674 – In order to honour the beginning of a new year properly, beautiful surroundings and fine dining are essential, and Henri Brasserie Française has it all…. all season long!
Le Filet – 219, ave. Mont-Royal West, (514) 360-6060 – Inventive haute cuisine, shockingly beautiful and modern decor and the Le Filet team are here to help you step into 2019!
Salmigondis – 6896 St Dominique St, (514) 564-3842 – Especially for the lovers of fresh Canadien inspired cuisine, Salmigondis is surely an address to be considered for your festive plans.
Fieldstone – 5427 St Laurent Blvd, (438) 387-7197 – Serving an artistically mastered fixed menu for the big night, in a classic and enchanting atmosphere, Fieldstone is an ideal establishment to celebrate with.
Renoir – 1155 Sherbrooke St W, (514) 788-3038 – Renoir is offering an artistic and masterfully executed dining experience. Ring in the New Year properly with enchantingly romantic surroundings and an incredibly tasty and refined menu.
Nora Gray – 1391 St Jacques St, (514) 419-6672 – Nora Gray is an essential Montreal Italian restaurant, and what better time to experience it than on one of the most special nights of the year!
Bouillon Bilk – 1595 St Laurent Blvd, (514) 845-1595 – If you're looking for a chic, simple and classic address to spend the big night, Bouillon Bilk is the place for you. Delicious cuisine and a tasteful environment will ensure a calm and celebratory evening!
Leméac – 1045 Avenue Laurier W, (514) 270-0999 –Whether you're coming in for their special brunch or dinner service, Leméac will surely satisfy your festive spirit with impressive cuisine and a stunning atmosphere.
Rosélys – 900 René-Lévesque Blvd W, (514) 954-2261 – Stamp off the end of the year in a luxurious setting with an amalgamation of French and English cuisine at Rosélys in the Fairmont Queen Elizabeth!
Pastaga – 6389 St Laurent Blvd, (438) 381-6389 – Pastaga is serving a special menu for the New Year's festivities. If you're a fan of natural wines, and great modern cuisine, Pastaga is the place to be.
Joséphine -4007 St Denis St, (514) 840-5015 – The lovely restaurant Josephine will be offering a unique 60$ holiday menu to be savoured amongst your loved ones in the bright, organic and energizing atmosphere!
Damas – 1201 Ave Van Horne, (514) 439-5435 – Say goodbye to 2018 with unique and creative Syrian and Persian food at restaurant Damas! The casual yet meticulously decorated space will surely get you feeling celebratory.
BYOW Restaurants:
MIllen – 1185 Fleury Street East, (514) 903-0636 – One of the best restaurants in Montreal, Millen offers fresh and original cuisine in its Promenade Fleury location. For New Year's Eve, Millen is preparing a special holiday menu.
Prince – 771 Rachel Street East, (514) 528-8555 – Another excellent restaurant on Montreal's Bring your own wine scene, Prince Restaurant serves high-end cuisine in a small yet charming space on Rachel Street. For the evening of December 31st, Prince Restaurant is preparing a special holiday menu.
La Prunelle – 327 Duluth Avenue East, (514) 849-8403 – La Prunelle is one of the best restaurants in Montreal. La Prunelle's menu is a market menu with the freshness of the ingredients and their local origin being at the heart of the restaurant's charm. La Prunelle will be open on December 31.
Restaurants open for brunch on the 31st:
Restaurant Well – 4567 Wellington St, (514) 494-4477 – Restaurant Well will be serving a magnificent Holiday brunch between 9:00am and 1:00pm- make sure you don't miss your chance to experience the seasons Well style!
Mesón — 345 rue Villeray, (514) 439-9089 —This year, Mesón celebrates the holiday season with brunch! A vibrant local Spanish bistro, Mesón serves original cuisine inspired by Spain. We come here to eat well while having a drink and to spend the holidays with a little sun and warmth on our plates. The restaurant will be open on December 24, 25 and 31, as well as on January 1.
Bars open on the 31st:
Bar George – 1440 Drummond St, (514) 669-9243 – This modern English restaurant on Drummond Street is celebrating the Holidays in their own unusual and quirky style! Fun and inventive food, served in a comfortable and unique setting.
Bar Philémon — 111 Rue Saint Paul Ouest, 514-289-3777 — The charming bar of Ariel Goldstein and Zebulon Perron. A team that unites to create a unique and festive address where you'll be able to dine in style! Open on the 24 and the 31 of December at night.
Bar Palco – 4019 Wellington St, (514) 303-1345 – This quaint and endearing space is the perfect spot to enjoy your New Year's Eve, especially for all lovers of perfectly executed comfort food and fun and creative drinks!
Renard – 1272 St Catherine St E, (514) 903-0648 – Friendly faces, a welcoming atmosphere, an amazing drinks list and equally as impressive food- Renard is the perfect spot to spend your Holidays!
If you know of any great restaurants open this New Year's Eve that we missed, please let us know! Happy New Year's wishes, and happy dining!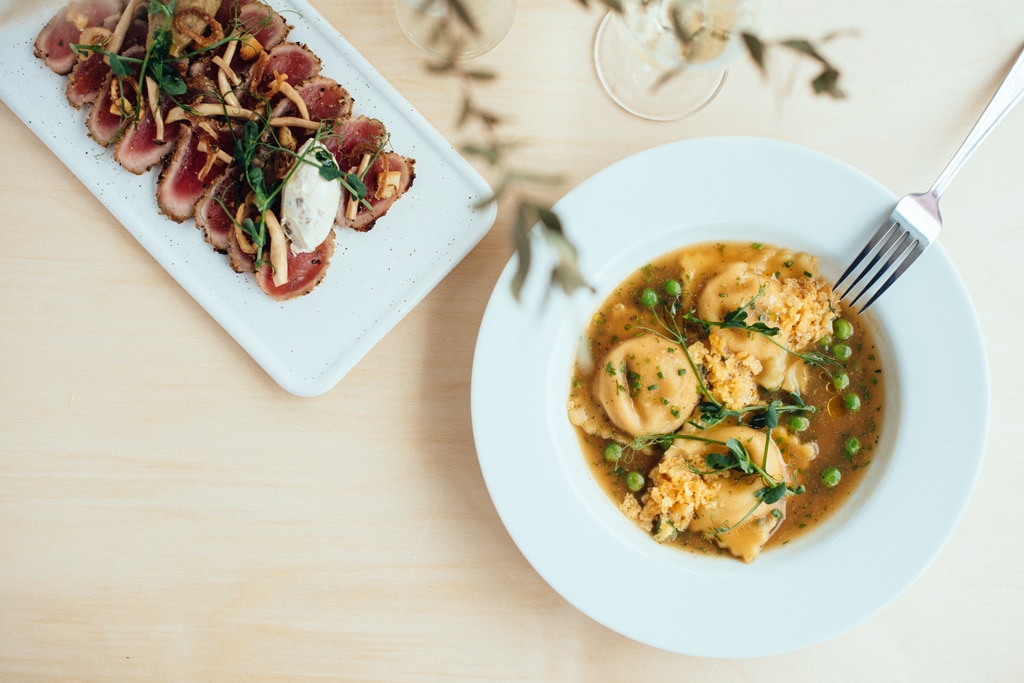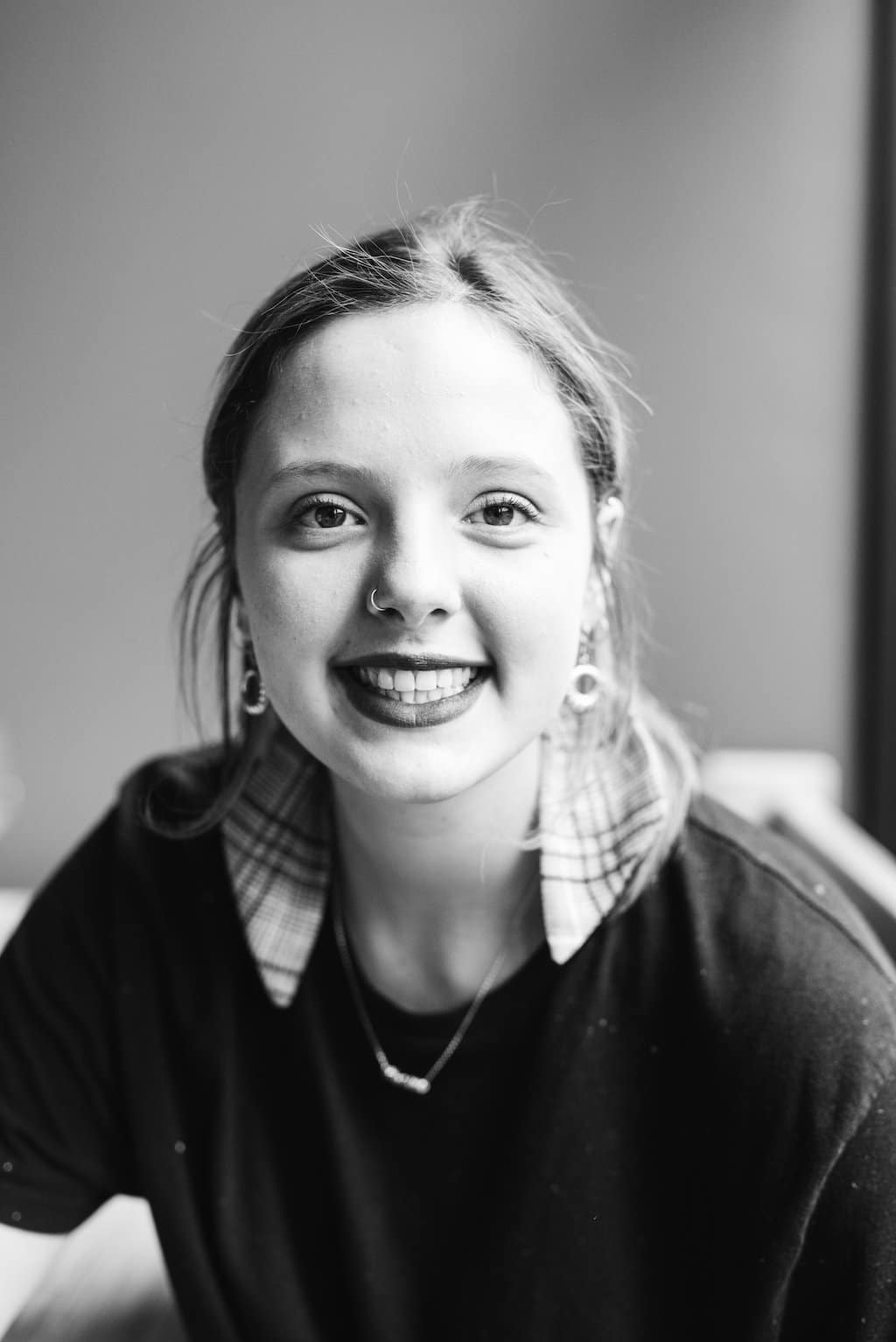 After moving from Ottawa to Montreal, Sydney was inspired by the amazing restaurant scene in this city. As a communications student and a long time lover of great food, Montreal was the perfect place to combine her passion for the culinary industry and media!
Complementary or close by: