MangeDansMonHood: Smash burgers, fries & nostalgia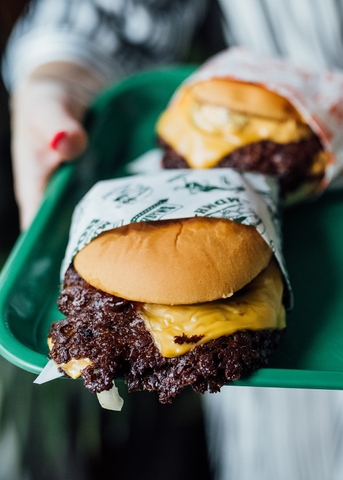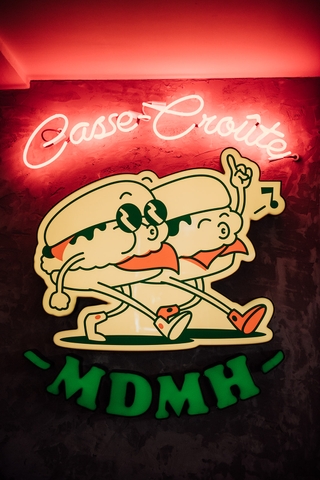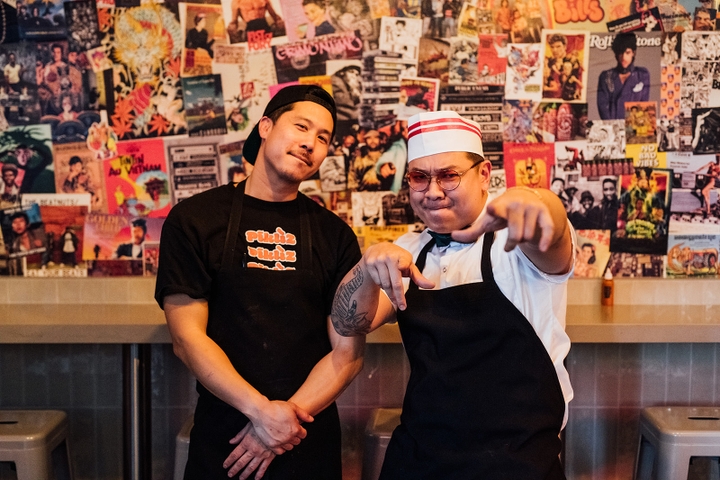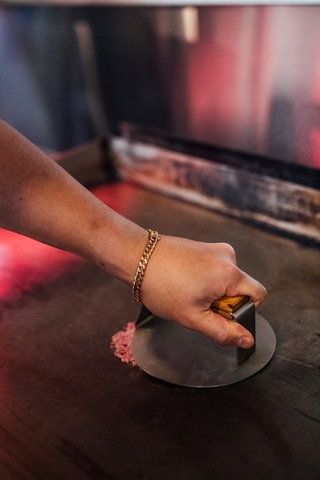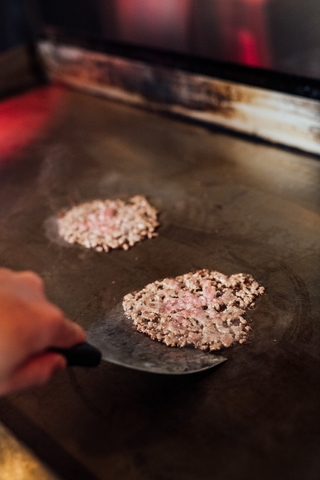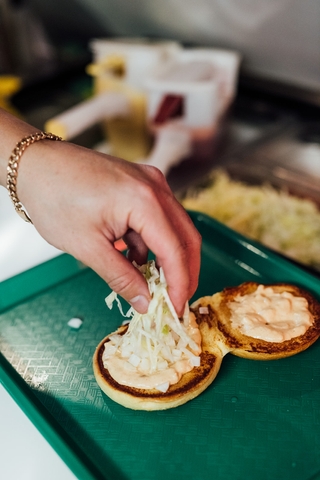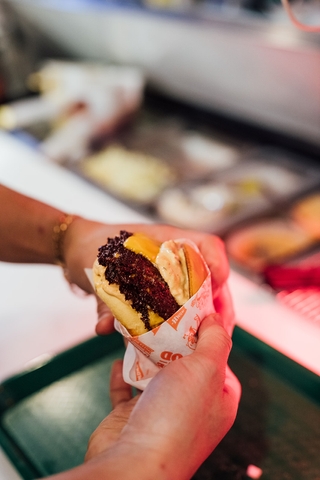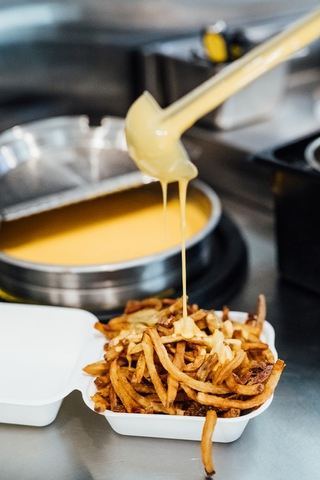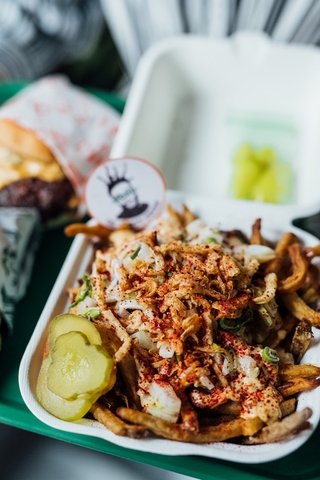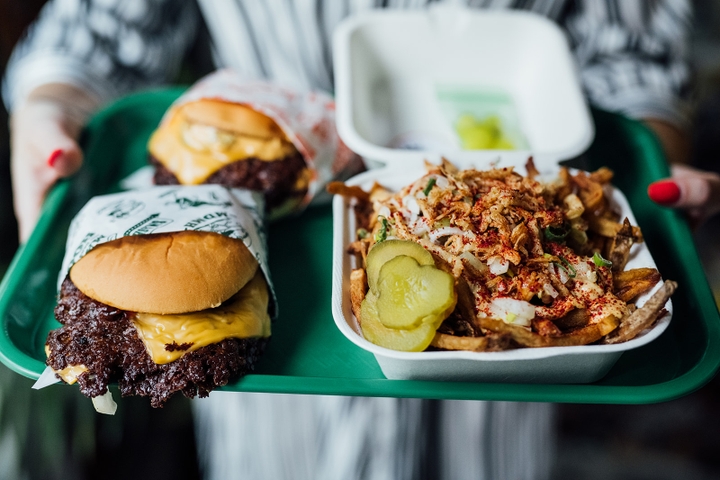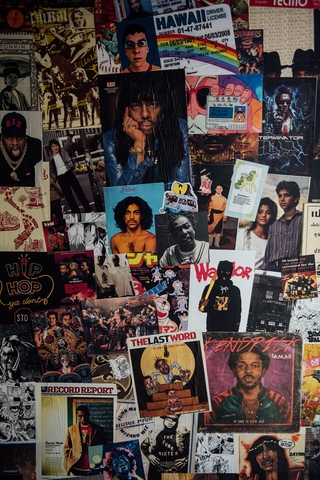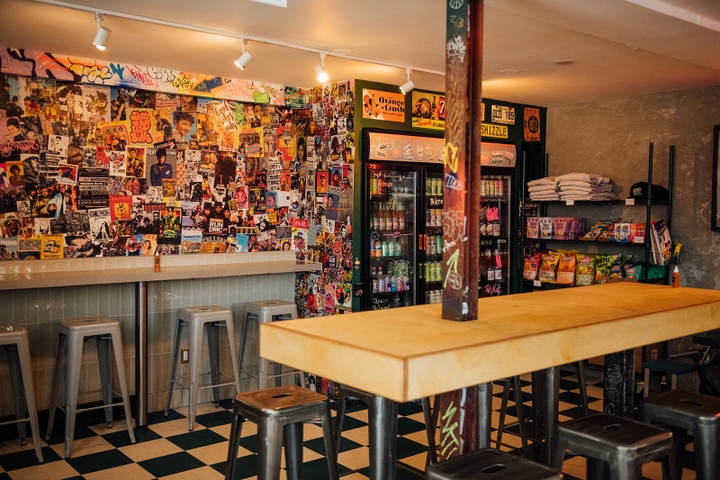 Casse-Croûte MangeDansMonHood

Monday: Closed
Tuesday: Closed
Wednesday: 5:00 – 9:00 PM
Thursday: 5:00 – 9:00 PM
Friday: 11:30 AM – 9:00 PM
Saturday: 11:30 AM – 9:00 PM
Sunday: 11:30 AM – 9:00 PM


Owner(s) Michel Nguyen, Michel Lim
Chef(s) Michel Lim
Opened 2023
We've been waiting for the arrival of MangeDansMonHood for a long time. After having whetted our appetites with several pop-up events, the snack bar from the two Michel's of La Belle Tonki has moved into the former location of La Belle Tonkinoise to serve us their decadent smash burgers.
You may already know the story: Michel Nguyen (Mitch to his friends), an accountant by profession, fell into the restaurant business by accident when he wanted to help his mother get her restaurant, La Belle Tonkinoise, back on its feet. He called on his longtime friend, hip hop dancer Michel Lim (aka Boombeast), who already had experience in the kitchen. The initial goal was to turn the restaurant around and resell it; they were so successful that they decided to take it over and update the concept, eventually moving to a new, larger location a few blocks away. This is how La Belle Tonki came to be in 2020.
Initially, one of the reasons Michel Lim agreed to join the adventure was to have access to his own kitchen, where he could experiment with his popup projects. In fact, before it hit the streets, MangeDansMonHood was an ephemeral restaurant concept, launched in 2016 at the short-lived Restaurant Day culinary festival. "I was serving food in my garage. I had prepared food for 150 people. I had nothing left in less than three hours," Michel says.
One thing led to another, and the idea of continuing the concept became clear. After all, something had to be done with La Belle Tonkinoise's space…
Smash burgers and nostalgia
"For Mitch and I, it was a dream to open a casse-croûte," confides Michel.
The sons of Vietnamese and Cambodian immigrants, respectively, Mitch and Michel grew up knowing their parents' cooking best. "When our parents took us out for fries and burgers, it was like a celebration for us," recalls the chef. MangeDansMonHood is a tribute to those nostalgic memories, but brought up to date.
The menu is short, and that's good: you don't need anything more. Two burgers, fries, poutine and Michel's famous "Ol' Dirty Fries", inspired by the "animal style" fries of the Californian chain In-N-Out Burger, with MDMH sauce (their version of the Big Mac sauce), cheese sauce, fried onions and pickles. The Cali Burger, also inspired by In-N-Out, has the same MDMH sauce, with onions, lettuce, tomato and pickles. The Happy Burger is more like the classic McDonald's Happy Meal cheeseburger: yellow cheese, ketchup, mustard, onions and pickles, nothing more, nothing less. Both consist of two ground beef patties mashed on a hot plate until crispy, then topped with a slice of melting American cheddar and placed on a potato bun. It's called a smash burger, a popular concept south of the border that is slowly gaining ground here.
"People don't know about the smash burger in Montreal. They are really surprised when they see us smash the meat. The smash creates the caramelization and a little bitterness too because the heat is so intense. When you add a sweet sauce like MDMH, it creates a balance in the flavours," explains the chef.
At MangeDansMonHood, the fresh meat is ground—twice!—on site every day, and the fries are cut thin like at McDonald's, but fried in suet like at an authentic pataterie. It's the best of both worlds!
Burgers and pét-nat: a perfect match
The decor of the small 25-seat space, located in a half-basement, reflects both Michel's appreciation for funk and hip hop culture. The walls are lined with images of Prince, Michael Jackson, Snoop Dogg, Rick James, NWA, but also with references to both action and martial arts movies the two friends grew up with. Disco ball, illuminated sign, hip hop music, all the elements are there to create a lively and feel-good atmosphere. We recommend sitting at the counter for the full show: you may just see Michel "Boombeast" grooving while flipping the patties.
And since for both Michels, burgers mean celebration, they also offer a small selection of natural wines, craft beers and exotic sodas. "I'm crazy about pét-nats. I find them so refreshing to drink with a burger", says the chef.
In the summer, there will also be two small terraces, in the front and back, as well as some pop-up events and special guests.
We go to MangeDansMonHood for the delicious smash burgers, but we come back for the festive atmosphere, Boombeast's dance moves, and the team's friendly welcome.
Mitch and Michel, we are happy to have you in the hood!
Written by Mikael Lebleu
Photography by Alison Slattery