Le Mal Nécessaire: Tropical cocktail bar in Chinatown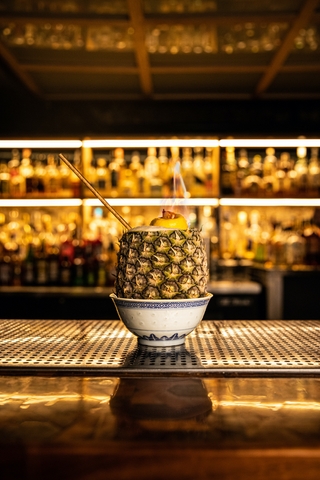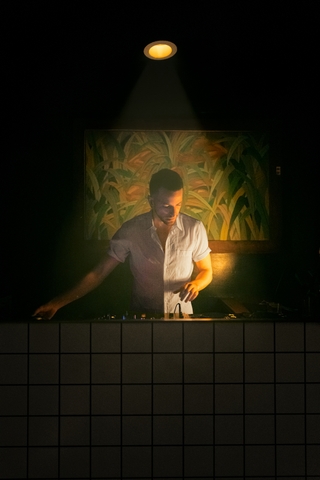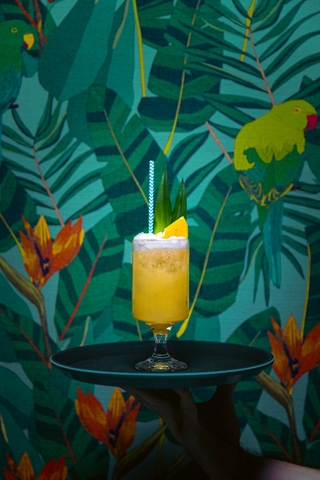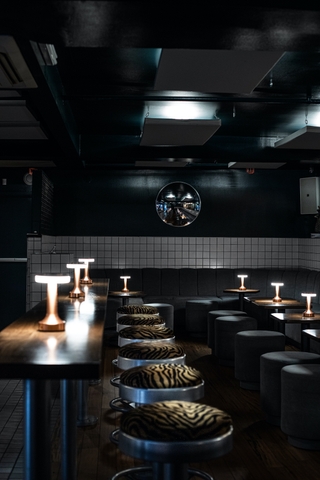 Le Mal Nécessaire

$$
Monday: 4:30 PM – 2:00 AM
Tuesday: 4:30 PM – 2:00 AM
Wednesday: 4:30 PM – 2:00 AM
Thursday: 4:30 PM – 2:00 AM
Friday: 4:30 PM – 3:00 AM
Saturday: 4:30 PM – 3:00 AM
Sunday: 4:30 PM – 2:00 AM


Owner(s) Alex San Gregorio, David Schmidtt
Host Evan Cowie
Opened 2014
In the heart of Chinatown, down the stairs from the neon green pineapple you can spot from afar, is Le Mal Nécessaire: a delicious tropical-inspired cocktail bar!
In early 2014, David Schmidt (Tiradito, Kabinet, Pelicano, Pamplemousse), Alex San Gregorio (Kabinet, Pamplemousse), and Graham Warner (Pamplemousse) noticed something missing in Chinatown. The neighbourhood was overflowing with gourmet addresses, but it was impossible at the time to find a bar to have a drink. It was in this context that Le Mal Nécessaire was born; and also because, as Graham says, alcohol is indeed a necessary evil. Even five years after its opening, the trio's project is one of the few spaces that welcomes thirsty Montrealers in Chinatown. And Le Mal Nécessaire really does welcome them.
A tropical bar with Tiki inspirations
Le Mal Nécessaire, on Saint-Laurent Boulevard, defines itself as a tropical bar "with Tiki inspirations". It serves colourful cocktails for both the eyes and the palate. The bar's team prepares mixes – sweet or bitter – that have the potential to please everyone. Served in a glass or in a piece of fruit, the creations of Le Mal Nécessaire make no compromise when it comes to quality. For example, the juices and syrups are homemade with fresh produce: "If we can make it homemade, we'll make it homemade," says Graham. As of this year, Le Mal Nécessaire also makes Dragons Boats, a tropical punch to share with friends. In addition to their Polynesian-inspired tropical offerings, the house offers a few beers and can make you any cocktail you desire.
Le Mal Nécessaire has no kitchen. This does not prevent the bar from offering its customers a short snack bar style menu. To do so, the owners collaborate with their neighbour, the Cantonese restaurant—and institution—Fung Shing. Upon customer request, the restaurant delivers general tao chicken, fried shrimp, Singapore noodles, and more directly to the bar.
"An uncommon bar for common people"
As for the decor, Le Mal Nécessaire's neon green pineapple has become iconic, courtesy of numerous Instagram shots. However, Le Mal Nécessaire's decor is just as charming when you step inside the bar. The owners took inspiration from the location – a large basement – in an attempt to create a space that gives customers a change of scenery. The result is a warm and intimate setting where people like to meet in small groups or one-on-one. The address is in our list of hidden bar suggestions in Montreal.
It is also important to mention that the address is ahead of most bars when it comes to ecological practices. In fact, the address is the first large volume bar in Montreal to compost. Moreover, the team tries to use all the fruit rather than throwing it away; hence why you can enjoy a cocktail served in a fruit!
At Le Mal Nécessaire, the atmosphere and cocktails are pleasantly tropical. However, co-owner Graham makes it clear that the bar's priority is and always will be their customers: "We are an uncommon bar for common people!"
Written by Sophie Monkman
Photography by Folly Arts & Medias