Montreal's hidden bars: Our suggestions of addresses to discover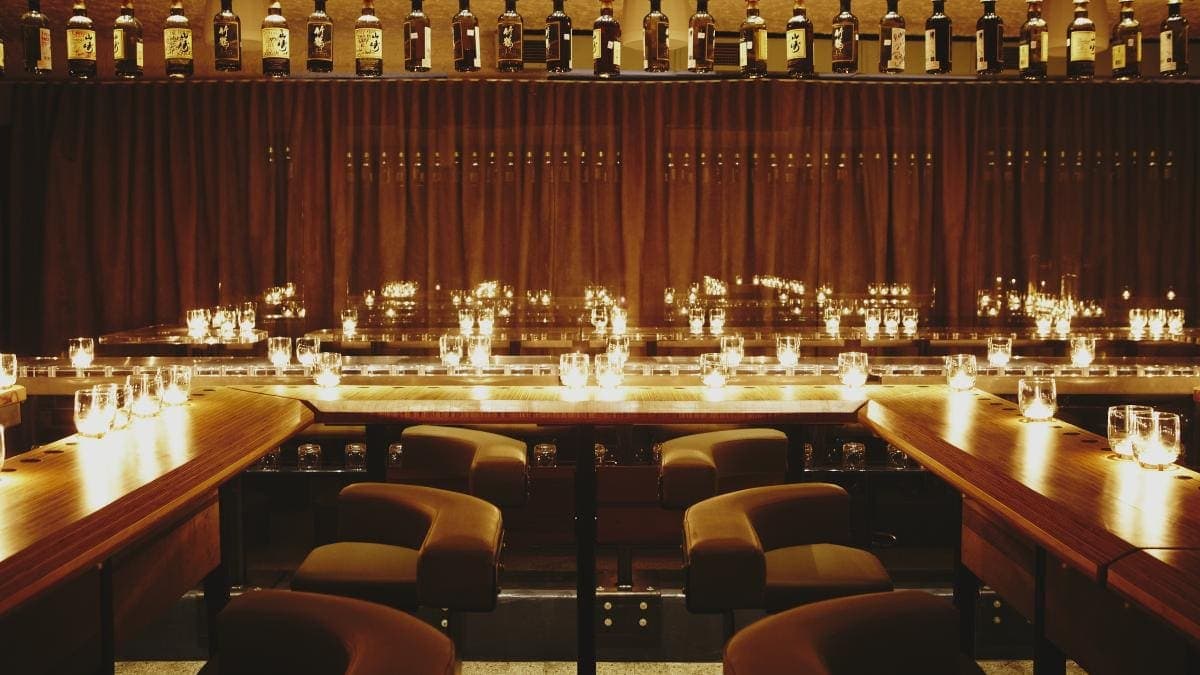 Montreal is full of great bars! But they are not all as equally visible as others. Many bars have chosen to be discreet and to play hide and seek with their customers. Of course, many of them have fallen victim to their popularity as the word has spread among fans of hushed ambience and delicious cocktails.
Hidden bars are not new. In fact, they appeared, for the most part, during prohibition in the United States. For about 13 years, the transportation, sale and manufacture of alcohol was totally illegal. Of course, human nature could not do without, so some clever people managed to circumvent the system and sell alcohol anyway. This was not done legally of course, which is why these places were very discreet. They were called "speakeasies" or "bling pigs", and most of them disappeared when prohibition ended. Nowadays, these terms are mostly used to designate backstreet bars, with a subdued atmosphere and, very often, offering excellent cocktails. Here is our list of the best cocktails in Montreal.
The hidden bar addresses on this list are interesting in their own unique ways, very enticing for their mysterious character, as well as being appealing to the curious or to tourists visiting the city. We love these spots for their cozy charm, which serve to help us get through our endless winters as well as celebrate late in the summer!
Gokudo is a great new Japanese cocktail bar downtown, run by the same owners as Escondite, Habanera, Biiru and Koa Lua. The entry is indicated by a simple Chinese lantern and a facade of thin strips of wood. Once inside, we enter the small restaurant section which is called Ryōshi. It is only when we pass the black curtain in the middle of the small restaurant that we enter the Japanese cocktail bar Gokudo. To drink, there are delectable Japanese cocktails as well as a nice selection of sake. To eat, the bar offers small Japanese snacks. A unique place to have a drink in downtown Montreal! photo Alison Slattery
630 Rue Cathcart
Montréal
Cloakroom bar is a chic and cozy speakeasy in the heart of downtown Montreal. Inside the stylish Maison Cloakroom clothing store is a wooden door that opens onto a corridor leading to one of Montreal's most beautiful hidden bars. The "speakeasy" aspect of the bar gives it a mysterious and romantic feel that we really appreciate, in addition to the simple elegance of the space. We come here to try new cocktails and appreciate the know-how of the trained bartenders. The Cloakroom bar opens at 3pm from Monday to Saturday and is ideal for happy hour or an evening with a velvety atmosphere. photo Tastet
2175 Rue de la Montagne
Montréal
The Atwater Cocktail Club (behind the restaurant Foiegwa), is another of the most beautiful hidden bars in Montreal. The original decor is designed by Gaulay Brothers: fuchsia pink banquettes, wooden floors, subdued lighting and a mirrored ceiling. All of these elements combine to make this bar a chic and unique place to have a drink out in the city. Speaking of drinks, the Atwater Cocktail Club offers a choice of a dozen exquisite cocktails by Christophe Beaudoin. Note that you can order items from the Foiegwa menu in the bar: tartares, burgers and other classics are available. The bar is now part of our list of the best places to eat in Montreal. Atwater Cocktail Club
512 Avenue Atwater
Montréal
The Henden Bar is the hidden gem of the Birdbar. Whether you want to have a drink before your meal, a cocktail with a bite to eat, or for a nightcap, this Griffintown bar welcomes you with its impressive and surprising decor. This is a beautiful, unique and cozy hidden bar, reminiscent of the Playboy Mansion of the 1970s, with a mysterious and Moroccan touch. To drink, they offer the same wine selection and numerous champagnes from the Birdbar. The bar menu is in the same vein as the Birdbar, but revisited. It was designed for the space: easy to eat with your hands and pairs well with cocktails. photo by Alison Slattery
1800 Rue Notre-Dame Ouest
Montréal
Le Royal is the hidden bar of Le Rouge-Gorge! Just like Le Rouge-Gorge, the address is charming, beautiful, and we drink very well there. The atmosphere is comfortable, warm, and intimate, and favours celebration. And what about the decor? The gorgeous space was designed by the famous Zébulon Perron. The space is sumptuous, chic and elegant. Moreover, the 65 seats are placed fairly close together, making it easy to meet your neighbours. As for drinks, Le Royal is best known for its cocktails, but you can also find several good bottles of wine, including about thirty bottles of bubbly (!!), as well as reds and whites. photo Le Royal
1232 Avenue du Mont-Royal Est
Montréal
Flyjin
Flyjin is more of a nightclub than a bar, and it's a Montreal supperclub that we love. Open for a few years now, the mythical place of the A5 Management group offers you unforgettable evenings and festivities. At Flyjin, we eat a menu developed by the renowned chef Antonio Park and executed by the bar's kitchen. Around 11pm, the space is completely transformed into a club, and this basement in Old Montreal becomes a new space where people party until the wee hours of the morning. Open from Wednesday to Saturday, Flyjin is a must-visit supperclub that has won over many hearts over the years. photo Flyjin
417 Rue Saint-Pierre
Montréal
The Soubois is located in a favourite spot on Maisonneuve Street, where the Peel Pub and the Copacabana kept the party going for 15 years in succession. When you arrive in front of the door to the Soubois, you have no idea that you are entering an enchanted forest that is known far beyond Montreal. You walk down the steps to the reception area of this "forest", then you are transported into a breathtaking decor designed by Alexandre Brosseau of the Speakeasy agency. The evenings here are very festive and the music is for dancing. Note also that behind the simple library of the living room and the first house hides one of the most beautiful Speakeasies of Montreal, called the Orangerie du Soubois. Soubois
1106 Maisonneuve Boulevard West
Montreal
Le A Bar
Le A Bar on Rachel Street East is not exactly hidden, but it is definitely one of the most discreet bars on the Plateau Mont-Royal. Behind its tiny terrace, the little bar is lovely, and an affordable place to have drinks and listen to melodious tunes every night of the week. The place is so casual, you can even bring your own food to eat, or order from nearby restaurants. The people who work at A Bar make every visit personal. The place is ideal for small private parties, unpretentious drinks with friends, or pop-up events of any kind. photo A Le A Bar
213 Rue Rachel Est
Montréal
The King Crab is the hidden bar of Makro, the seafood restaurant owned by Grinder. Like Makro, the King Crab is really pretty. The talented Gauley Brothers designed the space. Carpeted walls, a "selfie" corner, mirrors, glittery banquettes, marble tables; this 75-seat space has an air of The Factory. The space is intimate, chic and elegant; the aesthetics of the bar is very successful, and this address is now part of our list of the most beautiful bars in Montreal. Makro
1726 Rue Notre-Dame Ouest
Montréal
Located in the basement of the Tiradito in the heart of the business district, Club Pelicano is a cocktail and natural wine bar that breathes summer. Inspired by the Piscine Molitor, the bar takes us on a summer journey to Europe. Thanks to the many references to public baths, we spend a lively evening sipping a drink by the pool, and you won't be able to say no to the small Mediterranean bites offered on the bar menu. Club Pelicano
1076 Rue de Bleury
Montréal
Located on the second floor of the excellent Fugazzi, the Milky Way bar invites its customers to continue their evening in an atmosphere out of the ordinary. A cosmic-inspired staircase leads to this space-themed bar. The Milky Way's appearance, by Gauley Brothers, is all about extravagant elegance, highlighted by lighting in mesmerizing colours. To top it all off, some of Montreal's best cocktails are sipped here. Elizabeth Gartside
1886 Rue Centre
Montréal
630 Rue Cathcart Montréal H3B 3C4
2175 Rue de la Montagne Montréal H3G 1Z8
512 Avenue Atwater Montréal H4C 2G5
1800 Rue Notre-Dame Ouest Montréal H3J 1M5
1232 Avenue du Mont-Royal Est Montréal H2J 1Y1
417 Rue Saint-Pierre Montréal H2Y 2M4
1106 Maisonneuve Boulevard West Montreal H3A 1M7
213 Rue Rachel Est Montréal H2W 1E4
1726 Rue Notre-Dame Ouest Montréal H3J 1M3
1076 Rue de Bleury Montréal H2Z 1N2
1886 Rue Centre Montréal H3K 1H9