Our suggestions of places to enjoy zucchini flowers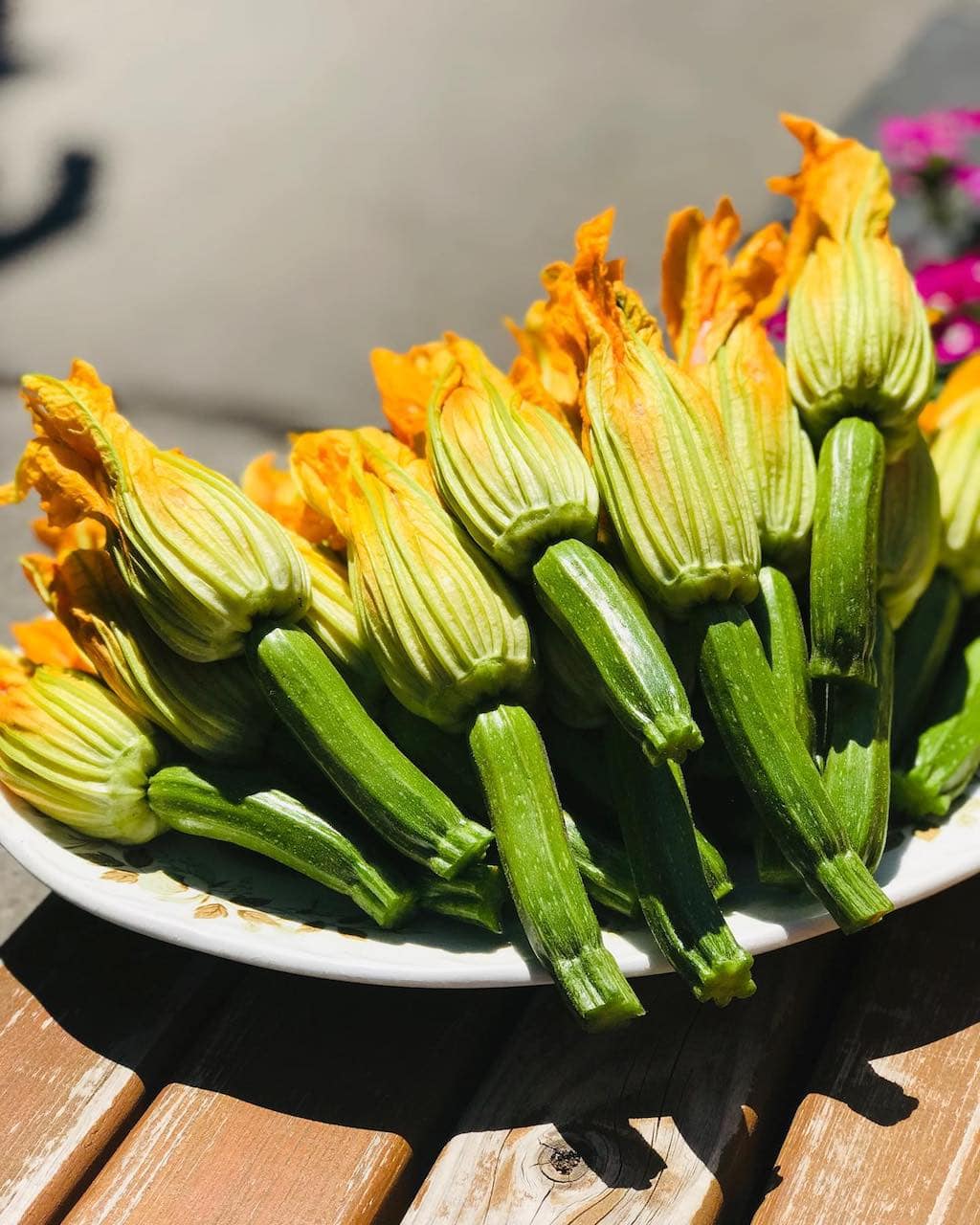 A delicacy of Italian cuisine, zucchini flowers are only eaten during a short period of the year. The season starts in June but peaks in July and ends in late August, just before the start of the school year.
A brief note on its history: the people of Central America were the first to consume zucchini flowers, and it was the conquistadors who brought them to Europe in the 16th century.
Belonging to the cucurbitaceae (cucurbit) family that also includes squash, cucumber, and melons, the zucchini includes two types of flowers: the male and the female. The males produce the flowers and the females produce the zucchini. While the females are sweeter, the males lean more towards bitterness. It is therefore recommended to cook the male flowers while the zucchini can be eaten raw or cooked according to your taste.
There are a thousand and one ways to prepare them; cooked, raw, fried, stuffed, in fritters, on a pizza, in a salad and even in soup. The many addresses on this list will surprise and amaze you, however they prepare them.
Zucchini flowers are often associated with Italian cuisine where they are prepared in the form of fritters or stuffed with fresh cheese such as ricotta.
However, these edible flowers can also be found in Mexican recipes in soups or as a garnish in quesadillas.
In this list you will find many restaurants from different cuisines around the world with one quality in common: seasonal cuisine using the best local ingredients.
To complete this Italian feast, we also suggest you take a look at our list of the best Italian restaurants in Montreal.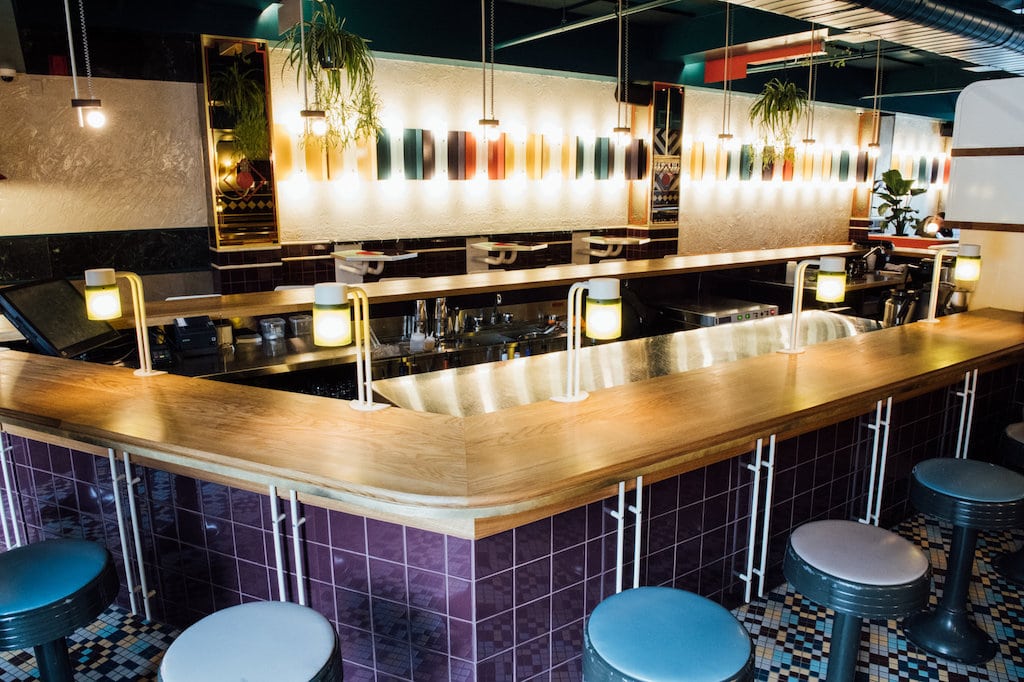 vinvinvin is La Petite-Patrie's new hip and colourful bar! Located on Beaubien Avenue East, vinvinvin offers delicious Nordic wines from private importation: natural, organic and biodynamic. The project of a truly talented team, the owners each bring their expert know-how to offer only the best at the counter and in the dining room. So that the wine doesn't go to your head too quickly, the house offers a small seasonal menu of delicious small plates to share. Zucchini flowers are currently in the spotlight, accompanied perfectly with a glass of good Nordic juice.
1290 Rue Beaubien Est
Montréal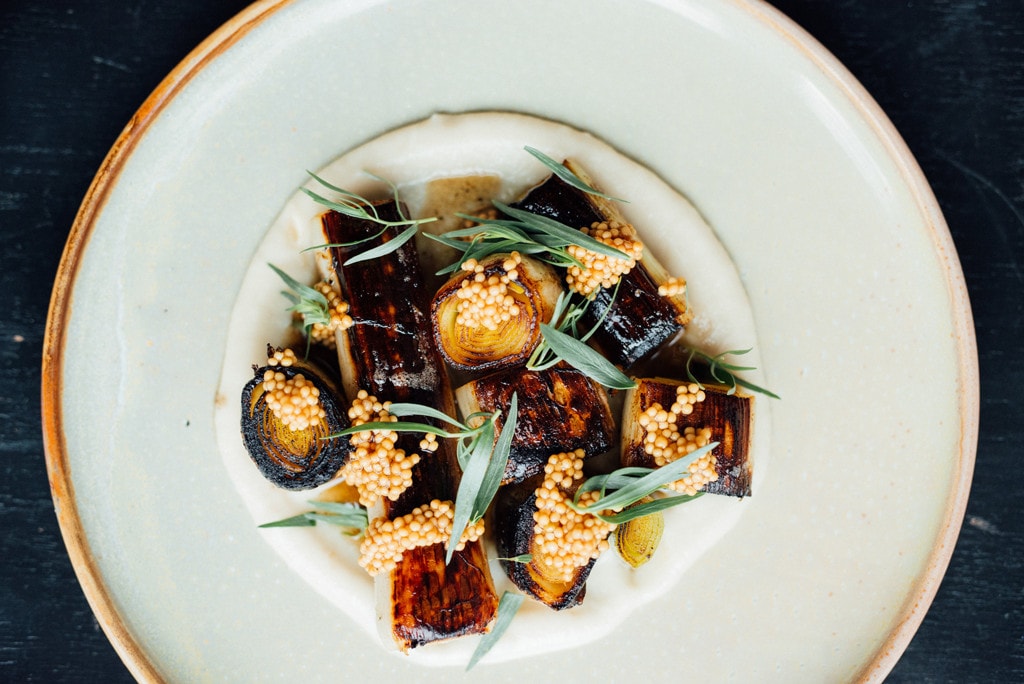 Brasserie Le Réservoir
A beloved microbrewery on Duluth Avenue East, Reservoir is an address where we would spend our entire day if we could. The house serves small gourmet dishes that are just as delicious in summer as in winter. Here, we find that warm, convivial atmosphere common in several neighbourhood pubs, which are all full of local treasures, both in terms of food and drink. As for food, we enjoy a delicious, simple, and fresh dish of zucchini flowers served with preserved lemon.
9 Avenue Duluth Est
Montréal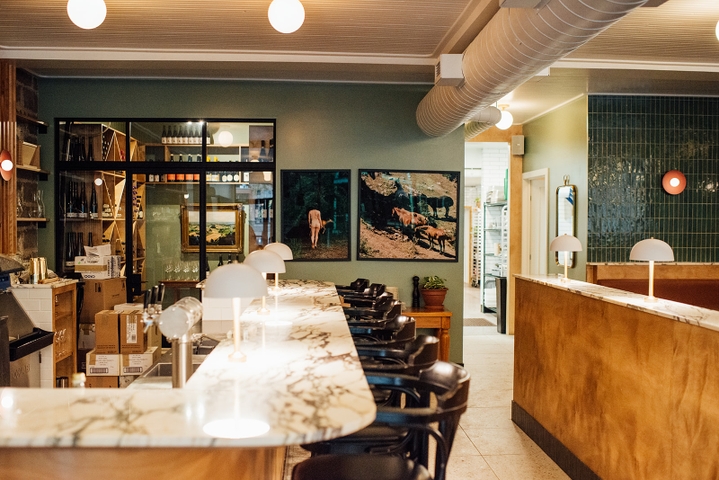 One of the best Italian restaurants in the city, twice awarded Tastet's favourite, Moccione is a delicious neighbourhood restaurant that serves very good Italian classics in a classy and warm decor. While their menu is not very long, it is very enticing; four starters, three pastas and three meat or fish dishes. The aperitivo section follows the seasons and from June/July offers a dish of fried zucchini flowers with anchovies; a great way to start the generous feast to come.
7495 Rue Saint-Denis
Montréal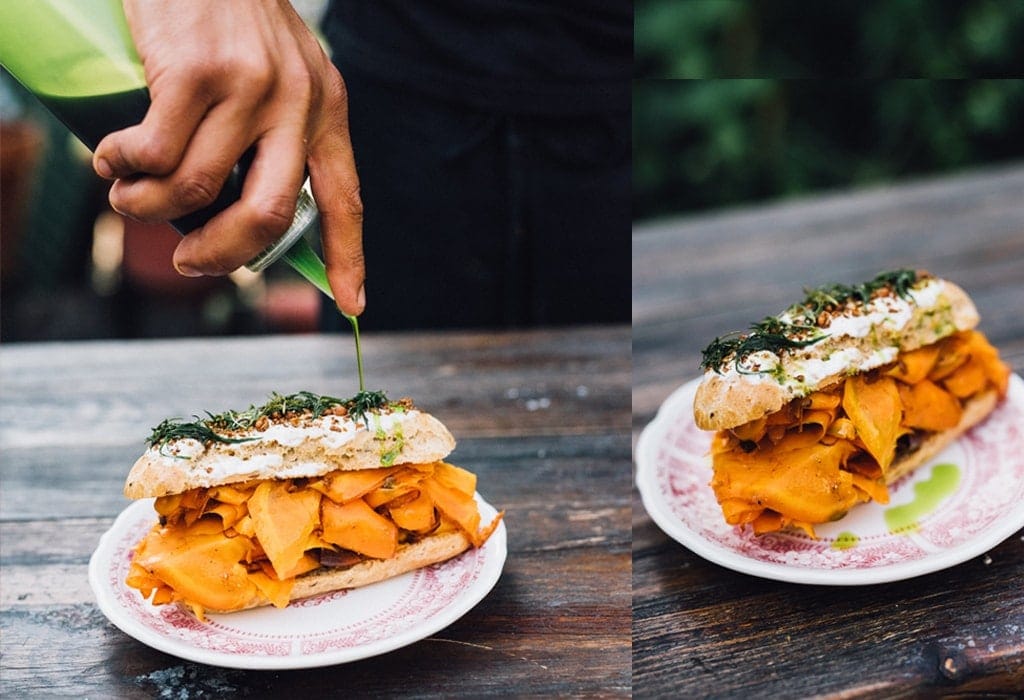 A superb wine bar from the Joe Beef family, the reputation of Vin Papillon is well established. From their exceptional wine list to their slate menu that changes with the seasons, not to mention their terrace where you could happily linger for hours, it's hard to resist the charms of Vin Papillon. With their own vegetable garden and their desire to highlight local produce, the restaurant offers a menu composed of delicate plates to share, each as delicious and inventive as the next. When the season permits, the wine bar reinvents the way we savour zucchini flowers in their dessert/cake topped with candied zucchini flowers. With the advice of one of the best sommeliers in town, Vanya Filipovic, you can be completely confident in your choice of wine.
2519 Rue Notre-Dame Ouest
Montréal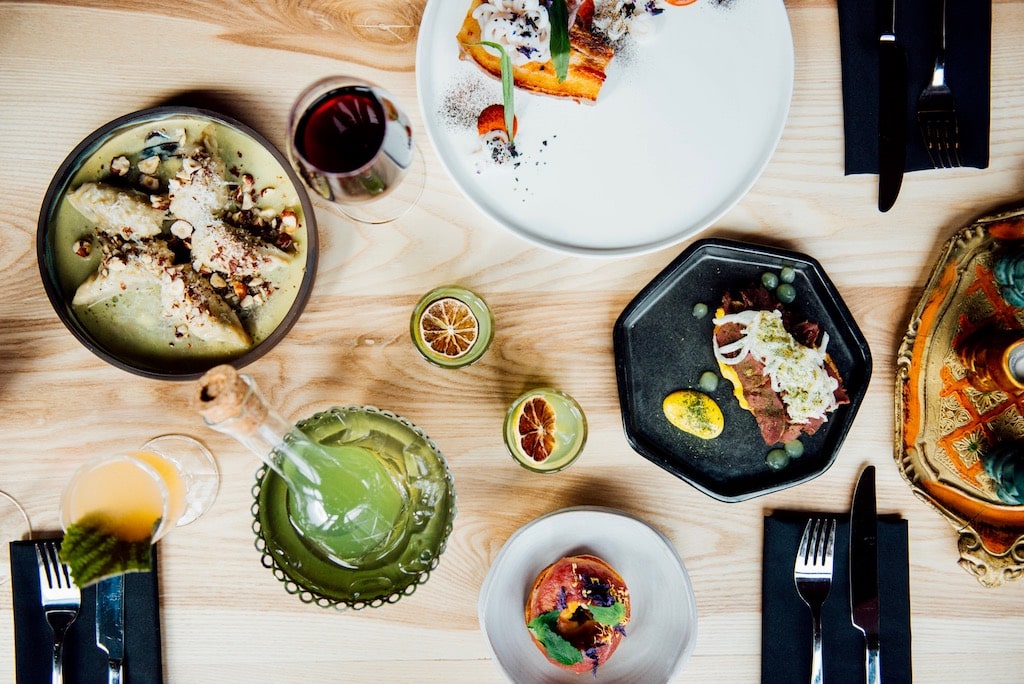 Located at the entrance of Hochelaga-Maisonneuve, Le Flamant is an address that will be sure to please lovers of creativity, innovation and culinary discoveries. Its concept? Democratized gastronomy with a menu that evolves daily – according to the chef's inspiration and the availability of seasonal products. At the moment, they are serving a dish of zucchini flowers, shrimp, and tom yum (soup from Thailand). A lovely way to discover – or rediscover – zucchini flowers.
4043 Rue Ontario Est
Montréal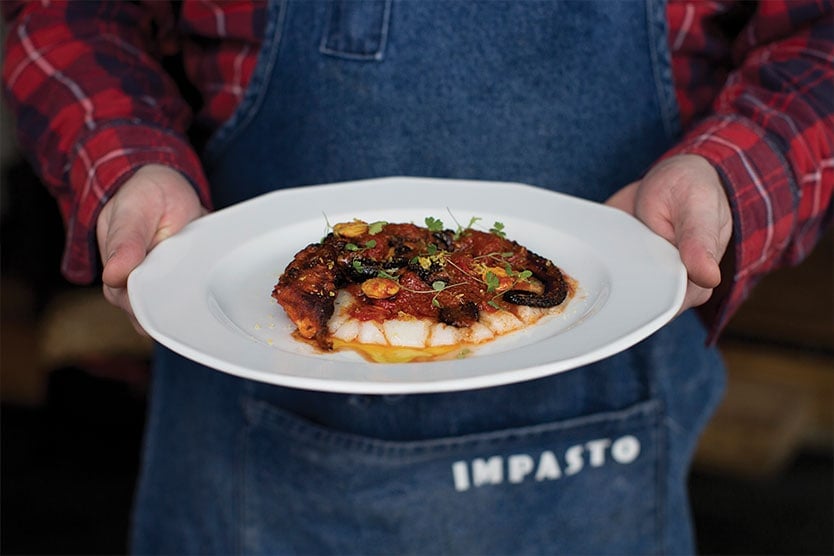 Impasto is one of the best Italian restaurants in the city and has quickly become one of the staple restaurants in Montreal. Michele Forgione and Aicia Colacci compose an Italian menu that highlights local products. The result is an exceptionally tasty menu of salads, blood sausage, carpaccio, artisanal charcuterie, spelt gnocchi, saffron tagliatelle with savoury cod, duck breast, grandfather's porchetta, arctic char and more. Here, you can savour an Aragosta salad with lobster, zucchini flowers, and arugula, served with an orange and apricot vinaigrette.
48 Rue Dante
Montréal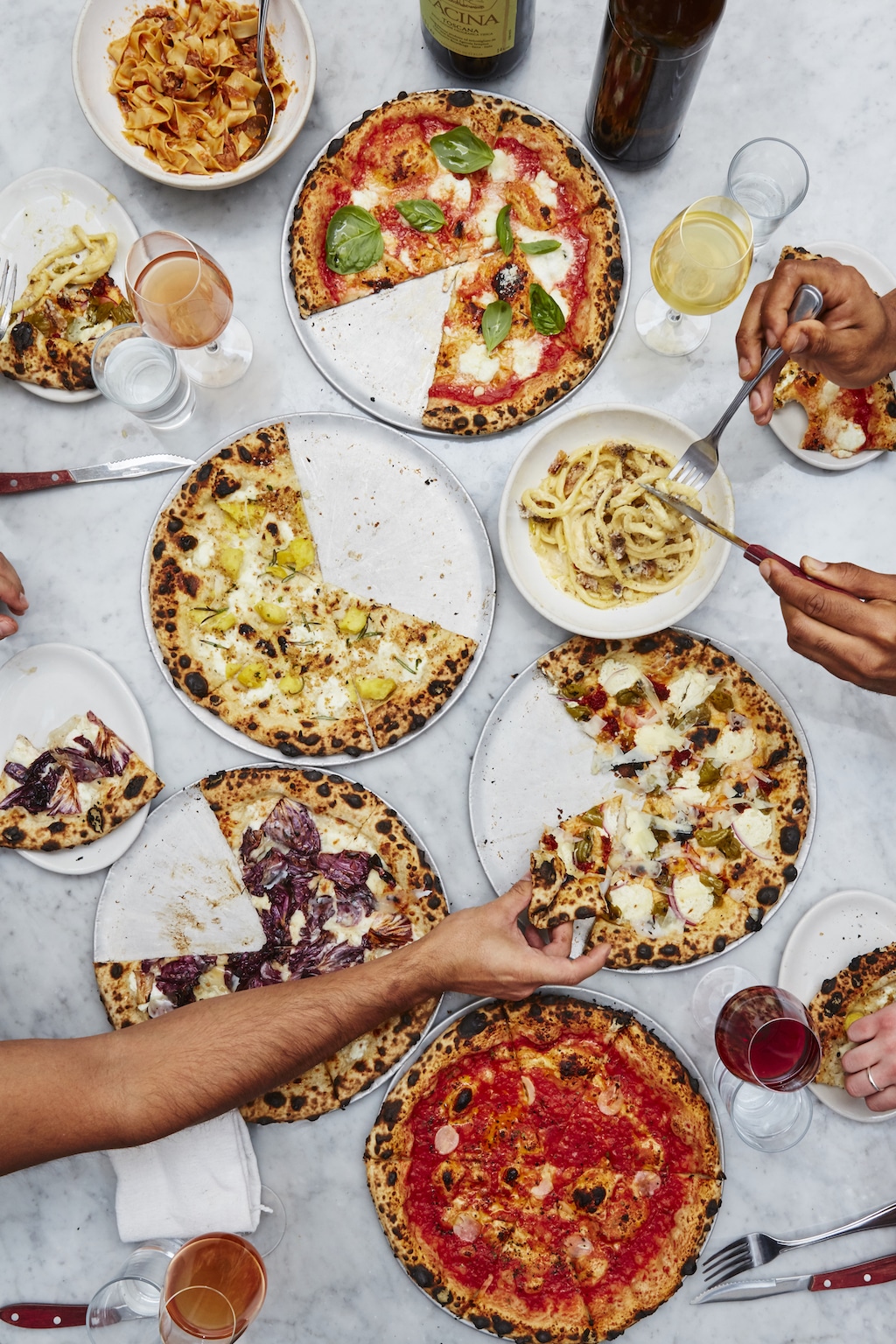 Elena is the natural evolution of Nora Gray; it's the next step. They offer great pizza and wine in a fun, lively, and beautiful atmosphere. On our list of the best pizzas in Montreal, the address offers a delicious Neapolitan pizza dressed with zucchini flowers and anchovies; delicious!
5090 Rue Notre-Dame Ouest
Montréal
1290 Rue Beaubien Est Montréal H2S 1P9
9 Avenue Duluth Est Montréal H2W 1G7
7495 Rue Saint-Denis Montréal H2R 2E5
2519 Rue Notre-Dame Ouest Montréal H3J 1N4
4043 Rue Ontario Est Montréal H1W 1T3
48 Rue Dante Montréal H2S 1J6
5090 Rue Notre-Dame Ouest Montréal H4C 1T1
Photography by Moccione