Montréal en Lumière 2022: A highly anticipated return!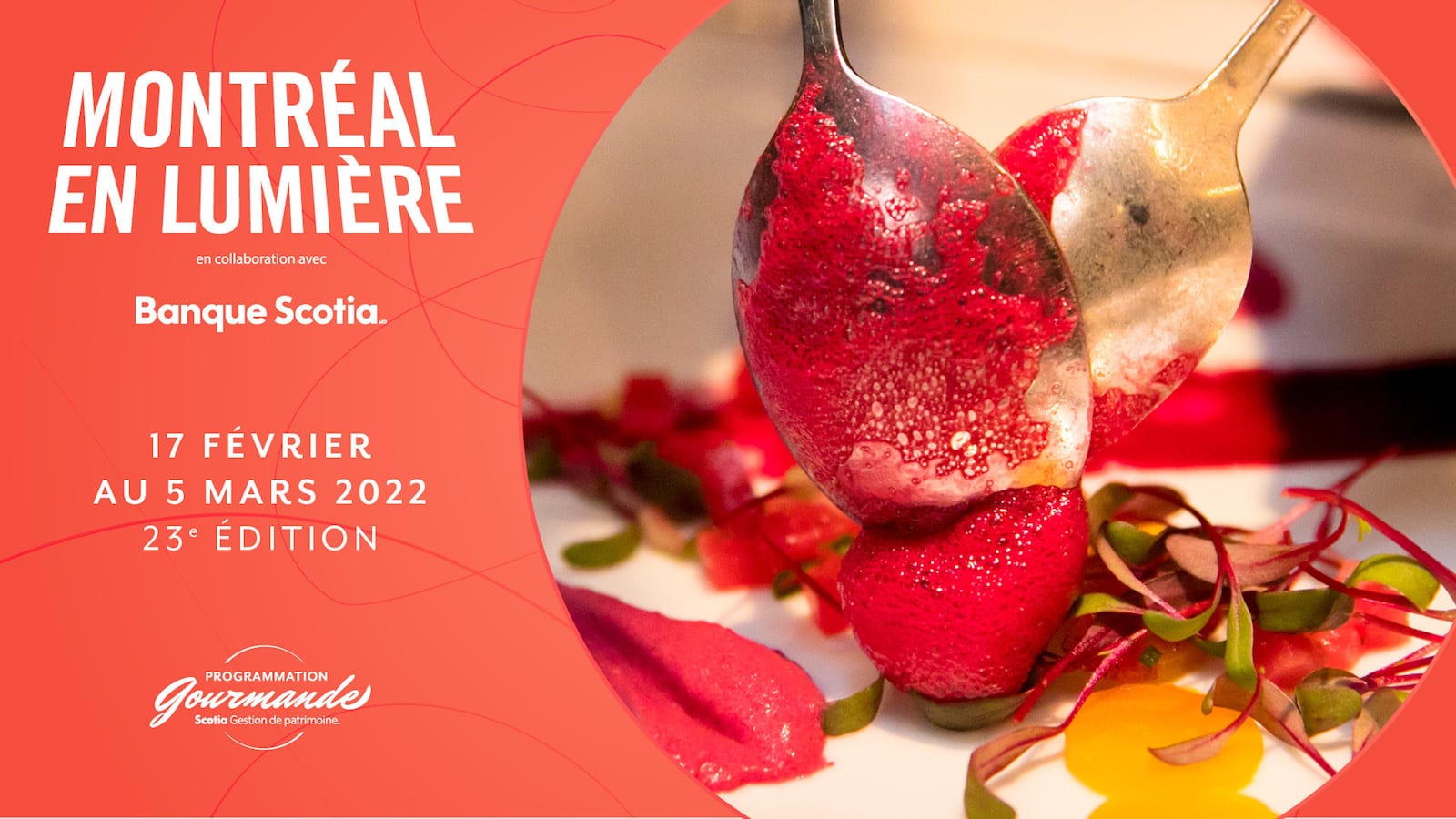 MONTRÉAL EN LUMIÈRE is back in force with an incredible program for 2022! The festival offers a brand-new musical and aerial skating path, an exclusive show created by The 7 Fingers, a trail of light installations, giant cinematographic projections, but above all, culinary experiences that honour local chefs.
This year, the festival is highlighting the restaurant industry even more than usual. This news has been warmly welcomed by restaurateurs who have been fighting for the survival of their establishments since the beginning of the pandemic.
Air France's Finest Tables
We have shared below some of what you can expect this year. For the complete program, click HERE.
Bar George welcomes Nick Liu – February 17 and 18 ($99 tasting menu, $159 with food and wine pairing)
"Kevin Ramasawmy is bringing you a special four-course dinner with wine pairing options, featuring fine local ingredients. He will be joined by Nick Liu, chef at DaiLo in Toronto, and the team at Bar George."
Mastard hosts the chefs from Faux Bergers – February 24 & 25 ($95 menu)
"Simon Mathys and the chefs from Charlevoix's Faux Bergers restaurant will be offering a menu featuring the treasures of Quebec's garde-manger at Mastard." Not to be missed!
Exclusive Lunch at Okeya Kyujiro – Mid-day February 19 and 26 ($100)
"Open exclusively for lunch for Montréal en Lumière, Takuya Matsuda and his team welcome you with fresh dishes of the highest quality, while providing multisensory entertainment. Their experienced chefs meticulously select fish that are seasonally appropriate and use additional methods to maximize their umami."
Couette & Gastronomie
The Couette & Gastronomie packages are back for the second year in a row. The concept is as comforting as it is delicious; thanks to associations between hoteliers and restaurateurs, you can treat yourself to a unique gastronomic experience in the comfort of your room or the hotel restaurant. We've included a few of the packages below. Click here to see them all!
Auberge du Vieux-Port – (Stay and meal package for two, starting at $425)
"Auberge du Vieux-Port is partnering with Taverne Gaspar to present a four-course table d'hôte meal for two and an overnight stay in an authentic setting. Spoil yourself one-on-one or with your family!"
Hôtel William Gray – (Overnight stay and meal package for two, starting at $500)
"Our package includes a four-course table d'hôte meal for two at Maggie Oakes and a night at the stylish Hôtel William Gray. Enjoy a special evening with your sweetheart or your family!"
Le Germain Hotel Montreal – (Gastronomic package in a room with a view, $640)
"Enjoy the finer things in life the moment you arrive, from valet service to the cozy elegance of your room. Later, have a seat and indulge in the refined cuisine of Le Boulevardier restaurant as you gaze out at the dazzling city below from the stunning wall-to-wall windows of your suite."
Visit the MONTRÉAL EN LUMIÈRE website to learn more about the 2022 program that we've been looking forward to after so many difficult months!
Happy festivities!
Written by Sophie Monkman