The Best Chinese Restaurants in Montreal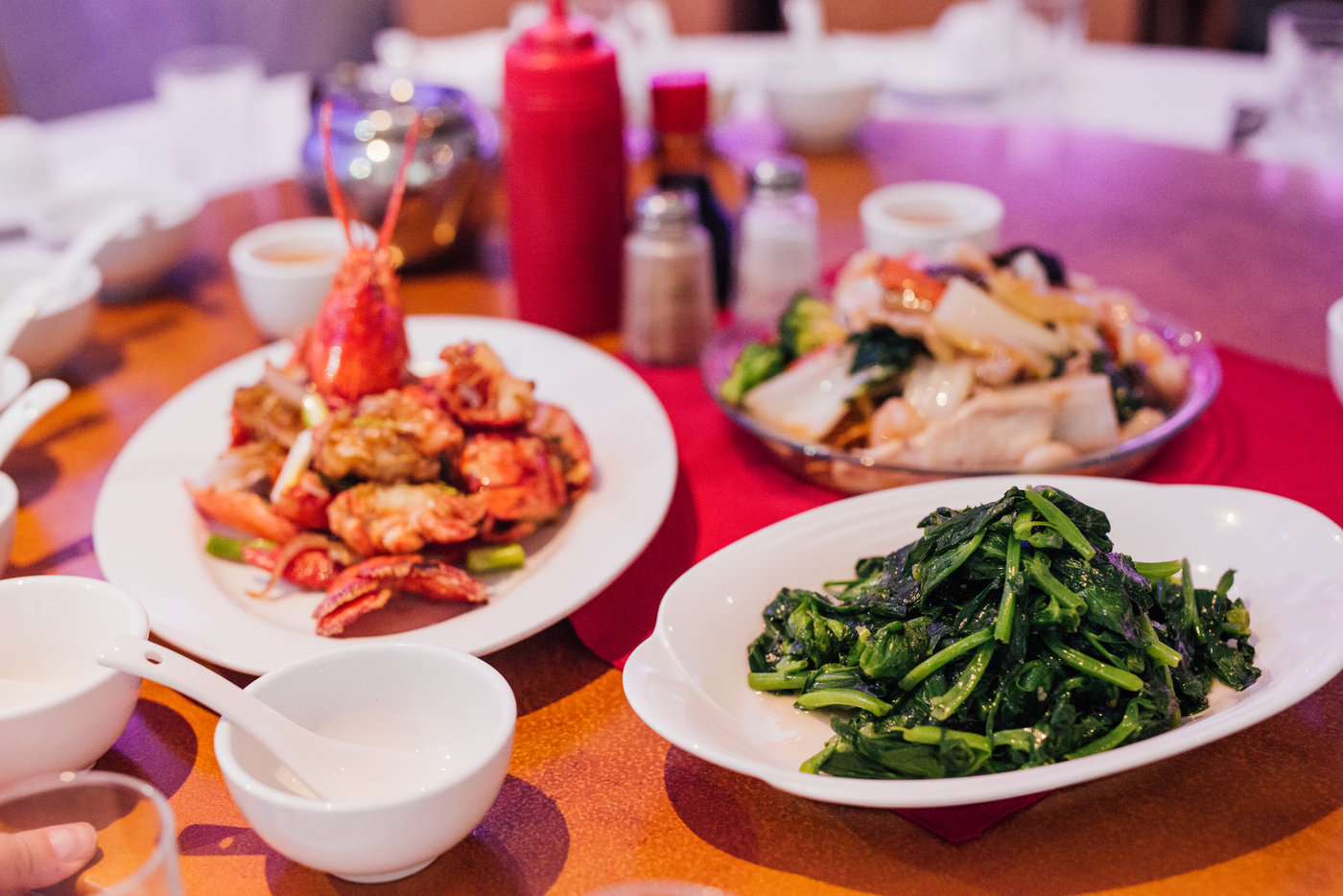 Montreal is full of diversity in every sense of the word, and its multicultural side is our favourite. People come from all over the world to settle in Montreal and bring so much richness from their native country; such as their traditions, languages and gastronomy.
Walking along the streets of Montreal, you can see all kinds of restaurants representing different nationalities. At Tastet, it would be impossible for us to choose the country that makes the most delicious dishes, but we can't hide our love for Chinese food and we must admit that we are a bit addicted to dumplings, so we have compiled a list of the best places to enjoy them in Montreal. Beyond dumplings, Chinese cuisine has a richness and diversity that is waiting to be discovered. Whether eating take out or enjoying it around a large round table, Chinese food always satisfies our hunger.
It is widely agreed that Chinese food is one of the most popular in the world. As a general rule, most major cities have their own Chinese neighbourhood where you can find all the classics of Chinese cuisine, and Montreal is no exception. In Chinatown and beyond, you can find many of our favourite dishes such as dumplings, imperial rolls, Peking duck, variations on general tao and more. These dishes are and will remain eternally comforting and consistent in their unique flavours.
Chinese cuisine has carved out an important place for itself in Montreal's gastronomic landscape as well as in our eating habits. We certainly eat more Chinese take-out than we did 50 years ago, especially in these pandemic days, but we're not complaining! Here are a few Montreal addresses where you can find some staple Chinese dishes.
Special mention: Maison VIP, a restaurant located directly in Chinatown, on Clark Street.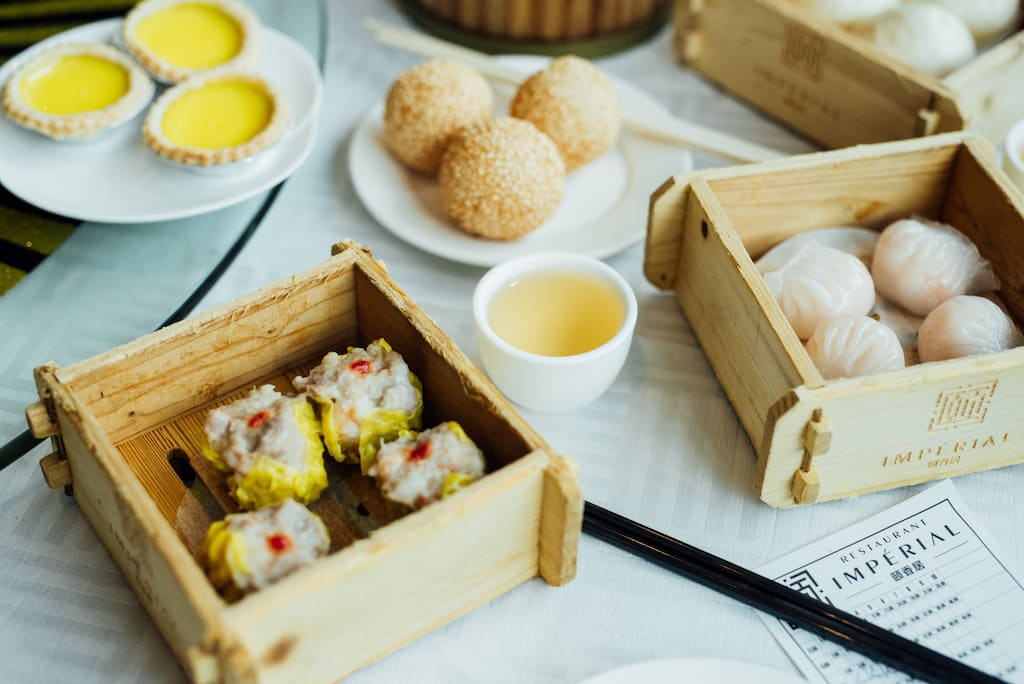 Restaurant Imperial is the ideal place if you are looking for a good dim sum or deliciously authentic Chinese cuisine! The restaurant was born out of the owners' desire to showcase the richness, finesse and community feel of Chinese cuisine. On the 6th floor of Swatow Plaza, you will discover what the owners call "true Chinese cuisine". We also invite you to try their new address in the West Island.
8245 Taschereau Boulevard
Brossard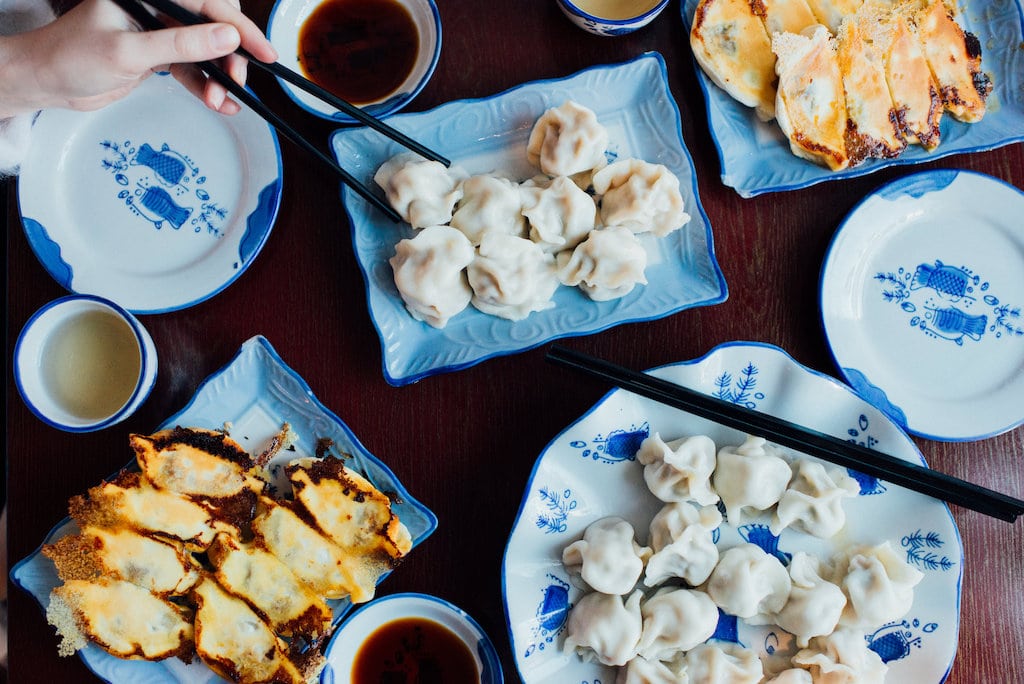 Mai Xiang Yuan is certainly one of the best dumpling and dim sum restaurants in Montreal. If you're looking for a casual, inexpensive and quick place to grab a bite, Mai Xiang Yuan is the place to go! The address offers all kinds of dumplings with multiple flavours, whether meat, seafood, or vegetarian based. PS: the restaurant also sells pre-cooked frozen dumplings to savour these delicious bites in the comfort of your home!
1082 Boulevard Saint-Laurent
Montréal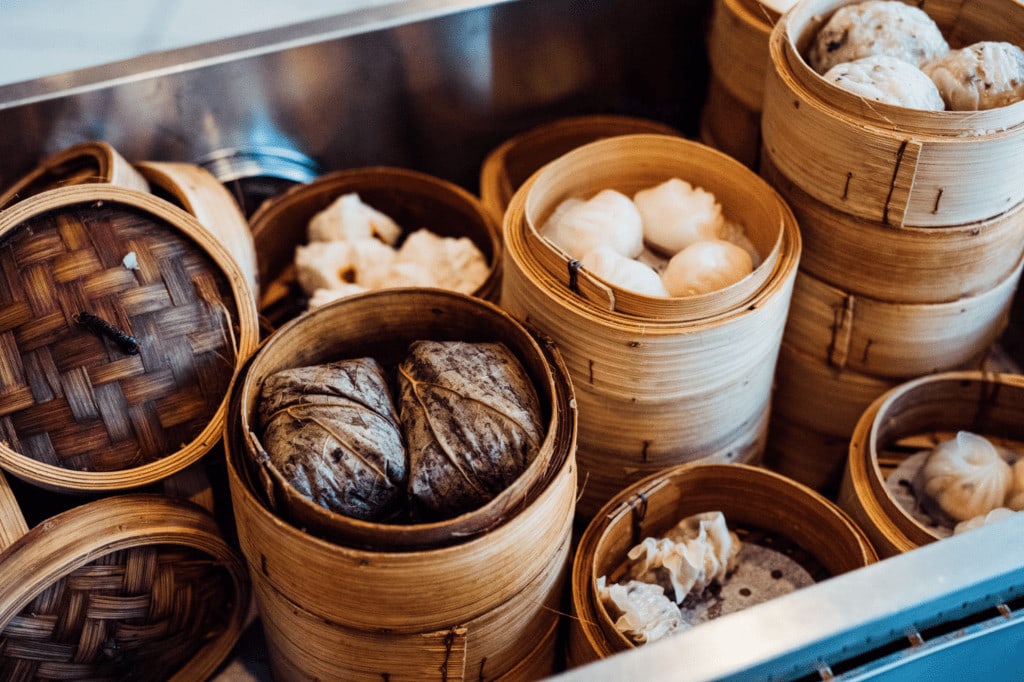 Located in the heart of Chinatown, this unique establishment serves some of our favourite dim sum in the city! The bites are presented to the tables on rolling carts in the true tradition of Chinese dim sum! After 11am, you can also enjoy chow mein with soy sauce and very good rice noodles with XO sauce.
1111 Rue Saint-Urbain
Montreal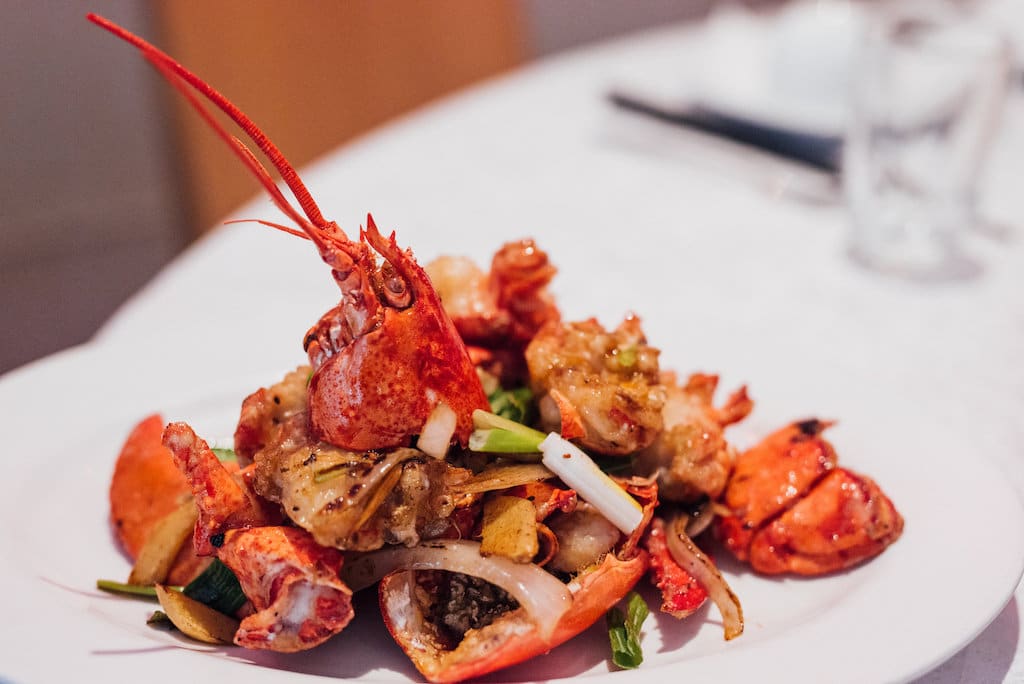 Mon Nan is a pillar in Chinatown and is to be discovered as soon as possible if you haven't already! Opened in 1982, the restaurant has been gaining in popularity ever since. It offers an impressive selection of classic and traditional Chinese dishes. The authenticity of their rich Chinese cuisine is the heart and soul of this place that treats its customers to salt and pepper shrimp, a very good Peking duck served with homemade pancakes, a sautéed gai lan (Chinese broccoli) and other traditional Chinese dishes.
43 Rue de la Gauchetière Est
Montréal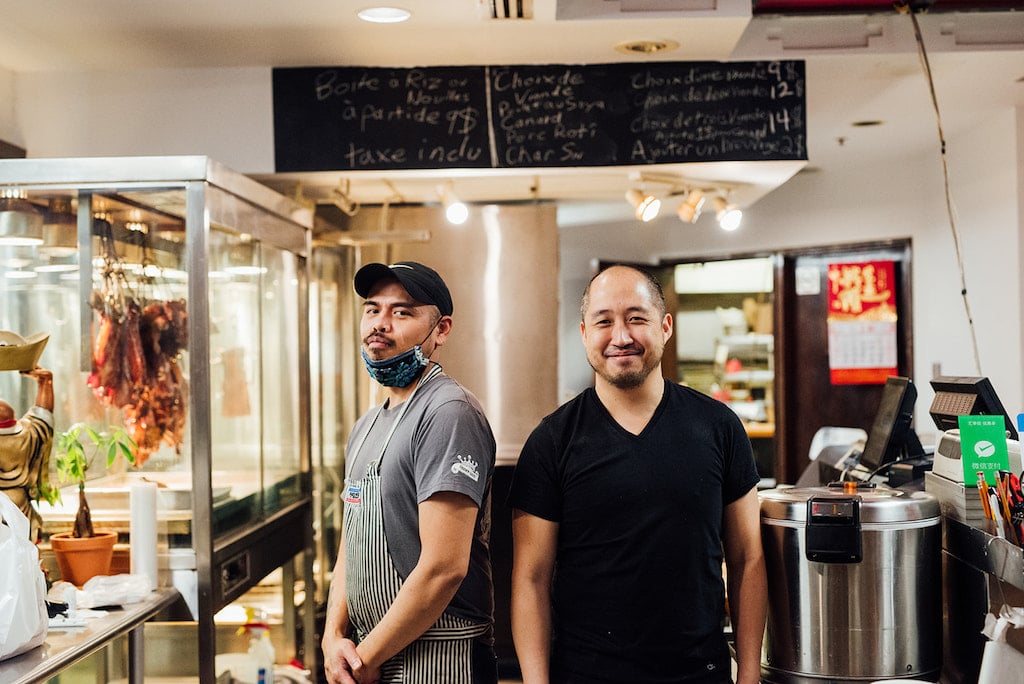 This restaurant located on Saint-Urbain Street is a hidden treasure in Chinatown. Open since March 2019, Dobe & Andy has quickly become a must for Chinese food lovers. The concept is quite simple, a restaurant inspired by the best BBQ found in Hong Kong. In normal times, that is to say outside the pandemic, the place has 90 seats and offers table service. Among the specialties found here, there are of course all the dishes cooked on the famous BBQ like the crispy pork roast and the sweet chicken, but Dobe & Andy is also known for its delicious curry braised beef. Plus, the dishes are offered at very affordable prices ranging from $7 to $17.
1071 Rue Saint-Urbain
Montréal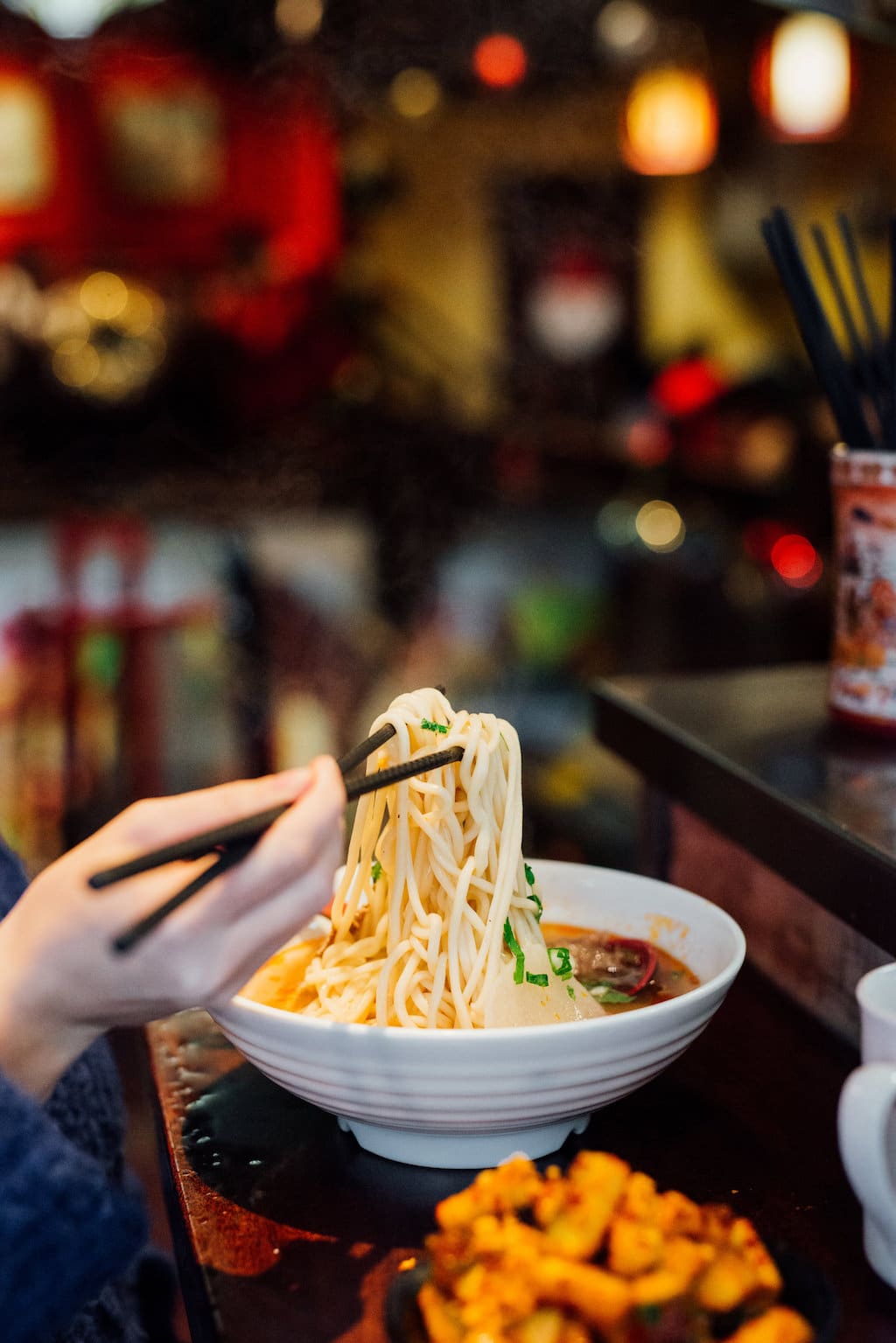 Lan Zhou's Noodles is by far one of our favourite places in town to savour delicious Chinese noodles made to order. Despite the restaurant's modest appearance, the long line of hungry customers that often spills out onto the sidewalk is a testament to the quality of this address. The noodle bowls come in a variety of options, including a vegetarian option and a selection of noodle sizes. The dish that regulars love is definitely the Lan Zhou beef noodle special, which is served in a beef broth and topped with vegetables and thinly sliced beef.
1006 Boulevard Saint-Laurent
Montréal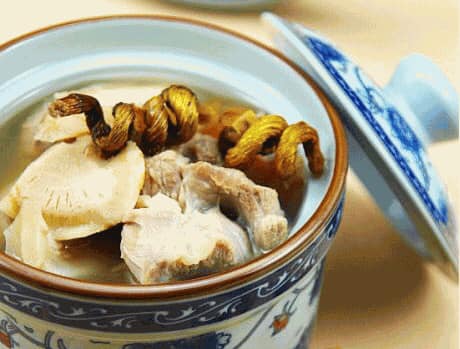 Keung Kee
At Keung Kee Restaurant, you can enjoy Chinese and Cantonese specialties. It's a good place to go if you have a late night craving since they don't close until 1am. The seafood – clams, lobster and scallops – are among the favourite dishes. Also, expect very generous portions!
70 Rue De la Gauchetière Ouest
Montréal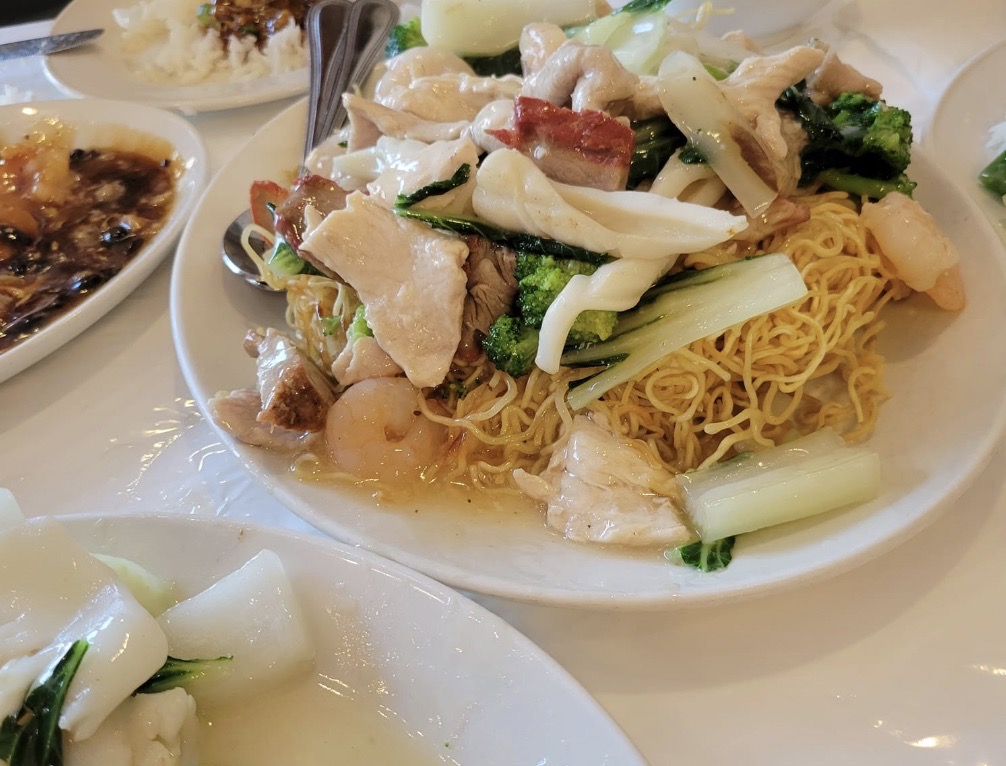 Kam Shing
Since the most authentic restaurants are predominantly found in and around Chinatown, it's not always obvious to leave the neighbourhood for good Chinese. Kam Shing is changing this after opening three locations in the Montreal area; two in Côte-des-Neiges and one in Laval. Vegetable fried rice, Peking duck and pork chops are among the most popular dishes. This address is a bit more commercial than others in the neighbourhood, but the dishes are well executed and the service is courteous. It's also a great place for groups and families.
4771 Avenue Van Horne
Montréal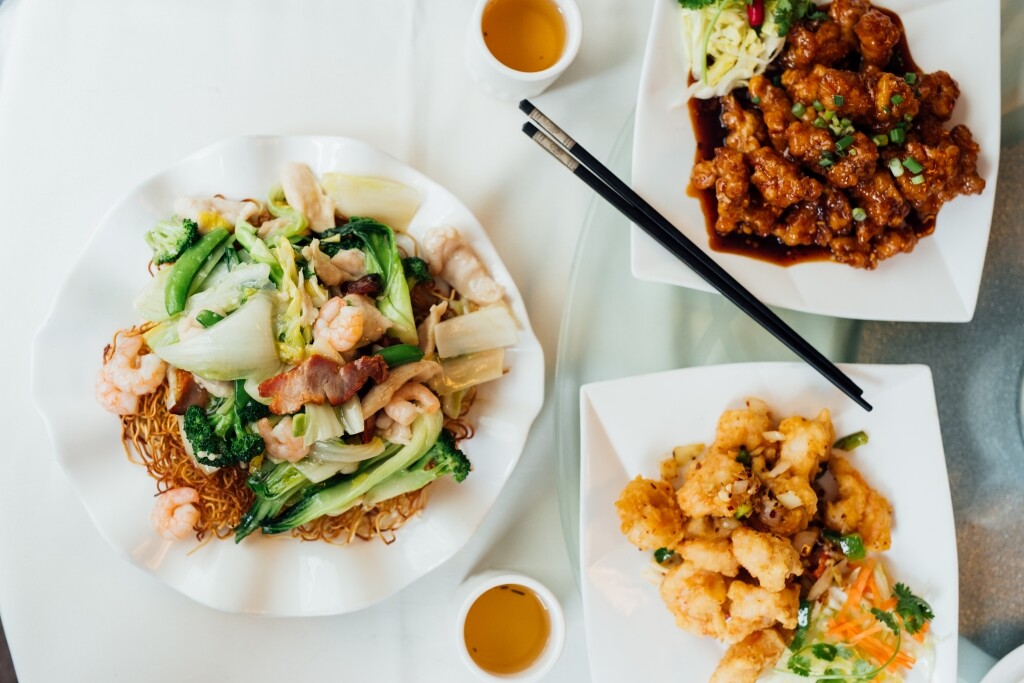 Located in the heart of Chinatown, as are most authentic addresses, Dynastie stands out for its typical Cantonese food that brings us straight to the heart of Hong Kong. Dynastie has become a place of choice for two reasons (other than its delicious cuisine); to feast and to satisfy our cravings until the wee hours of the morning. Open 7 days a week, they lock their doors at 1:30am from Sunday to Wednesday and 2:30am from Thursday to Saturday! For our part, we let ourselves be charmed by some specialties of the house; the wonton soup, the shrimp dumplings, the general tao and the Yi mein noodles.
107-1008 Rue Clark
Montréal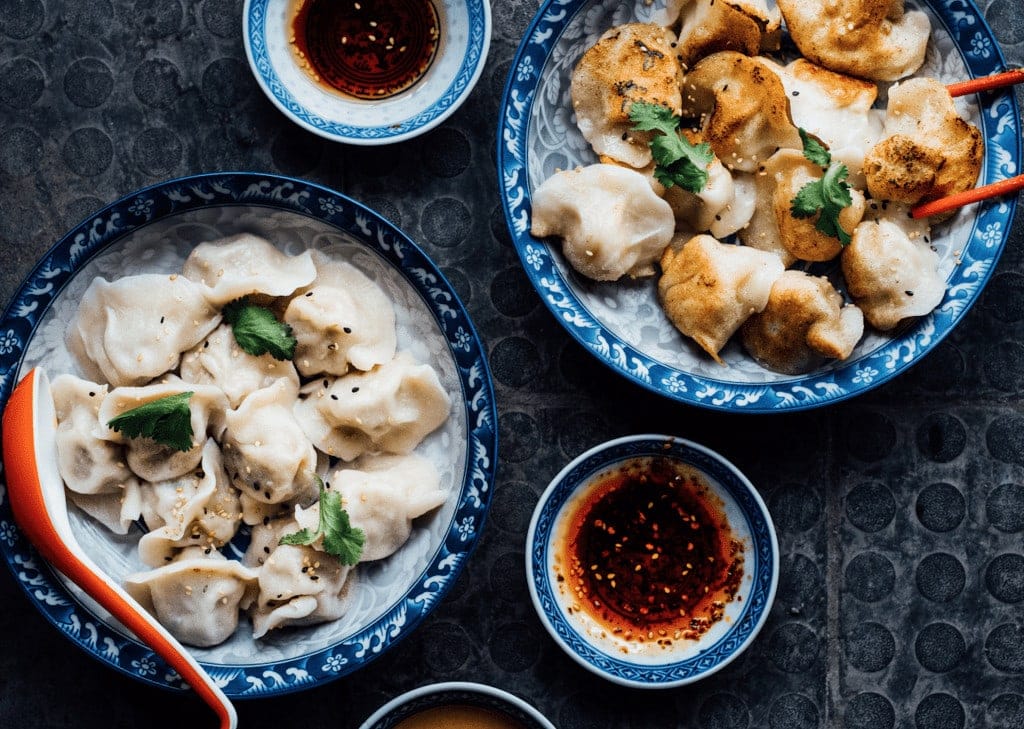 Mademoiselle Dumpling is a tiny restaurant that opened on Plaza St-Hubert in December 2015 and has been offering some of the best dumplings in Montreal ever since! They offer Szechuan style dumplings (pork and shallot, with spicy peanut sauce, coconut milk, chilies and sesame seeds) and they're delicious. You can also order pork and bok choy, chicken and cilantro, beef and cilantro; vegetarian with cabbage, Chinese mushroom, carrots and bean noodles; or shiitake, tofu, carrot, cabbage and ginger; or pork, shrimp and ginger.
6381 Rue Saint-Hubert
Montréal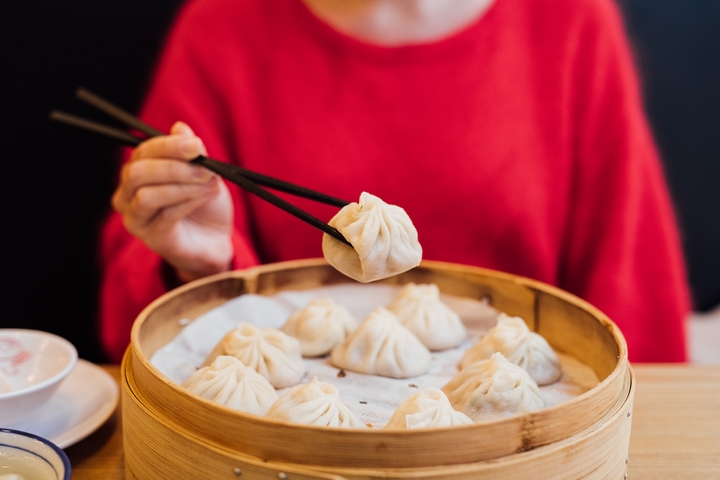 Just steps away from Concordia University, Sammi & Soup Dumpling is a destination of choice for students looking for affordable treats in the form of soup dumplings. Sammi herself tells us that unlike traditional dumplings, which originated in Northern China, her restaurant's creations are rooted in Southern culinary culture. In fact, her dumplings use a softer dough which allows them to be filled more generously. Try it!
1909 Sainte-Catherine Ouest
Montréal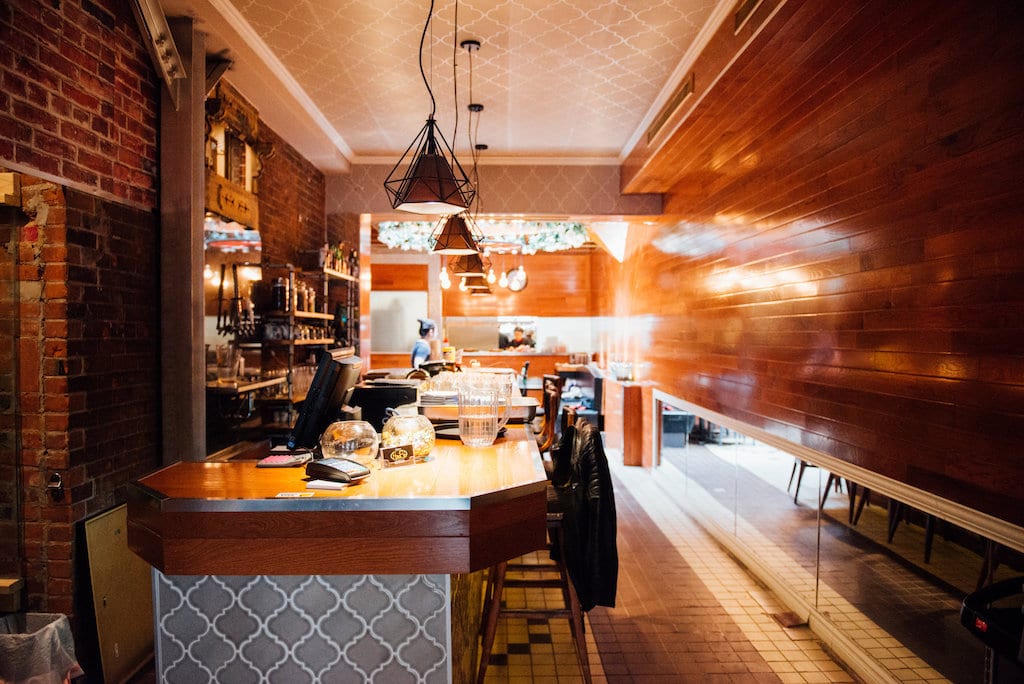 Sister of the beloved Mile End Chinese dumpling restaurant, Harbin Dumplings opened a second address on Saint-Denis Street in March 2019, and we love it just as much. On the menu, there are of course boiled, steamed or fried, vegan, meat or seafood dumplings: our favourite is pork and coriander. Many other small tasty dishes are offered such as kimchi, cold cucumber salad, chicken karaage, and the owner's favourite, cold spicy beef noodles.
3829 Rue Saint-Denis
Montréal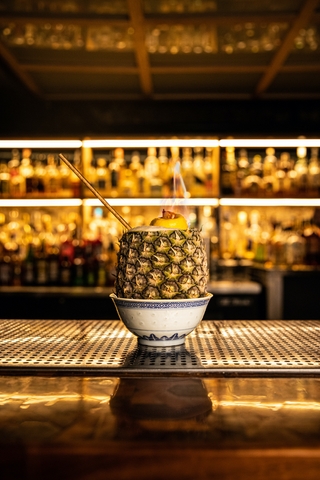 In the heart of Chinatown, at the bottom of a staircase crowned with a neon green pineapple, is Le Mal Nécessaire: a delicious tropical-inspired cocktail bar! While the address does not have a kitchen, they still offer a short snack bar style menu. To do so, the owners collaborate with their neighbour—and patriarch of Chinatown—the Cantonese restaurant Fung Shing. Upon customer request, the restaurant delivers general tao chicken, fried shrimp, Singapore noodles and more, directly to the bar.
1106B Boulevard Saint-Laurent
Montréal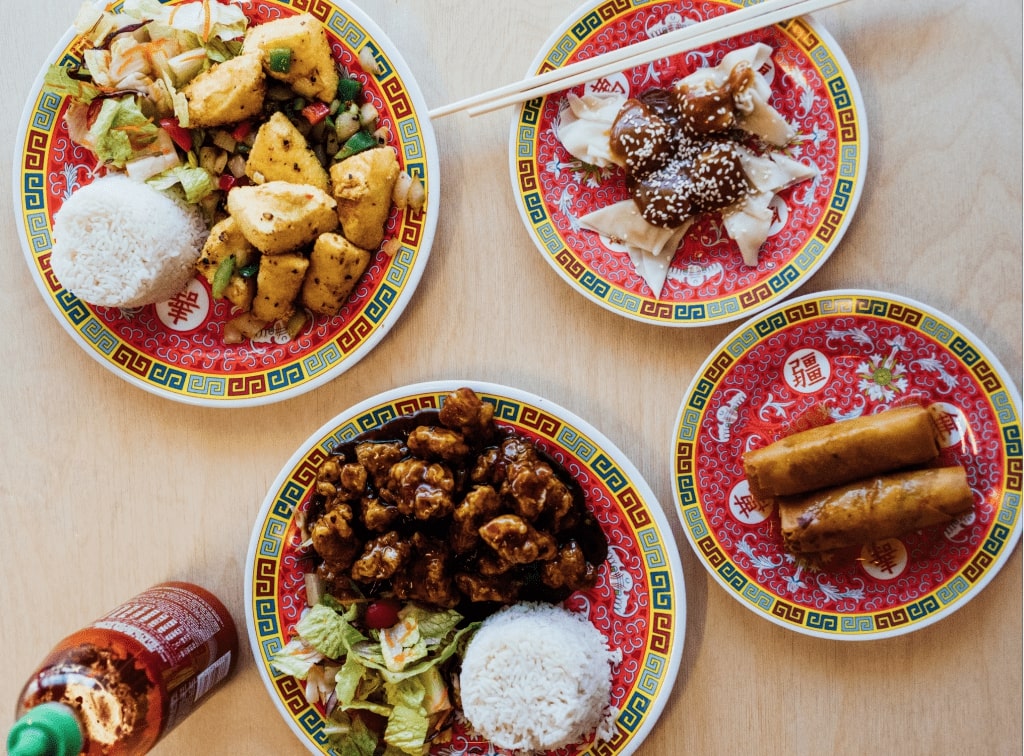 Opened in early February 2017, Maneki Comptoir Asiatique offers good, fast and affordable dishes. There are many combos and several vegetarian options. The plates are easily shareable, but are a meal in themselves. We're partial to the fried chicken wings, and salt-and-pepper tofu, pad thai, mayo chicken and general Tao chicken.
3121 Rue Hochelaga
Montréal
See on map
8245 Taschereau Boulevard Brossard J4Y 1A4
1082 Boulevard Saint-Laurent Montréal H2Z 1J5
1111 Rue Saint-Urbain Montreal H2Z 1Y6
43 Rue de la Gauchetière Est Montréal H2X 1P4
1071 Rue Saint-Urbain Montréal H2Z 1Y6
1006 Boulevard Saint-Laurent Montréal H2Z 9Y9
70 Rue De la Gauchetière Ouest Montréal H2Z 1C1
4771 Avenue Van Horne Montréal H3W 1H8
107-1008 Rue Clark Montréal H2Z 1J9
6381 Rue Saint-Hubert Montréal H2S 2L9
1909 Sainte-Catherine Ouest Montréal H3H 2E8
3829 Rue Saint-Denis Montréal H2W 2M4
1106B Boulevard Saint-Laurent Montréal H2Z 1J5
3121 Rue Hochelaga Montréal H1W 1G3