Les Givrés Vieux-Rosemont: Québécois products in the spotlight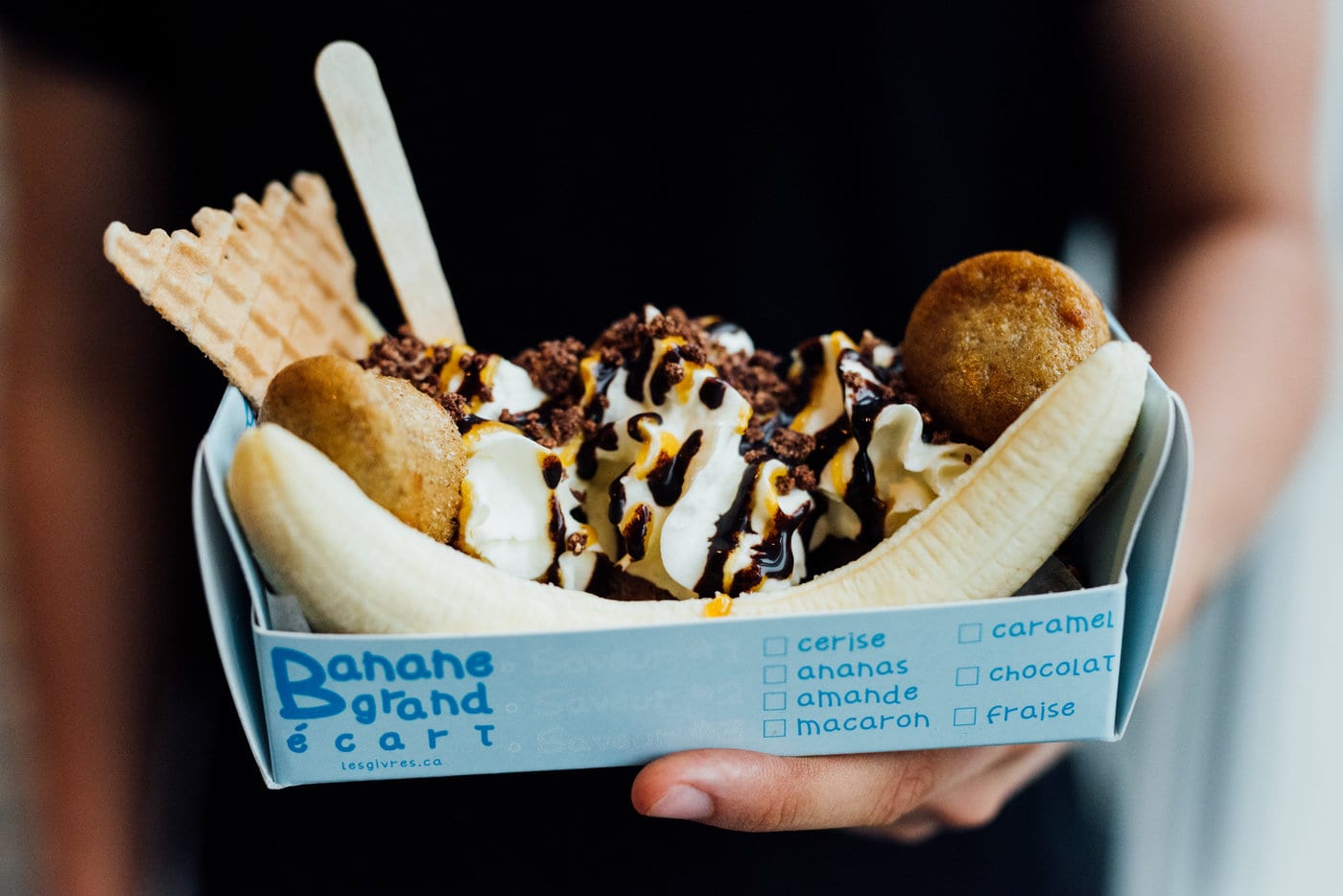 Les Givrés

$$
Monday: Closed
Tuesday: Closed
Wednesday: 1:30 – 6:00 PM
Thursday: 12:00 – 6:00 PM
Friday: 12:00 – 6:00 PM
Saturday: 12:00 – 6:00 PM
Sunday: 12:00 – 6:00 PM


Accepts mastercard, visa, cash, debit
5 Seats
Les Givrés Vieux-Rosemont: Local delights from the first lick to the last bite
Les Givrés Vieux-Rosemont is more than just a neighbourhood ice cream shop. The address promises frozen delights made with ingredients from here!
Les Givrés was born in 2011 when Alexandre Deslauriers and Martin Maheux-Picard left the ice cream ship of Bilboquet to become, themselves, ice cream makers. The duo first established themselves on Saint-Denis Street. Five years later, the first branch moved to Masson in Old Rosemont. Today, Les Givrés serves three neighbourhoods, with a location in Villeray (2015) and another location in Hochelaga that opened in 2018.
To set itself apart from the many ice cream shops in Montreal, Les Givrés offers ice cream treats with local roots. In fact, the flavours offered follow the seasons: maple butter at the opening, rhubarb in April, strawberries in June, and apple in September. When stocks run out, that's it for the season! However, no need to worry, everyone can enjoy the various – natural – flavour of their frozen counter. Wanting to push the idea of consuming locally as far as possible, Les artisans glaciers des Givrés are the only ones in Quebec (or even in the country) who make their own cones. These initiatives earned them the Renaud-Cyr award in 2018 in the Artisan-Processor category.
In addition to the rainbow of soft and hard ice cream, Les Givrés offers a vegan ice cream and a soft sorbet at all times. Along with Kem Coba, Les Givrés is one of the first to offer a soft sorbet – smooth and without crystals – in a multitude of bright flavours. Unlike many ice cream shops in Montreal, Les Givrés' vegan option is truly an ice cream as they use coconut pulp transformed into cream.
The colourful Masson Street location also has a nice selection of ice cream cakes to take-out. Les Givrés' pastry offer includes delicious creations that incorporate the joy of pastry with the pleasure of ice cream. We particularly like the decadent Roteux givré: choux pastry bread, ice cream sausage and chocolate topping.
In addition to promoting local products, Les Givrés Vieux-Rosemont is one of the best ice cream shops in town.
Come once and you risk being won over!
Written by Samuel Gauvreau Des Aulniers
Photography by Alison Slattery –