Suggested addresses to sip a revisited Spritz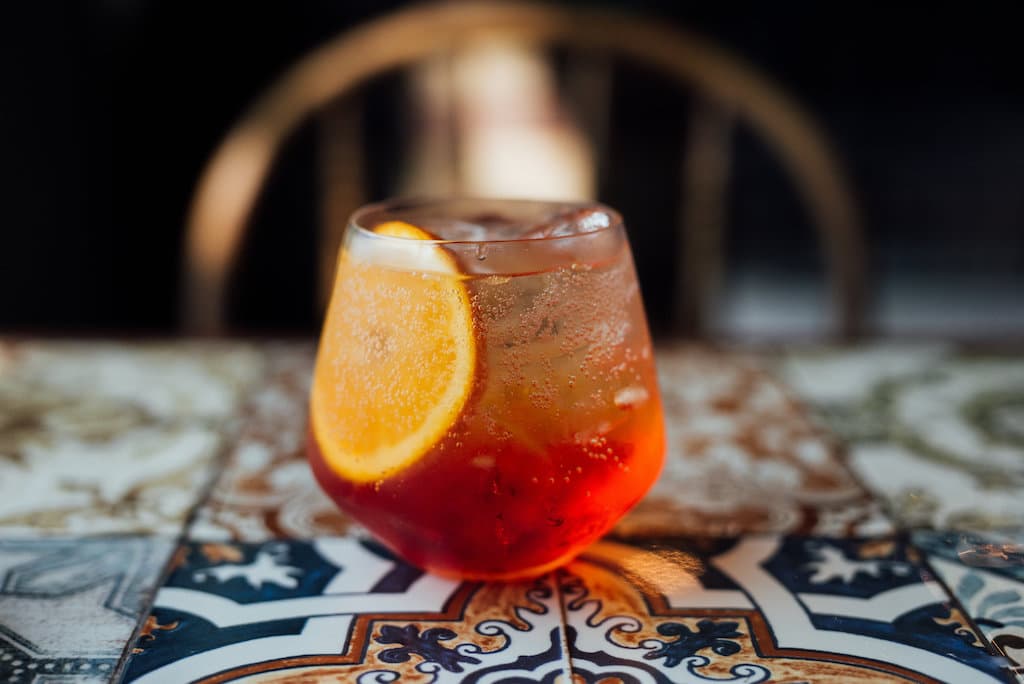 Summer has arrived, to everyone's delight. The arrival of summer means more or less prolonged relaxation sessions, preferably on the terrace with a glass in hand.
The spritz season is already well underway and has its heyday in the middle of summer. The spritz Veneziano, more commonly known simply as a spritz, is an alcoholic cocktail that originated in Venice and later spread throughout Italy. Nowadays enjoyed all over the world, the spritz is a cocktail that appeals because of its low sugar content, freshness and slight bitterness. Its popularity is such that this summertime concoction is now ubiquitous in bars across the city.
In order to consume locally and encourage producers from here, we also suggest a few addresses that, failing to offer an original spritz recipe, use a Quebec bitter, Amermelade from Iberville Spirits, or Les Îles.
Today, we offer you a list of addresses that serve a revisited spritz, that are out of the ordinary in Montreal, or simply ideal addresses to meet around this cocktail that resonates with la Bella Vita.
To keep the momentum of a festive evening going, we also recommend you check out our list of the best cocktails in Montreal or the most beautiful bars in the city. And since it is always strongly advised not to consume alcohol on an empty stomach, we also recommend our list of the best bars where you can eat very well.
Alcohol abuse is dangerous for your health. Drink in moderation.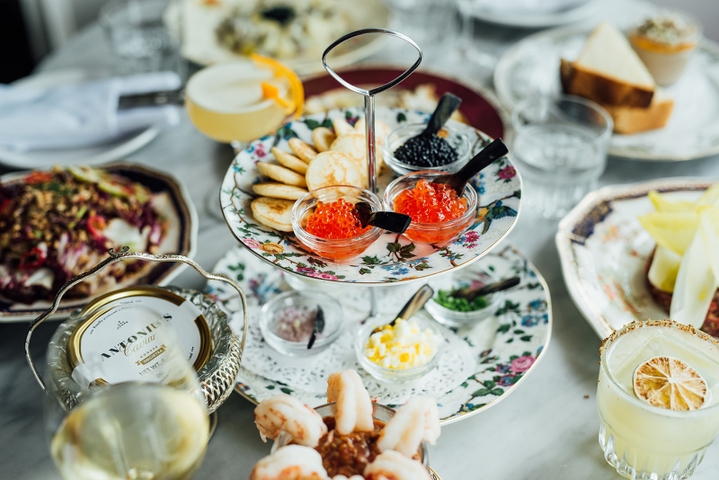 A Russian-style bar on Laurier Avenue West, the Datcha cocktail bar is a staple for Western European concoctions. It's a place for Moscow Mule lovers – a Russian cocktail made with vodka, ginger beer and lime in all its forms – but also, from Thursday night on, a large number of customers in search of refreshing drinks. The menu is no exception to the Aperol Spritz renamed "des-prés spritz" composed of St. Germain, Bombay Sapphire, prosecco, bitter martinis, Peychauds, honey and lemon. With only a few seats inside, the space is intimate yet cozy. When the sunny days arrive, the beautiful terrace allows you to fully enjoy the Mile End in summer.
98 Avenue Laurier Ouest
Montréal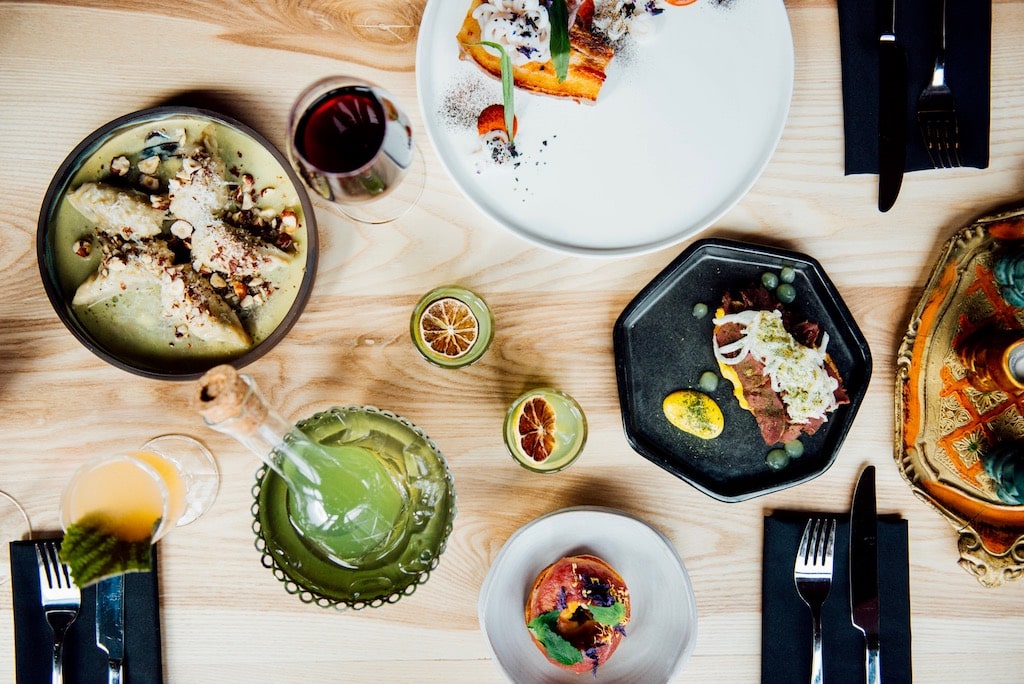 Located at the gateway to Hochelaga-Maisonneuve, Le Flamant is one of our favourite addresses because of its attractive industrial decor, the creativity of the menu and the fine team behind this lovely project. The project in question? High gastronomy democratized; an ambitious challenge that the team has taken up with flying colours. The menu is constantly changing to make room for creativity and originality, and always using the finest local products. The house follows the same creative ambition with their drinks menu, since they play an important role in a fine gastronomic experience. As for their spritz, it's not missing a thing! Composed by Maximilien Jean, theirs is made with Amarmelade, gin, fermented radish syrup, herb soda and sparkling wine.
4043 Rue Ontario Est
Montréal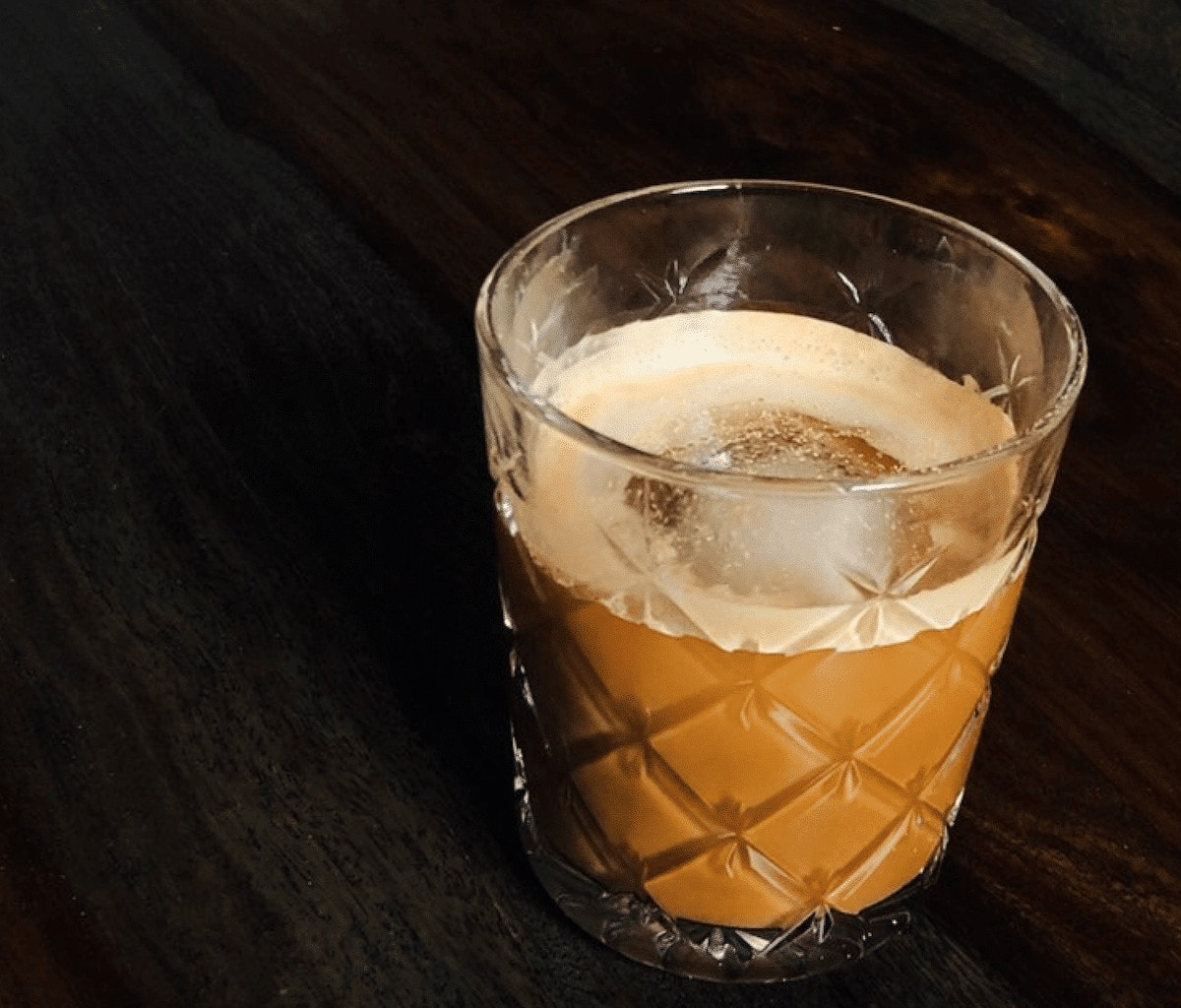 Nestled in Saint-Henri, Cordova serves as both a cafe and a bar reminiscent of the European café-bar style where coffee and liquor drinkers meet. One comes here to have a coffee (on the spot or to take-out) during the day and/or to sip a cocktail while tasting very good tapas and Spanish preserves later in the day. The charming address offers you the possibility to choose between two original spritzes. First option: "Cordova Spritz No.1" made with Padro & Co Vermouth, Maurin cherry liqueur, Ferroni Atlantic Rum, lemon, spiced almond Demerara and soda; second option: "Cordova Spritz No. 2" made with Peychaud's aperitivo, Campari, cava, grapefruit, house IPA syrup and soda.
4606 Rue Notre-Dame Ouest
Montréal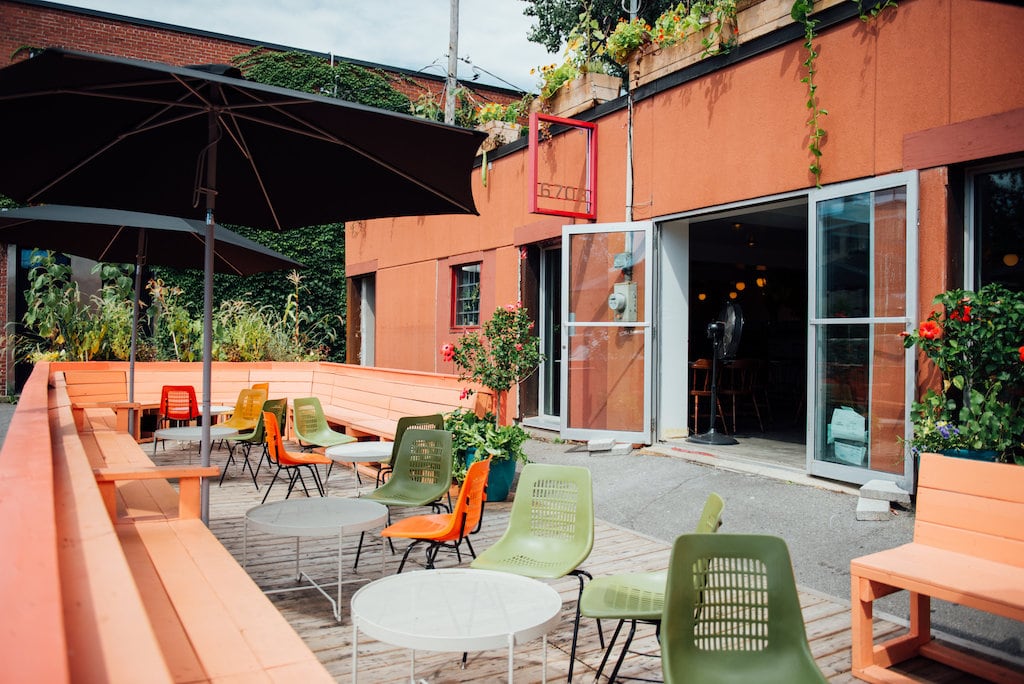 A Venetian-inspired bar in Mile Ex, Cicchetti is spritz heaven. Here, just ask and you shall receive. The house offers an abundance of choices: Aperol, Campari, white spritz (made with elderflower liqueur, prosecco and sparkling water), Amarmelade, and Campo Aperitivo. Needless to say, the spritz definitely shines at Cicchetti. The address brings a European summer breeze to the heart of Mile Ex. Our favourite thing about this address? The terrace, without hesitation. Very colourful, you can linger for hours while enjoying their variations of this famous Italian Aperitivo.
6703 Avenue du Parc
Montréal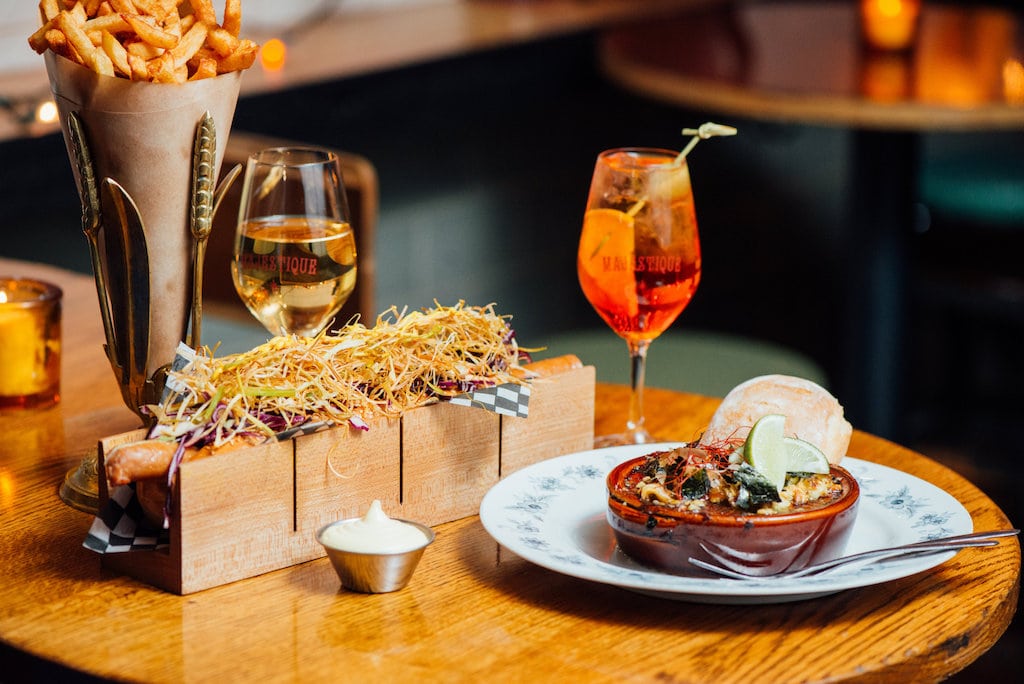 Le Majestique is a festive bar that we love for many reasons. Starting with the enchanting decor, continuing with the delicious menu elaborated by chef Dominique Lalonde, the beautiful wine list, and of course the superb terrace on the Main. Le Majestique is a beautiful wine bar where you can eat and drink deliciously. On sunny days, one rushes to their terrace to enjoy classic or revisited spritzes. We also let ourselves be tempted by the spritz cocchi, a delicious Italian aperitif made with a bitter vermouth, the cocchi rosa.
4105 Boulevard Saint-Laurent
Montréal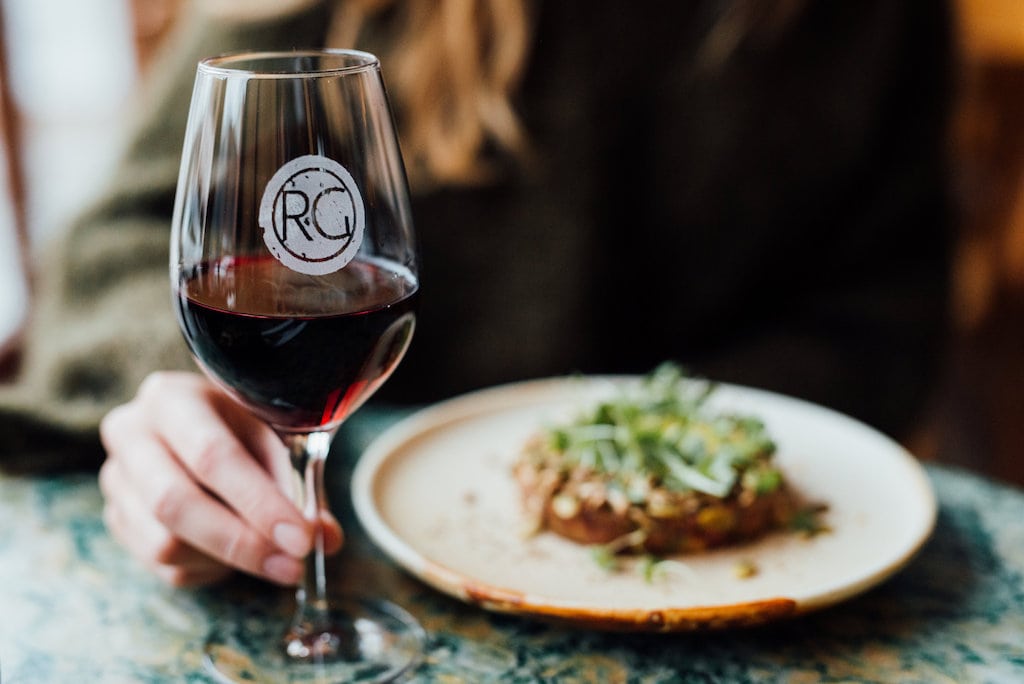 Rouge-Gorge
Rouge-Gorge is a staple wine bar on the Plateau Mont-Royal when you want to have a glass of wine in a pleasant and warm atmosphere. Take advantage of a visit to Rouge-Gorge to discover a vast choice of wines offered by the glass and for tasting. When the weather is nice, they have a beautiful terrace on Mount Royal Avenue where you can enjoy our city's lively summer. The address also makes us rediscover the spritz with a house creation "Spritz RG" made with Bombay Sapphire, Amarmelade Aperitivo and cava.
1234 Avenue du Mont-Royal Est
Montréal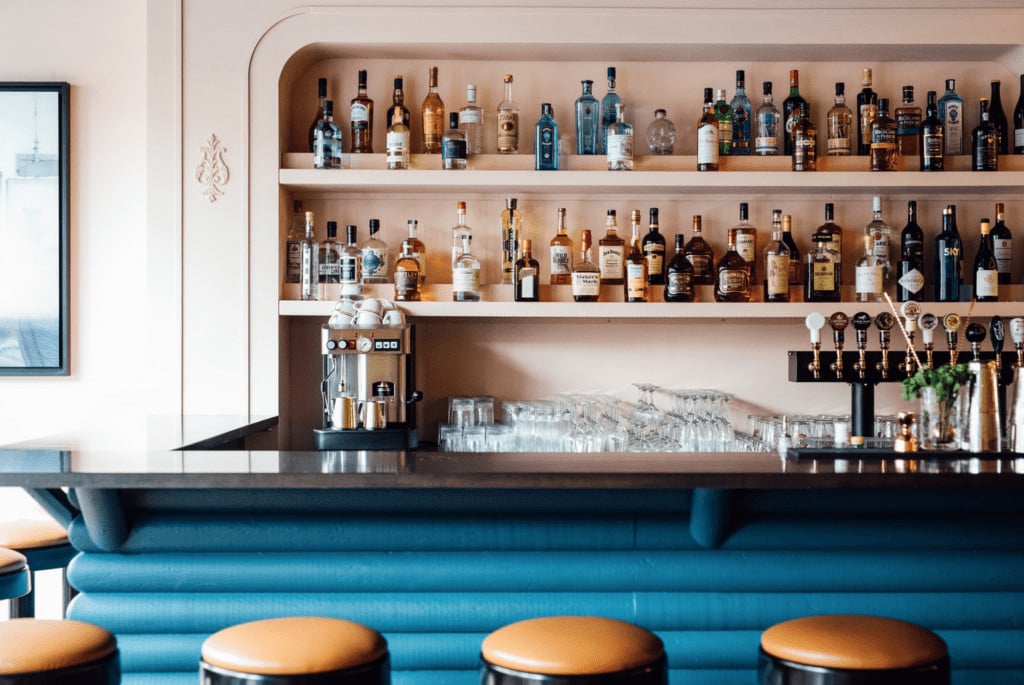 Bar Renard is a great option in the Village to have a drink in a relaxed and unpretentious atmosphere. Unlike Bar Palco (the same owners' bar in Verdun), which focuses on cocktails, Bar Renard offers a very interesting organic, biodynamic and natural wine list, as well as a short list of house cocktails. You can savour a spritz made with Bombay Sapphire, Campari, St-Germain, grapefruit, rhubarb bitters and aquafaba.
1272 Rue Sainte-Catherine Est
Montréal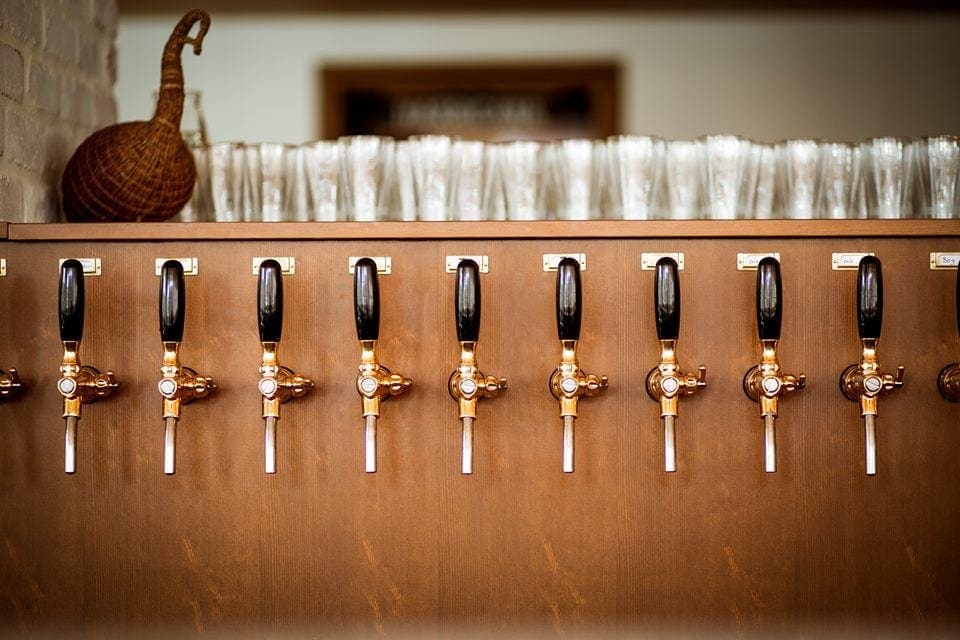 In a beautiful location on the border of Little Italy and Mile Ex, Brasserie Harricana has something for almost everyone. In fact, it is on our list of the most beautiful bars in Montreal. Ideal for all occasions, the address charms with its beautiful decor, its fine selection of beers and ciders and the consistent quality of the menu. The brewery also has a remedy to fight against the heat wave with its "Piscine 2.0" cocktails, a smooth mix of Milton cider and Amermelade from Spriritueux d'Iberville.
95 Rue Jean-Talon Ouest
Montréal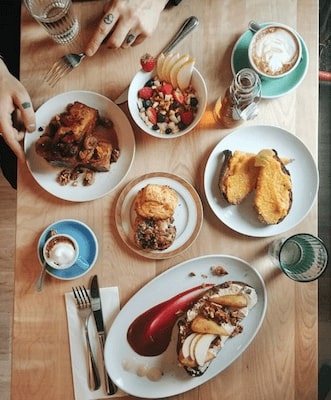 The Elsdale is a cafe, a bar and a neighbourhood boutique where you can enjoy a good coffee or a drink. The address also proposes a short but delicious menu with very good and beautifully presented tartines. The philosophy of the place revolves around a single guideline: "Consume locally". The recipe of the house spritz follows suit, of course, and includes Amermelade and Spritz Les Îles.
2381 Rue Beaubien Est
Montréal
98 Avenue Laurier Ouest Montréal H2T 2N4
4043 Rue Ontario Est Montréal H1W 1T3
4606 Rue Notre-Dame Ouest Montréal H4C 1S4
6703 Avenue du Parc Montréal H2V 4J3
4105 Boulevard Saint-Laurent Montréal H2W 1Y7
1234 Avenue du Mont-Royal Est Montréal H2J 1Y1
1272 Rue Sainte-Catherine Est Montréal H2L 2H2
95 Rue Jean-Talon Ouest Montréal H2R 2W8
2381 Rue Beaubien Est Montréal H2G 1N3
Photography by Alison Slattery