The Best Wine Merchants in Montreal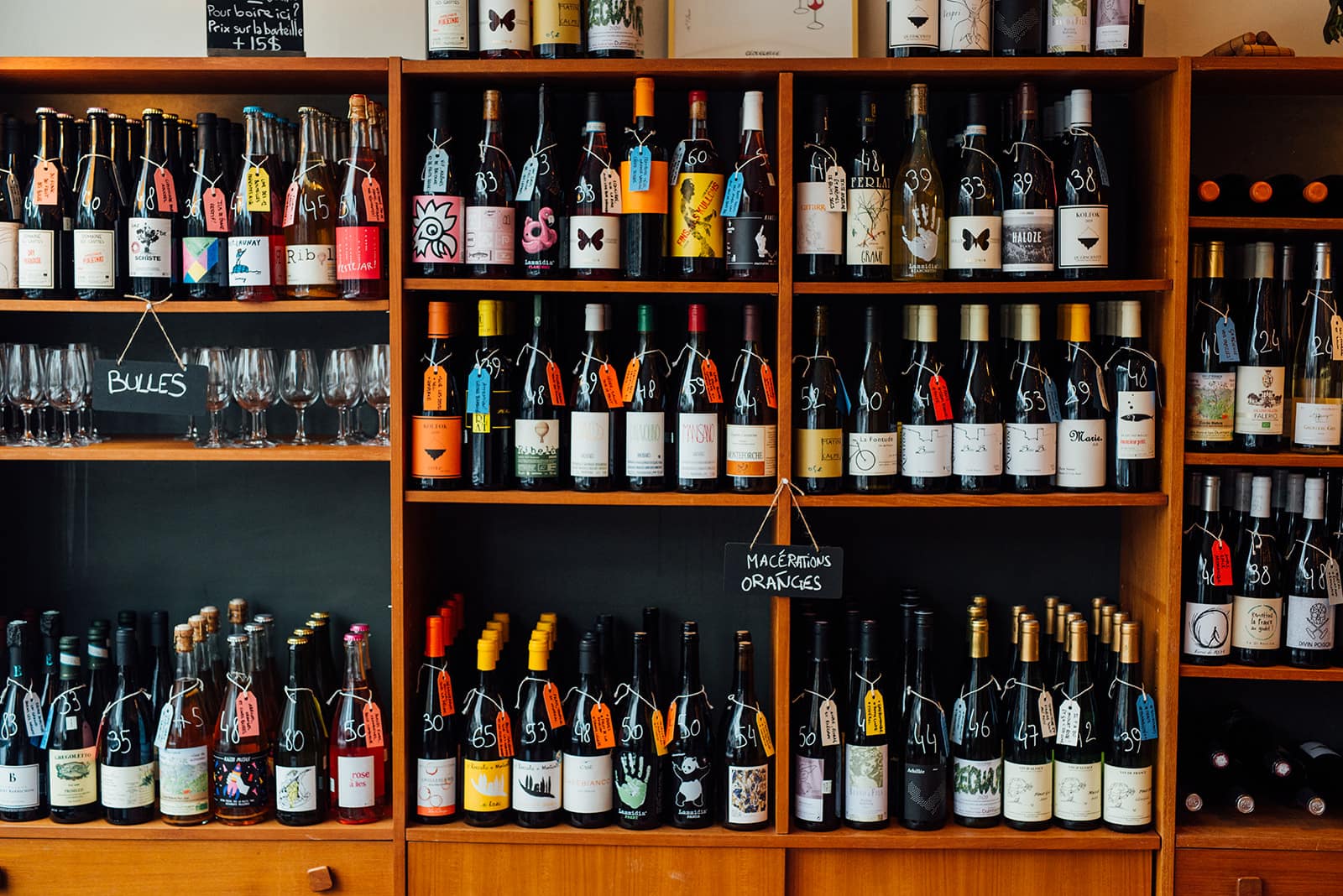 Where to find excellent privately imported bottles to bring home
It's been a few months now since the law 72 was passed; allowing restaurants to sell bottles of wine to take-out without accompanying a meal. This law changes the notion of "meal" to "food". Alcohol may be sold with the purchase of a food item (small dish, bread, honey, dessert, etc). The delivery of alcohol by a third party will also be allowed. The price of a bottle of alcohol for "take-out" can now differ from the price on the menu.
A few restaurants and other addresses have sprung up across the city as a choice alternative for sourcing fine bottles of privately imported wines by the unit.
While many restaurants, bars and cafes have been offering a selection of bottles to take-out since the beginning, some of them also offer well-stocked cellars that stand out from the crowd. Since the law was passed, these addresses have become real landmarks for lovers of good wine and regulars have been coming to the addresses almost daily to ask the expert team for advice.
Here are our suggestions for addresses that have taken on the air of charming European wine shops.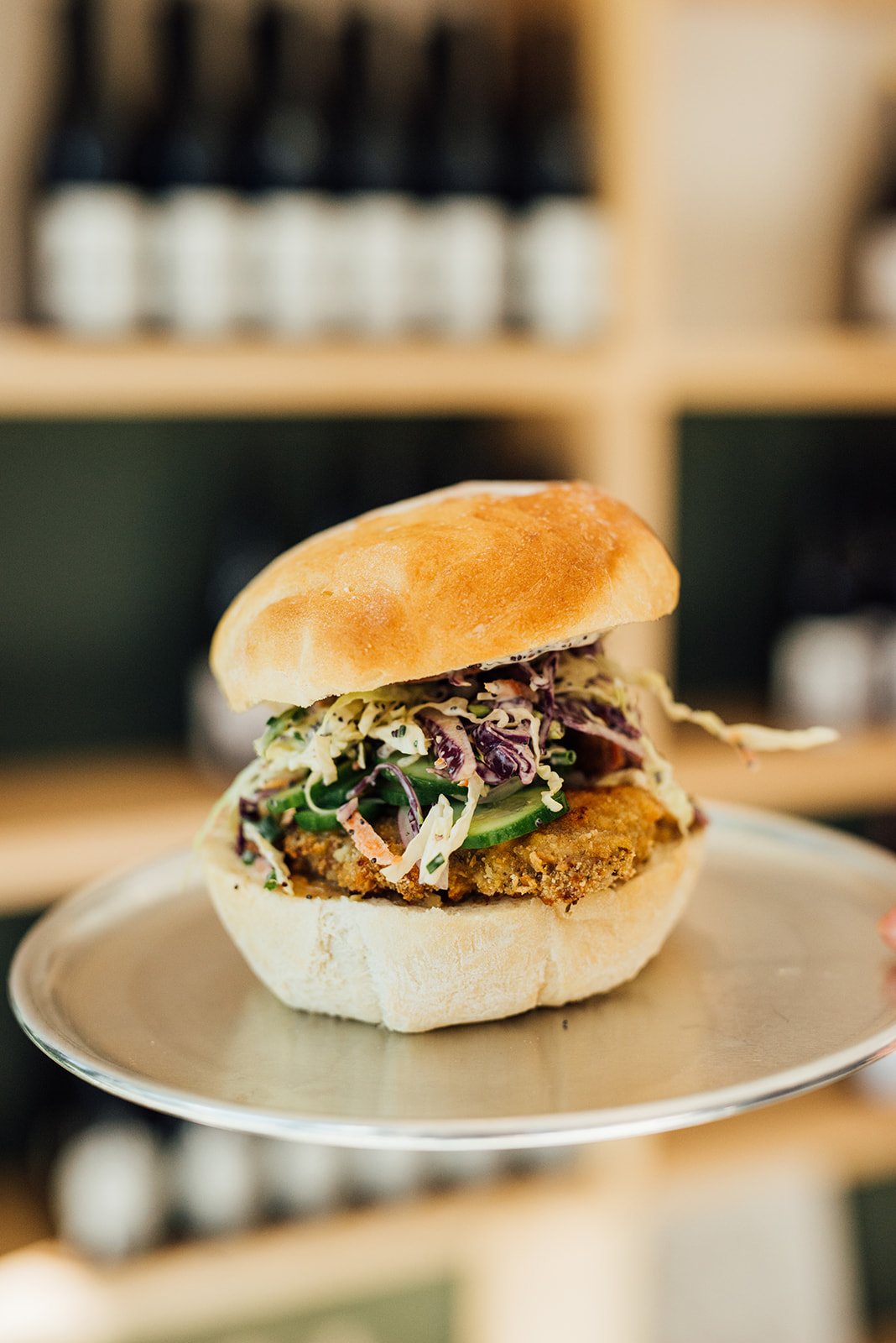 The charming Mile-End sandwich shop draws on the experience of three of its owners, who are wine importers through the agencies Dutty Wine and Vins Nomad. At Nita Tout Garni, you'll find beautiful and rare bottles from producers who work with respect for the vine, for people and for nature. The prices are also very affordable!
5687B Avenue du Parc
Montréal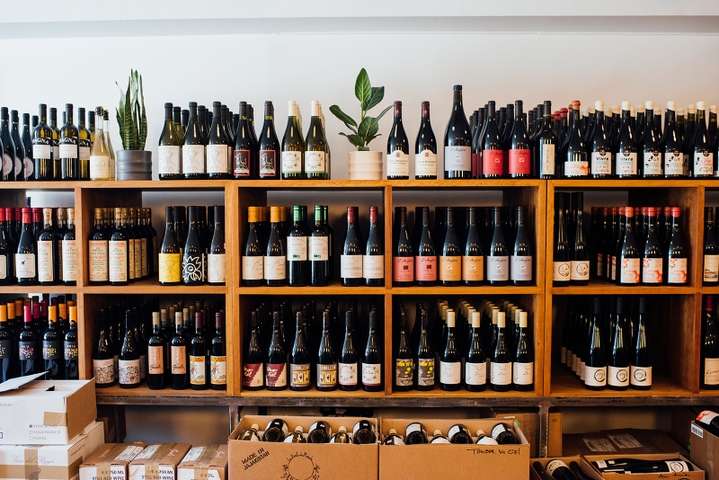 Vino Rama
Established in the former space of Cul-Sec on Beaubien Street, Vino Rama is a little haven for good wines. Jack Jacob, owner of the private import agency Glou, already worked closely with the producers represented by his agency. It is therefore with a real interest that he highlights the excellent products through his store. Vino Rama offers a wide selection of wines—especially from Glou—but also from other importers such as Vins Dame Jeanne or Agence sans nom.
29 Rue Beaubien Est
Montréal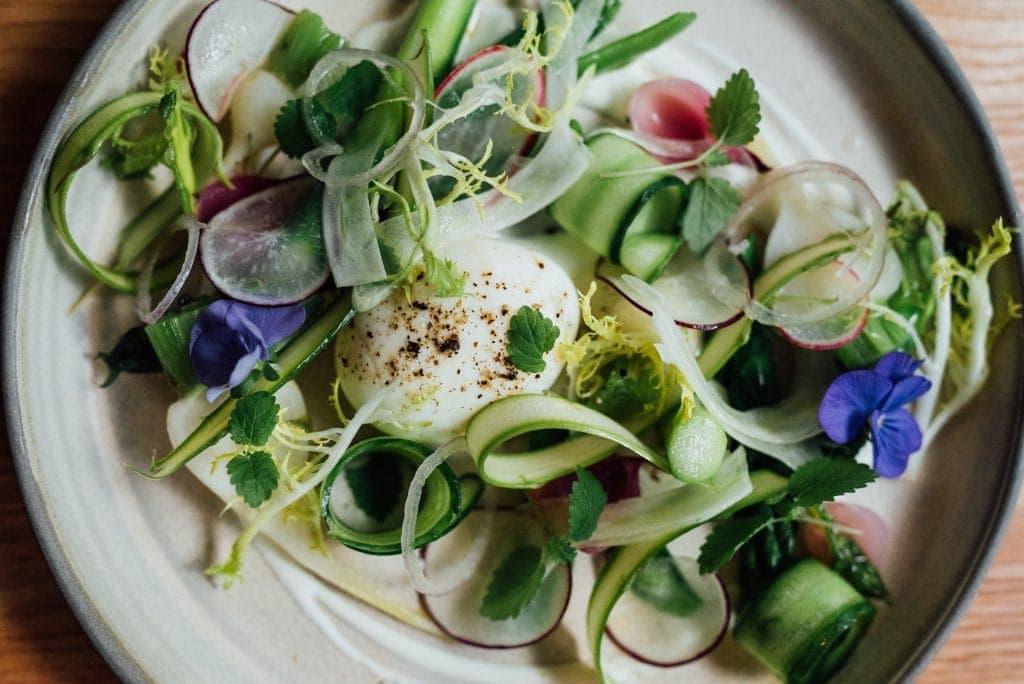 Monopole is the place to get your hands on small organic and biodynamic gems. The café-buvette in Old Montreal has a nice selection of wines from small producers at very affordable prices. Definitely worth the detour to leave with a good private imported bottle at a small cost.
782 Rue Wellington
Montréal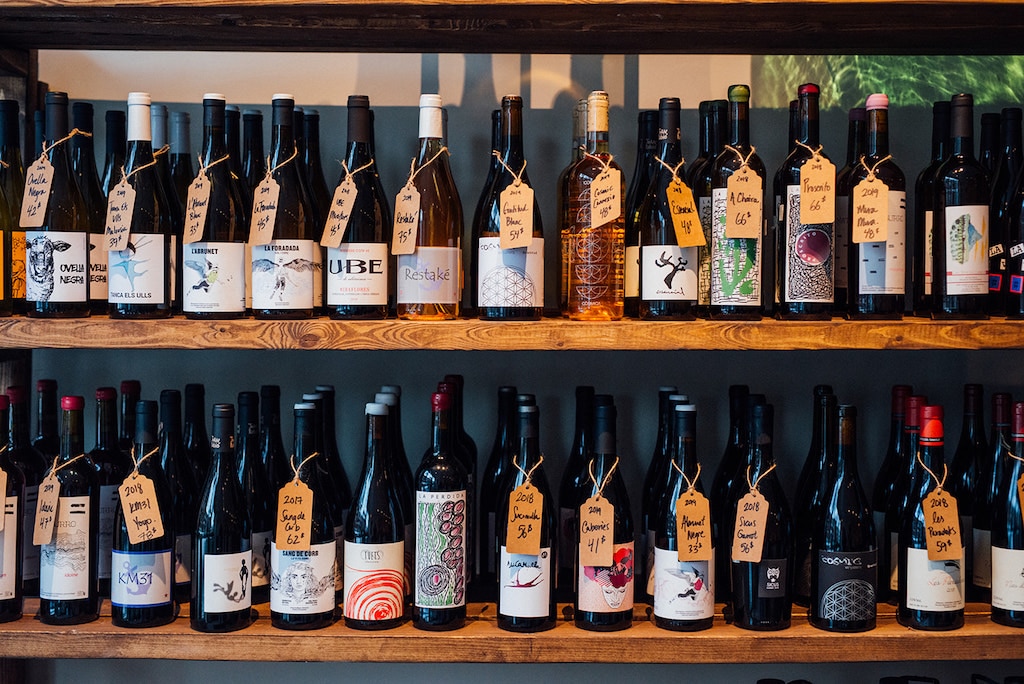 If the Tinc Set that we knew before in the alley proposed superb bottles of wine imported by the Vin i Vida agency, we discover at the new address more labels that are easily drunk without thirst. It is on the good advice of the owner, sommelier and importer, Lindsay Brennan, that we leave with a beautiful bottle of wine, full of the good stuff!
1233 Avenue Lajoie
Montréal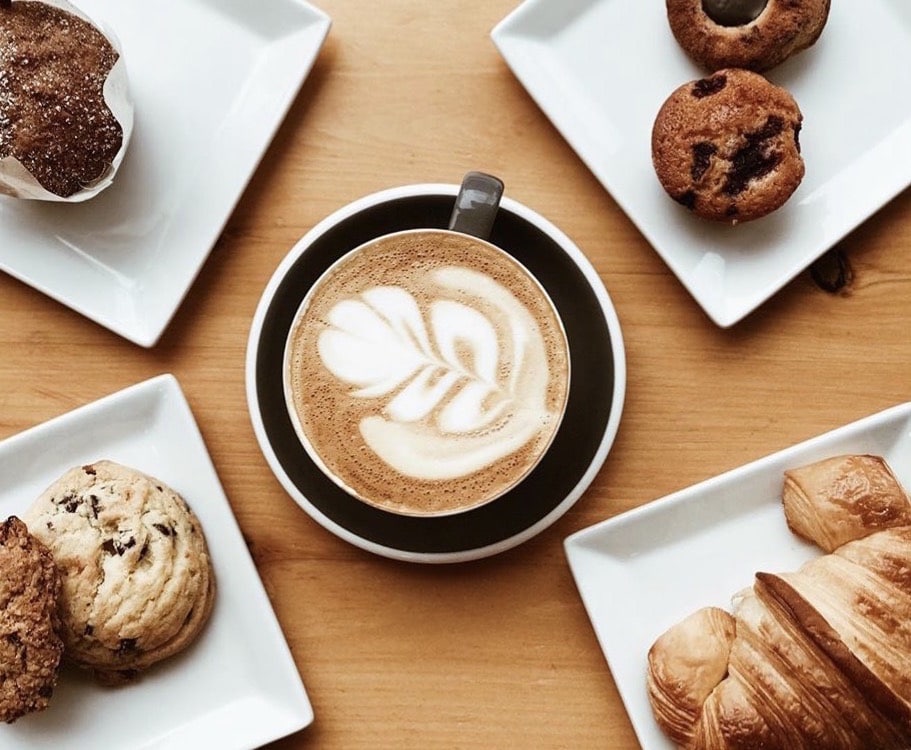 The owner of Café DAX shares that he has jumped on many planes, visited many vineyards, met many winemakers, and drunk a lot of wine to be able to boast the impressive offer of bottles in his Outremont café today. New arrivals are numerous and frequent, so a weekly visit is a must!
1461 Avenue Van Horne
Montréal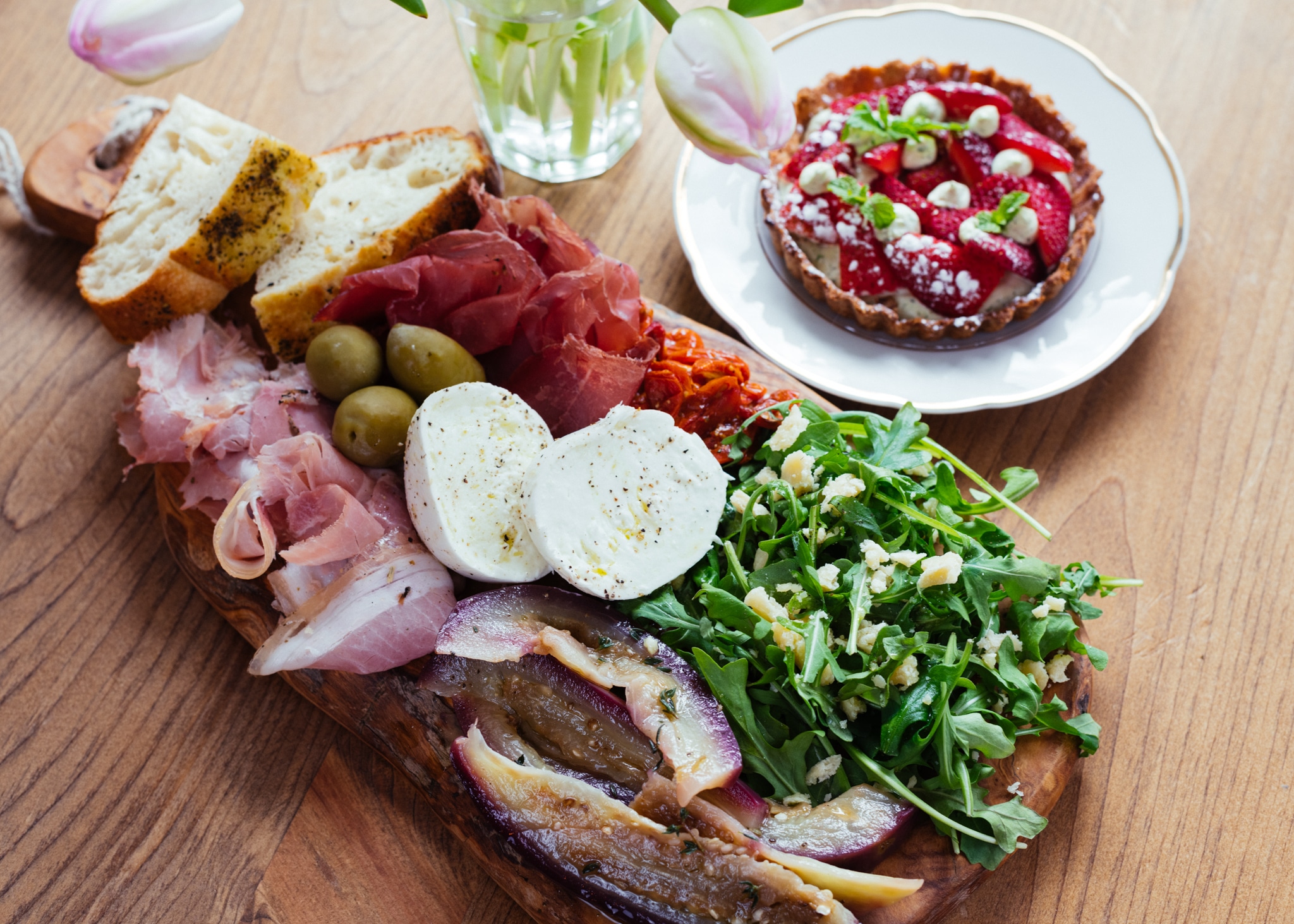 It's not Bar Mamie, but rather Cave de Mamie that we're talking about here! The relatively new address comes to complete the offer of the bar with a European-style wine shop formula. The good juices are at hand on the shelves, or to enjoy on the spot (by adding a few dollars in corkage fees). The selection of nearly 200 bottles is divided among the following distinctions: classic, thirst quenchers, structured, macerated, pet nat, ovni, and rare.
328 Rue Beaubien Est
Montréal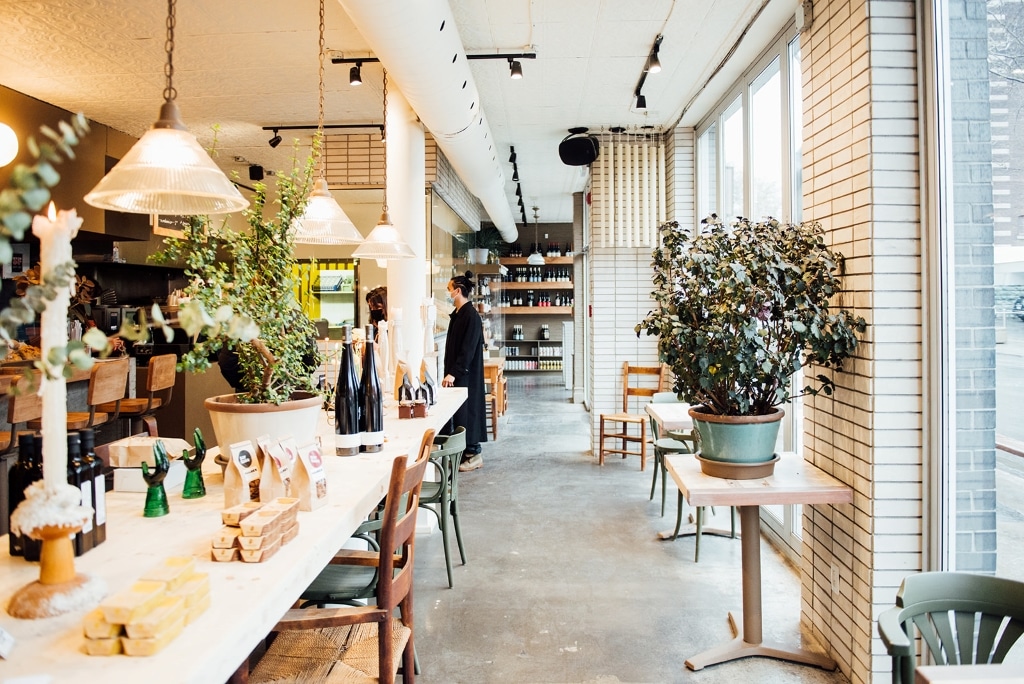 The wine cellar of the Saint-Henri wine bar-café-dispensa is well stocked with products selected by Catherine Draws. The wines at BarBara come from small producers from here and from elsewhere, and can be drunk without thirst.
4450 Rue Notre-Dame Ouest
Montréal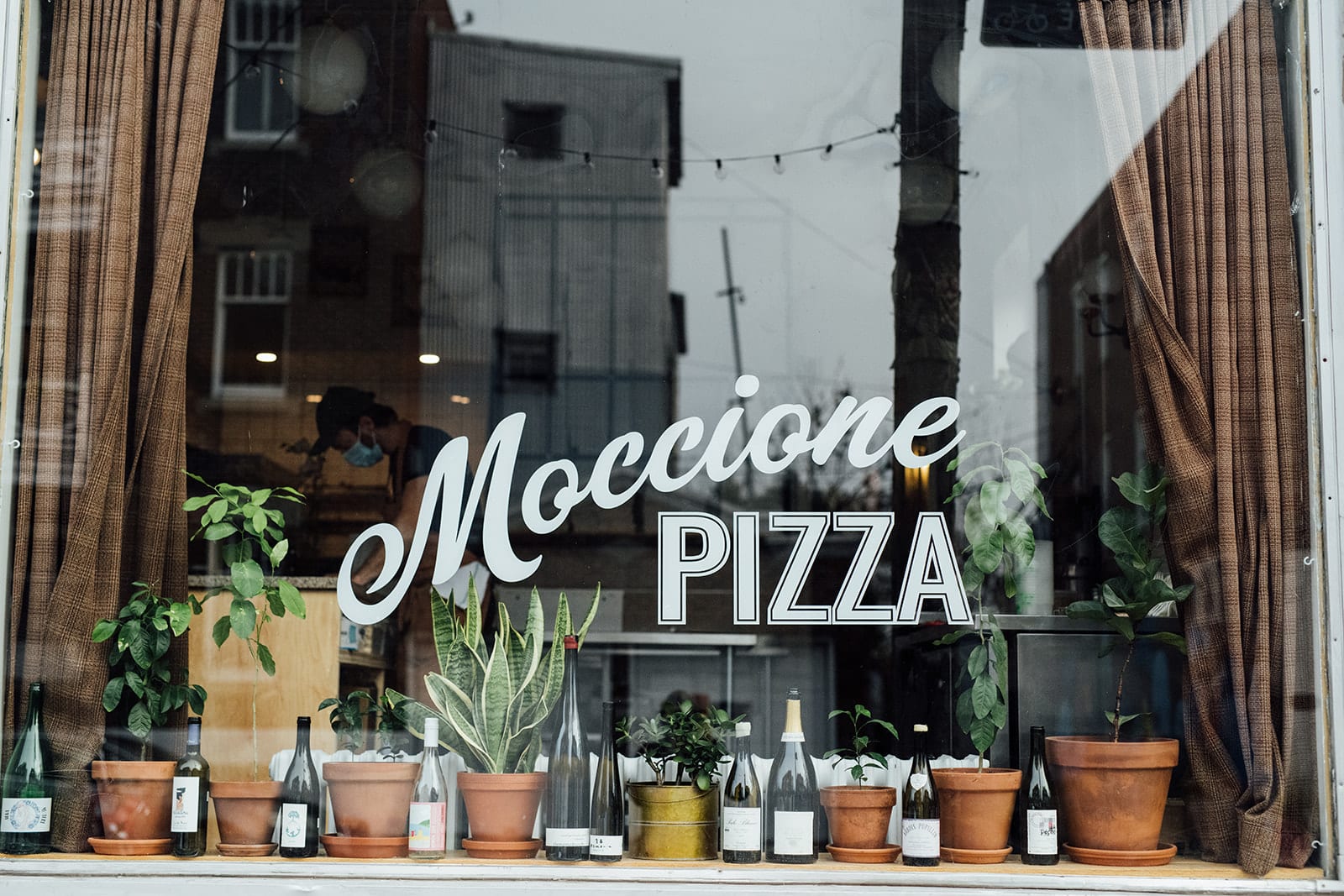 Located in the former space of the Moccione restaurant, the pizzeria of the same name has a short but interesting list of wines; mainly natural wines chosen by Catherine Picard. We head up to Villeray to grab a pizza and a good bottle to enjoy in Jarry park.
380 Rue Villeray
Montréal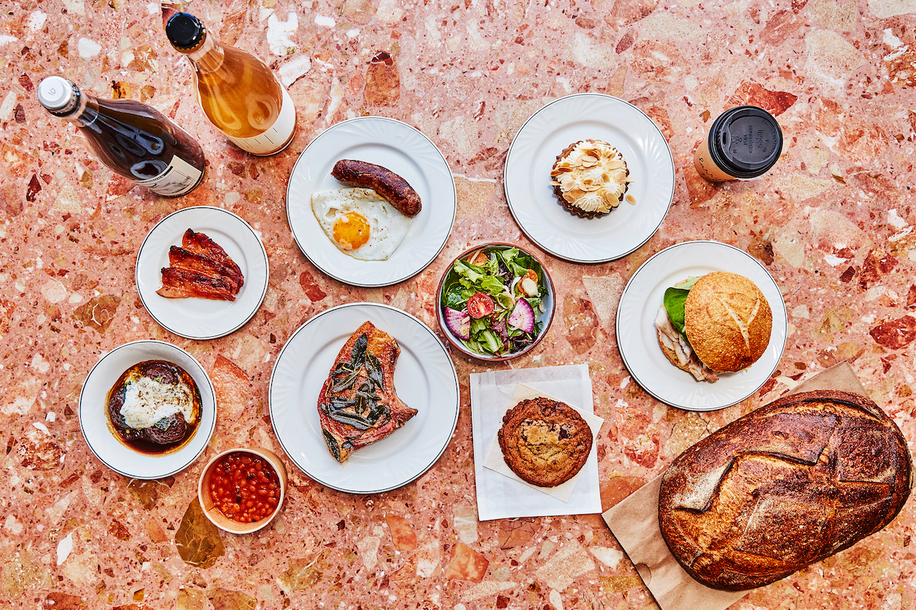 Every reason is a good reason to stop by Larrys; to grab a bite to eat, a coffee, a drink, or a rare glass of wine. The Mile-End address is both a café and a bar, but also a wine shop for those looking for a nice bottle to bring home. Larrys+ is not quite the little café/bar that it was before, nor Lawrence restaurant, or even the Boucherie Lawrence, but rather a mix of all three! Larrys+ is everything we love about the Lawrence family, all in one place: good wine in private import to go, gourmet seasonal dishes to go, but also products from our favourite farms, eggs, butter and fresh bread.
5201 Boulevard Saint-Laurent
Montréal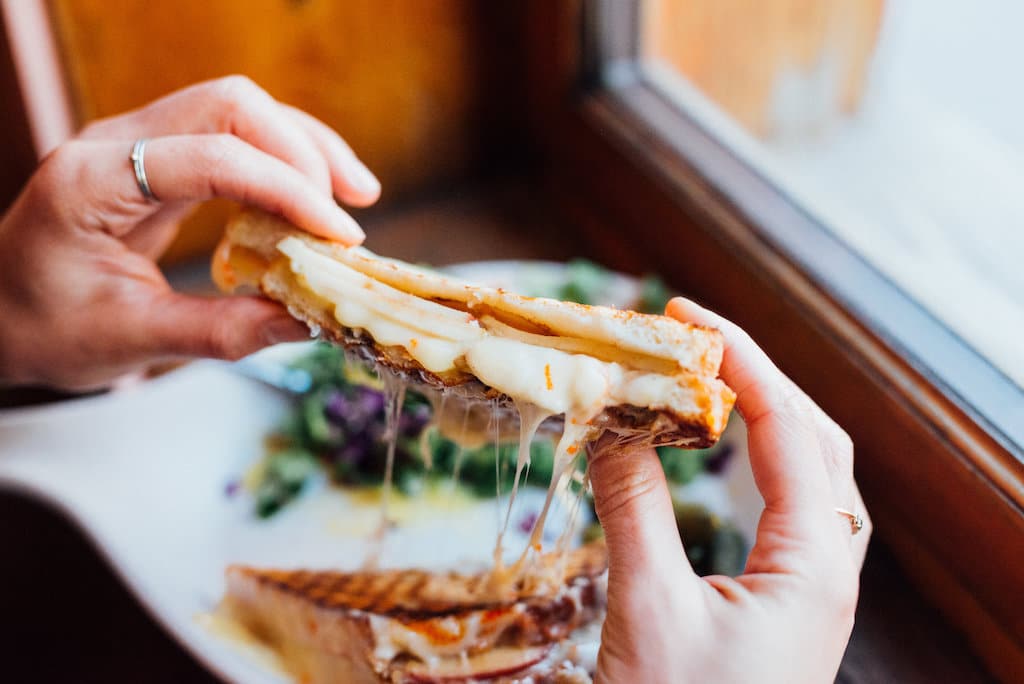 To the delight of neighbourhood residents, this institution on Laurier Avenue East has recently enhanced its already excellent coffee and grilled cheese offerings with the addition of bottles of natural wine. The selection, which changes frequently, features exclusives and small finds offered in limited quantities. The bottles are sourced with the help of Bandit Nature, a project launched by Renaud Blanchet.
1309 Avenue Laurier Est
Montréal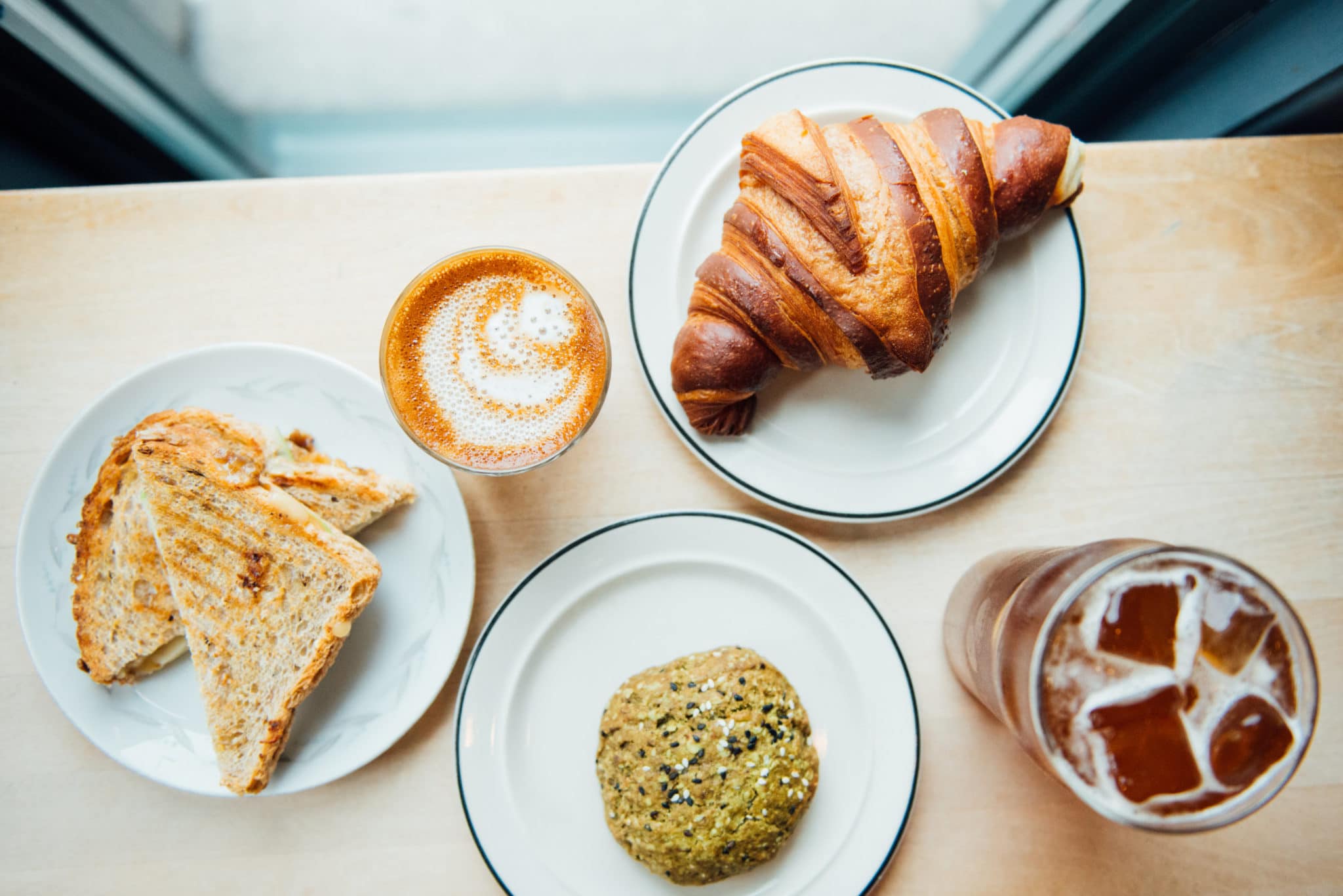 The four Paquebot cafés in the province (there's one in Gaspé!) are always at the ready to quench your thirst for coffee and wine. They offer a rotating selection of light and sunny wines. With addresses sprinkled across the island (Bélanger, Mont-Royal and Old Montreal), getting a great bottle is easier than ever!
123 Avenue du Mont-Royal Ouest
Montréal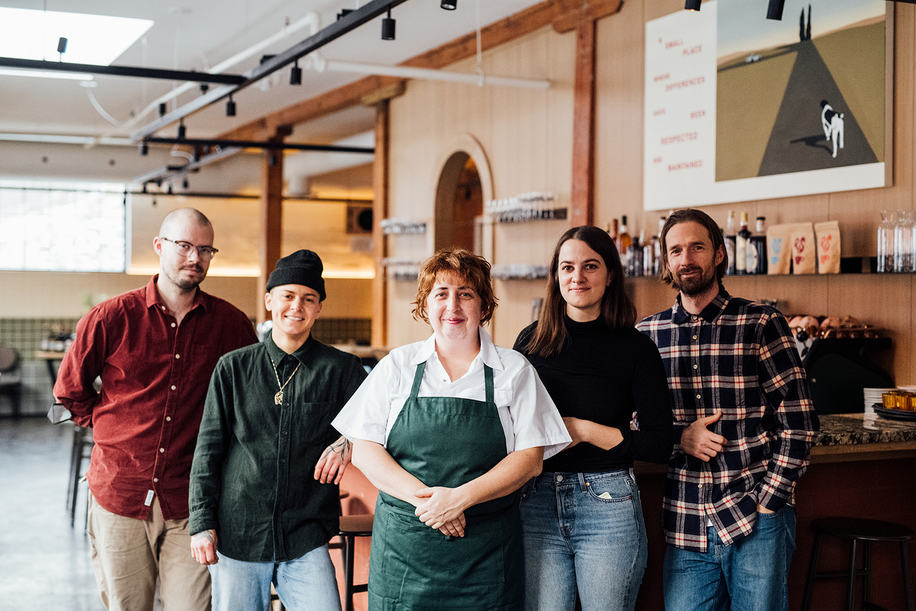 The superb new address of the Elena and Nora Gray family also sells wine! Take advantage of the tempting wine list prepared by sommelier and partner Lawrence Fiset for pick-up or delivery. Not to be missed!
1025 Rue Lenoir
Montréal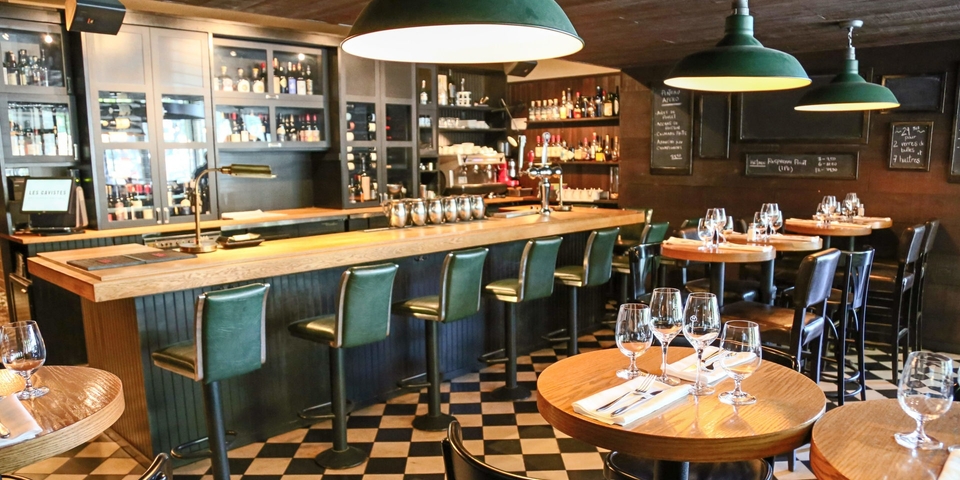 Les Cavistes
Nestled on Fleury West in the neighbourhood of Ahuntsic, Les Cavistes lives up to its name; (it translates from French to wine merchant) ! The restaurant-boutique offers an excellent selection of privately imported wines at very reasonable prices on their take-out menu.
196 Rue Fleury Ouest
Montréal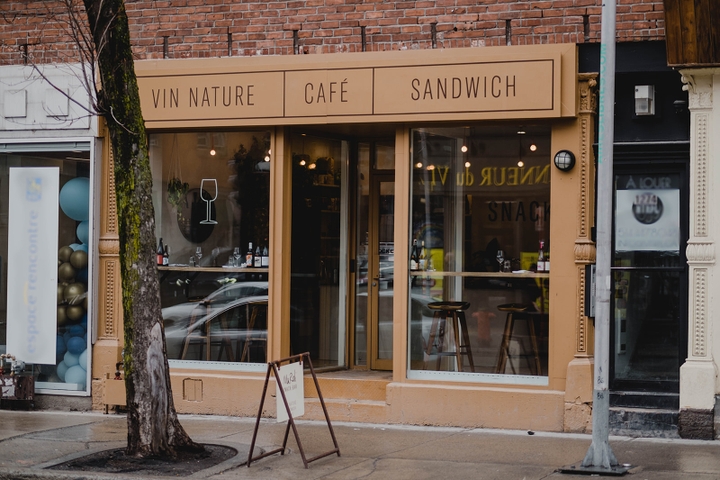 Troisième adresse de la famille du Bar Renard et du Bistro Tendresse, Mardi Snack-Bar propose une formule café-buvette qui s'adapte au moment de la journée: café le matin, comptoir à sandwich le midi et bar à vin pour l'apéro. Une belle sélection de vins nature à emporter est aussi disponible dans l'espace caviste.
1276 Rue Sainte-Catherine Est
Montréal
5687B Avenue du Parc Montréal H2V 4H2
29 Rue Beaubien Est Montréal H2S 1P7
782 Rue Wellington Montréal H3C 1T7
1233 Avenue Lajoie Montréal H2V 1P2
1461 Avenue Van Horne Montréal H2V 1L3
328 Rue Beaubien Est Montréal H2S 1R8
4450 Rue Notre-Dame Ouest Montréal H4C 1S1
380 Rue Villeray Montréal H2R 1G9
5201 Boulevard Saint-Laurent Montréal H2T 1S4
1309 Avenue Laurier Est Montréal H2J 1H4
123 Avenue du Mont-Royal Ouest Montréal H2T 2S9
2475 Rue Notre-Dame Ouest Montréal H3J 1N6
1025 Rue Lenoir Montréal H4C 2Z6
196 Rue Fleury Ouest Montréal H3L 1T5
1276 Rue Sainte-Catherine Est Montréal H2L 2H2