Montreal Pool Room: Hot dog institution on the Main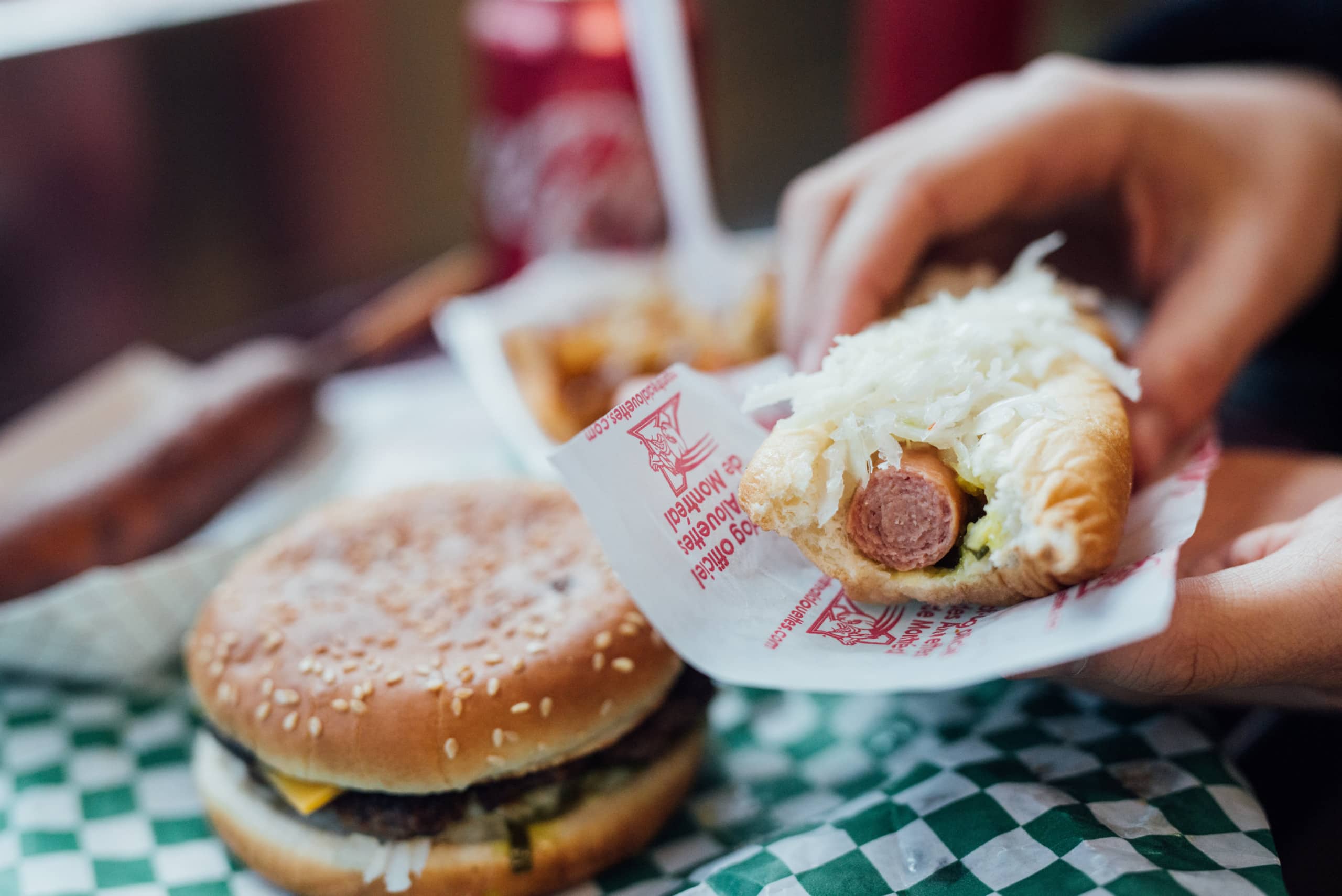 Montréal Pool Room

$
Monday: 10:30 AM – 4:00 AM
Tuesday: 10:30 AM – 4:00 AM
Wednesday: 10:30 AM – 4:00 AM
Thursday: 10:30 AM – 4:00 AM
Friday: 10:30 AM – 4:00 AM
Saturday: 10:30 AM – 4:00 AM
Sunday: 10:30 AM – 4:00 AM


Accepts mastercard, visa, cash, debit
30 Seats
Opened over a century ago, the Montreal Pool Room exudes nostalgia as much as it does frying oil. An iconic greasy spoon as we like them, but especially as our parents liked them.
Filipoff Dakov, a Bulgarian immigrant, opened the Montreal Pool Room in 1912. The city's archives, for their part, first mention a license in the restaurant's name in 1921. Established in Montreal's Red Light, a former red-light district that has now mellowed out, the institution is captivating because of its history. The Montreal Pool Room, which retired its pool tables over 30 years ago, was frequented by many famous people, from Leonard Cohen to Al Capone.
In 2010, the Montreal Pool Room moved to make way for a commercial complex. Much to the delight of regulars, the restaurant only moved across the street and is now facing the cabaret Café Cleopatra, which it neighboured before.
With the move, the owners decided to expand the menu. Since 1912, the restaurant sold only one thing: steamies (steamed hot dogs). Today, you can order everything from fries, poutines, hamburgers, onion rings, and pogos. Of course, the famous "steamé" – one of the best in town – topped with cabbage is always popular. An ideal menu for night owls or those who are hungry at all hours. (See our late-night list or our munchies list).
To savour it all, you can seat yourself at one of the few tables or at the long counter for those in a hurry. During the move, the original sign also crossed the Main and the front was repainted in the same way: "Since 1912, the famous Montreal Pool Room". A neon sign thanking customers for their loyalty over the past century is also present.
Note that the house only accepts cash. During our visit, a visibly angry customer expressed his dissatisfaction to the cooks: "It's 2020 after all". But that's precisely where the charm of the Montreal Pool Room lies, as they invite you to travel back in time with their steamies and their poutines.
Written by Samuel Gauvreau Des Aulniers
Photography by Alison Slattery