Christmas yule logs: Where to buy delicious yule logs in Montreal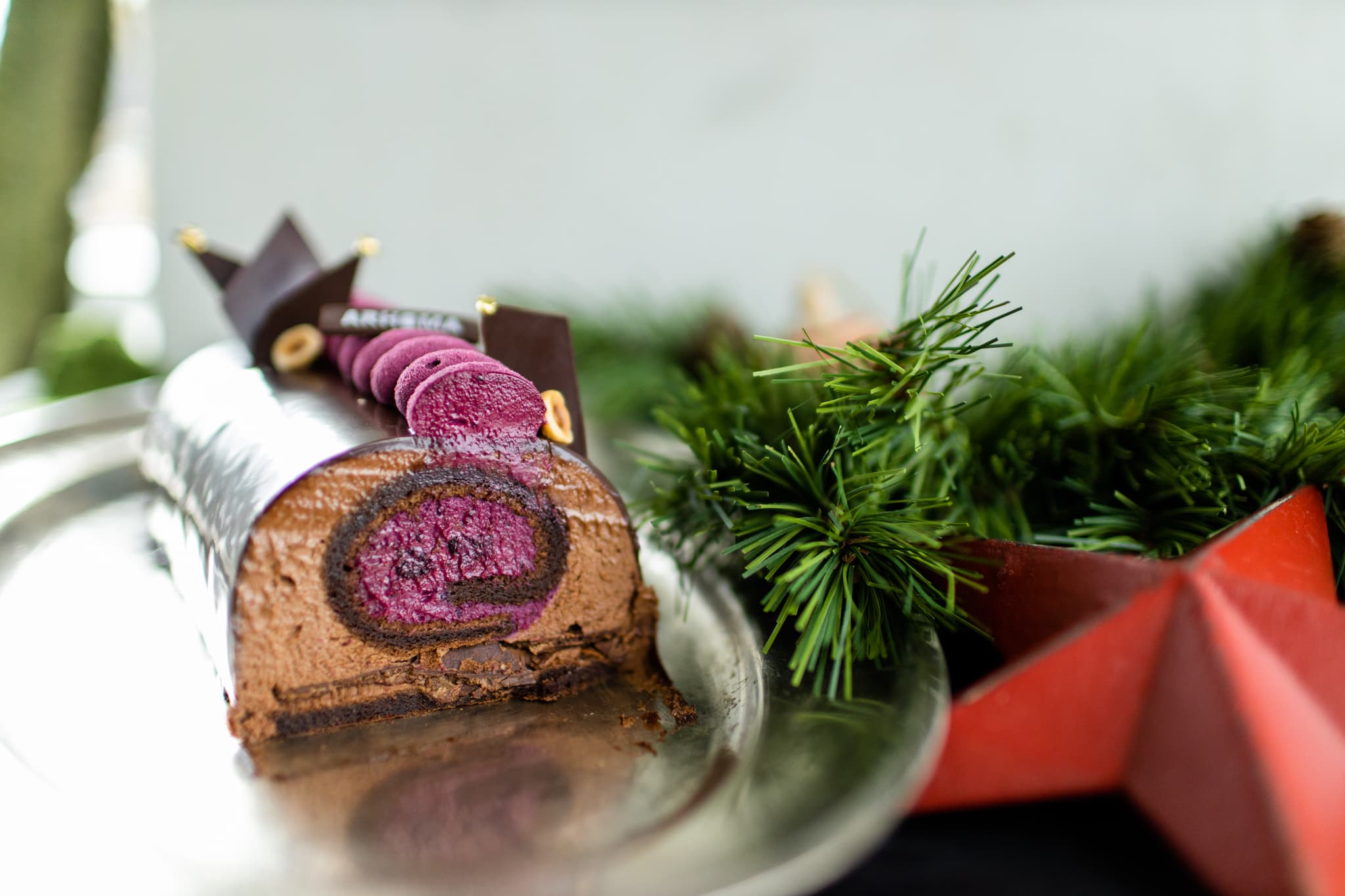 Somehow, it's already time to turn our calendars to December, and we all know what that means — the holiday season has begun! For many, the holidays are all about taking time to rest, relax, and enjoy the company of friends and family. For others, December is the season of hosting holiday parties and feasts for our loved ones and stressing over dinner menus and desserts.
For those of us who identify more so with the latter, we have created this list with the intentions of reducing some of the anxiety that is so often associated with hosting a holiday party. This list highlights the best spots in Montreal to buy the perfect Christmas yule log. With the stress of finding the perfect holiday dessert off of your shoulders, you'll have the time to focus on what's really important — celebrating with your loved ones!
If you're not yet convinced that the yule log is the perfect dessert for your holiday party, a quick history lesson might do the trick. The yule log has become an emblematic Christmas dessert, surprisingly beating out other seasonal icons like Christmas trees, snowmen, and holly. If you're wondering why that is, the tradition dates back to the pre-medieval Iron Age when the Gaelic and Celtic people celebrated the Yule, a pagan festival honouring the arrival of the winter solstice, towards the end of December. During the festival, it was common to burn a huge wooden log adorned with mistletoe, pine cones, and others wintery decorations. The log continued to burn in the hearth for days, and its ashes were then collected by the family and were believed to provide protection for the upcoming year.
The advent of Christianity led to the continuation of this tradition, but on a smaller scale, as homes became smaller and smaller over time. Eventually, the tradition of burning the yule log ended, but it's meaning was eternalized in a new holiday tradition — yule log cakes!
We're unsure of who was responsible for the first edible yule log, but we are forever grateful for their contribution to the Christmas treat we know and love today.
If you're looking for more great gourmet holiday suggestions, check out our lists of the best artisanal panettones in Montreal, as well as the best spots in the city to drink delicious hot chocolate.
Happy Holiday Season!
Arhoma
La Fabrique and La Boutique Arhoma are making their mark on Christmas this year with beautiful yule log cakes worthy of being the centrepiece on any holiday table. This year, La Fabrique is offering a blackcurrant, hazelnut and dark chocolate log, an apple, amaretto and chocolate log, or a small fruit, lemon and fir log. A decadent vegan option is also available, made with dulce de leche, cherries and dark chocolate.
15 Place Simon-Valois
Montréal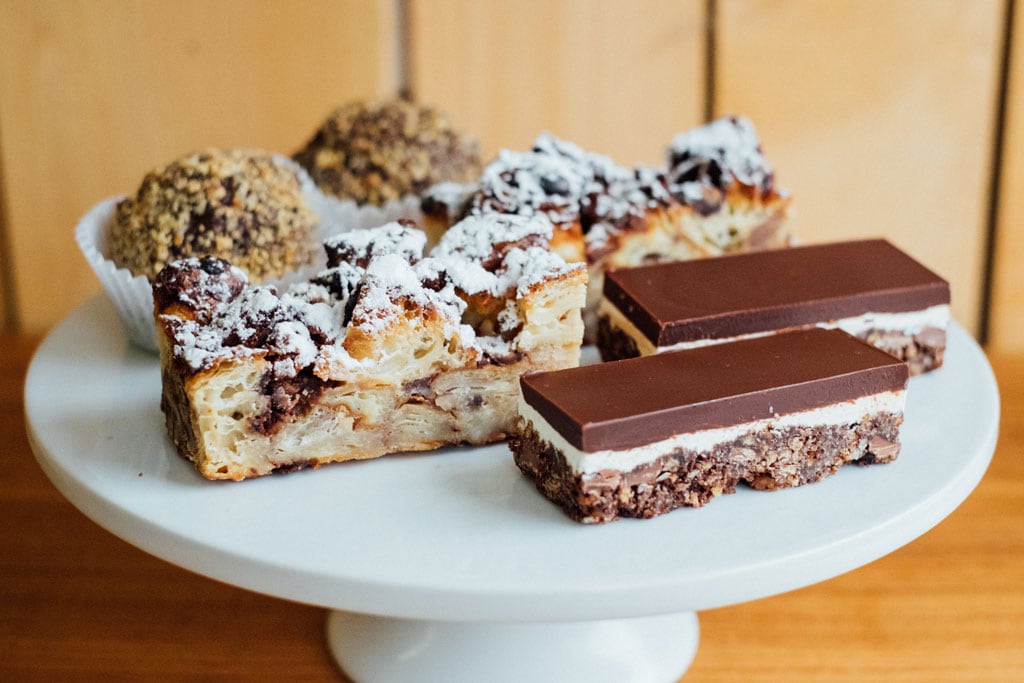 Mlles Gâteaux is a charming local pastry shop on rue Villeray that prepares exquisite sweet treats for all occasions. To celebrate the holiday season, this pastry shop has created four holiday inspired desserts, including three delicious yule logs. As for the yule logs, you'll find a chocolate-orange log, a rhubarb and strawberry log, and an apple and maple log. The chocolate-orange log is composed of a chocolate roulade cookie soaked in citrus and vanilla syrup, topped with an orange cream, orange segments in syrup and glazed with a dark chocolate ganache. The strawberry-rhubarb log is made of a vanilla bavaroise on a vanilla and strawberry cookie, and filled with Quebec strawberries and rhubarb. Finally, the apple and maple log is filled with an Acton Vale organic maple mousse on a roasted sunflower seed financier, and a melting terrine of organic apples slowly baked in the oven. Delicious!
363 Rue Villeray
Montréal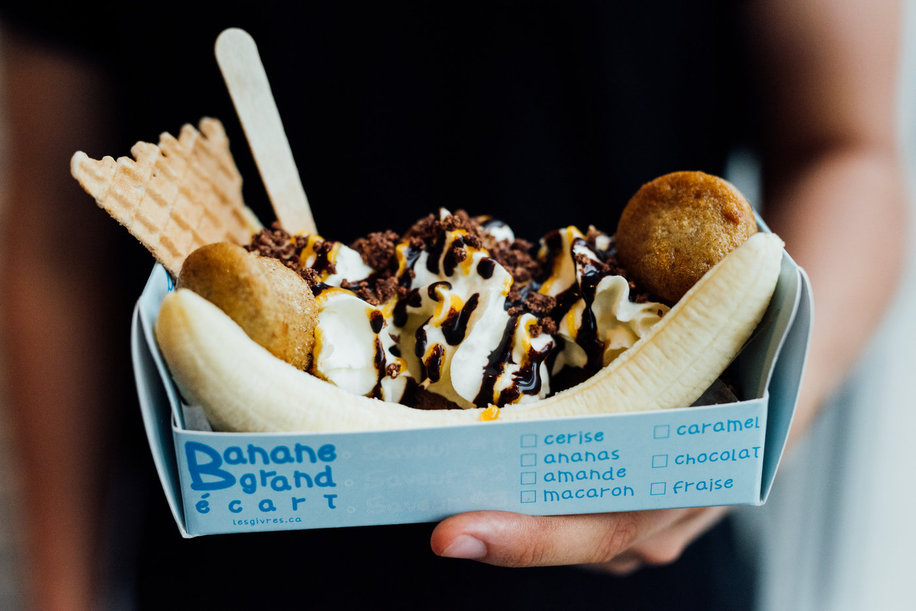 Les Givrés
At Les Givrés, you will find six different yule logs this December. The Convoi de Macarons log features a chocolate sponge cake adorned with a panoply of chocolate-raspberry and vanilla-griotte macarons. The Campfire log mixes caramel, almonds and chocolate around a heart of roasted marshmallows. The Pistachio and Strawberry log combines strawberry sorbet and pistachio ice cream with a moist gingerbread sponge cake and rhubarb compote. The Juste du Sorbet log is made up of mango, raspberry and lemon sorbet wrapped around a vanilla sponge cake and red currant jelly. La Tropicale log mixes mango-passionfruit sorbet and coconut sorbet, caramelized pineapple jam, coconut sponge cake and passionfruit jelly. Finally, Les Givrés is also offering a vegan and gluten-free log, with blueberry-cassis sorbet, caramel and chocolate ice-cream, gluten-free genoise and blackcurrant jelly. Check out their website for information on all orders and requests!
334 Rue de Castelnau Est
Montréal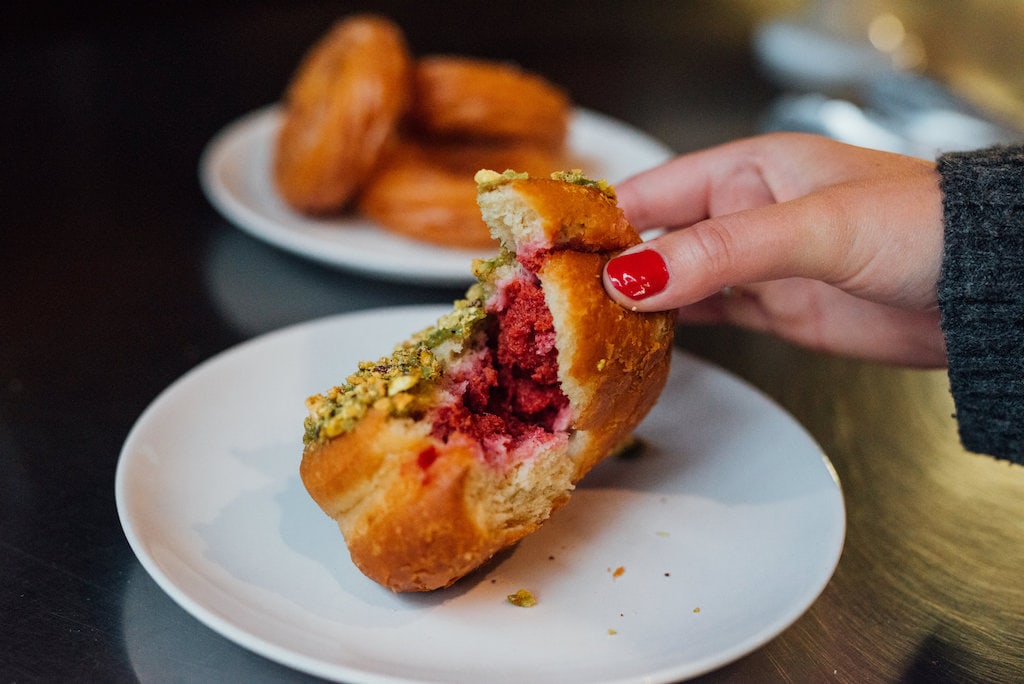 Once again, the King of Doughnuts is tackling the Christmas yule log challenge with two different flavours. The first one, Cédrik, is made with a bear paw cookie, milk chocolate mousse, milk chocolate and pecan crunch, miso cream, pear jelly, and butterscotch. The second one, Nicolas, is made with pumpkin sorbet, orange marmalade, iced coffee coulis, Dacquoise, and Breton shortbread. The Valentine is made of a chocolate brownie with coconut, a caramelized chocolate cream with Jerusalem artichokes, pieces of coconut, and crispy Jerusalem artichokes. Finally, the Valerie log is like a giant Ferrero Rocher! It is made with hazelnut macarons, crispy caramel, dark chocolate mousse, hazelnut cream, and has a melting heart of hazelnut praline in the center.
2202 Avenue du Mont-Royal Est
Montréal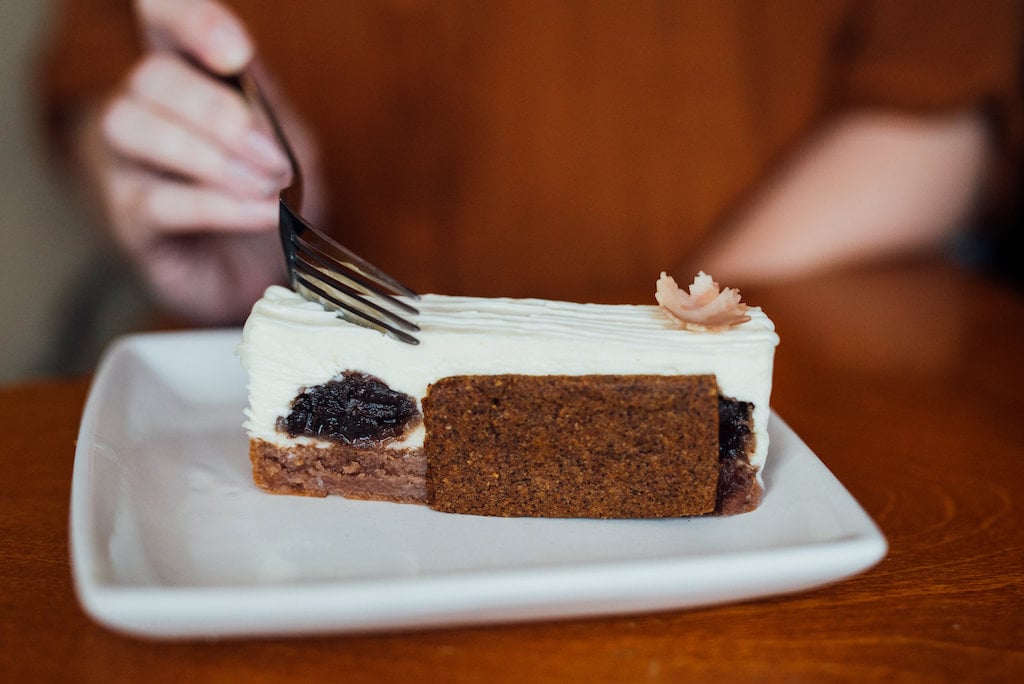 A pretty pastry shop in the Plateau Mont-Royal, Fous Desserts offers its customers some of the best desserts in the city. The seasons are the primary influences at Fous Desserts when it comes to selecting flavours, and the kitchen uses products from Quebec whenever possible. Here, you can indulge in matcha cakes, financiers, half-baked cookies, chocolate mousse and countless other treats, including amazing yule logs during the holiday season. This year you will have three different kinds of logs; the Ghana, the Cashmere and the Emerald. The Ghana is made of a madeleine cookie with spices and chestnut pieces, a cocoa roulade cookie, a chestnut mousse with compote of quince/vanilla pear and pear pieces and a chocolate mousse. The Cashmere log is made of a Dulcey chocolate brownie with Dulcey chocolate pieces, a plain cookie roulade with cranberry/yuzu coulis, a Dulcey chocolate ganache with Garam Massala spices from Kashmir, and an Orange & Pumpkin mousse. Finally, the Emerald is made of a chestnut cookie, Anko (Azuki beans), a Matcha cookie roulade with lychee coulis and raspberry and blackcurrant cream with Matcha mousse.
809 Avenue Laurier Est
Montréal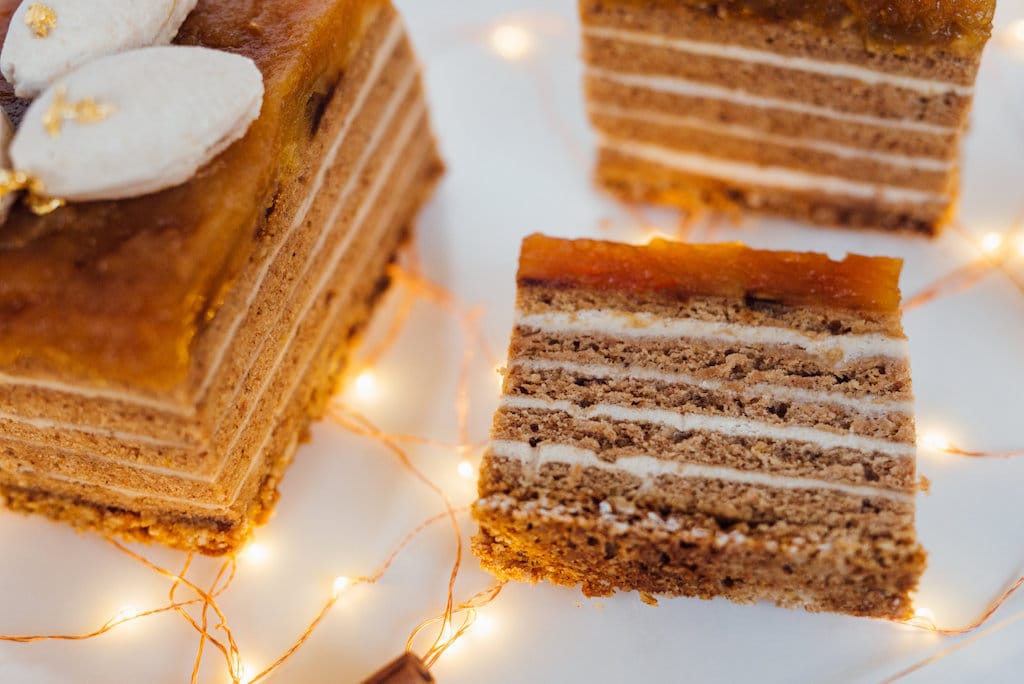 Sachère is truly spoiling us this year, and not just a little! You have the choice between three very gourmet Christmas logs. Choosing will certainly be heartbreaking, unless you take all three. After the year we've had, this could be a sort of gourmet compensation. First, you'll find the Genmaicha log, made with Genmaicha Green Tea Mousse of a gluten-free Matcha cookie, William Pear jelly, and a Vanilla and Genmaicha tea gluten-free cake. The second, called La Fresca is made with an olive oil mousse, a grapefruit ganache, an olive oil cookie, and grapefruit jam on a Black Sesame cake. Finally, the Amatika, a vegan log made with a Vegan Dark Chocolate cake, a Valrhona inspired Vegan Chocolate Almond and Coconut mousse, a Vegan Banana cream, Valrhona Amatika Vegan Chocolate ganache, banana slices, and Vegan Chocolate and Buckwheat granola.
1274 Boulevard de Maisonneuve Est
Montréal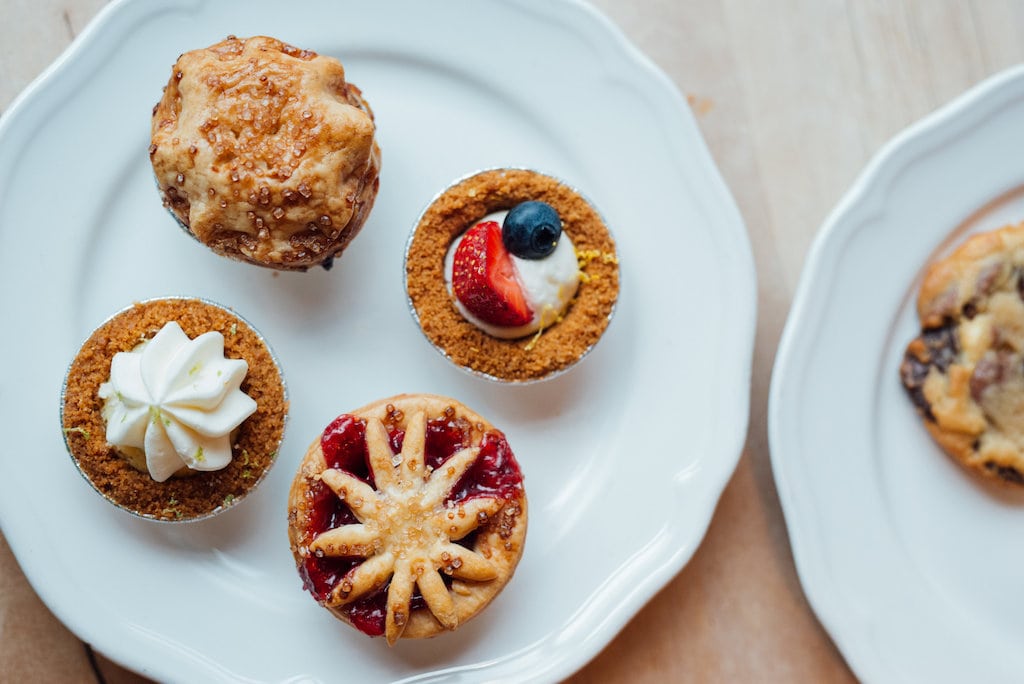 Rustique, the reference in pies in Saint-Henri, will have two kinds of logs to end your Christmas dinners on a sweet note. On the menu, a chocolate log with ganache and hazelnut praline, and another with raspberry and coconut. They are available now, don't wait to order!
4615 Rue Notre-Dame Ouest
Montréal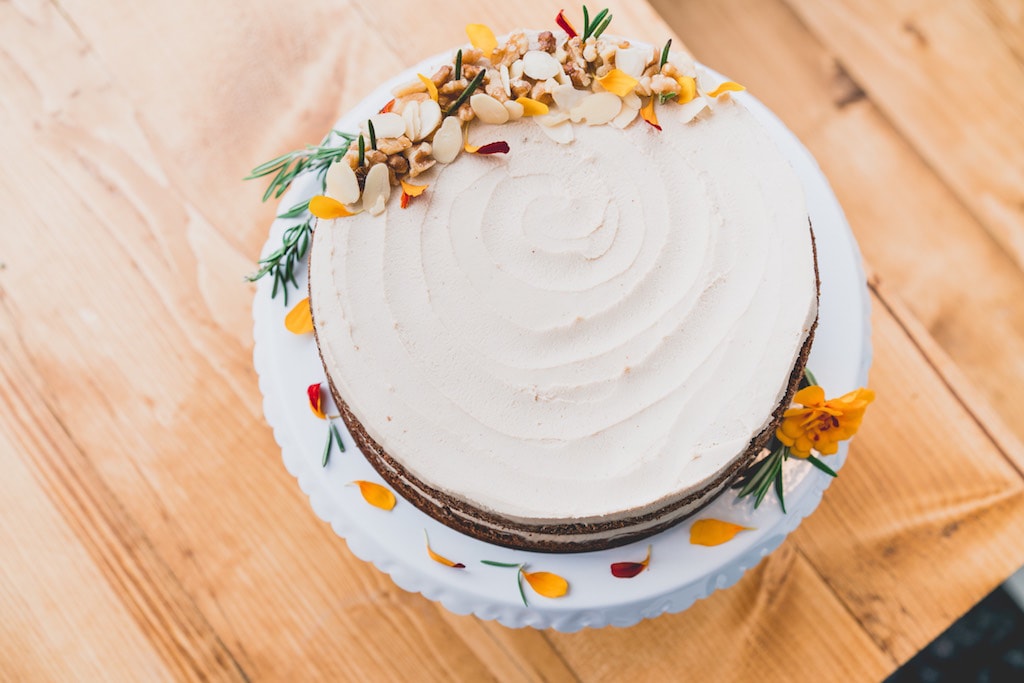 This charming vegan and gluten-free pastry shop in Verdun is ready for Christmas! To satisfy your sweet tooth, Audacieuse Vanille offers a honey ginger log, a chocolate hazelnut log, and a banana and caramel log. The honey ginger log is made of a soft tahini cake, a vegan honey ginger pastry cream, a spicy ginger mousse with white and black sesame tuile, and crystallized ginger. The chocolate hazelnut log is made of a hazelnut dacquoise with roasted hazelnuts, a chocolate cream and homemade hazelnut praline, a 70% organic and fair trade chocolate mousse with caramelized hazelnuts, caramelized mint, and a candied lemon filling. Lastly, the banana and caramel log is made of an almond dacquoise, banana custard, homemade caramel buttercream, shortbread cookie and oat milk chantilly with dehydrated banana filling. These logs are waiting for you, so order now to spoil yourself. Visit the pâtisserie's website to see their entire Christmas menu.
3910 Rue Wellington
Montréal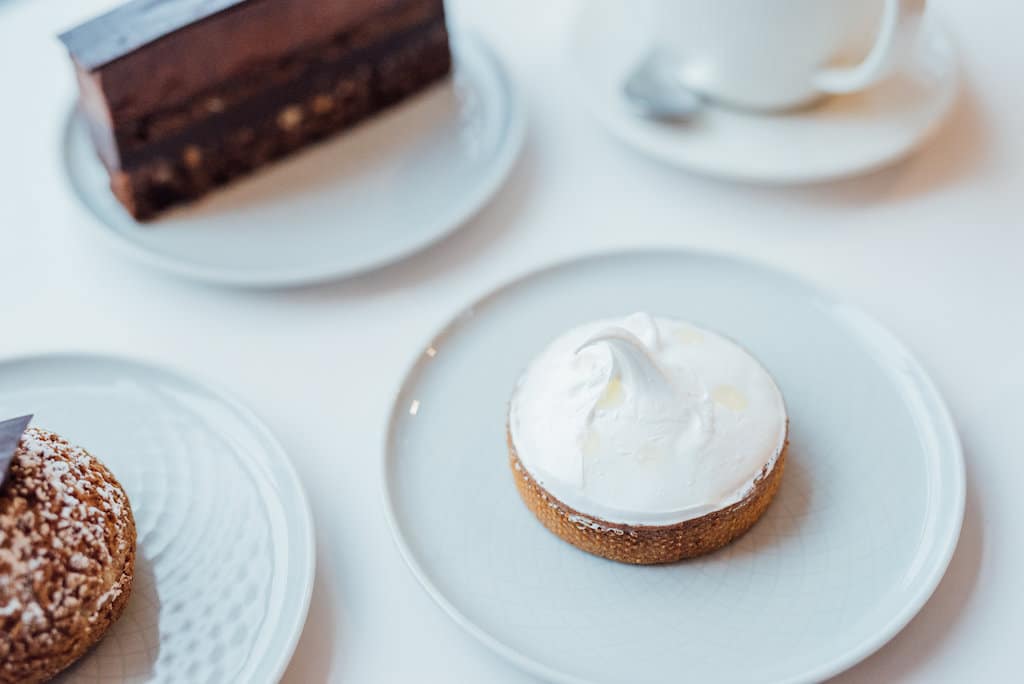 Pâtisserie Madeleine, a must in Rosemont, makes delicious pastries. For Christmas, they will spoil you with three very gourmet logs; the Marrons, the Pistache and the Signature. The Marrons log is made with a soft chestnut cookie, candied chestnuts, cranberry compote and a Madagascar vanilla mousse. The Pistache log is made with a pistachio crunch, an almond and pistachio cookie, a pistachio cream and orange blossom mousse. It is also gluten-free. The last one, the Signature log, is made with chocolate cookies, chocolate crunch, Tahitian vanilla cream and an organic chocolate mousse. This option is nut free. In addition, Pâtisserie Madeleine also offers a vegan log!
2105 Rue Beaubien Est
Montréal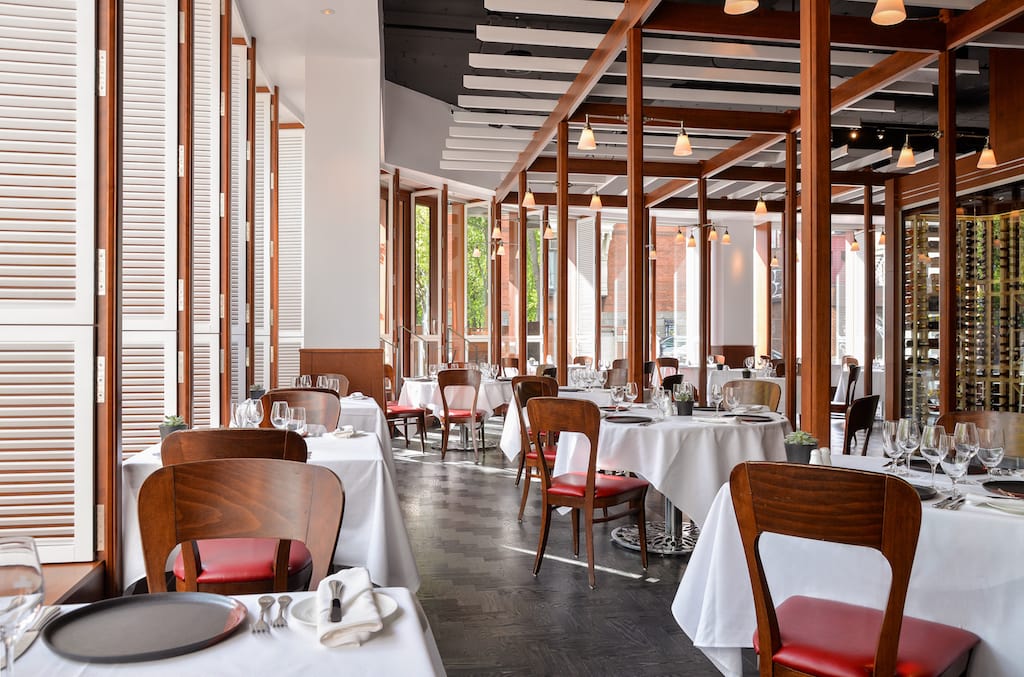 Where many great pastry chefs started out, the ITHQ Restaurant offers two superb logs to celebrate the arrival of the holiday season and, at the same time, showcase the talent of their apprentices. Among the two options, there is the 100% local log, made with maple mascarpone mousse, apple compote, a rolled cookie soaked in Avril amaretto, and roasted and caramelized Cape Tormentine hazelnuts. The other proposal is the choco-pear-sarrazin log, prepared with chocolate mousse, honey-soaked cookie roll, buckwheat cookie, and pear compote. Both are available for order now. In addition, $4 from each log sold will be donated to the ITHQ Foundation to support future students.
3535 Rue Saint-Denis
Montréal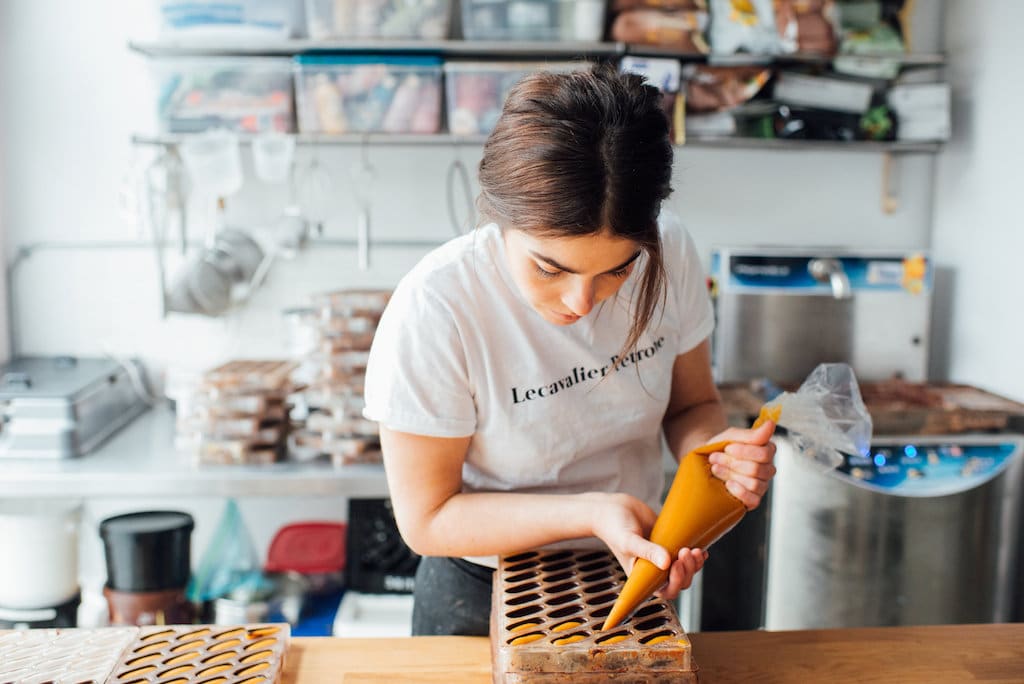 Lecavalier Petrone, the gourmet address par excellence in Pointe-St-Charles, is known in Montreal for its delicious pastries and creative treats. For Christmas, they have prepared two kinds of logs. One is made with Ontario peaches, pecans, and vanilla, while the other is made with Caramélia, Breton shortbread, caramel, and Dulcey. Each one is as beautiful as the other.
2423 Rue Centre
Montréal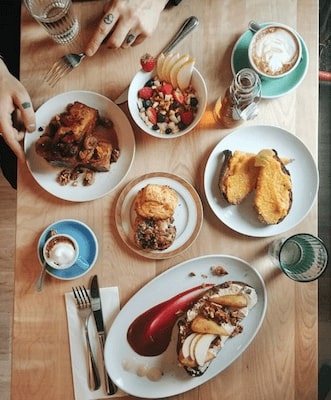 A place to have a little coffee and a bite to eat, the Elsdale neighbourhood bar is a great address in Rosemont. For the holidays, they offer two very gourmet logs for the occasion. The chocolate-hazelnut log is composed of a chocolate cake, almonds, hazelnuts and buckwheat with a compote of cherries and blueberries from the Bourdelais farm, with a praline ganache, and a Tanzanian chocolate buttercream. The second, the lemon log, is a lemon cake with cranberry compote and sea buckthorn cream with Zephyr white chocolate buttercream. The logs are as beautifully decorated as they are delicious.
2381 Rue Beaubien Est
Montréal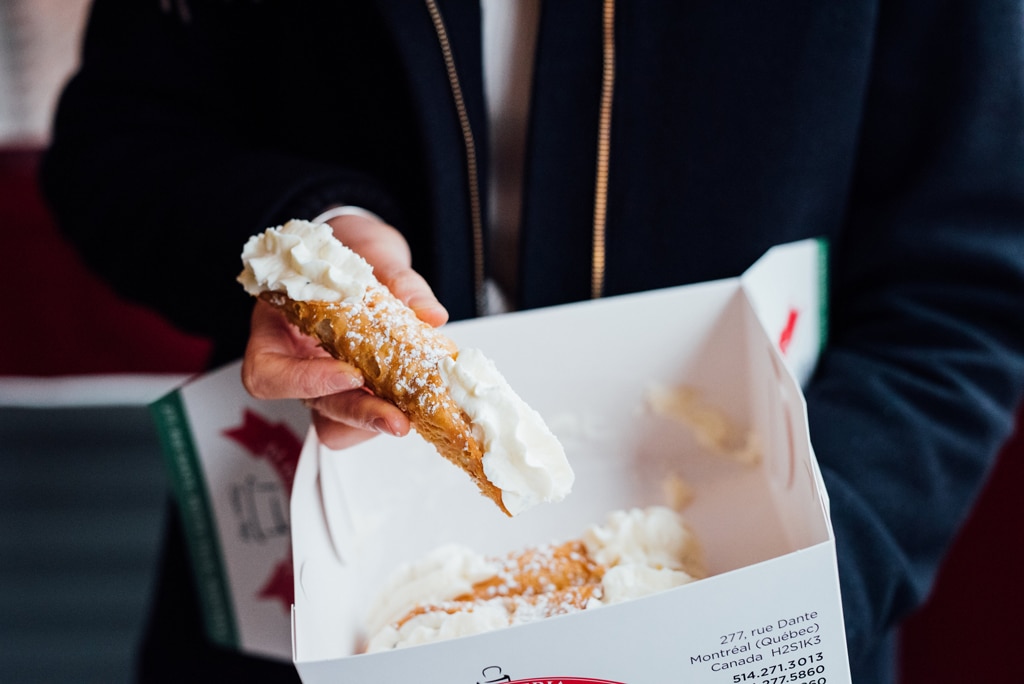 Alati-Caserta is an iconic Italian pastry shop in the Little Italy neighbourhood. Each year, they offer a beautiful selection of traditional Italian logs. The flavours of the logs will be announced soon, so keep an eye out! For those of you who are in the mood for something more traditional, yet comforting, Alati-Caserta is the place to go.
277 Rue Dante
Montréal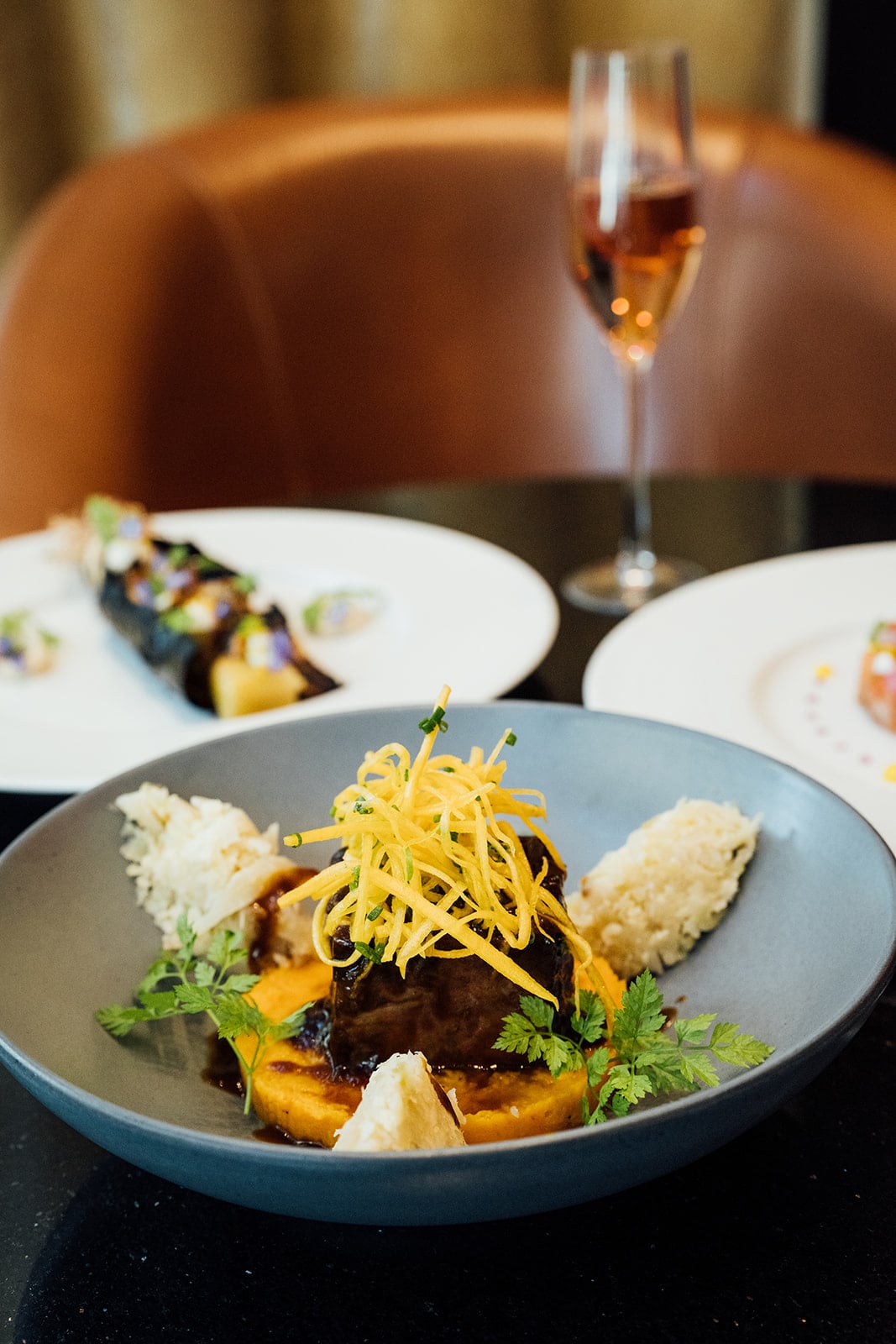 Every year, Renoir stands out with its traditional and legendary gourmet log. Hurry, it's now available to order and believe us, you won't want to miss out on this special edition with limited quantities.
1155 Rue Sherbrooke Ouest
Montréal
15 Place Simon-Valois Montréal H1W 0A6
363 Rue Villeray Montréal H2R 1H1
334 Rue de Castelnau Est Montréal H2R 1P8
2202 Avenue du Mont-Royal Est Montréal H2H 1K4
809 Avenue Laurier Est Montréal H2J 1G2
1274 Boulevard de Maisonneuve Est Montréal H2L 2A3
4615 Rue Notre-Dame Ouest Montréal H4C 1S3
3910 Rue Wellington Montréal H4G 1V3
2105 Rue Beaubien Est Montréal H2G 1M5
3535 Rue Saint-Denis Montréal H2X 3P1
2423 Rue Centre Montréal H3K 1J9
2381 Rue Beaubien Est Montréal H2G 1N3
277 Rue Dante Montréal H2S 1K3
1155 Rue Sherbrooke Ouest Montréal H3A 2N3