Boho: A great place for cocktails in Old Montreal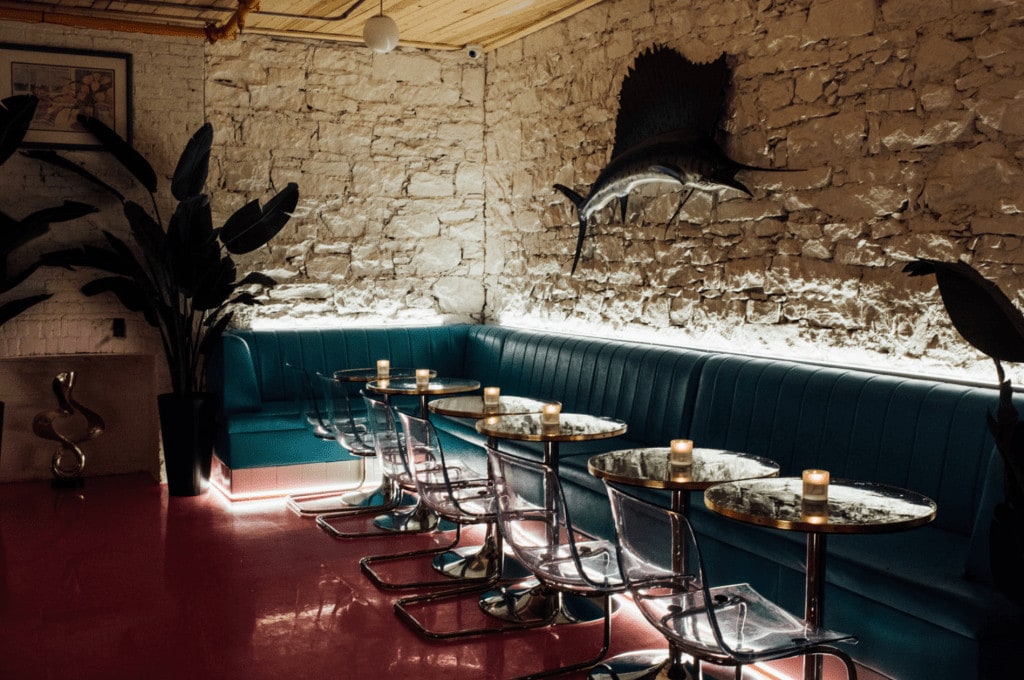 « In Vieux Montréal, Boho is where you want to kick off your evening. It's also a great place just to hang out and drink cocktails all evening. »
Owner Charles Manceau (Venice MTL) opened Boho in June 2017, and once again, he has created a unique space that already making waves!
Boho is located right next to Venice MTL. During the day, all you see in the front are two counters, one for Paletas (handmade alcohol-infused popsicles), and another which is a take-out counter for Venice MTL. But come 6pm, the hidden door behind the take-out counter opens up to Boho. « Boho is an extension of Venice MTL. We serve food from the restaurant, but with a superb cocktail menu, we see Boho as a continuation of our project. »
Boho is truly an ideal venue to drink cocktails in Old Montreal. The space seats about 60 and is intentionally a flashback to the Art Deco style of Miami with its turquoise leather banquette seating, fluorescent lighting under these banquettes that reflects the pink floor, the green jungle leaf wallpaper and thick green/white striped ceiling. It is definitely one of Montreal's most beautiful bars! And why 'Boho' ? Because « I wanted to do something more or less Bohemian. A kind of place to hang out, playing music that isn't too loud. It's a place where you can come to enjoy a drink and chat ».
If you are hoping to eat, then look no further than the menu of Venice MTL. Salads, tartines, soups, tacos, pokés (veggie, raw fish and served with rice), small pizzas, sides and desserts. This is healthy eating while drinking cocktails!
The wonderful cocktail list has been thought through by Alexandre Vallois. There are around a dozen signature cocktails to try, each with its own combination of colors and flavors that send your tastebuds on a trip to a sunny destination! With names like Basil Smash, Venice Beach, Miami Vice, Pear Pisco Sour, or the house Margarita with a Paleta, who wouldn't want to order one of these? Of course, all the classic cocktails are available, as well as a changing selection of red and white wines. There is also a variety of Scotch, bourbons, rums, gins, tequilas, mezcals, cognacs and vodkas to choose from.
« I do like the look. I think we have succeeded in creating that Miami Art Deco atmosphere and the space and concept are quite unique. It's cool to be able to offer something different to the clientele of Old Montreal. I like the fact that anyone can come to Boho for a drink and hear each other talk. » We love the decor, and the cocktails, and the Paletas, and the Venice MTL food. Don't miss out on Boho when you are planning to meet up with friends for a drink in the area.
Written by Élise Tastet