Special take-out menus for Valentine's Day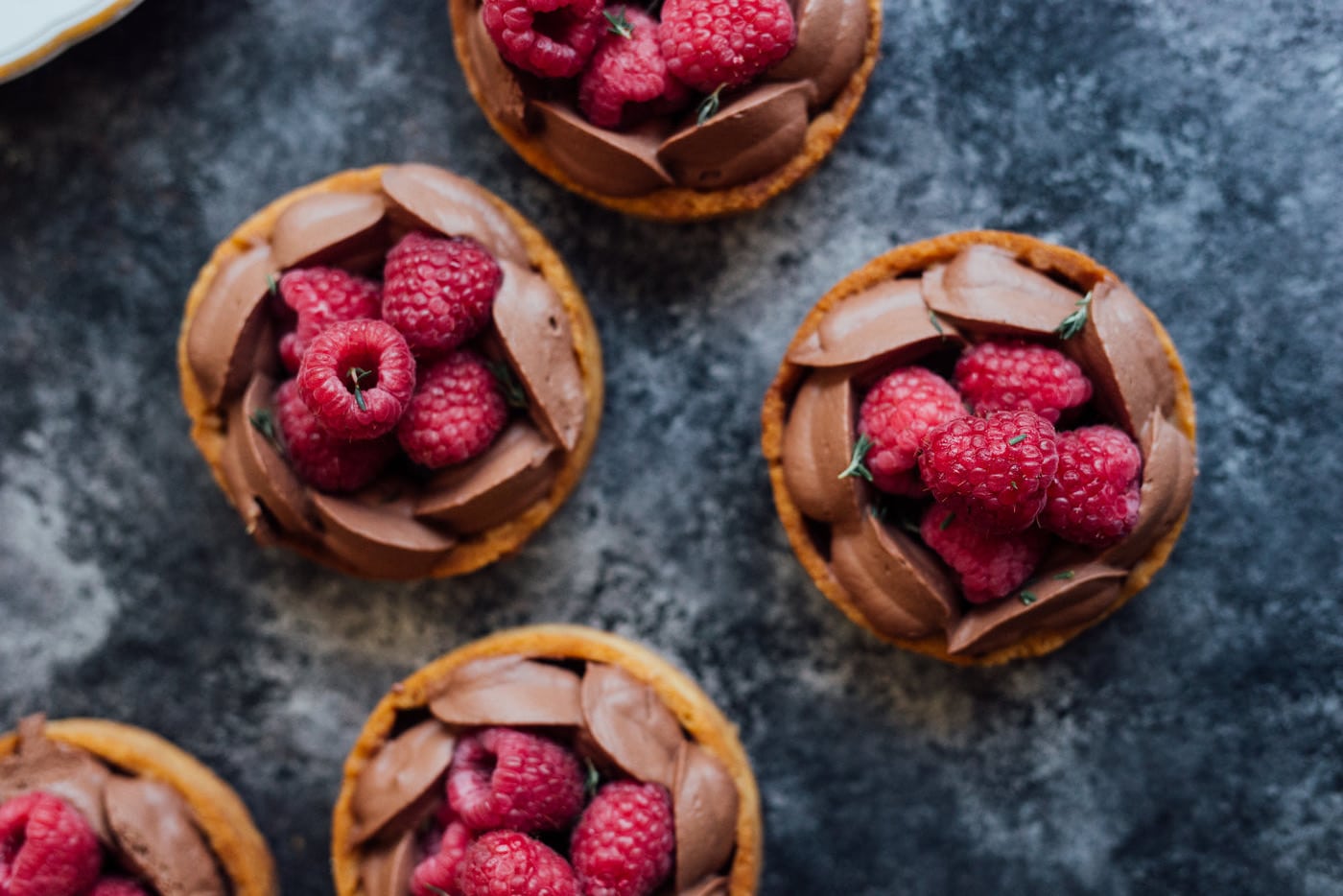 Valentine's Day is fast approaching, and it's time to think about how to celebrate it! After another challenging year, it's time to take a break and enjoy a little sweetness with a lover or a friend. If limited capacity prevents you from reserving a table in your favourite restaurant, you can still order a take-out meal to live the restaurant experience in the comfort of your home.
Several restaurants across the city are offering take-out menus specially developed for Valentine's Day. Whether you're in the mood for sushi, gourmet dishes, or fresh pasta, there's something for everyone.
For those who will take advantage of the occasion to treat themselves in a restaurant, we have put together a list of addresses that offer special Valentine's Day menus, as well as one for brunch offerings on the day of love.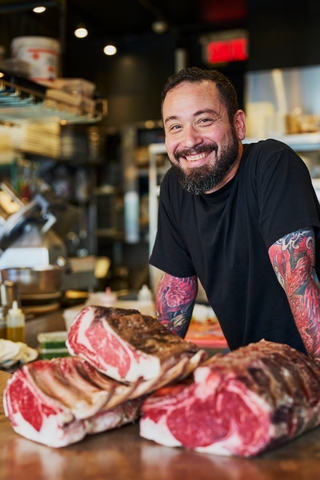 Boucherie Bar à vin Provisions offers a menu for two at $140. The elements of the meal come with cards that make it easy to assemble the dishes at home. It's also possible to pair the offering with a food and wine pairing (two bottles) for an additional $100. On the menu: beef tartare, burrata, lobster, osso bucco, and chocolate mousse!
1142 Avenue Van Horne
Montréal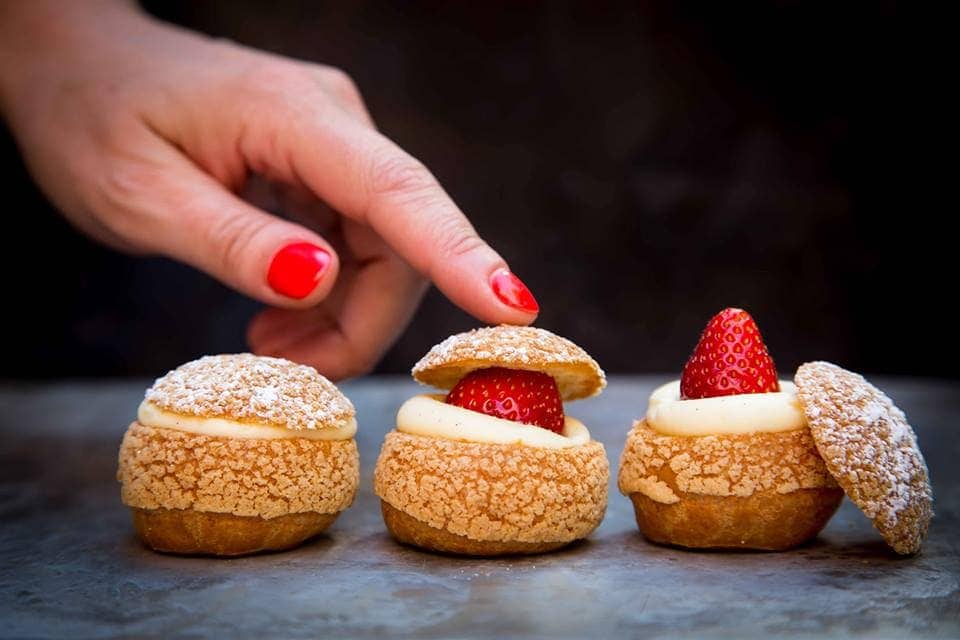 Pâtisserie Rhubarbe
Pâtisserie Rhubarbe will be exceptionally open on Monday, February 14 for Valentine's Day. The address offers several cakes and patisseries to mark the occasion and to savour at home.
1479 Avenue Laurier Est
Montréal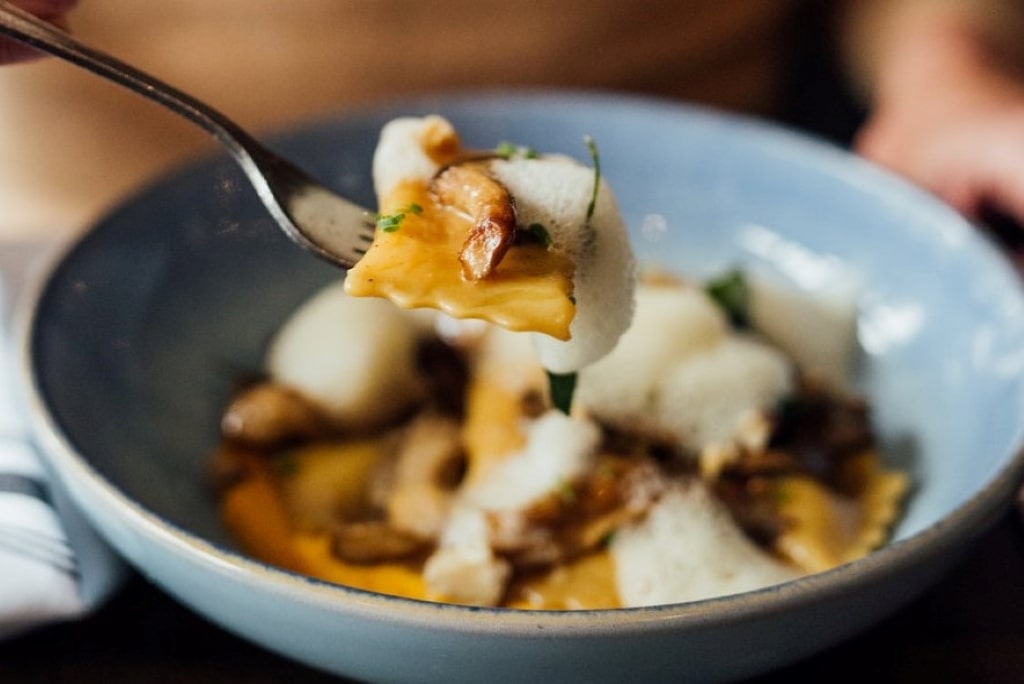 The Mont Royal Avenue institution offers a four-course menu at $110 for two: seared scallop appetizer, followed by venison tataki, braised beef cheek as a main course, and a black forest pavlova for dessert. Available for take-out from February 11th to 14th!
1453 Avenue du Mont-Royal Est
Montréal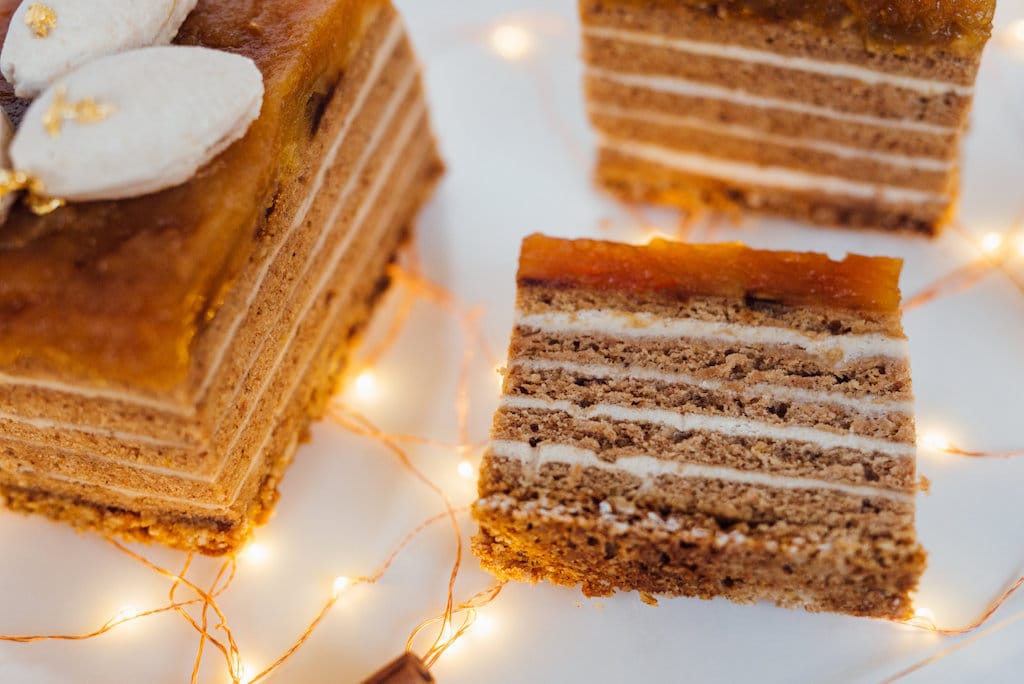 If you have already planned a meal at home, but are craving a special Valentine's Day dessert, Sachère Desserts has you covered with a cake to share for the occasion. Not to mention the many other sweet treats they have prepared for this celebration of love.
1274 Boulevard de Maisonneuve Est
Montréal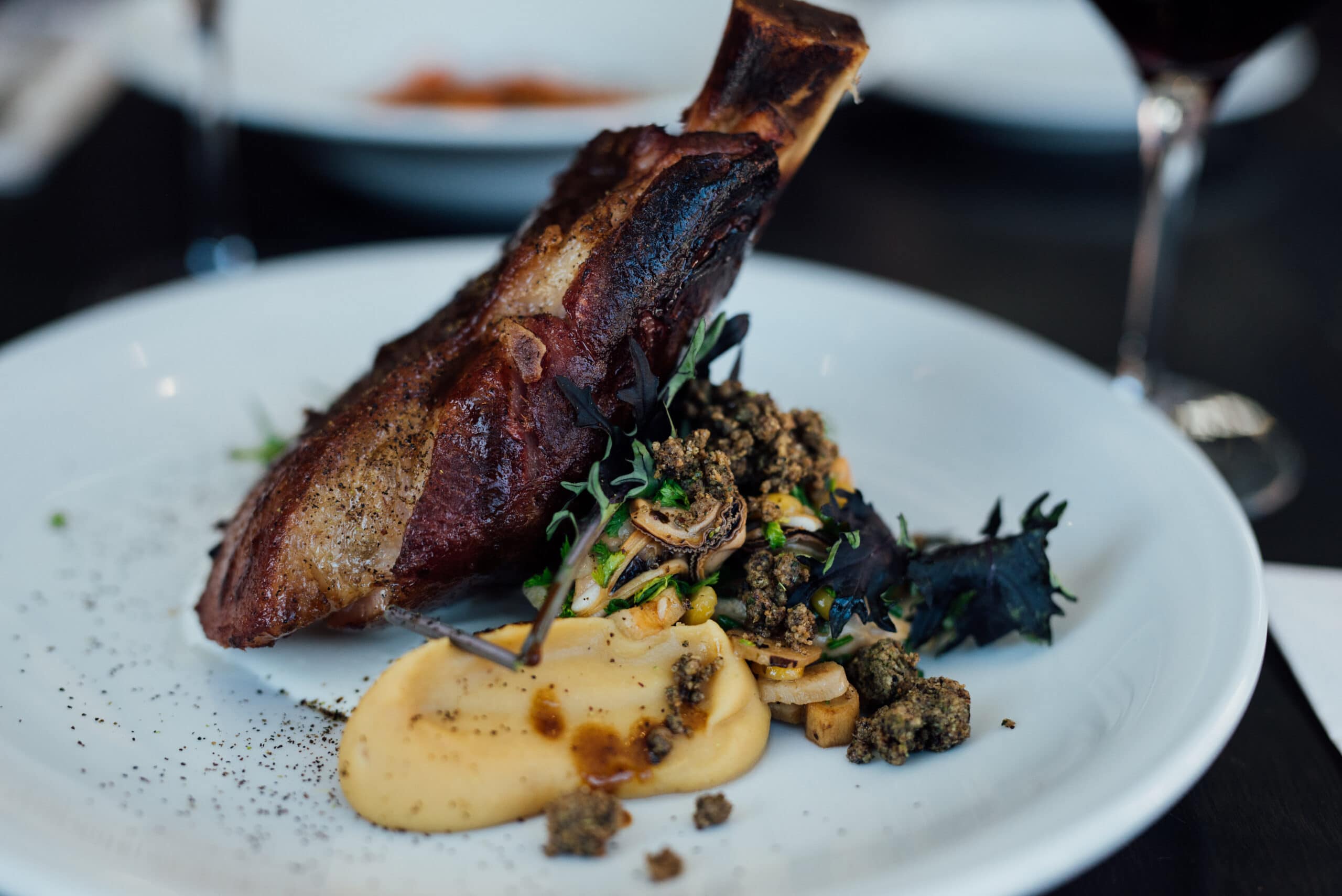 État-Major is offering a five-course Valentine's Day menu for $60 per person. The entrées are varied, and the menu has a nice balance of delights from the land and the sea. Available from February 10 to 14.
4005 Rue Ontario East
Montréal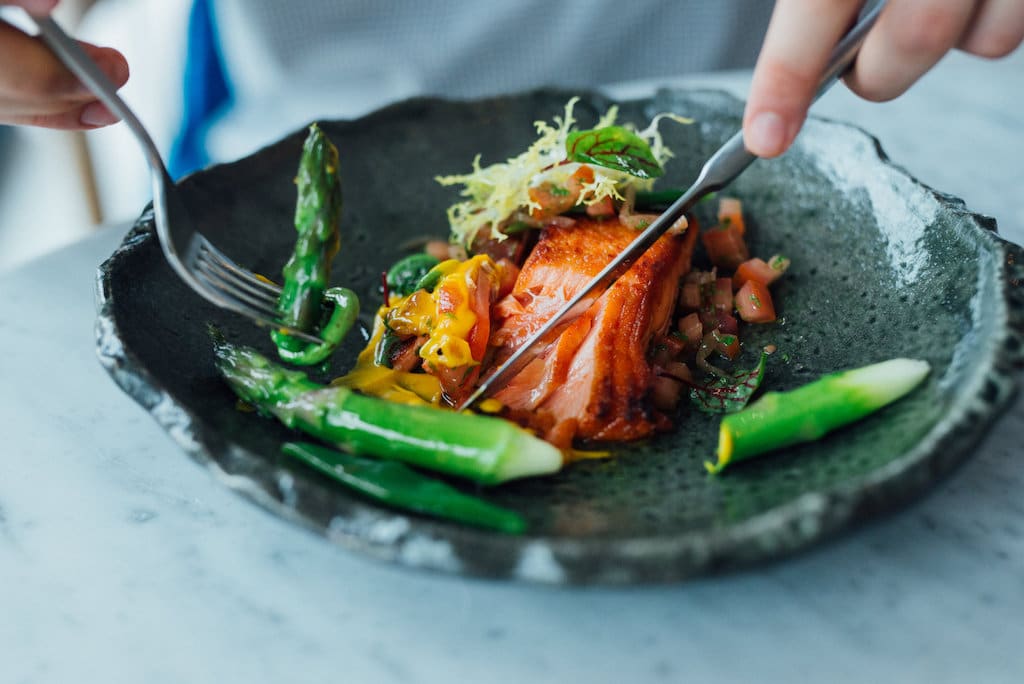 The three branches of the Bête à pain offer a meal to share at a very reasonable price: three courses at $110 for two people. For the appetizer, a chicken liver mousse; as a starter, squash ravioli; and for the main course, duck breast. Alternatively, La Bête à pain d'Ahuntsic offers the St Urbain gourmet menu in partnership with the Ahuntsic and Montreal North Foundation. This 4-course meal for two can be savoured for $110.
1969 Autoroute des Laurentides
Laval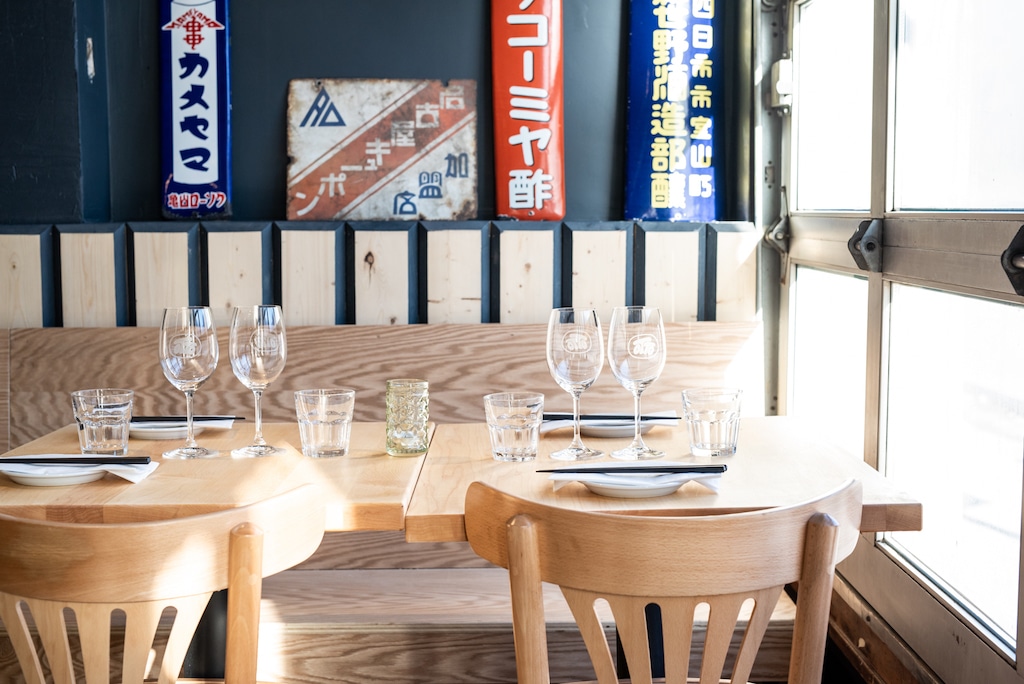 Salmon and scallop tartare, sashimi, foie gras, sushi… Bar Otto is preparing a whole special menu for Valentine's Day! As always, the dishes they've come up with are as beautiful as they are delicious. The menu is available for $85 per person.
2695 Notre-Dame Street West
Montreal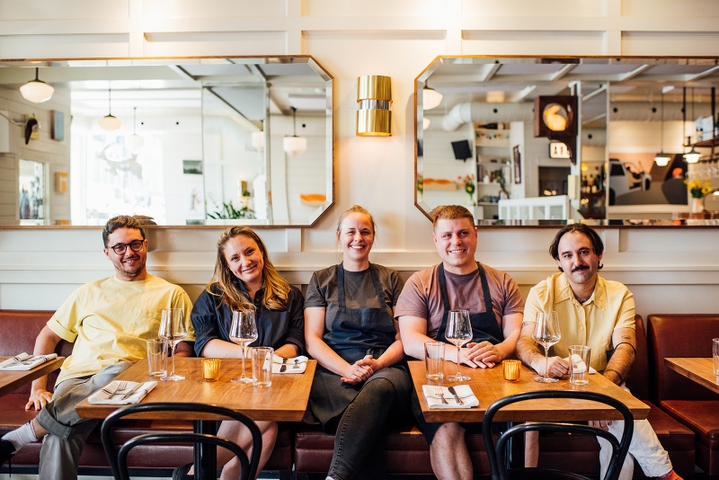 Mon Lapin has several surprises in store for a Valentine's Day at home this year. Their offering includes the famous Mon Lapin "soupe en croûte" accompanied by a good bottle of wine, and topped off with a bouquet of beautiful yellow Mimosa flowers from France. Nothing could be more romantic!
150 Rue Saint-Zotique Est
Montréal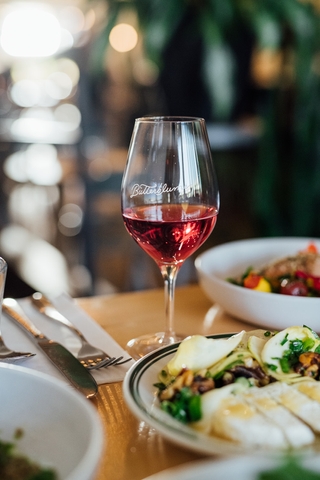 Le Butterblume suggests two Valentine's Day menus at $48 each (per person), which includes both a vegetarian and a non-vegetarian option. We love to see that the un-coupled folks were considered by offering a special menu for one; after all, everyone has the right to treat themselves! The menu is also offered at $96 for two. Note that pick-up is on February 12!
5836 Boulevard Saint-Laurent
Montréal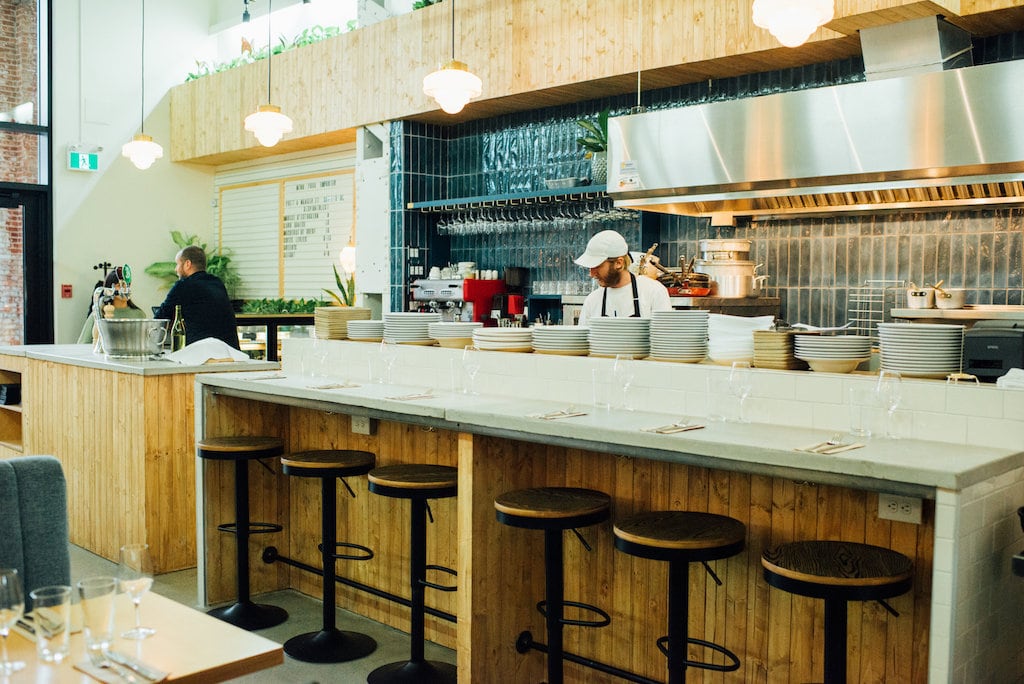 Magnolia is offering a menu for two for $130 in a four-course meal. Order pickup will be on February 11 and 12.
2600 Rue William-Tremblay#120
Montréal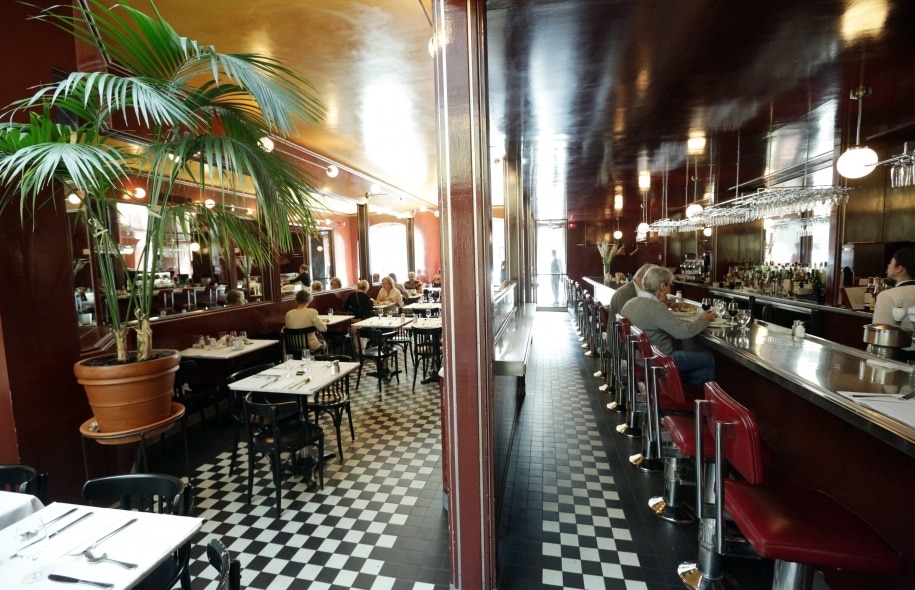 L'Express
L'Express has not prepared an all-inclusive Valentine's Day box, but rather has prepared Valentine's Day specials. You can choose the dishes you like "à la carte". For each dish, wine suggestions are listed on the menu.
3927 Rue Saint-Denis
Montréal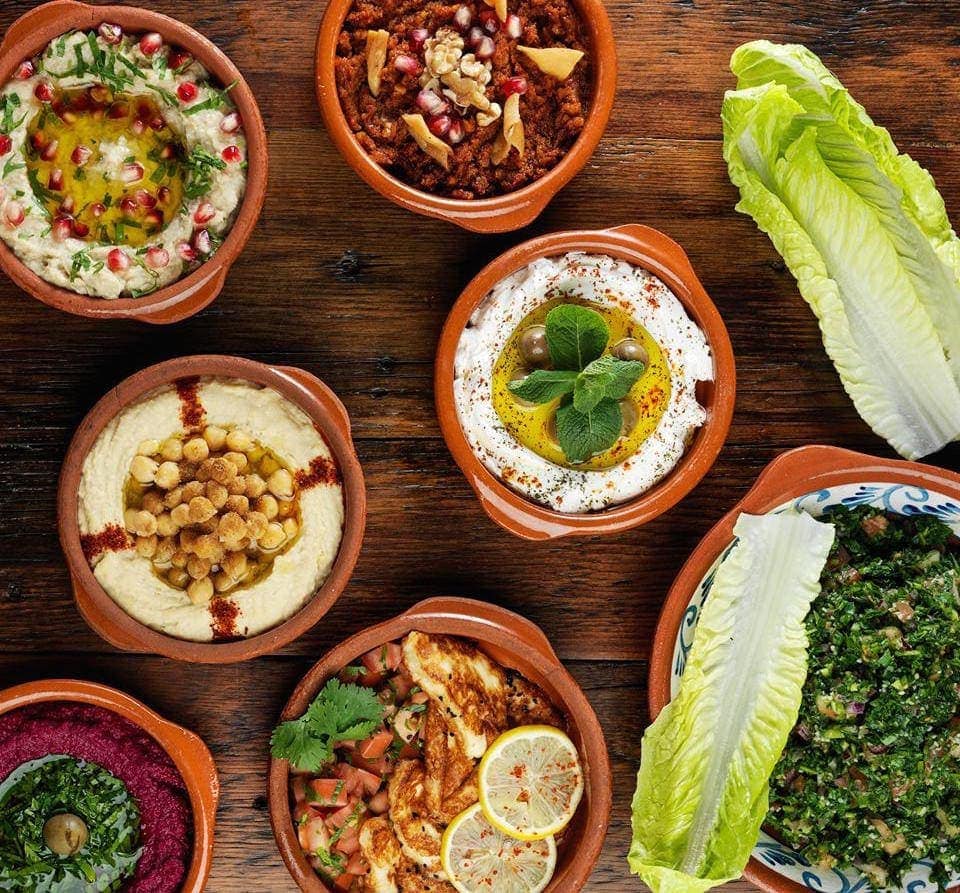 Kazamaza
KazaMaza has prepared a delicious menu with Middle Eastern flavours. For $100, you will get a fattouche, two starters, two main courses, a dessert to share, and either a bottle of wine or a bottle of olive oil.
4629 Avenue du Parc
Montréal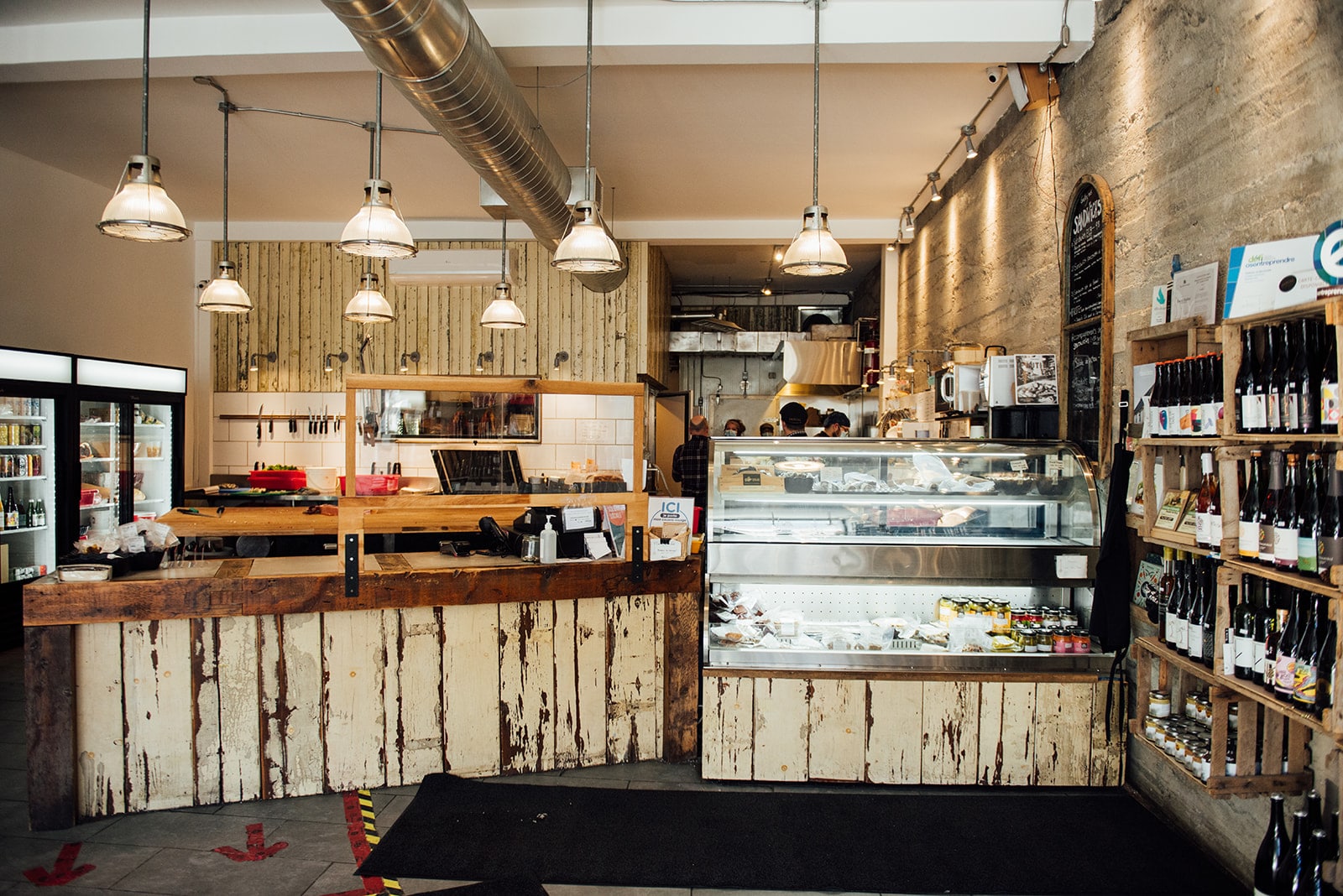 For Valentine's Day, Pascal le boucher offers a range of quality meat products to prepare a dream meal. Among the suggestions: rabbit ballotine, cheese and charcuterie platter, foie gras torchon, bacon and duck skin crumble, haskap berry jam, and more. Contact the butcher shop for more information.
8113 Rue Saint-Denis
Montréal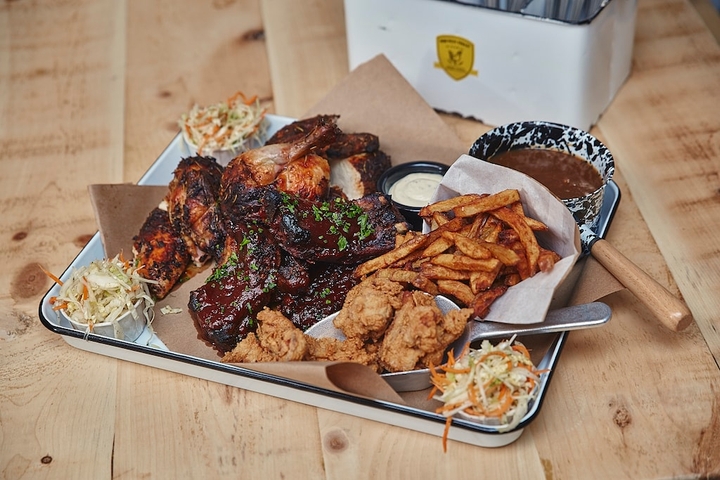 From February 10-13, the Rosemont Boulevard rotisserie is offering to add the Lovers' Combo to any menu item. This sweet and savoury combo includes two delicious homemade cookies from Nonna Gabriella Traiteur and a serving of fried chicken nuggets, served with Buffalo mayonnaise.
2343 Boulevard Rosemont
Montréal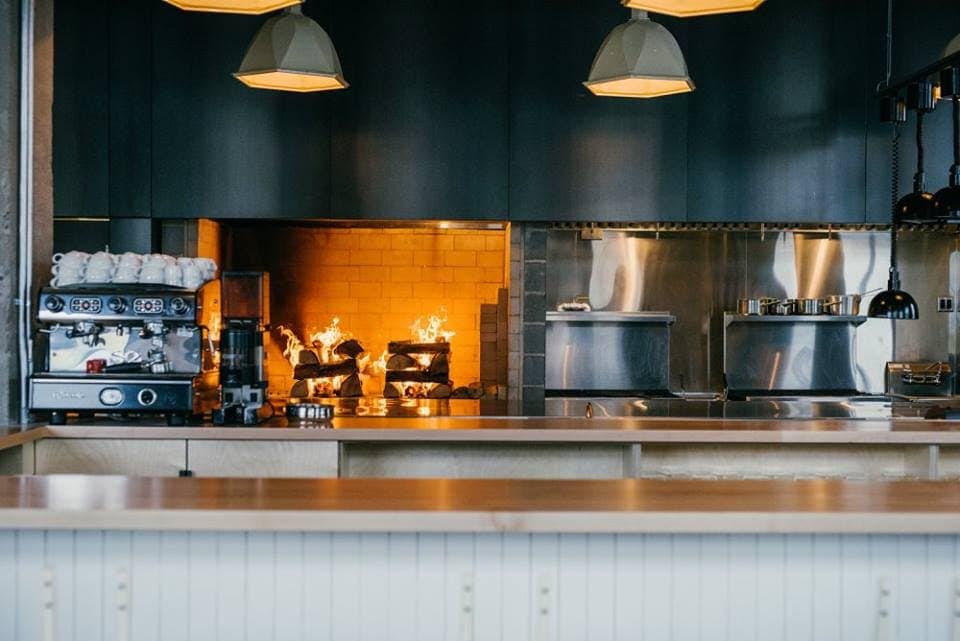 Hoogan & Beaufort has prepared a box for two that includes: wood-fired rye focaccia with whipped butter; scallop, clam, shrimp, and fennel salad with bisque vinaigrette and croutons; duck breast from La Canardière farm with beets, Blanc de Gris, and morel sauce; and finally, a cocoa Breton shortbread, with dark chocolate mousse, caramel, pear and chocolate feuilletine crumble. This succulent meal is offered for $130. To be savoured from February 10 to 14.
4095 Rue Molson
Montréal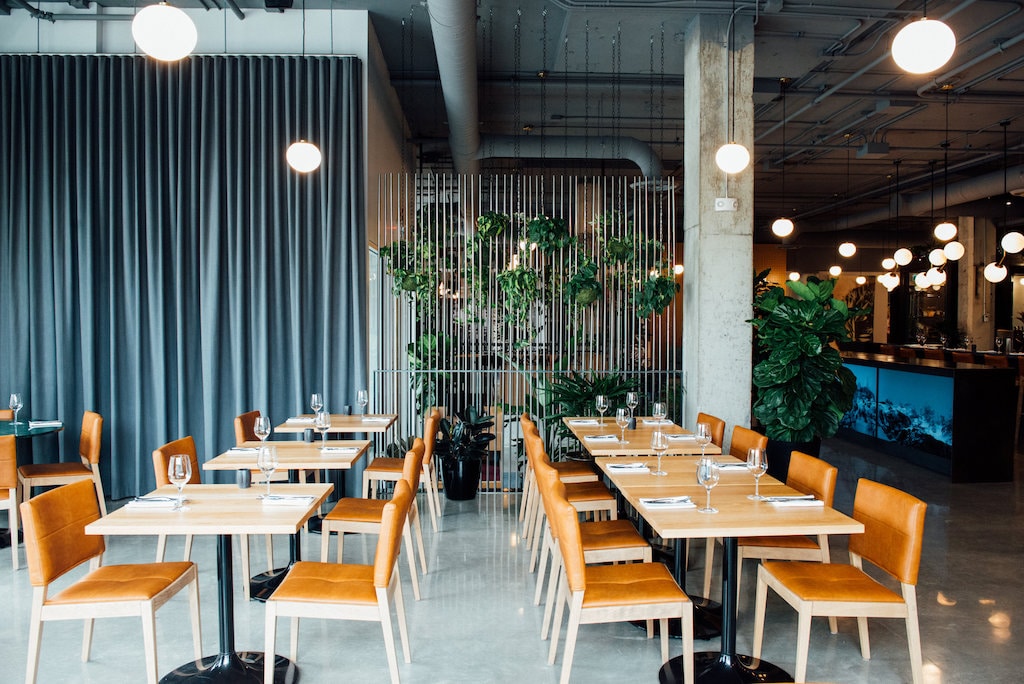 Le Beau Mont et le Comptoir-Épicerie Signé Toqué prépare un menu de Saint-Valentin pour deux, accompagné de champagne. Le menu est offert au prix de 268$ et comprend huit plats, un pain, des croûtons, deux desserts et un accord de vin en collaboration avec Claire la sommelière du restaurant Beau Mont. À commander et récupérer les 12 et 13 février.
950 Beaumont Avenue
Montreal
See on map
1142 Avenue Van Horne Montréal H2V 1J8
1479 Avenue Laurier Est Montréal H2J 1H8
1453 Avenue du Mont-Royal Est Montréal H2J 1Z1
1274 Boulevard de Maisonneuve Est Montréal H2L 2A3
4005 Rue Ontario East Montréal H1W 1S7
1969 Autoroute des Laurentides Laval H7S 2M5
2695 Notre-Dame Street West Montreal H3J 1N9
150 Rue Saint-Zotique Est Montréal H2S 1K8
5836 Boulevard Saint-Laurent Montréal H2T 1T3
2600 Rue William-Tremblay#120 Montréal H1Y 3J2
3927 Rue Saint-Denis Montréal H2W 2M4
4629 Avenue du Parc Montréal H2V 4E4
8113 Rue Saint-Denis Montréal H2P 2G7
2343 Boulevard Rosemont Montréal H2G 1T8
4095 Rue Molson Montréal H1Y 3L1
950 Beaumont Avenue Montreal H3N 1V5
Photography by Dominique Lafond