The Best Classic Breakfasts in Montreal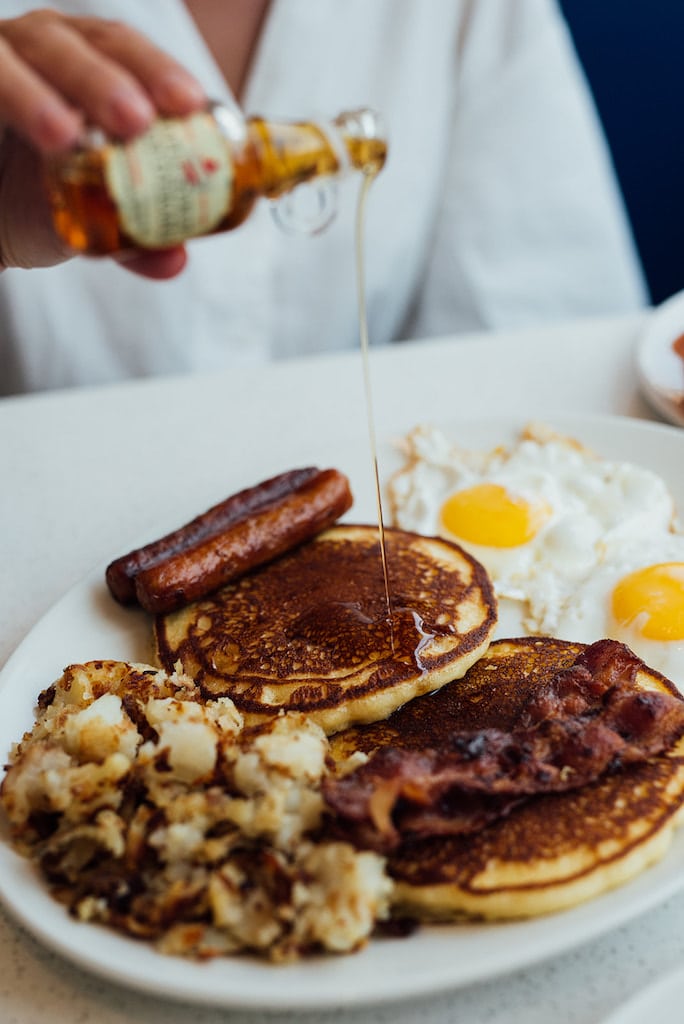 Where to go to savour one of the best classic breakfasts in Montreal
First, what is a classic breakfast? We've often told you about the best brunches in town and the best brunches 7 days a week, or where to eat a great breakfast sandwich. We've talked about the best croissants, Italian cafes and iced coffees. Basically, we've often talked about brunch, but never about the "classic". So this list is for the best classic breakfasts pure and simple, with eggs with all the sauces, bacon, sausages, breakfast potatoes to boot – and if you want to spoil yourself, an impressive side of beans. A few pieces of fruit are sometimes added for peace of mind, but that's only out of a clear conscience. The best classic breakfasts are simple, but always delicious and comforting.
Breakfast is said to be the most important meal of the day, so why not make it a worthy experience. In Quebec, we have often found ways to add a little touch of our own, which is now a popular part of the first meal of the day. Maple syrup is an easy one; after all, we have the leaf drawn on the national flag. But there's also cretons, maple ham, pea soup, baked beans in a clay pot, and the Montreal bagel, in its eternal battle against the New York bagel. All kinds of specialties worthy of the sugar shack, but just as well executed in the metropolis. All this to say that breakfast is done in every way in Montreal, and done very well!
Bon matin and bon appétit to all!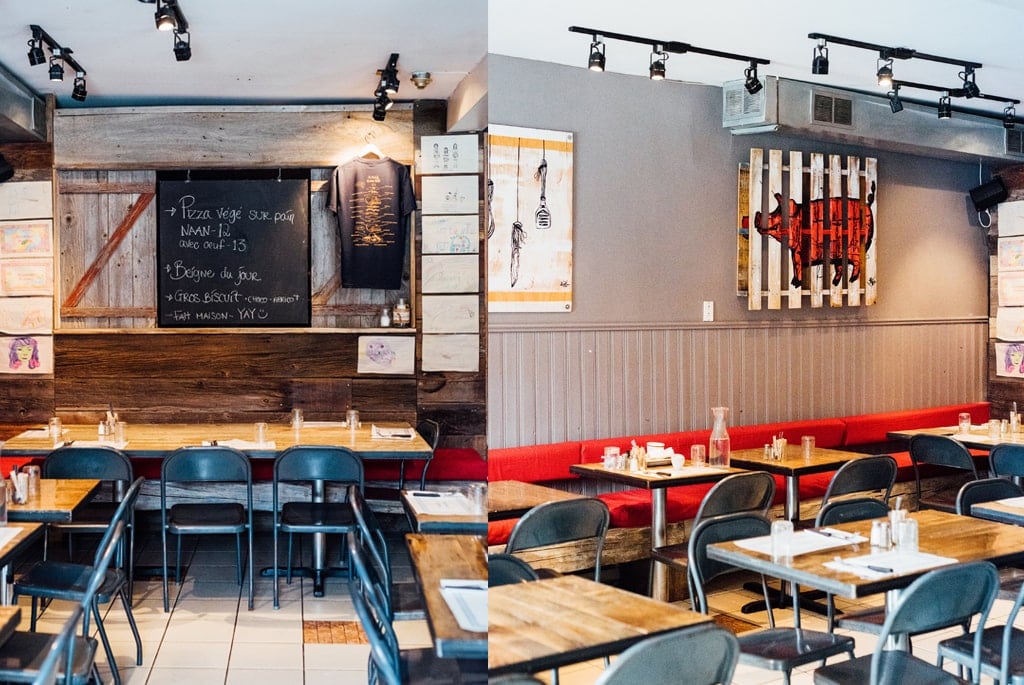 L'Entre-Pôts Masson perfectly executes the most extravagant of breakfast cravings. Like any good restaurant, L'Entre-Pôts is also there when you want a little simplicity done right. Between avocado toast, eggs Benedict and breakfast poutine, the breakfast menu, as well as their regular menu, take a more familiar approach. The total package adds to the cretons and baked beans for a touch of home. We dine in a familiar and unpretentious setting, either on the terrace or inside.
1995 Rue Masson
Montréal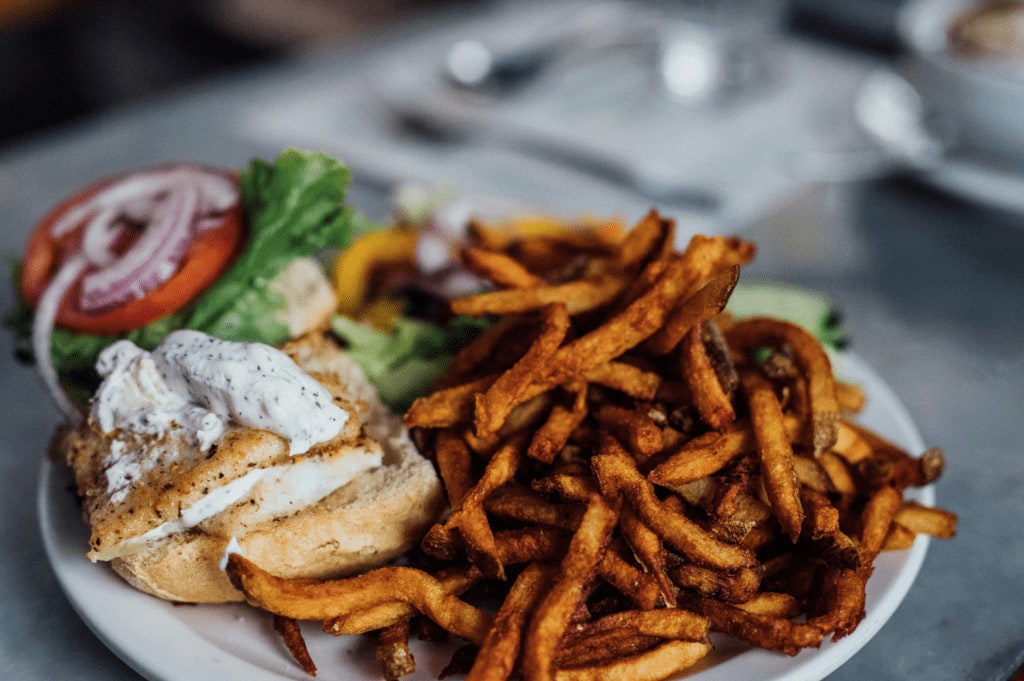 Here, the magic word is: patata. Patati Patata makes some of the best poutine in Montreal. Needless to say, the potatoes that accompany the breakfast plates of this small restaurant at the corner of Rachel Street and Saint-Laurent Boulevard are simply delicious. At one of the counters of the small restaurant, you can enjoy classic breakfasts while watching the hubbub of the Main. Patati Patata offers four breakfast options, plus a few omelettes and other vegan options. Something for everyone.
4177 Boulevard Saint-Laurent
Montréal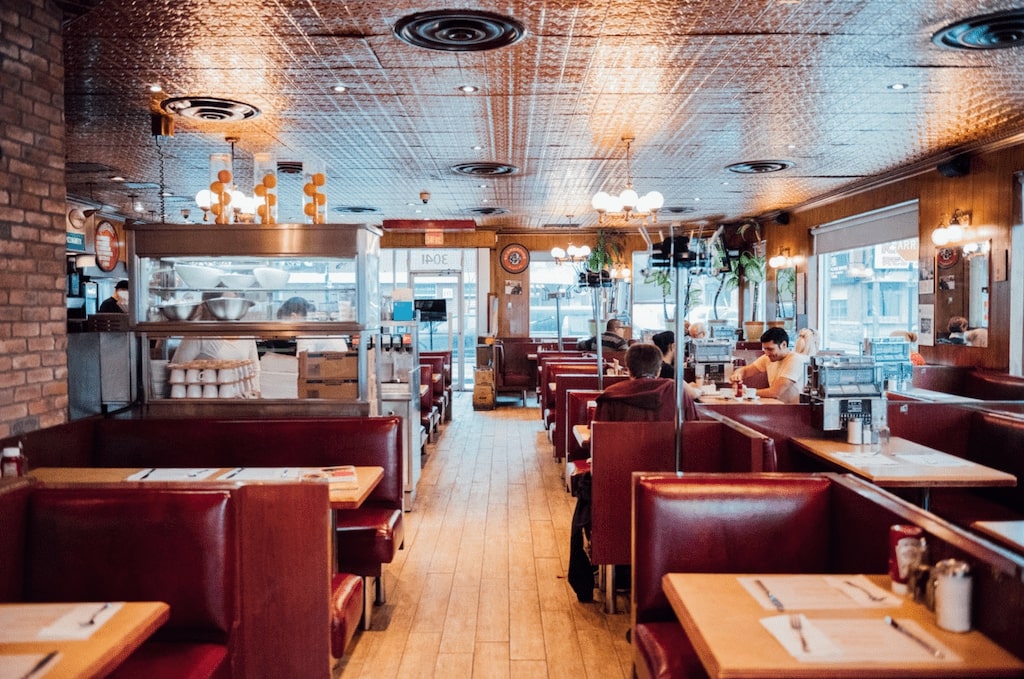 Greenspot has an undeniable charm. It serves classic dishes, with the name referring to the street where it is located rather than to its cuisine. Another historical establishment in Montreal – the place opened in 1947 – the extensive menu available to customers can be read on its walls. They specialize in hearty omelettes to start the day, filled with a variety of ingredients. You can also opt for a classic breakfast or a sweeter morning plate with French toast or pancakes – to which you can add different meat options, eggs, baked beans and more! Needless to say, we come here hungry.
3041 Rue Notre-Dame Ouest
Montréal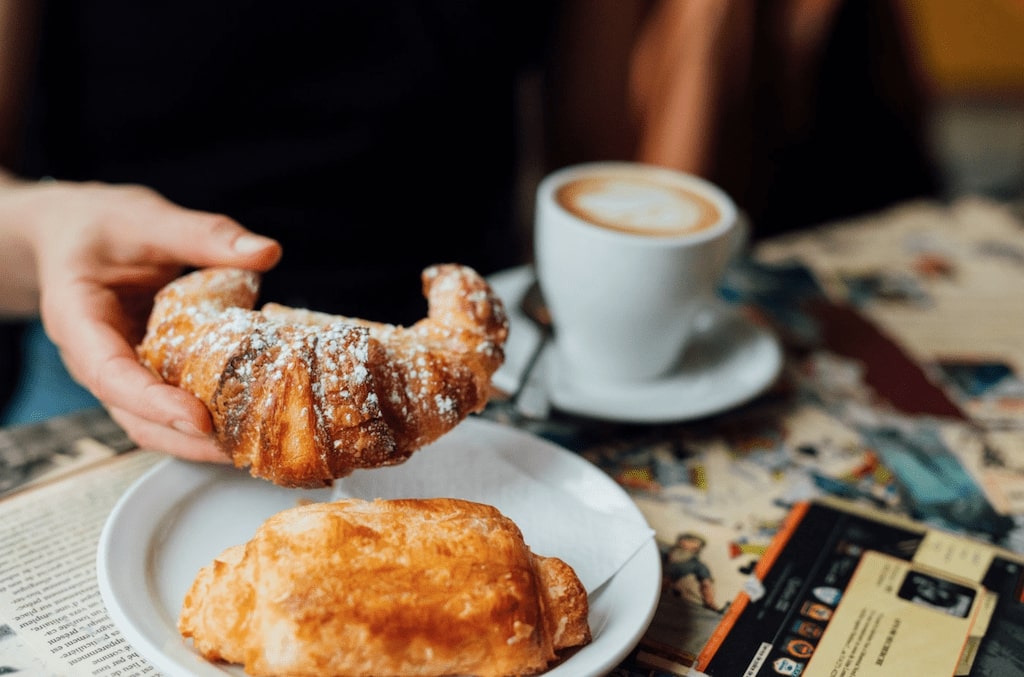 Le Paltoquet
Le Paltoquet is known above all for its pastries and viennoiseries, executed with brio in this small address on Van Horne Street. After all, you can eat one of the best croissants in town, which can serve as a light breakfast. However, the establishment is also a cafe. For those who want a classic breakfast, the Paltoquet also delivers. Two huge eggs, served with a choice of meat and a baguette, make for a good start to the day. For a sweet breakfast, try one of their delicious crepes. Either way, you won't be disappointed!
1464 Avenue Van Horne
Montréal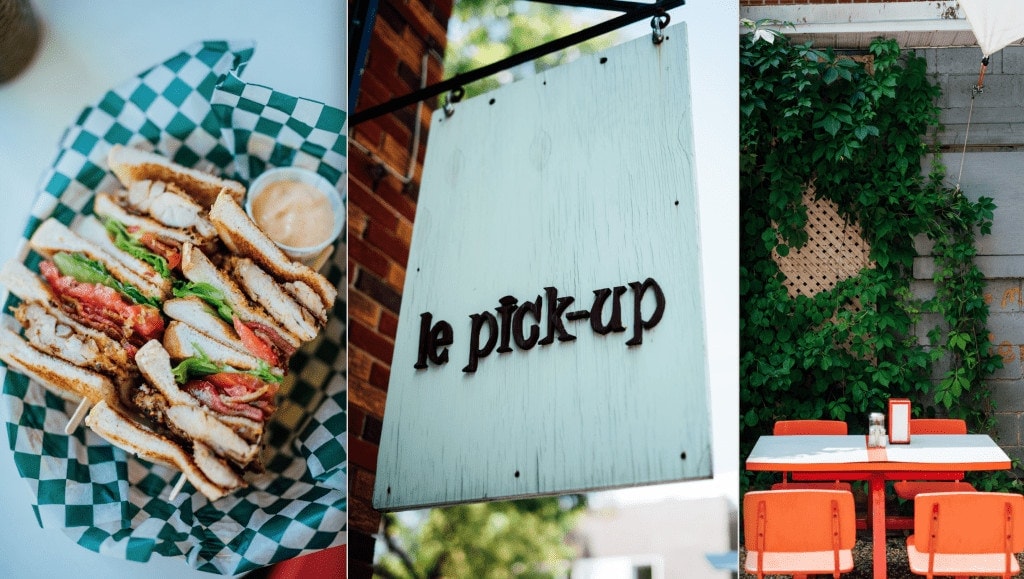 Le Dépanneur le Pick-Up is a very nice little gourmet grocery store located in Mile Ex. Since its opening, epicureans in love with simplicity have been heading to the establishment for a quick lunch, but always very appreciated. The same goes for the Pick-Up's breakfasts, which, as a bonus, are served all day long. There are a few options, including the classic breakfast plate; two eggs, bacon, potatoes and toast. Simple, no frills, but so good.
7032 Rue Waverly
Montréal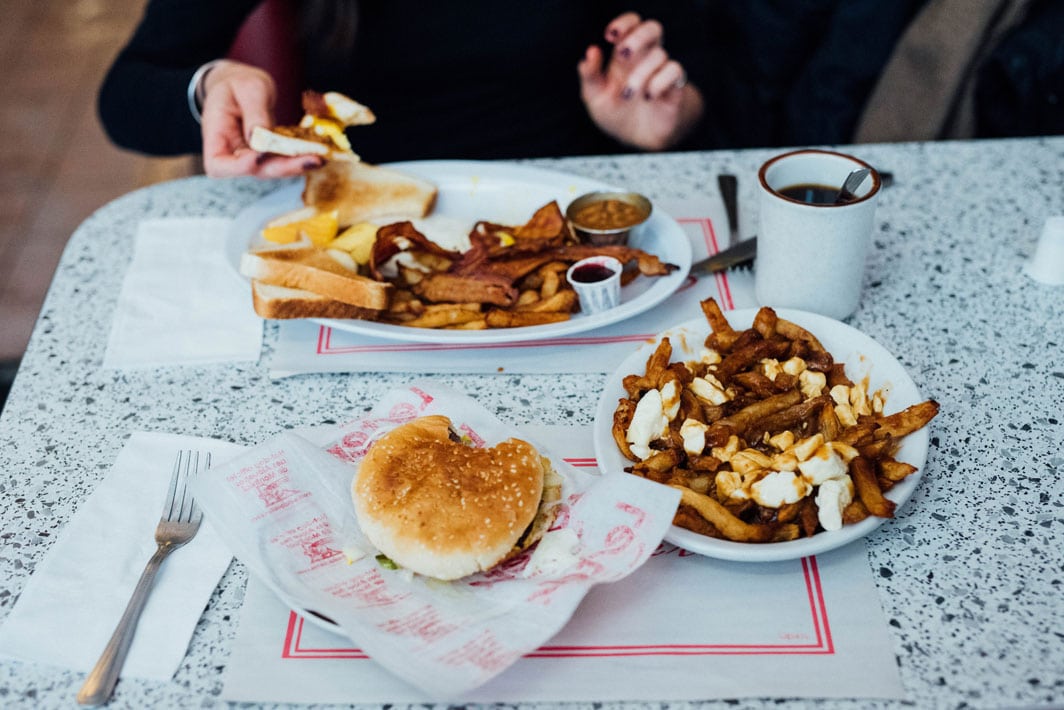 Nouveau Système is the staple diner of Beaubien Street. Halfway between a diner and a snack bar, you can savour delicious fast food classics. You'll find unpretentious classic breakfasts; foodies can combine it all with pancakes, eggs and small potatoes. Nouveau Système understands the importance of potatoes in the breakfast food mix; for maximum flavour, the traditional hash brown is replaced by fries as only the potato shacks know how.
323 Rue Beaubien Est
Montréal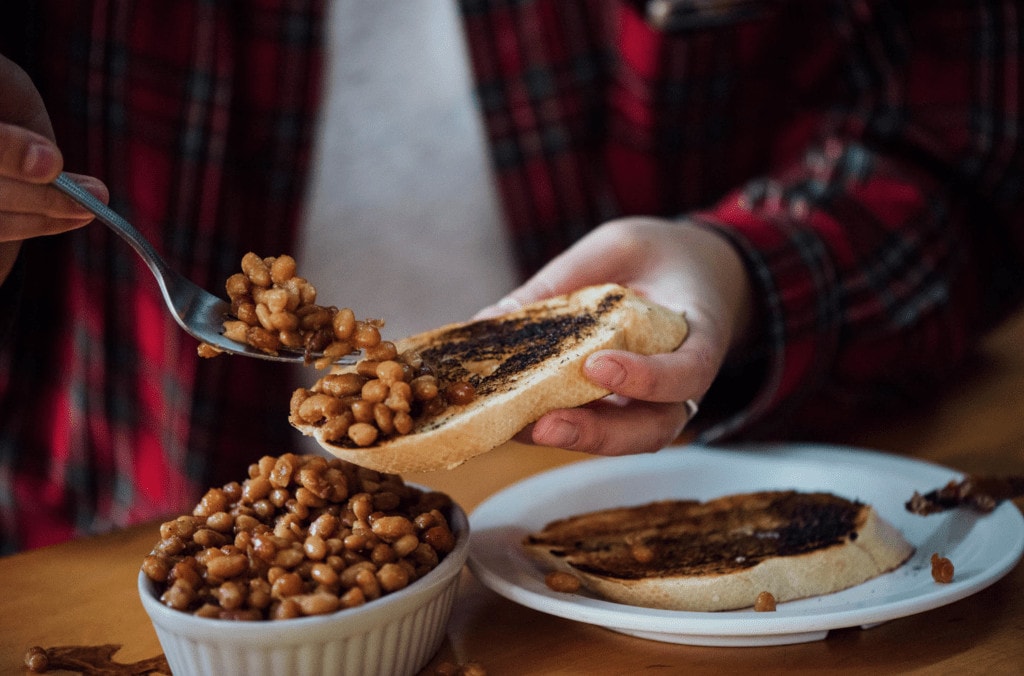 La Binerie Mont-Royal is all the culinary traditions of Quebec united in one charming, unique and historic place. Open for more than 80 years, the Binerie tells us a little piece of our history in its dishes. The breakfast specials are enough to fill you up all day long, as the plates are so generous. Classics and revisited classics, chef's choices and specials make up the establishment's breakfast menu. Accompanied by a plate of the best beans we've had in a long time, we are perfectly satisfied with this more than traditional breakfast.
4167 Rue Saint-Denis
Montréal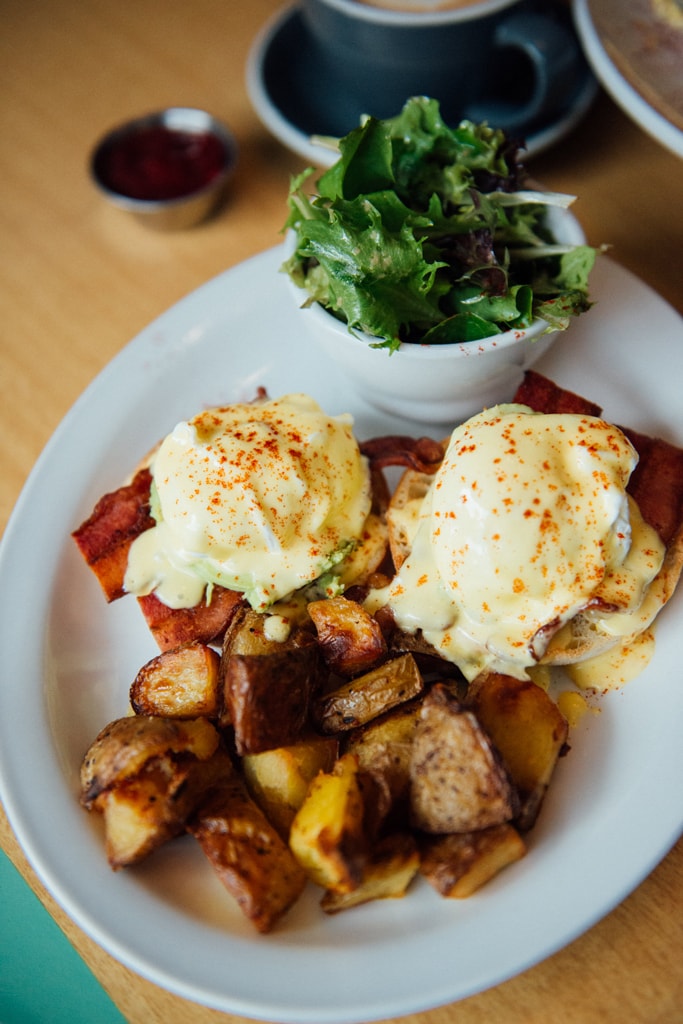 In a decor hesitating between a canteen and a charming small cafe, Vieux-Vélo makes delicious breakfasts. The small establishment offers a menu of eggs Benedict, but above all very nice breakfast plates – three to be precise. A vegan option and another with smoked salmon join the Standard; two eggs with grilled toast, small potatoes fried as we like them, beans and salad. For an additional $1.50, you can add a choice of bacon, ham or sausage. A simple plate, but well made and quite satisfying.
59 Rue Beaubien Est
Montréal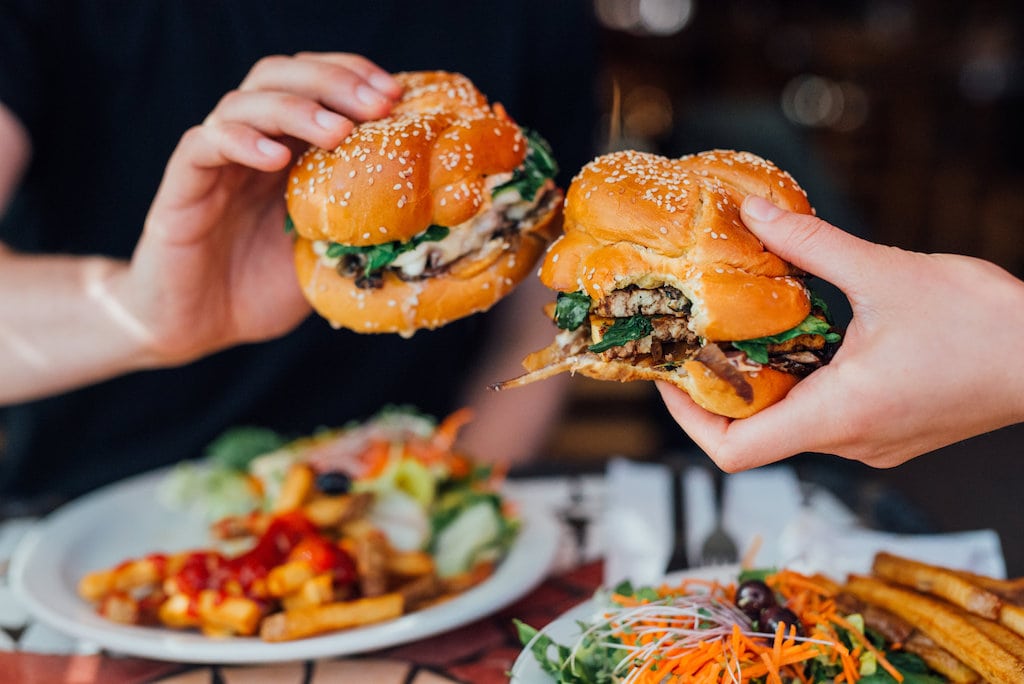 At Les Belles Sœurs, it's the burger that gets people talking at lunchtime. Drop by in the morning and you'll find that the breakfast doesn't leave much to be desired. The atmosphere here is very friendly and lends itself perfectly to laughter and lively conversation, a great way to start the day. You can choose a "lighter" option of eggs with a side dish of your choice or the aptly named "heavy" one – two eggs, bacon, sausage, creton, baked beans and pancakes with syrup, accompanied by a juice. Bon appétit! photo Les Belles sœurs
2251 Rue Marie-Anne
Montréal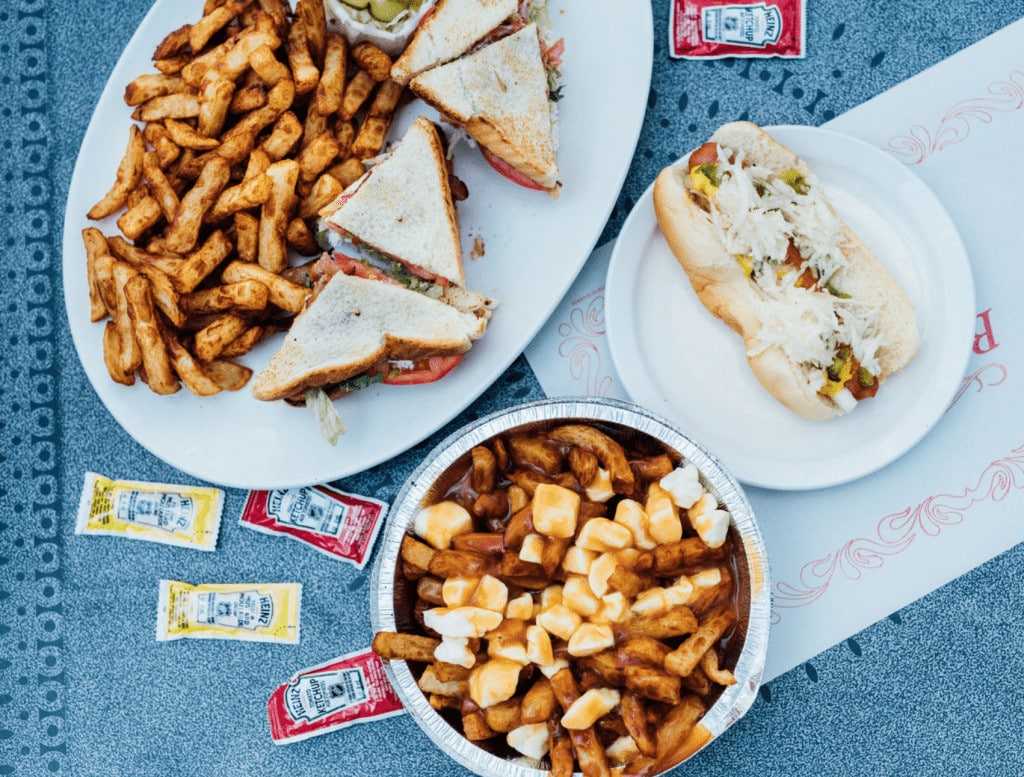 Paulo et Suzanne is a snack bar that has been serving traditional Quebec dishes since 1980. Open 24 hours a day, the place is reminiscent of the American diners of the 50's with its retro decor. To start the day, the snack bar offers good breakfast sandwiches, as well as three classic breakfasts that are particularly filling. On the menu is the Breakfast Special, consisting of two eggs, baked beans, choice of meat and potatoes, as well as various variations that allow for the addition of meat, pancakes and French toast. Paulo et Suzanne is known for serving one of the best burgers in Montreal, as well as one of the best poutines in town. An address to discover if you are in the Ahuntsic neighbourhood. Photo Paulo et Suzanne
5501 Boulevard Gouin Ouest
Montréal
Café Cherrier
A French brasserie on the corner of Cherrier and Saint-Denis, Café Cherrier has been a classic in the Plateau-Mont-Royal since 1983! The success of the place is due in large part to the timelessness of the place, which can be seen as much in the quality of the dishes as in the service. The establishment offers simple and good breakfasts, from French toast to bagels with smoked salmon. The Gourmet Plate is the classic breakfast; two eggs, two choices of meat, potatoes, baked beans, toast, fresh juice and coffee. A simple and delicious breakfast, to be enjoyed on their beautiful terrace on sunny days. Photo _alibaba__
3635 Rue Saint-Denis
Montréal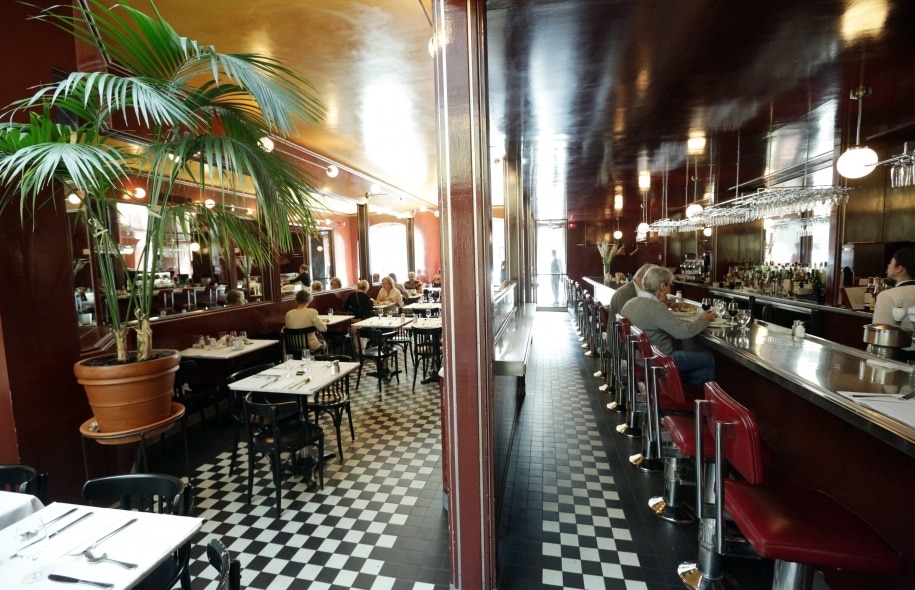 L'Express is a Montreal institution. Chef Jean-François Vachon and his team cook a very French menu, which changes rarely. We come here because the space, the service, and the food are comforting. You may not be surprised, but you will never be disappointed. For breakfast, the establishment serves French classics 7 days a week. You can enjoy croissants, brioche bread, fruit salad, eggs, homemade sausages and much more. We love this timeless restaurant on St-Denis Street.
3927 Rue Saint-Denis
Montréal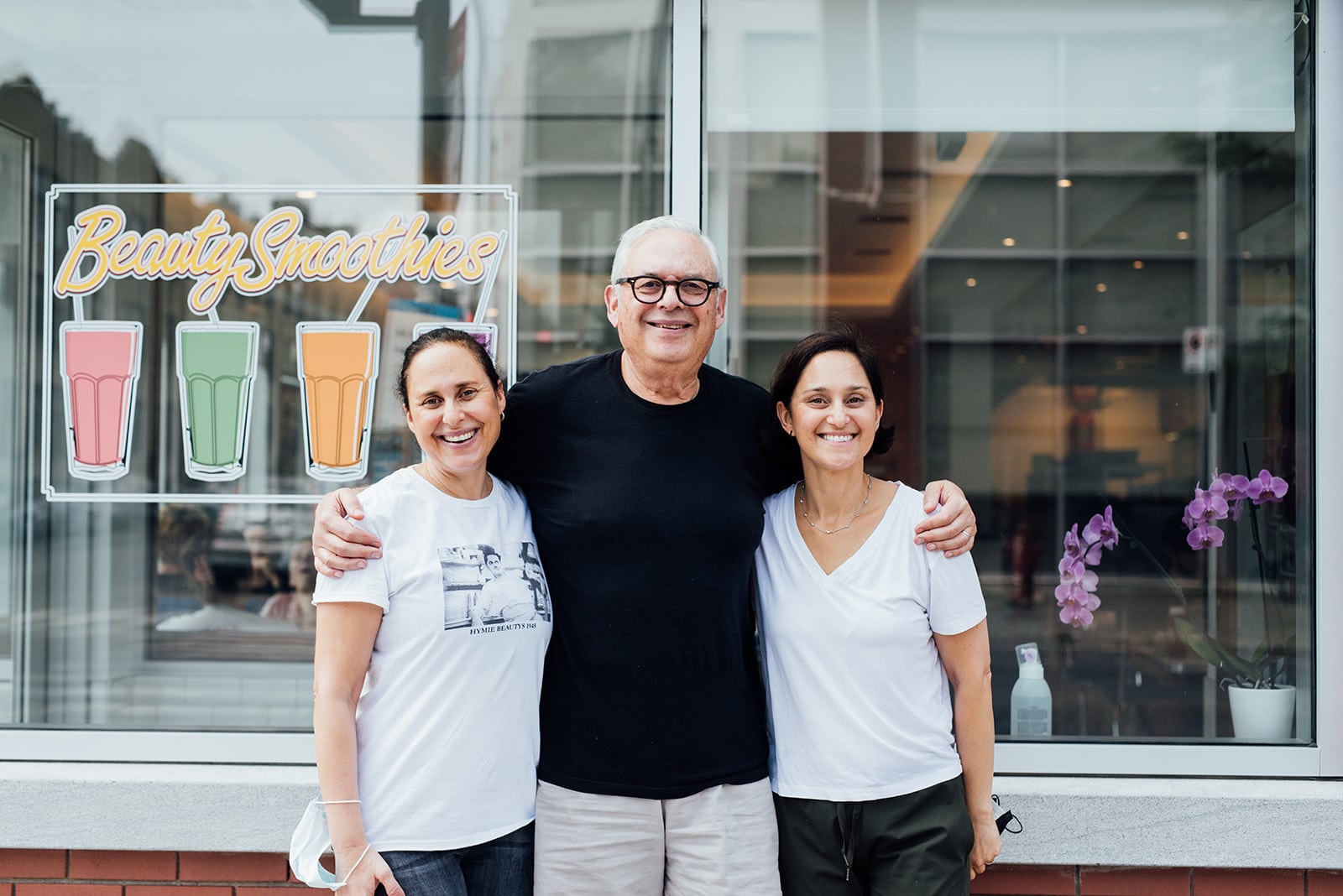 Beauty's Luncheonette is one of those establishments whose name is usually followed by the word "institution" when we talk about it. In a diner that looks like it came straight out of 1942 – the year the restaurant opened! -You savour delicious comfort food. The breakfast plates are presented as impressive omelettes, as brunches where we are entitled to the Beauty's Basic – two eggs, with fried potatoes, choice of meats: sausages, bacon, ham or salami – or next to other superb breakfasts. Add a Beauty's milkshake and you're ready for the day!
93 Avenue du Mont-Royal Ouest
Montréal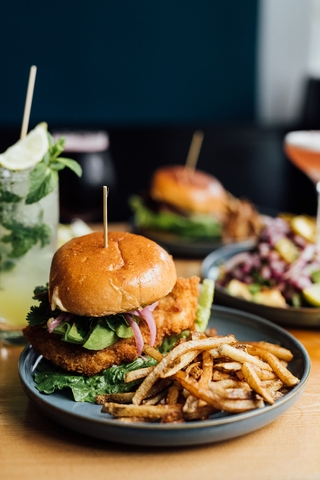 À la fois café, resto, buvette et ferme urbaine, le Café Monk est un arrêt incontournable du Sud-Ouest. Une belle raison de vous aventurer sur le boulevard Monk! De jour, on sert le même généreux menu «brunch toute la journée» qu'au Well: assiette déjeuner classique, sandwich et poutine dej, shakshouka, oeufs rancheros, grilled cheese au canard confit, etc. On a eu un petit coup de coeur pour le PB&J, un décadent sandwich au beurre d'arachide et confiture revisité avec pain doré, bananes et confiture de pêche maison.
6270 Boulevard Monk
Montréal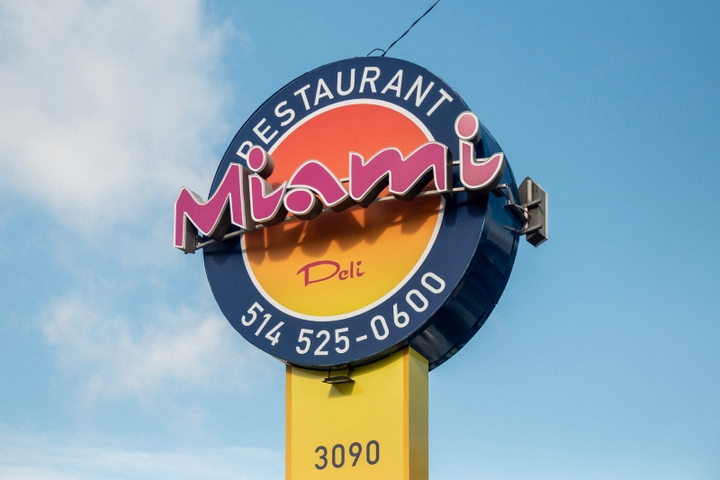 Si seulement les banquettes, les murs et les poissons du Miami Deli pouvaient parler, ils auraient des histoires à nous raconter ad vitam æternam. Que ce soit pour déjeuner, dîner, souper ou en guise de «munchies» de fin de soirée, vous serez toujours accueillis les bras ouverts et avec un beau sourire par l'équipe de l'emblématique institution montréalaise. Le Miami Deli est ouvert de jour comme de nuit. Son offre répond ainsi à toutes les demandes. Il n'est pas rare d'y voir des travailleurs croiser des fêtards à 6 heures du matin et c'est précisément ce qui fait le charme de l'institution.
3090 Rue Sherbrooke Est
Montréal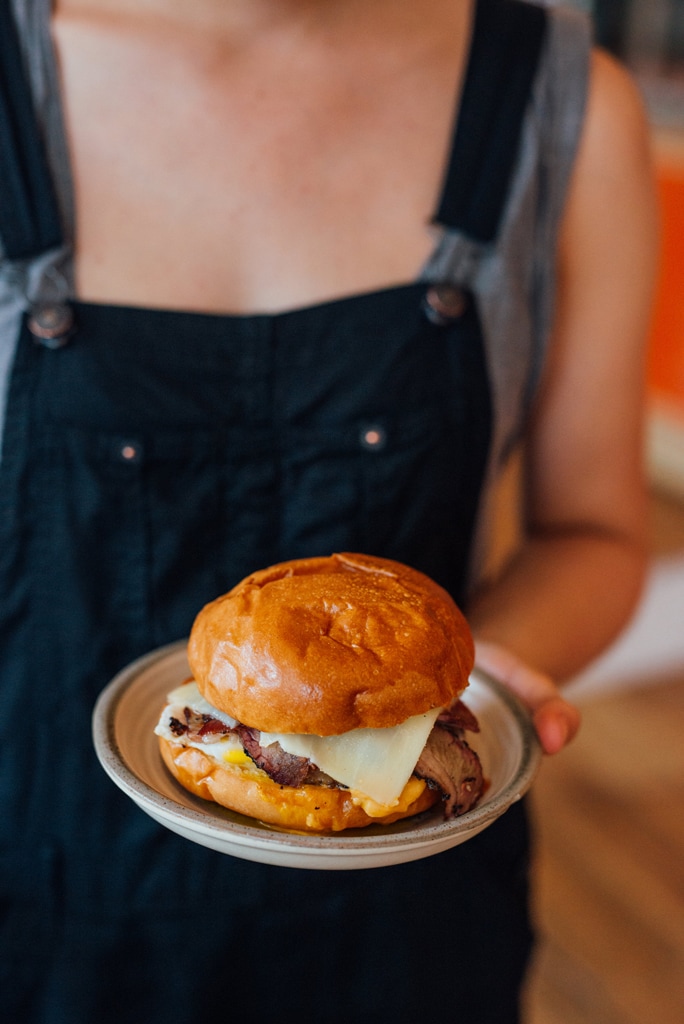 Helico est un charmant petit café qui a ouvert ses portes le 7 mai 2018 dans le quartier Hochelaga. L'adresse vaut absolument le détour et mérite qu'on s'arrête quelques minutes pour y savourer des petits délices de toutes sortes ! On le compte d'ailleurs dans nos meilleurs cafés où bien manger ! Effectivement, le Helico propose un court menu de plats simples, savoureux et frais. Les assiettes suivent les aliments disponibles et les produits du marché : on y trouve un des meilleurs sandwichs déjeuner en ville, quelques salades rafraîchissantes, soupes froides et autres très bons plats!
2009 Avenue de la Salle
Montréal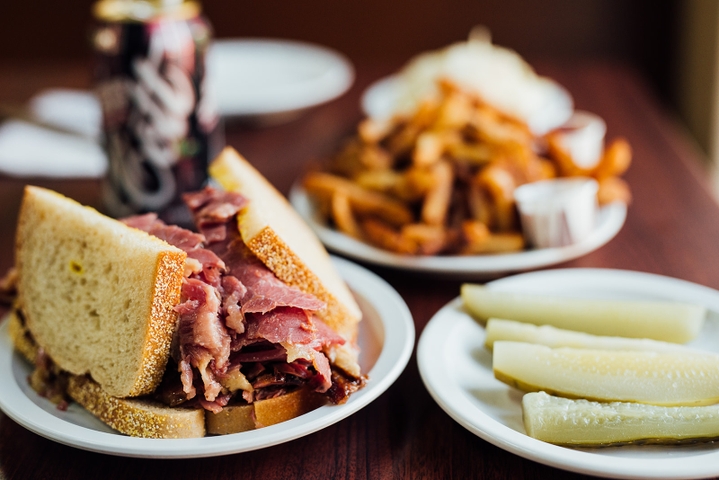 Le Lester's Deli a ouvert ses portes en 1951 (!) sur la rue Bernard à Outremont. C'est fraichement immigré de Pologne que le père de l'actuel propriétaire a décidé d'ouvrir, en plein quartier juif de Montréal, un restaurant de smoked meat servant des déjeuners copieux.
1057 Avenue Bernard
Montréal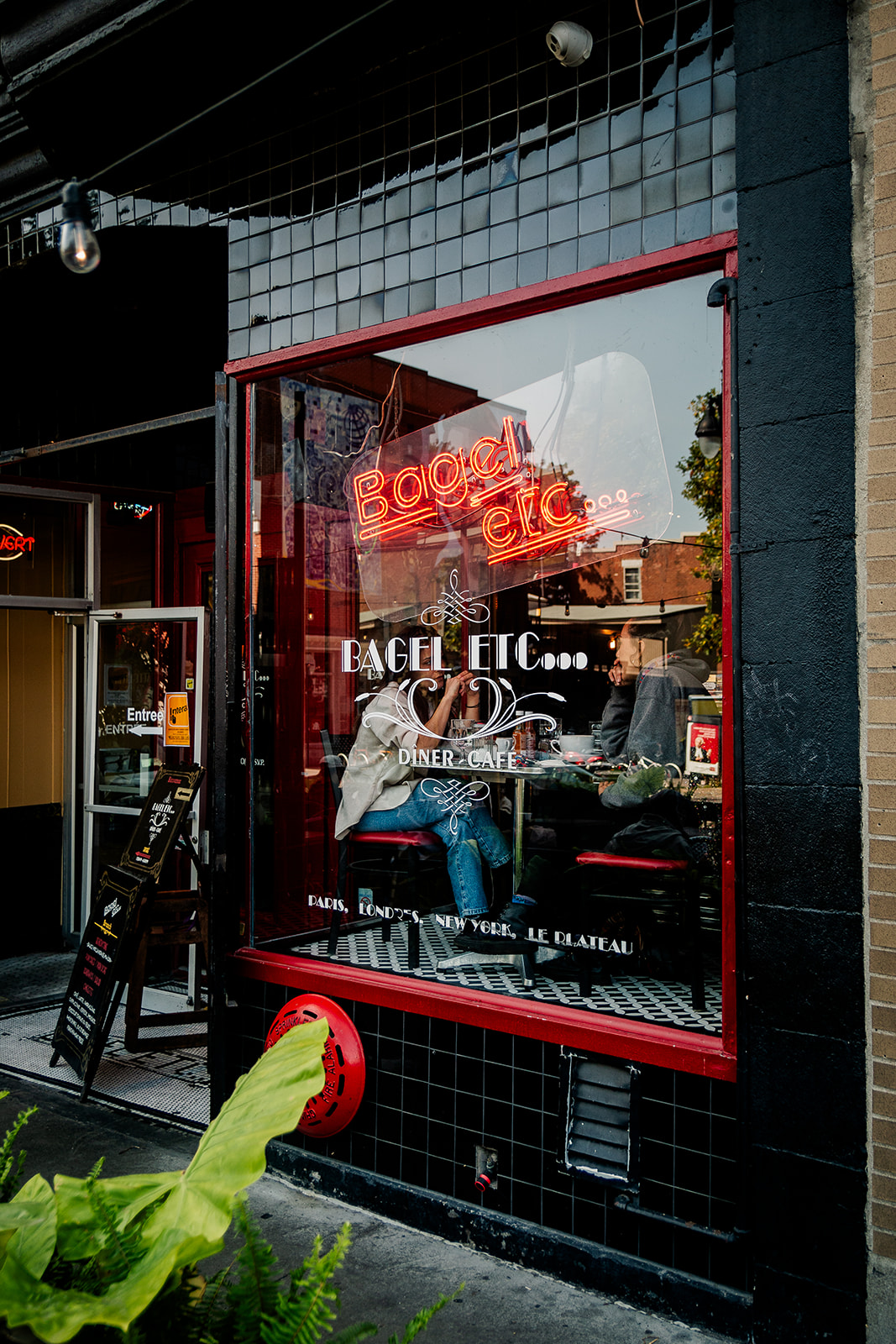 Bagel Etc
Ouvert depuis des décennies sur le boulevard Saint-Laurent, Bagel Ect propose un menu déjeuner autour du bagel. Léonard Cohen était, d'ailleurs, un régulier de la place. Le service est plus que sympathique dans une atmosphère tout à fait charmante.
4320 Boulevard Saint-Laurent
Montréal
See on map
1995 Rue Masson Montréal H2H 1A5
4177 Boulevard Saint-Laurent Montréal H2W 1Y7
3041 Rue Notre-Dame Ouest Montréal H4C 1N9
1464 Avenue Van Horne Montréal H2V 1L2
7032 Rue Waverly Montréal H2S 3J2
323 Rue Beaubien Est Montréal H2S 1R9
4167 Rue Saint-Denis Montréal H2W 2M7
59 Rue Beaubien Est Montréal H2S 1R1
2251 Rue Marie-Anne Montréal H2H 1N4
5501 Boulevard Gouin Ouest Montréal H4J 1C8
3635 Rue Saint-Denis Montréal H2X 3L6
3927 Rue Saint-Denis Montréal H2W 2M4
93 Avenue du Mont-Royal Ouest Montréal H2T 2S5
6270 Boulevard Monk Montréal H4E 3H7
3090 Rue Sherbrooke Est Montréal H1W 1B5
2009 Avenue de la Salle Montréal H1V 2K6
1057 Avenue Bernard Montréal H2V 1V1
4320 Boulevard Saint-Laurent Montréal H2W 1Z3