Travelling in Montreal: International cuisine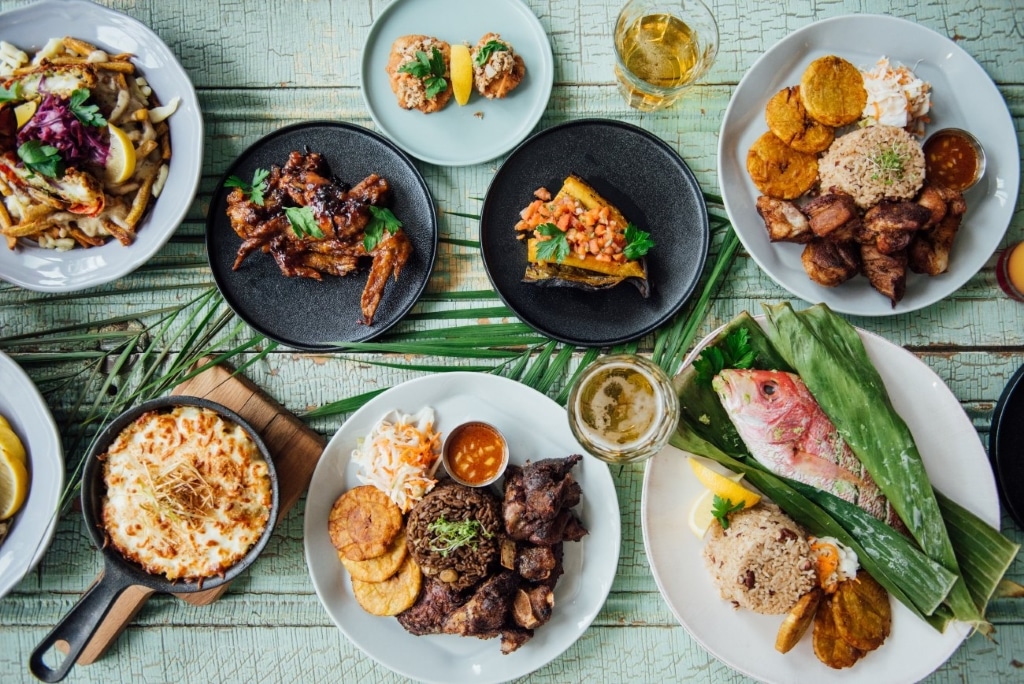 The great cultural diversity we are fortunate to enjoy in Montreal is reflected in the culinary scene; different types of cuisine from all over the world, some familiar and some more intriguing. Nothing beats the moment when you discover a delicious dish you never knew existed. Most of the time, our best discoveries are made outside our comfort zone and in the case of food, outside our borders.
We are always amazed to see the spectacular and authentic cuisine that is hidden all over the island. We encourage you to venture out and try places where the chefs prepare traditional dishes from countries that are physically unreachable at the moment. Expand your horizons; your taste buds will thank you!
English restaurants: British food is not just about the famous Sunday roast. English cuisine is inspired by its European neighbours to offer delicious comfort food that is exported overseas to introduce us to new flavours.
Spanish restaurants: Each region in Spain has its own specialties: from cities near the sea to those in the mountains, the cuisine is very varied. Tapas (small dishes to share) and paella (Spanish specialty made with rice) remain the most popular in Spain and just as much outside the country.
French restaurants: We never tire of French cuisine because it is simple, tasty and consistent. In addition, the decor, service and atmosphere of the establishments transport us elsewhere every time.
Greek Restaurants: The Greek community has greatly influenced Montreal's gastronomy since the arrival of the first immigrants to Montreal.  Greek salads, fried zucchini, octopus, grilled fish, and lamb chops are some of the specialties we love so much. 
Indian restaurants: With its large population density, it is not surprising that each region of this great country has its own specialties and its own traditional cuisine. Indeed, Indian cuisine varies according to the region, but also according to culinary traditions, religious beliefs and cultural communities.
Italian restaurants:  With its superb climate, this country abounds in varied, fresh and delicious products that Italian cuisine knows how to highlight so well. Traditional Italian cuisine perfectly combines these three elements: freshness, simplicity and quality of the products. 
Japanese restaurants: Japanese cuisine is one of our favourites. We love the delicacy of its preparation, its finesse and its simplicity. Rice is at the center of this gastronomic culture; sometimes eaten with vegetables, sometimes with meat or often with fish.
Portuguese restaurants: In Montreal, the Portuguese community has had a great influence on the face of the city's gastronomy. There are many delicious Portuguese restaurants that share their rich culinary heritage. Portuguese cuisine uses many seafood products such as cod and sardines, many spices, vegetables, olive oil and wine.
Lebanese restaurants: Internationally recognized, Lebanese cuisine is as rich in flavours, colours and fresh products as it is in traditions. It is a very varied cuisine rich in products of the earth and the sea. Whole grains, fresh fruits, fresh vegetables, fish and seafood, poultry, red meats, garlic, olive oil, lemon – the list of preferred ingredients in Lebanese cuisine is very long.
Korean Restaurants: Korea is known for its variety of dishes with unique flavours as well as the quality of its cuisine. Common ingredients in this cuisine include rice, chili, sesame, garlic and vegetables. We particularly like the conviviality of this cuisine, the dishes and side dishes being very well suited to sharing.
Thai restaurants: Thailand offers a colourful cuisine, as unique as it is delicious. Thai people specialize in street food that is eaten on the go. Light, tasty and spicy dishes with flavours of curry, mint and lemongrass and lots of rice vermicelli. Pad Thai, a dish of noodles sautéed in a tamarind and lime-based sauce, remains the undisputed poster child of Thai gastronomy.
Haitian restaurants : The Haitian community and its vibrant culture actively contribute to Montreal's excellent reputation in gastronomy. Jerk chicken, griot and djon djon rice are among the Haitian specialties.
Caribbean restaurants: While the traditional Quebec winter has us looking for a little warmth, the rich flavours and spices of Caribbean cuisine are ideal. The great cultural diversity of the Caribbean countries is reflected in what we call Caribbean cuisine, with its unique flavours and spices.
Middle Eastern restaurants: The Middle East is one of the richest cultural regions of the world and offers delicious and original cuisine. Israeli falafels, Turkish keftas, Syrian lahmacuns, Armenian lahmadjoune, we find in this rich cuisine a great variety of dishes and recipes that vary according to the country.
Vietnamese Restaurants:  Beyond phở or bánh mì, there is a whole gastronomic universe based on traditions and ingredients found in Vietnam.