The best English restaurants in Montreal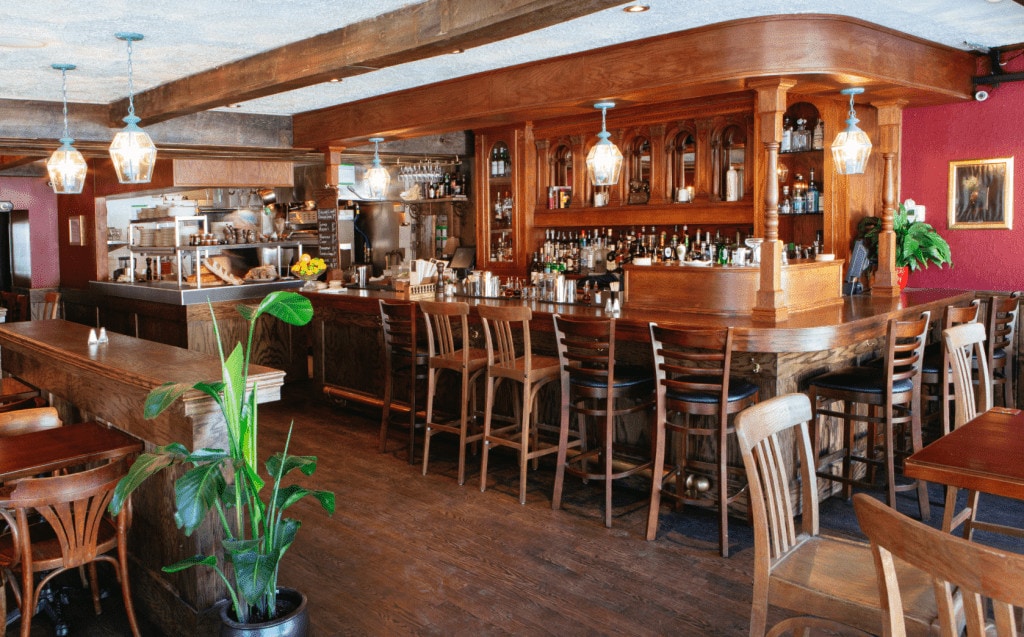 The best English restaurants in Montreal
Tastet is gourmet. We love cuisines from all over the world, and today we're taking you on a trip to some of the most exotic yet closest to us: English restaurants. Contrary to the myth of the Englishman who eats poorly, we find that he eats quite well. Yes, gastronomy is an ancestral art in England, even if the dishes that are considered to be the classics of the cuisine are not always among the most often tasted dishes in this country. We've already shared with you our selection of the best fish n' chips in Montreal; today we're talking about restaurants where you can enjoy delicious English cuisine prepared according to the rules of the art.
We put aside the stereotypes and tell you about the typical delights of English gastronomy. British gastronomy is not only limited to the famous Sunday roast. English cuisine is inspired by its European neighbours to offer delicious comfort food that is exported overseas to help us discover new flavours. In fact, it was celebrity chef Jamie Oliver who said, "I often compare the English to thieving magpies because, throughout their history, they've brought home sublime flavours that they've adapted to suit the flavour of their country." We say yes to Jamie!
While these addresses may be English, they'll speak to you very well in French. Long live the English Francophile! And if you want to continue your discovery of European gastronomy, check out our list of the best French restaurants and the best Spanish restaurants in Montreal.
This is not an exhaustive list of all the English restaurants in Montreal, but our list of favourite places to go!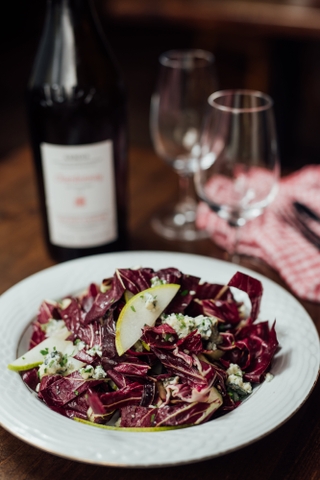 Located in the heart of the Plateau Mont-Royal, Maison Publique is one of our favourite restaurants. Our opinion is obviously shared by the public since the establishment is full every night of the week as well as every weekend. And for good reason! The menu offers delicious and generous dishes typical of English "gastropubs" that we never get tired of. The menu changes regularly and features quality products to offer customers the best and most delicious of British comfort food. Do note that Maison Publique offers one of the best brunches in Montreal, making this address worth a visit at all times.
4720 Rue Marquette
Montréal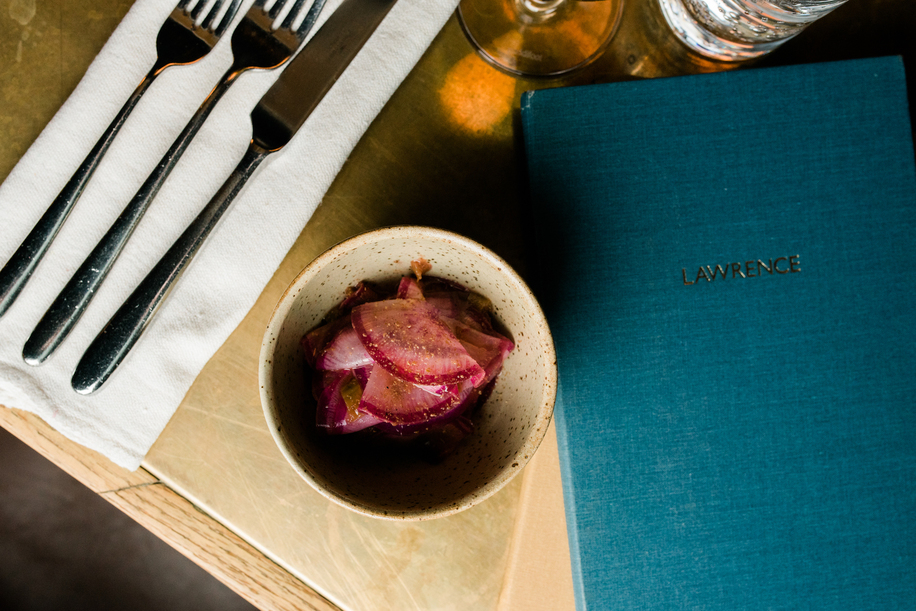 If you've never been to the Lawrence before, we highly recommend it. The restaurant offers an English dining experience in a chic, modern space. Much of the restaurant's strength lies in the consistent high quality of the products used in every plate, and the combinations are original and unique. Lawrence was one of the first English restaurants in Montreal to use local and organic products; the traceability of their produce, meat and fish is very important to the house, yielding a level of quality and care that is clearly noticed and appreciated!
9 Avenue Fairmount Est
Montréal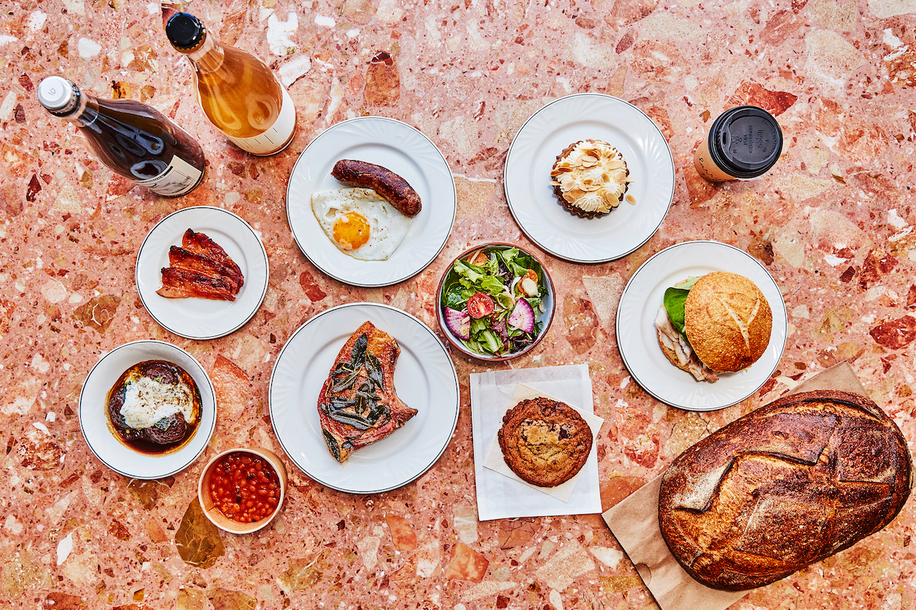 Think of Larry's as a European cafe; a place open all day, seven days a week, where you can come for coffee and a bite, breakfast, lunch or dinner. The menu is made up entirely of small bites: terrines, charcuterie, soups, salads, homemade bread, inventive veggie-forward plates, fries, tartares, ceviche, chicken, pork chops and more. Everything is prepared with delicacy and a lot of flavour; very, very good for prices that remain reasonable! They also make one of our favourite breakfast sandwiches, prepared with their delicious homemade buns. We love the charm of Larry's, an ideal place to relax and indulge for a few hours around delicious small plates and good wines in the Mile End.
5201 Boulevard Saint-Laurent
Montréal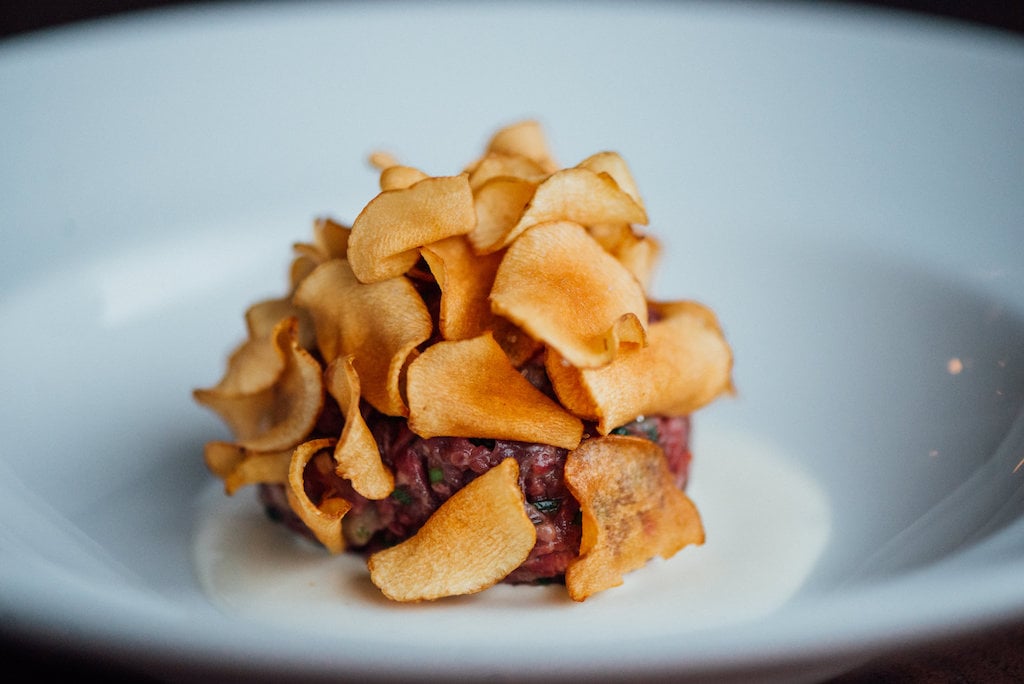 Restaurant Tuck Shop
Tuck Shop packs a lot of love and surprises into a small place. Indeed, what makes the place so special is the diversity of the dishes served there; the menu changes every day and is posted on Twitter at 3pm. There are about ten appetizers (or preliminary amusements), half a dozen main courses, a platter of Quebecois cheeses and two or three desserts.
4662 Notre-Dame Street West
Montreal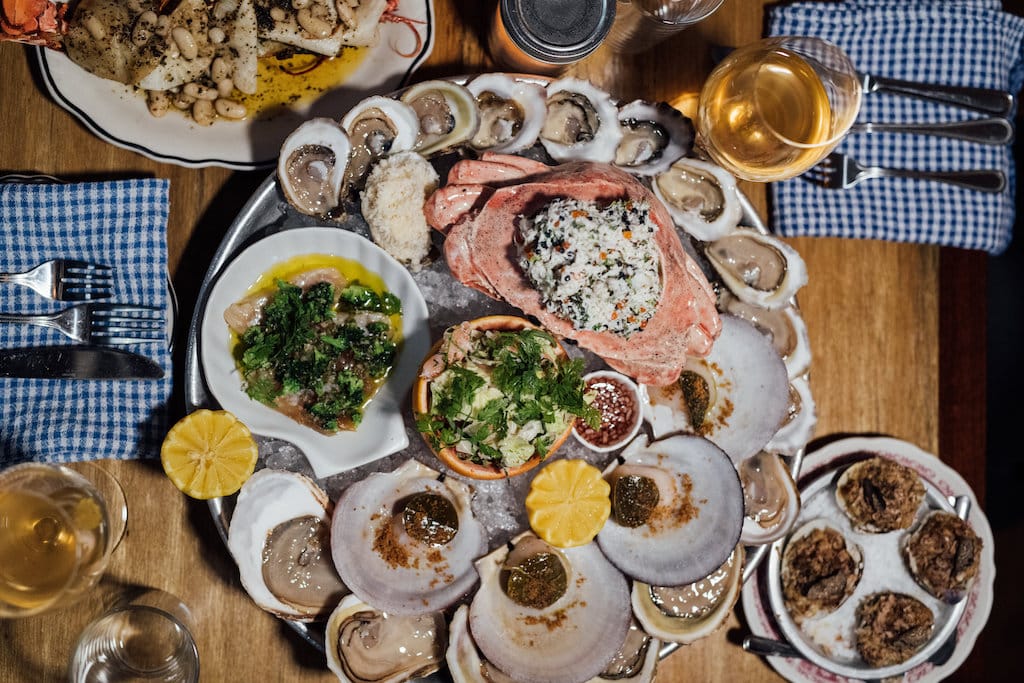 If you're looking for a place to enjoy a great meal in a friendly environment, we highly recommend the Liverpool House.  The menu here is exceptional, savouring dishes that are easy to share in very generous portions with a touch of Middle Eastern influence. The foie gras breakfast, steaks and lamb shoulder are very popular dishes. Everything is tasty, original and festive! A staple restaurant on Notre-Dame Street West.
2501 Notre-Dame Street West
Montreal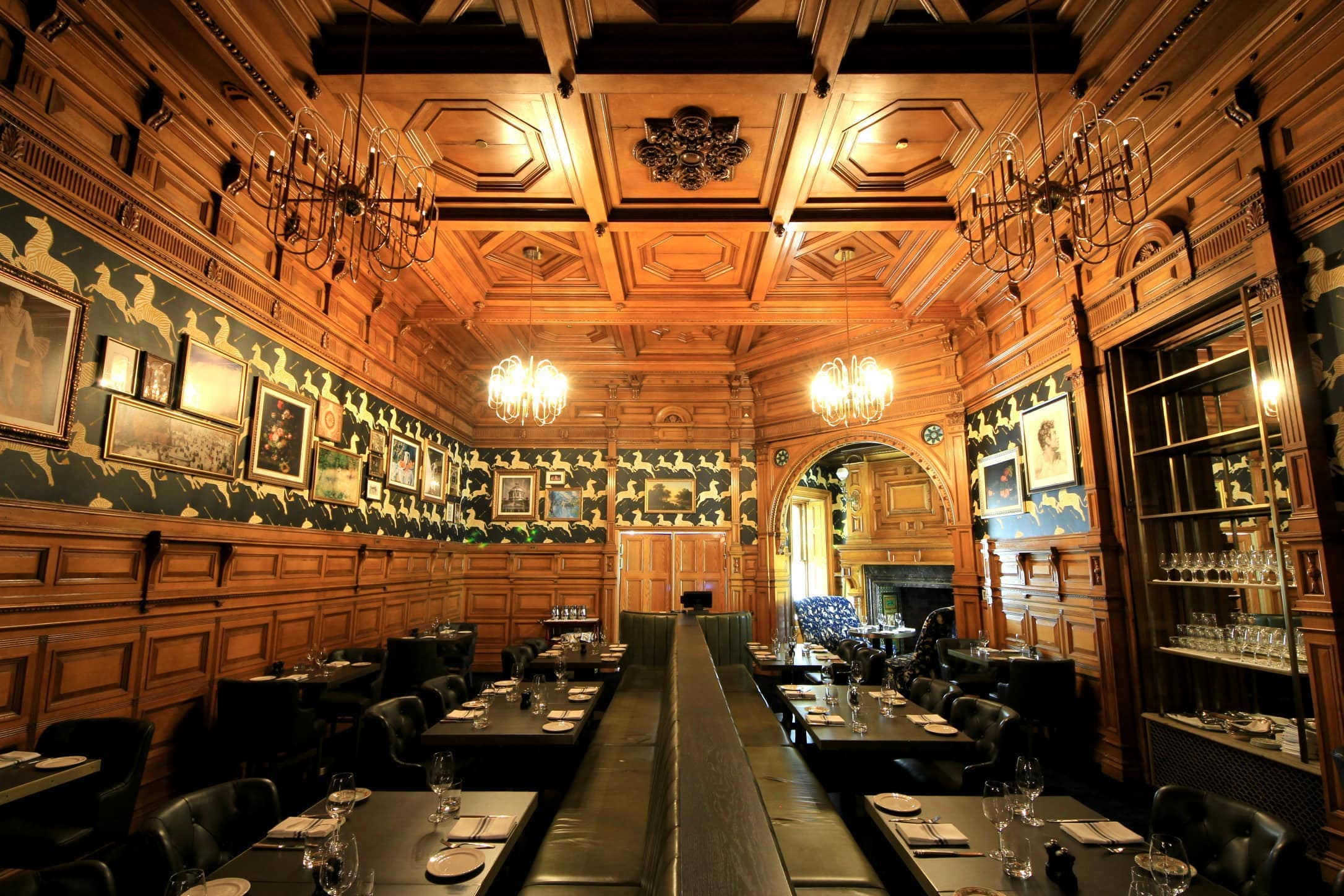 Bar George offers an excellent English-inspired menu in a beautiful space in the heart of downtown Montreal. The menu offers snacks and appetizers: piglet, fries, blood sausage, salads, ham hocks, tartares, etc. The main courses include three fish and six meat dishes: mackerel, cod, chicken, steak, lamb, and more. The menu is simple in appearance, but the ingredients are of high quality and one senses a fine technical mastery in each of the dishes. A small detail that makes the difference: the prices at Bar George remain very accessible given the quality of the dishes enjoyed here.
1440 Rue Drummond
Montréal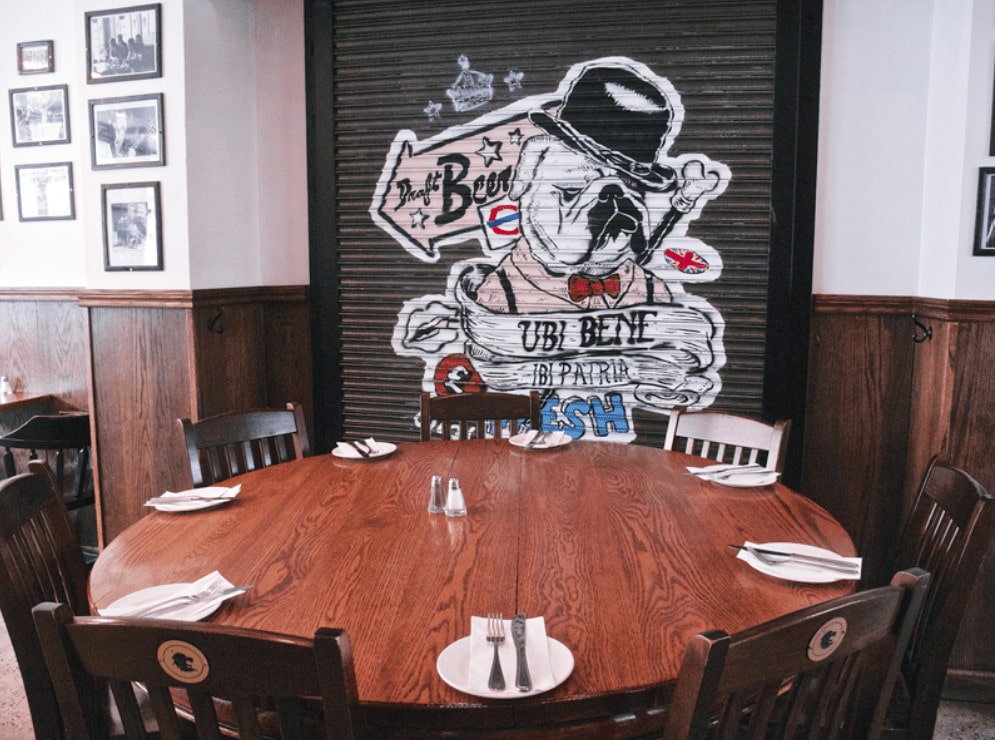 The Burgundy Lion has become the benchmark for British hospitality in Montreal. A real landmark in the city for gathering to watch European soccer games, this place is the perfect balance between the traditional English pub and the modern lounge bar. The cocktail menu features an impressive selection of whiskeys and beers from near and far. To accompany your drink, they offer a variation of pub fare that mixes Quebecois and English flavours. Their fish and chips is on our list of the best in town!
2496 Notre-Dame Street West
Montreal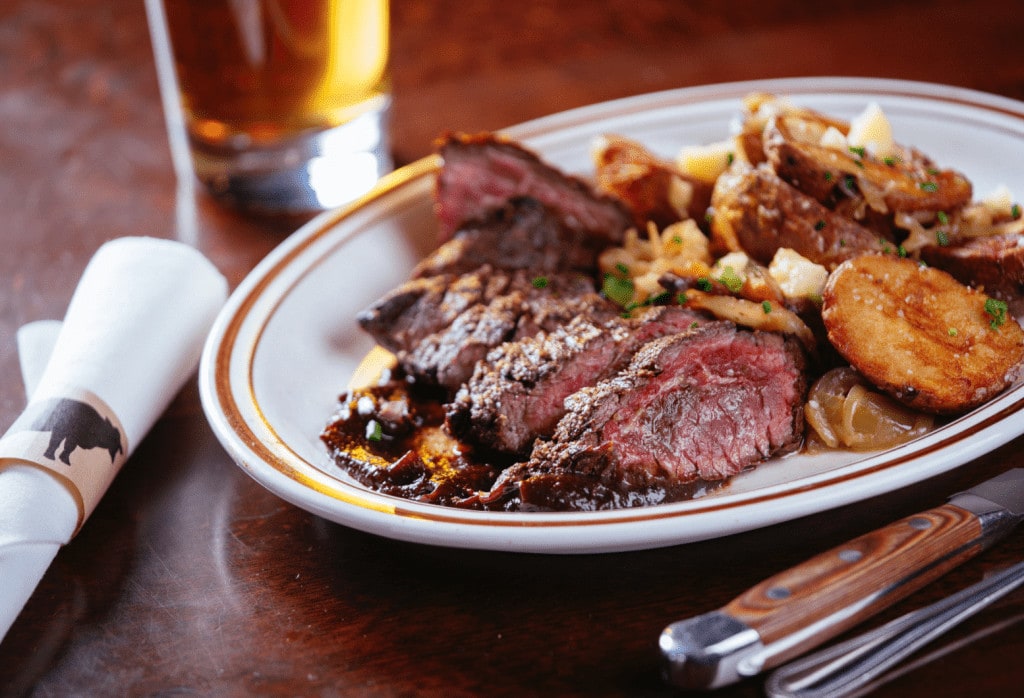 Also located in the Mile End, Bishop and Bagg is a casual English pub where you can eat and drink very well! The staff is ultra friendly, and the house broadcasts sports games. Their menu is interesting and complete. Bishop and Bagg also serves great cocktails that go perfectly with their excellent pub food 2.0.
52 Rue Saint- Viateur Ouest
Montréal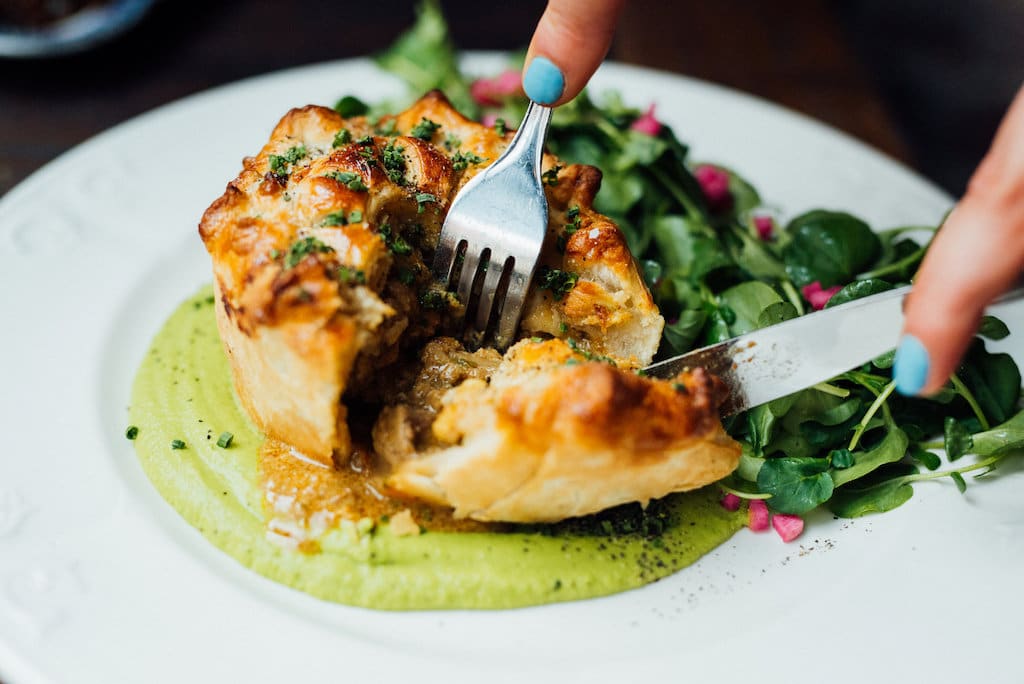 Wolf and Workman is the latest project of from the Burgundy Lion group. Conveniently located in Old Montreal, the house specializes in food and drink that makes you feel at ease. Chef Louis-Philippe is responsible for the British-inspired menu. He plans to develop the dishes according to the seasons and local products. Everything in the kitchen here is as fresh as possible, from their sauces to their homemade pasta. The menu is varied and well suited to the old school atmosphere of the restaurant. Everything is truly delicious. photo Alison Slattery – Two Food Photographers
139 Rue Saint-Paul Ouest
Montréal
See on map
4720 Rue Marquette Montréal H2J 3Y6
9 Avenue Fairmount Est Montréal H2T 1C7
5201 Boulevard Saint-Laurent Montréal H2T 1S4
4662 Notre-Dame Street West Montreal H4C 1S6
2501 Notre-Dame Street West Montreal H3J 1N6
1440 Rue Drummond Montréal H3G 1V9
2496 Notre-Dame Street West Montreal H3J 1N5
52 Rue Saint- Viateur Ouest Montréal H2T 2K8
139 Rue Saint-Paul Ouest Montréal H2Y 1Z5
Photography by Shayne Laverdière