The Best Vegan Restaurants in Montreal: A vegan's guide to the city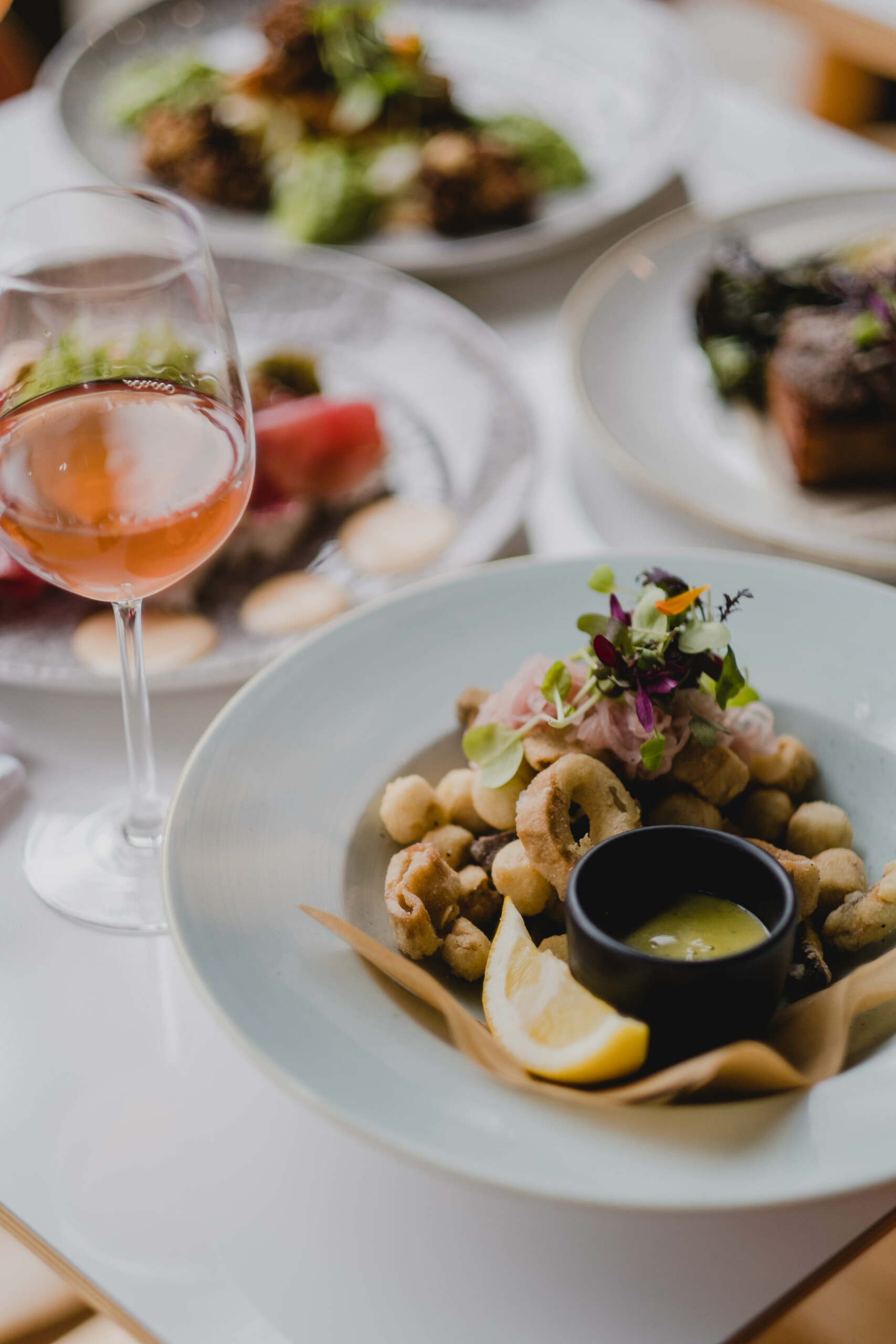 Thankfully, vegan restaurants are becoming increasingly easy to find as the general public becomes more tuned in to the environmental, health and ethical benefits of the lifestyle. At Tastet, we try our best to support the health of our planet and be mindful of our consumption habits whenever possible. That being said, there is never a reason to compromise on taste or satisfaction – something that many people unfortunately misunderstand about plant-based food.
We decided that it was time to create a list of vegan restaurants in Montreal that are so authentic and delicious, no one would even notice that they're vegan. We are lucky to live in a time where you can eat pizza, burgers, chicken wings, fresh pasta and nachos, all without the weight of the planet or the animals on your conscience. However, we also want to give credit to the greener side of vegan cuisine, where vegetables are transformed into flavourful dishes that help us feel energized, healthy, and full of life. Regardless of the style, we love it all!
Without further ado, here is our list of the best vegan restaurants in Montreal. Whether you like your veggies deep fried and unrecognizable or freshly picked and finely seasoned, there is something on this list for you. And for desert, don't forget to check our list of the best vegan ice cream in Montreal.
If you are searching for more suggestions of vegan friendly food, check out our list of the best smoothie bowls in Montreal, or our veggie-friendly category on the website for a more diverse range of addresses that accommodate vegetarians.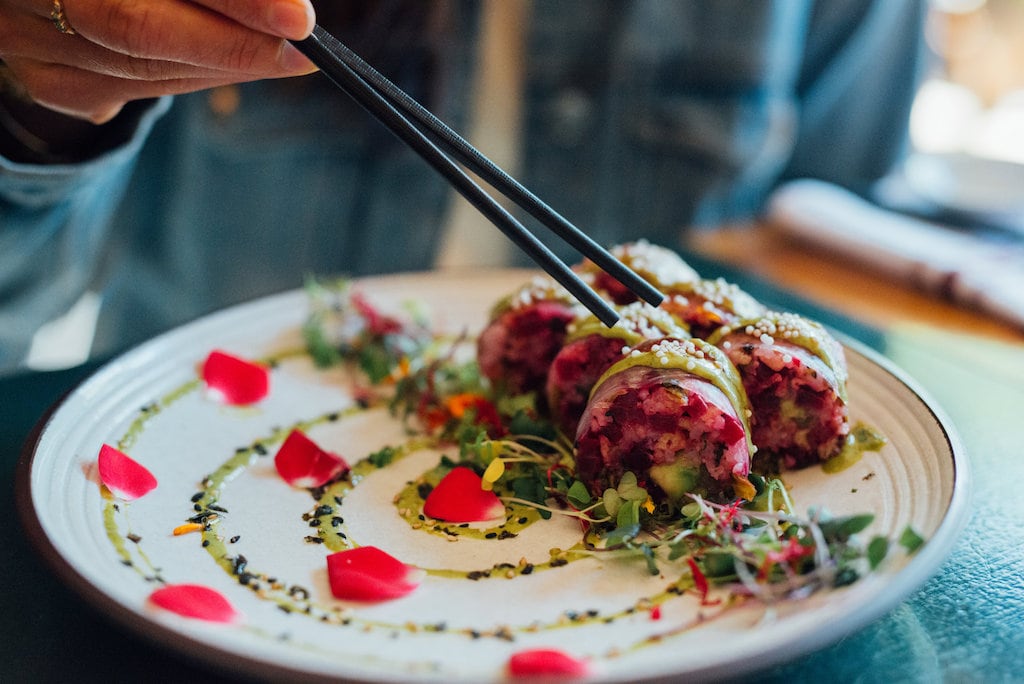 Sushi Momo is a restaurant that perfectly blends the worlds of refined sushi and creative plant-based cuisine. The dishes that are served at Sushi Momo will likely stand out from any other experience at a sushi restaurant you've had, and thats why we love it here. A special shout out to the La Vie En Rose roll, and the papaya salad! Located right in front of Square Saint Louis, this is a great vegan restaurant that will impress anyone, regardless of their diet. Alison Slattery
3609 Rue Saint-Denis
Montréal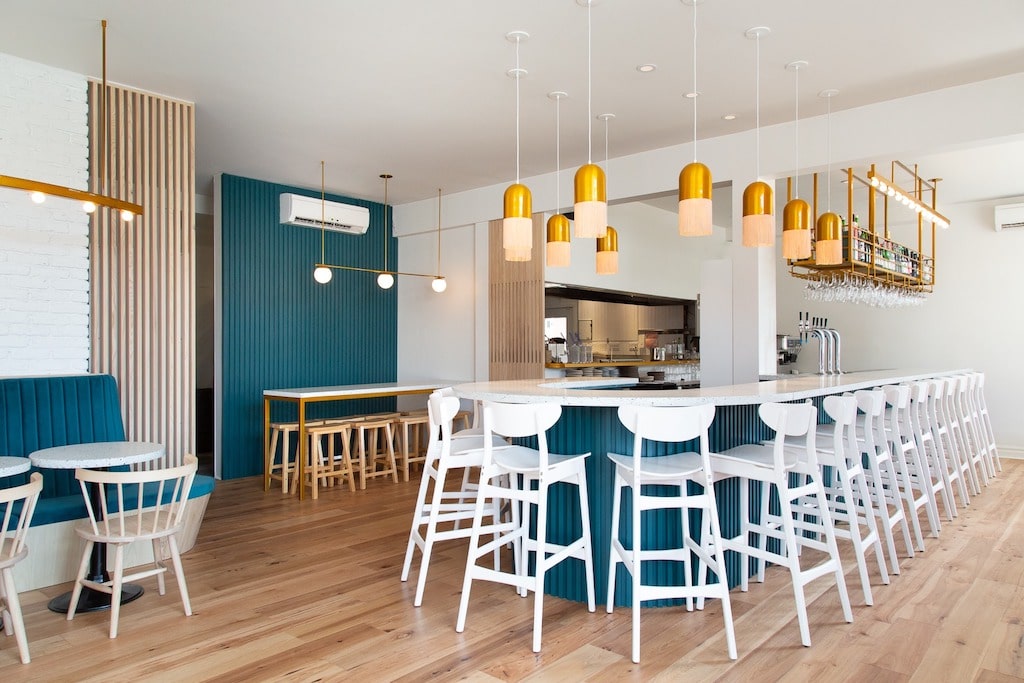 Restaurant Umami Ramen is the newest ramen spot to open up in Montreal, and the entire menu is fully vegan! They opened at the end of summer 2019 and have been received by the community with open arms. The menu is simple but very well executed. They offer three styles of ramen bowls, as well as a selection of three Tsukemen bowls and some Izakayas. Everything here is prepared in house, so freshness is at the forefront of each dish. Not only is this restaurant one of our new favourite restaurants to get ramen in Montreal, but it is also a very nicely designed space that will elevate your dining experience to the next level.
6660 Rue Clark
Montréal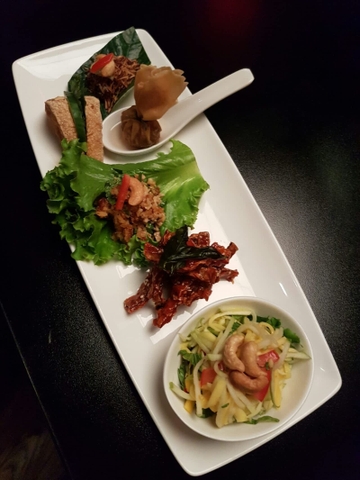 ChuChai
Chu Chai is a Thai restaurant that specializes in recreating some of the most popular Thai dishes using meat alternatives. This restaurant is located on rue Saint-Denis in the Plateau, so it's perfect for enjoying either before or after exploring the neighbourhood. The menu features items such as duck rice noodles and chicken and sesame salad (made using plant-based products), so you definitely wont be missing the meat at this restaurant! ChuChai facebook
4088 Rue Saint-Denis
Montréal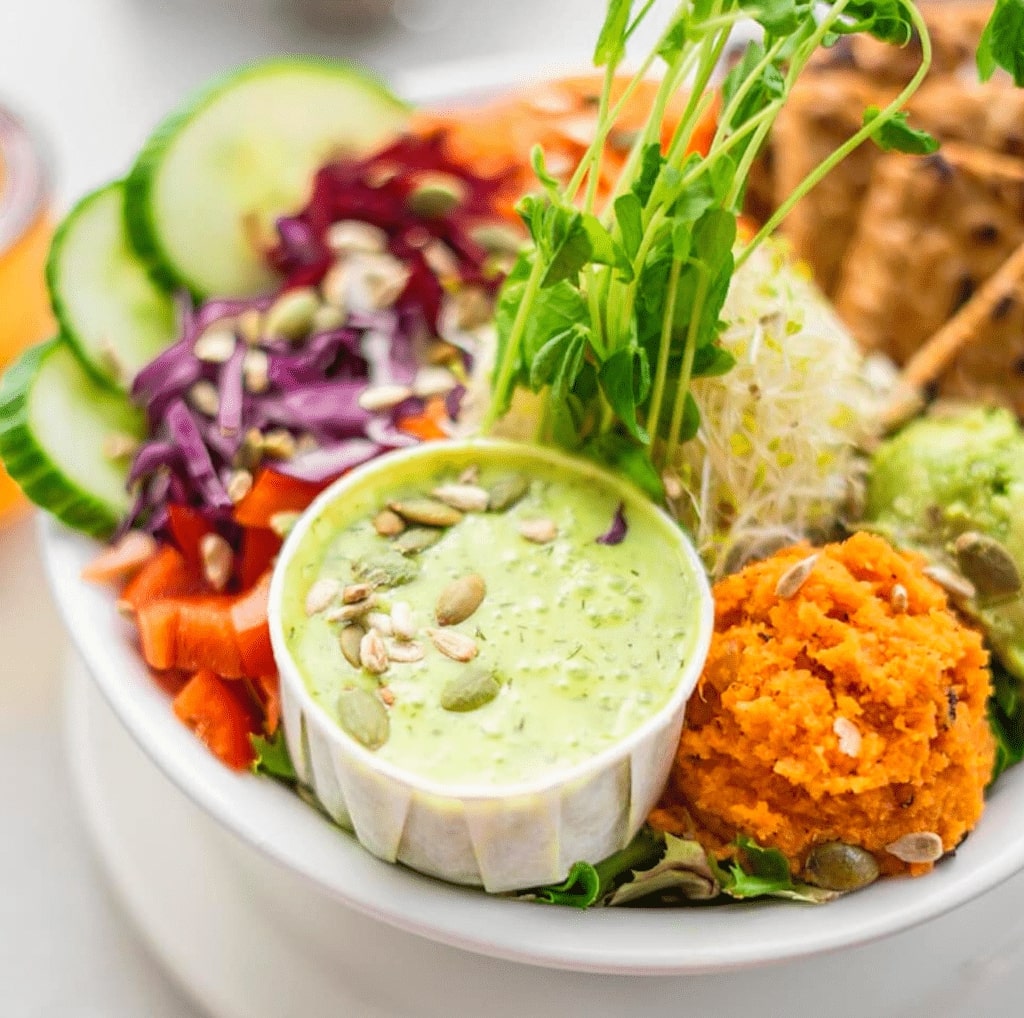 Restaurant Aux Vivre has been a vegan institution in Montreal since 1997, so it already has some street cred. As one of the first vegan restaurants in the city, we can think of them as trailblazers for the veggie community. Aux Vivre serves a mix of cuisines which are primarily focused around comfort food. They also are famous for their 'buddha bowl' style dishes, which come in a few variations. Aux Vivre has since opened a second location in Westmount, and also distributes their sandwiches and salads to various kiosks throughout the city. Aux Vivres Facebook
4631 Boulevard Saint-Laurent
Montréal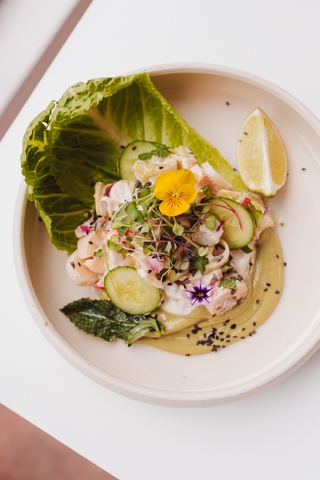 Located on Wellington Street in Verdun, Archway Bar Santé offers a gateway—hence the name of the restaurant—to a healthier diet and lifestyle. The menu is made up entirely of plant-based and vegan foods, with several gluten- and soy-free options, and is offered for brunch, lunch and dinner. The plant-based and adaptogen drinks—surprising concoctions made from plants, herbs and mushrooms with numerous virtues for the body and mind—are a nice added touch.
3683 Rue Wellington
Montréal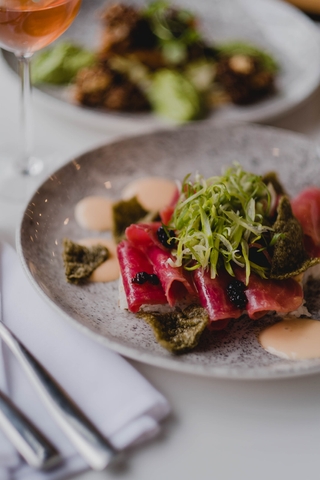 This beautifully minimalist spot in the heart of the Village serves a refined and generous vegan cuisine. The chef seeks to showcase local and seasonal ingredients in their simplest form, with little or no processing. Don't expect to find faux-mage and Beyond Meat on the menu. Also worth mentioning are the expertly curated natural wine list and the colourful, bright and modern decor.
1259 Rue Sainte-Catherine Est
Montréal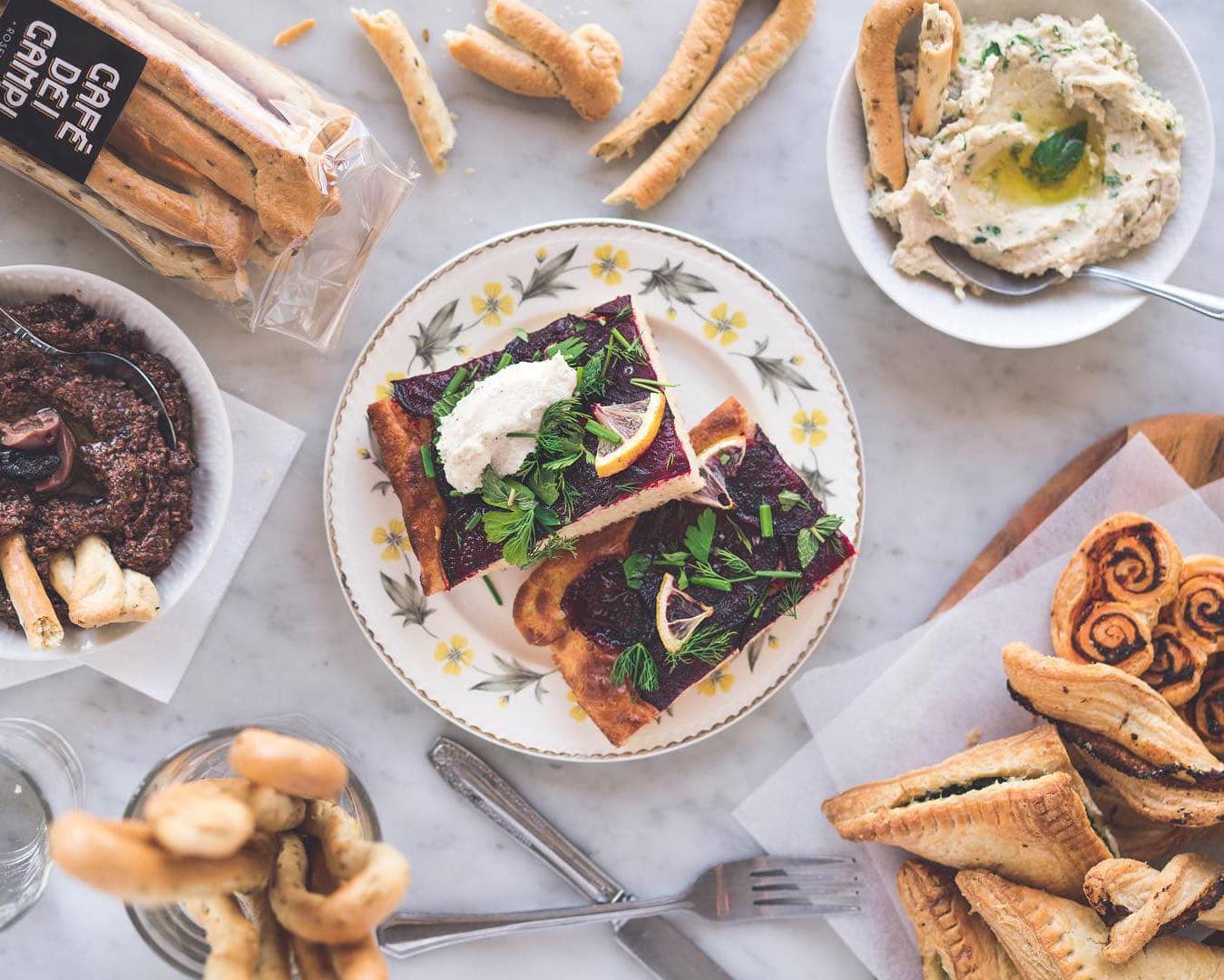 Café Dei Campi is an adorable café located on Boulevard Rosemont that serves an extremely vegan-friendly menu of savoury dishes, as well as delicious baked goods. Everything you will eat at Café Dei Campi is refined and aesthetic, which goes hand in hand with the charming decor. This address is also on our list of the best eco-friendly restaurants in Montreal! Whether it is for breakfast, lunch, afternoon tea or dessert,  we highly recommend you checkout this address. photos Odile Joly-Petit — instagram, facebook
6201 Rue Chabot
Montréal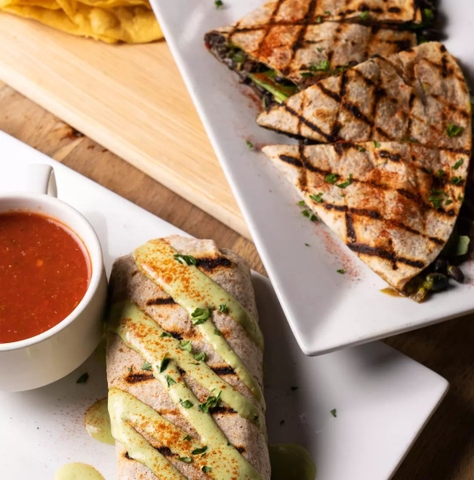 Lola Rosa is a beloved vegan-friendly restaurant in Montreal, and the proof is in their recent opening of a fourth location. This restaurant was created by the owners as a way of showcasing just how delicious and satisfying vegetarian food can, even to those who are typically carnivores. The menu features a lot of Latin American flare, but also has dishes from other cuisines  like curry, samosas, poutine and mac and cheese. Each location is slightly different from the next, but the overall vibe of the Lola Rosa name is welcoming, casual and friendly! Lola Rosa facebook
545 Rue Milton
Montréal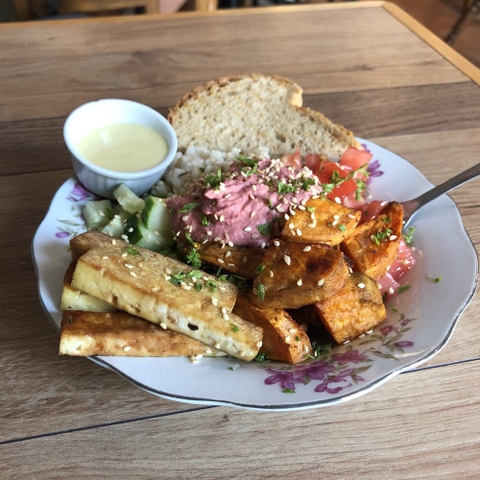 Café Tuyo
Located in the heart of the Plateau Mont-Royal, on Marie-Anne Street, the friendly Café Tuyo is another address that we recommend. The place serves healthy and organic vegetarian and vegan dishes in a friendly atmosphere. Very popular, the place is conducive to creation and sharing. The restaurant hosts many musicians, artists, conferences, exhibitions and shows. A truly lovely and comfortable place.
370 Rue Marie-Anne
Montréal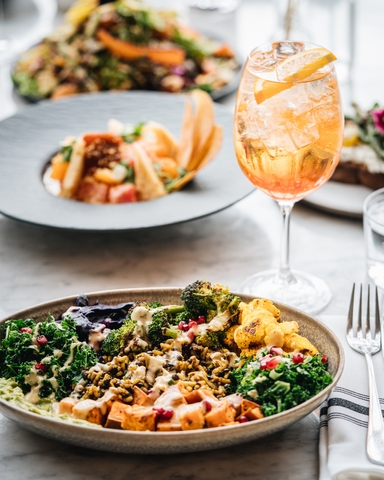 Restaurant LOV is a fan favourite of the vegan community here in Montreal, thanks to its beautiful decor and good menu. L-O-V stands for Local-Organic-Vegan, all of which are bonus points for us. The menu features a diverse array of cuisines, with influences from all over the world – from burgers and fries to steamed buns and Kimchi poutine. At this restaurant, you will find a good mix of both healthy vegan food and the more decadent dishes, but the overall theme of the menu is fresh and refined. There are now four different locations of LOV : in Old Montreal, downtown, Laval and Brossard. LOV facebook
464 Rue McGill
Montréal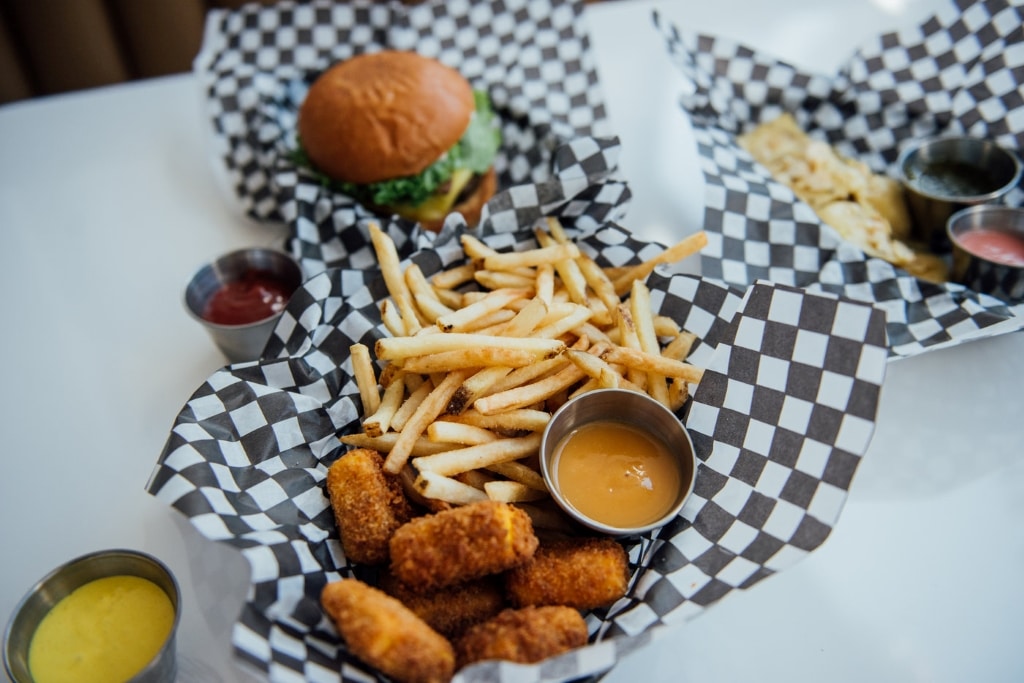 Mimi and Jones is an all-vegan diner in Montreal's Mile End, and this place is perfect for those who love the classic diner foods, but would rather stick to animal product-free diets. We come here to enjoy all of the favourites…. burgers, 'chicken nuggets', milkshakes, and cheesecake! There is no need to give up life's simple pleasures in order to make more conscious food decisions. Beyond the nostalgic menu, the atmosphere at Mimi and Jones is casual, inviting and perfectly simplistic. This is a great address to come to if you want to introduce some friends to the wonders of vegan food, or simply to enjoy diner-classics in a friendly environment.
5149 Avenue du Parc
Montréal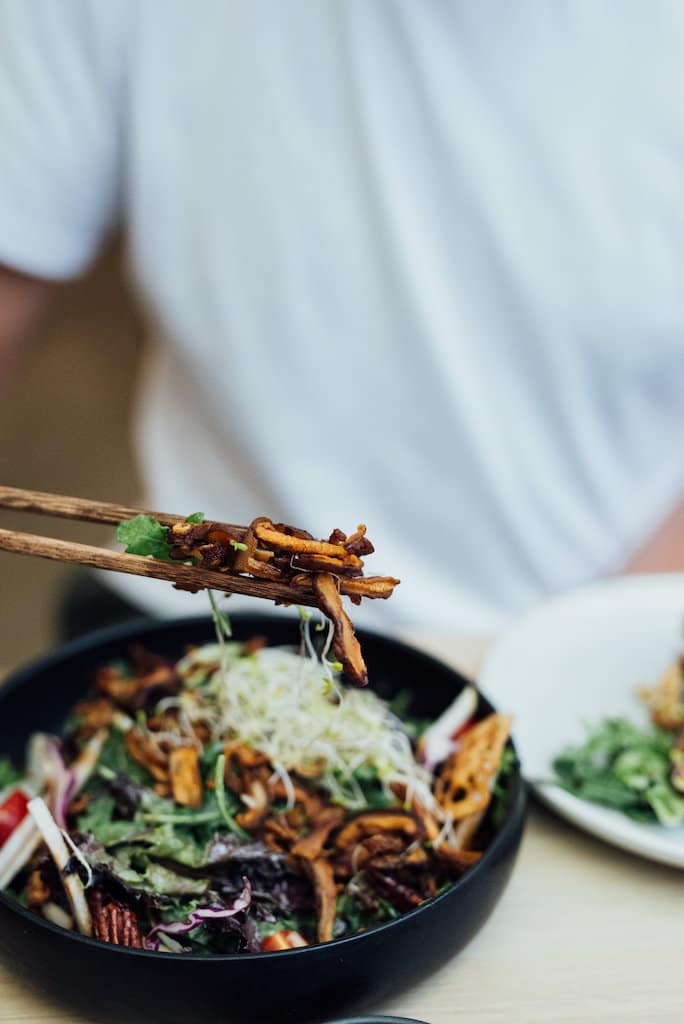 Bloom Sushi is a project born from a collaboration between two of Montreal's cornerstone vegan restaurants : LOV and Sushi Momo. The kitchen team prepares an impressive sushi menu that truly puts the spotlight on veggies. Rather than fish, expect mushrooms, cauliflower, avocado, tofu, tomatoes, hearts of palm and other vegetable products to be the star of the show. Furthermore, you can order a sushi platter to share, with a selection of the kitchen's favourite sushi rolls. Alison Slattery
368 Rue Saint-Paul Ouest
Montréal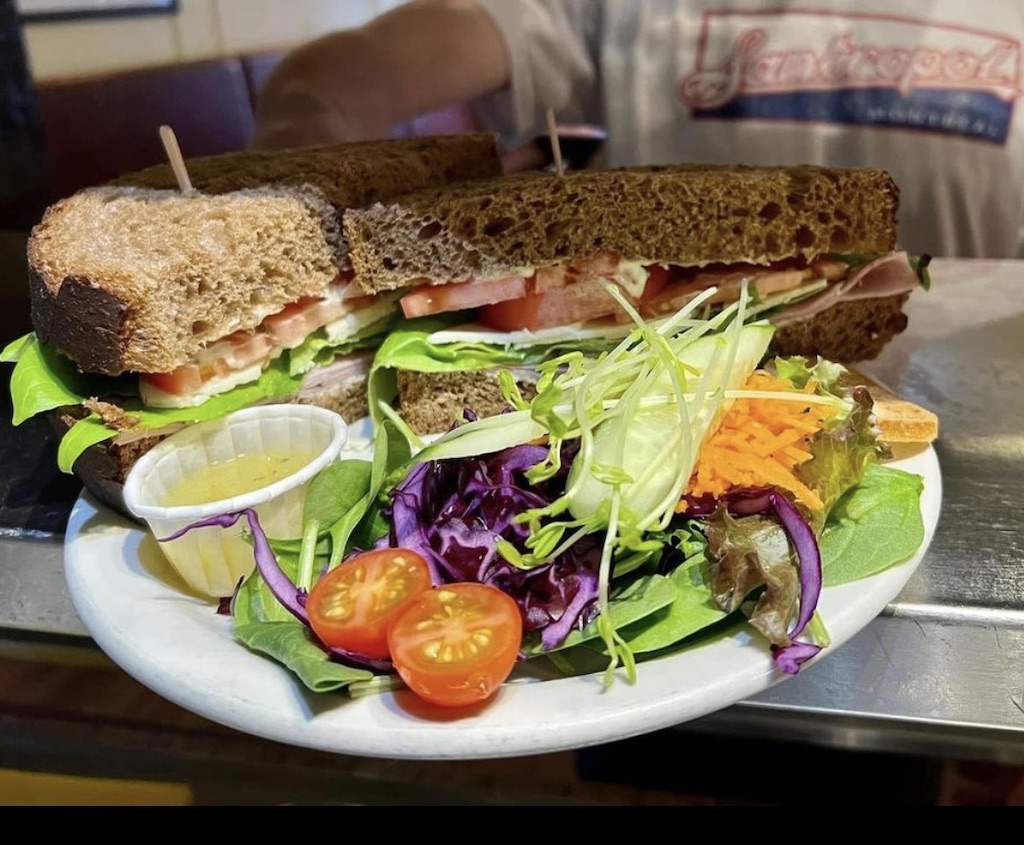 Ohana Sushi Vegan
Ohana serves vegan and gluten-free sushi, as well as other great vegan dishes. Along with Sushi Momo, this is one of the most successful vegan addresses in recreating authentic sushi flavours. It is a nice addition to Mont-Royal Avenue, where sushi restaurants are rather rare.
330 Avenue du Mont-Royal Est
Montréal
See on map
3609 Rue Saint-Denis Montréal H2X 3L6
6660 Rue Clark Montréal H2S 3E7
4088 Rue Saint-Denis Montréal H2W 2M5
4631 Boulevard Saint-Laurent Montréal H2T 1R2
3683 Rue Wellington Montréal H4G 1V1
1259 Rue Sainte-Catherine Est Montréal H2L 2H3
6201 Rue Chabot Montréal H2G 2T3
545 Rue Milton Montréal H2X 1W5
370 Rue Marie-Anne Montréal H2W 1B3
464 Rue McGill Montréal H2Y 2H2
5149 Avenue du Parc Montréal H2V 4G3
368 Rue Saint-Paul Ouest Montréal H2Y 2A6
330 Avenue du Mont-Royal Est Montréal H2T 1P7