The Best Steak Frites in Montreal: Where to go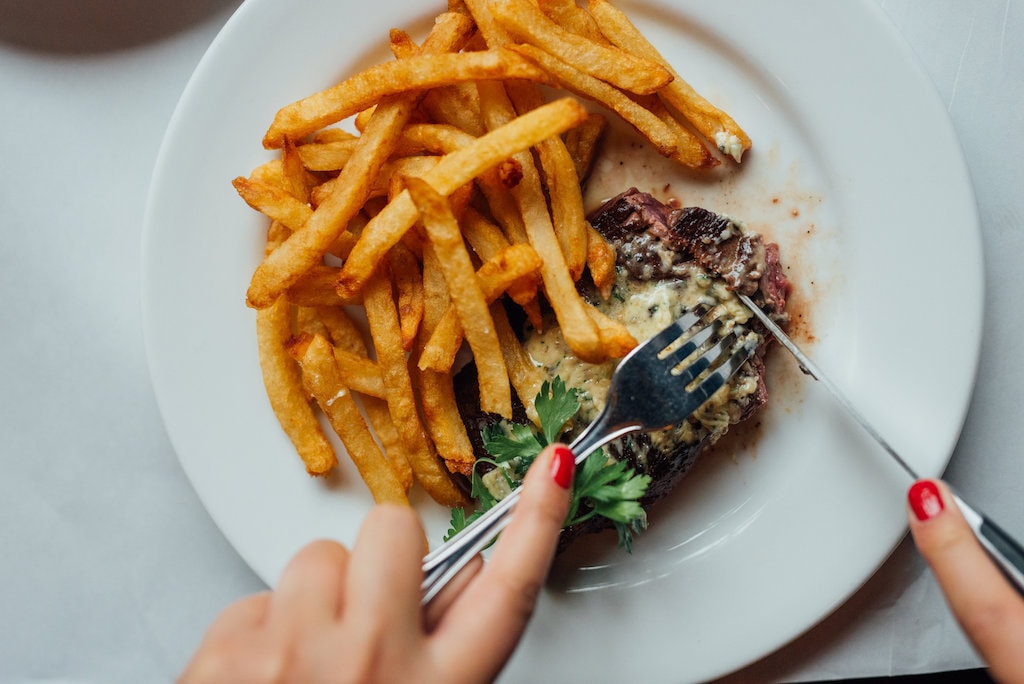 This dish is a fan favourite all over the world, but it is first and foremost a French classic. The simple pairing of steak and fries has become a staple on the menu at any French style brasserie. However, this classic can also be found in many types of restaurants! Especially if you're trying to please a crowd of diverse palates, a plate of steak and potatoes and glass of good red wine will surely do the trick. Even better, served on a terrace in the summer!
A good Steak Frites requires the proper execution of both components. First, the pièce de résistance – the steak – must be prepared to the tastes of the recipient. Anytime you order a steak, you will be asked how you'd like it cooked: blue, rare, medium rare or well cooked. Although everyone's steak preferences are different, we warn you that some pieces of meat lose all their tenderness if they are too cooked!
The traditional accompaniment to steak is a hefty pile of fries, however this can sometimes be supplemented with a salad. We recommend keeping the fries. According the traditions of Belgium's national dish, french fries must be well browned, crispy, and served hot. Combined with a well-cooked steak, we are left with an inarguably iconic duo- the Bonnie and Clyde of the kitchen.
While the French and Belgians are fighting over the right to claim French Fries as their own, Montreal has been discretely mastering the Steak Frites dish. Chefs all over the Canadian city are serving their own takes on Steak Frites, both paying tribute to the classic and reinventing their new and surprising adaptations. This is why we are coming at you with a list of the best Steak Frites in Montreal!
Are you looking for more suggestions? Try our list of the best French restaurants in Montreal, or our list of the best croissants in Montreal.
Enjoy your meal!
See on map
4710 Rue de Lanaudière Montréal H2J 3P7
1155 Rue Sherbrooke Ouest Montréal H3A 2N3
4662 Rue Notre-Dame Ouest Montréal H4C 1S6
1249 Avenue Bernard Montréal H2V 1V7
1045 Avenue Laurier Ouest Montréal H2V 2L1
1 Carré Westmount Westmount H3Z 2P9
3927 Rue Saint-Denis Montréal H2W 2M4
1440 Rue Drummond Montréal H3G 1V9
2491 Rue Notre-Dame Ouest Montréal H3J 1N6
1690 Rue Ontario East Montréal H2L 1S7
38 Rue Beaubien Est Montréal H2S 1P8
2523 Rue Notre-Dame Ouest Montréal H3J 1N6