The Best Steak Frites in Montreal: Where to go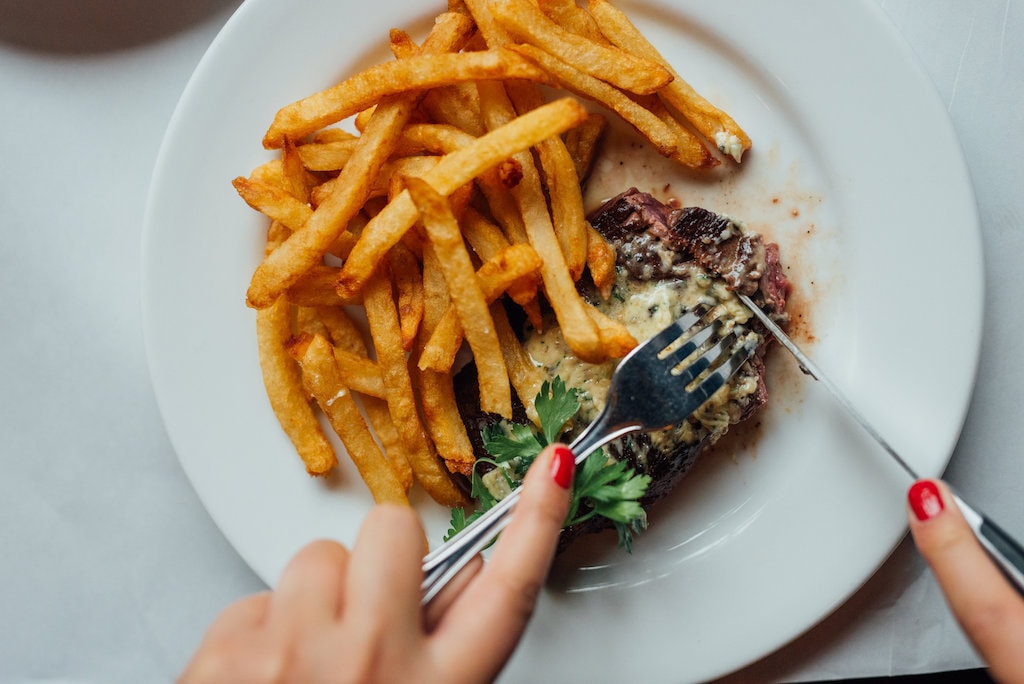 This dish is a fan favourite all over the world, but it is first and foremost a French classic. The simple pairing of steak and fries has become a staple on the menu at any French style brasserie. However, this classic can also be found in many types of restaurants! Especially if you're trying to please a crowd of diverse palates, a plate of steak and potatoes and glass of good red wine will surely do the trick. Even better, served on a terrace in the summer!
A good Steak Frites requires the proper execution of both components. First, the pièce de résistance – the steak – must be prepared to the tastes of the recipient. Anytime you order a steak, you will be asked how you'd like it cooked: blue, rare, medium rare or well cooked. Although everyone's steak preferences are different, we warn you that some pieces of meat lose all their tenderness if they are too cooked!
The traditional accompaniment to steak is a hefty pile of fries, however this can sometimes be supplemented with a salad. We recommend keeping the fries. According the traditions of Belgium's national dish, french fries must be well browned, crispy, and served hot. Combined with a well-cooked steak, we are left with an inarguably iconic duo- the Bonnie and Clyde of the kitchen.
While the French and Belgians are fighting over the right to claim French Fries as their own, Montreal has been discretely mastering the Steak Frites dish. Chefs all over the Canadian city are serving their own takes on Steak Frites, both paying tribute to the classic and reinventing their new and surprising adaptations. This is why we are coming at you with a list of the best Steak Frites in Montreal!
Are you looking for more suggestions? Try our list of the best French restaurants in Montreal, or our list of the best croissants in Montreal.
Enjoy your meal!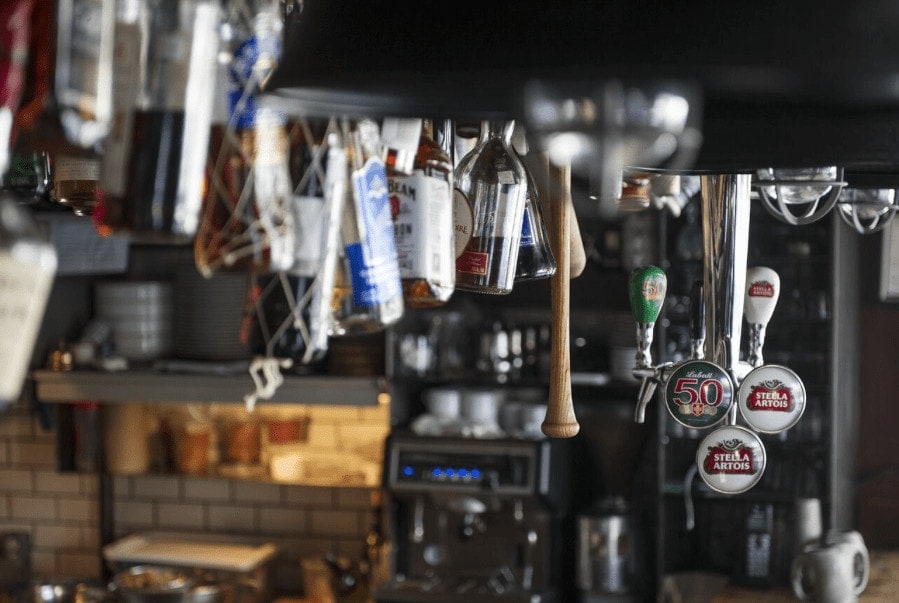 Le Chien Fumant has about thirty seats, and fills up every evening as soon as doors open. The small establishment in Plateau Mont-Royal never ceases to charm its guests. Coming to this restaurant is like coming over to a friends house, especially if your friends are great at hosting. The place is warm and comfortable, the décor simple and classic. On the menu is a Rib Steak for two with fries. François Léger-Savard
4710 Rue de Lanaudière
Montréal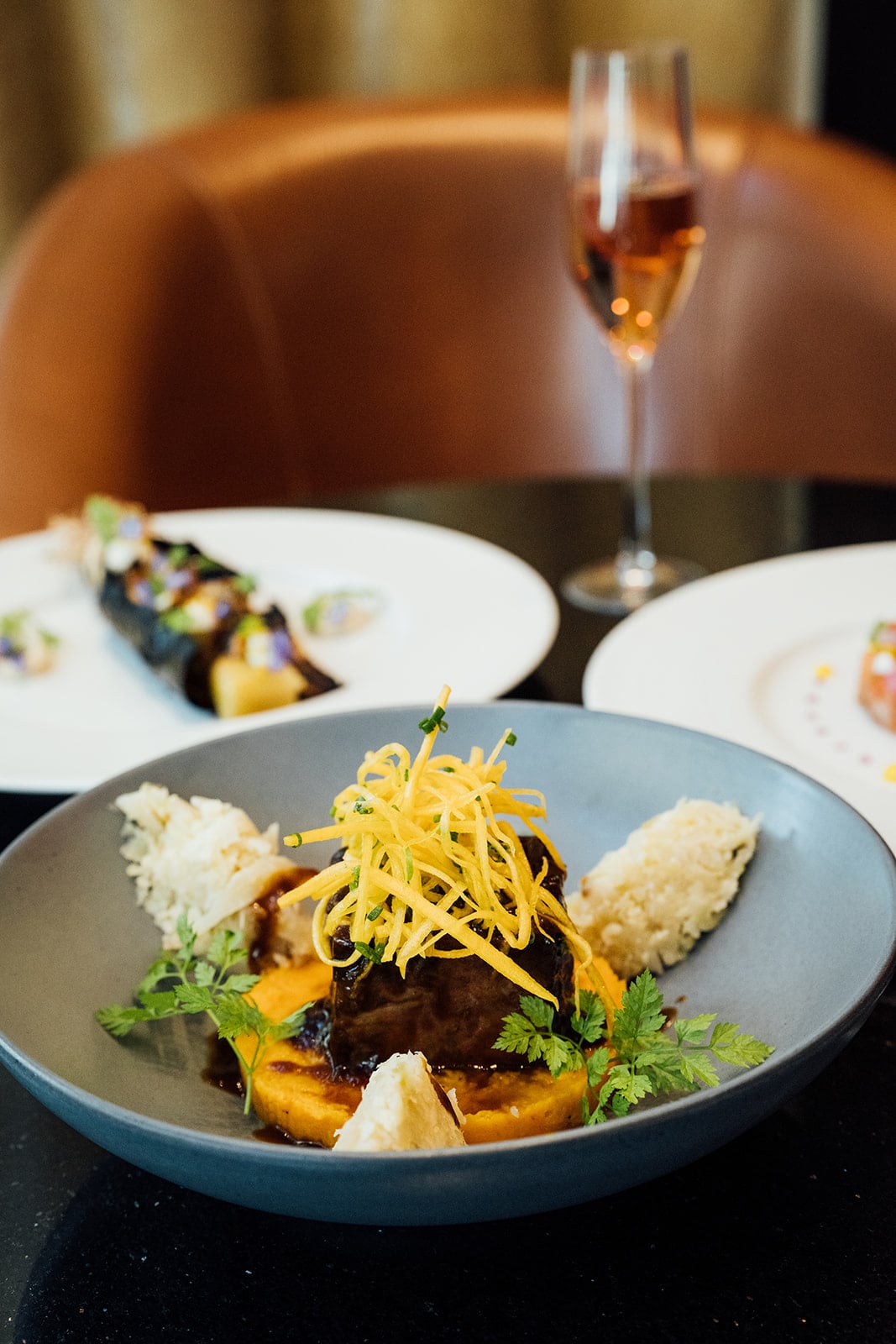 We don't always think of Sherbrooke Street as a gastronomic stopover. However, gritting your teeth through the traffic is a certainly worth an evening at the Renoir restaurant, located in the Sofitel Hotel. French cuisine is at its best here, and they make it a point to honour local products. The house offers a AAA prime rib steak with with a gratin Dauphinois, pan-fried mushrooms and red wine sauce. François Léger-Savard
1155 Rue Sherbrooke Ouest
Montréal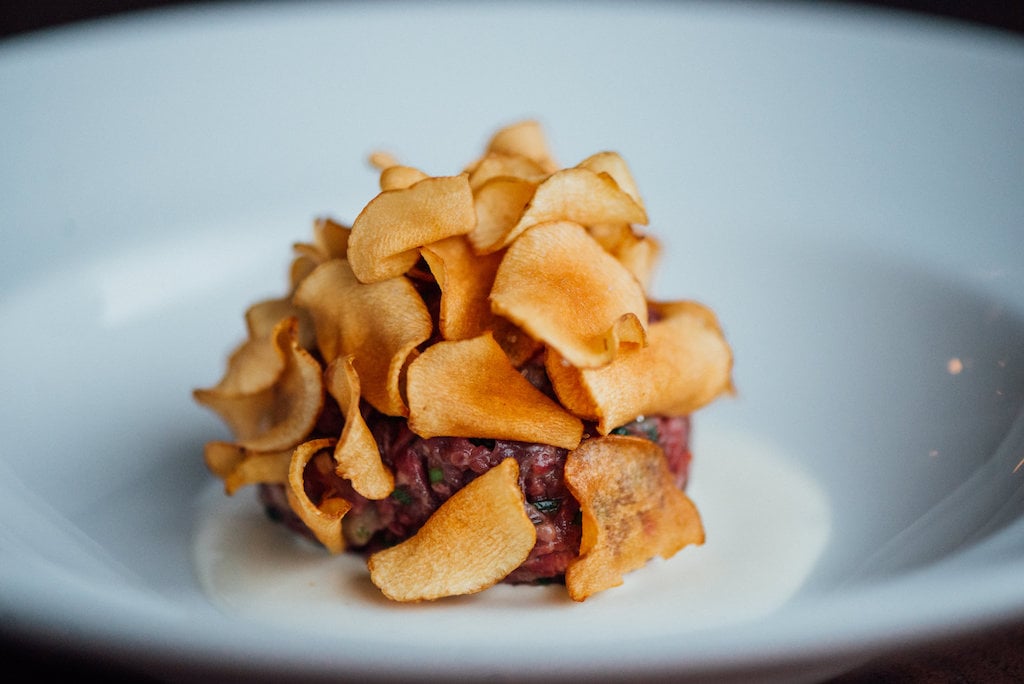 Restaurant Tuck Shop
Tuck Shop serves a lot of love for such a small place, and their constantly high spirited vibe keeps us coming back. One of the highlights of the house is the Quebec beef tab that shares the plate with fries and a chimichurri sauce. Alison Slattery —
4662 Rue Notre-Dame Ouest
Montréal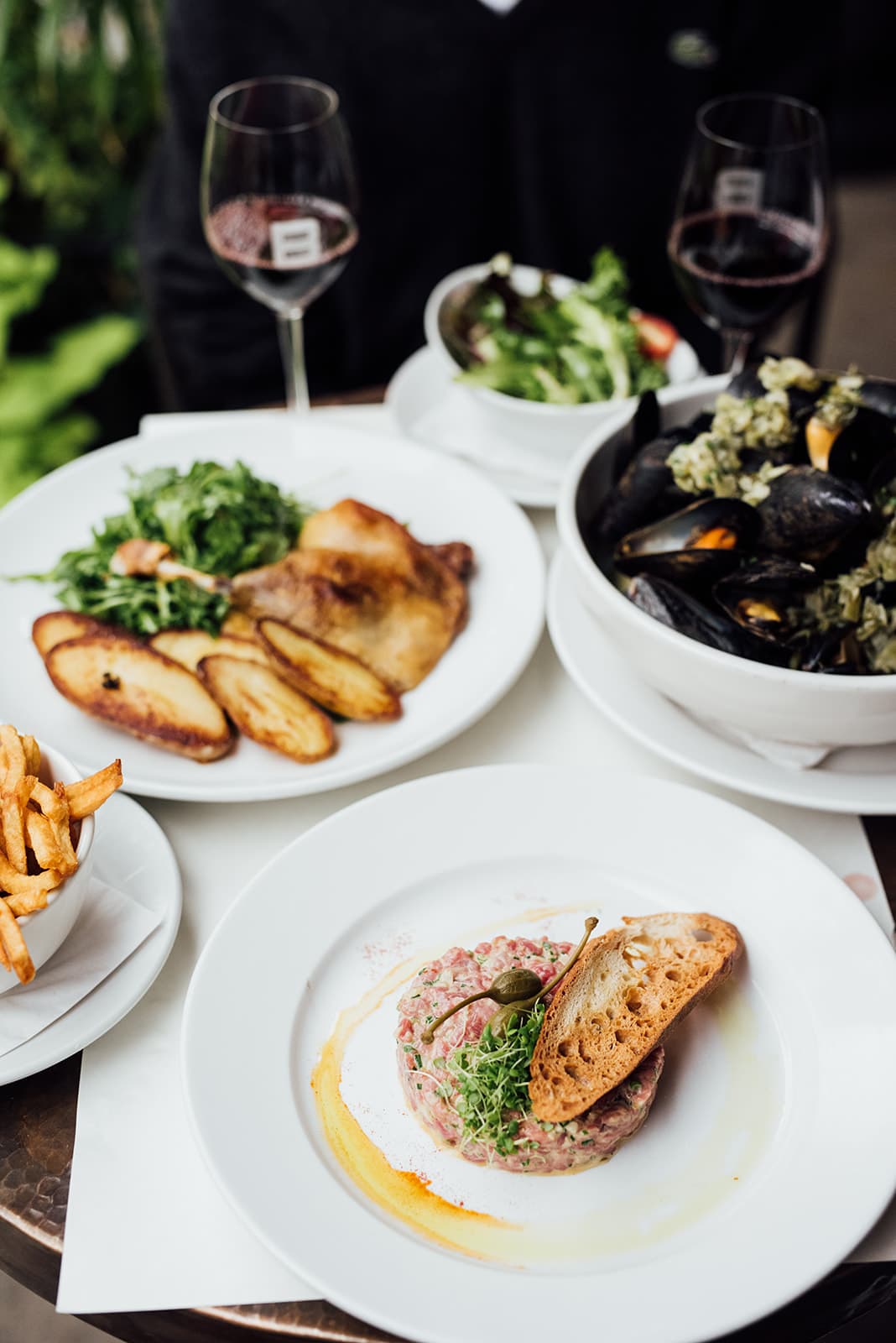 Brasserie Bernard is a laid-back address on Avenue Bernard in Outremont. A Holder brothers' venture (Holder restaurant, Majestic, Darling), this brasserie offers a French-inspired menu with a touch of home cooking flare. Special mention to their AAA 12 oz beef rib steak. Accompanied by a béarnaise sauce with Quebec black garlic and French fries with duck fat, this Steak Frites is worth a visit. photo Brasserie Bernard
1249 Avenue Bernard
Montréal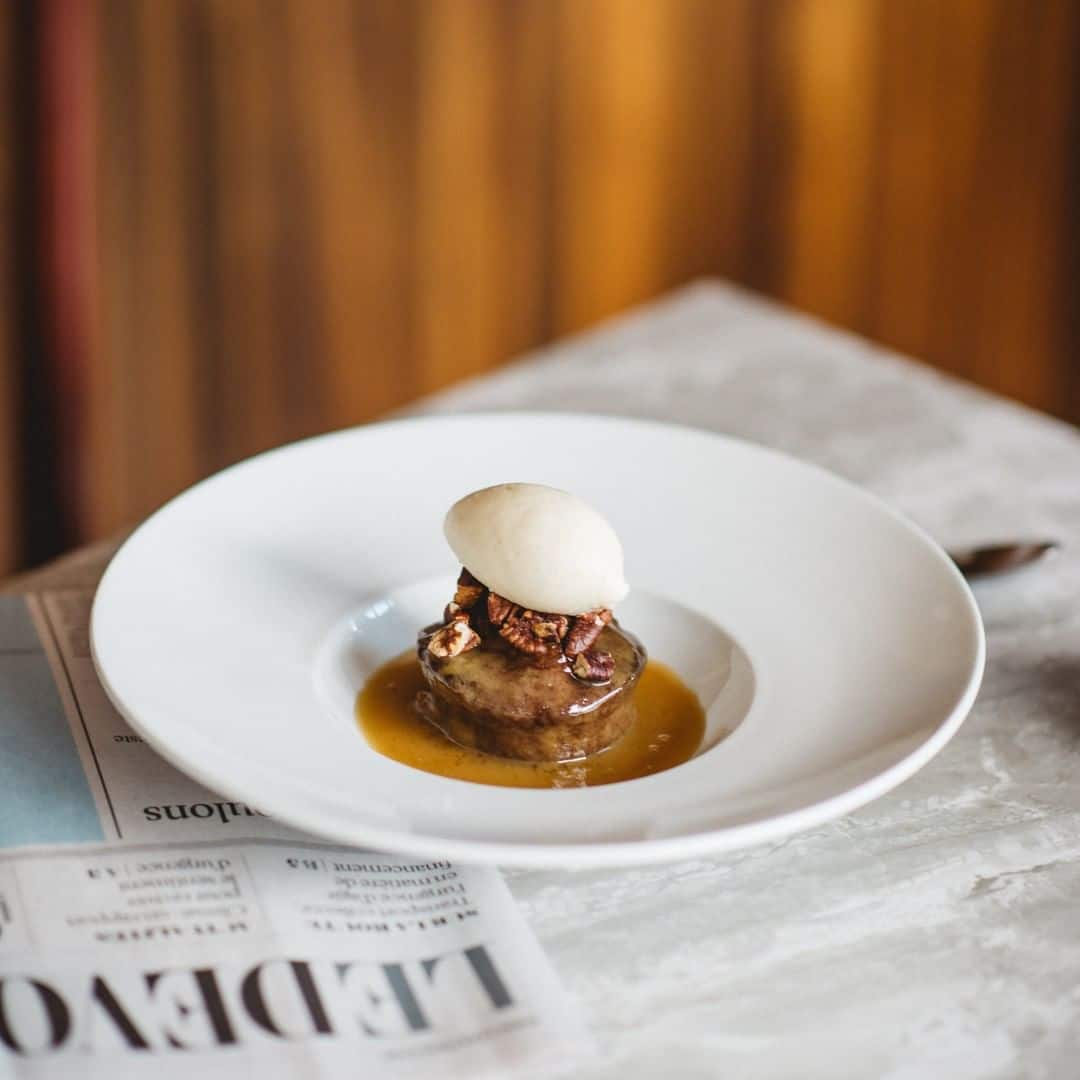 Leméac is an address that has been cherished since the day it opened, and where the quality is always consistent. In an elegant and classic setting, you can enjoy a traditional French brasserie menu, with tasty dishes and reasonable prices. The house offers an aged beef rib with chips and pepper sauce. A mastered classic! Jimmy Hamelin
1045 Avenue Laurier Ouest
Montréal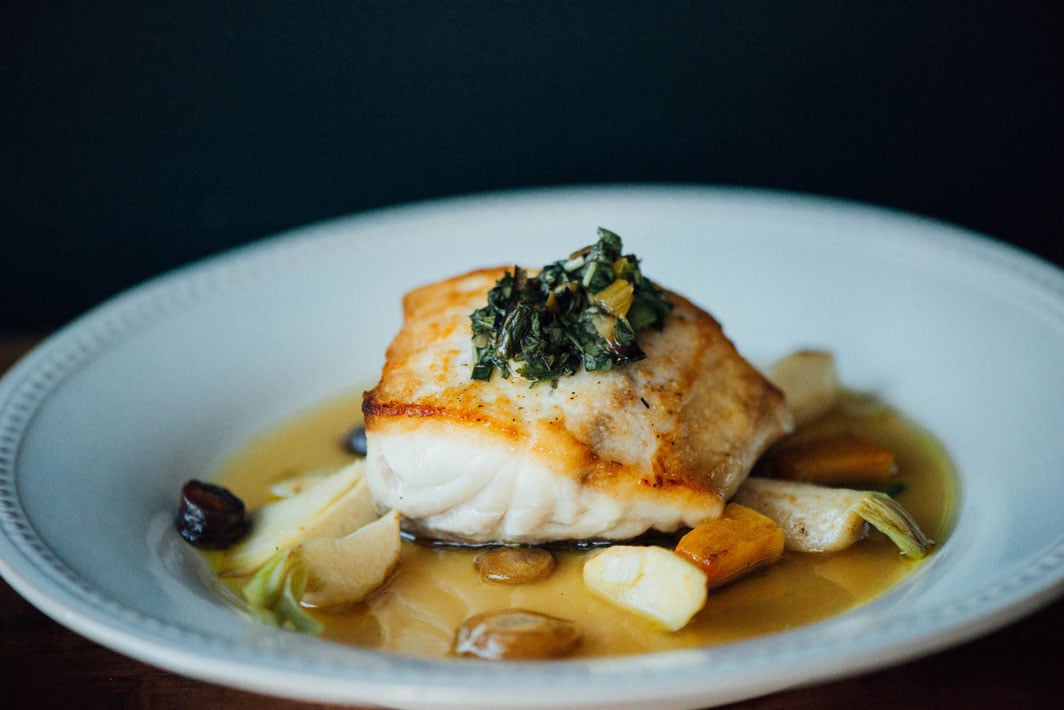 Taverne sur le Square
Tavern on The Square offers a delicious market cuisine that features French and Italian influences. Here, you can eat a delicious grilled New York steak with red wine sauce and aligot-style potatoes. Alison Slattery
1 Carré Westmount
Westmount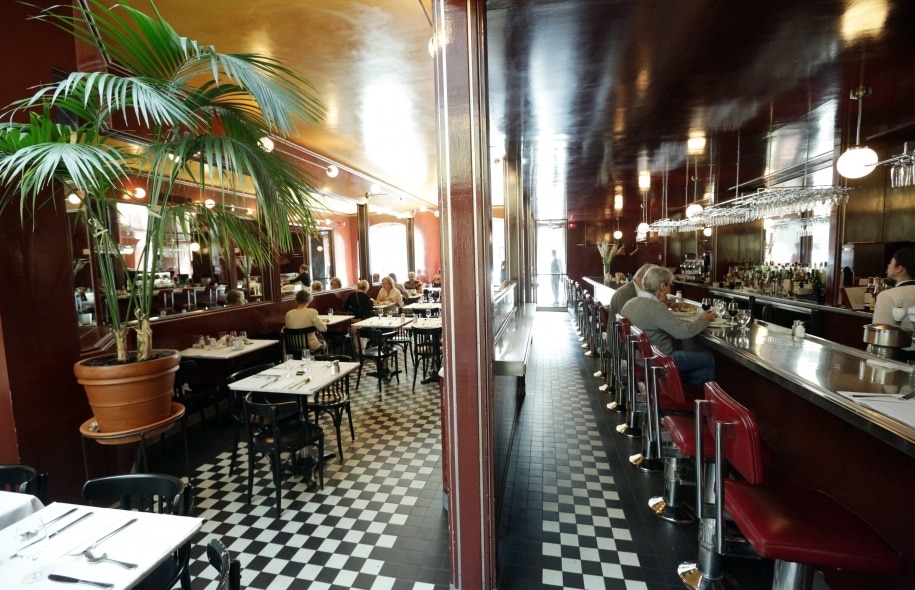 L'Express
On December 19, 1980, L'Express opened its doors on rue Saint-Denis and has since made itself known throughout the world. Recently, L'Express has acquired a new chef who successfully carries on the restaurant's traditions. Very French cuisine, the menu changes very little; we come repeatedly for classics such as bone marrow, kidneys, poultry liver mousse or tartars. Of course, they serve a truly awesome grilled steak, served on a nest of French fries. Alison Slattery
3927 Rue Saint-Denis
Montréal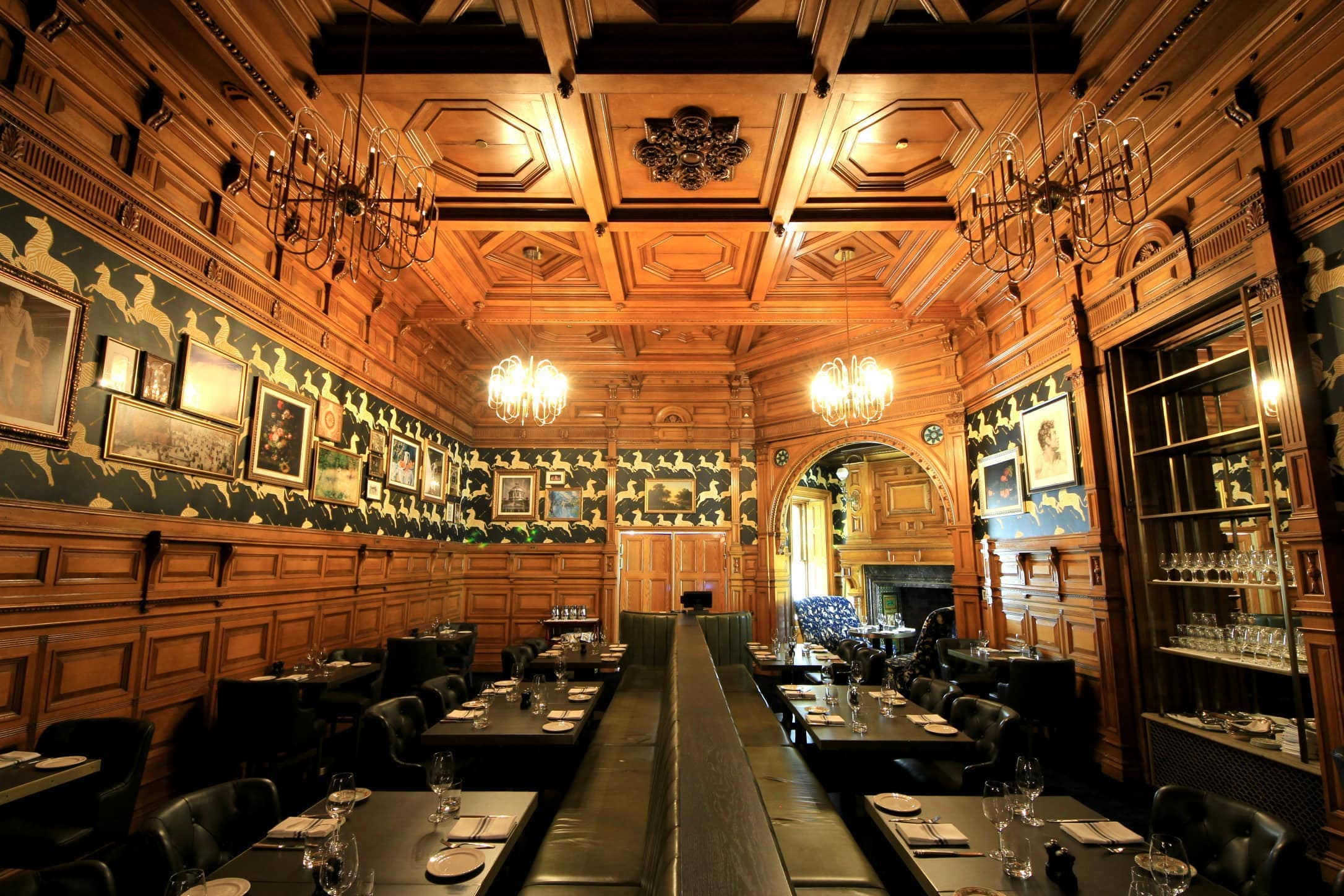 At Bar George, you can enjoy a menu of local products, with Irish and British accents – "where George came from, with an obvious Montreal influence. The menu pays tribute to home cooking, in a beautiful home. The menu is simple on the surface, but the ingredients are of high quality and you can feel a lot of technique in each dish. The steak is always on the menu and very appreciated by all, especially with home fries and reform sauce! Photo Cindy La
1440 Rue Drummond
Montréal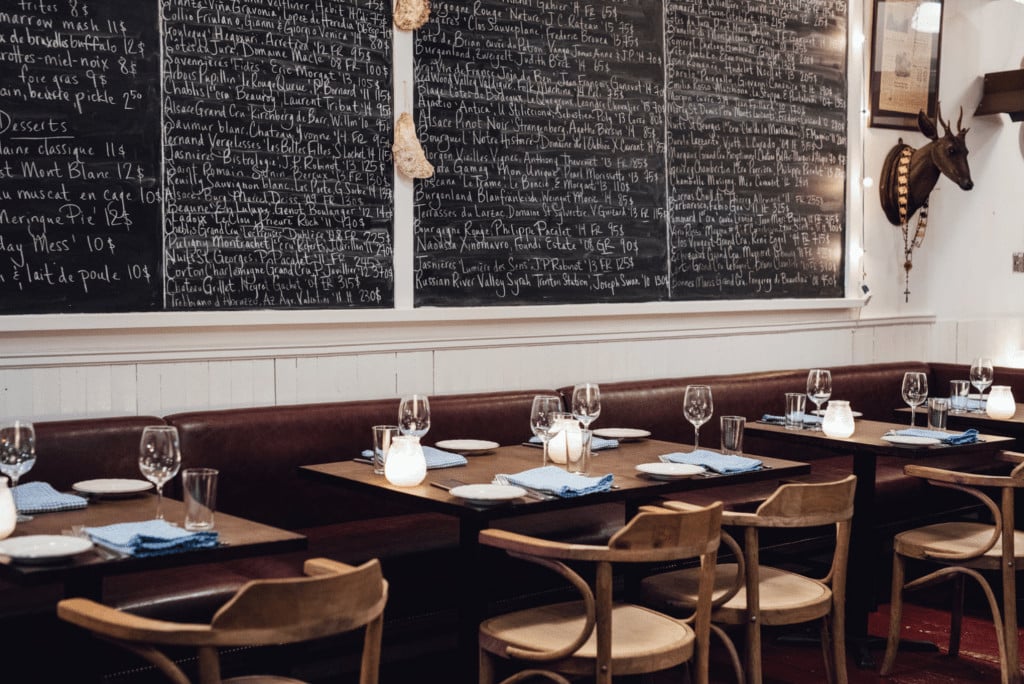 The famous Joe Beef was the engine behind the machine of this well-executed and comforting cuisine. Joe Beef is one of Canada's best restaurants. While the menu changes often, there is regularly a good piece of meat with some seasonal vegetables. Alison Slattery —
2491 Rue Notre-Dame Ouest
Montréal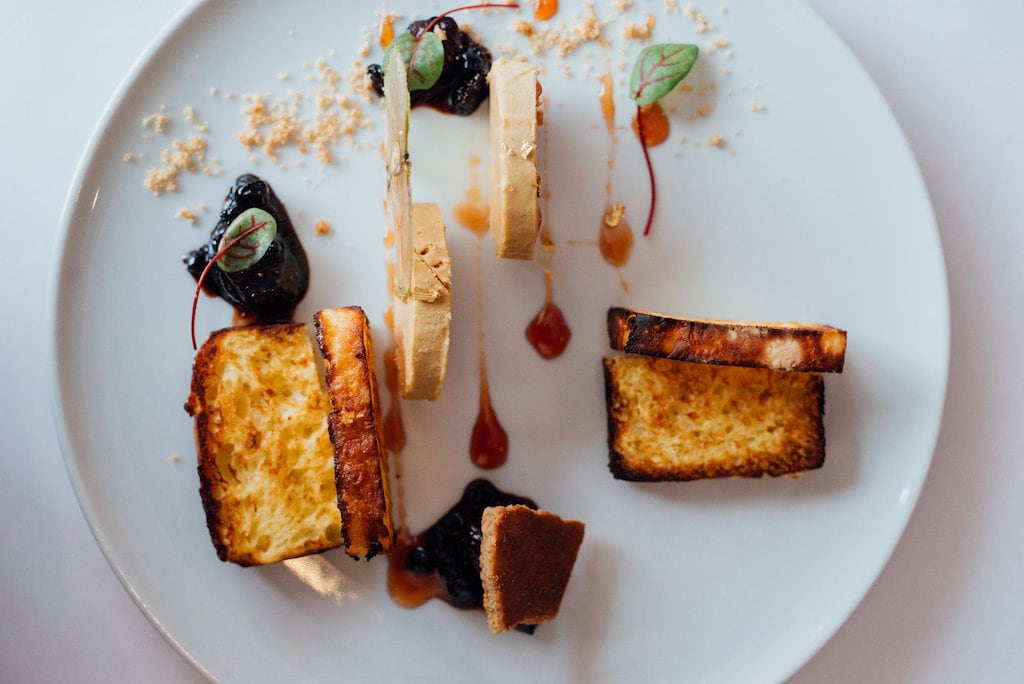 Au Petit Extra
A small, elegant French bistro, Petit Extra is a sure bet just steps away from Cabaret Lion d'Or. The house offers a complimentary beef flank steak with fries and salad and a shallot sauce. Alison Slattery
1690 Rue Ontario Est
Montréal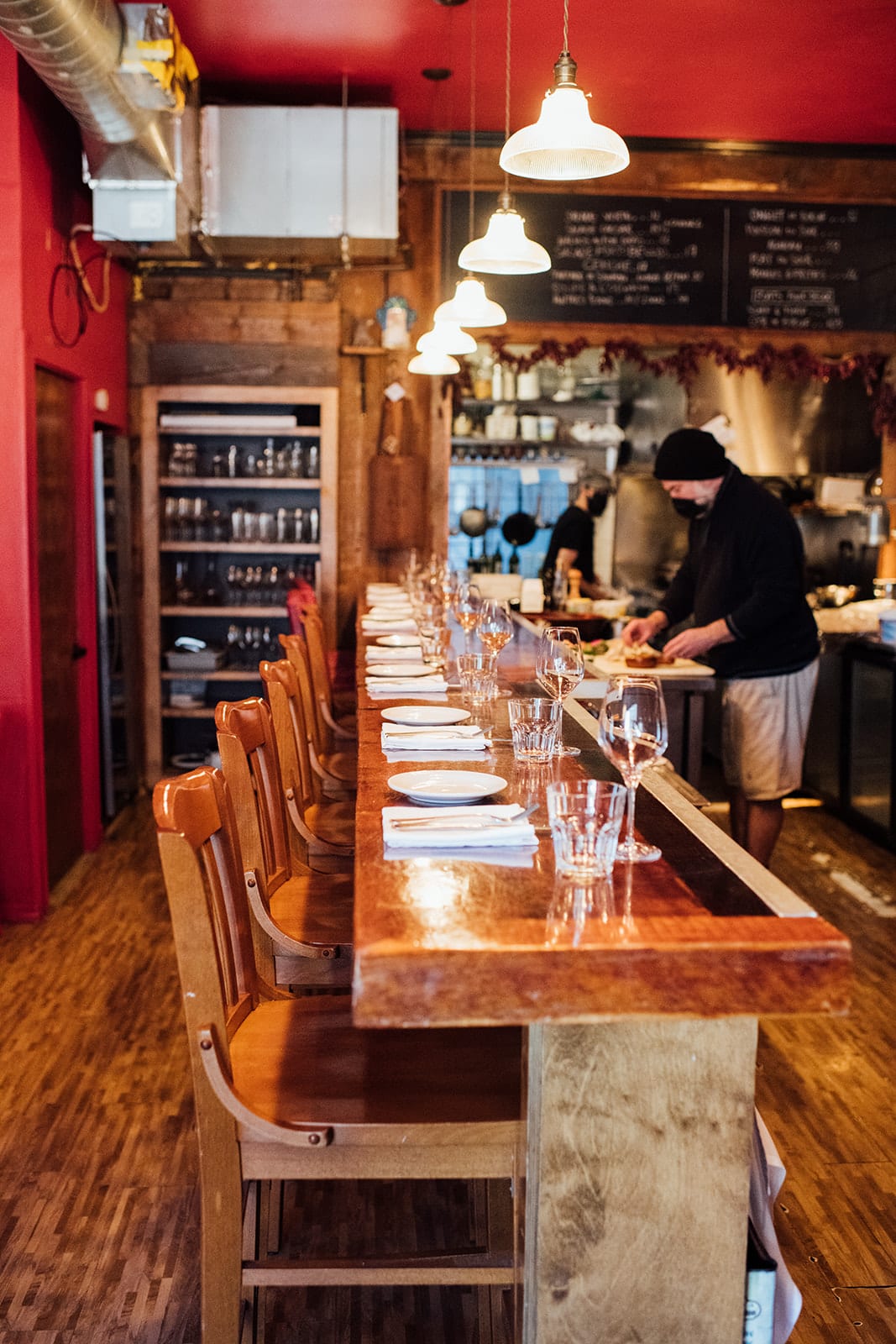 Gus Restaurant is a comforting restaurant where you can enjoy generous meals, all in a friendly atmosphere. One of the house's specialties is steak. Served with chips at lunchtime, their steak is a beef steak marinated for five days in a chipotle pepper sauce. In the evening, the fries are replaced by a delicious gratin dauphinois. Vadim Daniel Photography
38 Rue Beaubien Est
Montréal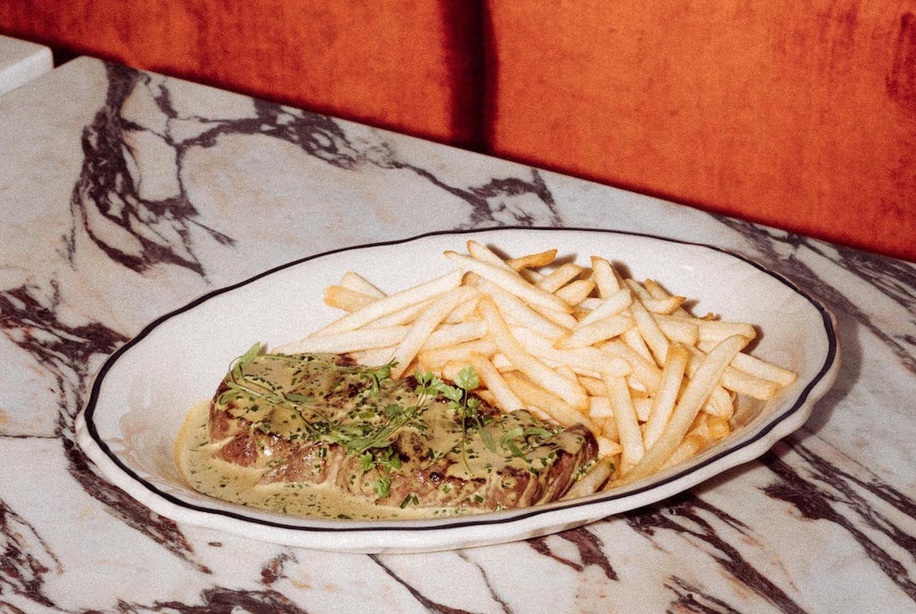 Mignon is a bistro style restaurant that pays tribute to the steak frites. The star of the menu, as you might have guessed, is the steak frites along with other seasonal side dishes such as soups, salads and appetizers of all kinds. Chef Pat Marion leads the way behind the stove to offer a quality steak frites and a wide variety of appetizers.
2523 Rue Notre-Dame Ouest
Montréal
4710 Rue de Lanaudière Montréal H2J 3P7
1155 Rue Sherbrooke Ouest Montréal H3A 2N3
4662 Rue Notre-Dame Ouest Montréal H4C 1S6
1249 Avenue Bernard Montréal H2V 1V7
1045 Avenue Laurier Ouest Montréal H2V 2L1
1 Carré Westmount Westmount H3Z 2P9
3927 Rue Saint-Denis Montréal H2W 2M4
1440 Rue Drummond Montréal H3G 1V9
2491 Rue Notre-Dame Ouest Montréal H3J 1N6
1690 Rue Ontario Est Montréal H2L 1S7
38 Rue Beaubien Est Montréal H2S 1P8
2523 Rue Notre-Dame Ouest Montréal H3J 1N6