Where to go for oysters in Montreal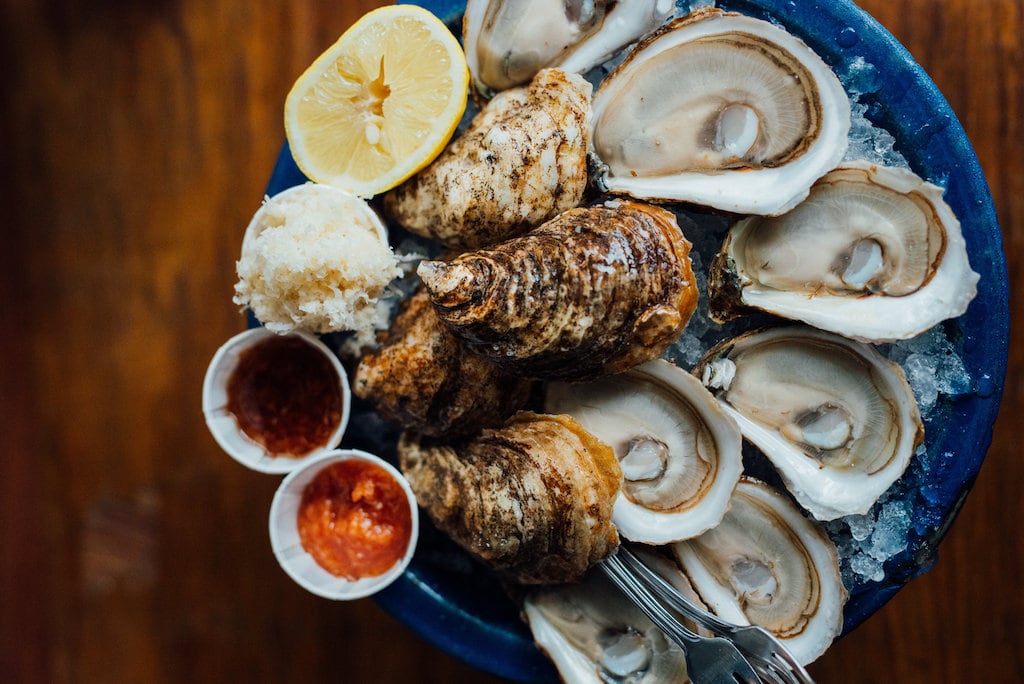 Oysters: you either love them or you hate them. We love them! This marine mollusc, rich in vitamins, minerals and proteins, seduces many! Malpeque and Colville Bay from Prince Edward Island, Beausoleil from New Brunswick, or Hamma Hamma from Washington: there is an incredible variety of oysters (more than a hundred around the world!) Juicy, meaty, salty, sweet, mineral, firm, soft or vegetal, we enjoy savouring them with a glass of bubbles or a good glass of white wine.
In Montreal, we are very fortunate to have access to a wonderful gastronomic scene. Many excellent restaurants on the island feature this delicious and delicate product of the sea – the perfect way to begin a meal. Many places also let you choose the oysters of your liking given their selection. They are then carefully shucked and placed over a bed of ice, and then garnished with slices of lemon, a mignonette, grated horseradish, tabasco or other accompaniments.
We have prepared this list of places that offer great selections of oysters: fresh and always delicious. These are places where we particularly like to go to enjoy these tasty molluscs.
If you're an oyster lover and want to eat oysters in industrial quantities, we also have a list of our favorite places to enjoy oysters for $1.
Enjoy!
See on map
115 Avenue Laurier Ouest Montréal H2T 2N6
1431 Boulevard Saint-Laurent Montréal H2X 2S8
1453 Avenue du Mont-Royal Est Montréal H2J 1Z1
2491 Rue Notre-Dame Ouest Montréal H3J 1N6
5669 Avenue de Monkland Montréal H4A 1E3
4105 Boulevard Saint-Laurent Montréal H2W 1Y7
6230 Rue Saint-Hubert Montréal H2S 2M2
6389 Boulevard Saint-Laurent Montréal H2S 3C3
257 Rue Prince Montréal H3C 2N4
219 Avenue du Mont-Royal Ouest Montréal H2T 2T2
4662 Rue Notre-Dame Ouest Montréal H4C 1S6
2501 Rue Notre-Dame Ouest Montréal H3J 1N6