Where to go for a quick lunch in downtown Montreal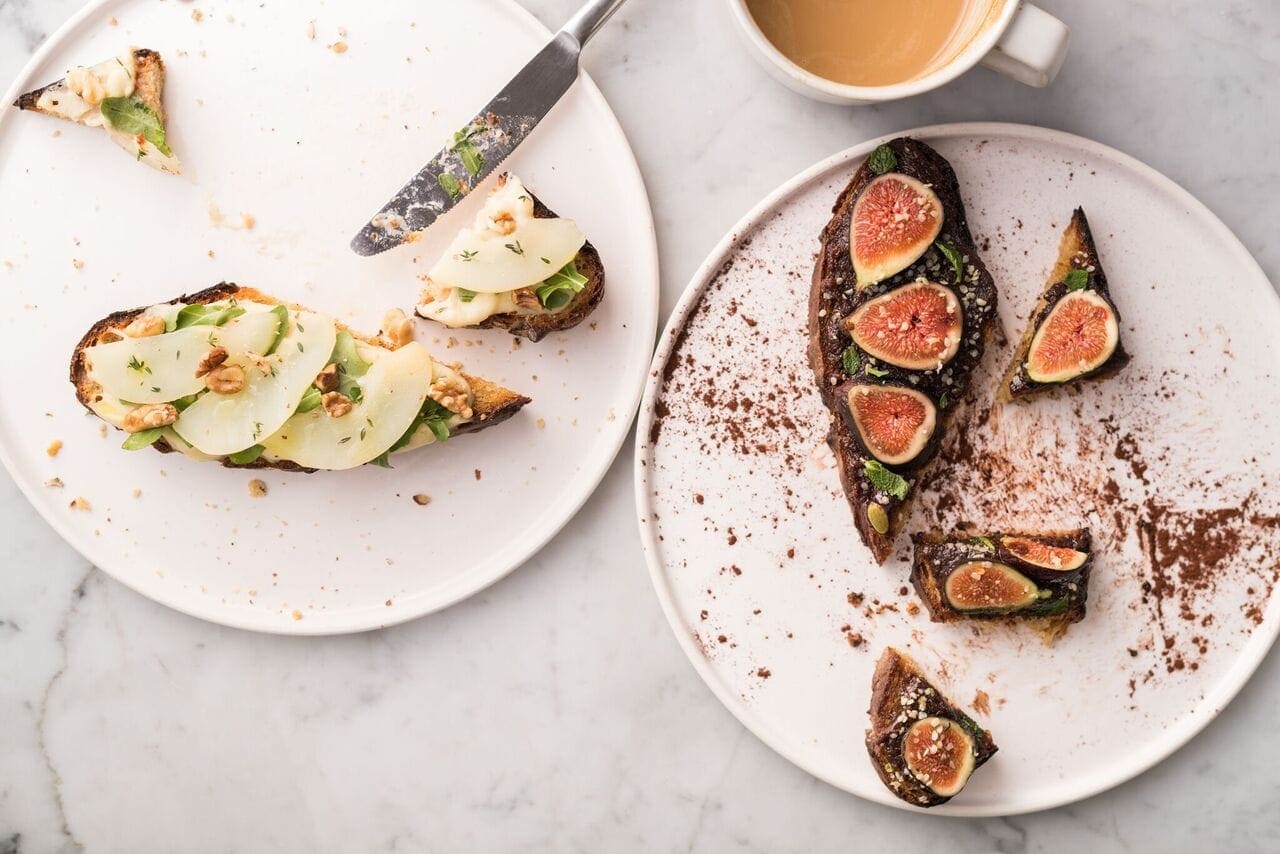 The business district of downtown Montreal is the economic heart of the city. It is easily recognizable by its iconic skyscrapers, including the Palais des Congrès, Tour de la Bourse and Place Ville Marie.
Although the area is mostly made up of office towers and large institutions, the downtown area is also home to many good restaurants where you can take a well-deserved break at lunchtime. Indeed, many excellent and renowned restaurants have taken up residence in the downtown area. The gastronomic offer here is so diversified that there is something to please everyone. Within a few minutes, you can find a healthy snack, an exotic lunch or some satisfying comfort food; anything you need to get you through a busy day at work!
Whether you're just passing through the city for a few hours, or back in the office full-time after several months of working from home, we've put together a list of great places that are sure to change enhance your lunch experience on those busy days at work.
For more suggestions on where to go for lunch when you're downtown, check out our lists of suggestions for a classic lunch downtown, an original lunch downtown, or ideal restaurants for an important business lunch.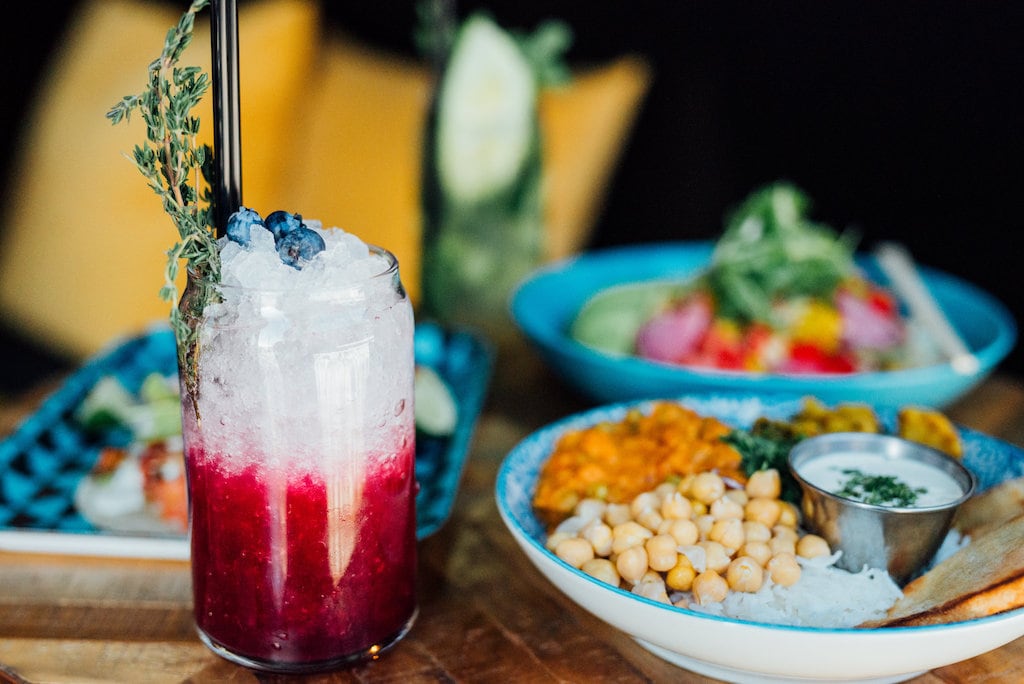 Venice MTL offers simple, healthy, affordable and above all colourful food! The first branch opened in the Old Port, but the owner opened a second one because there was a demand in the commercial district. It's hard not to like this beautiful place with its bright colours, its spaciousness and its lovely natural light. The menu features healthy dishes with prices ranging from $8 to $23. You can eat soups and salads, sandwiches and thin-crust pizza, tacos and pokés, and more. It's a great place to grab a quick bite in the neighbourhood.
440 Rue Saint-François-Xavier
Montréal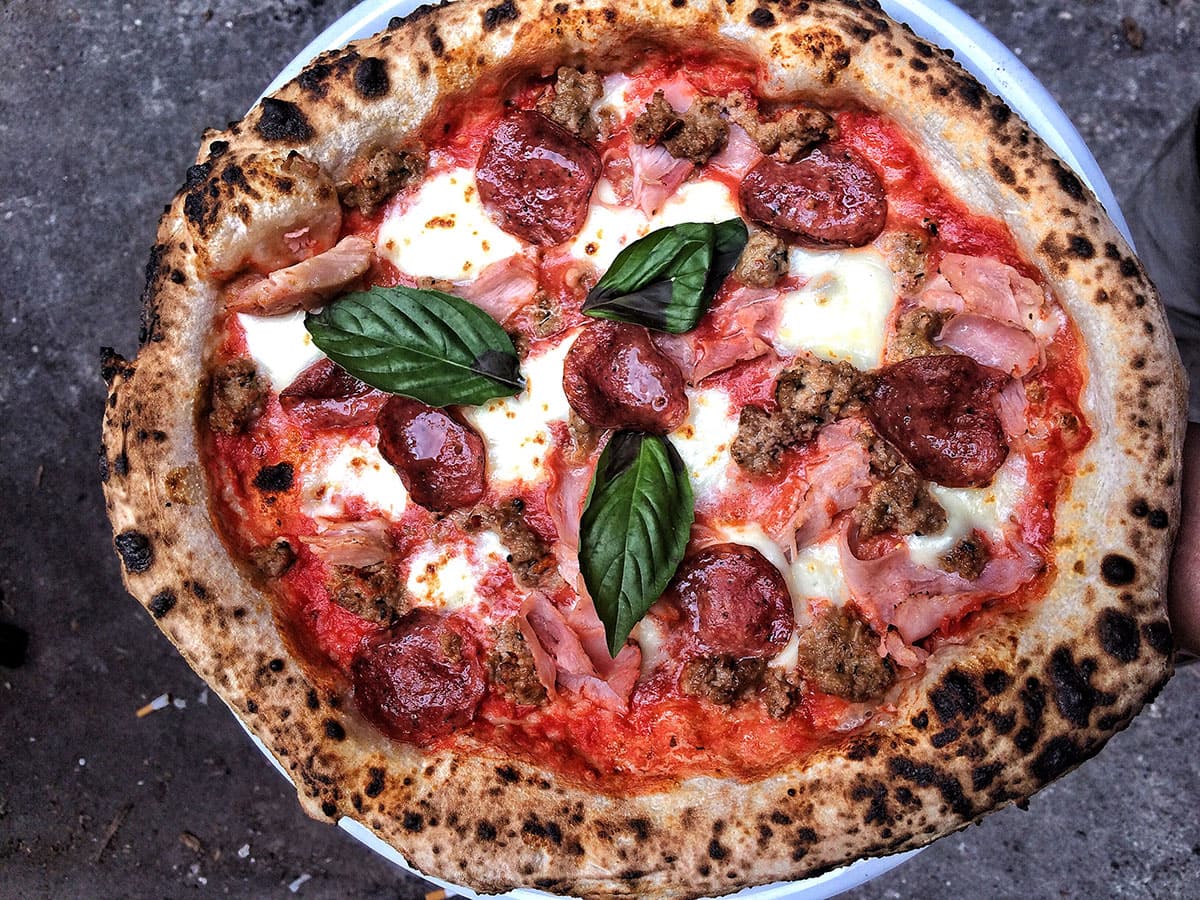 Brigade is an excellent modern pizzeria that offers a toppings bar to customize your thin crust pizza. There are also a la carte pizzas for those who like the classics – Margherita, goat, quattro fromaggi, napoletana, and more. The pizzaiollo cooks the pizzas in the beautiful wood-fired ovens designed by Marra Forni and imported directly from Italy. The place is friendly and relaxed, the service is fast and the prices are reasonable – $9 to $22 depending on the number of toppings. We come here for the authentic flavour of Neapolitan pizzas.
1428 Rue Stanley
Montréal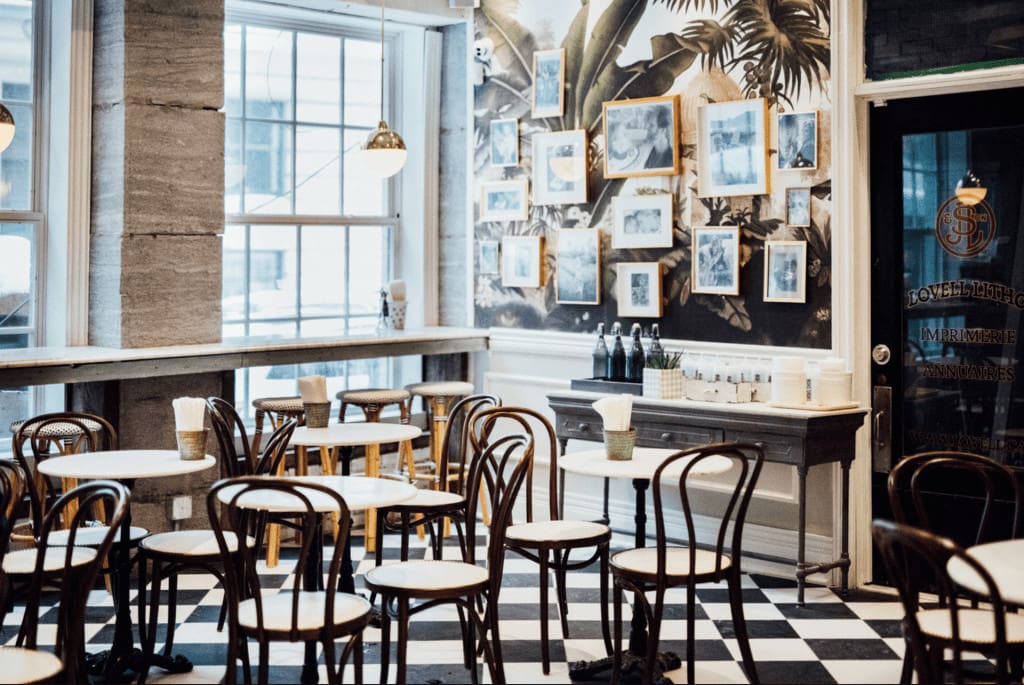 Mandy's offers healthy lunches including salads and soups. We come here mainly for the hearty and delicious salads. There are nearly fifteen on the menu, with prices ranging from $10.50 to $22. The Wolfe Bowl is the favourite of the sister owners: mixed lettuce, brown rice, arugula, kale, cherry tomatoes, walnuts, avocado, parmesan, grated carrots and roasted sesame seeds. Excellent and filling, they are devoured in no time!
425 Rue Saint-Nicolas
Montréal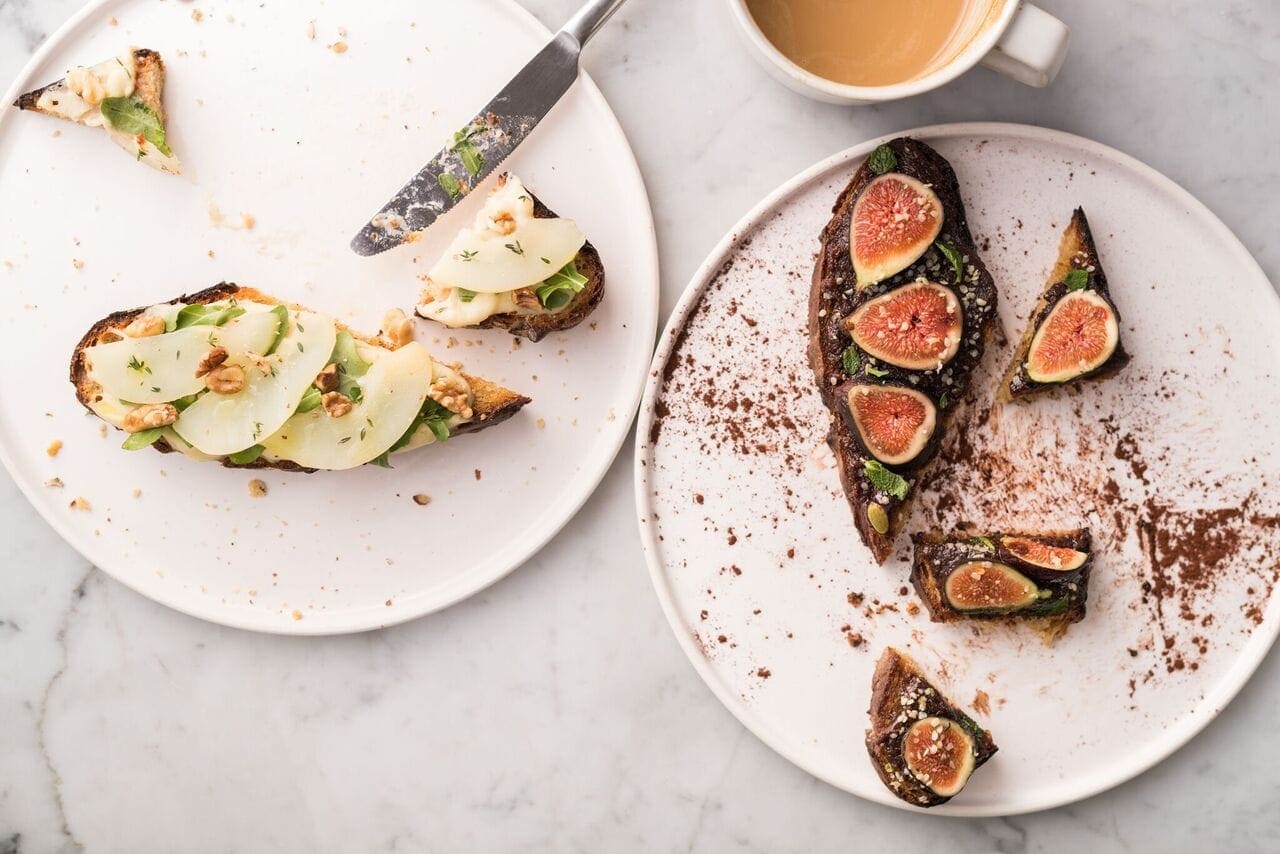 LOV is a vegetarian and vegan restaurant that offers healthy and delicious food. It's in a m-a-g-n-i-f-i-c-e-n-t decor that you can enjoy sandwiches, veggie burgers, salads, toasts, snacks, healthy bowls and comforting hot dishes from $7 to $22 – like their sweet potato gnocchi and risottos. We're particularly fond of La Récolte (seasonal vegetable dip with pumpkin seed mayonnaise) and the Big LOV Burger. Located in the business district, the restaurant is now one of our best healthy vegetarian restaurants in Montreal!
464 Rue McGill
Montréal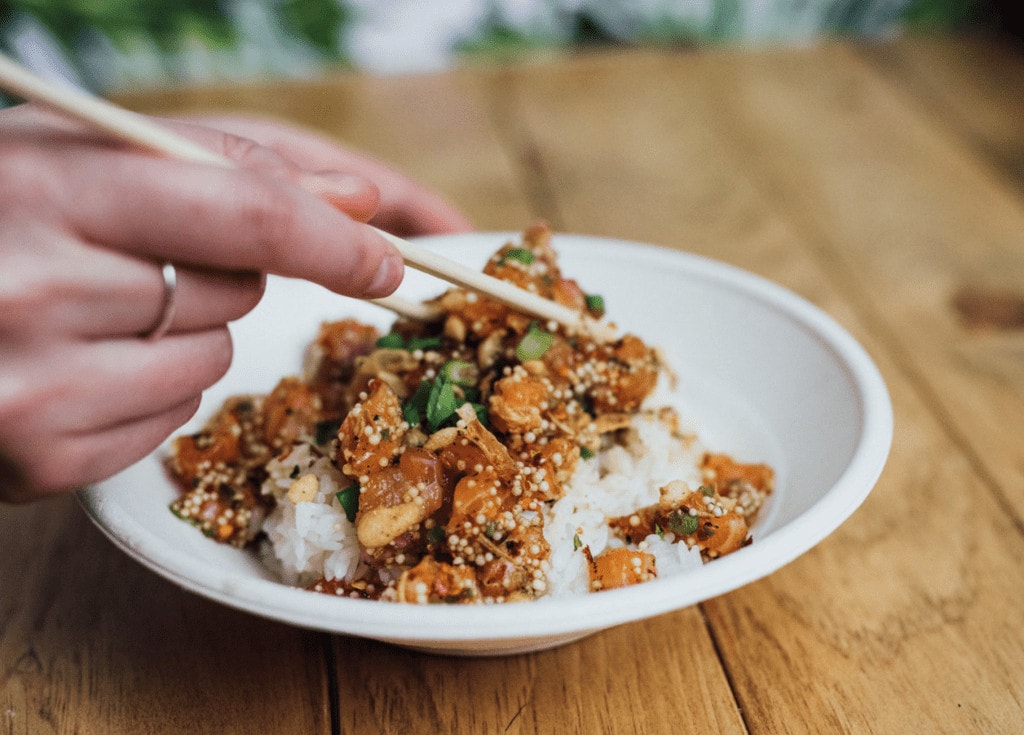 Koa Lua is a Hawaiian poke restaurant, a popular raw fish salad in Hawaii. The restaurant offers seven pokes with either tuna, salmon, shrimp or tofu. A favorite is the Black Magic, a poke with salmon, hot sauce, nori, crunch mix and furikake for $14.95. They also serve a few juices – our favourite is the Red Hawaï – and a bubble tea is coming soon. For those who want a break from the office towers, this is a great place to get away from it all for lunch.
1446 Sainte-Catherine Ouest
Montréal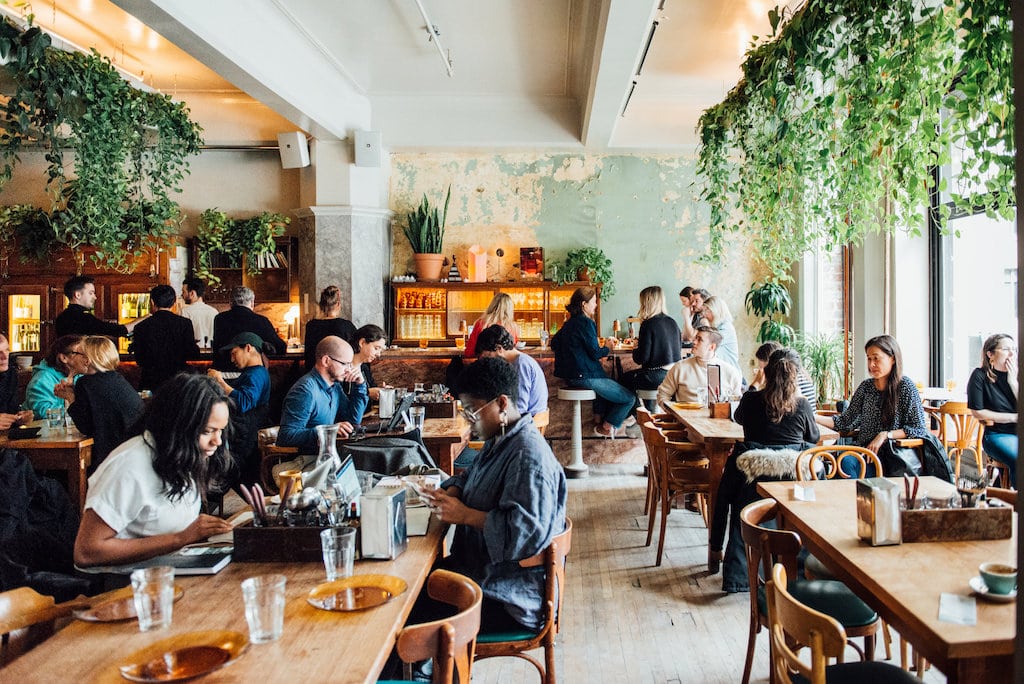 Café Parvis
We come to Café Parvis to savour delicious pizzas and salads. This splendid place is adorned with plants both inside and outside. In fact, it is on our list of the most beautiful cafes in Montreal. The salads, which are some of the best in Montreal, are delicious and offered between $7 and $18 – Rapini, Romanesco, Leeks with vinaigrette, Barley, etc. For the pizzas, the prices are just as affordable: $18 to $22.
433 Rue Mayor
Montréal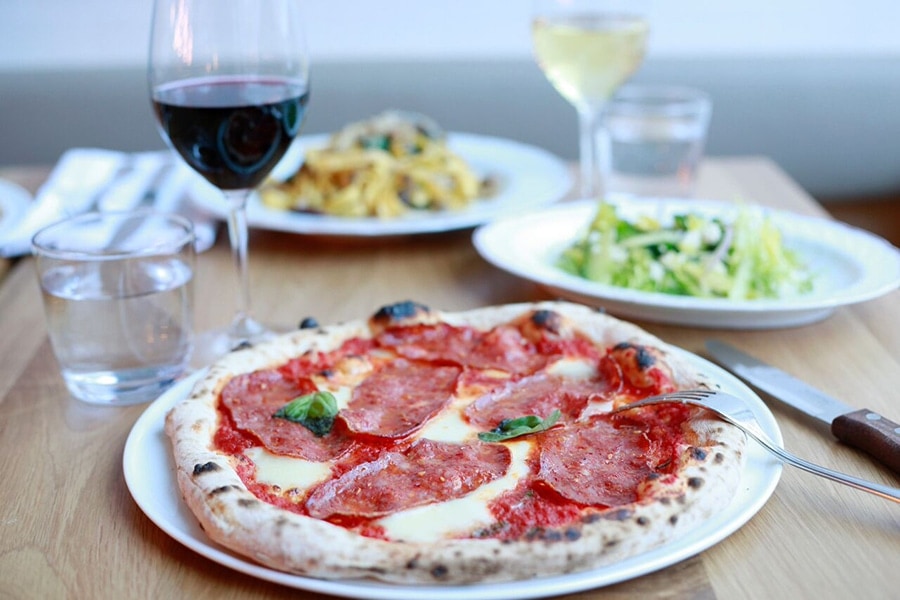 Fiorellino restaurant serves authentic Italian cuisine. A mix of family restaurant and trendy bar, the place is chic and warm. While their wood-burning oven is in the heart of the room, their pizza is at the heart of the menu. In fact, it's on our list of the best pizzas in town. Two favourites include the Tutta Vestita (Fior di Latte, red peppers, mushrooms, spicy sopressata) and the Formaggio di Capra (Sausage, onions, goat cheese, pecorino, oregano). The lunchtime table d'hôte is between $14 and $28. Desserts range from $10 to $16.
470 Rue De La Gauchetière Ouest
Montréal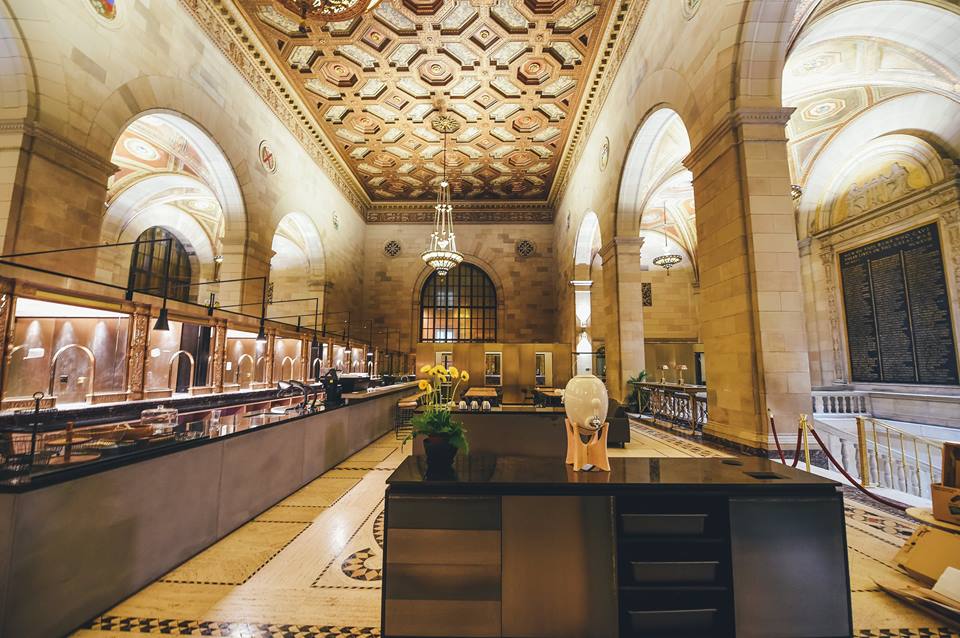 This café located in a historic bank on Saint Jacques street is truly breathtaking! Added to our list of the most beautiful cafés in Montreal, this is definitely a great place in town to grab a quick bite. The café offers a delicious menu designed by chef Lee Charlton-Sunnol and his team. Here you can eat the "super green" salad, the BLT, the salmon avocado salad, the bagel with cream cheese or the Israeli dish. If you'd like to get some work done afterwards in a quiet space, you can reserve a private room at a cost of $15/hour. We come here to enjoy the splendid architecture, a good coffee and good food.
360 Rue Saint-Jacques
Montréal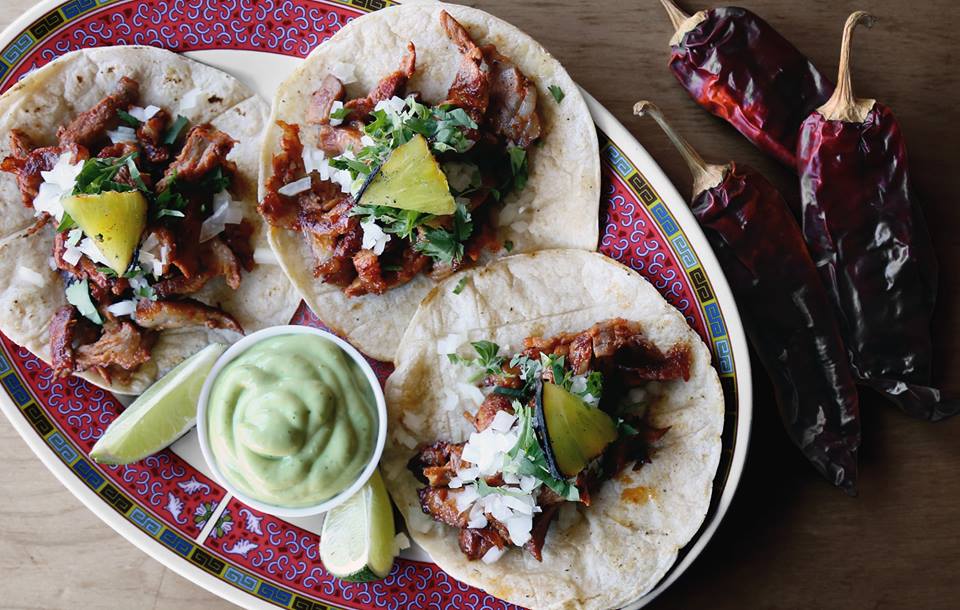 Capital Tacos is a charming little taqueria that serves up some of the best tacos in Montreal! The menu features seven taco choices including two vegetarian options. A few favourites include the rib-eye (grilled AAA Ribeye beef served with Cebollitas Asadas), Pastor (marinated pork cooked on a vertical grill, with onions, cilantro and pineapple), and the Pastor Tempeh (marinated tempeh, cilantro, onions, grilled pineapple and avocado sauce). They also serve quesadillas, a taco of the day, appetizers, guacamole, Frijoles refritos and ensalada. All sauces are homemade! The dishes cost $13 to $15.50 for a plate of three tacos – a delicious and affordable meal!
1096 Boulevard Saint-Laurent
Montréal
Ryu 
Ryú Peel is a fast and casual sushi bar – a halfway point between table service and a fast food joint. They offer a simple a la carte or omakase menu, so you can try a number of specialties. There is a strong emphasis on traditional nigiri; we particularly recommend uni wagyu (sea urchin and Japanese beef) and wagyu nigiri (Japanese beef), which are true delicacies! The quality of the products is high and sophisticated, the offer is diversified, the decor is elaborate and the price is a bit higher – ranging between $19 and $49 for lunch.
1474 Rue Peel
Montréal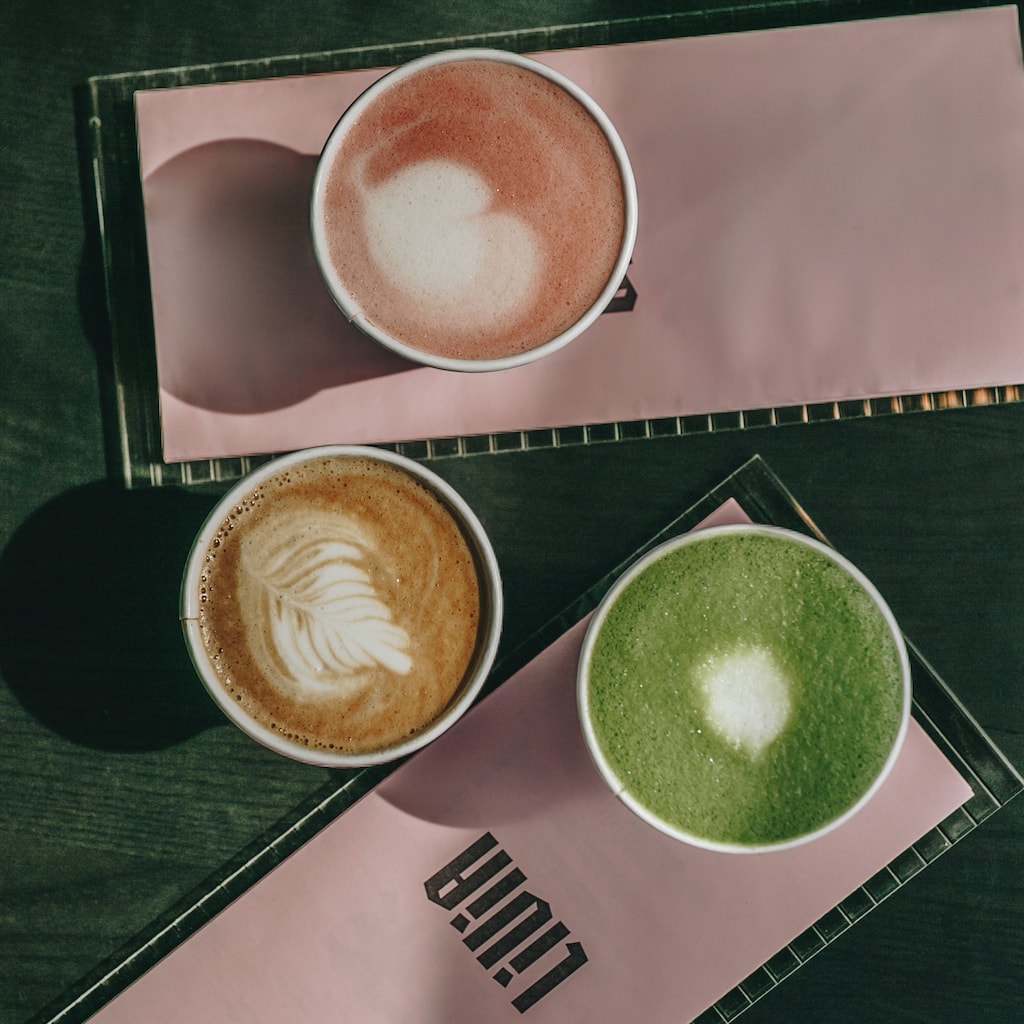 Livia, Ryu's matcha bar, is now located downtown. The new location allows the team to not only continue to serve high quality matcha, but also to expand their gourmet offerings. Here you can enjoy a healthy menu of acai or pitaya bowls, light toasts and, the great novelty, a nice selection of salads with Asian accents! Finish it all off with a delicious matcha soft serve. Photo Livia
1468 Rue Peel
Montréal
See on map
440 Rue Saint-François-Xavier Montréal H2Y 2T3
1428 Rue Stanley Montréal H3A 1P7
425 Rue Saint-Nicolas Montréal H2Y 2P4
464 Rue McGill Montréal H2Y 2H2
1446 Sainte-Catherine Ouest Montréal H3G 1R3
433 Rue Mayor Montréal H3A 1N9
470 Rue De La Gauchetière Ouest Montréal H2Z 1E3
360 Rue Saint-Jacques Montréal H2Y 1P5
1096 Boulevard Saint-Laurent Montréal H2Z 1J5
1474 Rue Peel Montréal H3A 1S8
1468 Rue Peel Montréal H3A 1S8