Healthy meal delivery for on-the-go lunches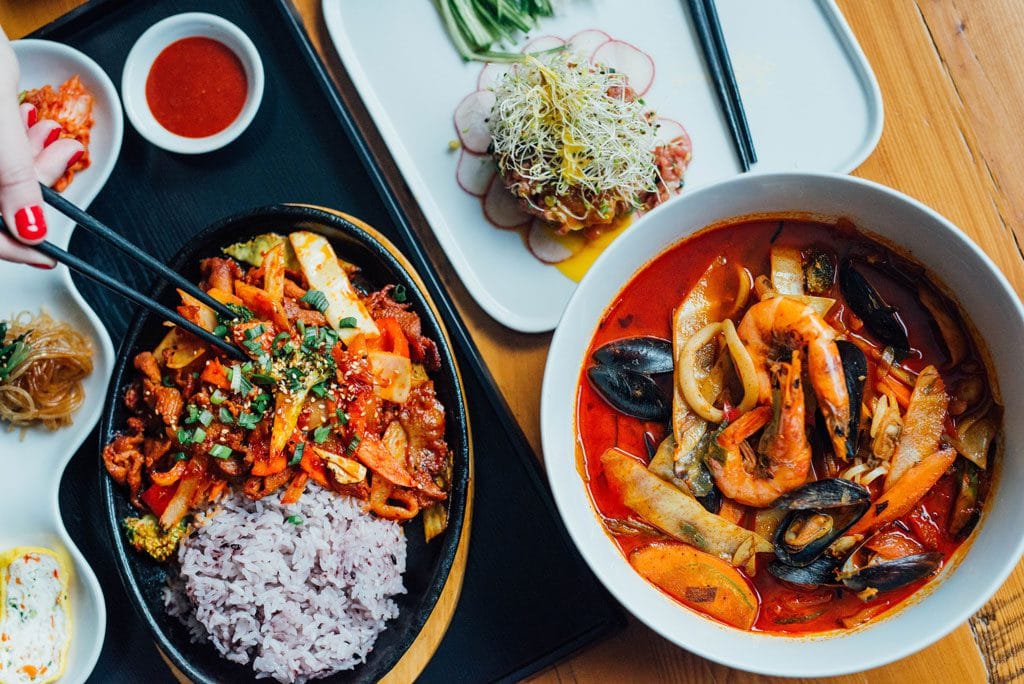 It's now been several months since our daily lives were turned upside down and that working from home has become accessible to almost everyone. If you used to eat lunch at the local diner, what meal did you replace the healthy meal you used to eat?
For people who are able to continue working from home, it often isn't easy to juggle household chores, a makeshift office and for some of us, a family life.  In these times, the separation of work and home can be difficult to manage. You can continue your work with no worries while waiting for your healthy meal!
The choices go way beyond the boring salad as we know it and include some delicious, healthy and balanced dishes for a boost of energy to keep you going during your workday. Pokés, vegetable bowls, soups and many other gourmet dishes are just some of the available from these chosen restaurants that we know are delicious and reliable.
For other suggestions of places offering delivery or take-out, look through our list of restaurants open for take-out.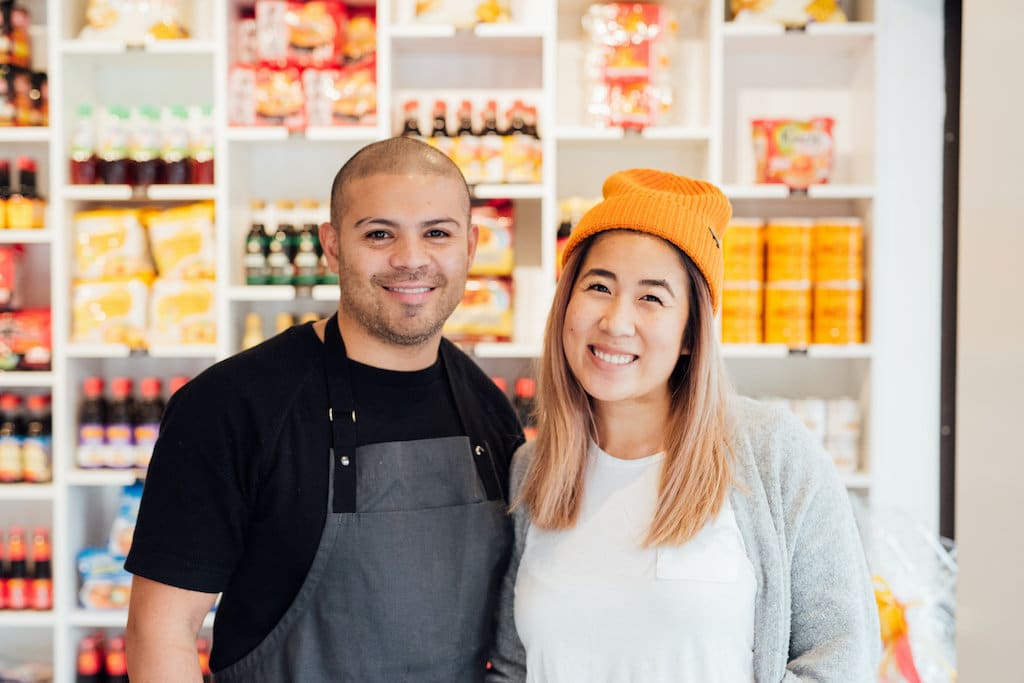 Looking for a good Banh Mi? You're sure to find it at Sue's Grocery Store. Always on the menu is the Banh Mi with pork "char-siu", the signature dish at Sue's. Try this once and you'll probably order it again next time. What makes the dishes at Sue's Grocery Store so tasty is the quality of the fresh ingredients. This is because everything here is homemade – nothing is frozen.
951 Avenue Duluth Est
Montréal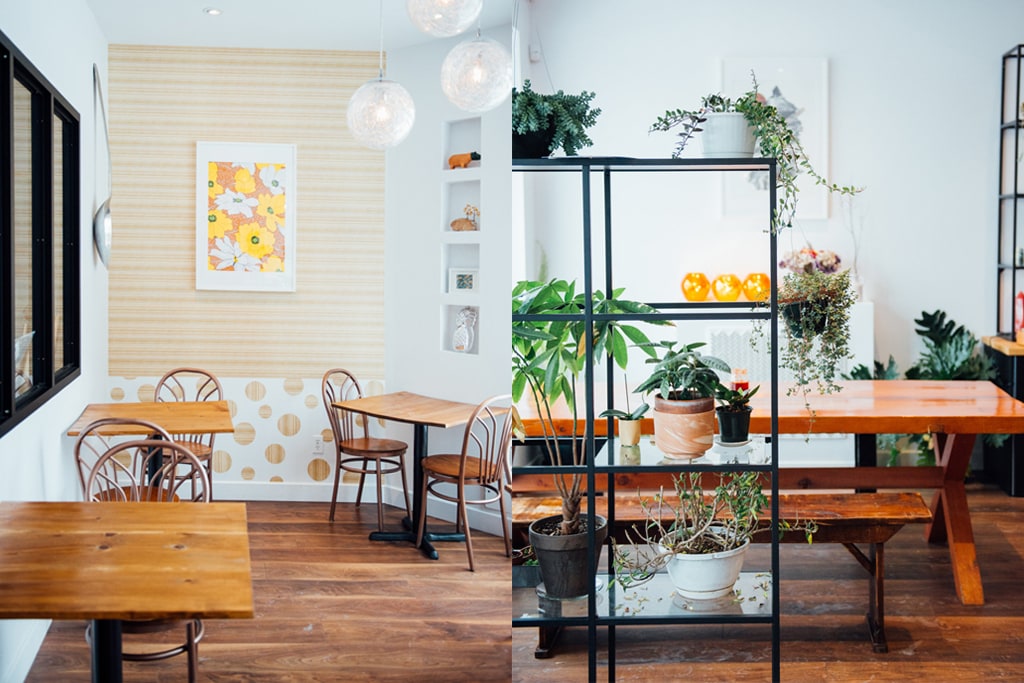 OK Poké
At Ok Poké, the main goal is to serve food that is always made with the best of fresh ingredients. This is the place that allows you to put together your own poké. So after choosing your basics and favourite protein like marinated tofu, shrimp, salmon or tuna, you can add all sorts of fresh condiments for all the nutrients you want in a meal.
75 Avenue Shamrock
Montréal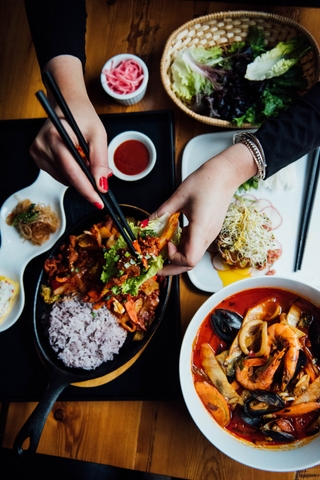 Petit Seoul offers affordable, authentic and tasty cuisine in Mile End. The portions are generous and the dishes are colourful and maybe you'll even want to order one of each!  For a quick and balanced meal on-the-go, we recommend their succulent Bibimbap: a Korean bowl of rice, with vegetables, egg and beef.
5245 Boulevard Saint-Laurent
Montréal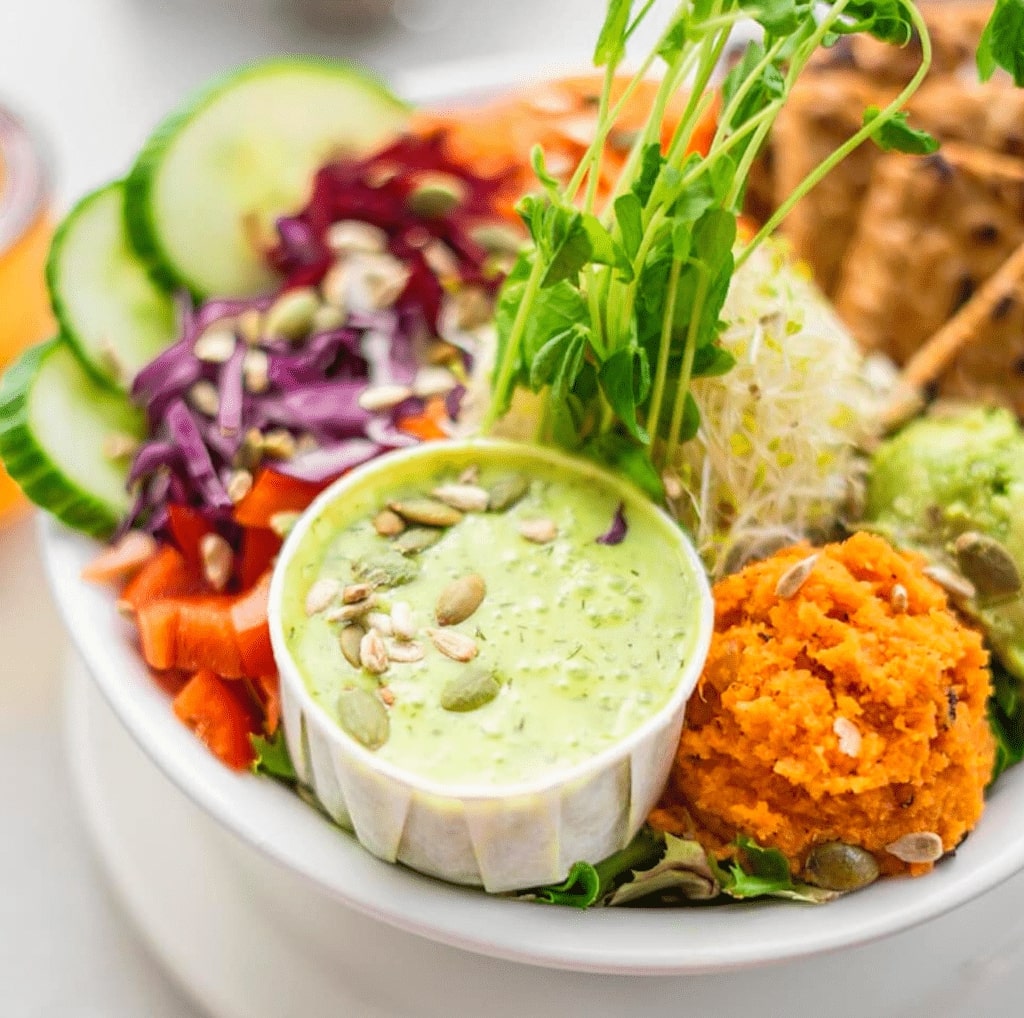 Aux Vivres is a true Montreal institution that has revolutionized the city's vegan food scene. The team is committed to serving Montrealers with the best ingredients and flavours available. Their menu is a delightful mix of culinary influences, flavours and colours from around the world.  One of our favourites is the Dragon Bowl that offers everything needed for a great balanced meal.
4631 Boulevard Saint-Laurent
Montréal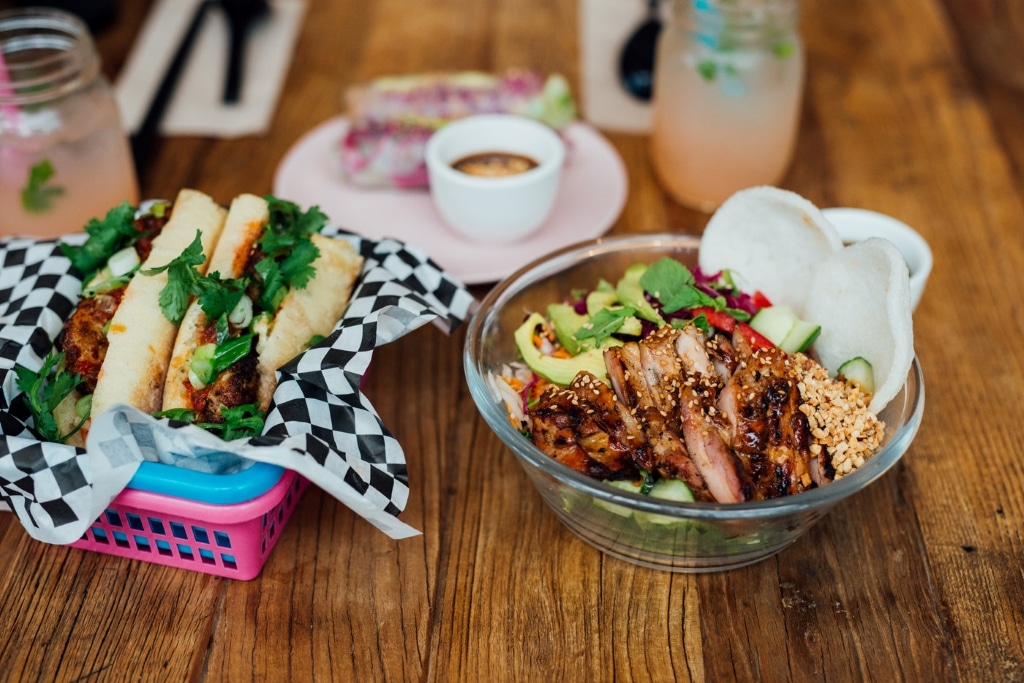 This is where tradition and modernity merge, thanks to the creativity of the co-owner who successfully reinvents Vietnamese classics. Le Petit Sao lists a beautiful variety of delicious dishes at low prices with several vegetarian options, as well as authentic Vietnamese dishes, and they all include delicate and colourful touches. We order for delivery their tasty Pho soup, a healthy source of comfort.
40 Place du Commerce
Montréal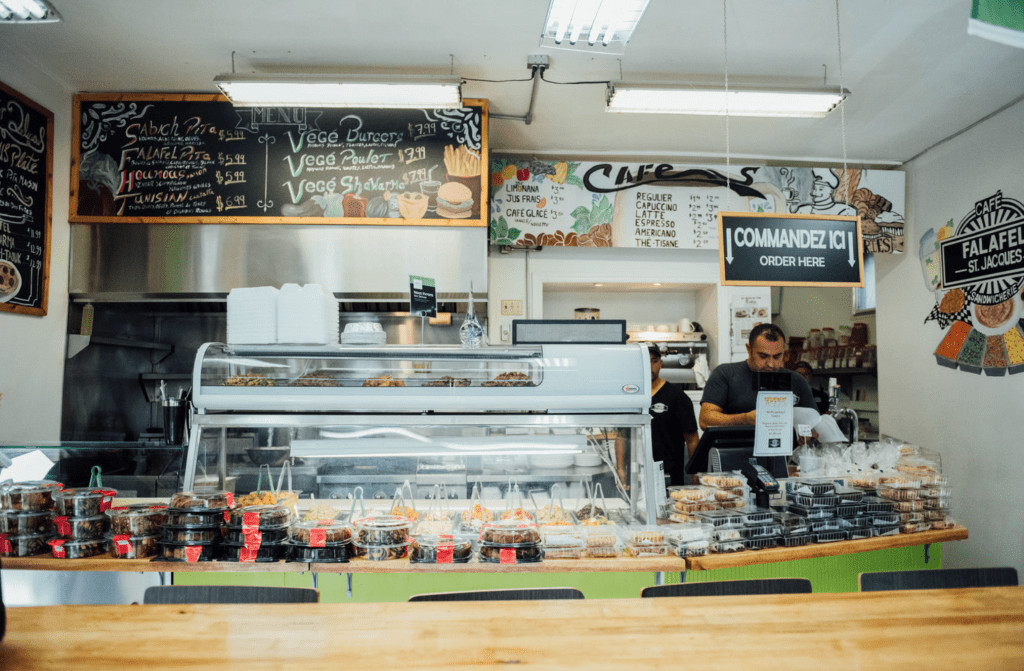 Falafel Saint-Jacques is a little hidden gem that offers delicious, original and affordable vegetarian Middle Eastern cuisine! The specialty of the house? Falafels in all its forms. Everything is always fresh at Falafel Saint-Jacques; salads, sandwiches, fries, hummus, falafels and pitas are all homemade – yum (!).
345 Rue Saint-Jacques
Montréal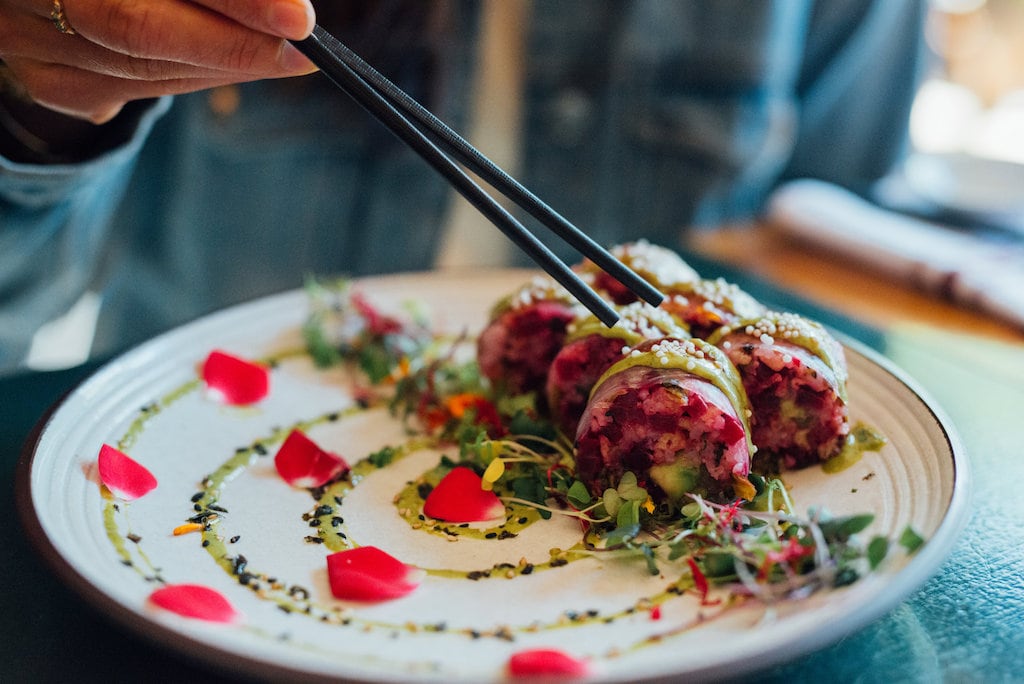 Sushi Momo has an excellent offer for all sushi lovers – vegans or not! There is a wide range of delicious sushi with unusual flavours on the all-vegan menu. The plates are not only very colourful and nicely presented, their flavours are also surprisingly harmonious!  
3609 Rue Saint-Denis
Montréal
See on map
951 Avenue Duluth Est Montréal H2L 4X5
75 Avenue Shamrock Montréal H2S 1A5
5245 Boulevard Saint-Laurent Montréal H2T 1S4
4631 Boulevard Saint-Laurent Montréal H2T 1R2
40 Place du Commerce Montréal H3E 1J6
425 Rue Saint-Nicolas Montréal H2Y 2P4
345 Rue Saint-Jacques Montréal H8R 1E6
3609 Rue Saint-Denis Montréal H2X 3L6