The Best Restaurants in the Eastern Townships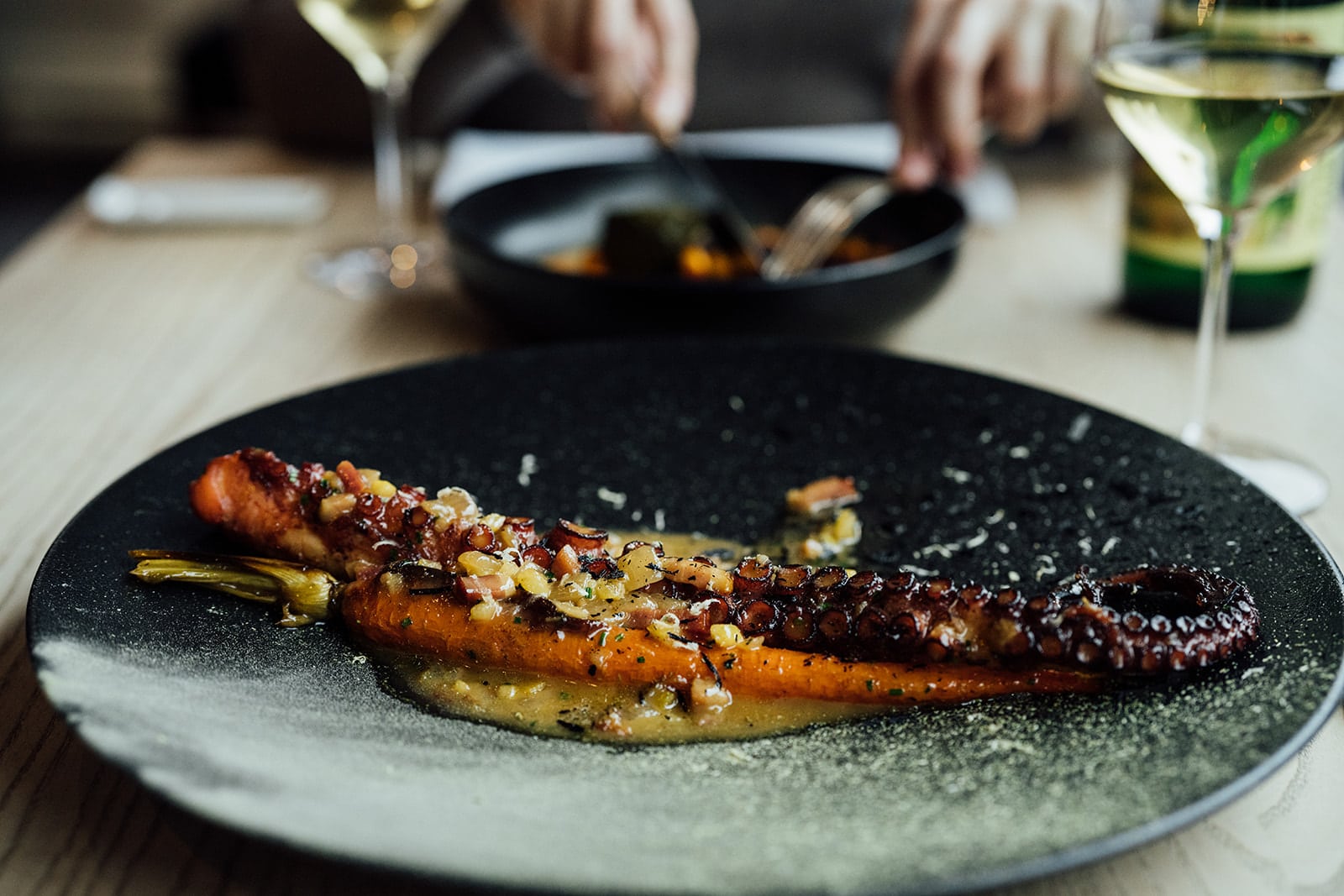 The magnificent villages of the Eastern Townships are only an hour from Montreal. Take advantage of this proximity and these exceptional addresses on your next visit to one of Quebec's most beautiful regions.
The Brome-Missisquoi Wine Route is the cradle of Quebec's viticulture and is a must-see when visiting the region; for the quality of its vineyards, but also for its spectacular scenery at the foot of the Appalachian hills. The region is home to the oldest planted vines in Quebec. Here, one can observe the know-how of winemakers handed down from generation to generation.
The Eastern Townships are not only known for their beautiful Wine Route, but also for their very popular ski resorts such as Mont Sutton, Owl's Head, Bromont, and Mont-Orford. Many Quebecers come to the region to hit the slopes all winter long.
Nature lovers and outdoor enthusiasts alike come to the Eastern Townships for the region's magnificent parks and nature reserves.
And if you're as gourmet as we are, the region offers a wide range of delicious places to eat, all of which have one thing in common: showcasing the best they have to offer.
From a small café to a gourmet restaurant, or from a craft brewery to a wine bar, you'll enjoy local cuisine that works closely with local producers.
Plan your itinerary in advance with the Le Petit Tastet guide produced in collaboration with Bonjour Québec. To consult it now (in French), click here.
Discover also our gourmet guides in Charlevoix, Outaouais, Laurentians, Laval.
Special mentions
Taverne 1855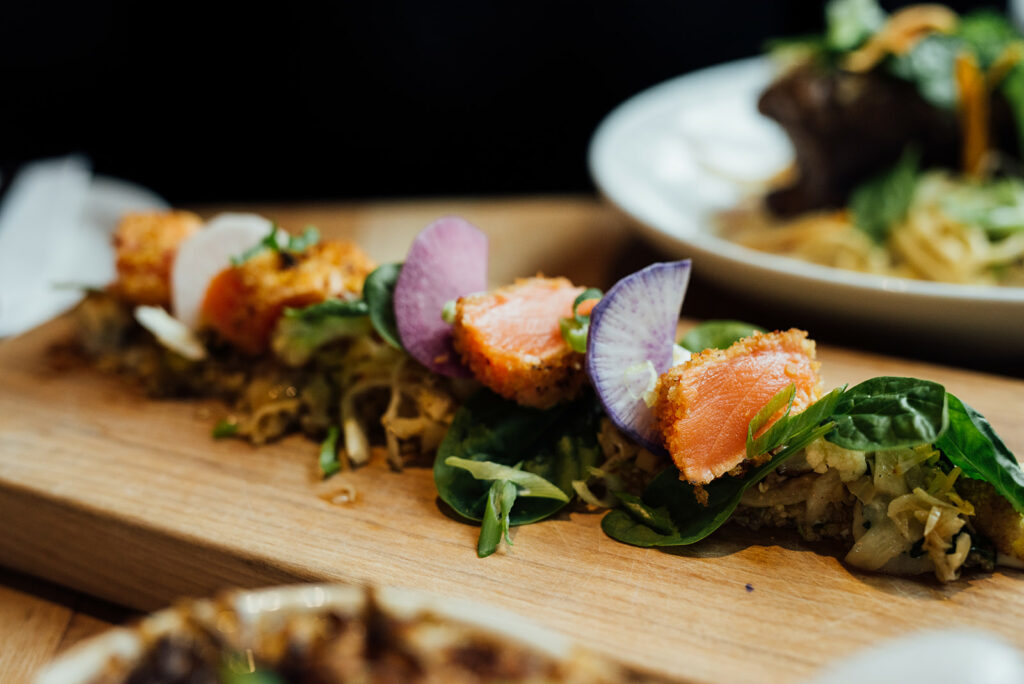 Taverne 1855 is a beautiful establishment in the heart of Magog. The address is welcoming and unpretentious, with superb products on offer to eat and drink.
Here, we savour a delicious cuisine prepared with first quality local products. The wine list, for its part, consists entirely of private imports and features small producers from here and elsewhere. The menu also includes alcohols, house cocktails, and beers from local microbreweries. The tavern also has a covered terrace overlooking the river—the perfect setting for an apéritif.
Beat & Betterave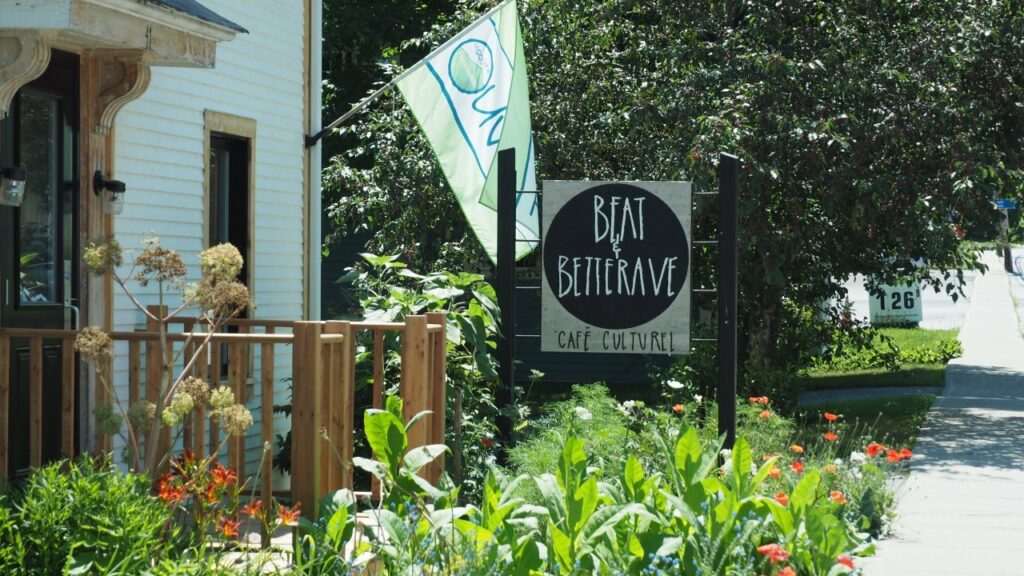 Beat & Betterave is the cultural heart of Frelighsburg with its convivial and welcoming café, its live performances, and its nano brewery. The address has that je-ne-sais-quoi that makes you feel like you're being served in the comfort of your own home; it's clear that community spirit is at the heart of the owners' vision. We go there for a coffee break, a refreshing beer brewed on site, a good meal with a view of Mont Pinacle, but also—and especially—to gather and share beautiful moments.
Arvida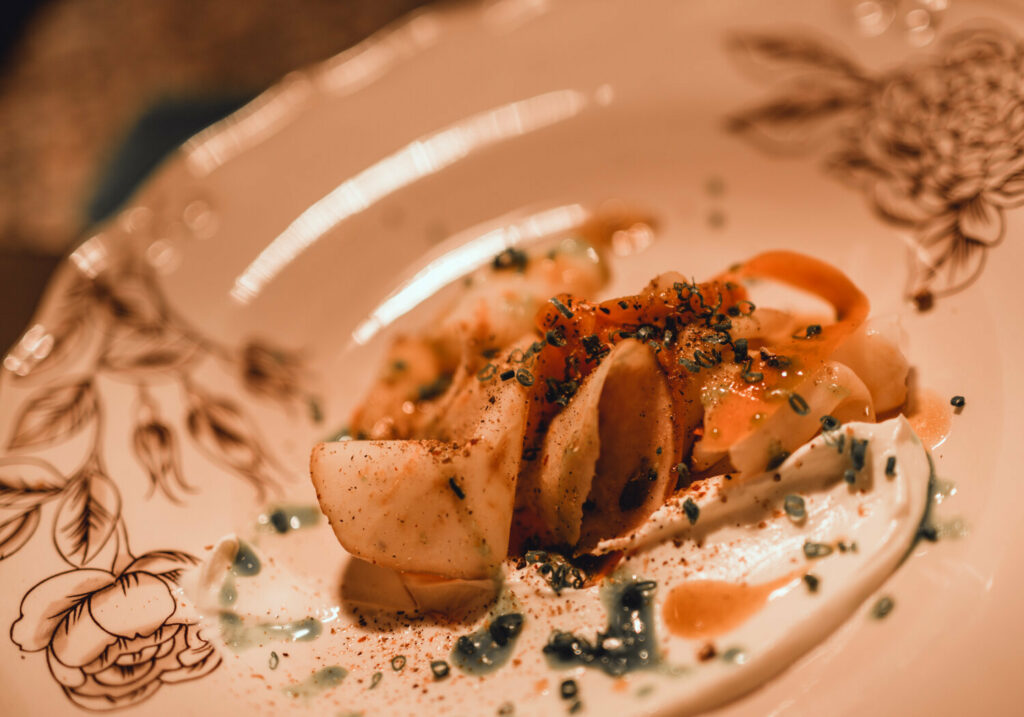 Arvida is a favourite in the region. To have the full dining experience here, we recommend you order several dishes to share — 2 to 3 per person. They also offer a delicious brunch menu as well. This Granby restaurant is considered — by the Eastern Townships' foodies — as one of the best in the area. Don't forget to snap a few photos during your visit; their beautiful decor will be the talk of your posts!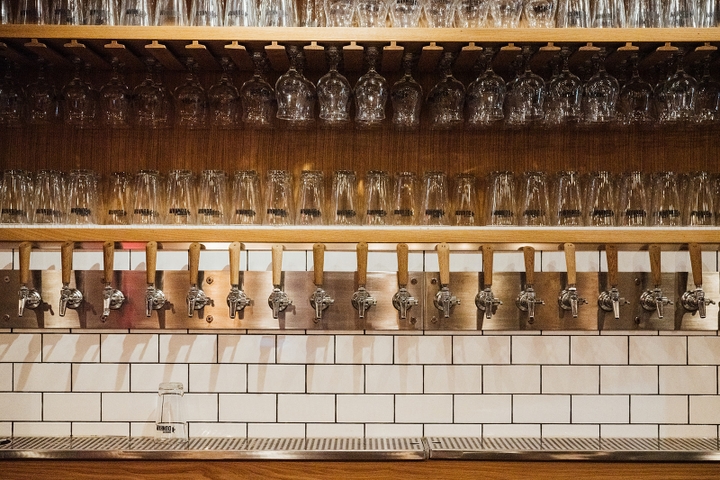 Brasserie Dunham opened in June 2011 in the charming village of Dunham in the Eastern Townships. For over 10 years they have been producing delicious beers with local flavours. While inspired by the classic European brewing traditions, Brasserie Dunham's know-how is also focused on the exploration and renewal of different styles. The Brasserie Dunham Pub is adjacent to the brewery. It's the perfect place to savour their delicious beers, grab a bite to eat, and enjoy the sunshine on the terrace when the weather permits.
3809 Rue Principale
Dunham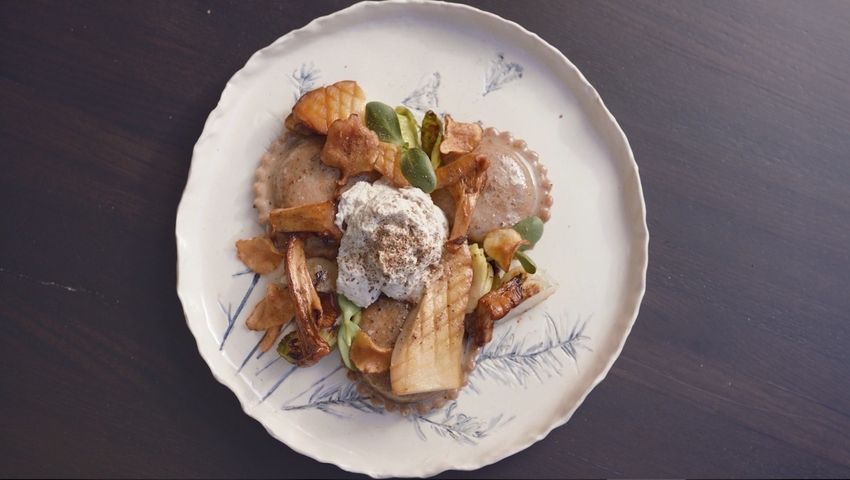 La Maison Boire is an eco-responsible gastronomic restaurant that offers an innovative traditional culinary concept. In fact, the house aspires to eco-responsibility and complete sustainability thanks to its zero waste vision. It also aims at self-sufficiency by honouring the use of local and organic products throughout the seasons. Here we savour a traditional wood-fired cuisine that respects an artisanal, authentic and refined approach. The menu is largely a tribute to vegetables, but the few meat offerings on the menu are from local producers who care about animal welfare.
13 Rue Court
Granby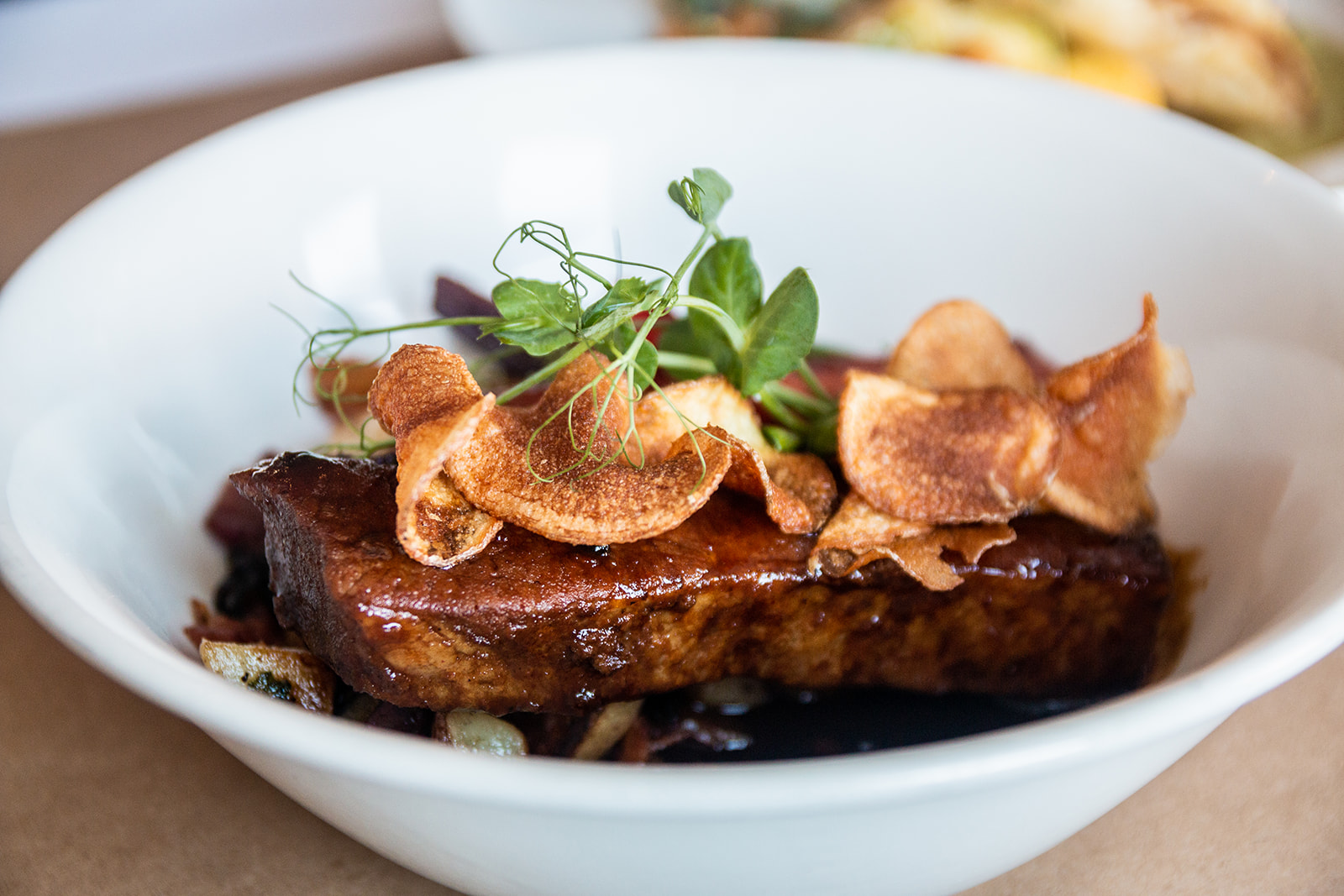 Established on Wellington Street, Auguste is one of Sherbrooke's best restaurants, and serves traditional local cuisine in a lively atmosphere. From Wednesday to Saturday, the establishment welcomes its faithful clientele in a spacious dining room, in the centre of which is a large open kitchen where you can see the fine team at work. The restaurant owes its success to its consistent quality, its friendly staff, and its warm atmosphere, not to mention certain dishes on the menu that have become staples over the years, such as the reverse poutine, the Brome Lake duck breast and the beef tartare.
82 Rue Wellington Nord
Sherbrooke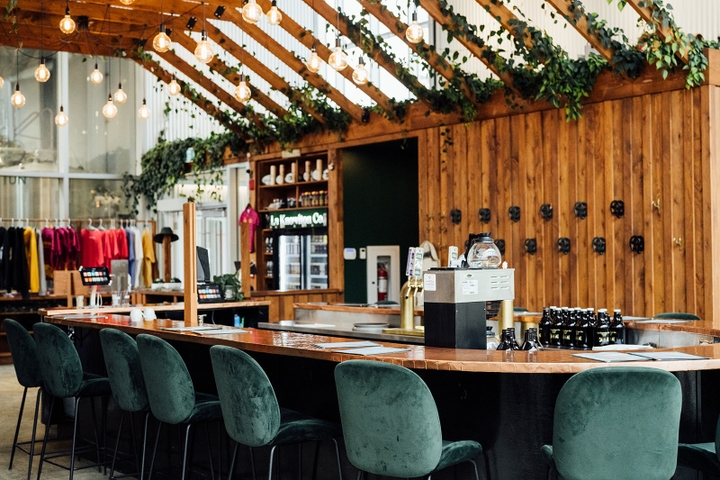 La Knowlton Co.
The concept of the beautiful microbrewery can be summed up in its philosophy: "Life is tough, beer is soft". At the heart of the company is the idea of supporting the community. The Knowlton Co. is intimately linked to the town's name to make this space a gathering place with beers that are accessible and that appeal to both amateurs and connoisseurs alike. Behind the microbrewery, we discover a very beautiful and luminous glass roof that serves as a pizzeria with a wood-fired oven to offer visitors and regulars a double formula, at once refreshing and gourmet.
576 Chemin Knowlton
Knowlton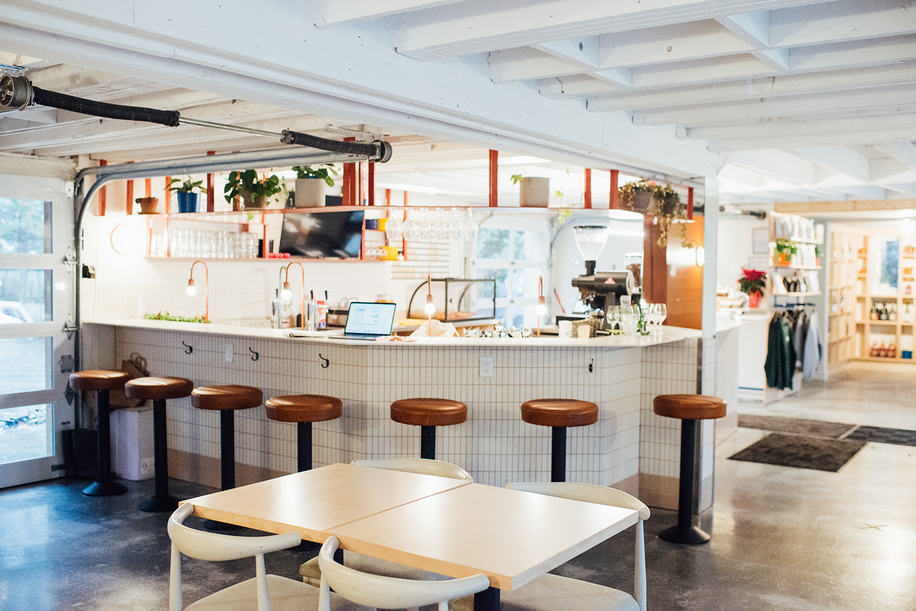 At this beautiful address, we meet two newcomers in the restaurant industry: Véronique Lacoursière and Pierre-Etienne Boivin. Like many people, the pandemic pushed them to leave the city and establish a café-buvette concept in the Eastern Townships—a rare concept in the region. The duo brings their personal and shared passions to life here: coffee, wine, and cycling. The Bolt Café is a place for all tastes and all ages. You can drop by the café at any time of the day for a coffee, beer or wine and always feel welcome.
100 Chemin Lakeside
Knowlton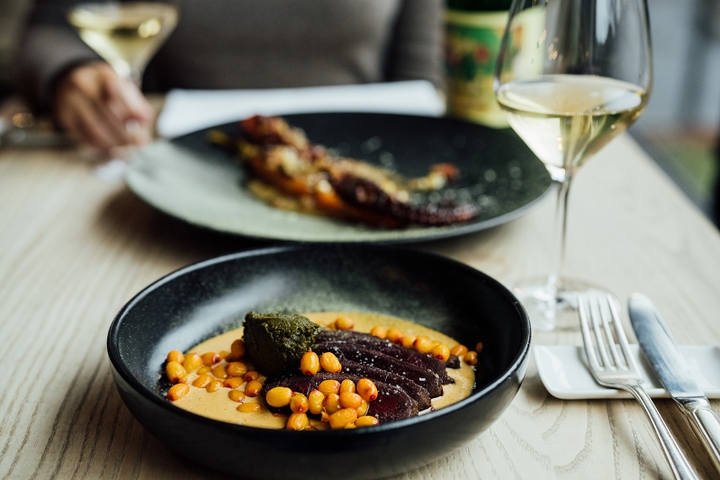 Nestled in the charming village of Bromont, Chardo is a staple of the region, and always very busy. Their gourmet menu aims to introduce local products to their clientele. For example, the restaurant does not serve beef or chicken, but prefers to serve locally raised game. With what Quebec has to offer in terms of diversified seasonal products, the possibilities are endless. In normal, non-pandemic times, the bulk of the menu changes about every three months. In addition, many plates come and go depending on the availability of products. As for wine, Le Chardo sources their bottles from natural and organic sources. Since the quantities received by the house are often limited, the wine list is quite dynamic and the products offered are very diversified. The house emphasizes the importance of supporting producers who produce wine on a human scale.
606 Rue Shefford
Bromont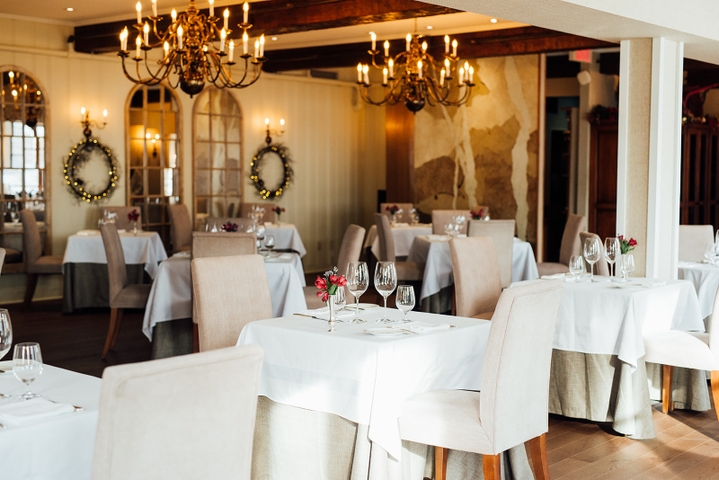 Le Hatley
Le Hatley is the restaurant of the Hovey Manor, Relais et Châteaux, on the lakefront in North Hatley. The establishment welcomes you in an exceptional setting for a magnificent gastronomic experience. Chef Alexandre Vachon offers a refined menu that pays tribute to the Canadian and Quebec terroirs by taking advantage of the best that the rivers, lakes, fields and forests of Quebec and Canada have to offer. With his cuisine, the chef and his team aspire to protect biodiversity and reduce their carbon footprint. To do so, the chef finds inspiration for his constantly evolving menu within a 20 to 30 km radius and develops beautiful partnerships with producers to highlight their work. The Manoir's garden also produces fine herbs and edible flowers that illuminate a varied menu, representative of the producers and their passion for their region and their land. Let yourself be tempted by the sumptuous food and wine pairings to complete this special dining experience.
575 Rue Hovey
North Hatley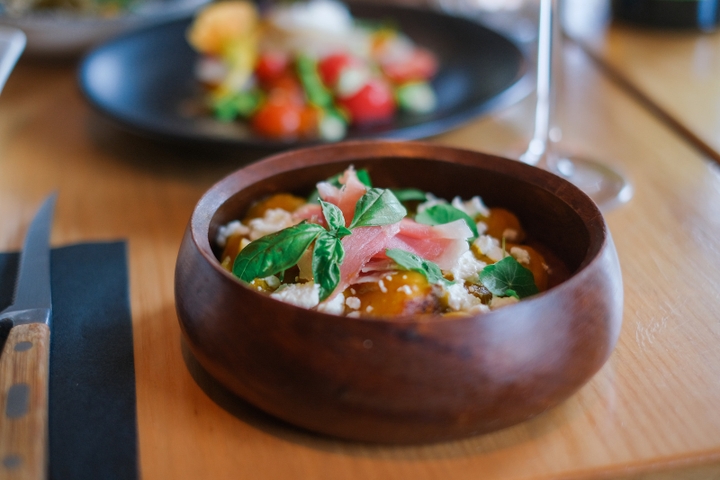 Bistro Kapzak
Bistro Kapzak in Granby offers a fusion of Polish and Quebecois cuisine. A pioneer in its genre, the restaurant is the first and only Polish restaurant to use local products since its opening in 2011. To encapsulate this address, Bistro Kapzak is a place where its chef (from here) explores his Polish roots with an unconditional love for the cuisine and products of the region. The restaurant's fusion menu invites diners to discover new flavours—much our delight. One does not only come to Bistro Kapzak for its delicious menu with Polish flavours, but also for its expertise in mixology. Reflecting the food menu, the cocktail menu is inspired by seasonality and highlights the region's key ingredients.
108 Rue Principale
Granby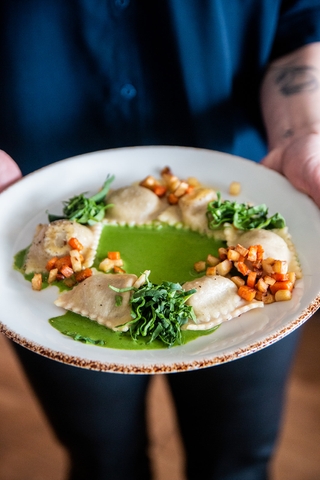 Vin Polisson is a member of the Aliments du Québec au menu program! This means that it has chosen to highlight the wonderful products of Quebec and its producers in its menu — something we find admirable! Aliments du Québec au menu is a recognition program for restaurants that value Quebec products in their cuisine. We particularly recommend the apéritif basket that features locally produced cheeses, pâtés, charcuterie, and breads; available to enjoy in house or to take away. They also serve an excellent beef tartare, in which local elderberries replace the more traditional capers.
197 Rue King Ouest
Sherbrooke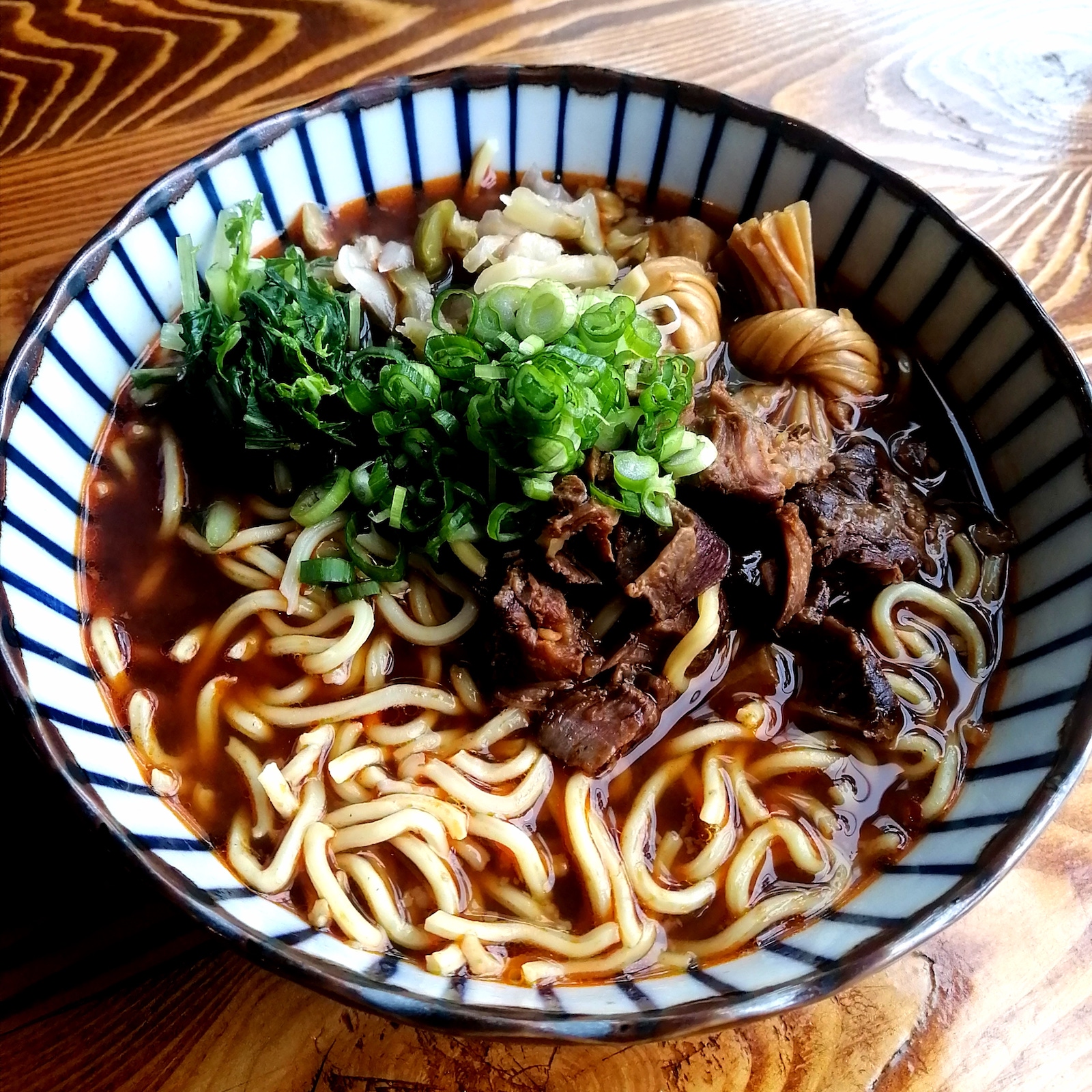 Sauce Prune is a little gem on Cowansville's main street. Offering cuisine inspired by China, the establishment serves as a small restaurant, a ready-to-eat counter and a grocery store specializing in Asian products.
126 Rue Principale
Cowansville
See on map
3809 Rue Principale Dunham J0E 1M0
13 Rue Court Granby J2G 4Y6
82 Rue Wellington Nord Sherbrooke J1H 5B8
576 Chemin Knowlton Knowlton J0E 1V0
100 Chemin Lakeside Knowlton J0E 1V0
606 Rue Shefford Bromont J2L 1C1
575 Rue Hovey North Hatley J0B 2C0
108 Rue Principale Granby J2G 2V2
197 Rue King Ouest Sherbrooke J1H 1P4
126 Rue Principale Cowansville J2L 1C1