Neotokyo: Ramen bar with a cyberpunk feel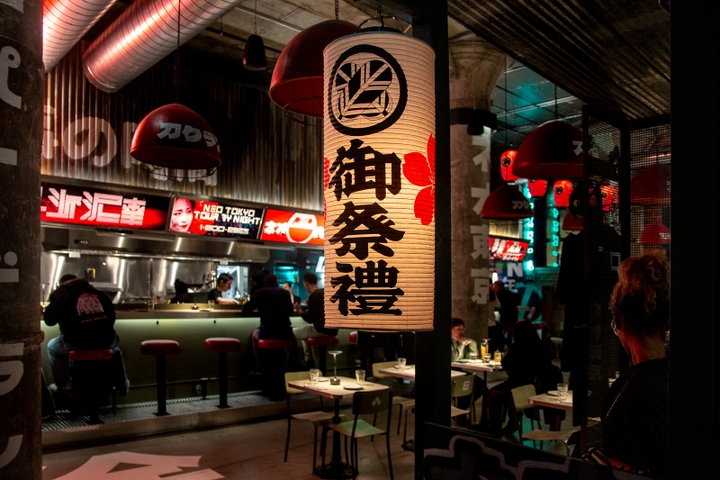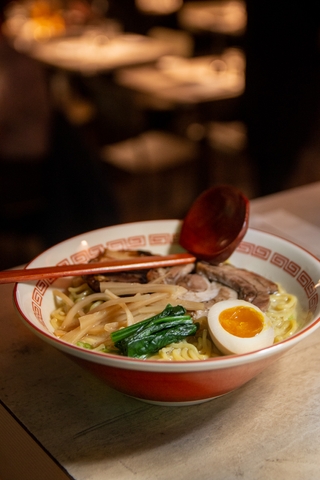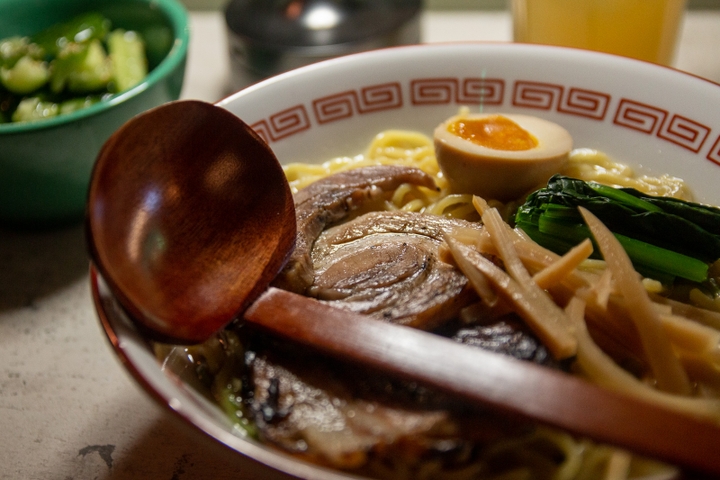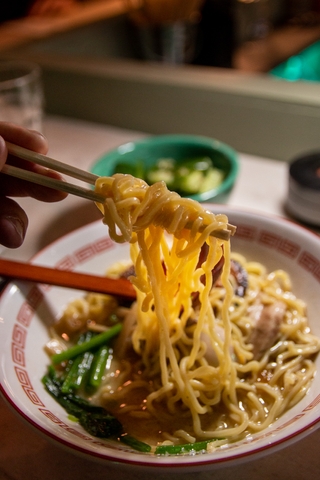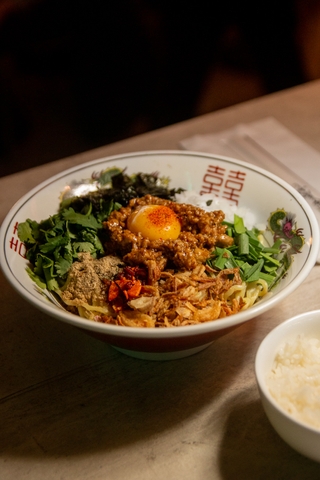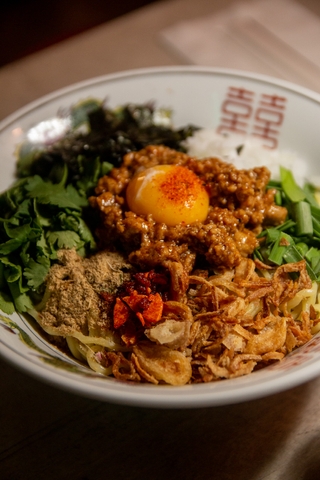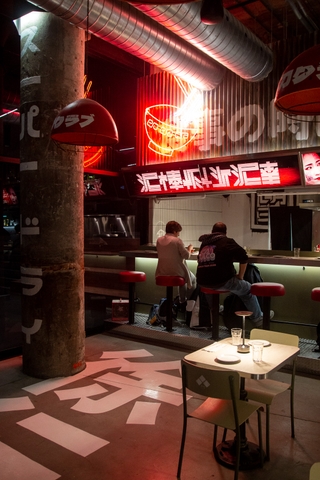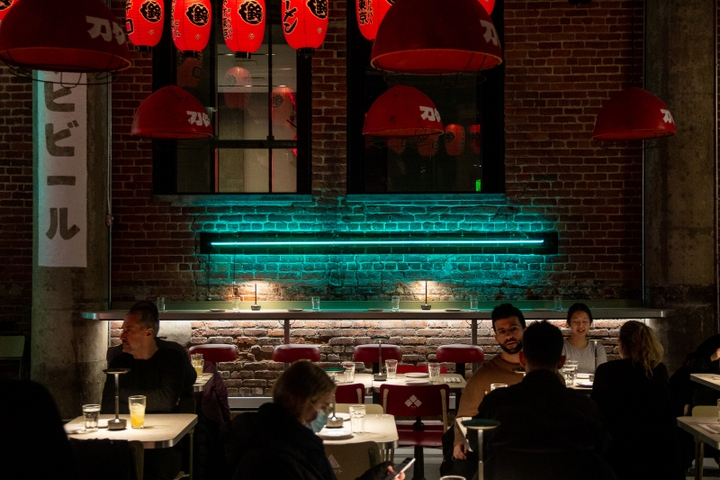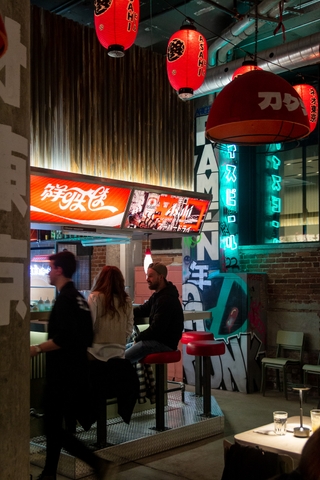 Neotokyo

$$
Monday: Closed
Tuesday: 11:30 AM – 2:30 PM, 5:30 – 10:00 PM
Wednesday: 11:30 AM – 2:30 PM, 5:30 – 10:00 PM
Thursday: 11:30 AM – 2:30 PM, 5:30 – 10:00 PM
Friday: 11:30 AM – 2:30 PM, 5:30 – 11:00 PM
Saturday: 5:30 – 11:00 PM
Sunday: Closed


Owner(s) Yann Levy
Opened 2022

Accepts mastercard, visa, amex, cash, debit
75 Seats
Accepts groups
Located in a historic building on Viger Street, between downtown and Old Montreal, Neotokyo looks like something out of a science fiction movie. This noodle bar with a cyberpunk aesthetic offers delicious ramen soups, mazemen (ramen without broth), a few classic sides and a short list of Japanese sakes and cocktails.
Neotokyo's neo-futuristic decor is made of concrete, bricks and sheet metal — raw materials that contrast with the garish colours of the neon lights and the fake advertising signs in Japanese (signed CSRK). The signs overlook the bar, where about 15 people can sit on small red leather stools. Above the 75-seat dining room, garlands of paper lanterns and large red lampshades bathe the tables in subdued light. The whole thing gives the impression of a diner straight out of a dystopian future.
A leap into the future
The opening scene of the cult movie Blade Runner inspired the concept of Neotokyo. A big sci-fi fan, co-owner Yann Levy (Hanzō, Gokudo, Biirū, Koa Lua and Escondite) tells us he was struck by the atmosphere of this scene, in which Harrison Ford's character eats noodles in an outdoor Asian market. This aesthetic can be found everywhere in the set: in addition to the neon lights and the aforementioned signs, in the projections on the walls and the markings on the ground, which remind us of the sign lines of the Los Angeles of 2019 (!) imagined by Ridley Scott in 1982.
The more observant will also notice a few nods to other classics of the genre, such as Katsuhiro Ôtomo's Akira (set in the metropolis of Neo-Tokyo) and the video game Cyberpunk 2077.
A menu from a ramen master
Yann Levy — a precursor of the new ramen movement — called upon one of the ramen masters of our time to create his menu: Shigetoshi Nakamura (Nakamura Ramen and Niche, in New York). Already well known as a noodle expert in Japan and the U.S., ramen lovers in the city will be thrilled to taste Shigetoshi's expertise.
The menu features three types of ramen, four mazemen and a few small side dishes. The short menu is composed of classics: Tonkotsu (pork ramen considered the king of ramen), Shio Yuzu (with a salt-based broth) and a vegetarian option with miso and truffle oil. On the mazemen side, there is the Neotokyo Taiwanese Mazesoba, with soboro (ground pork), fish powder and runny egg yolk, plus options with salmon, steak and bacon, cream and Pecorino cheese, a Japanese version of carbonara.
On the side, a choice of gyoza (traditional pork or vegetarian dumplings), karaage (fried chicken, sweet or spicy), shrimp wontons, cucumber and sesame salad and edamame complete the menu.
As for drinks, there is Asahi Japanese beer on draught or in cans, a half-dozen house cocktails and a small selection of privately imported wines and sakes. We suggest the refreshing Natsu, a mix of Asahi beer with yuzu and 7up.
A special menu for groups will also be available soon.
Neotokyo 2049
When it opens in December 2022, Neotokyo will only be open in the evening from Tuesday to Saturday. However, Yann Levy tells us that he plans to extend the opening hours to the other two days of the week and to open at noon in 2023. This is great news for Google's employees, newly installed in the same building, and those of the Chamber of Commerce a few steps away. The co-owner also whispers that Neotokyo could eventually turn into a snack bar after midnight, with a late-night menu to satisfy partygoers.
If the business is a success (and everything indicates that it will be!), Yann and his partner Ilan Benhaim, co-founder of the e-commerce platform Veepee, wish to expand and export the concept with Neotokyo sushi bars and sake bars.
We were impatiently waiting for the opening of Neotokyo; we are now just as excited to see what will happen next! We wish you continued success!
Written by Sarah Laporta
Photography by Mikael Lebleu