Elena Faita: Meeting the Italian living legend from Montreal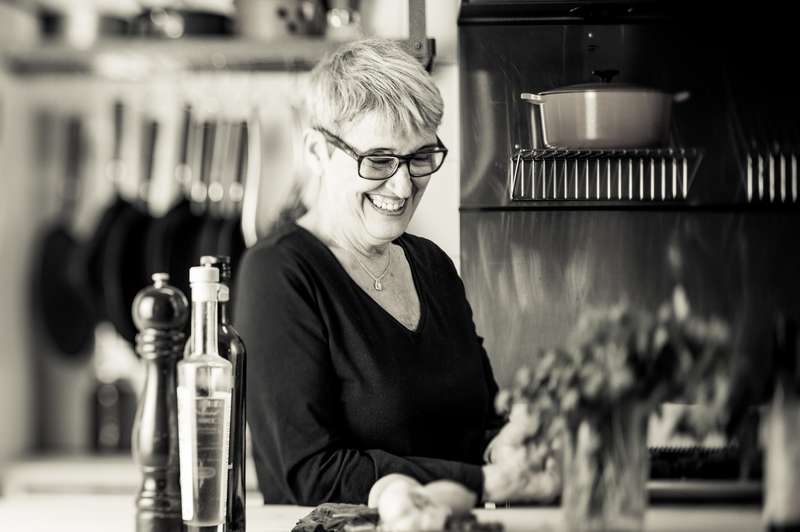 The famous living legend Elena Faita was born in San Vittore del Lazio, about a half hour from Rome.
At the age of seven, she moved to Montreal, to Little Italy, at 7094 Drolet street. She lived on the second floor and her mother worked for a humble Quebec farmer at the Jean-Talon Market. Did you start cooking early? She answered "yes, since I was very, very little".
Elena Faita's father and brother founded Quincaillerie Dante in 1956. When she was 16, her parents got her involved in the family business. Quincaillerie Dante is located at 6851 St. Dominique Street, at the corner of Dante Street and Elena's cooking school – Mezza Luna – which is at 57 Dante Street. How did a cooking school follow a kitchenware store? A little over 20 years ago, her daughter convinced her to attend a home show – this was in 1992. She was studying marketing at the time, and they set up a 10 x 10 booth where they offered homemade pasta tastings. "I made pasta 15 hours a day for 10 days. The shows were longer back then!" The show had more than 300,000 attendees, including journalists and many food enthusiasts. Sales reflected this.
It was such a success that her daughter convinced her to do it again. For some time, the hardware store offered pasta-making demonstrations on Saturdays. "I used to give the sauce and everything else that goes with it, but my daughter took me aside one day. I saw it in her eyes, I said no, no, no where are you going? What do you want from me now? She said, 'Mom, we are going to start a cooking school.' Me: 'But you're crazy!'". A year later, Elena had written down all her ingredients, preparation and cooking times, and other important elements of the recipes.
Does your daughter still work with you? "No, she orchestrated everything and went back to live in Italy."
Over the years, the school has welcomed many chefs such as Frédéric Morin (Joe Beef, Liverpool House, and Vin Papillon), Marc De Canck (La Chronique), Marc-André Cyr (Un peu partout… ), Marie-Fleur St-Pierre (Tapéo and a new one this spring), Martin Picard (Pied de Cochon & Cabane à Sucre – who during an interview in 2012 had nothing but good words and a lot of admiration for Elena), Michele Forgione and Stefano Faita (both from Elena's son's restaurant; Impasto), Nick Hodge (Ice House) and many others. 
The school started with 40 classes, and now offers between 60 and 170 classes per year.
Have you ever botched a dinner? "Never. Once I prepared the wrong course and 10 minutes before I realized it was the wrong subject. I bought everything and prepared it in a hurry."
What do you think of today's young chefs? "There are some very good ones and it's wonderful that there is so much interest in cooking, but if I were their cooking teacher, I would teach them how to cook and hand over a clean kitchen. Making a meal also means washing the dishes and putting the kitchen back together. At 67, I do my own dishes and sometimes when I invite young chefs over, they don't do them!"
The most important items in a kitchen? "A scraper and a mezza luna; both are available at Dante Hardware!"
Elena Faita is a living Italian legend in Montreal. And in case you didn't know…
Mezza Luna: 57, Dante street, Montreal, Quebec, 514.272.5299
Quincaillerie Dante: 6851 St Dominique, Montreal, Quebec, 514.271.2057
Written by Élise Tastet
Photography by Quincaillerie Dante