Mark Cregan: hot sauce artisan and Montreal entrepreneur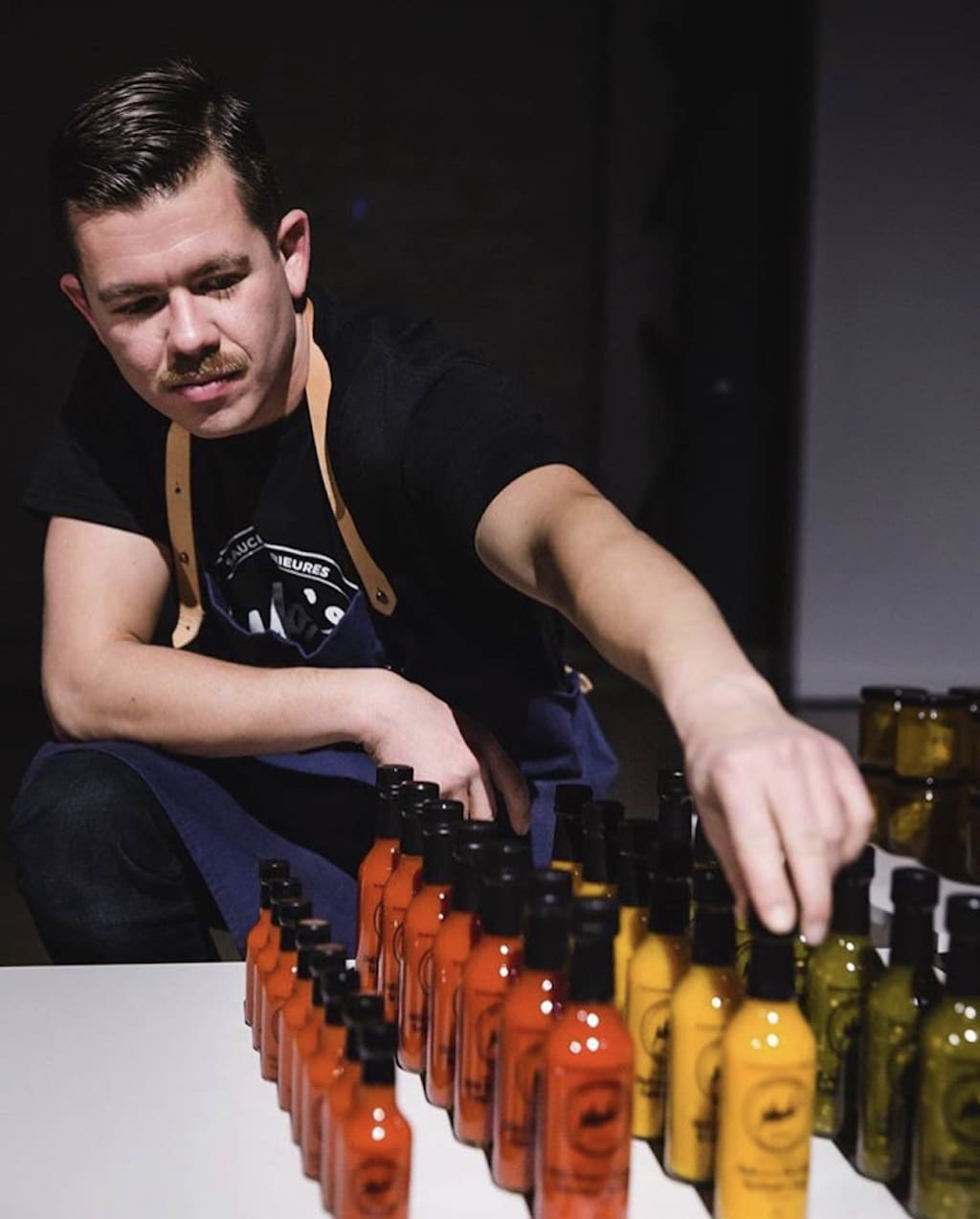 When Mark Cregan moved away from Toronto to complete an Environmental Biology degree at McGill University in 2007, no one could have predicted that he'd end up where he did – not even himself. Come 2019, Mark is firmly rooted in the entrepreneurial and culinary worlds of Montreal, and his artisanal hot sauce company is the propeller behind it all. The company has come a long way since it was first officially named in 2014, but it's still just the beginning of the road for Mark and his hot sauce!  
Where it all started
Taking it back to where everything began, Mark's passion for cooking arose at the age of 13 when he first started spending more time in the kitchen at home. Ever since, his interest in cooking has been a constant theme throughout his life. It was during high school when Mark got his first introduction to life inside a professional kitchen at Toronto's restaurant Terroni, where he stayed working on and off for three years. 
Shortly after graduating from high school, Mark picked up and moved to Montreal to pursue his degree at McGill. During his time at the university, he experienced a semester studying abroad in Barbados, and it was that trip that peaked his interest in artisanal hot sauce making. "Before then I was always about Sriracha, Tabasco and Frank's, kinda like everyone else. But then when I went down there, it really opened my eyes to different homestyle ethnic products and foods. I just really fell in love with the hot sauces in Barbados." At that point, it wasn't long into his career as a biology student, but Mark had realized that cooking still had his heart and hot sauce would be his medium. 
"Science wasn't going to be a career for me."
Soon after earning his biology degree, Mark found himself back in the kitchen, only this time at restaurant Mais. At the time, Mais was making their own house hot sauce, so the new graduate was able to get involved and learn the basics of the process there. By the time he ended up in the kitchen at restaurant Nora Gray, he was spending his time straddle between long shifts at work and hours in his apartment trying to concoct his own unique hot sauces, many of which were inspired by what he had tasted in Barbados. 
Come 2013, Mark was working in the kitchen at restaurant Le Majestique. "I had quite a lot of free time because of the schedule, so on all of my days off, I was always making hot sauce at home." It was a slow process of trial and error – and a lot of taste testing opportunities for his friends and family –  but eventually he nailed down a few great recipes. When Mark realized that there was no other local hot sauce producer on the Montreal market, he harnessed the opportunity to officially start making and selling his own recipes. Le Majestique and Lucile's Oyster Dive were some of Mark's first clients, and those relationships marked the beginning of his full-time dedication to the art of hot sauce making. 
Mark's Hot Sauce: past, present and future
By 2014, Mark's Hot Sauce company was officially up and running. The name Mark gave to the company is representative of his approach to cooking : "All of my products are really an expression of me. As far as my cooking goes, I'm really a 'less is more' type of chef. I've always loved the mentality of Italian cuisine, where the quality and the simplicity of the ingredients are what make the final result such a special product." The honesty and simplicity of this company's name perfectly encapsulates the man behind the brand, and his approach to cooking. 
With over 30 restaurants in Montreal that stock the products, and another 15 outside of Quebec, Mark's Hot Sauce company is continuously growing. That being said, the quality of the product and the methodology behind its creation have stayed the same. With visions of becoming an international brand in the future, the key for Mark is finding the balance between the business side of selling hot sauce, and the creative side of designing and producing a high quality gourmet product, time and time again.
 "I love working with food, as I always have. I love the creative freedom the job gives me to make new recipes and fool around in the kitchen." 
When asked what he puts the hot sauce on personally, his answer was simple : "everything." There is a flavour for every occasion, and new flavours are always in the process of being made. More so than anything else, Mark's Hot Sauce is a passion project. "At the end of the day, the reason why I do this is that I just love making food for people. I love making people happy with what I make."
Written by Sydney Carter