Vincent Dion Lavallée: Redefining success in the restaurant world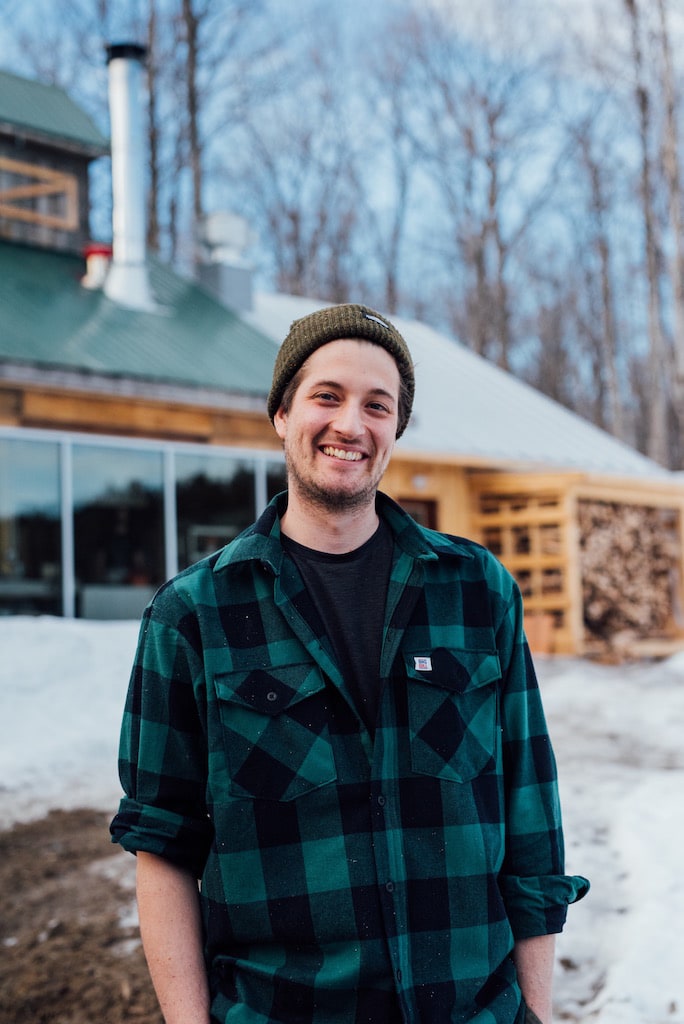 Vincent Dion Lavallée is the executive chef and co-owner of the Cabane d'à Côté, the Au Pied de Cochon restaurant, and the Au Pied de Cochon sugar shack. Here is our profile of this original, talented, passionate, resourceful, sensitive, and creative young man.
"I love it when things are imperfect and you have to make them perfect. I love the adrenaline of being in an impossible situation and having to be extremely creative and incredibly fast to make it possible. I love when you are so caught off guard that it comes at you: all your drive, all your energy, and all your inventiveness. The sense of pride of going through that is priceless."
Taking the plunge
Although Vincent is passionate about cooking, he didn't always know that he would make a career in the restaurant industry. "It's so unglamorous how I started to love cooking! (Laughs) It's the chef thing; I was doing a CEGEP in Health Sciences and I was miserable. You do what other people do, but sometimes it was hard. At 17, I decided to drop my program and go to ITHQ. Everything in life is a choice: if it works, it works, if it doesn't, you do something else." And that's what he did. "I was instantly hooked with cooking. I totally fell in love with the beat, the hours, the people, the lifestyle, everything. Being around passionatea people, slightly less passionate people, food, alcohol; it's the most imperfect model for work that could exist. But it was perfect for me and it was the first time I was motivated and it felt good to go to work… It still does!"
One foot in the door at Au Pied de Cochon
Au Pied de Cochon is a trailblazing restaurant and a true fixture in the city. It's an address that has shaken up everything that people know about gastronomy and the whole experience of dining in a restaurant, both locally and globally. Vincent did his first internship at Au Pied de Cochon and immediately fell in love with the place. He quickly proved to be very talented and was appreciated by his teachers, as well as the other cooks. He progressed in his management program and left to do an internship with Pierre Gagnaire in Paris, but in Montreal, he still worked at Au Pied de Cochon. "Le Pied de Cochon is also the most imperfect restaurant there is: it's always full, there's not enough room, people shout, customers are happy, there's a unique brotherhood and camaraderie. I found everything there. I just wanted to work there."
Vincent Dion Lavallée in London
Vincent left Montreal for a longer internship in London. Pierre Gagnaire had a restaurant there, and getting a one-year work permit was easier. He stayed for six months and learned a lot. "The hours were even more difficult than at Au Pied, but the difference was that the money was very difficult and the pace of life was expensive. You get paid monthly, you work from 8:30 in the morning to 1:00, 2:00, or even 3:00 in the morning, and you live the best you can. And you think you speak English, but you don't!" (Laughs) Every weekend, Vincent would leave London to travel around Europe with his fellow chefs. He was quickly impressed by the proximity of European countries and the ability to experience an incredible range of different cuisines so easily. He also developed a strong camaraderie with the people he traveled with. "Always being with the same cooks, it becomes like a second family. Everyone is away from home, friends become like brothers. These people, you live with them non-stop for a year, it's a unique experience."
Both feet inside Au Pied de Cochon
During this time, Martin Picard opened the Cabane à Sucre du Pied de Cochon and revolutionized the gastronomic scene in Quebec: a great chef in a sugar shack, that's never been seen before! The establishment was a huge success. When Vincent returned to Canada, the Cabane had been open for a year. "In my mind, I was coming back and would quickly leave for New York. But I never left." In fact, Vincent was offered an official position as sous chef at Au Pied de Cochon which he accepted.
His role? "In theory, you're a sous chef, but in practice you just do everything. You're a cook, you manage the establishment, you manage the money, the orders, it's another buzz. In Montreal, there's not a lot of money: as brilliant as you are, you get by with little. It's hard; anything you don't want to do yourself, you don't have the choice to do yourself. It's weird because in school they don't really teach you how to be a cook; there should be classes on how to empty the grease trap, do gardening, carpentry, plumbing, etc. Everything can be learned in this profession, but with practice: sharing, service, you don't understand it until you have lived it. You learn it over time. In London, there was a human resources department. At night, a team would come and wash everything. Here, it doesn't work like that. You're the one who washes your hoods, your stuff. You become resourceful, you learn with the means at hand."
Life in the country for Vincent Dion Lavallée
Next, Vincent arrived at the Cabane à Sucre du Pied de Cochon, and his whole perception of restaurants changed. "I like the fact that the sugar shack is not a restaurant like the others: nothing is done, everything has to be done. You have carte blanche, as long as people are happy. It's an exceptional laboratory for everything. You join a clique, you're 23-24 years old, you're wound up like a horse, but you have zero experience. You don't know how to do anything, but you want it… You want it so much! You compensate for your lack of experience with energy. Everyone compensates for their lack of experience. The most experienced ones put much less effort to get a good result. And there is no limit. With Martin there are never any limits anyway: you do whatever you want, as long as you like it. You discover at high speed! Even today, after 10 years, the Cabane Au Pied de Cochon has never stopped evolving. It's still a place where we get a lot of people, but it's always up to date on culinary trends. And it's only 45 minutes from Montreal."
Vincent loves being in the woods, in the forest, and he ended up never leaving. He quickly developed an affinity with the people he worked with, and it was there that he met his girlfriend Marie-Claude, who would become the mother of his young daughter — "you create a family, these are the people you see the most, more often than your parents."
The most difficult aspect of being a chef? "It's never being able to have excuses. Nothing is ever the same, but it always has to be the same. There's always a different version, someone is sick, etc. When someone is sick in a company, you get their answering machine. Here, there is no excuse. If the right person isn't there, you still have to get through. You have to maintain the same standard, all the time."
"The Blues"
"It had been two years since the neighbour's lot was for sale when I got too tired. It was getting to be too much for me, too intense. And I think when you're 30, you get the cook's blues, you think you're always going to be working for someone else, that it's never going to be for you."
Having built a unique relationship with Martin and the entire team, the news made quite an impact. "A working relationship is like a couple; when you cut the ties, you cut the ties. You'll never be together again. When you're working hard, you're so buzzed about the work that you don't necessarily see it happening, but it does. And from the beginning, it always clicked with Martin. There is always a chef in your life that you identify with. For me, it was always Martin. He's gone from acquaintance, to friend, to partner. Now he's family."
At the end of his stint, Vincent understood that there would be a major disconnect with Martin and that nothing would ever be the same again. "I was really sad. A week before I left, the season was over, and we had a good talk. Finally, it was a game-changer because we decided that we would take the neighbour's field, and that I would continue to be with him. However, I put my cards on the table: I would stay if I became co-owner of the businesses: Au Pied de Cochon, the Cabane du Pied de Cochon and the Cabane d'à Côté, which finally bore that name. Martin Picard and Marc Beaudin agreed and Vincent became a co-owner in the business.
In the deal, Vincent agreed to continue to run Au Pied de Cochon and the Cabane as he did, but the Cabane d'à Côté would be his own project.
The Cabane d'à Côté by Vincent Dion Lavallée
For six months, he built the Cabane d'à Côté. Once again, unique bonds were forged with the people who invested themselves in the project with him and came to help him in his madness. "Martin taught me: when you believe in something, it's the basis of everything. Then, you have to surround yourself with the right people to achieve it. With a gang of talented people, you are much stronger; the people around you are everything to achieve something. You create ups and downs, relationships of mutual aid, etc. For me, these are the best moments of the year. The Cabane d'à Côté was my new project. I worked so hard, everything was new. And when it's your project, the hours and energy you put in are immeasurable. Some of it is crazy. When you get home, you may have the passion, doing the dishes at 3 a.m., there's no one who does it out of passion, but you do it out of insanity."
La Cabane d'à Côté is truly unique, and was realized entirely from Vincent's imagination, and his trials and errors, ultimately resulting in an exceptional place. The address offers a delicious and memorable tasting menu where you savour 14 courses for $56 per person in a unique setting. Hats off to them!
"The project itself is my baby. The look, the food, the closeness to the people, the human scale of it all. What I hate is probably the same thing! (Laughs) I love being in charge, helping each other through everything; it takes many good ideas to create the best one. In a gang, you're smarter and with all the ideas from everyone put together, you're the best. Everything is homemade here: it's a lot easier to buy than to make, but we understand exactly what we need to do and we try to do it the best we can." The address is definitely among our favourites, and is, without a doubt, one of the best new addresses in and around Montreal in 2018.
Would you have chosen to be a chef if you knew what it entails? "100% certain I would have chosen it! Why would I do it? You have to love it. If you love it, it works. I'm 30 years old, have 3 restaurants, a child — and an amazing girlfriend who takes care of my daughter — you always need to have someone behind you to support you. I love the diversity of the business. I love that I get to walk around in a land of my own, being able to do a thousand things all the time, being able to do the things I love most: cooking and serving people. When you're in the restaurant industry, everything you do is pretty much that: you're serving people. If you're not doing it for that, you're missing out big time."
While Vincent may be very successful today, the road has not always been easy, and perhaps that's what makes him so relatable. "When you're the black sheep, people forget about you, and that allows you to take off and rise above everyone else. You're the person who was underestimated and who takes business from the big guys and shines through. Under the radar, you do things differently and you rise to the surface like a buoy without anyone noticing. And if your restaurant is full, you're right. If it continues to be full, you're right again. It's that simple."
Au Pied de Cochon is always full. The Cabane du Pied de Cochon is always full. And the Cabane d'à Côté next door is always full. Yet when you meet Vincent, the young chef doesn't have a big ego. He has preserved his curiosity, his constant desire to improve, and his creativity. He is one of our favourite chefs, and surely a great chef to keep your eye on.
Thanks to our partner Cacao Barry for making the profiles on this site possible.
Written by Élise Tastet
Photography by Alison Slattery