The Best Rotisseries in Montreal: Our suggestions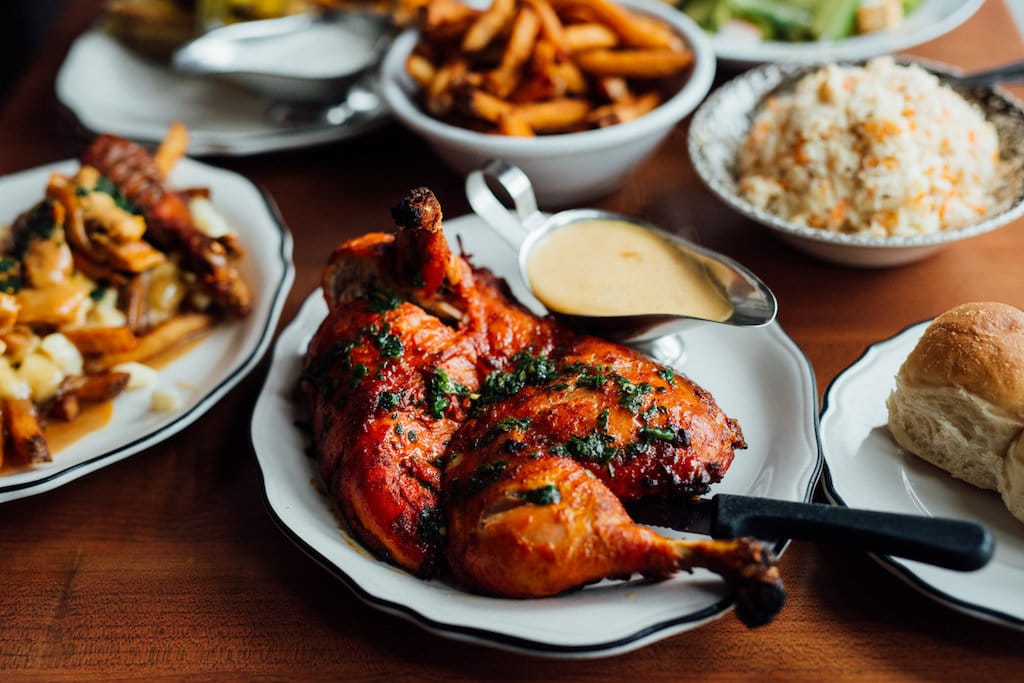 The cold weather is gradually setting in. The first snow has fallen: winter is well and truly upon us. It's time to trade in our denim coats for our winter coats, our sneakers for our boots and our hats for our toques. Although the season of frostbite and red cheeks has been given the green light, we have the secret weapon to get through the cold Quebec weather; comfort food.
Nothing compares to the mouthwatering smell of a freshly roasted chicken. It goes without saying that Quebecers love roast chicken, otherwise why would there be so many rotisseries throughout the province? Almost every city in Quebec has a rotisserie, whether it's local or a large franchise like St-Hubert. We love our classics, and we especially love the comforting feeling of familiarity when it comes to our food.
Montreal, let's face it, is very spoiled in terms of good rotisseries. They are completely in the image of the city; diversified, warm and welcoming. Here, it's not hard to find a roast chicken that's juicy on the inside and golden on the outside, you just have to find your perfect match. Whether you're more leg or breast, white meat or dark meat, whether you like your chicken with brown gravy or piri, fries or mashed potatoes, Montreal is sure to have a rotisserie for you and your particular tastes.
It's not easy to decide which ones are the best on the island, but we promise you that they won't leave you hungry! Here are our suggestions.
Also check out our lists of the best fried chicken and steak-frites in Montreal for more gourmet suggestions.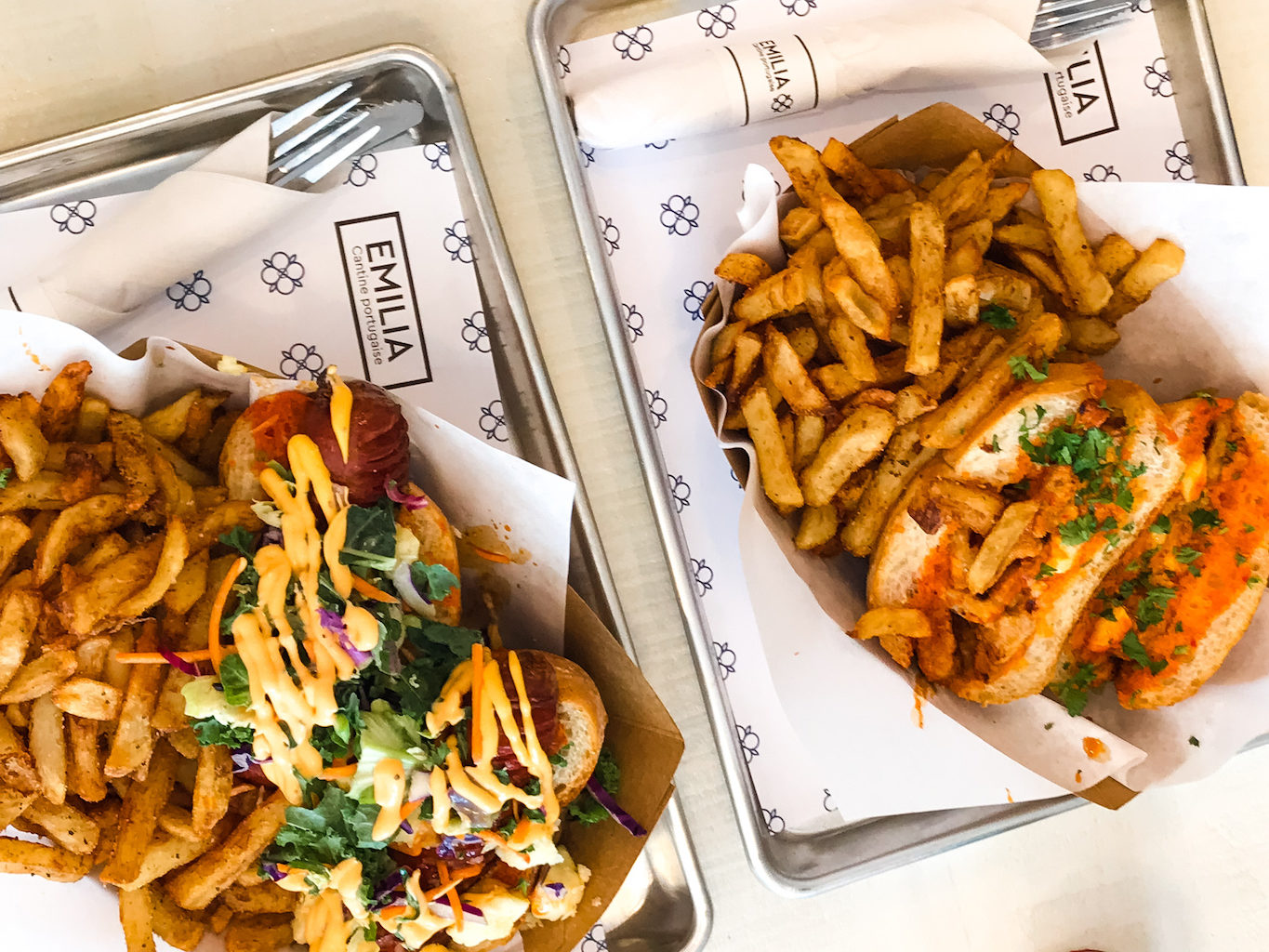 The charming Cantine Emilia, which has a few locations across the city, is a Portuguese rotisserie. You'll find their delicious chicken and other tasty offerings in Villeray, Mile End and Central as well as in Laval, Blainville and Lachine. Cantine Emilia embodies the classic taste of Portuguese chicken while incorporating Quebecois touches to the menu. The roasted chicken is cooked with delicious sauces – which, being a Portuguese chicken joint, means piri piri sauce, an essential element for a complete experience.
7901 Rue Saint-Dominique
Montréal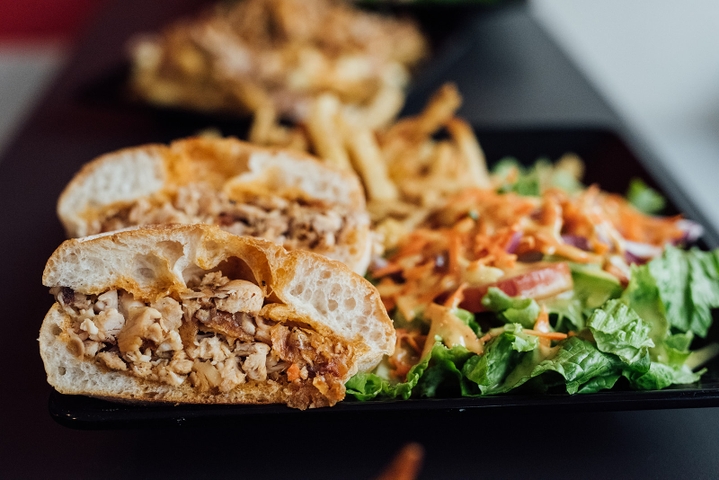 This Portuguese counter offers quick service, serving an array of Portuguese specialties. The fast food rotisserie, Romados, is a constant that you can count on. Whether it's for a quick lunch or to feed your kid at dinner time, their roasted chicken is good for any occasion. Their whole chicken is great for an impromptu visit. The portions are generous, tasty, and remind us of the typical flavours of Portugal. Don't forget to grab a little nata next time.
115 Rue Rachel Est
Montréal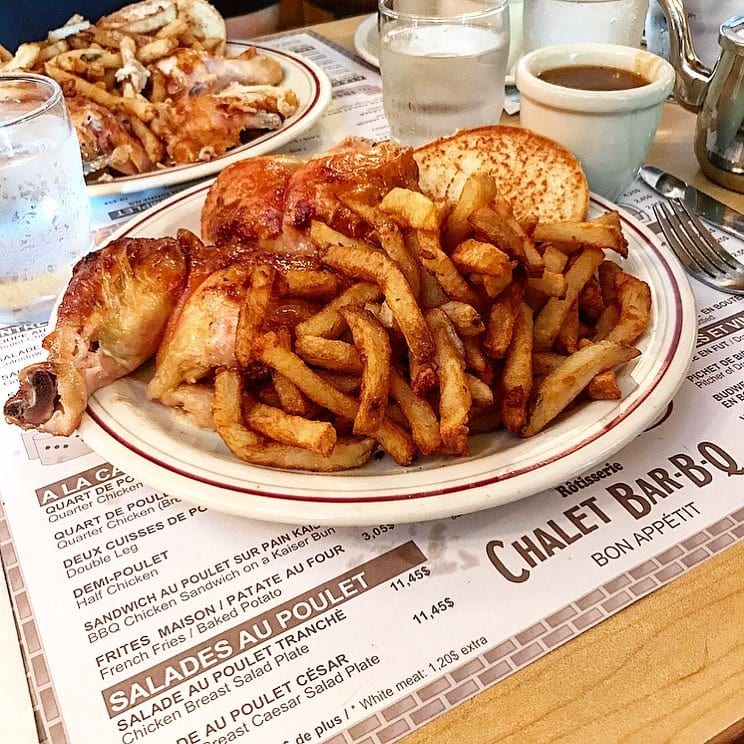 This is a legendary Montreal address for roast chicken. Located on the corner of Sherbrooke O and Decarie, the Chalet Bar-B-Q marks the beginning of the Notre-Dame-de-Grâce neighbourhood. This rotisserie is frozen in time both from the outside and on the menu, but that's not a bad thing. When you have such a winning and popular recipe in your hands, why change it? Chalet Bar-B-Q is a charcoal rotisserie known worldwide for its perfectly cooked chicken. The chickens are locally sourced and cooked very slowly to ensure immaculate cooking. And when combined with their homemade gravy, it's a duo that's hard to beat.
5456 Rue Sherbrooke Ouest
Montréal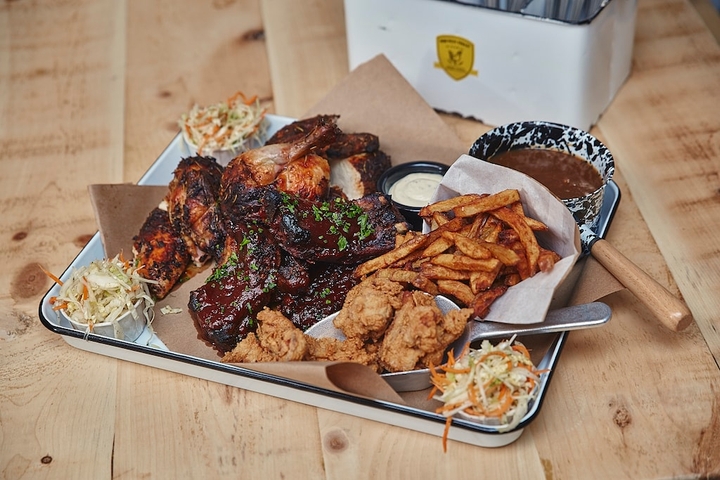 This rotisserie on Rosemont Boulevard offers chicken of all kinds! Fried or roasted, their chicken is excellent. We highly recommend trying the club sandwich or the fried chicken burger, but the good old classic leg or breast make great family meals too. Photo Samuel Joubert
2343 Boulevard Rosemont
Montréal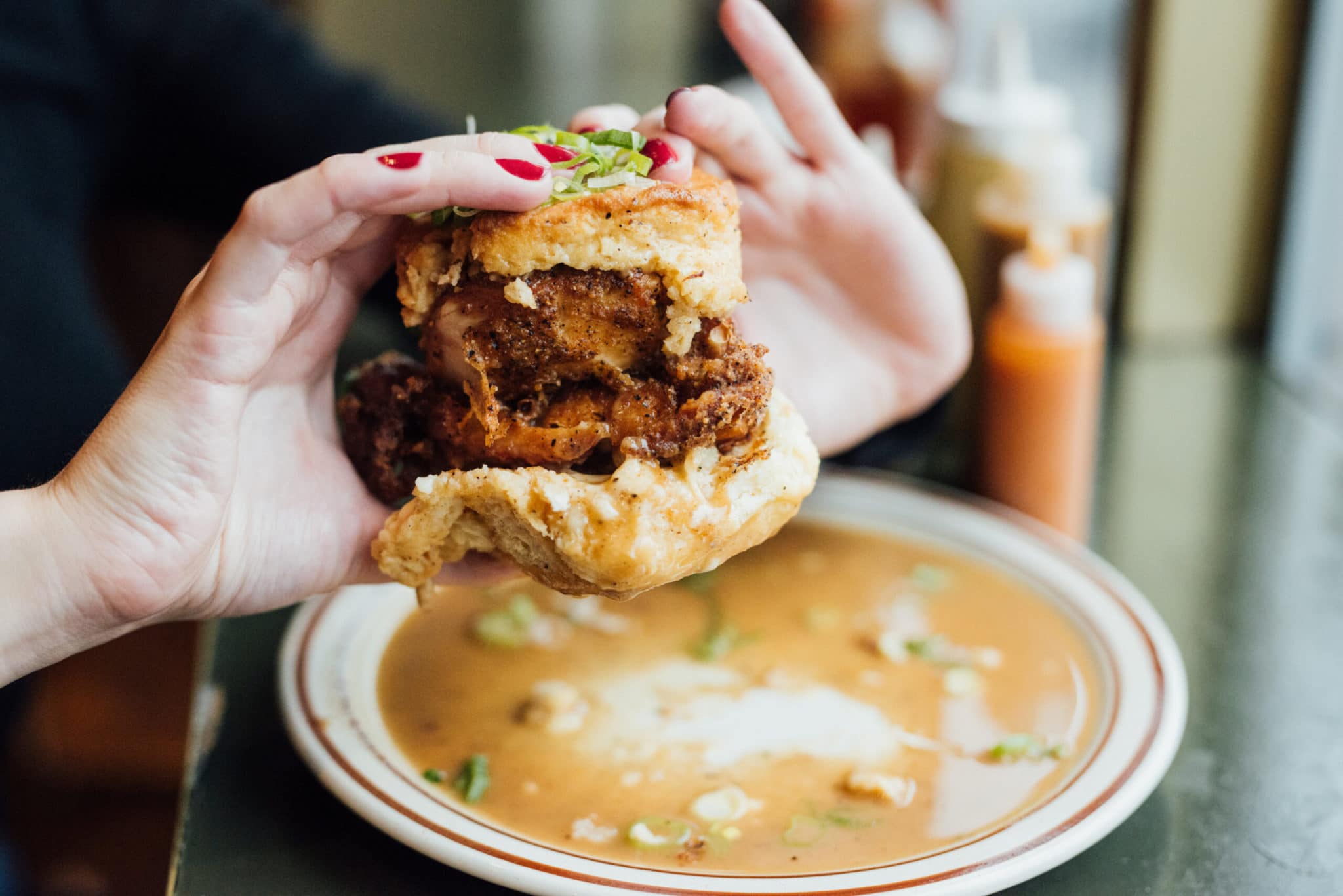 A place known in town for its warm, rustic atmosphere, Dinette Triple Crown is a delightful restaurant. Inspired and greatly influenced by the cuisine of the American South, it's easy to see why chicken plays such a central role on the menu. As we all know, fried chicken is a typical dish in the southern states and this Montreal restaurant pays wonderful tribute to it.
6704 Rue Clark
Montréal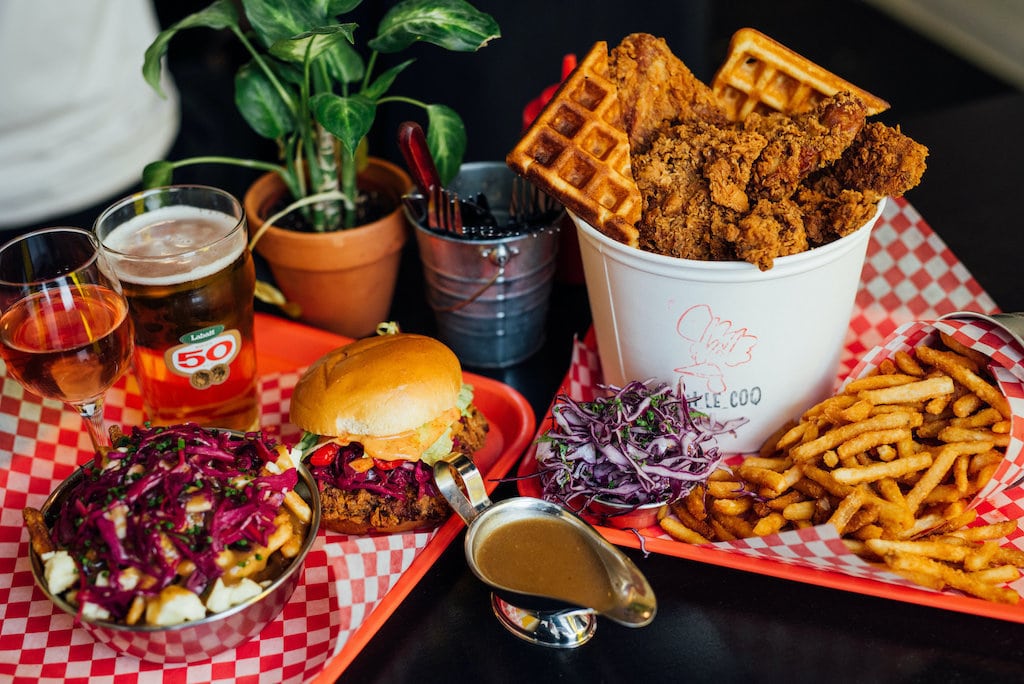 Without hesitation, this upscale cantine is one of our favourite spots in Montreal. Roch le Coq, which opened last year, is a counter to try for all chicken lovers. Specializing in fried chicken, its small menu will blow you away. The chicken is prepared to perfection and is just as good in a bucket as it is in a burger. The Outremont neighbourhood can count itself lucky to have such a good place in its vicinity. It is also on our list of the best fried chicken in town.
1541 Avenue Van Horne
Montréal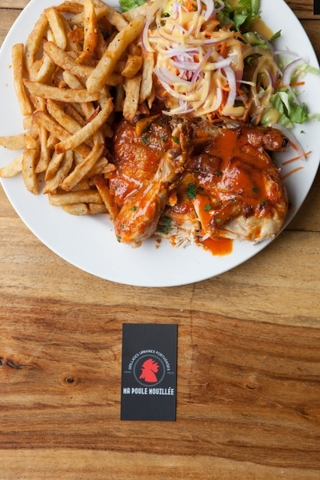 Ma Poule Mouillée
If there's one thing to remember from this list, it's that the Portuguese know how to make good charcoal-grilled chicken! Ma Poule Mouillée is a staple Portuguese rotisserie on the Plateau. Located near Lafontaine Park, this rotisserie is one of the most popular in Montreal. The chicken is grilled to perfection and is complimented perfectly by their homemade sauce, a revisited piri piri. Note that the portions are very generous!
969 Rachel Street East
Montreal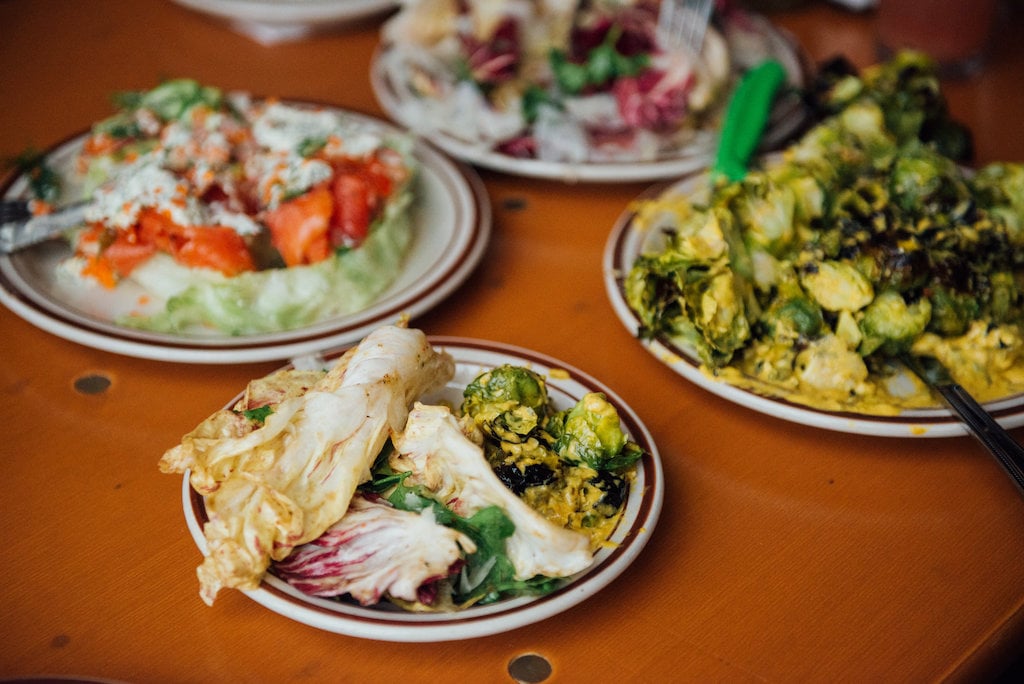 As a member of the Joe Beef Group, it's no surprise that it has earned a place on this list. Located in the Sud-Ouest of the island, on the banks of the Lachine Canal, McKiernan is a restaurant that's synonymous with comfort food. Among their equally comforting meals, the roast chicken stands out with ease. It's the kind of chicken we find at family gatherings, the kind that comes straight out of our grandmothers' recipe books. McKiernan's golden brown chicken makes us feel right at home!
5524 Rue Saint-Patrick
Montréal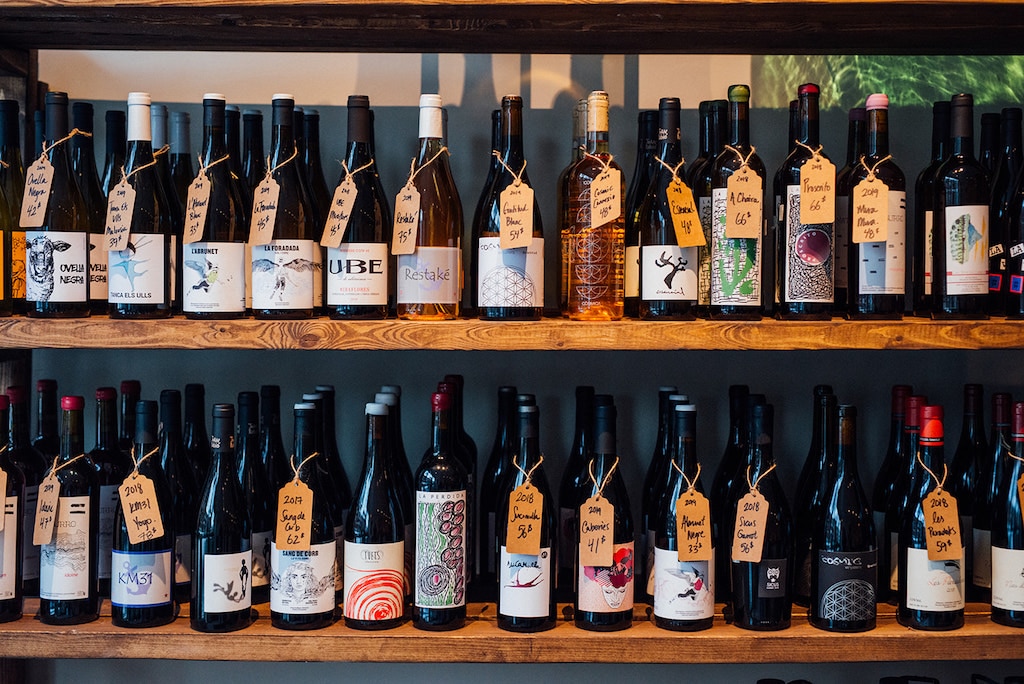 Located in Outremont, Tinc Set prepares a delicious farm chicken from Quebec (Ferme des Voltigeurs) cooked Barcelona style. To complete the small menu, there are salads made with seasonal vegetables and for the more gourmet in the Spanish tradition, churros and anise-flavoured sweets.
1233 Avenue Lajoie
Montréal
7901 Rue Saint-Dominique Montréal H2R 1X8
115 Rue Rachel Est Montréal H2W 1C8
5456 Rue Sherbrooke Ouest Montréal H4A 1V9
2343 Boulevard Rosemont Montréal H2G 1T8
6704 Rue Clark Montréal H2S 3E9
1541 Avenue Van Horne Montréal H2V 1L4
969 Rachel Street East Montreal H2J 2J2
5524 Rue Saint-Patrick Montréal H4E 1A8
1233 Avenue Lajoie Montréal H2V 1P2