Chalet Bar-B-Q: A roast chicken institution in Montreal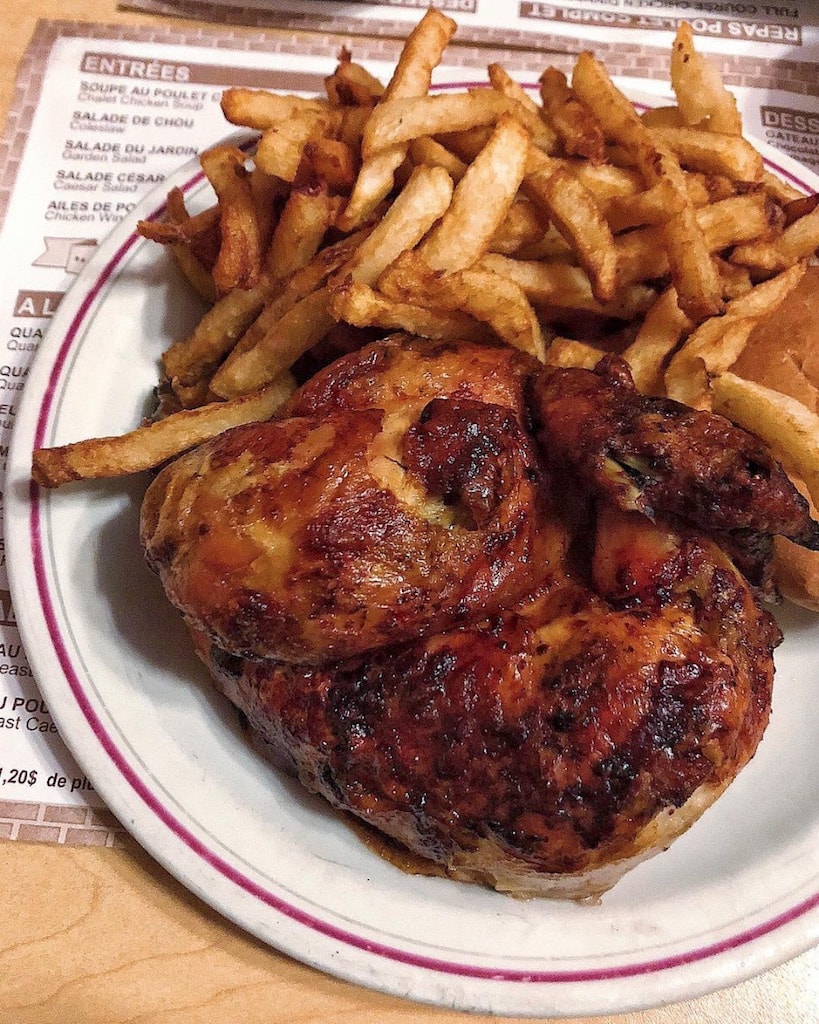 Chalet BBQ

$
Monday: 11:00 AM – 10:00 PM
Tuesday: 11:00 AM – 10:00 PM
Wednesday: 11:00 AM – 10:00 PM
Thursday: 11:00 AM – 10:00 PM
Friday: 11:00 AM – 10:00 PM
Saturday: 11:00 AM – 10:00 PM
Sunday: 11:00 AM – 10:00 PM


Accepts mastercard, visa, cash, debit
30 Seats
A true time capsule, Chalet BAR-B-Q has been a Montreal institution for 76 years. Its internationally acclaimed roast chicken has become an icon of comfort far beyond Notre-Dame-de-Grâce. 
Established at the edge of the NDG neighbourhood, Chalet Bar-B-Q is located on Sherbrooke Street West. Its façade is hard to miss, even from the Decarie Expressway. One would never suspect that the building houses one of the best rotisseries in Montreal, and certainly the most famous; appearances can sometimes be deceiving. Beyond the kitsch decor and the brown benches that have changed little over the years, this address is still as convivial, family-oriented, and completely delicious as ever.
Opened in 1944 by a Swiss immigrant, Marcel Mauron, Chalet Bar-B-Q is without a doubt one of the oldest rotisseries on the island of Montreal. It even precedes the large Saint-Hubert chain, which opened its first branch in 1951.
We all know the saying that one should never change a winning recipe; a saying that represents Chalet Bar-B-Q well. The chicken is legendary, the fries are golden brown, and the gravy is a delicious secret. Together, they form an unstoppable trio. It's the combination of ingredients that has won the hearts of customers for generations and has helped the restaurant amass such a large fan base.
The fresh, plump chickens purchased locally are slow-cooked over charcoal. It is thanks to this cooking that they achieve an impeccable golden colour on the outside and retain their succulent juiciness on the inside. Although the skin is crispy and the meat so tender, what good is a chicken breast without a good sauce to accompany it? At Chalet Bar-B-Q, their secret weapon is the gravy in which we dip our fries and chicken. It's hard to put your finger on what makes it so delicious, but it's been an irresistible fixture even after all these years.
In addition to the roasted chicken, Chalet Bar-B-Q offers a nice selection of pies and cakes for dessert, if you still have room of course!
Chalet Bar-B-Q is a classic that you can always count on for friendly service, generous plates and affordable prices. It's THE place to go for roast chicken in Montreal.
Written by Britanny Clarke
Photography by Chalet Bar-B-Q