Ottawa: Our favourite addresses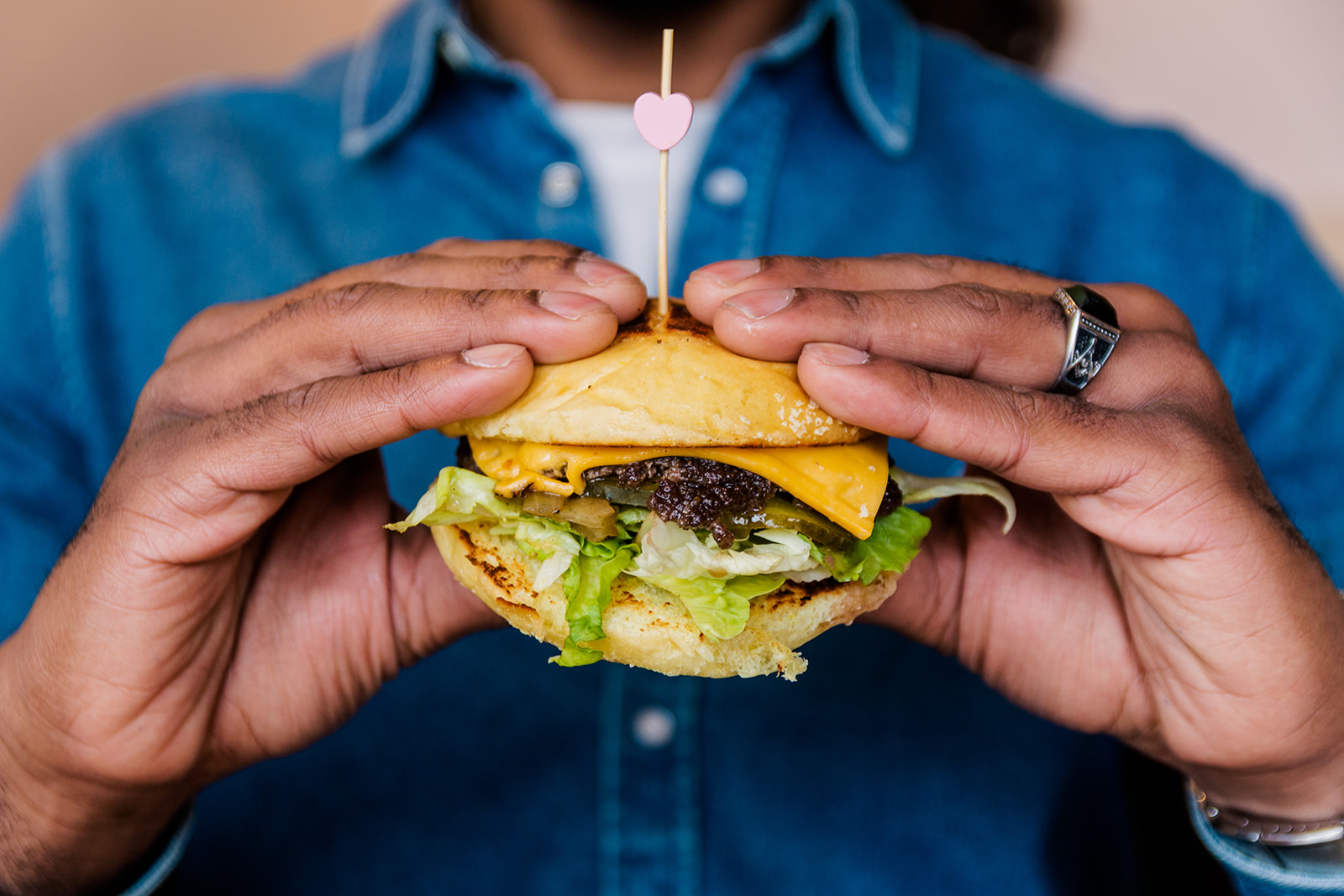 Many people think that Canada's capital is boring. We beg to differ! With its many museums, Parliament, the Rideau Canal, the Ottawa River, and Gatineau Park just a stone's throw away, as well as a thriving culinary scene, Ottawa is a prime destination for epicureans—and only two hours from Montreal. In collaboration with Hôtel Le Germain Ottawa, let us introduce you to some of the city's must-visit cafés, restaurants, and bars.
Just steps away from the Byward Market, the Rideau Canal, and Parliament Hill, Hôtel Le Germain Ottawa is located in the heart of Ottawa's tourist district, making it the ideal starting point for exploring the city.
The downtown area is obviously a prime destination for foodies, especially on Elgin, Bank, and Somerset Streets, where many of the city's best restaurants are located. A little further down, the Glebe attracts tourists and locals alike with its charming boutiques, bars and restaurants. To the west, Chinatown, Little Italy, and Westboro are also popular areas for their varied gastronomic offerings. We must also mention Gatineau, on the other side of the Ottawa River (and the Quebec border), where many great discoveries await you, in addition to the magnificent Canadian Museum of History.
In this little local guide, we offer you some of our favourite gourmet addresses in the four corners of the city. First stop: Norca, the restaurant and bar of Hôtel Le Germain Ottawa!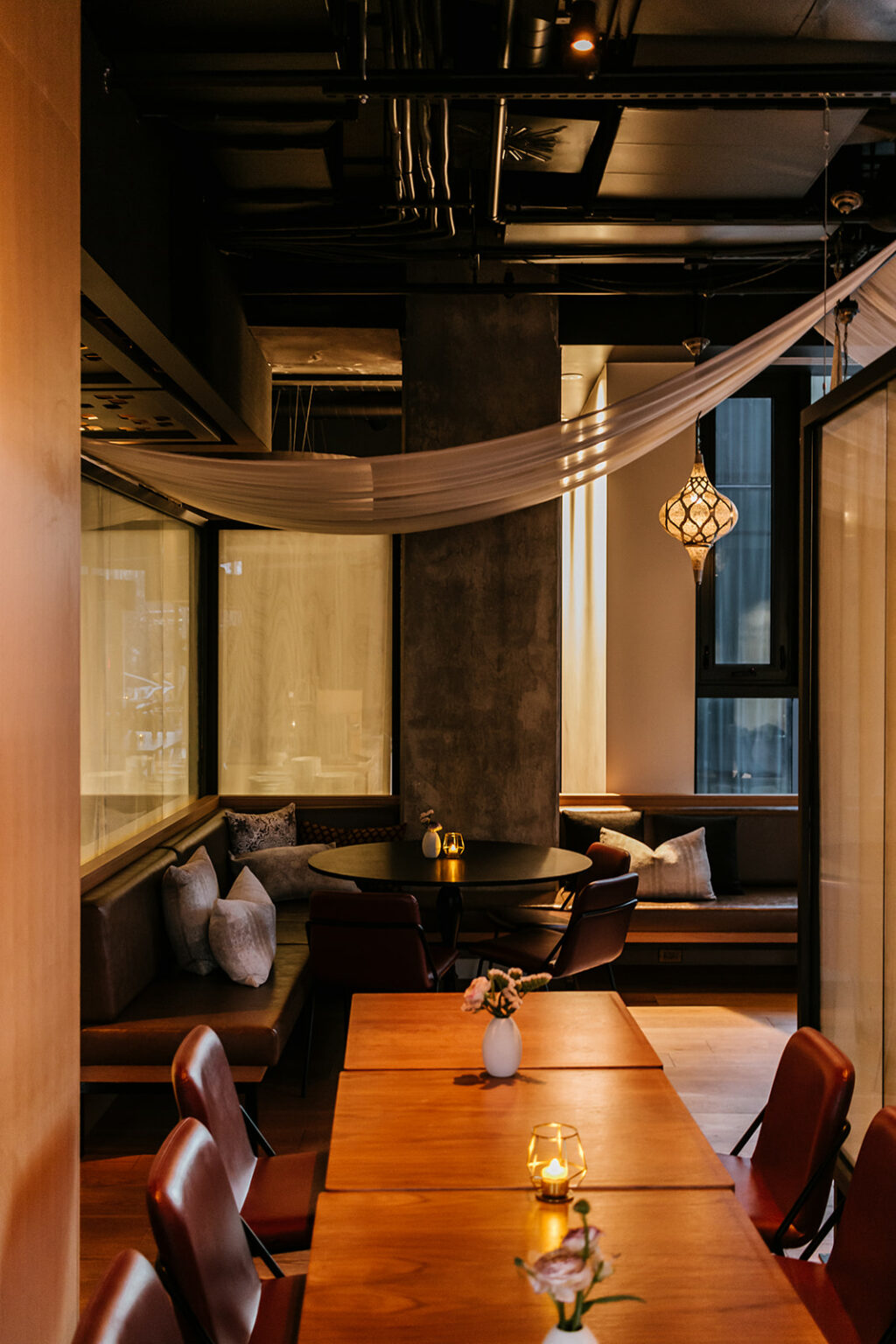 Norca Restaurant: A Taste of Canada
Nestled on the second floor of the hotel, Norca is a great way to discover the local gastronomy in a refined and relaxed atmosphere. Chef Suhel Abraham's menu pays homage to the Canadian terroir and the flavours of its provinces. He offers generous dishes such as cold-smoked Labrador Arctic char, Cornish hen from Quebec, steak frites made from Grange Farms' Ontario farmed beef, and Alberta bison flank steak tartare. The kitchen sources directly from small producers in the surrounding area, including Gourmet Sauvage in the Laurentians and Mariposa Livestock Farm in the town of Plantagenet, about 60 kilometers from Ottawa.
Behind the bar, mixologist Meghan Savoie is repurposing unused kitchen products – lemon peels, cucumber skins, spices, etc. – into homemade syrups and shrubs to create her delicious cocktails, with or without alcohol. Sit at the bar for a drink or two; a great way to start or end your evening!
Cafés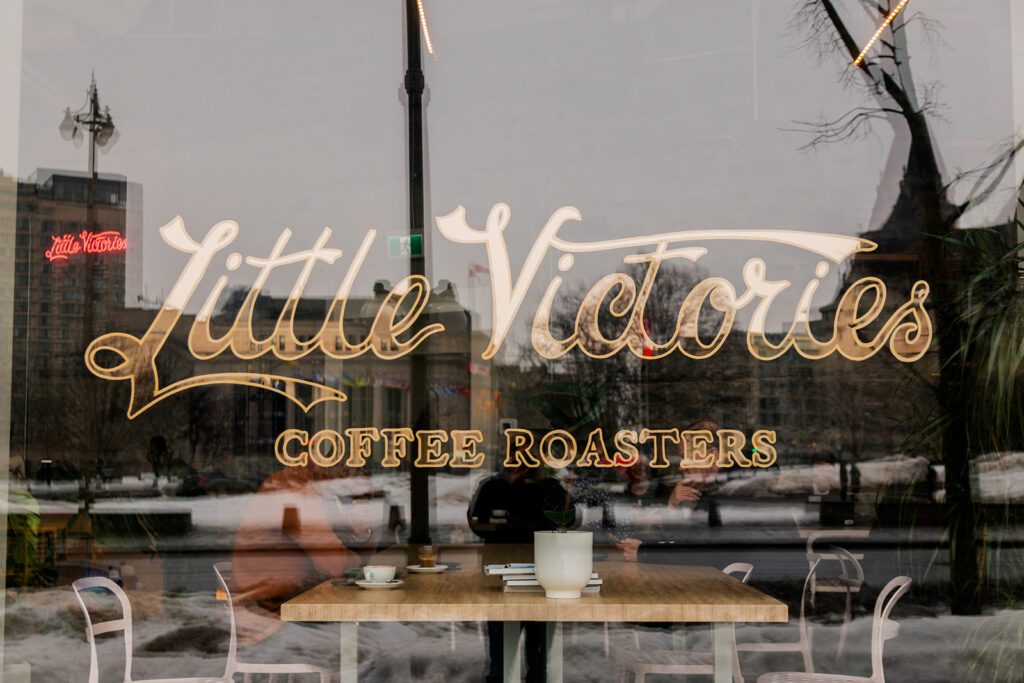 Little Victories Coffee Roasters – 44 Elgin St (Centretown)
Across from Confederation Square, in a beautiful 1890's Queen Anne style building, Little Victories is without a doubt one of Ottawa's most beautiful coffee shops. Fortunately, the coffee is as good as the decor is beautiful! Another smaller branch is located on Bank Street in the Glebe.
Arlington Five – 5 Arlington Ave (The Glebe)
This charming café embodies the essence of the Glebe: eclectic, bohemian, and welcoming. At all hours of the day, artists, workers and travellers mingle here for a good coffee and a bite to eat. Note: cross next door to Wilf & Ada's for one of the best lunches in town.
Drip House – 692 Somerset St W (Chinatown)
By day, it's a nice café bustling with students and young professionals, with a modern decor with Asian touches. By night, the lights are dimmed, the music is turned up, and the space is transformed into a chic cocktail bar!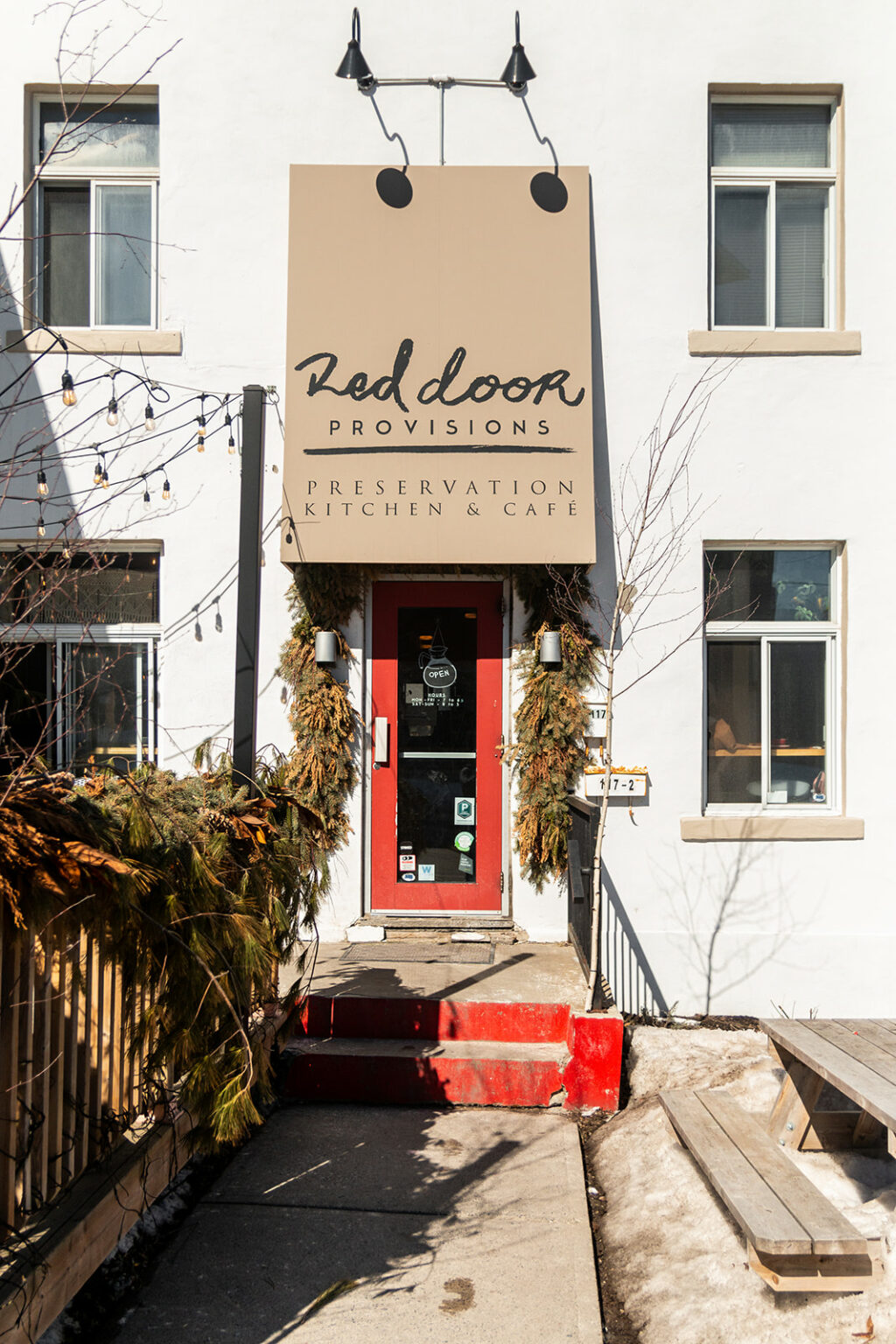 Red Door Provisions – 117 Beechwood Ave (Lindenlea)
Cross the Rideau River to Lindenlea, north of Vanier, for a visit to Red Door Provisions, a tiny neighbourhood café where you'll find great grilled cheese, great coffee from Pilot Coffee Roasters, and homemade preserves and other products to go.
Art-Is-In Bakery – 250 City Centre Ave #112 (Little Italy)
Art-Is-In Bakery is the brainchild of pastry chef Kevin Mathieson and his wife, Stephanie. Located on the edge of a large parking lot in the City Centre shopping center, the place doesn't look like much from the outside, but it's a different story once you enter. Inside, there is a large dining room with an industrial decor and a counter overflowing with delicacies at the back. On the menu: pastries (the sticky bun is a musthave!), pastries, sandwiches (we love the fried chicken burger!) and pizzas, as well as an assortment of prepared meals to bring home. For lunch or a night out with friends, we also suggest the excellent Beyond the Pale brewery-smokehouse, just next door.
Nice, good, not (too) expensive
Farinella – 492 Rochester St (Little Italy)
If you ask Ottawa locals where to find the best pizza in town, you may be told to go to Pizza Nerds or Anthony's, but chances are you'll be pointed in the direction of Farinella in Little Italy. Located in a former skateshop, this pizzeria offers delicious Roman-style pizza served al taglio (cut in squares) and sold by weight, to go or to be eaten standing at the counter. There is also an excellent gelato. For a more comfortable experience, we suggest the same owners' new restaurant, Retro Gusto, on Preston.
Heartbreakers Pizza – 465 Parkdale Ave (Hintonburg)
Speaking of pizza, we fell in love with Heartbreakers Pizza in Hintonburg. Run by a young and friendly team, the address offers New York-style pizza made with fresh ingredients, with a short list of natural wines and a nice cocktail list. Of course, you can order to-go, but the restaurant also has a very nice dining room with comfortable banquettes.
Corner Peach – 802 Somerset St W (Chinatown)
Another of our recent favourites, this fancy diner charms with its retro-but-not-too-much décor and delicious, fresh, unpretentious food. Offered at lunchtime only, the smash burger is a must. Of course, you have to can end your meal with a chocolate sundae! In the next room, the Corner Store offers a nice selection of wines, beers and other delights to take away.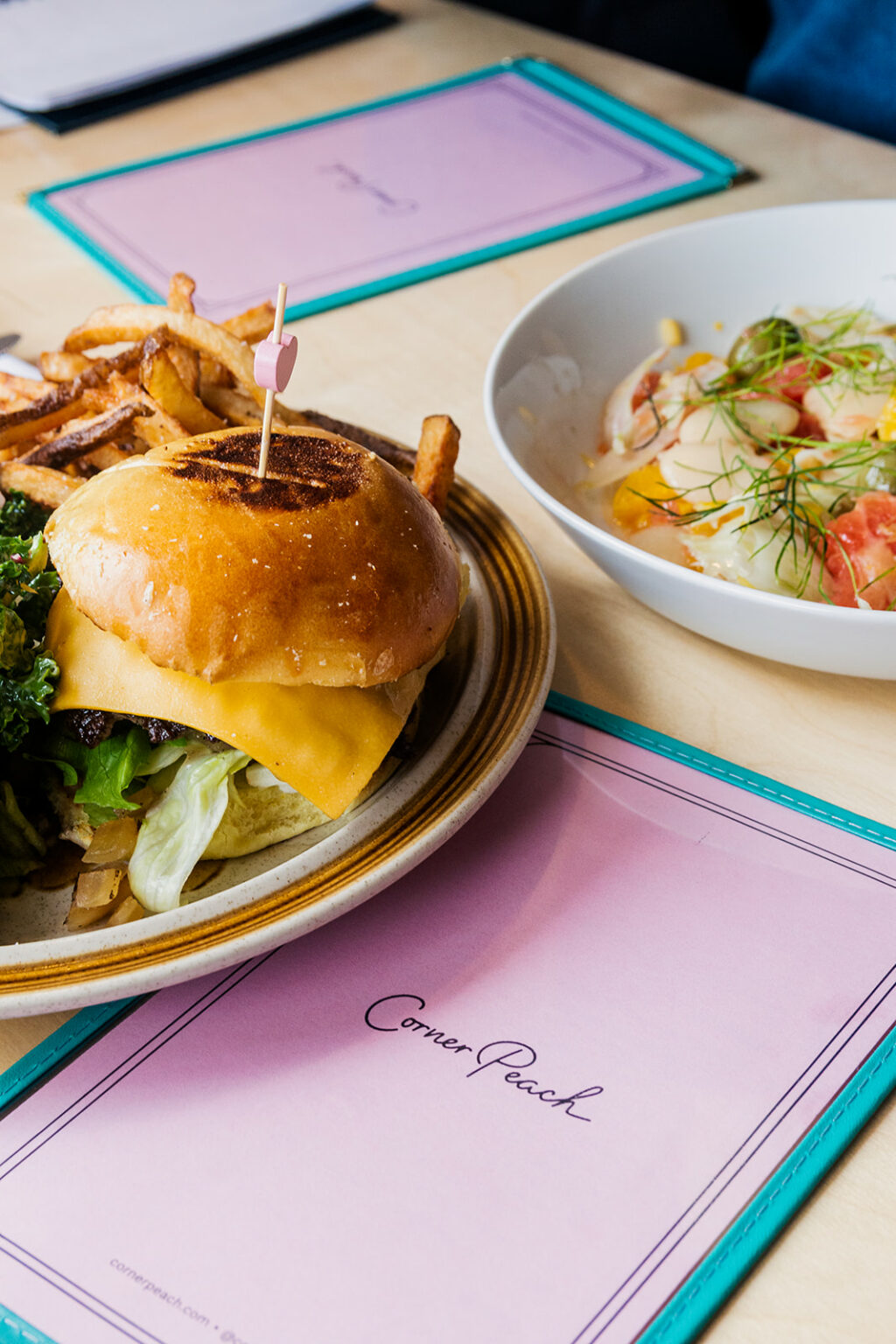 Gburger – 380 Elgin St (Centretown)
Imagine your favourite fast food restaurant, but with choice ingredients, cocktails and natural wine, all in a beautiful modern decor with retro accents. That's exactly what the team at the chic Gitanes restaurant, just across the street, has created here (read more below). The story goes that the Gitanes Burger (Epoisses cheese, red onions, aioli and bordelaise sauce on a killer sesame bun!), once served at Gitanes, became so popular that it deserved its own restaurant. After having tried it, we confirm that it was a good idea!
Datsun and El Camino – 380 Elgin St (Centretown)
Just below G Burger, we landed at Datsun restaurant, where we enjoyed tasty Asian fusion cuisine (think steamed buns, dandan noodles and ramen) in a lively and festive atmosphere. Next door, its big brother, El Camino, offers excellent tacos and other Mexican-inspired dishes. Both addresses, as well as the Italian restaurant Giulia on the corner, are part of the same group as the legendary restaurant Riviera.
Play Food & Wine – 1 York St (ByWard Market)
If Datsun and El Camino are young and hip, Play Food & Wine would be better described as "adult contemporary." This ByWard Market address attracts a crowd of diplomats and government officials for lunch and happy hour. To eat: well-executed small dishes to share, as well as some light snacks. To drink: a nice selection of wines by the glass, beers, and house cocktails.
Paper Tiger Noodle Bar – 1091 Bank St (Old Ottawa South)
Chef Charley Nelson's popup project has found a permanent address on Bank Street in Old Ottawa South. The chef's concept is both a noodle bar and a raw bar with a fusion of Asian flavours. We recommend coming on Wednesdays for the oysters at $12 a half dozen.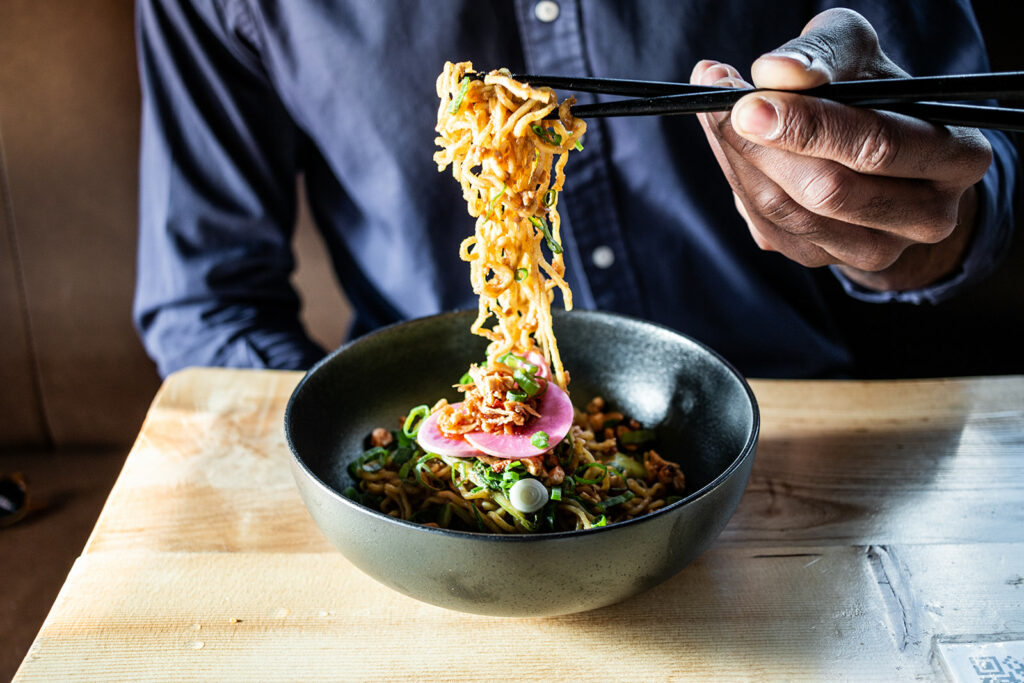 Treat yourself
Arlo Wine & Restaurant – 340 Somerset St W (Centretown)
If the word "wine" appears before the word "restaurant", it's not by chance. Wine is the star at Arlo – and natural wine at that! That's not to say that the food isn't good: Chef Jamie Stunt's menu is rather short, but each item is carefully crafted with fresh, local, seasonal products to perfectly match the wine list, starting with the duck skewer, one of the few dishes that stays on the menu, which is a perfect match for a light red.
Poisson Bleu – 610 Somerset St W (Chinatown)
A little further west on Somerset Street, a few steps from the Chinatown Arch, we cast off at Le Poisson Bleu. At the helm is a trio of talented young sailors: Sophie Velour, who comes from Montreal, where she worked at the Atwater Cocktail Club, and her two cousins, brothers Eric and Alex Bimm. The latter gained his experience at the Whalesbone, then at the excellent restaurant Les Fougères in Chelsea. The menu, almost entirely composed of fish and other seafood, is a true ode to the sea. If you're feeling adventurous, opt for the impressive smörgåsbord, a generous and ever-changing assortment of small dishes, such as curried fish heads, smoked sturgeon sausages and locally made fish sausages.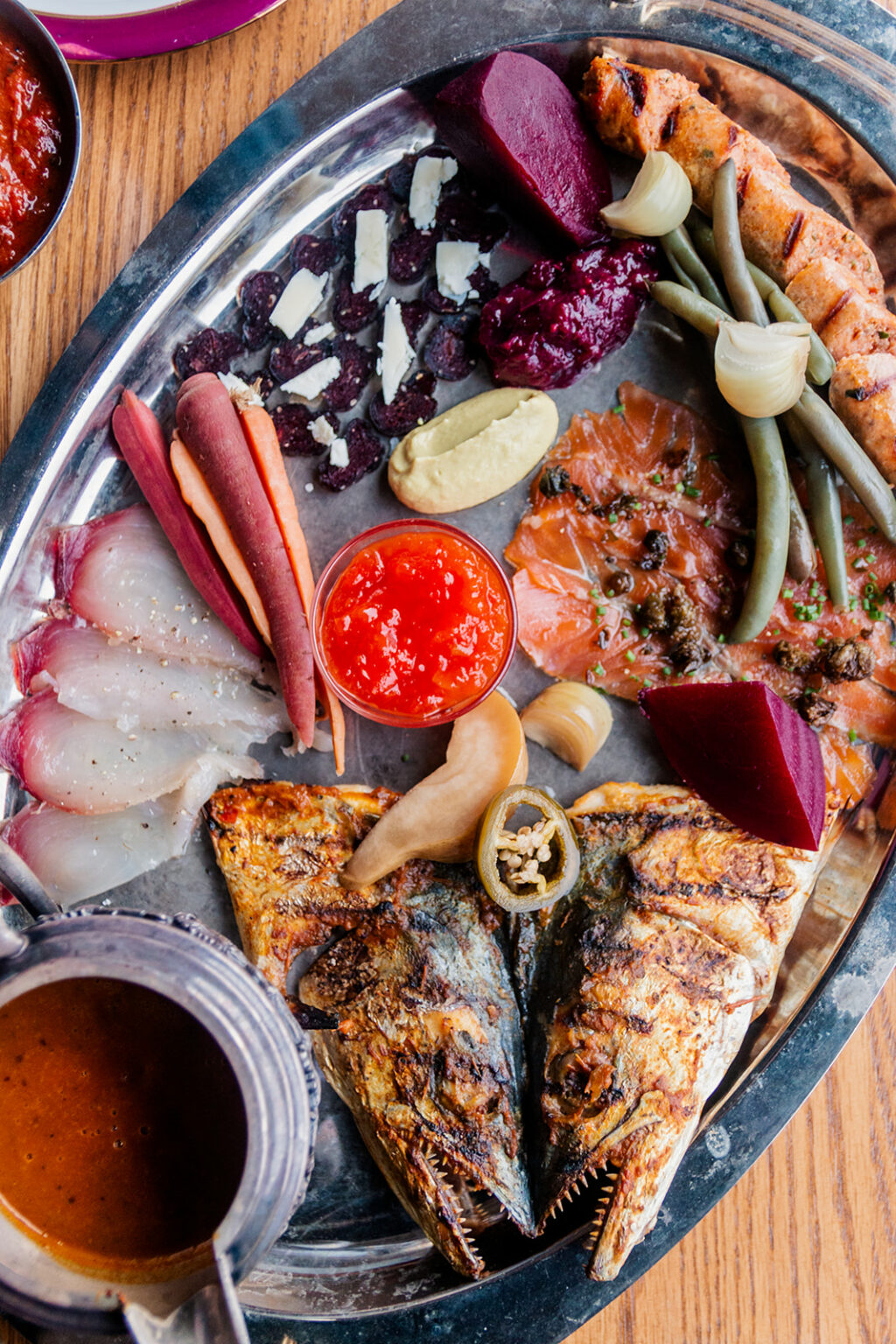 Riviera – 62 Sparks St. (Centretown)
A landmark restaurant in Ottawa, Riviera is the third opus of the El Camino group (El Camino, Datsun, and more recently Giulia). However, this is a departure from ethnic street food to a more upscale, refined cuisine, described as "new Canadian cuisine". The vast space with soaring ceilings formerly housed a jewellery shop, as well as several financial institutions. Today, a 20-meter bar separates the dining room from the open kitchen, where you can watch the team at work.
Supply and Demand – 1335 Wellington St. W (Wellington West)
A favourite for more than 10 years, Supply and Demand always responds to demand, with a menu focused on seafood and chef Steven Wall's sublime fresh pasta. A great reason to get out of downtown to explore the west side of town and the vibrant Westboro Village!
Fairouz Cafe – 15 Clarence St. (ByWard Market)
Open since 2016, this chic Middle Eastern-inspired restaurant is now a ByWard Market staple. The focus here is on a shareable formula, with mezzes and large pieces of meat or fish to be split between several people. With a private room that seats 45 people, it's the perfect place to host groups and family events.
Peking Duck – 90 George St (ByWard Market)
Peking Duck is an iconic dish in Chinese cuisine, and this is probably the most authentic version of it in Ottawa. The whole duck, crispy as can be, is carved in front of you on a cart, then served with steamed pancakes and toppings on a large turntable in the center of the table. To be tried at least once! Note: you must reserve your duck in advance if you want the full experience.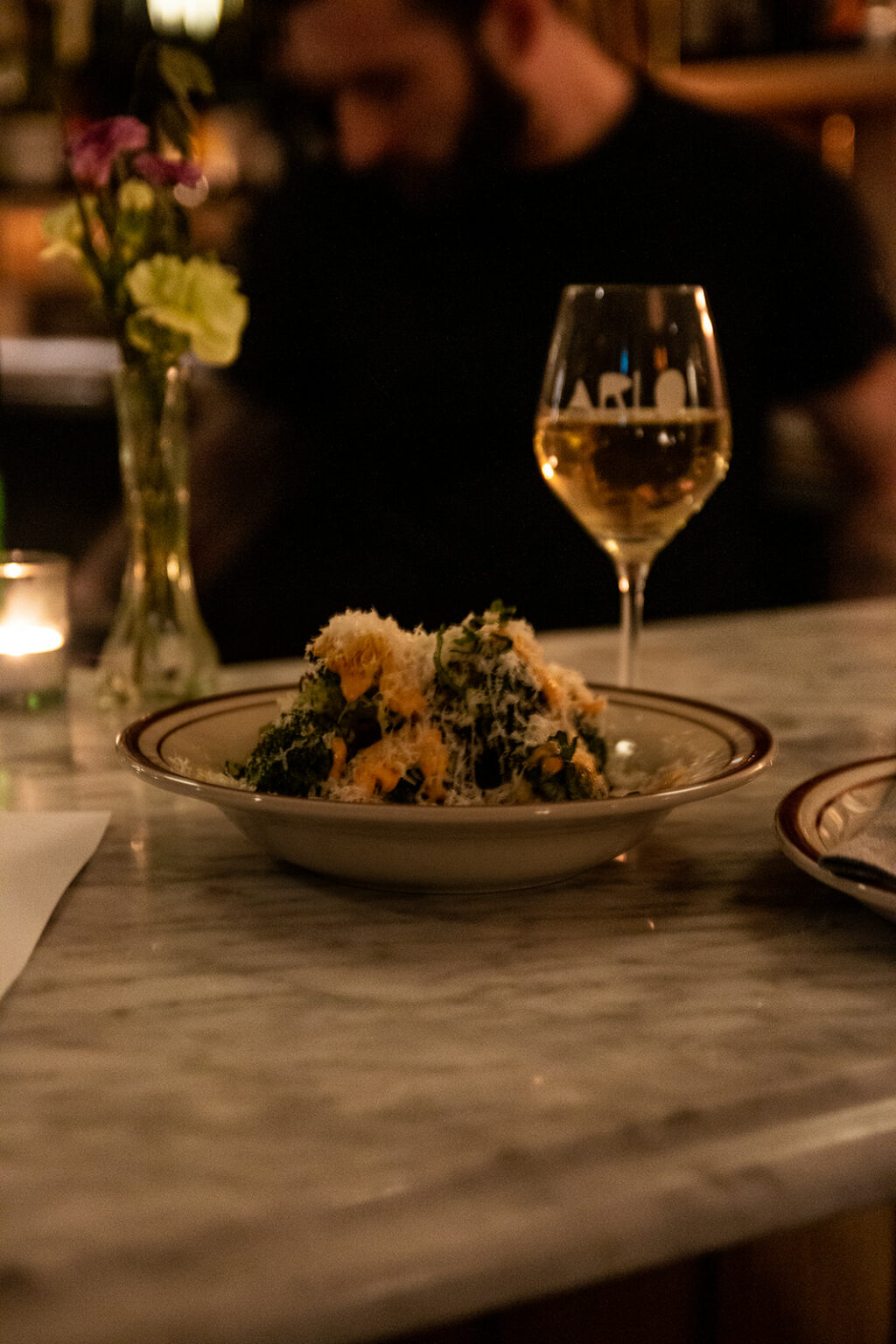 Gitanes – 361 Elgin St Unit #6 (Centretown)
Festive, sophisticated, exuberant: three words that sum up the spirit of this chic French-inspired restaurant. The champagne flows freely, the seafood towers are bursting with oysters and caviar. As you can tell, this is a place to party and splurge. If you're in the mood – and your budget allows – you can even sit at the "chef's table" on the kitchen side for a memorable tasting experience with Chef Mitch Lacombe and his brigade.
Cantina Gia – 749 Bank St (The Glebe)
If Montreal and Toronto both have their own Gia, Ottawa is not to be left out. Cantina Gia opened in the summer of 2020, at the height of the pandemic, by the owners of North and Navy. It is a family friendly place to eat southern Italian specialties: grilled meats, fresh pasta, focaccias, carpaccios, Caesar salads. Nothing revolutionary, but when everything is so well-prepared, the decor so appealing, and our cups are full, we can't complain! Open for lunch, dinner and brunch.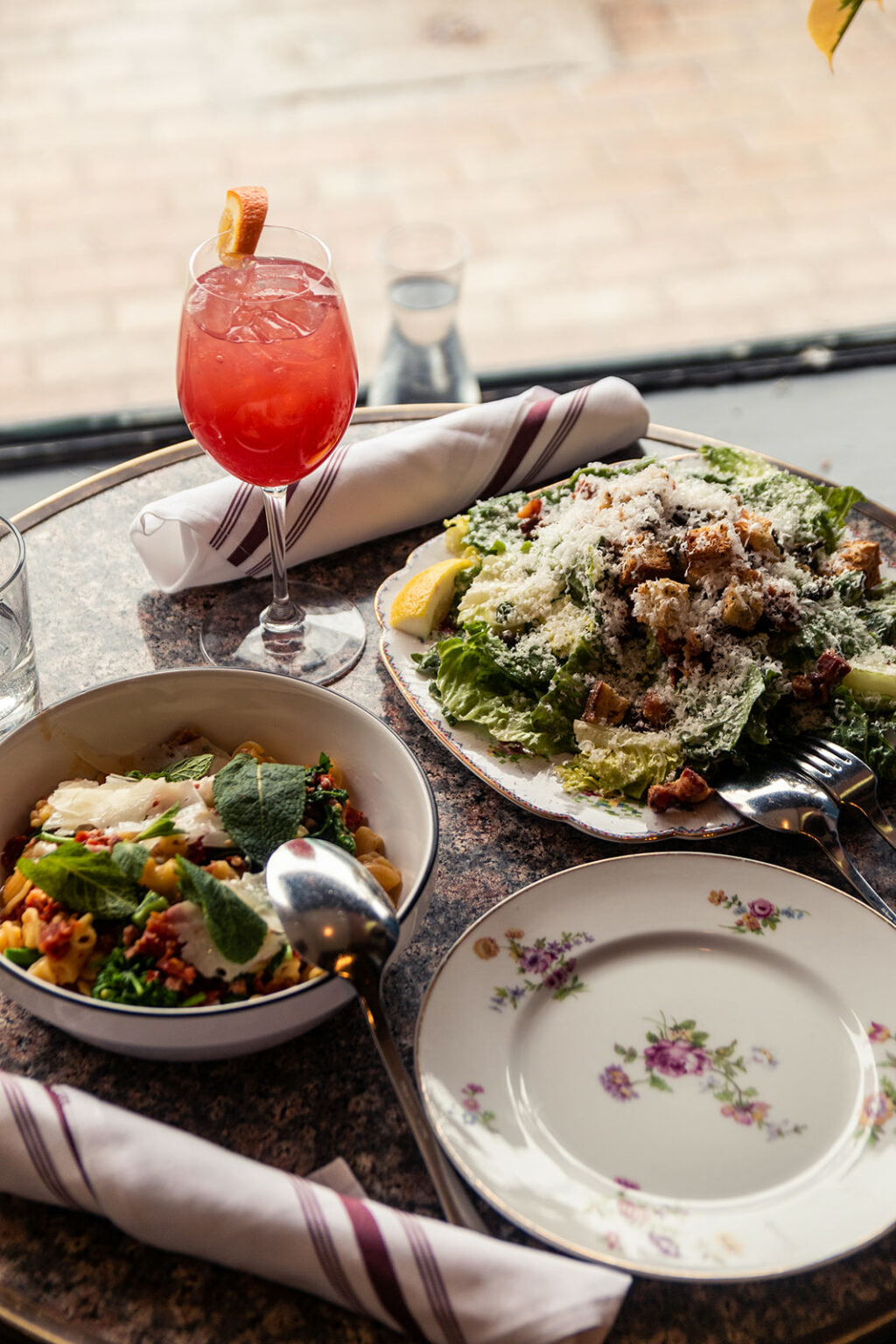 Soif Bar à Vin – 88 Montcalm Street (Gatineau)
On the other side of the Ottawa River, in Gatineau, you'll find another of our favourite addresses: the wine bar of Véronique Rivest, an internationally renowned sommelier who has won many awards here and abroad. The cellar is obviously well-stocked with Véronique's finds, which are accompanied by simple and colourful dishes to share. Cheers!
Alice – 40 Adeline St (Little Italy)
In a tiny house, on a quiet residential street in Little Italy, lies one of the best restaurants in Ottawa – and maybe even in the country. Self-taught, 2017 Gold Medal Plate winner and 2023 Canadian Culinary Championship winner, Chef Briana Kim offers a unique plant-based and fermented tasting experience where each of the eight courses is a small work of edible art. Try it for a really special occasion!
Miscellaneous: A few places to have a drink
Apothecary Lounge – 54 York St (ByWard Market)
Stolen Goods Cocktail Bar – 106 Sparks St. (Centretown)
Afterlight – 129 Bank St, Ottawa (Centretown)
Robo's Bar – 170 Queen St, Ottawa (Centretown)
Charlotte – 340b Elgin St (Centretown)
Sidecar – 428 Preston St (Little Italy)
The Moonroom – 442 Preston St (Little Italy)
Bar Lupulus – 1242 Wellington St. W (Wellington West)