Charlevoix: Where to eat well in Baie-Saint-Paul and La Malbaie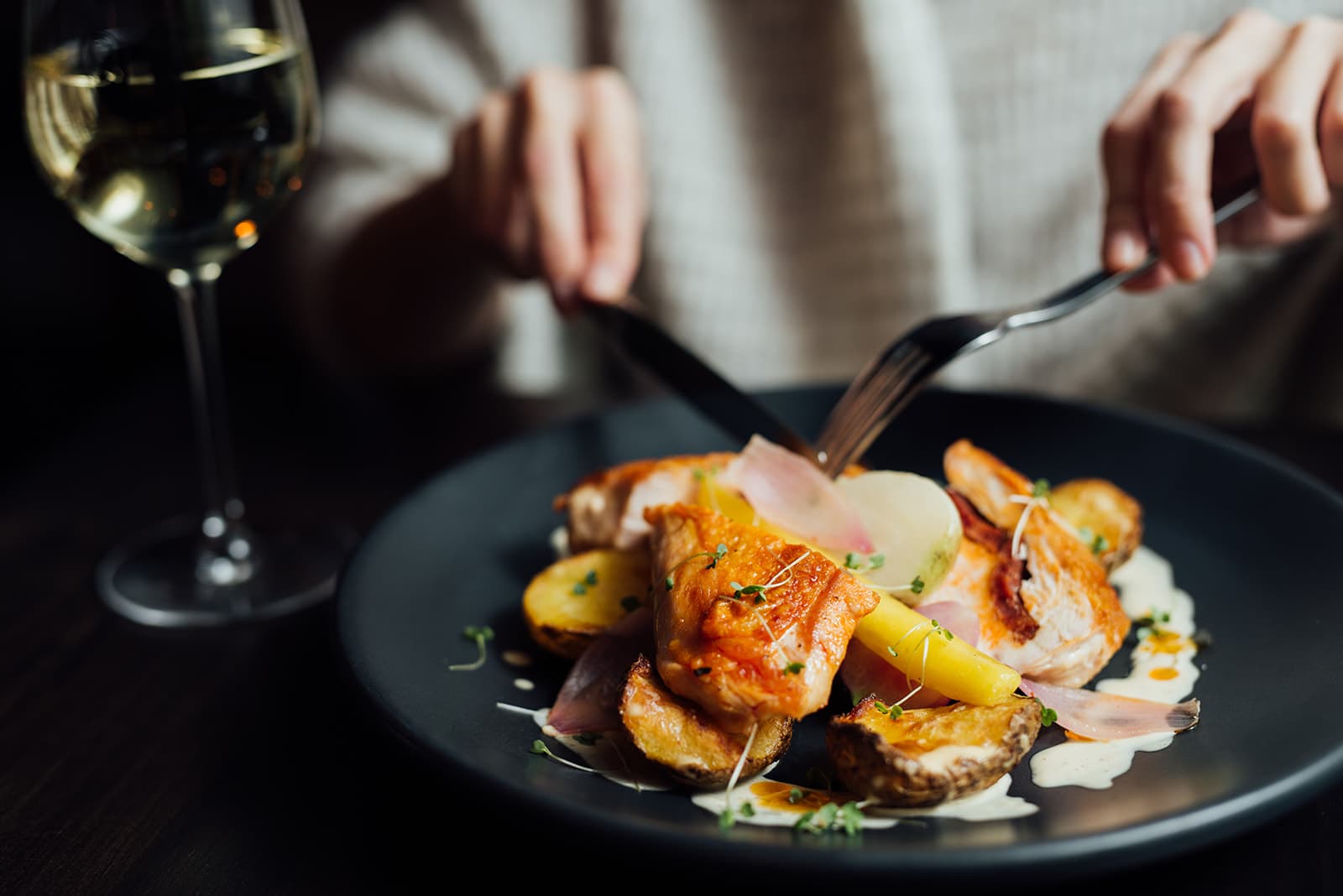 Quebec is full of beautiful places to rest and relax during your summer vacation. Leaving the hustle and bustle of the cities to take refuge in the peaceful pockets across the province is common practice during the summer. And Charlevoix is the key region to escape to in summer.
No visit to Charlevoix is complete without exploring Baie-Saint-Paul and La Malbaie. From the tourist sites, to the picturesque landscapes, to the outdoor activities, and of course the diverse range of gourmet addresses, Charlevoix has it all. From fry shacks to gourmet restaurants, Charlevoix offers a culinary selection that showcases the excellence of Quebec's local products.
Baie-Saint-Paul, located across from Île-aux-Coudres, is an essential gourmet stopover. Whether for its warm hospitality, the beauty of its natural surroundings or its excellent gastronomic scene, the town is definitely worth a visit.
Known first and foremost for its exceptional landscapes—which have been a source of inspiration for many Quebec artists and artisans—La Malbaie has managed to preserve its character and seems to be frozen in time. It charms passers-by with its landscapes and waterways, and offers a multitude of culinary experiences that capture the region's unique character.
Where to eat
Since many visitors come to the region during the summer, Tastet has prepared this list, which offers just over a dozen gourmet addresses. From cafés to bakeries to gourmet restaurants, this list will guide you throughout your stay.
We also recommend that you peruse our gourmet guide (in French only), which offers a complete itinerary of our favourites in Charlevoix, Baie-Saint-Paul and La Malbaie.
Special mentions
Visit the Menaud distillery and brewery for its beer and spirit tasting platter or to fill your bar with delicious local products. Concerned with tradition, respect for the land, and interested in rethinking ways to do things, the Menaud team continues to impress with its high-quality products. As the first distillery in Quebec to craft its spirits from grain to bottle, we tip our hat to you!
The Migneron family is a pioneer in the micro-fromagerie industry in Quebec. With their pastures, their fine artisanal cheeses, an organic vineyard, and a distillery, we can say that the Migneron family does not do anything halfheartedly. Visit their boutique and sample a variety of products at their picnic stop in an enchanting setting.
If you want to get back on the road and go up the river, we recommend our list of the best addresses in Tadoussac. Happy discoveries!
Without further ado, here are our gourmet suggestions for Charlevoix, Baie-Saint-Paul and La Malbaie: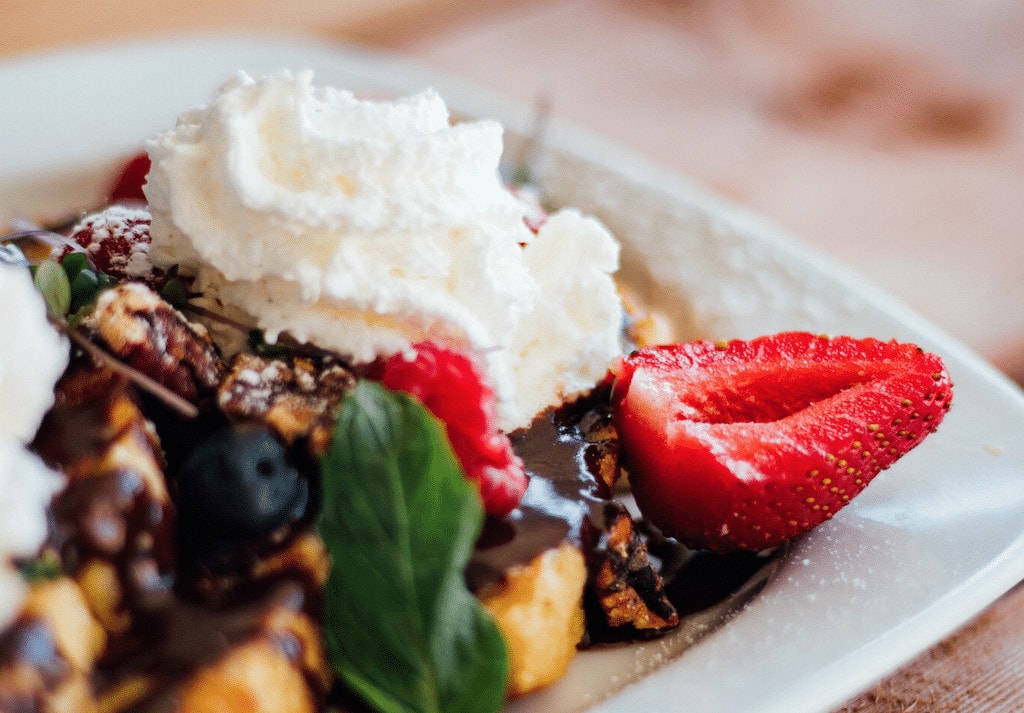 Les Labours
Located in the beautiful Le Germain hotel, the restaurant welcomes you in a chic and friendly space with a large open kitchen. You can enjoy delicious dishes, which expertly highlight the products of the region, some of which come directly from the hotel's own farm. While they are temporarily closed for dinner service, they offer an excellent breakfast. A great place to start before exploring the region!
50 Rue de la Ferme
Baie-Saint-Paul
Ah La Vache! is a charming bring-your-own-wine restaurant in Baie-Saint-Paul. This small Swiss bistro makes excellent food with flavours from the mountainous European country. On the menu, you will find both regional and Swiss products, and several delicious dishes with cheese as the main event; such as their excellent Swiss fondue! The charming owners take care of the service, and we can assure that you'll be well taken care of.
124 Rue Saint Jean Baptiste
Baie-Saint-Paul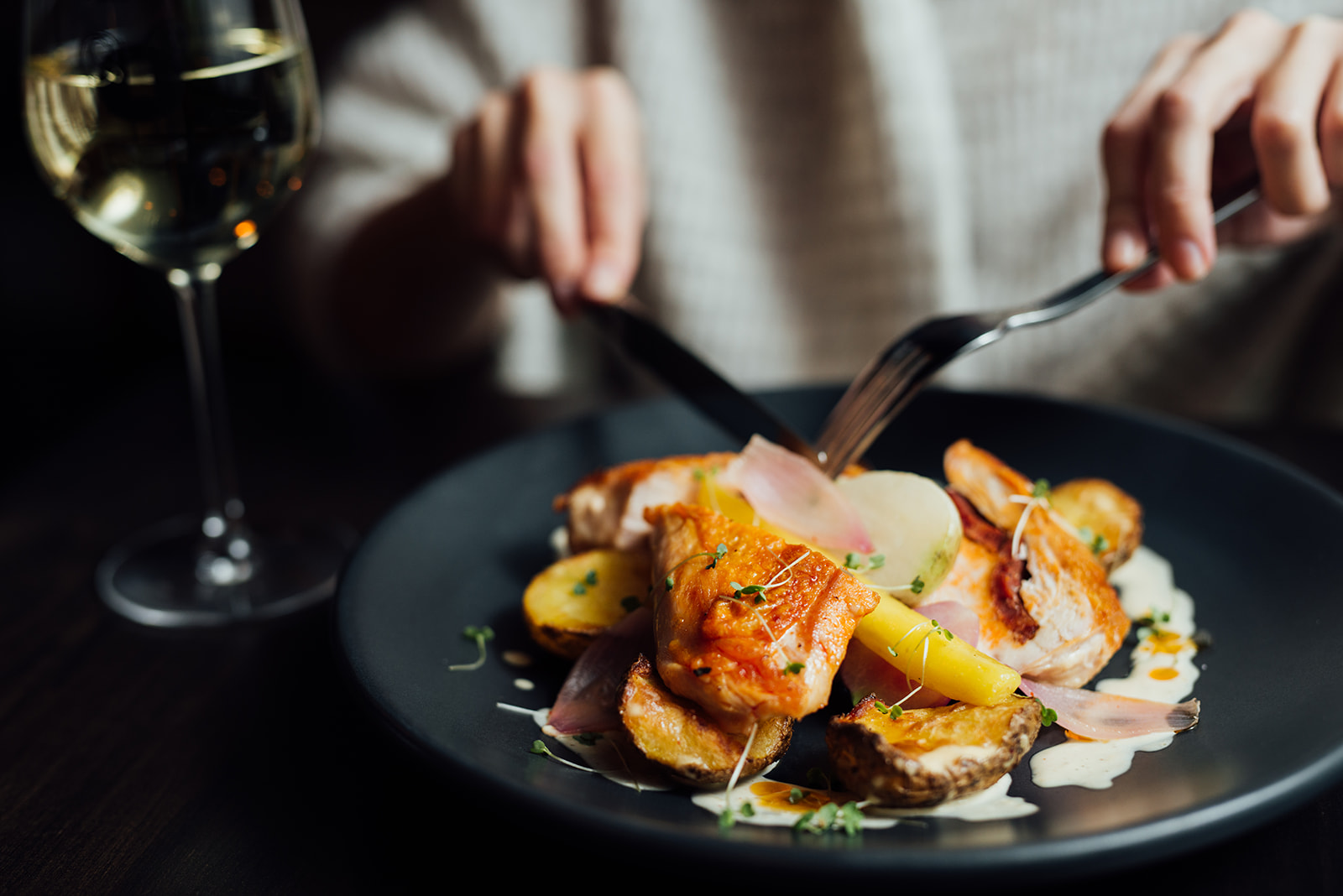 Mouton Noir
Having opened their doors more than 40 years ago, Mouton Noir is a true Baie-Saint-Paul institution. With its country bistro look and unique regional charm, this address offers both classic and creative cuisine, focused on the pleasure of eating well. They have a beautiful terrace in the back, as well as a singer who adds a little liveliness every Friday and Saturday evening. An unpretentious institution where you can eat very well – to be discovered in the region.
39 Rue Saint Jean Baptiste
Baie-Saint-Paul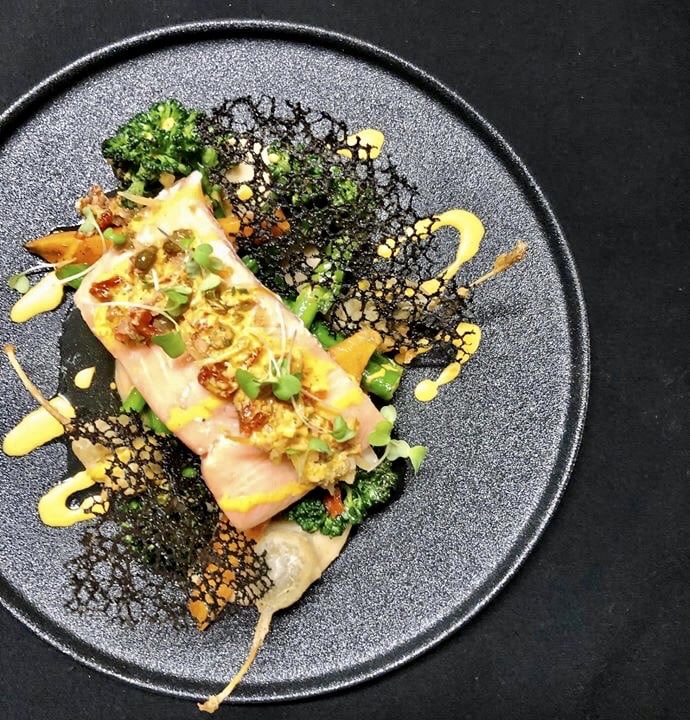 Le Diapason
Le Diapason offers delicious Alsatian and Quebec inspired cuisine. The simple and warm atmosphere is perfect for savouring dishes made mostly with local ingredients. On the menu, you'll find several dishes featuring well-prepared local meats, all complemented by good service and wallet-friendly prices. With their beautiful terrace, this place is a must-try.
1 Rue-Sainte Anne
Baie-Saint-Paul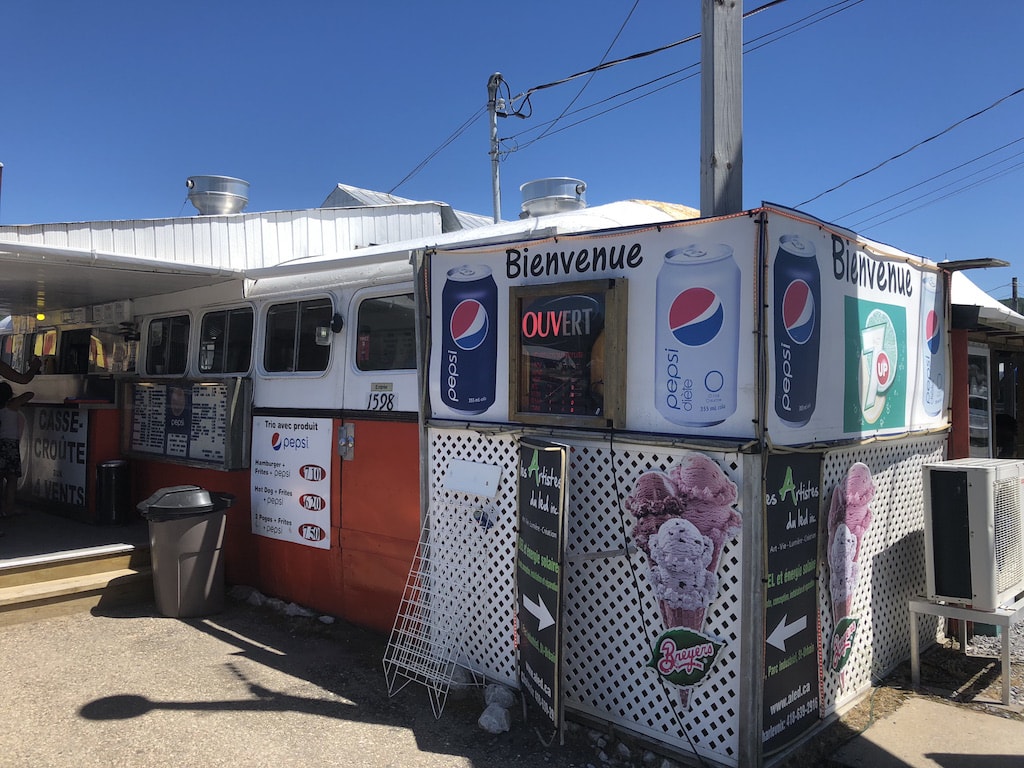 Located in a tiny trailer next to a gas station is the casse-croûte 4 vents, one of the best snack bars in Quebec! The establishment has been in operation for almost 50 years and is truly unique; so much so that you would think you were in another era! Everything here is very well done and frankly delicious. We particularly recommend the Migneron cheeseburger (with an extra egg, even better!) and the poutine. There are also pogos, club sandwiches (with real chicken), hot dogs and other traditional snack food.
1598
Le Rond Point casse-croûte
The Rond Point casse-croûte is a new address in Baie-Saint-Paul whose offer is characterized by its exclusive use of local products. Here, you'll find a menu made up of revisited Quebec snack bar classics. A little outside the touristic area of Baie-Saint-Paul, the establishment offers nothing less than one of the best poutines in Quebec! We also love their decadent croque-monsieur. Rond Point is a charming establishment to stop in for lunch or a snack.
96 Rue Leclerc
Baie-Saint-Paul
Café Arômes et Saveurs
Café Arômes et Saveurs is a charming establishment that offers very good and comforting products made from local ingredients. In a rustic style room, you can enjoy delicious pastries and baked goods, good breakfasts and lunches, as well as excellent coffee. A great gourmet address to visit during your stay in Baie-Saint-Paul.
64 Rue Saint Jean Baptiste
Baie-Saint-Paul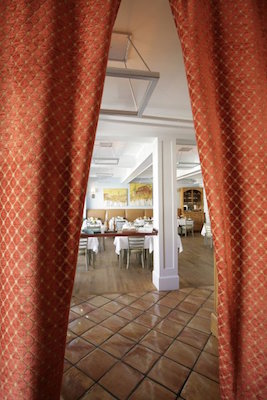 Vices Versa
The most sophisticated option in La Malbaie, Vices Versa offers refined cuisine that honours the ingredients. The two chef-owners work hard to bring you the best of what they have to offer. The concept is simple, but very original: in the kitchen, both chefs propose their version of a protein, and the customer can choose what they'd like! The establishment offers a two or three-course menu, and for the full experience, we suggest a food and wine pairing. Plus, children are welcome here. A delicious address to discover!
216 Rue Saint Étienne
La Malbaie
See on map
50 Rue de la Ferme Baie-Saint-Paul G3Z 0G2
124 Rue Saint Jean Baptiste Baie-Saint-Paul G3Z 1M6
39 Rue Saint Jean Baptiste Baie-Saint-Paul G3Z 1M3
1 Rue-Sainte Anne Baie-Saint-Paul G3Z 0C8
1598
96 Rue Leclerc Baie-Saint-Paul G3Z 2L2
64 Rue Saint Jean Baptiste Baie-Saint-Paul G3Z 1M4
216 Rue Saint Étienne La Malbaie G5A 1T2