The amazing trio behind Les Faux Bergers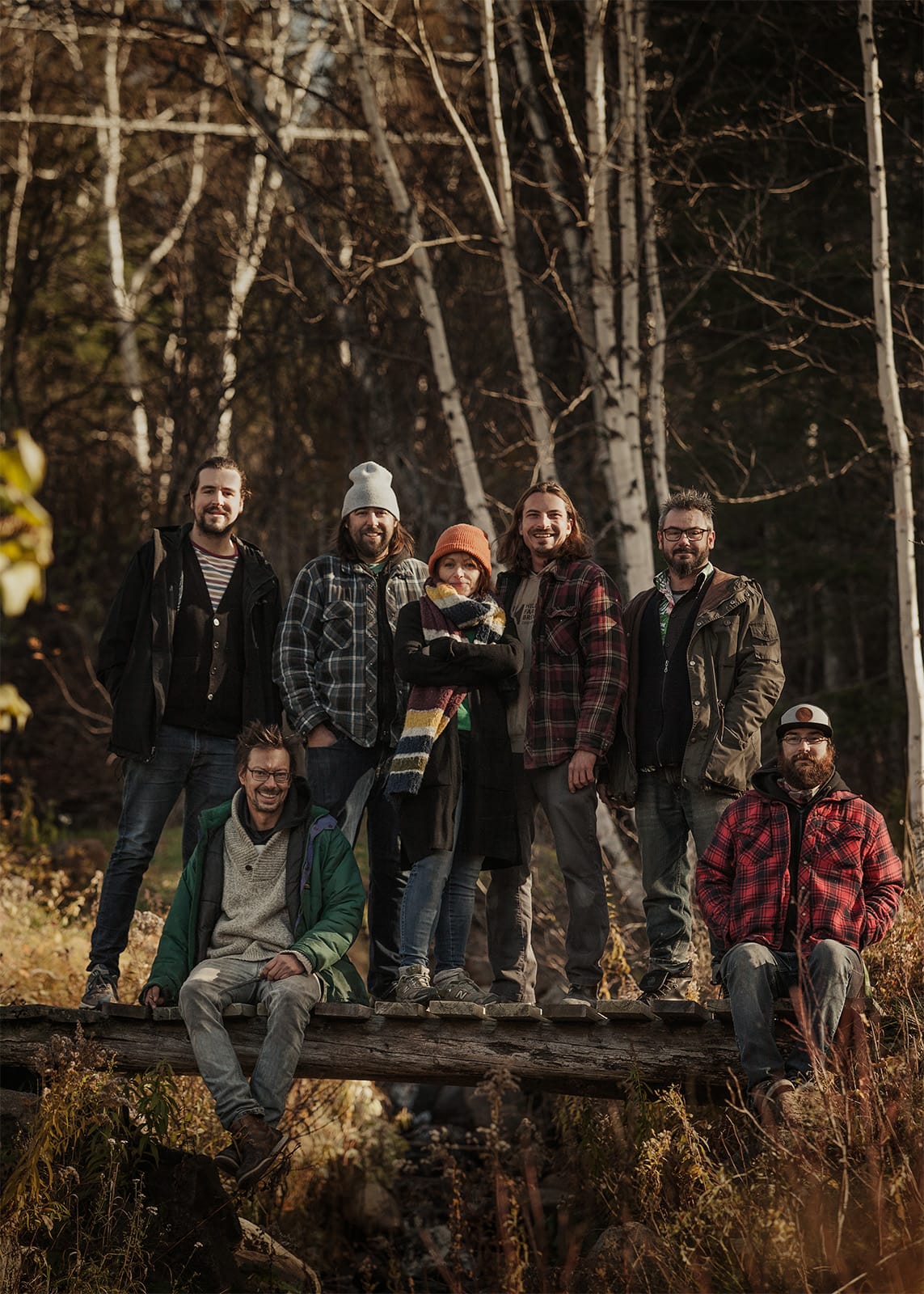 Gastronomy is an invitation to travel. Air France invites you to discover Émile Tremblay and Sylvain Dervieux, chef-owners of the restaurant Les Faux Bergers.
"I don't know if it was luck or if it was inevitable. What is certain is that we were made to cook together. Our temperaments and skills complement one another perfectly. We're relaxed guys who don't take themselves too seriously, while still being very rigorous in our work. Sylvain is more technical, I'm a little more instinctive and improvisational. In short, we like to cook together, it's easy, we have fun. Everything is always golden." – Émile Tremblay
Sylvain Dervieux
"I began my training in Michelin-starred restaurants, where I learned the techniques and rigour of great cooking."
Sylvain Dervieux is originally from the southwest of France and his charm isn't lost on anyone! Mediterranean cuisine was what he grew up with, and was what inspired him to pursue a career in the restaurant industry. He left the sun and the sea to continue his culinary apprenticeship in some of the best known restaurants in Paris. A few years later, eager for new discoveries, he decided to establish himself in Montreal.
It was in North America that he perfected his versatility and multidisciplinary skills. He worked in several hotels in Montreal before moving to San Francisco and working as a pastry chef. This long journey opened his eyes to his career objective, the nature of his passion, his raison d'être as a chef: "I am a creative person motivated by the desire to create unique menus".
Émile Tremblay
Émile Tremblay's career in the restaurant industry began in Quebec City's Lowertown; more specifically, as a dishwasher at Aux Salons d'Edgar. From there, he eventually began cooking, which led him to take a culinary course at the École hôtelière de la capitale.
The young cook is an adventurer at heart. He can't and won't stay in the city, and is thirsty for adventure! This is evident through his culinary journey where he worked, among other places, at the Domaine du Vieux Couvent in the Magdalen Islands, at Kicking Horse in Western Canada, and in a Neapolitan restaurant in Australia.
After exploring Southeast Asia and India for six months, Émile returned to Quebec. It was at this time that David Forbes approached him and asked him to help build his new establishment, Le Cercle.
The Genesis
"It looks like you're looking for work"? – Émile Tremblay asked Sylvain Dervieux
Émile was a sous chef at Le Cercle when the chef—without warning—left him in charge of the kitchen for a short vacation, and he had to find a day chef.
Eventually, he found himself with a resume of a cook considered too qualified for the establishment where he applied. "That's when I called Sylvain. I asked him if he was looking for a job. He explained that he was just dropping off resumes left, right, and centre, not really looking for anything in particular. He came to Le Cercle for a drink, and it clicked."
For two years, the cooks worked side by side in Le Cercle's kitchen. Eventually, Émile left the establishment to work as a chef in the development of the restaurant Légende. For his part, Sylvain moved to Charlevoix to open the Hôtel de la Ferme—now known as Le Germain Charlevoix.
Faux Bergers
"Every time I went up to Saguenay to see my family, I would stop by to say hello to Sylvain in Charlevoix. Between you and me, the region is a dream location if you want quality products. My girlfriend and I were tired of living in the city, we wanted to reconnect with nature. Don't tell him, but we were a little jealous of Sylvain." – Émile Tremblay
In 2017 Émile Tremblay, Sylvain Dervieux and Andréanne Guay opened the restaurant Faux Bergers in Charlevoix.
Andréanne Guay
Andréanne is a trained sommelier. She was immersed in the restaurant industry for a few years before the project opened, where she also developed an expertise in customer service. "Andréanne is our Yang, the mom of the restaurant, our sweetheart", confides Émile Tremblay, his eyes full of admiration for his partner.
The dream project
The trio of restaurateurs decided to establish their dream project on the grounds of the Bergerie of the wonderful Migneron family in Baie-Saint-Paul. "We opened Faux Bergers without any fanfare. It was played by ear, instinctively and intuitively. We received our friends and family with a unique menu; and then the concept remained. At Les Faux Bergers, we offer a unique menu, and we welcome you as if you were family!"
95%
"95% of our menu is made up of food from local producers. In the fall, we preserve about a ton of vegetables that help us ride out the winter. We're lucky to have plenty of nature's beautiful gifts here, so we make the most of it."
Don't forget to make reservations well in advance if you want to eat at Faux Bergers! The reservation book is full most of the time. However, there is an alternative solution if you are visiting Charlevoix and absolutely want to live the experience proposed by Émile, Sylvain, and Andréanne. In 2020, the restaurateur trio opened La Louve, a casual bar with a European wine shop feel where you can sip good wine while savouring small plates to share.
Thanks to this beautiful trio for reminding us that the grass is greener here than at the neighbour's!
Written by Sophie Monkman
Photography by Alison Slattery