Provisions Bar à Vin: A new and deconstructed menu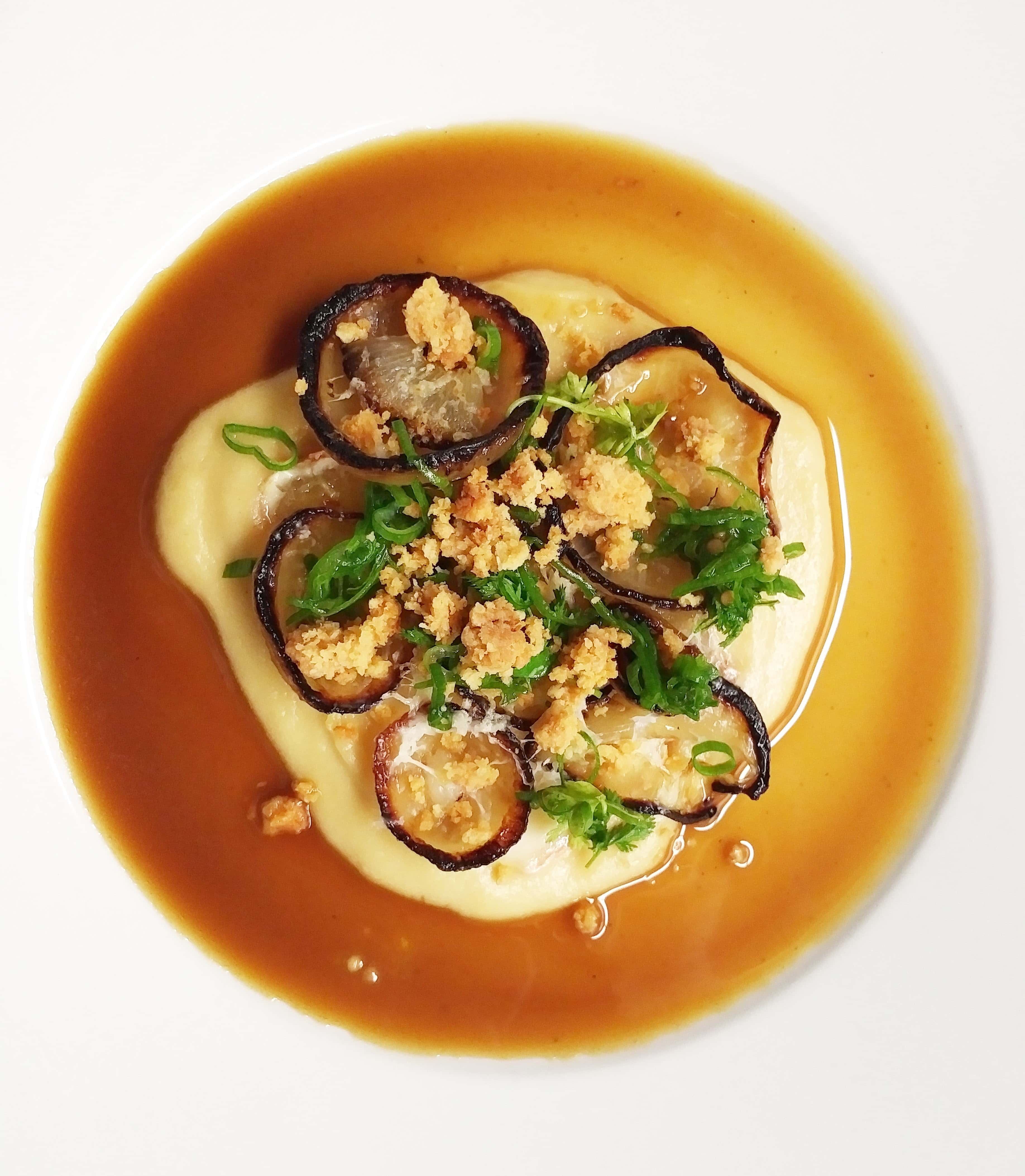 Provisions 1268 is a small jewel on Van Horne Street. In the fall of 2015, the restaurant opened its doors to the community, offering a revolutionary kitchen in Montreal.
"The idea was that when we go and eat at our friends' restaurants, we never really order as such. When we go to the Tuck Shop or Le Vin Papillon, we sit down and order our wine, but the boys give us whatever they want and how they want. Each person is treated differently, depending on the day and we think this is cool. We wanted to do something like that for everyone. We knew, however, that this formula could not work with a large restaurant. That is why our small space of 28 seats, fitted the concept perfectly."
'We' means the co-owners Pablo Rojas – who was the chef of Le Petit Italien for 3 years and who helped open the Mercuri restaurant -, Hakim Rahal – who was chef of Laurie Raphaël for more than two years. Two young dynamic individuals who have embarked on this project with body and soul. Now added to this duo are Evans Gubersky and Rafael Morales.
Provisions 1268 offers you an explosive formula: you enter, sit down, look at the dozen ingredients on the small table and let them know if you have allergies. You then order your wine. Is that it ? For you, yes. The rest is up to them. They create a menu according to what has been chosen, and amaze you with their daily creations. A menu adapted to your wishes, only for you. Count $50 per head, plus wine, for plenty of dishes to share and satisfy (if you ask nicely, the formula could be changed). Lots of love and lots of gifts ; it is an original and daring formula. Perfect for people who are looking to discover or be impressed. It must be said that the beef eaten during the evening is still one of the best to date.
"Every Monday, we go to pick up our vegetables and see what the week will bring. We have a good basic idea of what goes with what, but before the day itself, we never know exactly how we are going to prepare things. We always plan a lot of vegetables, we even have vegetarian or vegan customers who come and love it because we make them a personalized menu." It's never redundant. Especially when you're in the kitchen cooking the same dish for months and you can't look at it any more … here the chefs are on a constant culinary voyage.
When the youthful team first started, the main addition to the space was a large bar. The kitchen is not only in the centre of the small room but it is also at the centre of your experience. There are also some bar-height tables and a small group table.
In terms of wines, Maude Rochette is the one who sets up the menu.
Full of energy and ambition, Provisions 1268 offers a formula that is out of the ordinary; if you feel greedy and ready to discover, you should try it.
Provisions 1268 now owns a butcher/sandwich shop a few doors down: Boucherie Provisions.
Written by Élise Tastet





Provisions Bar à vin

Monday: 5:30 – 10:30 PM
Tuesday: 5:30 – 10:30 PM
Wednesday: 5:30 – 10:30 PM
Thursday: 5:30 – 10:30 PM
Friday: 5:30 – 10:30 PM
Saturday: 5:30 – 10:30 PM
Sunday: 5:30 – 10:30 PM