Gia's Sunflower Roasted Brussels Sprouts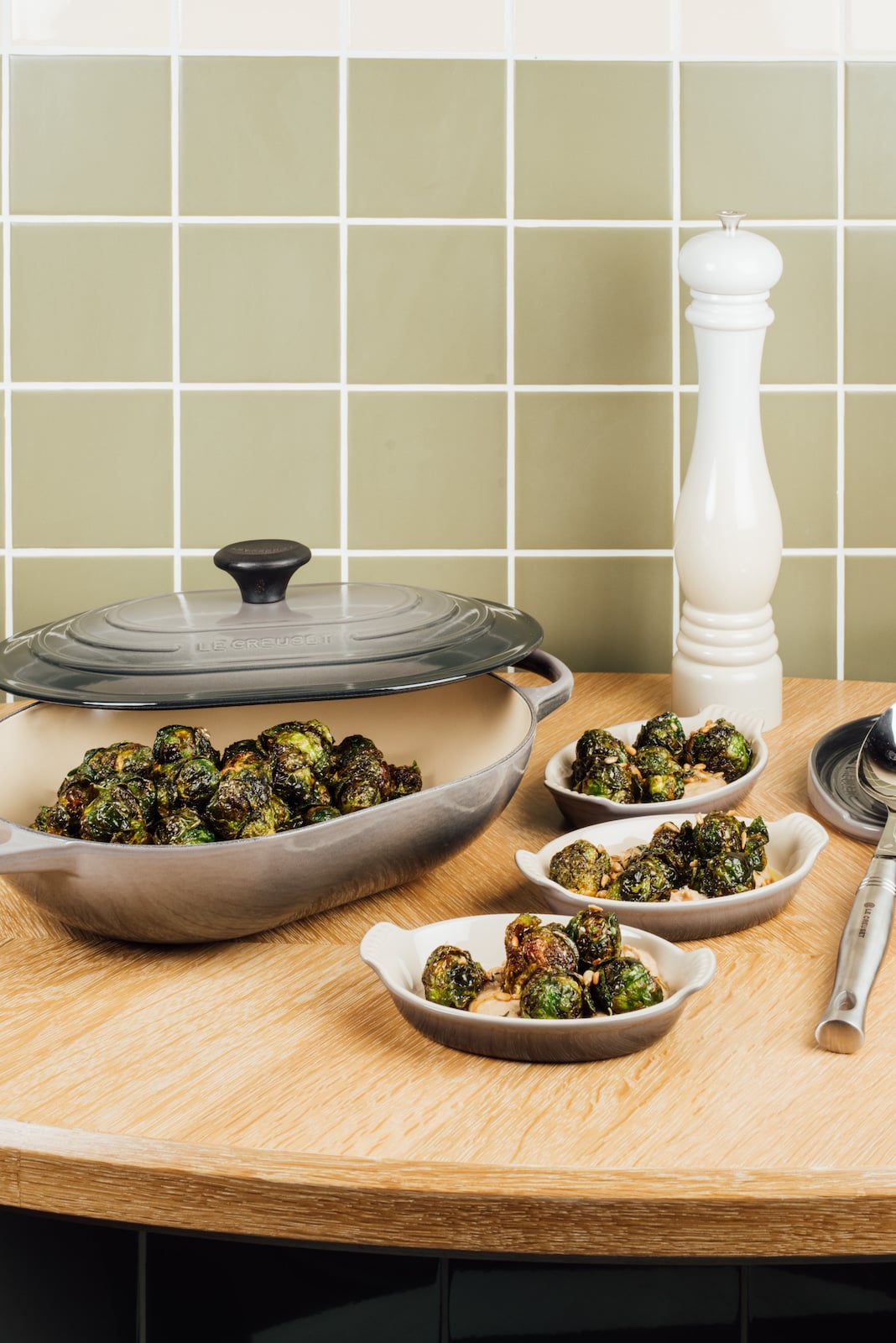 Gia's Sunflower Roasted Brussels Sprouts is a delicious and versatile vegetarian dish. Perfect as an appetizer or a side dish!
Gia is the fourth restaurant in the Nora Gray, Elena, and Club Social PS family. The restaurant is located in a small auxiliary building of the very large and historic CAN building; where stereos were made in the early 1900's. Gia is located at 1025 Lenoir Street in St-Henri—on the very chic corner between the highway and the Home Depot.
Chef Janice Tiefenbach is one of our favourite chefs in town. She prepares Italian delicacies with ingenuity, and her menu at Gia centers around the Italian grill. Drawing inspiration from visits to central Italy and Tuscany, the kitchen offers rustic and seasonal Italian dishes, prepared with local produce. Everything is prepared on the outdoor charcoal grill, which they use throughout the year!
Gia's Sunflower Roasted Brussels Sprouts recipe is pretty easy to make and most importantly, delicious! "At Gia, we skewer the Brussels sprouts and cook them slowly on the charcoal grill; so they are nicely caramelized on the outside, tender in the center, and slightly smoky. The instructions below are for the oven method, which is perhaps less intimidating to do at home and can be prepared in about 20 minutes. I encourage you to try the grilled version at some point. The smoke from the charcoal adds even more dimension to the dish." explains Janice.
Sunflower Roasted Brussels Sprouts
Serves: 4
Preparation: 10 minutes
Cooking: 10 minutes

Ingredients
Roasted Brussels sprouts
5 cups raw Brussels sprouts, washed and trimmed
3 tablespoons olive oil
1.5 teaspoons kosher salt
¼ teaspoon freshly ground black pepper
Sunflower purée
1¼ cup sunflower seeds
3/4 cup neutral oil (vegetable/canola/tournesol)
3 teaspoons kosher salt, divided
100 ml water
100 ml red or white wine vinegar
2 teaspoons sugar
Thyme-infused brown butter
1/8 pound unmelted butter
8 sprigs fresh thyme
To dress the dish
Drizzle of honey
Pinch of fleur de sel
Freshly cracked pepper
Remaining toasted sunflower seeds
2 tablespoons thyme-infused brown butter
Method
Brussels sprouts
Preheat oven to 425˚F, convection mode if possible.
Toss the trimmed Brussels sprouts with olive oil, salt and pepper. Roast them on a baking sheet for 15-20 minutes, depending on their size, until well caramelized and tender.
Sunflower purée
Prepare a heatproof sieve over a heatproof container for the hot oil.
Also prepare a paper towel-lined cookie sheet. In a medium skillet, add the neutral oil and seeds to the cold pan, and heat over medium heat for 4-5 min until the seeds begin to brown. Stir often. It is important to do this quickly as the seeds can overcook very fast. As soon as they start to colour, pour the oil and seeds through the heatproof sieve into a heatproof container to catch the oil.
Immediately transfer the seeds to a paper towel-lined tray. Sprinkle with a teaspoon of kosher salt and let cool for 5 minutes. Set aside ¼ cup of toasted seeds and transfer the rest to a blender and begin blending. Add 150 ml of the hot oil, then 100 ml of water, and 100 ml of vinegar. Add 2 teaspoons of sugar and the remaining 2 teaspoons of kosher salt. Adjust the seasoning to your taste. You should have a nice smooth puree.
Thyme butter
Strip the thyme leaves from the branches and add to ⅛ pound of unsalted butter in a medium skillet over medium heat.
Cook together for 3-4 minutes until the butter bubbles and begins to turn a light brown colour.  Transfer immediately to a small heatproof bowl.
Assemble
Spread your sunflower purée on the bottom of a plate or dish.
Pile the hot Brussels sprouts on top of the purée.
Drizzle with honey and hot thyme-infused brown butter.
Sprinkle with fleur de sel, reserved toasted sunflower seeds and freshly cracked pepper.
Serve immediately.
The beautiful and unique enamelled cast iron Oblong Casserole is a great roasting dish, distributing constant and even heat. Plus, it doubles as a serving dish!