Aicia Colacci's Avocados from Mexico ice cream sandwiches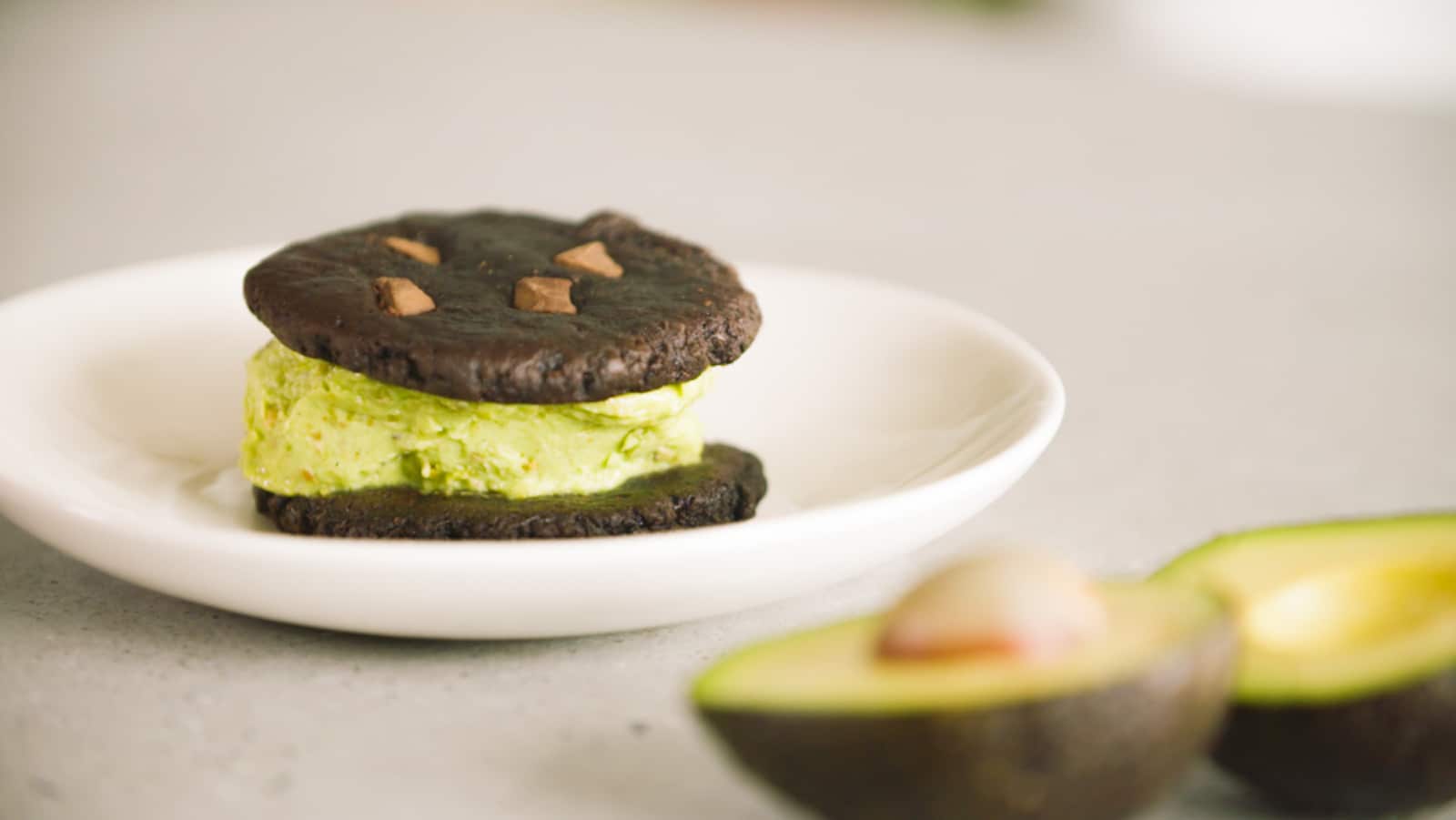 Aicia Colacci would eat ice cream every day—a love that inspired her to create this rich and delicious summer treat of avocado ice cream between two chocolate-avocado cookies. She made them dairy-free—but they're still just as creamy and chocolatey as ever—thanks to the avocado. And, as a bonus, the recipe is so easy!
Here's her revamped summer classic that's perfect all year long.
Ice cream sandwiches
Serves: 10

Ingredients
Chocolate avocado cookie 
1 cup ripe avocados from Mexico
3/4 cup coconut sugar
3/4 cup brown sugar
2 large eggs
2 teaspoons vanilla extract
2 cups all-purpose flour
2/3 cup cocoa powder
1 teaspoon baking soda
1/4 teaspoon sea salt
1/2 cup semisweet chocolate chips
Avocados from Mexico and pistachio ice cream
4 large ripe avocados from Mexico
1 cup roasted and shelled pistachios
1 cup sweetened coconut cream
2 tbsp. honey
1 pinch of sea salt
Method
Chocolate avocado cookie 
Preheat the oven to 350˚F.
In a food processor, blend eggs, sugars and avocados from Mexico until smooth. In a mixing bowl, sift the flour, cocoa powder, baking soda and salt and then incorporate the remaining ingredients.
Add the dry ingredients to the wet and stir. Don't overmix mix. Let the bowl sit in the refrigerator for 30 minutes.
Form the dough into teaspoon-sized balls and flatten to 1/4-inch thickness. Press a few chocolate chips on top of the cookies.
Bake for 7 minutes. Let cool for 5 minutes before transferring to a plate.
Avocados from Mexico and pistachio ice cream
In a food processor, blend pistachios to desired consistency.
Add remaining ingredients and process until smooth.
Transfer to a baking dish and cover with parchment paper.
Freeze for at least 4 hours.
Assemble the sandwiches
Remove the ice cream from the freezer and let it temper a little for easier handling.
Make sure the cookies are well chilled.
Form a scoop of ice cream and place it on the baking side of one cookie, add a second cookie on top of the ice cream and voilà!
We dare you to stop after one ice cream sandwich! It's your turn to recreate the recipe!
Photography by Comme des Filles