Janice Tiefenbach: Culinary activist and head chef of Elena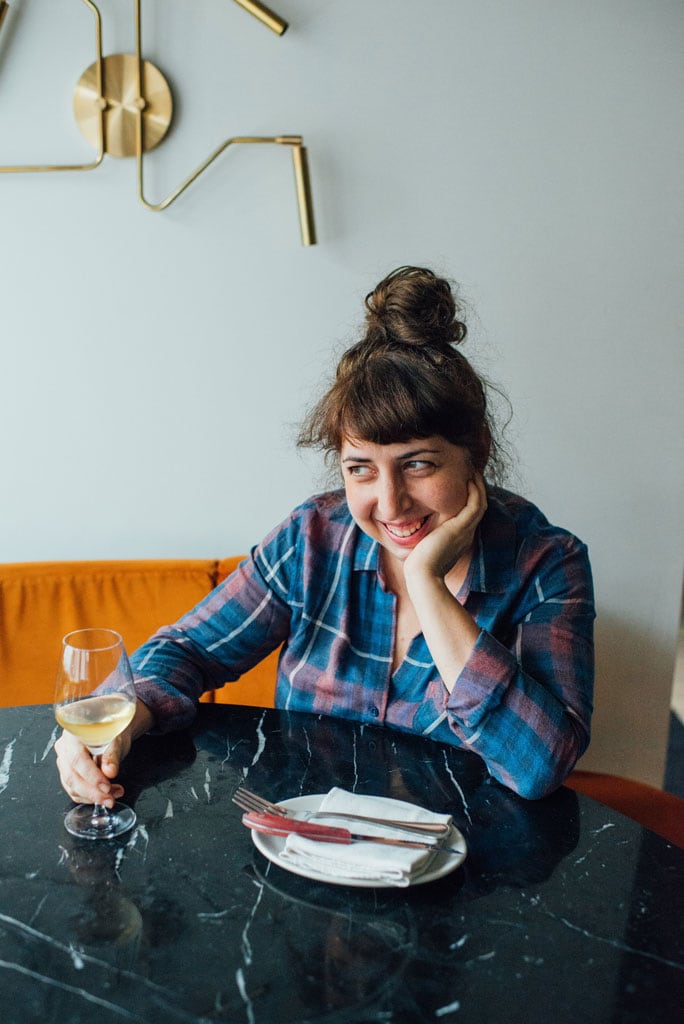 Janice Tiefenbach is head chef at Elena, which was ranked the 3rd best new restaurant in Canada by En Route magazine in 2018. The talented young chef has had an atypical journey fraught with challenges, but that's probably what makes her one of the best chefs in town — both for her customers and for her employees.
Janice's interest in cooking began as a child. "I learned to cook from my family. My grandparents immigrated to Canada from Hungary and Poland, both of whom were Jewish. Jews are obsessed with food and eating; they love to eat. (Laughter). We're always talking about what we're going to have for dinner, how we're going to cook it, we're always having people over for dinner! So the interest has always been there for me."
Culinary activism
Janice grew up in Ontario, in a suburb of Toronto. At the age of 15, the first signs of "culinary activism" emerged; Janice became a vegetarian. Her mother quickly made it clear that it was her right, but that she would not cook two meals to accommodate her daughter. Janice understood very well, and that's when she really started cooking. "I started watching a lot of cooking shows and went to the library to find new recipes. I was passionate!"
In 1998, she left the family nest for Montreal to attend Concordia University. She enrolled in the Faculty of Fine Arts. Her culinary activism took on a new dimension. With a group of friends, she created the "People's Potato", a vegan community kitchen that operates on donations. "I realized that it was extremely creative, and I loved the experience, the team spirit and the adrenaline. I got so excited about it!"
The "People's Potato" project is growing. There weren't many healthy options on the university's campus and in the main building's kitchen. There, they created a vegetarian menu where people could buy what they wanted with a donation. "We would go to the Jean-Talon market to pick up second-hand vegetables, rice, etc. Our whole menu was vegan, which was not common at all at the time."
A vegetarian making tartare
The following summer, she landed a job at Le Méchant Bœuf restaurant at the Hôtel Nelligan. "It was pretty disorganized. We were making three tartares, a beet salad, and artichokes. I had a manager who wasn't very nice, and he was always yelling at me to try the tartare, but I was a vegetarian. He was so insistent that I ended up tasting it and I was like… Wow, this is so good! (Laughs). So I started eating meat again."
Soon, Janice could see that her beliefs conflicted with many of the realities of the business world. "With People's Potato, I came from an environment where everything was done naturally, we were progressive, everything was decided as a group, we were trying to educate ourselves to become better. Once I got to a large, rather industrial restaurant environment, everything was very different." Many of the people Janice worked with taught her a lot of things. However, the restaurant didn't recycle and that really bothered her a lot. She started secretly contacting recycling companies to come by the restaurant to pick up the recyclable waste. Eventually, her boss realized this and didn't appreciate the initiative at all.
After a year and a half in the kitchen at Le Méchant Bœuf, Janice ended up at the Opus Hotel. She started as a garde-manger and soon became a sous chef. There, the pan-Asian cuisine at the address introduced her to a host of different techniques and she loved the experience. "However, it was more of a nightclub crowd, so the clientele wasn't very interested in the food. I was making fruit platters. The only cool thing was that one night Snoop Dog sent back a tray made by one of my colleagues. I made him an 'extra-baller' one that he didn't return!"
To Vancouver and back again
Janice decided to leave the Opus Hotel in Montreal just before the 2010 Olympics to work in Vancouver. Opus owns a hotel in Vancouver and she was offered a job.
She ended up working in a small Italian restaurant. It was there that she fell in love with pasta: "I started as a garde-manger, but I quickly became fascinated with pasta! I wanted to learn how to make it. There were four of us in the kitchen; I was always rushing to do my mise en place to go help the guy making the pasta." On the other hand, the atmosphere in the kitchen was very competitive and sexist. "The other three cooks were men, who were not very open or respectful. The chef would shake hands with everyone and I would get a pat on the back."
Les Enfants Terribles & S'Arto Chartier Otis
Back in Montreal, a friend of hers who worked at the restaurant Les Enfants Terribles invited her to join him. To convince her, he praised the creativity of the chef, S'Arto Chartier Otis. This was the beginning of a unique adventure for the duo. Janice loved her experience with S'Arto. She found the restaurant — a brewery/snack bar mix with super modern and fancy specials — motivating and inspiring. "It was really fun. S'Arto never said no and put pressure on us to get better all the time and push creativity." After two years at S'Arto's side, the two headed to Nuns' Island to help with the opening of Les Enfants Terribles' second location.
After S'Arto left for Japan, Janice worked with Simon Mathys for a while before ending up at Nora Gray, where she stayed for a year.
Pasta making at Nora Gray
At Nora Gray, her love for pasta blossomed: "I fell into a pasta rabbit hole, and bam! It changed my life. I made pasta for everything: the pasta station, the entremetier and all the sides for the main courses. There were vegan dishes and pastas. They used very good products. It was very difficult. I had no training, there was a lot of work and I didn't have time to learn. The chef at the time, Tony Rinaldo, was also really cool. (He has now opened a pizzeria in Halifax). We were a great team: both in the dining room and in the kitchen. It left a strong impression on me. I realized that it was possible to work really hard and have a lot of fun. And I learned that I was able to adapt very well to very strong personalities, as I understood what they needed and made sure it worked."
"I was extremely grateful for the opportunity to learn from Emma Cardarelli. When I came to Nora, I threw out everything I knew and tried to learn everything her way. When you work for a chef, the last thing he or she wants to hear is that the chef you worked with before didn't do it that way. Who cares? You have to be able to adapt to different ways of working. You shut up, and you say yes, chef." (Laughs).
Janice also enjoyed being around so many women in the kitchen. "It was a really cool new experience, I loved it."
Here & there
Next, Janice met up with S'Arto at the Balnea spa. "That was really cool. It was a good example of being able to adapt to anything. We had a microwave and an induction cooker. There was nothing. We had a circulator and we mostly did a pantry menu. We adapted and improved: we had a smoker, a green-egg, etc." However, after a year, Janice felt too far from the city and decided to leave, and S'Arto followed suit.
With S'Arto, she then moved on to Soubois and Grinder, before launching the now defunct Hvor restaurant. The project was exciting, but it quickly drifted very far from the initial mission, which left Janice very disappointed.
Since leaving Nora Gray, Ryan Gray has been asking Janice to come back and work with him, or at least to guarantee that if they open another project she will come back and work with them. "In 2017, they told me they were opening a new restaurant and I went! For the entire summer before the opening, I worked with friends, at La Récolte and Les Enfants Terribles Catering, and finally I arrived at Elena."
Elena & Emma
At Elena, Janice was reunited with Emma, "Emma has always supported me. She always has my back. Working for someone for so long, you end up really enjoying the day-to-day and it ends up not being stressful at all. I am a stress maniac. I have learned over the years that some people make dealing with stress much more stressful than others. Being a sous chef is actually the most stressful thing, more so than being a chef, because you're always under someone you have to please."
Janice is now head chef at Elena; her sous chefs Lewis Miller and Mathieu Gagnon are "amazing." "There are different types of chefs. It's not like it was a few years ago, we're at a turning point. It's hard to be a chef, and it's hard to manage the staff and all the baggage that everyone has, but the way we do it is more educational than it used to be. We have to do it more tactfully: we're a bit of a psychologist; we have to understand the motivation behind each employee so we can coach them well."
A team effort
The owners of Elena — Ryan Gray, Marley Sniatowski and Emma Cardarelli — leave plenty of room for Janice and Ellen Eamon, the restaurant's general manager, to take initiative. So what does this look like? "I'm taking on a challenge that I've always been very afraid of. It's awesome. I love being able to build something, give the restaurant an identity. It's so satisfying, I genuinely fuckin' love it! It's my first time being a chef, and it's been amazing. The restaurant is fun, and everyone is really nice. And what's cool is taking a step back and understanding the bigger picture: how the kitchen and the dining room work, the front of the house, the management, and we're all working together to make it work."
What is your favourite thing about being a chef? "Everything is the way you want it. Everything is to your taste. You have an idea of a menu, and then people are ordering it. It is like a drug. I'm like, wow! It's the most satisfying feeling. It makes me extremely happy."
While Janice may be modest, her cooking leaves no one indifferent. Her talent for Italian cuisine is undeniable, and her exceptional kindness only adds to her charm. We've been saying this for years, but this is just the beginning of this chef's journey.
Forza Janice!
Written by Élise Tastet
Photography by Alison Slattery