Au Pied de Cochon's foie gras poutine recipe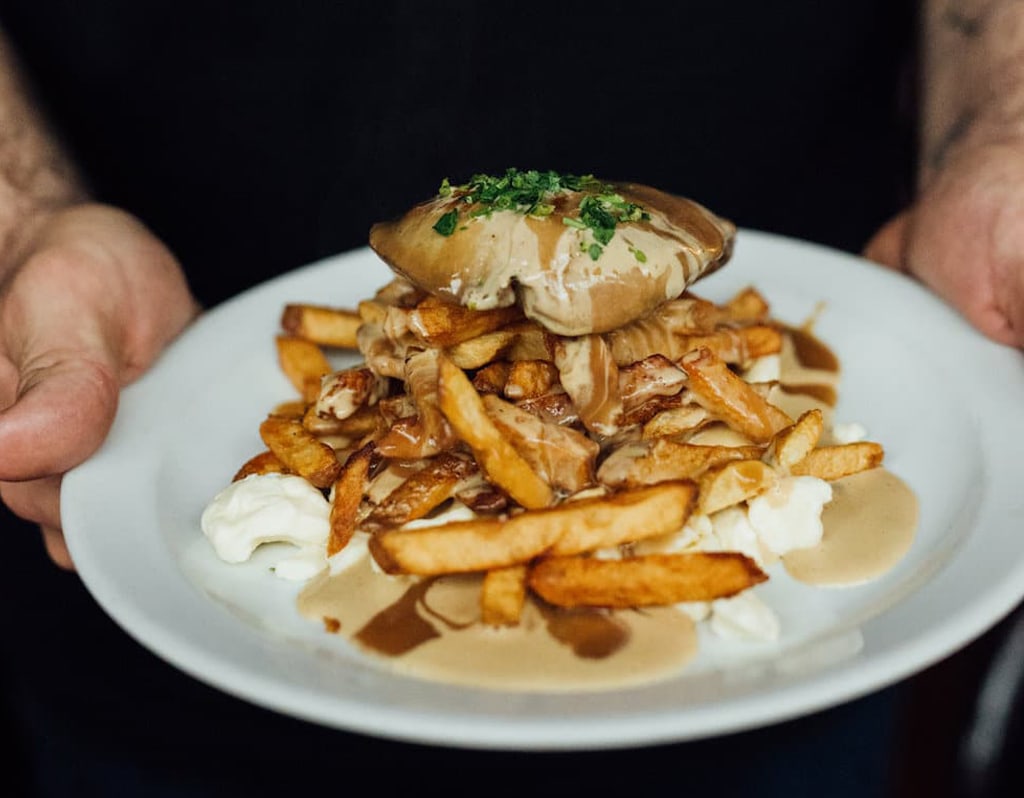 Au Pied de Cochon is a staple in Montreal's culinary landscape. And Au Pied de Cochon's foie gras poutine is kind of legendary.
Before opening Au Pied de Cochon, chef-owner Martin Picard worked in high-end restaurants. However, he eventually became fed up with these environments and threw in the towel. He went on to open a restaurant on Duluth Street in 2001. At its opening, it was described as "a new type of brewery where the best products are served, simply". His restaurant was the first to swim against the tide of the gastronomic trends of the time; which, for the most part, were looking for finesse, health, and lightness.
With Au Pied de Cochon, Martin shattered many taboos of the great restaurants of the day. He served his food on wooden tables without tablecloths ("an affront at the time!"); there were no flowers in the restaurant ("incomprehensible"); the cooks wore Big Bill construction crew shirts as uniforms (the first to do so!); he had a large open kitchen (one of the first!); he put a foie gras poutine on his menu ("insolence"); and, well, foie gras was almost everywhere on his menu ("tasteless").
Martin Picard made a strong statement with his restaurant; that the standards of gastronomy were changing, and that he was there to prove it. Undoubtedly, Martin is a pioneer of many aspects of the restaurant industry that can still be felt today.
Today — thanks to Vincent Dion-Lavallée — we are giving you Au Pied de Cochon's famous foie gras poutine recipe!
All of Au Pied de Cochon's recipes and excellent products are available on their online boutique right here.
Happy poutining!
Foie gras poutine
Serves: 4
Preparation: 30 minutes
Cooking: 30 minutes

Ingredients
200 grams fresh foie gras
6 egg yolks
600 ml Au Pied de Cochon poutine gravy (available in house; or use any other gravy, homemade or from the grocery store)
50 ml 35% cream
4 fresh foie gras cutlets of 100 g each (2.5 cm thick)
400 grams of cheese curds
4 white-fleshed potatoes (cut into French fries)
Frying oil (2/3 tallow and 1/3 peanut oil)
Method
For the sauce
In a saucepan, bring poutine gravy to a boil.
Set aside 100 mL of gravy for assembling the poutine.
In a food processor, blend egg yolks, foie gras and cream at high speed.
Gradually add 500 mL of the hot gravy to the mixture.
Pour the gravy into a saucepan and heat slightly, stirring constantly, until it reaches 80 degrees Celsius (175 degrees F).
Remove sauce from heat. Stir for an additional 30 seconds.
Keep warm.
To prepare the poutine
Preheat oven to 230 degrees Celsius (450 degrees F).
In a very hot skillet, sear the foie gras cutlets until golden brown. Transfer the cutlets to a baking sheet and finish cooking in the oven for 4 to 5 minutes.
Bake the fries until golden and place them on a mound of cheese curds in the center of the plate.
Place a foie gras cutlet on the fries and top with the foie gras gravy.
Top it off with a few spoonfuls of regular poutine gravy.
Serve immediately.