Martin Picard: Dreams, passion, generosity, and success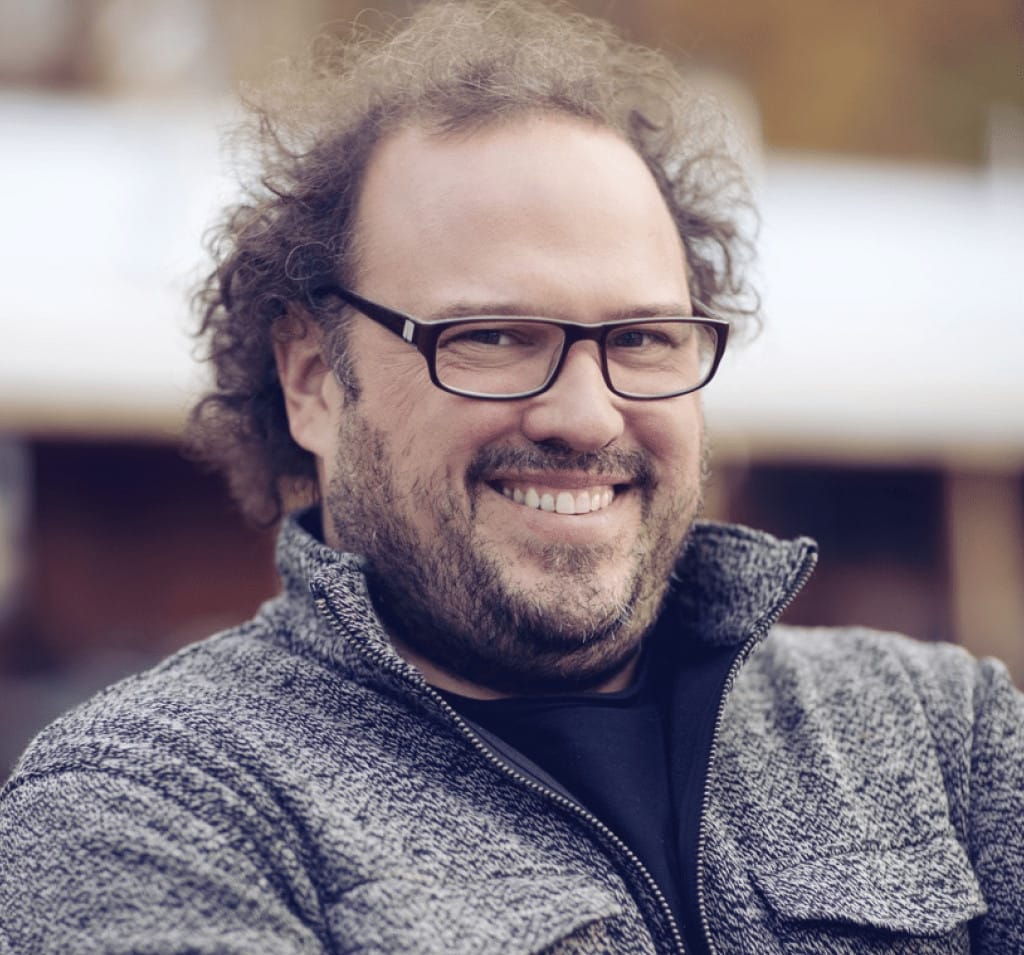 Martin Picard is the chef and owner of the restaurant Au Pied de Cochon, of the Au Pied de Cochon sugar shack: Cabane d'à Côté, of the Au Pied de Cochon food truck, author of the Au Pied de Cochon book, and of the other various Au Pied de Cochon products. Here is our encounter with the visionary, creative, and talented entrepreneur.
Martin Picard had been studying food service management at the ITHQ for two years and worked in service before becoming interested in cooking. "Hey, I wanted to be a manager at the Ritz!" (laughs) During his internship at the Hotel Radio Chamalières, near Clermont-Ferrand in France, Martin wanted to try a position in the kitchen, "out of curiosity; and it was love at first sight! It was the first time that I felt so good, that I felt that the world was made for me. I understood that a universe was opening up for me; it was only then that I knew I had a love for cooking."
In a cooking class with professor Jean-Paul Grappe, Martin discovered the creative and artistic side of cooking that would fascinate him throughout his career. "I understood that there were no more limits; the kitchen expressed itself! I realized that what I had in my head, I could bring to the kitchen." During his studies, Martin was sent to prestigious schools. He worked in some of the great kitchens, including those of Pierre Gagnaire, Michel Trama, and Marc Meneau. "I loved Meneau's restaurant L'Espérance for its abundance and generosity. Mr. Meneau was a character, there was a mystery that accompanied this chef, that was part of his success. He was creative, a neophyte of the self-taught cuisine. I liked him a lot. And I was very surprised by the amount of foie gras they used. I had never seen so much foie gras in my life." N.B. Le Pied de Cochon is — with all the restaurants combined — by far the biggest seller of foie gras in the world! A statistic verified and validated by the famous foie gras house Rougié.
Martin Picard then began working as a garde-manger for chef Normand Laprise at the restaurant Citrus — a renowned high-end restaurant serving refined cuisine. Back then, things were very different. Everything had to be square; people couldn't afford to step out of line or they would lose their credibility. "At Citrus, I was fascinated because Normand was breaking the boundaries of cooking! He offered unique opportunities for expression. I felt like I was part of a revolution."
Martin would travel to France to do internships, and each time he returned to Montreal, he went back to work for Normand at Citrus. "He is my spiritual father, my spiritual brother in the kitchen — he is my chef. Despite all the great Macarons Michelins chefs I've worked for, I identify with him a lot. I am inspired by his courage and resilience in continuing to break new ground in the kitchen without ever stopping. He pushes the scales and pushes the creativity." Their partnership became a very strong friendship that is still unique to this day.
However, Martin had to find fulfillment elsewhere. He did a stint at the famous Globe restaurant, "but it wasn't for me. The problem, if you will, is that what interested me in life was the dream. That job was kind of a total disillusionment." The Globe's business people made Martin understand that the restaurant industry is a business. "And the restaurant industry is also a business. And a business has zero emotion. No matter how great you are, you can sink. That was an essential lesson."
David McMillan (Joe Beef) took over the kitchen of the Globe after Martin left. "He found the right fit at the time with this restaurant. I have a lot of love for David. Consciously or unconsciously, we have always been there for each other, as individuals or as companies. Everyone is vulnerable and in the restaurant industry there are always good times and there are always bad times. And when there's someone there to support you, it's reassuring."
Martin then spent a year at Club Des Pins with Danielle Matte, where he rediscovered the pleasure of cooking a simpler menu, closer to what he is. "When I was at Club Des Pins, I cooked as if I was going to eat to please myself – I didn't think too much, I didn't develop too much, there was just the pleasure of cooking and eating well. When you work for big restaurants, you intellectualize everything; you become almost 'better than yourself'. At Club Des Pins, I cooked dishes from the South of France and started to be inspired by traditional Quebecois recipes. I wasn't ashamed to make big dishes because, well, I like them." The restaurant became very popular, but Danielle Matte sold her restaurant and Martin Picard found himself without a job.
"I didn't feel like doing anything." Elena Faita (owner of Quincaillerie Dante, a cooking school, and Stefano Faita's mother) helped him find his passion for cooking again. By working at her cooking school, he regained his taste for the pleasure of food, of cooking, and of eating. She took care of him and forced him to clear his mind. "Elena is an amazing woman. She has been wonderful to me. It was the best thing that could have happened to me. It launched my success."
Martin began to have a project in the works, but he had no money and no concrete business experience. Elena Faita and Jacques Malo (a pulmonologist by profession) confronted him and gave him the opportunity to realize it. They invested in Martin's project and thus in Martin, and this opened all the doors for him. "At some point you question yourself. There is so much evolution in the restaurant industry, there is too much competition, everything goes too fast. I had an involuntary break. I wanted to get an idea of what I wanted in life. My vulnerability was certain, but thanks to them I was able to succeed. No matter what I was going through, or what I said, they were always there to support me."
Au Pied de Cochon restaurant opened in 2001. Martin chose the name for his undisputed affection for the animal, "Pigs are friendly!" At Au Pied de Cochon, Martin wanted people to come together, he wanted to offer a place with a brewery spirit with generous and original plates — cuisine which reflected him. With this restaurant, Martin Picard broke many taboos of the great restaurants of the time: he opened with wooden tables without tablecloths ("an affront to the times!"), no flowers in the restaurant ("incomprehensible"), cooks wearing Big Bill construction crew shirts as uniforms (the first to do this!), a large open kitchen (one of the first), a foie gras poutine on his menu ("insolence") and foie gras almost everywhere ("lack of taste"). With Pied de Cochon, Martin Picard made a strong statement that the standards of gastronomy are changing and that he is here to prove it. He has pioneered many aspects of the restaurant industry that are still felt today.
Like anyone who does things differently, Martin didn't have it easy in the beginning. "When you open, you don't know what's going on around you, you work too hard. You don't see anything going on, you're just fighting for survival." Martin worked every day in the kitchen for five or six years; he gave it his all and exhausted himself in his business. "It was so hard, in fact, that one day I even told all my employees that I was closing! I just couldn't take it anymore. Marc Beaudin took me aside and shook me. He told me I was sick, and that he would accompany me, he would do it with me. Sometimes you just don't want to climb a mountain by yourself when you're tired and there's a snowstorm."
And so, the second part of Au Pied de Cochon was largely decided by Marc. Marc and Martin became stronger together. They regained some balance and perspective so they could better control and move the business forward. The Pied de Cochon cabin was born in 2008. This project originated from the chef's desire to take care of the entire production line, from the maple syrup to the pig. The renowned establishment opened with only one dining room section; "entertaining people is what we do best." And he does it again with excess and originality. The establishment quickly became a huge success and the generosity and abundance of the cabin gained extraordinary popularity. Martin Picard was the first chef to operate a sugar shack and once again he became a pioneer in his domain. Le Pied de Cochon opened its street food truck in 2012, as well as a Cabane aux Pommes during harvest season; a "lighter" version of the sugar shack, which presented products made with locally harvested apples, which again, was a success.
Martin's different businesses continue to provide a unique experience to visitors and offer a most delicious and generous cuisine, but we can still feel an evolution. Even at Au Pied de Cochon, it is now possible to have lighter and healthier plates. "What you like changes with your life experience; age brings back a certain reality. You work hard to do everything, but you come back to some basics. As I get older, I discover extraordinary pleasures in eating a carrot from the garden! That's also the beauty of getting older. All the unnecessary veils come off and it helps you see more clearly. It helps you understand what you love more and more, it helps you get closer to simplicity."
When the truck, cabane, and restaurant are all running at the same time, Martin now hires over 100 employees! "I'm pretty proud, yes. People are essential to the success of a business. What I love the most about the business are the human relationships." Without the support and hard work of the people around him, Martin Picard would not have been able to achieve all that he has.
But without his generosity, his passion, his dreams, his creativity, his audacity, and his touch of madness, we would not have known such an inspiring man and such an exceptional company. "When you are a gourmet, you love and live passionately. The restaurant industry always comes first, it's so intense. That's also the beauty of the business; the people behind it live for it. That's part of its charm." Martin Picard will always remain, in our opinion, a revolutionary, creative, and striking chef in Quebec gastronomy.
His audacity in their domain has always touched us. The generosity he showed in building his business is remarkable. He probably could have been more businesslike, but for a passionate dreamer, he knew how to surround himself with the right people and make his dreams come true. He is a man of relationships, of sharing; a great man. "The older I get, the more I realize that it's not so much what you eat that's important, but who you eat it with."
We love you Martin. Long live Au Pied de Cochon and all your future projects.
Written by Élise Tastet